Nearly half of all US workers want to be improving team communication. And the disconnect negatively affects employee engagement. Additionally, it's not just the employees—65% of senior managers feel that meetings keep them from completing their work, 64% said the meetings come at the expense of deep thinking, and 71% state meetings are unproductive and efficient. So, one of the primary goals for companies should address how to improve team communications.
Let's explore how you can say goodbye to unnecessary meetings and hello to efficient communication.
Meetings 101: Is this meeting necessary?
Every quarter, you should audit your calendar and ask yourself if you still need to have the scheduled meetings.
Ask yourself whether this meeting will facilitate an important decision, debate, or discussion. If it will, keep the meeting on the schedule.
You can eliminate it and instead summarize the points in an email, Slack workflow, or shared document if it won't. If the meeting solely reports key metrics, you can utilize a workflow that notifies stakeholders that they have new information to review at their convenience. This prevents forcing your employees to break their stride to gather in the conference room.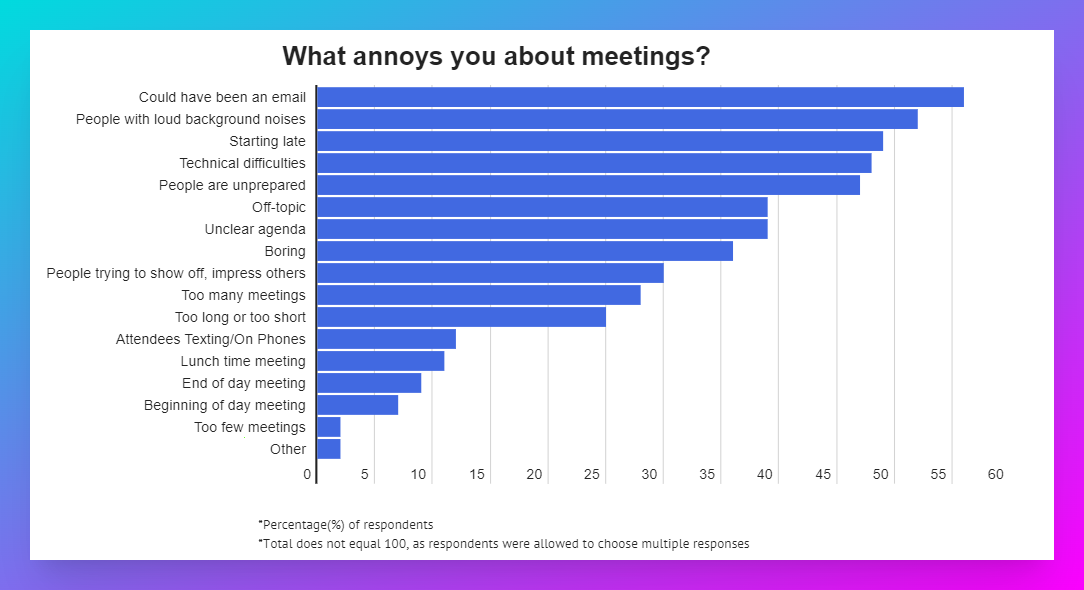 The 3d's: Decisions, Debates, and Discussion
If the goal is only to keep meetings that foster decisions, debates, and discussions, how do you know what's important enough to stay on the calendar?
How to improve team communication
Time needed: 5 minutes.
Follow these simple steps to know if your topic justifies a meeting.
Meet privately for one-way door decisions

One-way door decisions are decisions that you can't easily reverse. They are usually strategic in nature and require much time for deliberation. These decisions need to be made carefully. For example, choosing who to hire for a c-suite position at your company.

Discuss big debates

These meeting often bring wide array of opinions on a particular topic. The topic is subjective and people can sometimes take a meandering path toward making a clear point. For example, you have to pick a new website layout or a new brand logo.

Get personal to get unblocked

You need to bring everyone together to break through the gridlock of a particular process. Perhaps there are a lot of steps or people involved that could be streamlined if everyone understood whats involved.

Collaborate for creative brainstorming

The think tanks are about embracing the silence and documenting all ideas discussed. Sometimes the best ideas come from picking away at one another random ideas until the best idea slowly reveals itself. For example, you have an essential campaign coming up, and you want your team members to bounce ideas off of each other.

Kick-offs, first-time meetings, and one-on-ones

You're launching a new initiative, you're welcoming a new team member, or you're checking in with your employees; these meetings need to happen in person because they build trust in a way that virtual team communications simply can't.

Be open about sensitive or challenging topics

You need to host a seminar addressing a serious subject (sexual harassment in the workplace, diversity, equity, and inclusion, etc.), or you need to meet with an employee alone to discuss personal issues or performance feedback.
Improve team communication by canceling meetings
When we say "cancel," we really mean to host an asynchronous meeting. Type out all pertinent information and send it to those who need to read it via chat, email, or shared document. Invite them to ask questions or talk to you if they need clarification on something. 
Some examples of meetings that you can conduct include:
Status Updates or FYIs: You have some new information about a project, and you can use email, chat, or a project management tool to send people updates
Getting Feedback or Support: You want to get your employees' opinions on something that isn't super urgent
Sharing a Proposal: You have an idea for something that isn't urgent, but you want to make sure it makes sense to your team members before solidifying it
Two-way Door Decisions: You need to decide which call to action sounds the best
Quick, Straightforward Questions: You need to know when something is completed and who's assigned to a specific task
How you structure your "meeting" will depend on the topic. For instance, asking about a project deadline can be as simple as sending an email or a chat message. At the same time, longer status updates might be better in a shared document where your employees can leave comments on specific items.
To ensure efficiency with your asynchronous meetings, you can use analytical and functional notifications for automation, where accurate data and specific details can be provided quickly.
Minimizing meetings without going completely digital
Some managers, especially those who already have entirely remote teams, don't want to give up face or voice time with their employees completely. It's understandable. Things can be misinterpreted over text, or the back-and-forth team communication is so disjointed that it's hard to stay on that train of thought.
As Jonathan Crawford of Grüvi stated,
"I'm all about the daily cross-functional standup regarding ecommerce. It's super important that other departments know what's evolving or changing in real-time, so I've always pushed for the daily morning standup zoom call.
Spontaneous phone calls and video calls are under-rated and under-utilized for handling issues. Long slack workflows and email conversations take way longer than just picking up a phone."
In some cases, outside of the 3d's, you may want to engage with your team members in real-time. Don't be afraid of brief Zoom meetings or phone calls; just be sure that you stay on topic and keep it short and sweet.
Improving team communication with workflow apps
Limiting the total number of meetings you host means you'll need to find other ways to connect with your team members. Here are our favorite apps that you can use to increase efficiency in your meetings.
Email by MESA
Email by MESA is excellent for thorough responses, so details can be included. MESA offers built-in email sending that enables you to streamline your workflows. 
You can use Email by MESA to send emails to a specific or dynamic email address (like an internal department). You can create workflow templates that automatically send emails when there's an update that your team needs to see. For example, you can use the app to:
Send an email to your customer service staff when you get a low rating on a Delighted customer survey
Notify your logistics staff when a Tracktor order over $100 hasn't been delivered within 15 days
Notify your marketing staff when a Shopify product becomes out of stock
SMS by MESA
SMS by MESA is beneficial for critical notifications that require immediate attention. We recommend only using SMS when it's super urgent, as the SMS integration should primarily be used for customer engagement.
For instance, if your website goes down, you may want to send an SMS alert to the team members who maintain the website so they can fix the bug as quickly as possible. Or you may want to use SMS to alert admins when an order is flagged to limit potential fraud without disrupting your process.
Approvals by MESA
Approvals by MESA is perfect for when human intervention is needed before data is migrated between systems. The integration enables you to pause automation and requires manual approval of data before publishing to the next step. You can notify your staff with email notifications that let them know when there's an item pending approval.
Some of the ways you can use Approvals by Mesa include:
Standardizing your fraudulent order mitigation
Manually approving auto-generated thank you emails
Testing workflows before saving data
Manually capturing funds for an order based on its fraud score
MESA's Approvals help you stay on top of your time-saving automation without letting things slip through the cracks.
Slack
Slack is great for team notifications when a message needs to go to a group for either discussion or awareness. As one of the most popular workplace apps, Slack has improved team communications for over 700,000 companies globally.
You can use a Slack workflow to open up multiple channels for conversations between team members. You can have an all-team channel and channels for each department and sub-group. When employees need to share updates, they can post to the channel that involves the people who need to see the information.
A Slack workflow is especially useful for remote or hybrid teams because it comes with a mobile app so everyone can receive updates no matter where they are. The app provides a more personal and direct way to engage with team members than email. 
Additionally, you can use MESA to automate messages through Slack workflows to communicate any issues. For example, you can set up a Slack workflow that sends an automatic message to:
Alert your warehouse when an order doesn't ship on time
Tell your manufacturing team when custom orders come in
Notify your staff when promotions go live so they can expect a higher order volume
Warn stakeholders about Shopify orders that are flagged as "high-risk"
Update inventory teams when product stocks are getting low so that they can reorder items 
Discord
Discord is great for team notifications when a message needs to go to a group for either discussion or awareness. It also comes with audio and video options to keep your team on the same page.
The app is an instant messaging platform initially created for gamers, but businesses have found it incredibly helpful to notify staff. You can create multiple servers for different teams or topics like a Slack workflow. But Discord offers moderation tools and custom member access powers to protect sensitive information.
You can integrate MESA with Discord to send an automated message for:
An "order paid" update
A fulfillment issue
An international Shopify order
An abandoned cart in Shopify
Google Drive
Google Drive offers an easy way to share documents. You can create Docs, Sheets, Forms, and Slides to share with your team members. You can modify the access permissions to notify your staff to view, comment, or edit the document as needed.
If your employees see anything that raises a question, they can leave a comment in line with the text. Or, if it's a working document, they can make changes right there. The document updates in real-time for everyone who has access to it.
You can use Google Drive to:
Approval on a quarterly budget organized in a Google Sheet
Send out updates written out in a Google Doc
Receive employee feedback through Google Forms
Share a proposal outlined in Google Slides
Wrapping Up
If there's one takeaway from this piece, it's essential to streamline notifying your staff to keep them happier by respecting their time. The more you can automate team notifications into your existing tech stack to keep everyone informed, the less your company will need to depend on meetings to share information.
MESA makes it easy to add ecommerce automation to improve your team's communication and efficiency. Get inspired by other time-saving workflows popular DTC brands are discovering.
New Shopify Apps Weekly Newsletter
We watch for new apps then package them into an email sent every Tuesday.