Repetitive tasks limit your business's scalability. There are only so many orders you can manually log into your CRM per day. Sure, you can hire more people. But that way, you'll join other companies that waste up to $1.8 trillion yearly on repetitive tasks.
That's where an automation platform comes in. Shopify merchants use automation to integrate systems, improve internal processes, and create new customer experiences. You'll be able to focus on more vital tasks, such as finding new marketing ideas or improving your product. A popular choice for many businesses when it comes to automation is Zapier. It automates mundane tasks so you can focus on what truly matters the most: running your business.
Zapier is a popular automation tool, but is it your best bet? Maye not. For example, Zapier supports 2,000+ apps, but it's not ecommerce-focused. The platform doesn't come with all of the integrations that matter to Shopify brands.
Thankfully, there are better options available, which we'll show you in this post. Discover automation options for Shopify that could be a better fit for your needs.
Key considerations for Shopify automation
Here's what you should consider before you implement automation:
Reliable experts
You need deep expertise in the apps you use for automation to be accurate and efficient. Your automation workflows should work consistently and accurately regardless of other factors like seasonal activity.
Access to every endpoint
You need access to every endpoint in Shopify to connect your apps and automate tasks. If you don't know what endpoints are or how to use API documentation, you'll need an expert's help.
An easy-to-use no-code tool
No-code tools help you automate tasks based on a trigger. You don't need to know code to automate tasks. Some complex tasks still require a little bit of code — another reason you need reliable experts.
It's easy to pick something like Zapier off the top of the shelf when you need a tool to avoid the complexity associated with automation. But relying on Zapier is a massive risk.
Why do you need a Zapier alternative?
You need a Zapier alternative that addresses the following shortcomings:
Lack of Focus on Ecommerce
Zapier supports over 2,000 apps, but it's not tailored to an ecommerce business's needs. It lacks many integrations, triggers, and actions a Shopify brand needs.
For example, Zapier doesn't offer time-based triggers, tag automation, or onboarding support.
Potential for Data Loss
Zapier offers unlimited workflows but caps the number of times a zap can run based on your plan. If you run out of zaps, your data will no longer move automatically between apps. Your automated systems and processes will stop, and you'll lose data.
When you're a high-growth business, you're likely to max out the zaps on your plan and lose important data.
Upgrading your tools is inevitable as you grow. But the lack of ability to re-run those workflows or pay for workflows that run beyond the current plan's limit makes Zapier a risky proposition.
Unreliable Support
You only get basic help from Zapier's support team when struggling with setting up a workflow. Zapier directs you to the Zapier Community or Zapier University to take a course. If those don't help, Zapier helps you find and hire an expert.
Translation: You're on your own when you use Zapier.
This is a problem because Zapier has a steep learning curve. Sometimes, a zap just won't work, which can be a problem for busy business owners. For example, here is a Zapier user's review:
"The learning curve is a bit steep at times and it can be frustrating to get a zap to work for the first time, so non-technical people may have issues. Most times it's easy, but when it's not, it's not."
The good news? You have options. We discuss four of the best Zapier alternatives below.
4 Zapier alternatives for ecommerce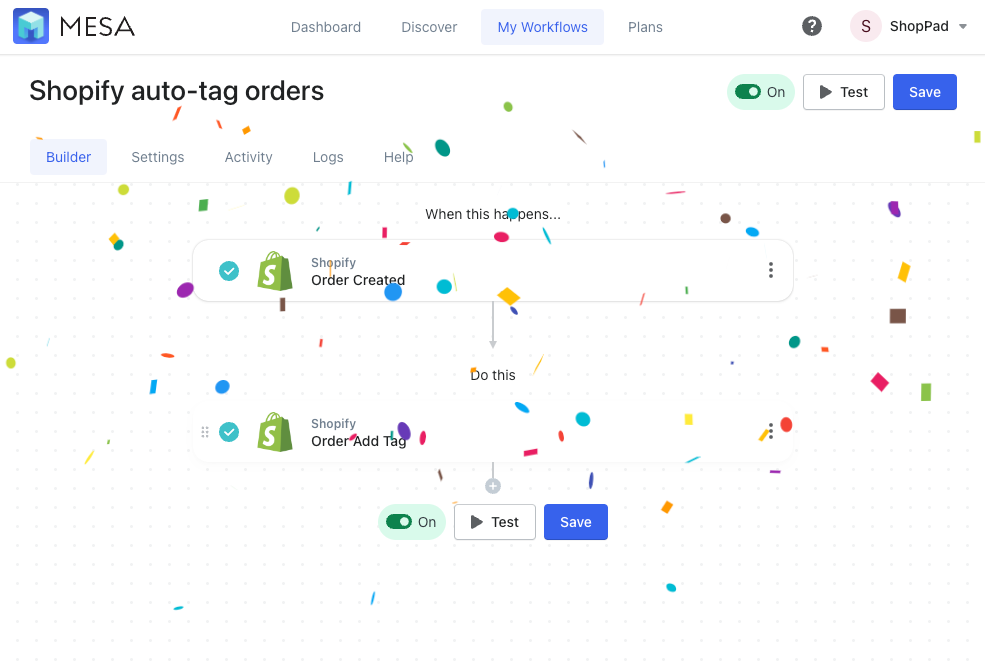 App store ratings and review count: ★★★★★ 5 stars | 66 reviews
MESA is tailor-made for Shopify merchants like you and those upgrading to Shopify Plus, keeping your most pressing challenges in mind. Top Shopify brands like MUD/WTR, Harry Potter Fan Club, and STIHL rely on MESA to automate their workflow.
Unlike Zapier, you get a giant library of ecommerce-specific workflow templates and integrations. MESA has workflow templates to help you automate every step of your ecommerce process, including customer experience optimization, inventory tracking, and logistics.
Main Features:
A template library of popular ecommerce workflows
Excellent support for any help you need when automating workflows with MESA
Integration for Shopify, Shopify Plus, and Shopify POS
"Incredibly useful app! It replaced Zapier and adds many more features that are suited for Shopify. We're currently using it to send orders placed on one store, and send it to our main Shopify store."

Shiptu Online
Support is one of MESA's strongest suits. Our team of automation experts helps you create workflows whenever you're struggling. MESA experts can help you achieve the functionality you need with their comprehensive knowledge and experience with Shopify.
"Simple and easy with great staff to help support you to accomplish your goal. Lots of integrations and tons of ways to customize."

Knowing Labs
The team at MESA helps you complete onboarding services when you need to build and manage integrations, including project management, scope defining, user testing, and launch support.
Here are three of the most popular workflows for you to get started with MESA: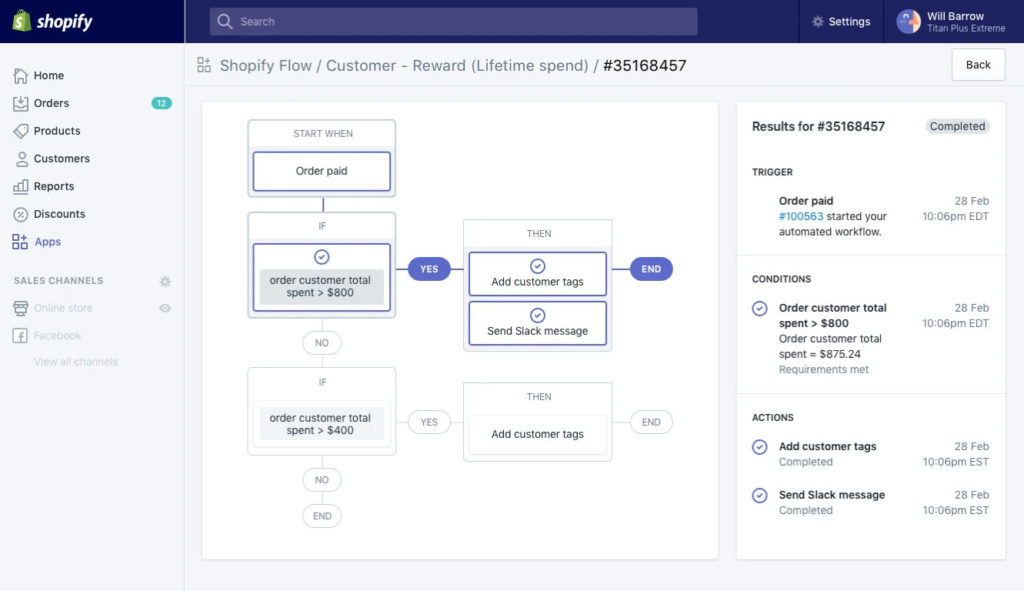 App store ratings and review count: ★★★☆☆ 3.8 stars | 31 reviews
Shopify's own automation tool that stores can use to automate repetitive tasks and focus on other areas of business.
Main Features:
Integrations with tools such as Smile and LoyaltyLion
Automation capabilities to optimize the customer experience
Analytical insights that track the performance of your workflows
Great solution for Shopify Plus stores since it's a free app exclusive to that tier
Flow is also one of the Zapier alternatives designed specifically for Shopify stores. It helps you process various business operations, such as order management, inventory tracking, and customer service. However, there's an expensive barrier to entry: the software is only available to merchants on Shopify's high-end Plus plan.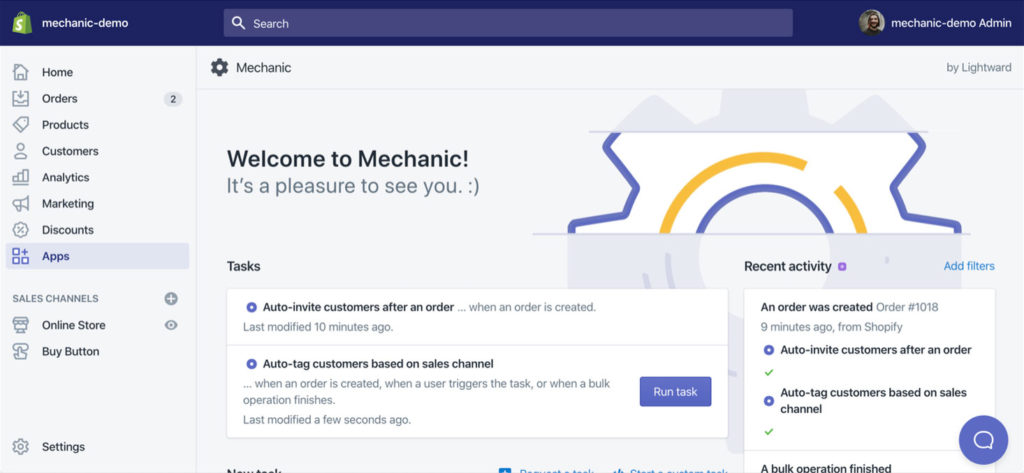 App store rating and review count: ★★★★☆ 4.9 stars | 114 reviews
Created by Lightware, Mechanic is a tool to help ecommerce developers automate tasks. The platform offers you access to 250+ ready-made actions to help run your Shopify store more effectively.
Some of these tasks include emailing customers after each paid order, directing the customer to an email signup page, and cancelling unpaid orders after a specific time frame.
Since it is a Zapier alternative focused on developers, keep in mind that some coding knowledge is helpful to get the most from the platform.
Main Features:
Large number of pre-built tasks for popular use cases
A YouTube channel to help you use the software
Developer-friendly UI that makes it easy to configure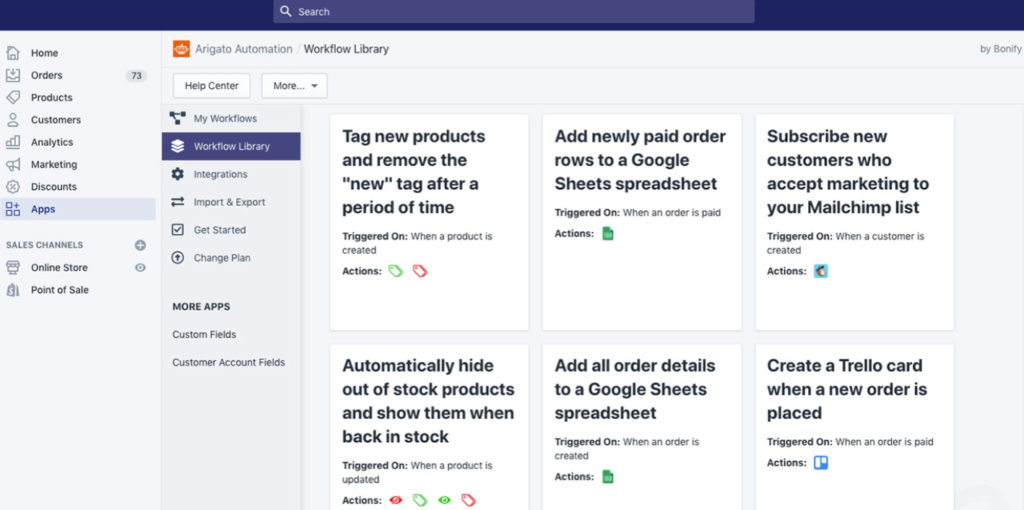 App store rating and review count: ★★★★☆ 4.9 stars | 156 reviews
Lastly, Arigato is an automation app that takes care of mundane tasks that come with running an ecommerce business. It comes with more than one hundred pre-built automations for apps like Slack messages and Trello cards.
Stores can use the platform to publish products, trigger customer emails, keep track of returns, and more. The app also comes with a personal robot virtual assistant to help you run your store more productively.
Main Features:
Forty-seven different actions that can be used in 1,000's of configurations
Access to 400+ data points and 350+ personalization tokens
Virtual assistant that helps with set up
Final thoughts on Zapier alternatives
An automation platform helps your store automate repetitive tasks that would have taken you hours to complete. That's extra time you can use to be more productive and focus on growing your business.
However, picking the right solution matters as well. Zapier is great, but you want to make sure to choose one of the alternatives built specifically for ecommerce, with countless integrations to your favorite apps.
That's where we can help. Our top-rated Shopify tool automates all the processes that grow your online store without having to type a single line of code.
Master productivity instantly by automating any repeatable task or process with the ease of point-and-click setup. Our Customer Success team is available to set up and configure any workflows so you can get more done today. 

Complimentary Workflow Setup Services
What would help you be more productive? We'll craft a workflow for you.
Get Your Free Workflow Setup Now
New Shopify Apps Weekly Newsletter
We watch for new apps then package them into an email sent every Tuesday.