Spend as little as five minutes searching for Shopify CRMs online and you'll notice there are a lot of solutions to choose from.
Not every CRM platform is the same, either. Some are marketed to enterprises, others are marketed to small businesses, and some even cater to specific industries. You won't find any Shopify CRM apps on the Shopify App Store either.
But finding the right Shopify CRM has many advantages, including:
Gaining a better understanding of your customers
Labor cost reduction
Improving your retention strategy
It pays, too. Research shows that an effective CRM can improve customer relationships, increase sales, boost productivity, and reduce labor costs.
In this post, we're going to look at how you can enjoy similar benefits by selecting from our list
Top 5 best Shopify CRM solutions for your ecommerce business
But first, let's see what CRMs are all about and key features you should look for when shopping around.
Did you know the team at MESA can build your business integrations? Contact our Managed Services Team to learn more.
What is CRM software?
Customer relationship management software is a type of software that helps businesses manage their customer relationships. It can be used to track customer interactions, manage customer data, and automate marketing efforts and sales tasks. The right customer relationship management system enables businesses to improve their customer support, increase sales, and boost customer retention.
How is CRM used in ecommerce?
Managing the accuracy of customer profiles is core to ecommerce businesses. Every touchpoint that a customer has with sales processes, marketing campaigns, or support teams should be centralized which enables businesses to keep organized contact management systems. This helps everyone operate with the latest data so they can help them more efficiently and turn existing customers into repeat shoppers.
CRM platforms help Shopify store owners keep their sales teams and marketing efforts in a single source of truth. Unlike other lead management tools, CRM platforms focus everything about the customer behavior. From sales reports to product preferences for better inventory management even.
Key benefits of CRMs for Shopify
Ecommerce CRM software has many functions, but originally the software was created to improve business-customer relationships. A CRM helps with contact management and gathers essential customer profiles, such as demographics, purchases, and previous interactions. This data is easily accessible to anyone in your company.
CRMs can also help streamline your sales tools and analyze all your sales data in one centralized place. This can potentially lead to increase sales and productivity, as you'll be able to establish a step-by-step sales process that your employees can rely on.
For marketing processes, the right CRM can expedite menial tasks through automation. So the time it takes your team member to handle something like a drip campaign can now be used for something that can't be automated, like content creation.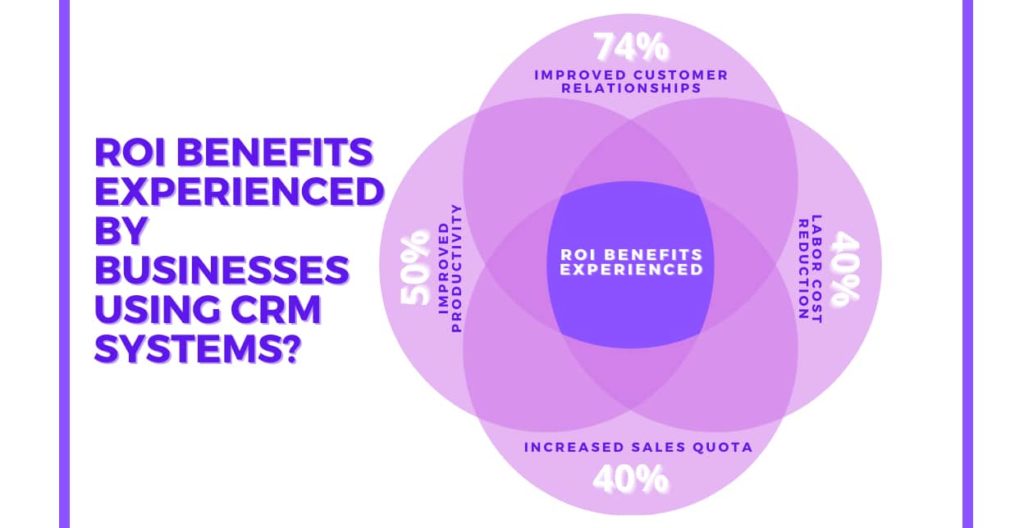 Improved customer service
CRM software can help businesses improve their customer service by providing a central repository for customer data, automating customer communication, and tracking customer interactions. CRM software can also help businesses identify and resolve customer issues quickly and efficiently.
Increased sales
A Shopify integration to a CRM system can be a powerful tool for businesses of all sizes. The right system will help you track customer interactions so that they know what Shopify customers want next (or even if there was an error in their last order). As well as give insights into buying behavior to make better decisions on which product/service offer would work best with each individual's needs – upselling or cross selling accordingly.
Boosted customer retention
CRM software is the key to boosting customer retention and satisfaction. Automating your business' communication with customers will make it easier than ever before for you keep track on what they want, need or prefer without having an employee dedicated just doing that kind of thing. You can also use CRMs as a tool in identifying when something goes wrong so there are no issues left unaddressed.
Better management of customer data
CRM software is a great way to organize customer data and provide reports on what you're doing with them. It's also helpful for segmenting your customers, creating profiles of each one in order make sure they don't forget about the others when it comes time get personalized service from staff members!
Automation of sales and marketing procedures
With your enterprise systems connected to a CRM, the sales and marketing processes can be defined workflows that run automatically. From generating leads to qualifying them and eventually converting them into paying customers, CRM software can automate each stage of the marketing and sales funnels. Lead capture forms on your website can be automatically added to your CRM as new leads, saving you the time and effort of manually adding them yourself.
Last but not least, a CRM can also improve internal communication, aside from enhanced communication with your customers, which means that each team member can maintain a unified brand voice, with notes, tags, and messages all contained in one system.
What to look for in a Shopify CRM integration
Finding the right CRM for your Shopify store can feel overwhelming, and if you don't know what to look for, you could wind up buying a solution that's confusing and difficult to use.
Worse: You could buy a CRM without a good Shopify integration that ends up adding to your workload (instead of minimizing it.)
If you're searching for a CRM but don't know where to start, here is a list of features to look for:
Shopify Compatibility
Shopify is where the magic happens, so naturally you're going to want a CRM Shopify integration. If you don't, you'll create more work for yourself and will have to deal with disjointed systems.
Integration Capabilities
Working well with Shopify isn't enough. You should also choose a CRM solution that integrates with a wide range of ecommerce and business tools you use for selling online. This will help you be more organized and work more efficiently as customer data and other important information are shared between your Shopify CRM and other business platforms.
User-friendliness
Your CRM solution can be powerful without being overly complex. Choose a solution that's easy to learn and doesn't try to reinvent the wheel. No ecommerce CRM software should look like a NASA control panel.
Workflow automations
Having the ability to automate recurring activities, like product subscription and customer support workflows, greatly reduces the time spent on repetitive tasks, reduces the chances of human error, and makes it easier for you to engage customers.
Do you still need help finding the best CRM for Shopify? We've got you! Below are five tried and true Shopify CRM solutions, each comes with its own set of pros and cons.
Top Shopify CRM Integrations in 2022
HubSpot offers a popular freemium CRM Shopify integration that's become a favorite among sellers. Additional tiers include Starter, Professional, and Enterprise. Depending on what tier you choose, you will get different access to features and tools on the platform.
A HubSpot CRM Shopify integration makes for an easy data sync between your online storefront and the CRM dashboard. It also lets users create customized workflows that correspond with your Shopify customer data.
So whether you're juggling strategies or services, Hubspot can help you scale your company while at the same time not adding additional complexity.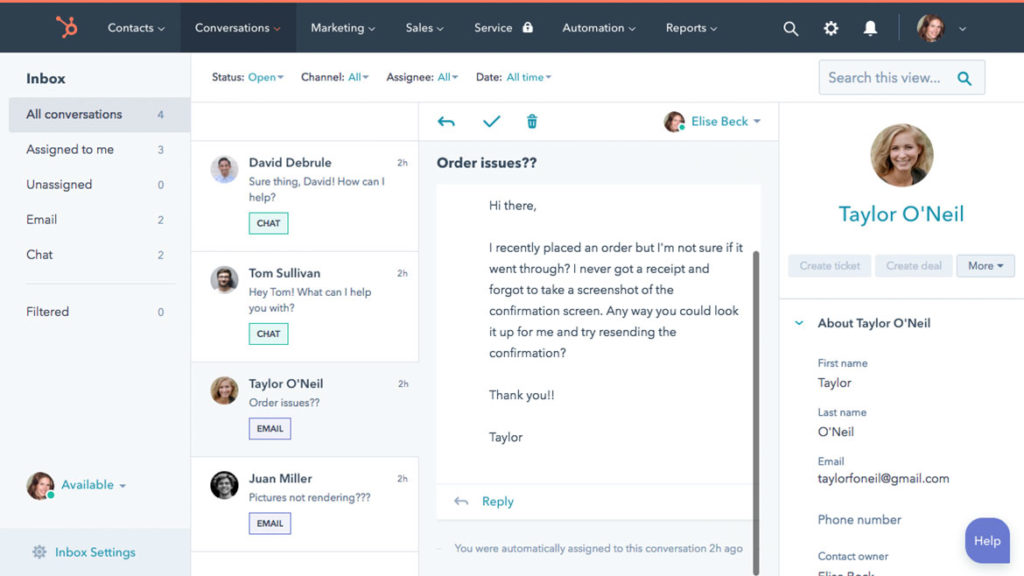 Suppose you wanted to reach out to customers that spent less than $25 at your store. With HubSpot, you can create an automated workflow that uses purchasing data to create a customer segment that meets your criteria. Then you can have email marketing campaigns designed to boost their average cart value automatically sent to them.
Use pre-built workflows to make it even easier to create custom connections between HubSpot and Shopify.
For example, sometimes, you may want to use a draft order to secure a potential deal. But keeping track of draft orders and their progress can be difficult.
Hubspot Pros
Hubspot makes it easy to keep all your marketing tools, sales, and customer service data in one place. With an extensive App Marketplace to connect all your tools, Hubspot is the type of CRM that grows with you.
Hubspot Cons
Hubspot is not always the cheapest option depending on your needs. Conditional on how many seats you need and the features you want, their plans can quickly go from freemium to a decent cost per month.
Capturing nearly 33% of the CRM market, Salesforce boasts itself as the top CRM platform in the world. With a flex that big, Salesforce has to deliver a top-notch platform––and it does.
From client tracking to sales pipeline management, it's equipped with everything you need to manage your relationship with partners, suppliers, and prospects.
Salesforce's CRM Shopify integration also makes it easier to track customer data, allowing you to keep tabs on what customers buy, when they buy it, and how often they make purchases.
This tool is straightforward to manage, designed to be one of the most adaptable CRM solutions on the market, and can support small businesses to global enterprises.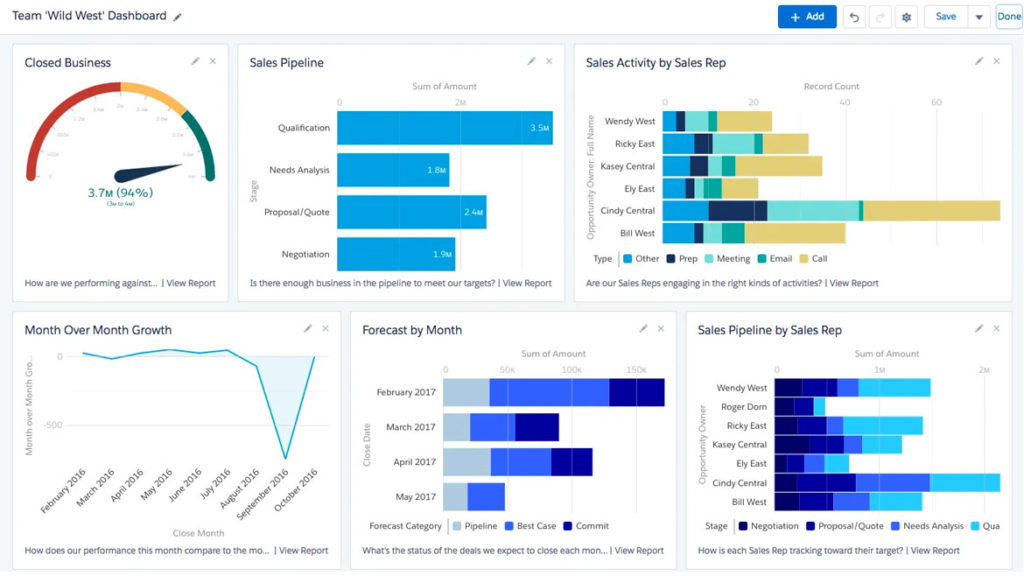 Like HubSpot, Salesforce CRM also comes with a MESA integration, which means there's not much you can't do. MESA users can easily connect Shopify to Salesforce and create complex workflows between their contact management solution and their Shopify store, reducing the time spent researching and corresponding with customers.
For instance, you can send a Shopify customer to a Salesforce contact or do the same for a Salesforce product, all within a few quick steps.
Salesforce Pros
Shopify stores have a lot to benefit from Salesforce CRM. You can respond to customer requests quickly and learn more about your audience. Salesforce is also completely customizable and has many advanced marketing campaign integrations for email marketing, ecommerce analytics and contact management. It is probably best suited for heavily regulated businesses with highly specific needs.
Salesforce Cons
This CRM does come with a wide range of capabilities, but customization and additional users come at an extra cost. This can lead to higher costs compared to other CRMs.
Given its complexity, it is also not uncommon to have technical issues while implementing Salesforce. Not only will you need to learn how to use the software, but you'll need to identify the tools that are best suited for your business. Automated technical services can fail to resolve your issue, and it can take days to contact a live person from their support team.
3. Zoho
Zoho CRM platform is becoming increasingly popular for being affordable, easy to use, and able to meet the needs of ecommerce vendors of all sizes.
Subscriptions start at $14 a month, which offers some of the biggest bangs for your buck.
With a comprehensive suite of business management tools, Zoho is equipped to handle anything from marketing campaigns to finance and HR. It works with Shopify and other Zoho tools, making it easier to handle accounting, invoicing, and other business activities from one platform.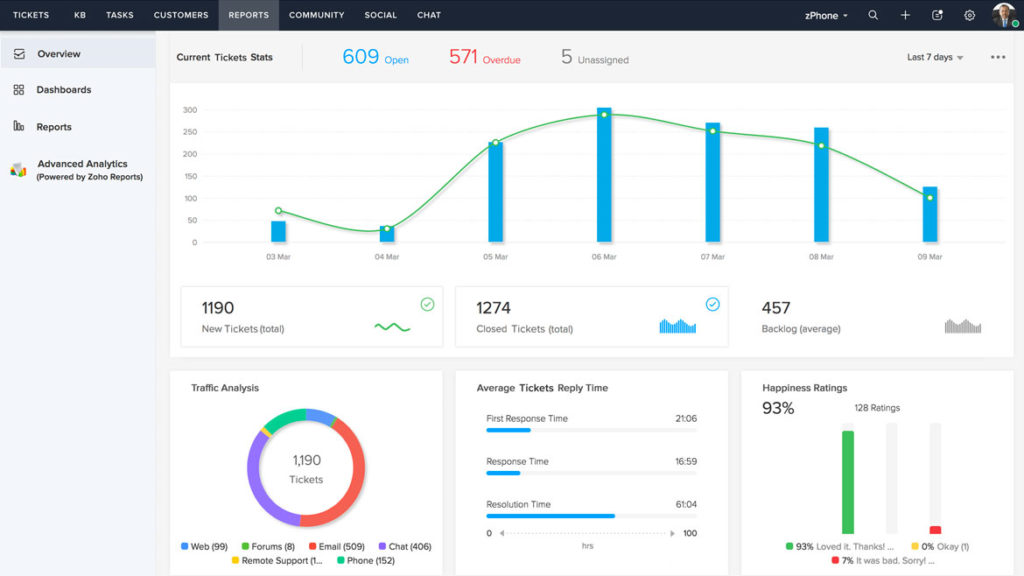 Their long list of integrations also includes apps/platforms like Canvas, Slack, Facebook Ads, and more.
When it comes to automation, Zoho provides customizable workflows and templates, which can save you time and money when it comes to automating repetitive tasks.
Zoho Pros
Zoho provides solid email marketing and other marketing automation features. A paid plan also comes with access to a form builder app, making it easier to manage daily work. Another plus is Zoho's comprehensive reporting that allows you to do a deep dive into your data.
Zoho Cons
To get started requires a decent amount of customization for your needs. Zoho offers many features, but as your demand increases, its depth of functionality proves to be very limited.
4. Sendinblue
Sendinblue's CRM platform is one of the newer tools on the market, but don't let its young age fool you. Thanks to its broad range of marketing automation capabilities and simple, easy-to-use design, it's quickly becoming an alternative to more established CRMs like Salesforce and Zoho.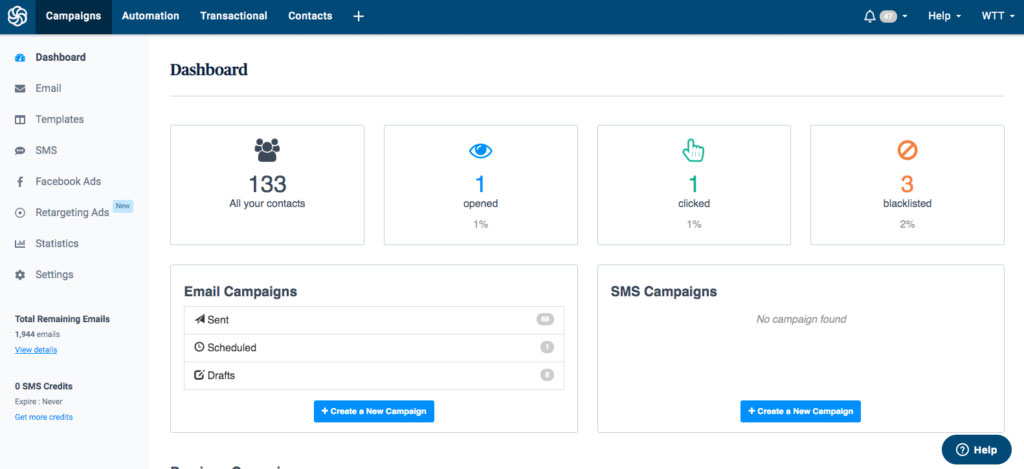 Sendinblue comes with a CRM Shopify integration, integrations to other popular ecommerce platforms, and support with a broad range of business and marketing tools like Stripe, SumoMe, and Facebook Ads.
Another popular feature is customer behavior tracking, which can help you fine-tune your email marketing and sales efforts. Instead of throwing darts aimlessly, you can have the support data needed to hit the bullseye every time.
Sendinblue Pros
Sendinblue's competitive pricing makes it lucrative compared to other CRMs on the market. It shines when it comes to solid email marketing and SMS marketing, with the ability to trigger campaign actions based on your merchants' email and website engagement behavior.
Sendinblue Cons
Their free plan has a low daily spending limit of 300 emails, which any business could chew through quickly. The Sendinblue CRM system also has complaints about the web application having slow loading pages.
5. Zendesk
While many people associate it with customer support, Zendesk also has a CRM known as Zendesk Sell. While many people associate it with customer support, Zendesk also has a CRM known as Zendesk Sell. Used by more than 200,000 companies worldwide (including Uber and Staples), Zendesk is one of Salesforce's biggest competitors. So, you know that its CRM capabilities are going to be top-notch.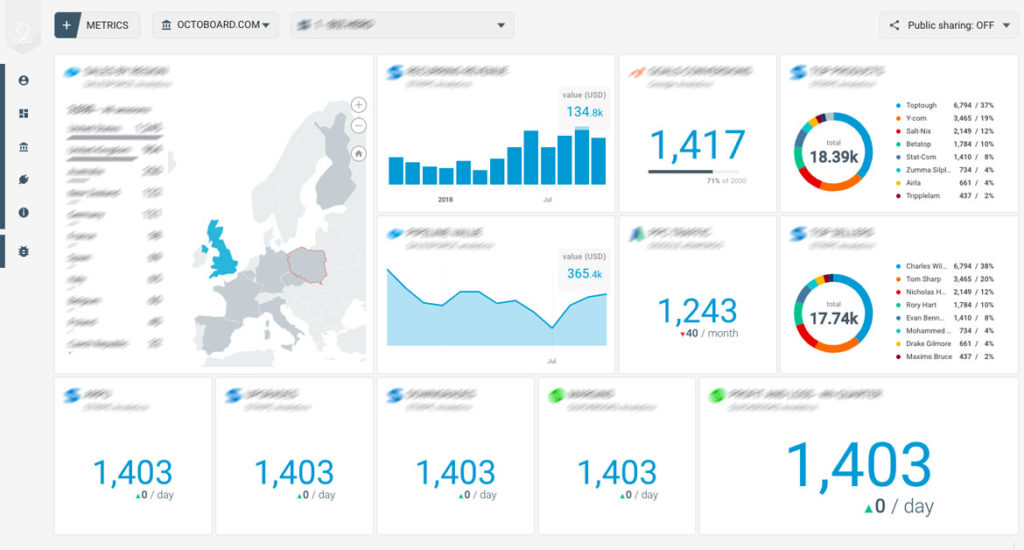 You can use Zendesk Sell to gain better insights into when customers open and read emails. It also comes with the ability to import customer data from Shopify and build a multi-channel marketing automation campaign. Create email templates and automate communication all to your specific needs.
Additionally, it integrates with a growing list of applications, ensuring data moves smoothly between Shopify and your other business tools.
Zendesk Pros
Their "Sell" module comes with great pricing options suitable for most small to midsize businesses. Email integration includes both Gmail and Office 365, and it comes with a built-in telephone system. Businesses that don't have a fully formed IT team will benefit, as Zendesk Sell is fast and easy to learn.
Another plus is that Zendesk Sell has collaboration tools to keep remote and onsite workers connected, regardless of geography.
Zendesk Cons
When it comes to any CRM, there's always a bit of a learning curve in the beginning. As you add more advanced features, the price goes up significantly. Zendesk Sell also comes with no built-in marketing tools.
What is the best CRM for a Shopify store?
Part of what makes a good CRM effective is its ability to help you work more efficiently within its Shopify integration.
All the CRMs mentioned in this post work well with your Shopify store but few have native integrations with any ecommerce platform. This means your CRM data won't be as accurate as your business needs.
Ultimately, it's the driven, overwhelmed staff that identify a few key motivators for needing more from Shopify and their CRM:
A better way to work
Balance smarter hacks that allow some daily peace of mind.
Set work on autopilot and tame the everyday chaos.
Build a cohesive business with clever solutions to lighten workloads.
All your apps working together
Integrate data sources into a single view for better decision-making.
Expand the reach into any app connected to the internet.
Link existing apps to simplify the reliance on custom code.
Shopify integrations made easy
Create unique experiences for teams and customers.
Take you Shopify store to new heights, faster than competitors.
Do more with the data and apps already in use.
Today's growing businesses don't need more bloated systems. They want to stay nimble and build quickly in case they need to shift their focus.
The Best Shopify CRM integration solution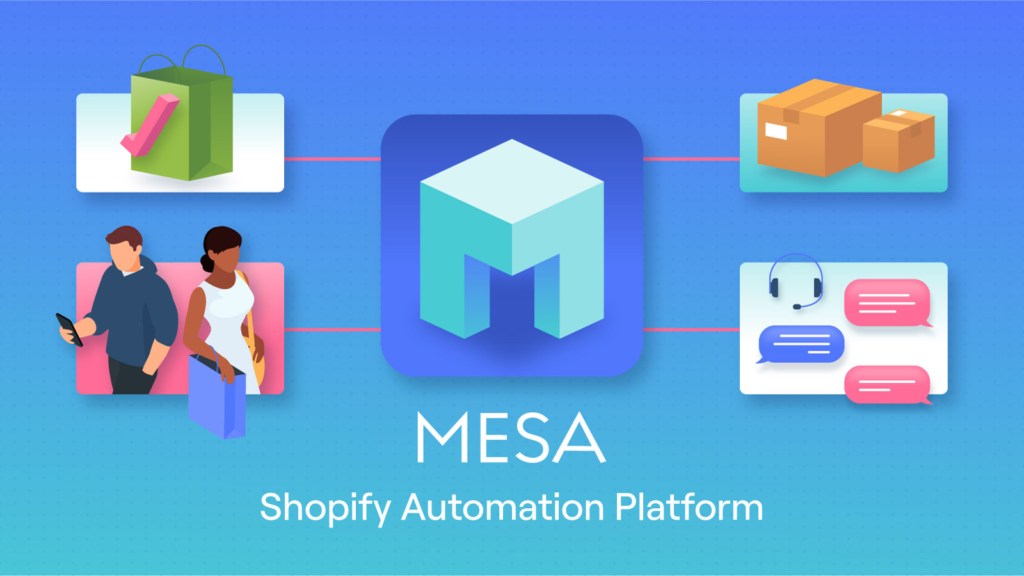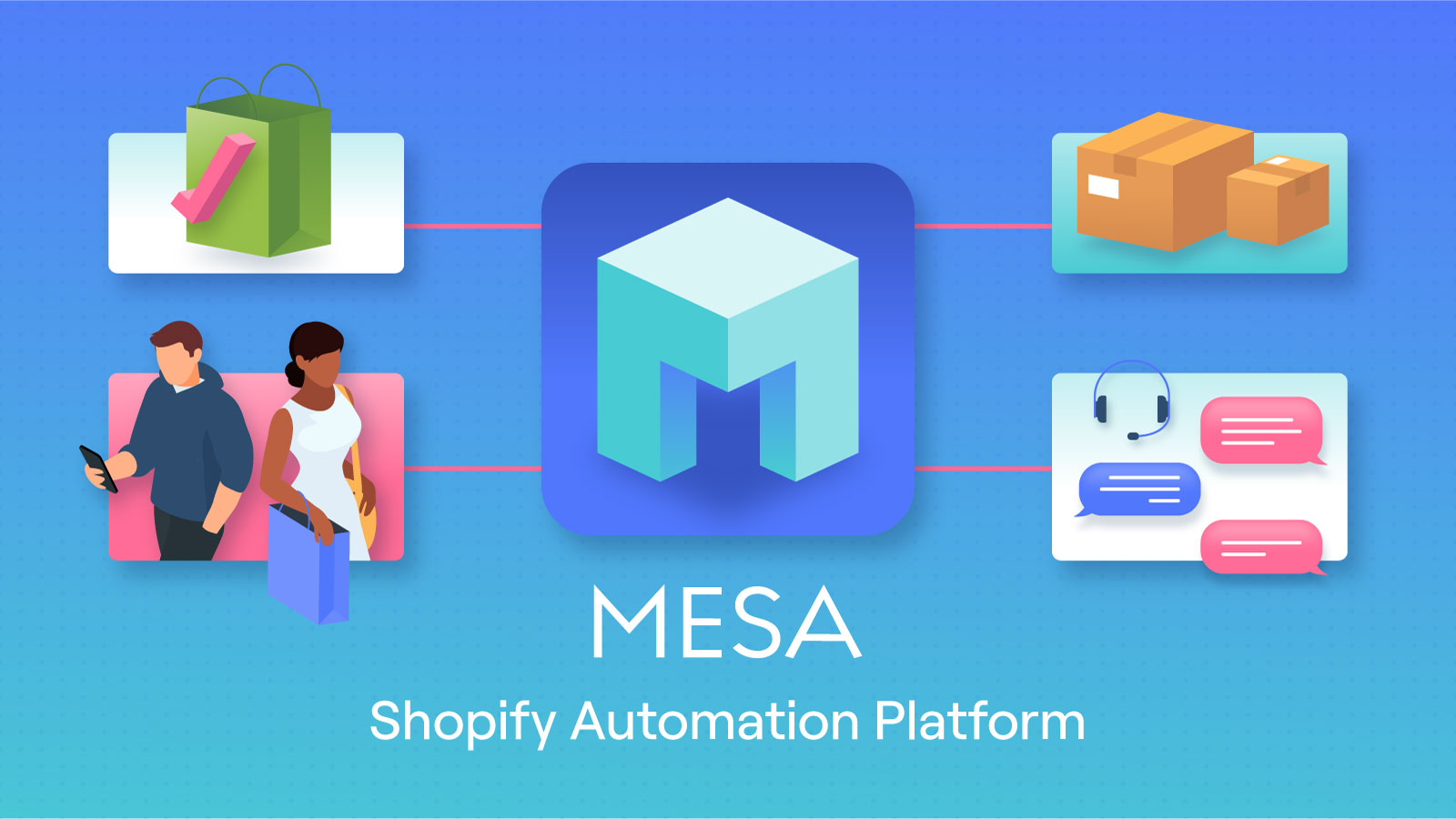 MESA lets you create action and trigger-based workflows, taking the complexity of code out of the equation. Create the perfect automation workflow for customers complex problems.
Also, you get 24×7 access to our team of experts. We'll help you find automation templates or build any integration to ensure you deliver the best experience.
Lastly, if you're looking for managed services? You can count on us for that too. We'll take care of large integration projects for your agency and handle the complete setup for each integration.
If that sounds interesting, why not give MESA a try?
New Shopify Apps Weekly Newsletter
We watch for new apps then package them into an email sent every Tuesday.