When running your own ecommerce store how many times have you wished there was just one more hour in the day or that you had another set of hands? Automating repetitive tasks with an e-commerce automation app like Shopify Flow is one way you can start saving time. But, Shopify Flow alternatives are available when you find yourself needing more from this app.
Don't get roped into using expensive enterprise solutions that may not be right for your online business. Thankfully, there are some great apps out there that are alternatives to Shopify Flow. Most have tiered pricing plans that allow you to increase your workflow automation as your Shopify store grows and only pay for the features you use.
For simplicity, we've compiled a list of the best Shopify Flow alternatives with the pros and cons of each below.
MESA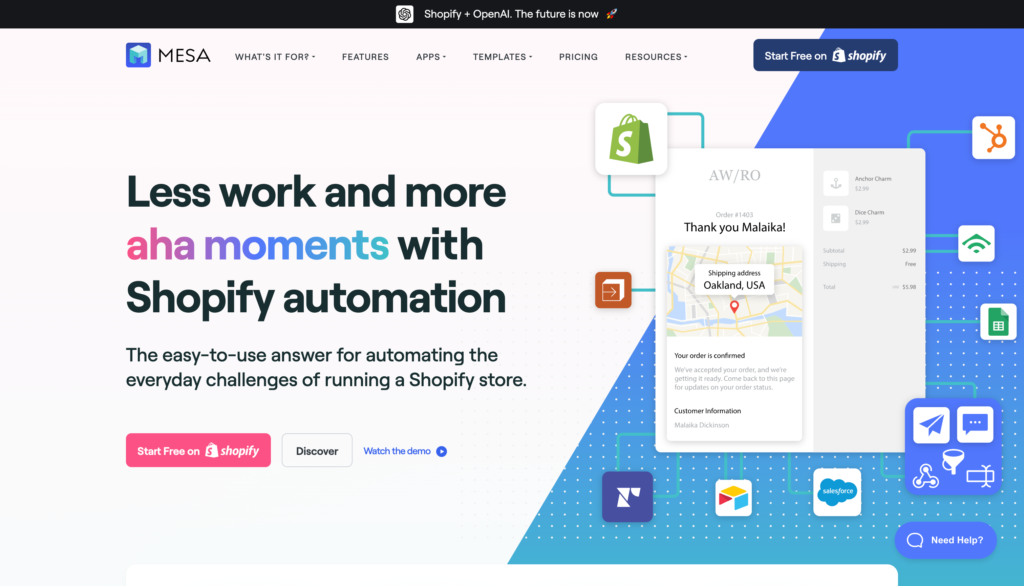 This Shopify automation app is perfect when you just need to automate tasks and get back to your business. MESA allows users to easily create workflows across Shopify and other connected ecommerce applications.
It was one of the first Shopify Flow alternatives so they understand which repetitive tasks Shopify stores need to automate most. Also, MESA comes with the most built-in workflow apps so even seemingly complex workflows between ecommerce systems are possible.
Shopify App Store Rating: 4.9
Pricing: Tiered
Free – 2 workflows
Hobby: $20/month – 5 workflows
Professional: $75/month – 20 workflows
Business: $300/month – unlimited workflows
Pros:
Includes free workflow setup by Shopify experts
Connects Shopify data to more than 50 ecommerce apps and services
Deep integrations to Shopify and Shopify Plus
Cons:
Steeper learning curve for advanced workflows
Zapier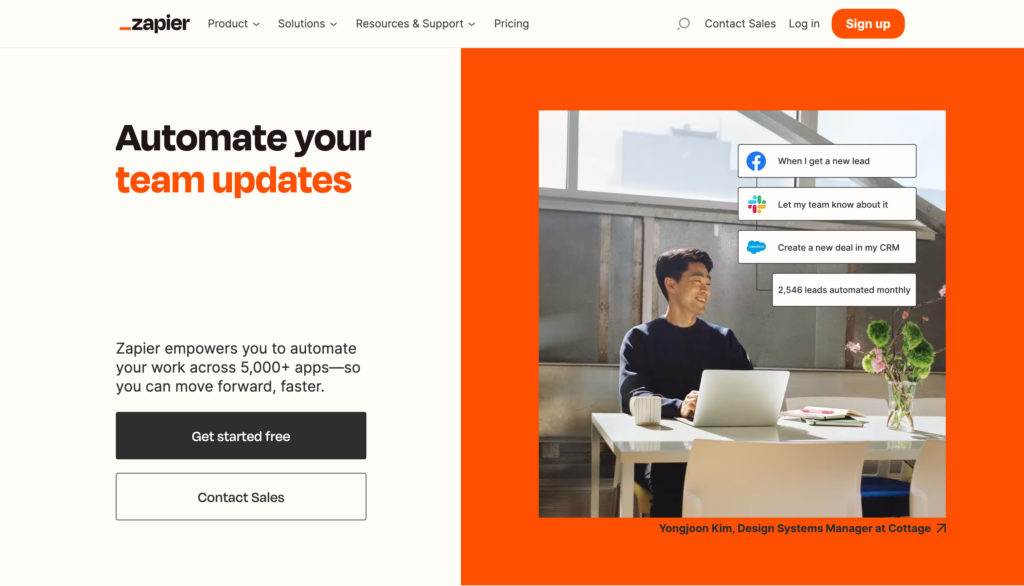 One of the first automation platforms that helped define and bring automation to the user is Zapier. It connects everyday apps and services, allowing users to automate actions between them easily.
It enables you to move data between your everyday apps without having to code. Additionally, you can create customized automated workflows that can connect with hundreds of different apps and services.
The term "automation" is synonymous with this automation platform, regardless of what you do or the type of business that you work for. They've developed an easy-to-use interface so anyone can bring the power of automation into their daily lives.
Pricing: Tiered
Free – 100 tasks/month
Starter: $19.99/month – 750 tasks
Professional: $49/month – 2000 tasks
Team: $399/month – 50K tasks
Company: $799/month – 100K tasks.
Pros:
Connects Shopify with hundreds of apps and services
Easy-to-use UI
Works with any Shopify plan
Cons:
Costlier than some alternatives for high-volume tasks
Limited data fields in key applications like Shopify.
Lacks specific app integrations unique to Shopify merchants.
Parabola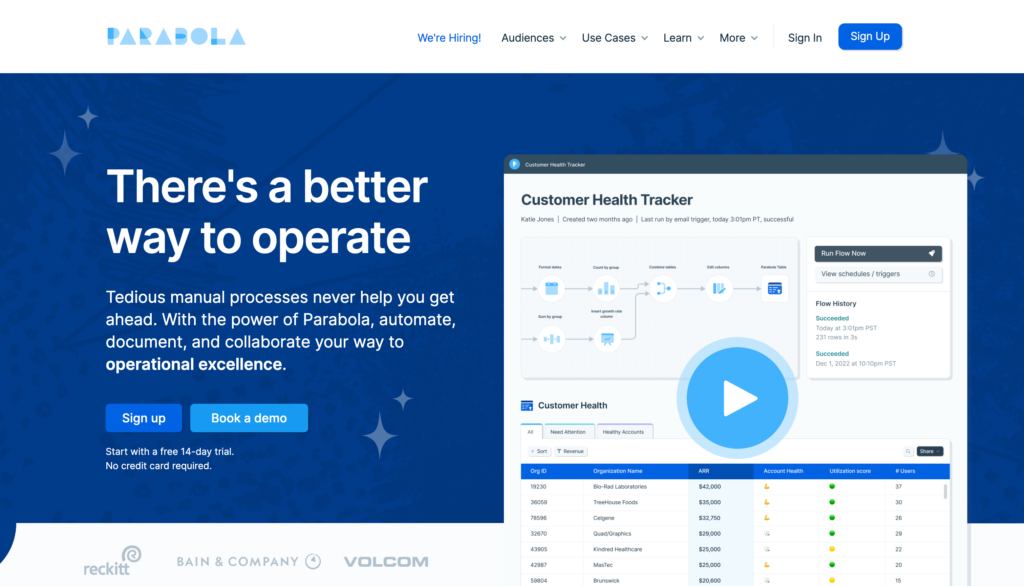 Touted as an ecommerce automation platform that requires no coding is Parabola. It allows users to quickly and easily create complex business processes with visual, drag and drop interface tools. It also connects Shopify data to 3rd-party applications, allowing for easy automation across multiple platforms.
Their workflow builder exposes coding functions in a visual way so those that understand how to code and how systems structure their data will be very comfortable using Parabola.
Shopify App Store Rating: 5.0
Pricing: Tiered
Basic plan: Free – 3 workflows
Plus: $80/month – unlimited flows
Pros:
Easy-to-use drag & drop builder
Connects Shopify data to more than 100 app integrations
Great for CIOs who understand technical processes
Cons:
More expensive option than other alternatives for more common workflows.
Not suitable for novice users who don't have a lot of technical experience.
Alloy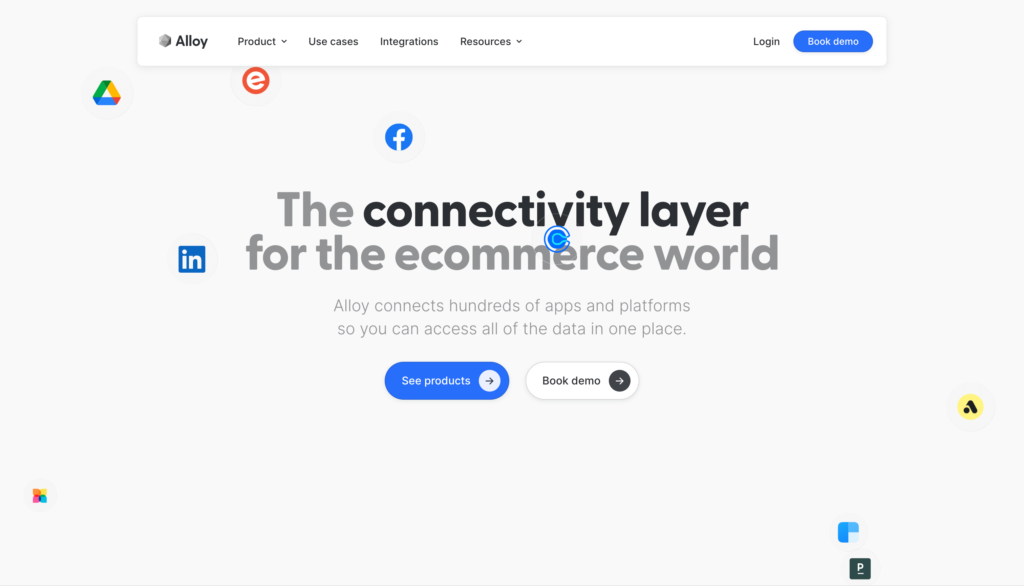 A SaaS integration platform, Alloy allows apps to quickly and easily develop integrations with other apps. Their Embedded product offers a streamlined interface for bringing app integrations into any connected app. This developer tool helps businesses focus on their core features; leaving the concern of third party software integration to them.
Alloy's Automation product brings the same ease of use as Flow to the user, so you can set up workflows for your business needs too. They offer 100+ app integrations focused on ecommerce management software solutions.
Shopify App Store Rating: 5.0
Pricing: Single-plan
$599/month – unlimited workflows
Pros:
Connects with multiple ecommerce platforms
Over 100 app integrations are available
Cons:
The most expensive option for building automation.
What is Shopify Flow and what are its key features?
Shopify Flow is designed to help users add workflow automation to their business. And, Shopify understand the importance ecommerce store data is to a growing business. By automating more tasks, users are then able to focus on high performing marketing campaigns, connect inventory insights, nurturing positive customer experiences, and so much more.
Its key features are:
Automating workflows for Shopify tasks: Shopify Flow automates manual tasks like order fulfillment, customer service requests, and inventory synchronization. This saves you time when running your online store.
A drag-and-drop workflow builder: Using their app connectors, anyone can quickly create a workflow without knowing how to code.
It's a free app: Shopify originally developed Flow to offer automation for their high-tiered merchants and has slowly released it to more plans.
What is Shopify Flow pricing?
Shopify Flow is a free app to merchants on all plans except for their lowest, Basic. Presumably, for those on Shopify Basic, you're not doing enough order volume to concern yourself with automation. There are no additional fees or hidden costs to using Shopify Flow aside from the standard Shopify fees and credit card processing fees.
Why might you consider using a Shopify Flow alternative?
Connect Shopify data to 3rd-party systems. Shopify Flow only connects Shopify apps that developed Flow Connectors within their apps. So if your business relies on data within Shopify to be included in a CRM or ERP system that doesn't have a native integration, you'll need to find an alternative solution. We have an article on extending Shopify Flow to these systems but the easier approach to use an alternative.
Build workflows that start when Customer Update events occur. Currently, there is no way to do this very common workflow. However, we have an article that walks you through how to do this with MESA. Here's another article for popular subscription customers.
You need a Shopify expert who understands automation. Running your ecommerce business has enough challenges in your day-to-day routine. You need a reliable resource to contact with questions and get fast, reliable results so you can keep your business moving forward.
What are the benefits of MESA vs Shopify Flow for Shopify businesses?
First and foremost, you can try it out first with the free plan. Then you can work your way up MESA's paid plans as you scale up your business. This is great for growing businesses.
MESA has workflow templates for the most popular ecommerce automation tasks used when running Shopify stores. Things like: adding product options to order notes, auto-tagging orders, auto-tagging customers based on qualifying details, and moving data to popular apps like Google Sheets, Airtable, Hubspot, Etsy, and more.
The future is AI and only MESA brings the power of artificial intelligence to your Shopify store. Leverage OpenAI to craft creative email campaigns or write product descriptions for you. That's only the beginning…
And finally, MESA has Shopify experts who are ready and willing to help craft any workflow for your immediate and long-term needs. And, at no additional cost.
New Shopify Apps Weekly Newsletter
We watch for new apps then package them into an email sent every Tuesday.