Automation is the use of software technology to complete tasks with less human intervention. As you start to scale, automation quickly becomes the foundation on which your business operates.
The main goal of ecommerce automation is to help your online store convert manual tasks into automated ones. As a result, you can now make more of your time to focus on higher business priorities.
But this doesn't imply the firing of your current workforce. In fact, jobs have been created, not lost, due to ecommerce automation. Optimizing work automation will require constant job reinvention, which will lead to new opportunities for upskilling and increase your team's effectiveness.
Always keep this in mind; ecommerce automation saves you time and valuable resources. This blog post will show you how, as we take a deep dive into benefits and best practices.
What is the true measure of automation success?
Recently, the McKinsey Global Institute found that current at-scale technology can automate about half of the retail process, but only 61% of companies say they have met their automation targets.
As a merchant, you should view ecommerce automation as a necessary tool to boost your store's efficiency. Setting your expectations and the right practices will ensure you're getting the most out of your automation.
The benefits are many, but let's break down a few key ones that you'll see a quick return on.
Key benefits of ecommerce automation
Improves customer experience – Customers desire unique, simple, time- and money-saving experiences. In addition, they value transparency, order tracking, and access to the most up-to-date inventory and information on how orders are being fulfilled.
Allows employees to remain engaged in their roles – Your team members are now more engaged in the operation since they have all the information they need, including their jobs, goals, and plans for the future. There's no confusion about what's in their control and what may be done to improve performance.
Solves problems that allow your business to thrive – The time previously spent on data entry chores can now be allocated to serve consumers better and negotiate better deals with suppliers. Those are the activities that, in the long run, lead to increased profits for a company.
Cost savings – Cutting operational costs is possible with the application of cutting-edge technological solutions. With automation, your employees have a significant advantage by having access to advanced tools that help them do their jobs more quickly and efficiently.

Automation can save you a lot of money by reducing your labor amount in the long run. By upskilling, you're putting up a much smaller investment than if you were to hire outside your existing workforce.
Overall reduction in manual errors – To improve order accuracy, fulfillment workflows eliminate errors from manual inputs and tasks. All of your shipment information is updated using bots with order and picking automation, making the process more transparent and rigorous.
How can you automate your ecommerce operation?
In simple terms, ecommerce automation happens through an automated workflow. Each workflow consists of a trigger, a condition, and an action.
For example, let's say that your business is starting to take off, and you'd like to keep track of your top customers to offer incentives/send personalized emails. Knowing who spends a lot on your store is helpful for your marketing and logistics team.
Here's how it works:
Trigger: WHEN an order is created in Shopify
Condition: IF the customer's total spend is over $500
Action: THEN update the Shopify customer with a VIP tag
Each step in the workflow is 100% customizable. Once you've finished, your time spent trying to track VIPs manually is now a thing of the past. Sit back, and let the workflow do the heavy lifting for you.
Identify what to automate
There are no hard and fast rules about what should be automated, but there are certainly some guidelines to follow as you begin to establish your game plan for ecommerce automation.
It requires three+ humans to complete manually – Once three or more people are actively working on a single process, it becomes harder to run that process efficiently. It also raises the likelihood of human error, as communication becomes more difficult to achieve.
Time-sensitive activities – Activities completed at a certain time each day are often ripe for automating. Software excels at completing activities on time.
Triggered by particular actions – Do you have several processes that are completed in reaction to a previous action (even one taken by a customer)? These processes can likely be automated. The action the process reacts to will simply be used as the trigger.
Human error is adding up – With any process run by a human, there is room for human error. It is only natural. If the errors are beginning to pile up and cost your business, it's probably time to have a computer take over running the tasks.
Takes place across multiple platforms – It's common for growing companies to create manual processes that involve moving data from one platform to another. After all, the perfect systems for you don't often natively integrate. That said, though, processes like these make for great automation candidates with the right software.
The process is a time-suck – If you have processes that occur with some frequency that fill up too much of one or more of your employees' days, chances are, it can and should be automated.
Examples of ecommerce automation
As automation becomes more ingrained in ecommerce, how we use it is ever-evolving. Growth-focused ecommerce businesses will automate things differently than if you're just starting out. Here's what are a few examples –
Fulfillment: Receiving, packaging and shipping orders can be difficult without the right systems in place. Make sure you choose the right strategy to avoid the infamous "Where's My Order," conversation with customers.
Receiving Inventory: Automating inventory management in your online business will allow you to list and update products quickly and easily.

Employees may just scan barcodes into smartphones or tablets, and the software will instantly fill the count with the item's details. Stocktaking can now be completed in a fraction of the time it used to take.
Storage/Order Picking: Every fulfillment warehouse has a specialized, expensive, and repetitive task known as picking. Using the correct picking method and an automated picking system to maximize output while avoiding errors is critical.

Automated matching of barcodes, inventory, and location can't be used to generate the picking order by the fulfillment automation system.
Shipping/Order Tracking: Tracktor, for example, is a Shopify app that integrates with hundreds of shipping services to provide real-time tracking information to your customers on your website.

It is possible to manually enter tracking numbers into Tracktor or have Shopify do it for you. Include a dynamic "track your order" button in your order confirmation emails. If the customer clicks on the button, they can track their order on your website.
Delivery: Thanks to ecommerce automation, misplaced goods, and customer complaints are a thing of the past, giving retailers the automation tools they need to develop effective ecommerce delivery plans.

In most cases, complaints about package delays can be resolved quickly when there is a digital documentation of the location, time, and delivery method.
Returns: When a consumer inquires about returning an order, real-time AI bots can pick up the customer's intent. The automation workflow process checks if their products are eligible for a return, updates your CRM, CMS, and courier, and gives the customer a pre-paid label for a return in real-time. All of this happens in a matter of minutes, without the need for human interaction (or human error).
Customer Service: In most cases, your first touchpoint is through your customer service department. A happy customer is a repeat customer.
Retrieving customer complaints: Customer complaints can be retrieved from the email queue. Customers receive a letter from a software robot acknowledging receipt of their complaints.
It combines consumer information with a date and time to initiate the appropriate contact. This keeps customers informed while complying with regulations and avoiding fines.
Assigning the case to the appropriate employee: Assign a case number and classify the complaint appropriately. There are a variety of tags that may be used to identify the sort of inquiry and route emails with keywords like "password" to IT help and "not working" to customer service. The email tags help reduce delays in routing emails to the appropriate teams.
Facilitating a resolution: When a consumer abandons their cart or has payment troubles, a fast, scheduled call can be used to contact them. Instead of waiting for the client to email, reps can use an automated call to resolve the issue.
Proposing resolution to close the complaint: As soon as a user has a question or problem with your website, they'll initially look for a chat option. Live chat with scripted responses is essential for this reason. If necessary, the missed responses can be forwarded to the support rep's inbox for a speedy response.
Shopify automation tools
There are various tools available to automate the various aspects of your Shopify store ranging from marketing to fulfillment.
When it comes to high volume retail, hours can be wasted moving data between the various siloed systems that run so much of today's business. MESA is focused on cutting out the need to manually run intersystem processes. While each of the other systems listed here automates a certain set of tasks, MESA provides the ability to automate between multiple systems, creating a veritable foundation of automation for your whole business. Some automations MESA can run between Shopify and your other systems:
Provide better customer support by auto-tagging to help segment customers based on behaviors.
Automate inventory management processes, such as reordering low-stock products.
Pause ads highlighting a low-stock product.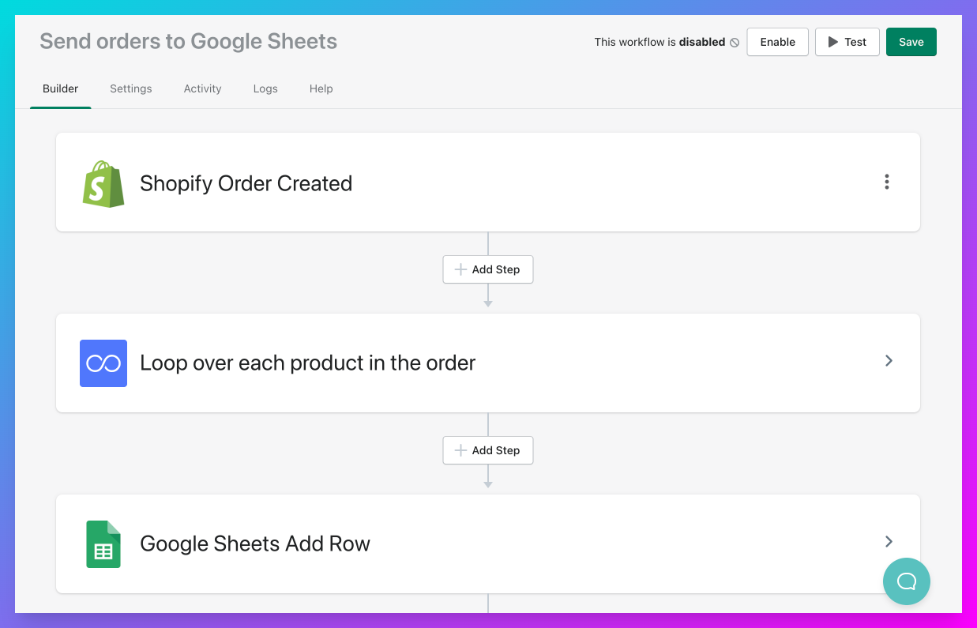 Ecommerce automation: Your secret weapon for 2022
The future of work has arrived in retail.
Business automation will take your store to the next level of success if you have a powerful ecommerce platform on your side. Ecommerce automation enables small businesses with limited resources to compete with larger companies. Your online store will benefit significantly from automating some of the laborious tasks being performed manually.

Workflow Setup Service Available
What would help you be more productive? We'll craft a workflow for you.
Request Your Workflow
New Shopify Apps Weekly Newsletter
We watch for new apps then package them into an email sent every Tuesday.