Ecommerce automation is essential for growth and long-term success. There are a variety of ecommerce automation software tools available to automate the various aspects of your store ranging from marketing to fulfillment. We put together a list of our recommendations for each type of automation you'll need to run your ecommerce business. Throughout the list, you'll find a short description, base pricing, and a customer review.
1. Integrations: MESA
When it comes to high volume retail, hours and hours can be wasted moving data between the various siloed systems that run so much of today's business. MESA is focused on cutting out the need to manually run intersystem processes. While each of the other systems listed here automates a certain set of tasks, MESA provides the ability to automate between multiple systems, creating a veritable foundation of automation for your whole business. Some automations MESA can run between Shopify and your other systems:
Provide better customer support by auto-tagging to help segment customers based on behaviors.
Automate inventory management processes, such as reordering low-stock products.
Pause ads highlighting a low-stock product.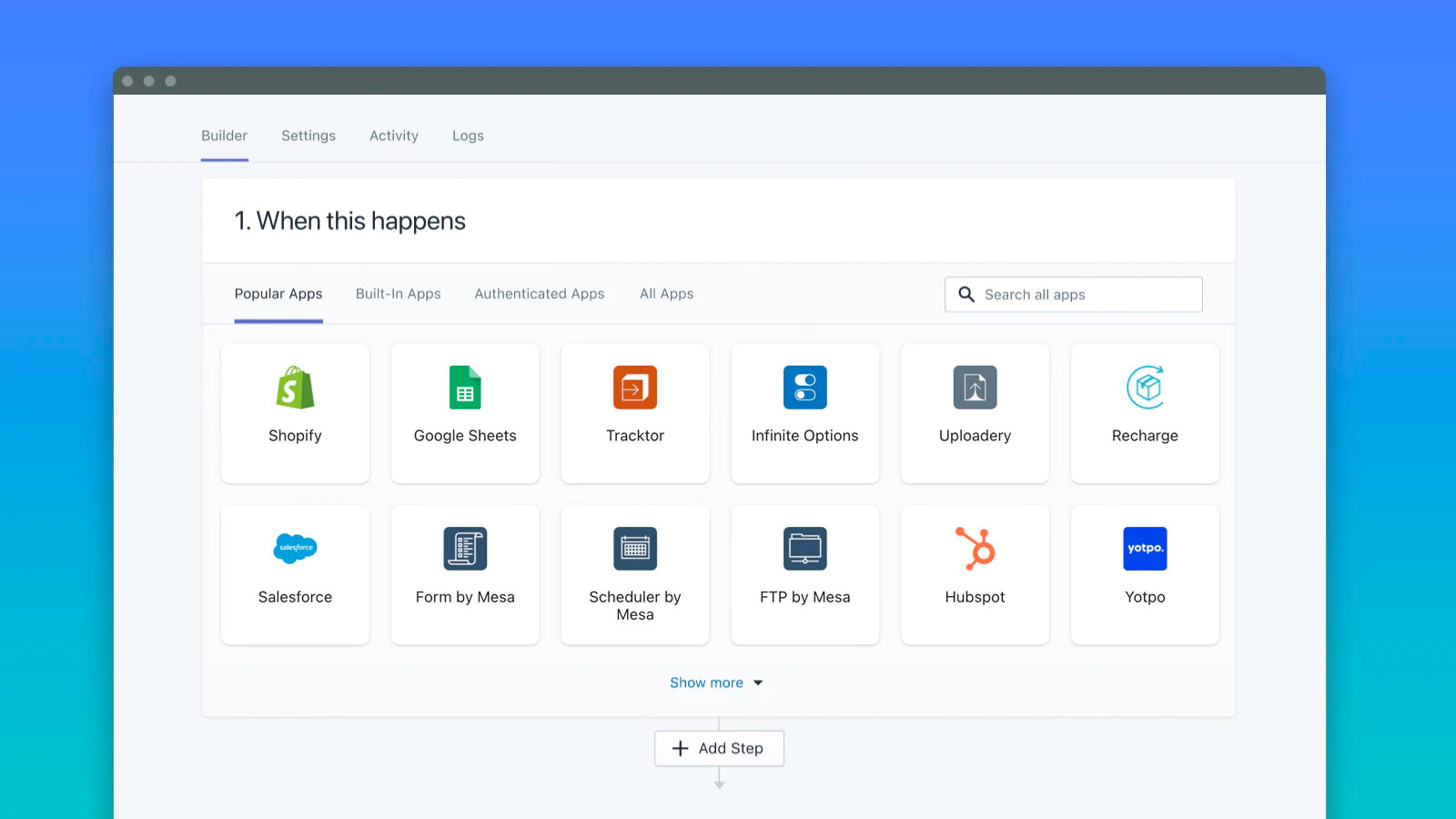 Standout review: 5/5 stars on Shopify App Store
"MESA helped us set up our integration in a smart way that didn't diminish any of the features within Shopify or potentially restrict us from utilizing new features that came out down the road. " – Bradley Platz
2. Marketing Automation: Klaviyo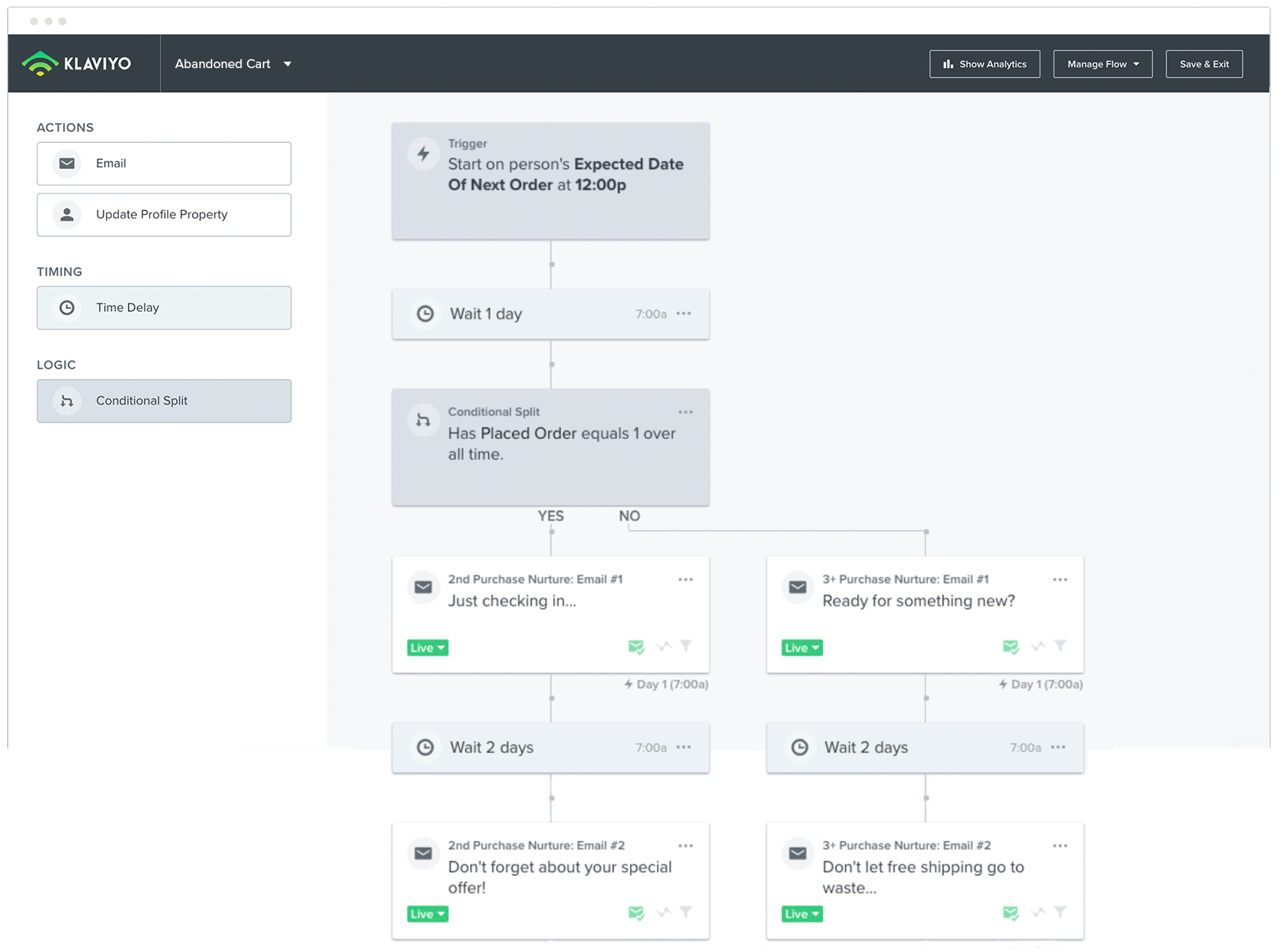 Be sure to integrate Shopify to Klaviyo using MESA.
Klaviyo is a marketing automation system designed specifically for ecommerce businesses. What makes Klaviyo stand out against other ecommerce automation software is its focus on making data actionable for marketers. Klaviyo has multiple features devoted to data science and understanding exactly who your customers are and what they do on your site.
Starting price: $0 for up to 250 contacts
Standout review: 5/5 stars on Capterra
"I've been using Klaviyo for about 9 months now, and I absolutely love it. It helped me increase the proportion of monthly store revenue by email from 10% to 50% in under 6 months. It's easy to use, easy to integrate with Shopify, and provides awesome functionalities that any ecommerce store could need." – Verified Reviewer
Shoelace is a retargeting ecommerce automation software tool. Unlike the standard automated retargeting tool, though, Shoelace enables you to set up full ad flows that tell an effective story to your customers, rather than just bombarding them with products. Perhaps best of all, while a company can build their own flows, Shoelace offers to have one of their retargeting experts build your flows for you.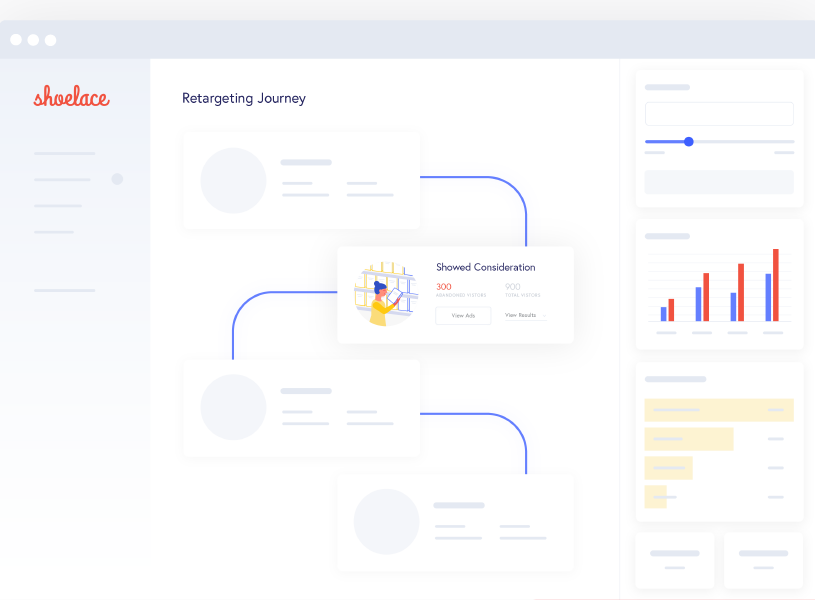 Starting price: $249/month
Standout Review: 5/5 stars on the Shopify App Store
"We're seeing some great results with the Shoelace journeys plan so far. The customer support team has been exceptional in getting us onboarded and troubleshooting some pesky Facebook issues in the beginning, and now we're on a roll. Retargeting is an essential component of our marketing strategy and Shoelace provides a great way to share intuitive content that resonates with our audience." – One Tree Planted
Flow is an easy-to-use drag-and-drop tool that enables merchants to automate the backend busywork that can take up so many hours of the day. It's natively integrated with 38 Shopify apps and free, making it a great choice for users of those apps.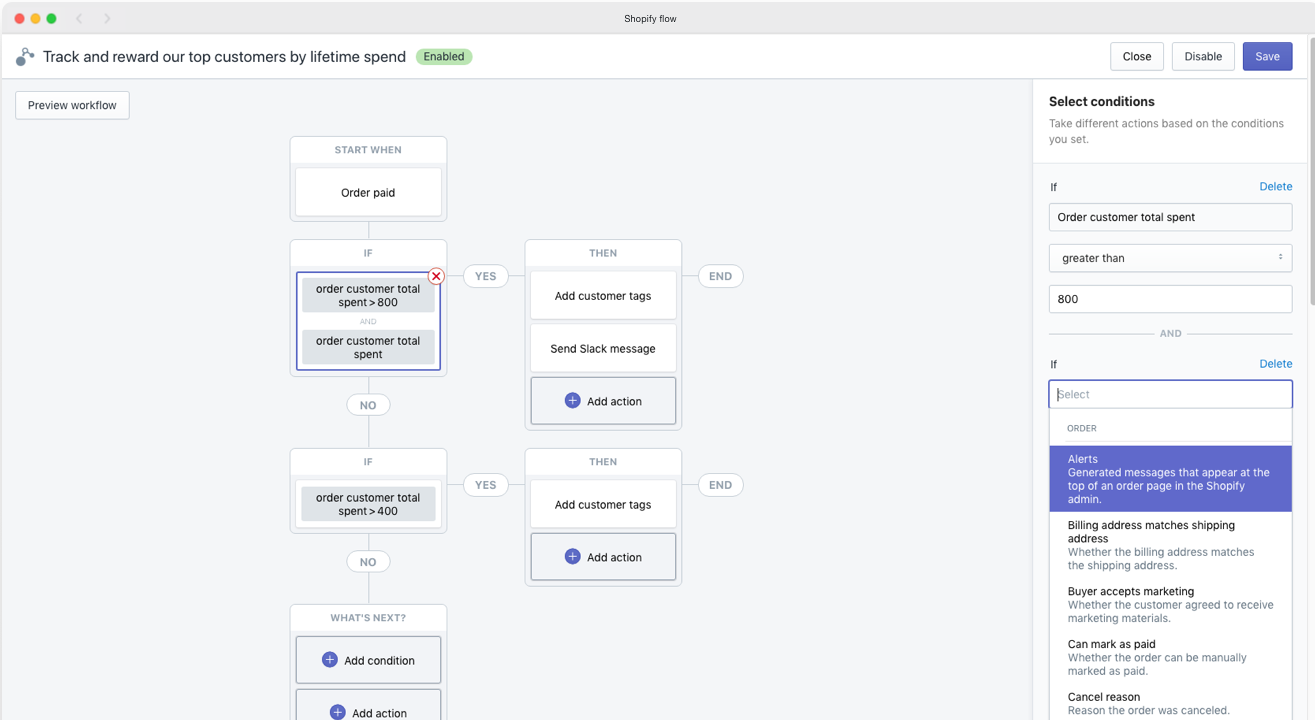 Starting price: Free for Shopify Plus users
Standout review: 5/5 stars on Shopify
"Great so far. Would be great if there were more product filters on the order level. Also integrating with other email partners would be ideal." – BH Cosmetics
5. Dropshipping: Spocket
Spocket is a dropshipping supplier that enables US and EU-based dropshippers to work with local distributors, which means they provide a faster ship time than most dropshipping suppliers. Spocket automates the entire post-purchase process for dropshippers once the order is processed.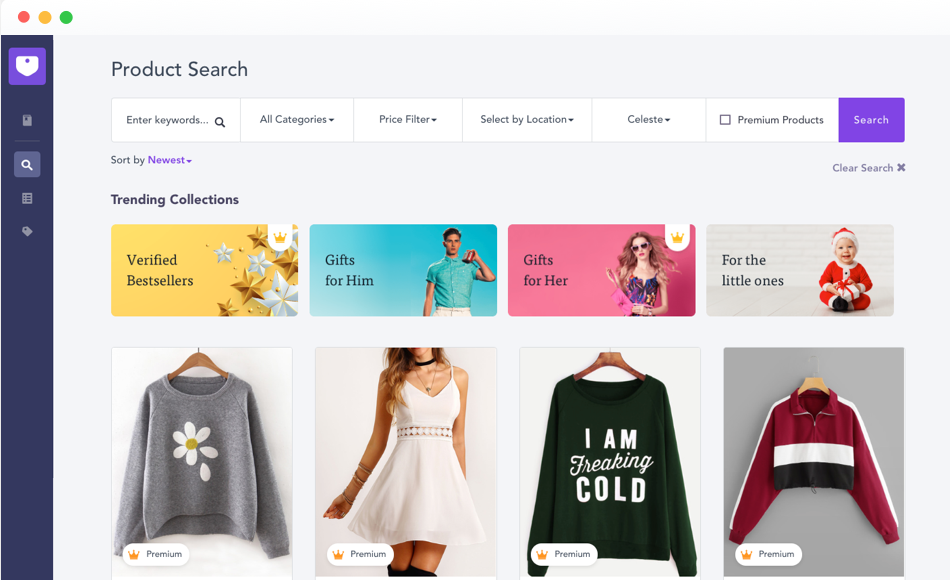 Starting Price: $9/month
Standout review: 5/5 stars on the Shopify App Store
"The app works great! I'm able to find the products I need for my store as well as other items that I can't get from anywhere else. The app itself looks clean and easy to use. The customer support team is great too." -MyLittleRockstar
Launchpad is Flow's frontend counterpart. It enables merchants to:
Schedule products and promotions to publish across multiple sales channels simultaneously.
Create preset discounts.
Design and schedule campaign themes.
Pre-schedule all those changes to return to your standard form at the end of the event.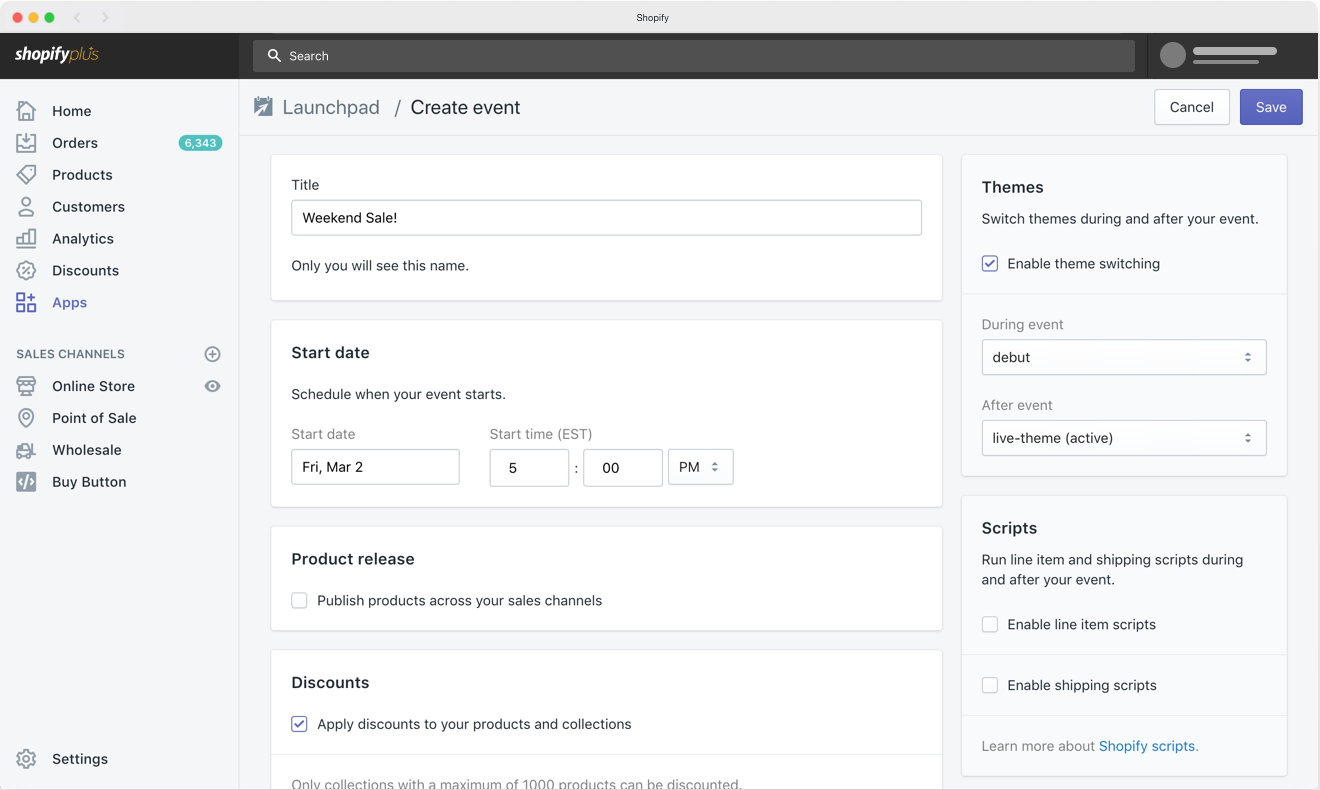 Starting price: Free for Shopify Plus users
Standout review: 5/5 stars on Shopify
"Launchpad is an amazing tool (especially to use around Black Friday/Cyber Monday). We most commonly use Launchpad to schedule theme changes, launch new products and offer product discounts without having a discount code. It's also great to go back and see what sales you have ran in the past or when you launched products." – Rokform
7. Customer Service: Gorgias
Gorgias is a customer service software that can automate a decent chunk of customer service tasks. You can set up automated responses to common questions, for instance. Gorgias also integrates with a wide variety of other ecommerce automation software tools, enabling a customer service team to do things like award loyalty points or cancel an order from within Gorgias itself.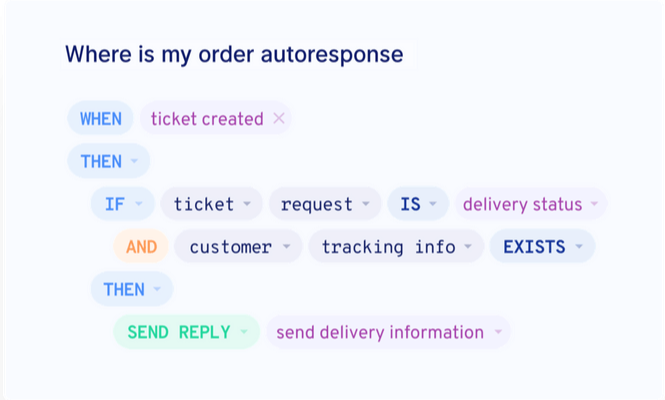 Starting Price: $60/month
Standout Review: 5/5 stars on Capterra
"Excellent! Has saved me WEEKS of time…I love this software. Absolutely one of my favorites out. Because of the nature of my job, I send a lot of emails responses to similar questions, this software allows me to save a response that I felt was good and use it whenever the same question comes up. All I have to do it type the keyword and press tab and its there. Brilliant idea." – Rileigh B.
Avalara automates a company's taxes. They can automate everything from compliance to tax returns. When sales data is synced, Avalara can auto-pull and auto-file your state sales taxes. (Author's note to Avalara: Is there a personal version of this software coming down the pipeline at some point?)
Starting price: $50/year
Standout review: 5/5 on G2Crowd
"As an administrator for our Avalara account here and at my previous company, I have seen Avalara work in many different scenarios. The accuracy of the tax calculations which encompass location, items, customers, ship to, ship from, etc, is really amazing. Avalara works constantly to make sure all tax rates are kept up to date." – Janet G.
ShipStation automates the flow of orders from your sales channel into your shipping carriers. ShipStation can run customizable automation that eliminates manual data entry and runs your repetitive tasks.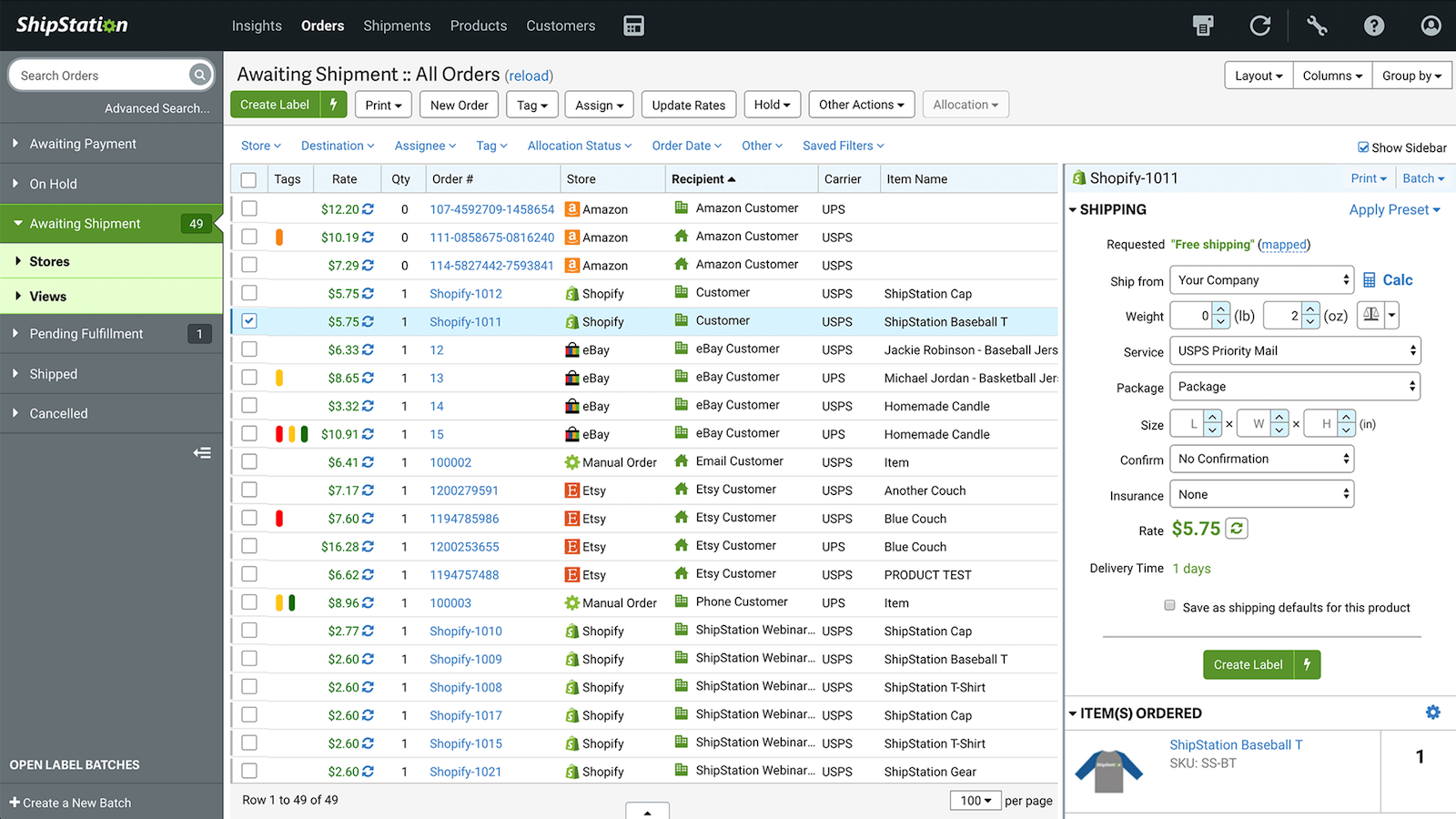 Starting price: $9/month
Standout review: 5/5 stars on GetApp
"Shipstation tracks packages, manages inventory, labels, and shipping. integrates easily with many different platforms (eBay, Amazon, Shopify, Etsy, ETC.) Shipstation can also automate most client communications including eBay feedback, email marketing, messages, and much more. It's like having a custom-built CRM that was specifically designed for ecommerce / marketplace sellers. It's not something you HAVE to have; almost everything it does can be done manually. Trust me when I say that once you do use it,- you will wonder how you ever lived without it." – Ryan Strain
10. Warehouse Automation: ChannelApe
ChannelApe manages your warehouse and shipping needs in a centralized system. It is a highly customizable system that can support all your warehouses worldwide. It is capable of order tagging, carrier rate shopping, and distributed order management, among other things.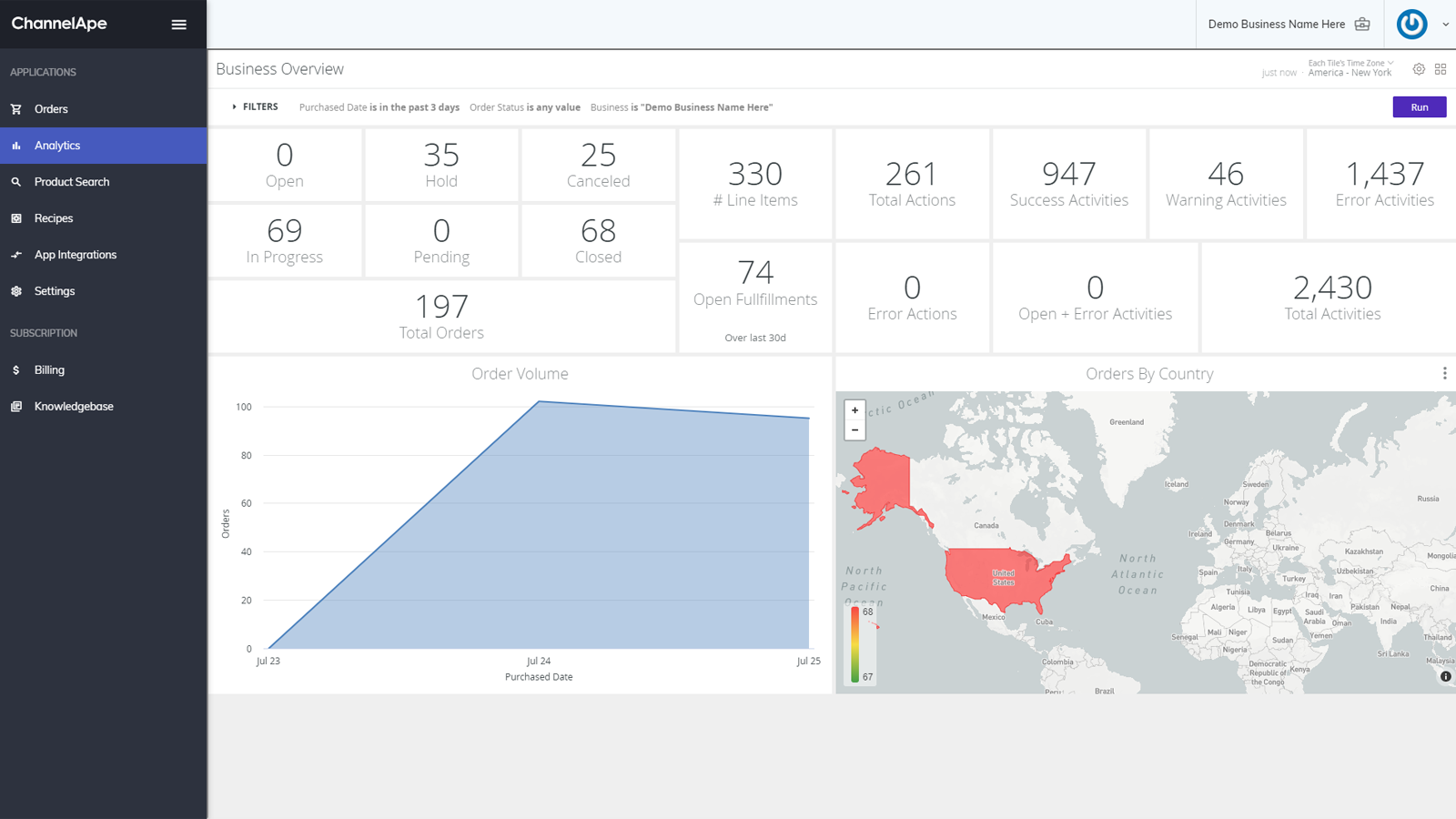 Starting price: $350/month
Standout review: 5/5 stars on Capterra
"I am not one to review often, only when I see or use something special. Channel ape is just that… they provide a much-needed service for inventory control across multiple platforms and more so than that, they provide unprecedented support. If there is something you need to be done, they will do everything in their power to make it work for you!" – Aar J.
Master productivity instantly by automating any repeatable task or process with the ease of MESA's point-and-click setup. Our Customer Success team is available to help set up and configure any workflows so you can get more done today.

Complimentary Workflow Setup Services
What would help you be more productive? We'll craft a workflow for you.
Get Your Free Workflow Setup Now
New Shopify Apps Weekly Newsletter
We watch for new apps then package them into an email sent every Tuesday.