442% increase in lead capture rate with an ROI of 964%—these aren't imaginative numbers. Beardbrand, a men's grooming company, achieved this in just 11 months of introducing email marketing. In this article, we'll cover the importance of automating email marketing in the digital marketing landscape. Additionally, we'll cover the best email marketing apps to choose from for your business.
This shows how email marketing can solve the pressing problems of your ecommerce business as it did for Beardbrand. Email marketing can turn your store visitors into loyal customers, improve your conversion rate, and multiply your ROI.
It makes sense, too: with an estimated 4.2 billion email users worldwide, 78% of marketers saw increased email engagement over the past 12 months. It's wildly effective for ecommerce brands like yours. For every $1 you spend on email marketing, you get an average ROI of $42.
Ready to save time by automating email? Install MESA to easily manage marketing emails for your business.
Email marketing & the importance of marketing automation
Email marketing is sending commercial emails to your audience (who opt-in for your emails) to meet your business goals, such as creating awareness, driving conversions and sales, and building a community around your brand. It adds to your existing online marketing strategies, making them even more powerful. You can use it to promote your products or services, increase brand awareness, reduce cart abandonment rates, and build lasting relationships with your customers.
Here are different types of emails you can use for your Shopify store:
1. Promotional emails: Want to motivate customers to purchase your upcoming product or inform them of the limited-time offers you're running? These are promotional email campaigns, which could be run multiple times over a day (Black Friday) or a few weeks (Christmas). Here's an example from J. Crew Factory that mixes humor with their offer: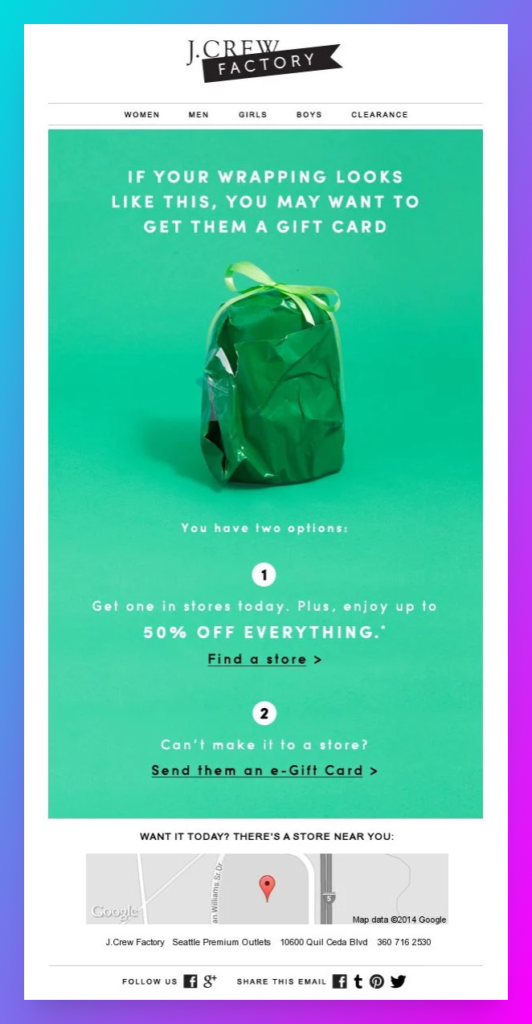 2. Informational emails: Informational emails revolve around valuable information your audience will be interested in. For example, you could run a weekly, bi-weekly, or monthly newsletter telling your audience about the benefits of your product ingredients and case studies. Additionally, you could also make store announcements such as changes in the delivery service or new product features introduction. Mint, a personal finance app, hooks the reader with its headline and follows up with value-adding content.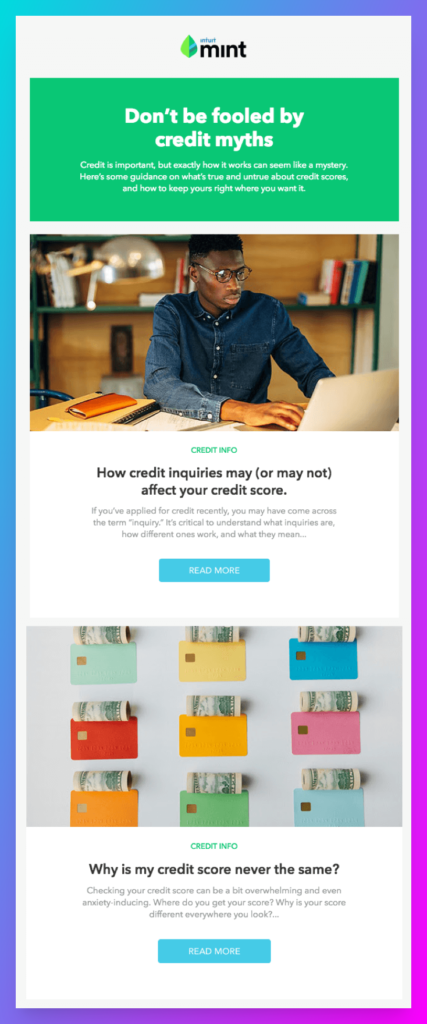 3. Re-engagement emails: With the help of re-engagement emails, you can reconnect with existing customers who haven't purchased for some time. These emails will help turn them into repeat customers. You can give special discounts for such customer segments. Pottery Barn hits the nail on getting re-engagement emails right with their email content: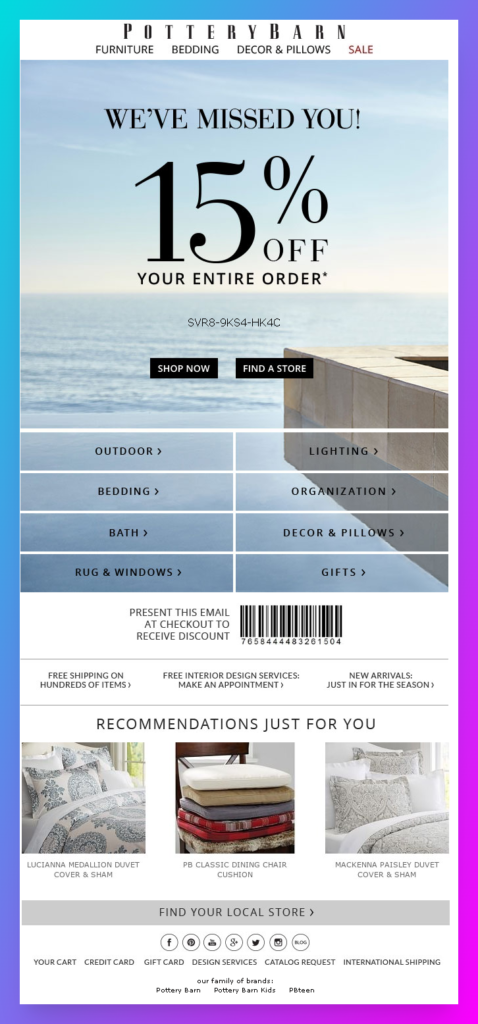 With email marketing automation, you can create different segments and target customers accurately based on their buying behavior. While you have advanced target options on social media, too, it's only limited to paid ads. According to eMarketer, email is 20% more effective in retaining customers: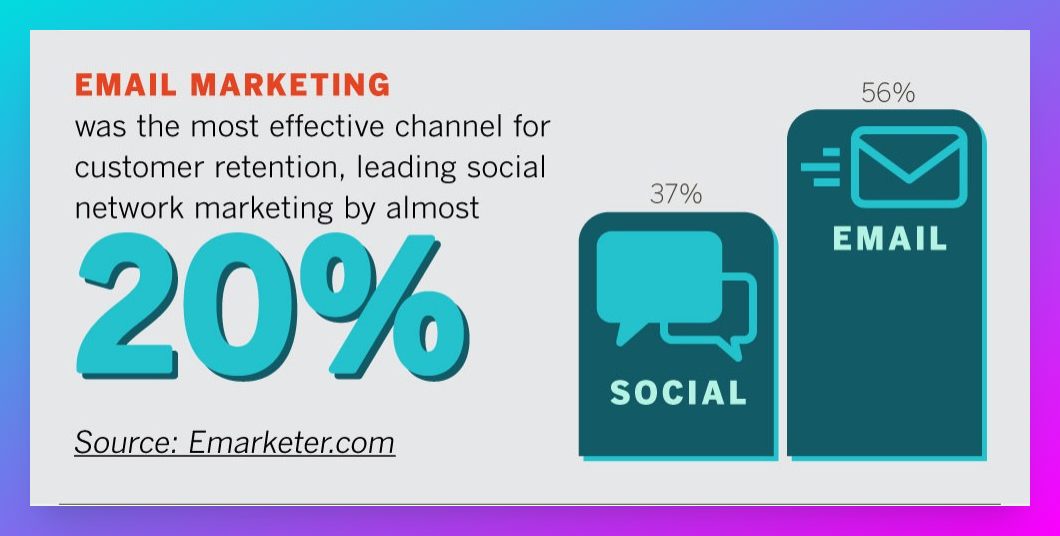 The best apps for email marketing on Shopify
You can automate every email sequence for your store, meaning it'll run on its own to meet your business goals. Here are the email platforms you can make use of for your Shopify store's email marketing:
1. Klaviyo
Klaviyo helps you deliver personalized messages through targeted email campaigns. You can pull in data like order details, product recommendations, and cart content to create email content that converts. 
Here's a list of campaigns you can run with Klaviyo:
Cart abandonment
Welcoming new customers
Post-purchase upselling campaigns
Pros:
Automatically trigger a flow of emails when a customer performs an action. For example, if someone abandoned their cart in the last stage of the buying process, you can trigger an email or a sequence of emails from Klaviyo to motivate conversions.
Set conditions to make some sections of the email visible to only those customers that meet the requirements.
Here's how MixTiles runs their welcome email and SMS series, one of their many campaigns, to achieve 40% of all revenue coming in from email and SMS.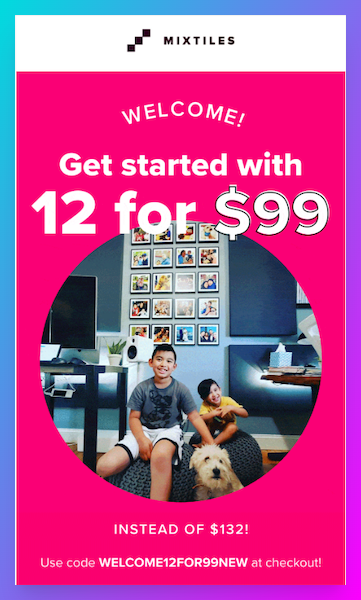 2. Mailchimp 
With Mailchimp, you can build effective email marketing campaigns by having behavior-based automation journeys. 
You can send relevant emails based on customer interactions and behavior, leading to higher engagement and better customer experiences. Tracking your campaigns to see where people clicked on your emails is also possible.
Pros:
Make use of their Content Optimizer, which recommends suggestions to make your email copy, layout, and imagery more engaging.
Choose from a variety of drag-and-drop templates or even code your own.
Shapeways, a New-York based company in 3D Printing, used Mailchimp to trigger email marketing campaigns that were personalized and tailored to the customer's life cycle. 
The result: a 238% increase in open rate and a 525% increase in click-through rate. Here's an example of their abandoned cart email: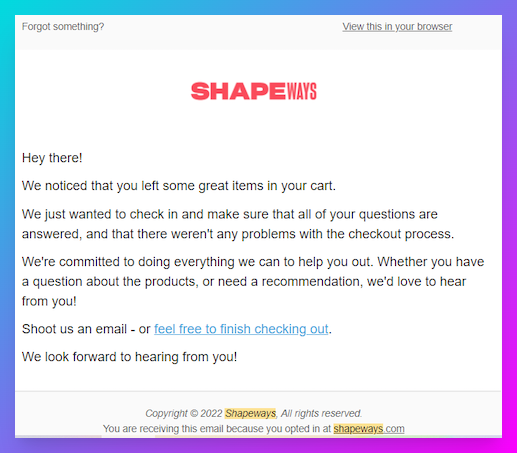 3. Omnisend
Omnisend is an all-in-one email marketing automation platform designed for e-commerce businesses, including those using Shopify. The platform allows e-commerce managers to create targeted and personalized email campaigns, automate workflows, and integrate their marketing channels to increase engagement and conversions.
Pros:
Segment your email lists based on customer behavior, purchase history, and other data points, so you can create highly targeted campaigns that are more likely to convert.
The visual email editor also makes it easy to design professional-looking emails without the need for technical or design expertise.
Skinnydip used Omnisend's email automation features to create a series of personalized email campaigns that targeted customers who had abandoned their shopping carts. By sending targeted emails with product recommendations and discounts, Skinnydip was able to recover lost sales and increase their overall revenue.
4. Email by MESA
Email by MESA automates email sequences for your customers and the internal team by customizing the email's subject lines, title, and body.
For example, your product went out of stock. You can directly send an email to your logistics team to ensure that the item is restocked. When it's restocked, an email notification will be sent to your customer informing them about the restock.
Pros:
You have access to a lot of ready-made templates to pick from to save time and create uniform email content.
You can directly integrate workflows into your Shopify store by sending emails to your internal team whenever an issue pops up.
Doesn't require another third-party app, Email by MESA comes included in the MESA monthly plan.
Keeps your team in the loop with internal notifications for fraudulent orders and special notes.
StyleMeGHD, a home decor and furniture shop, uses Email by MESA to automate their entire email process and reduce manual work. For example, instead of manually sending customers the tracking link, they set up workflows to trigger emails.
Here's a template you can use to automate an email notification when a Shopify order has notes. Being notified about orders who had customers leave special notes is incredibly helpful.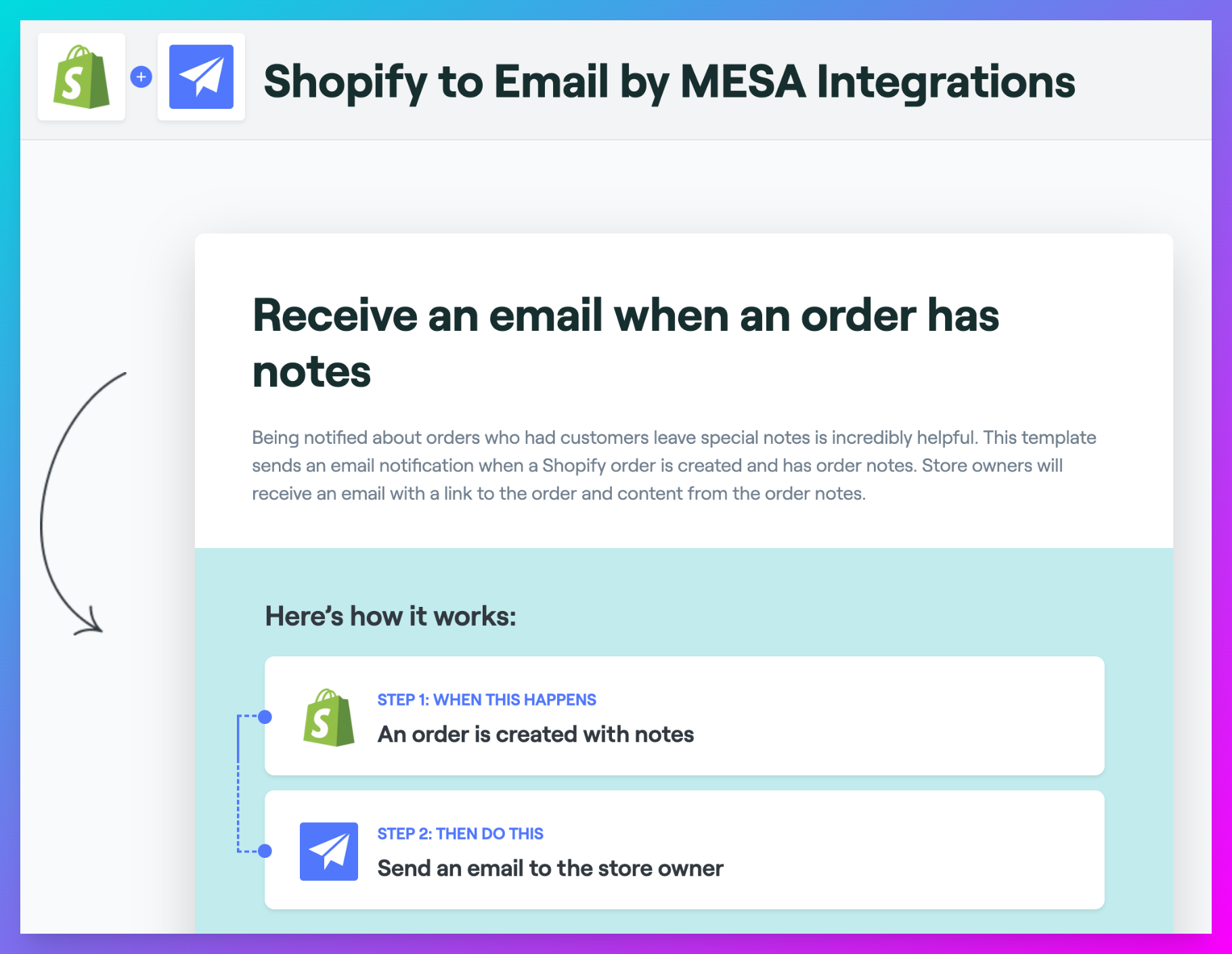 5. SMS By MESA
Along with emails, you can send SMS updates to your customers and team with SMS By MESA. Manually sending individual messages can be a headache, especially when you have hundreds of customers. The app automates this entire process by creating the right workflows for your business.
For example, you can send a text message upon delivery, giving customers real-time product updates and offers.
Pros:
Integrate workflows in your Shopify store and notify your team when a product goes out of stock.
Decrease potential fraud by receiving a message when someone creates a fraudulent order.
Doesn't require another third-party app, SMS by MESA comes included in the MESA monthly plan.
Here's a template you can use to notify your customers if a package is delayed in transit.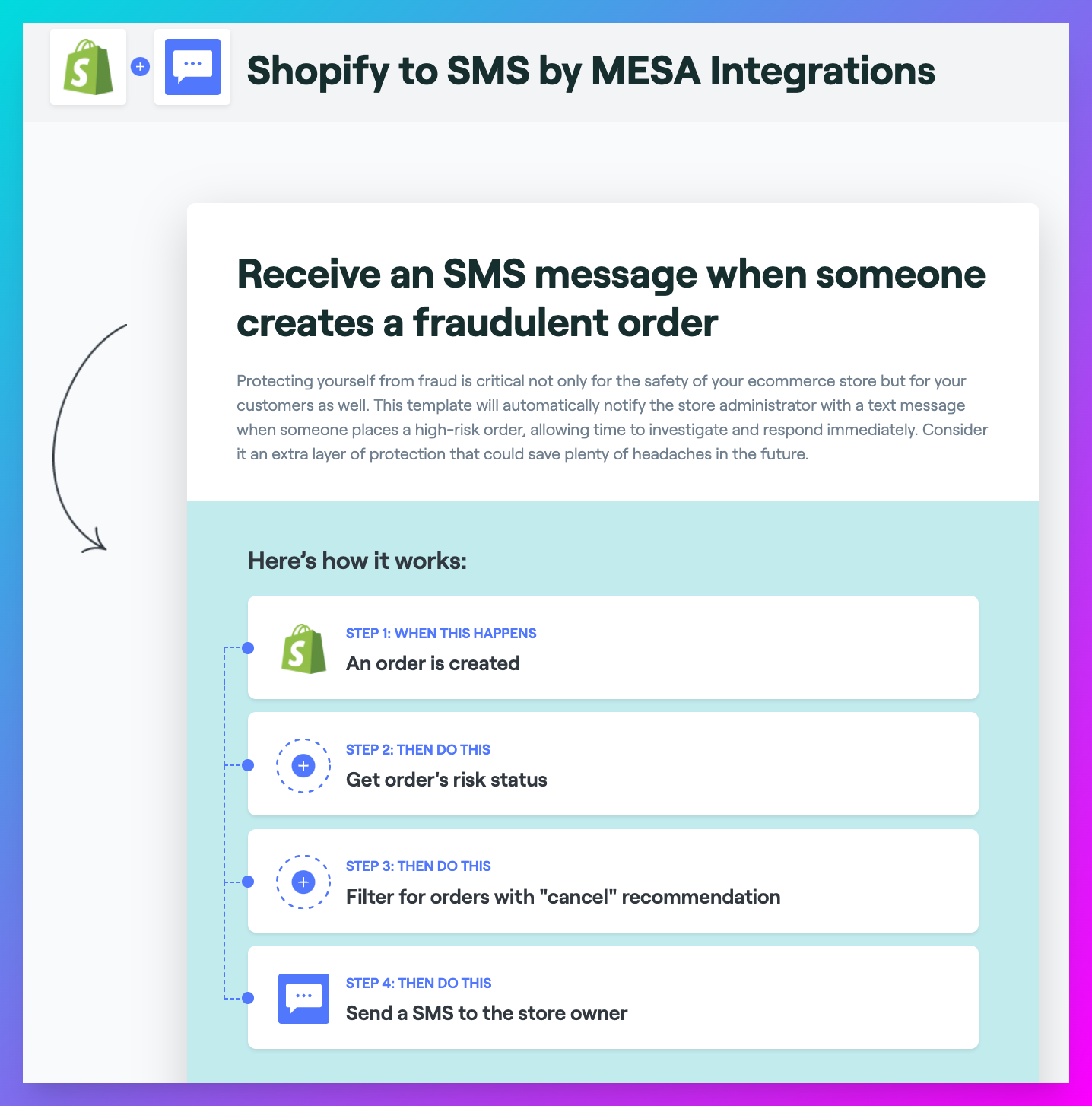 6. NotifyVisitors
If you have a Shopify store but have been consistently stumped on email marketing, NotifyVisitors may be your solution.
It's an email marketing app equipped with top-notch features to help you optimize your email campaigns and grow your customer base.
With NotifyVisitors, you can use email targeting and segmentation and craft emails with beautiful, customizable templates to best suit your needs.
Plus, its intuitive dashboard also lets you keep track of email campaign performance and get clear insights whenever necessary. NotifyVisitors is a must-have email marketing app to take your Shopify store to the next level.
Pros:
Easy to create and send email campaigns.
Sound customer support.
Single dashboard to keep track of all campaigns.
Real-time analytics to track performance.
Advanced segmentation allows you to send more targeted content.
Here is an example of jusherbs, a global beauty and personal care company that used NotifyVisitors to implement email marketing campaigns that were personalized and tailored according to the branding needs.
The result: a 200% increase in open rate and a 26.3% hike in average order value. Here's an example of their email:

Tip & tricks for successful email marketing automation
Creating effective email marketing campaigns requires experimentation and research about your customer segments. Here are some best practices to implement an email marketing strategy successfully:
Clean your email list regularly: It's tempting to have thousands of people on your email list. But inactive subscribers can ruin your open rate and make your campaigns look worse. 
Apart from regularly cleaning your email list, never hide the "unsubscribe" button in the weeds. If someone wants to unsubscribe, it's only good for your list.
Never buy contact lists: Buying contact lists means you don't have the recipient's consent. This can portray your company as spam and lead to a negative brand image. Since these contacts haven't voluntarily subscribed to your emails, there's also a higher chance of low engagement with your campaigns.
Personalize the email greeting: 88% of users say that they would be more likely to respond to an email favorably if it's specifically created for them. Instead of sending emails that sound like "Dear Subscriber," personalize the email greeting with the recipient's name.
For example, with the subject line "The Spookiest Bedtime Story Ever" and a personalized subject line, Tuft & Needle got readers to read the entire email.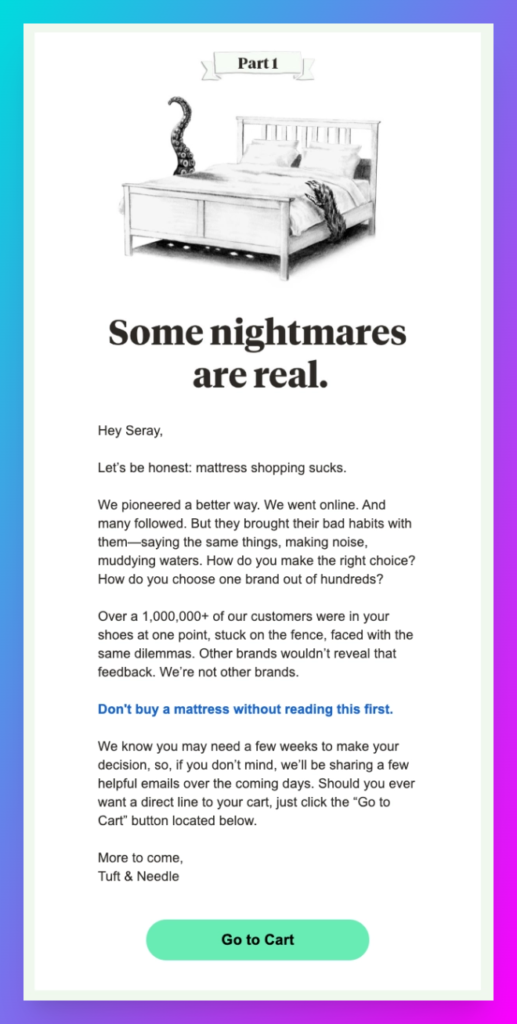 Keep call to action above the fold: The above-the-fold area is what the subscribers see first after opening your email. This area will be visible to your recipient without them having to scroll down. Even if people are more likely to scroll more, having your CTA above the fold is a safer move due to social media and vertical timelines.
Dial-in your subject line: 47% of email recipients open an email based solely on the subject line. This makes actionable subject lines a non-negotiable. You could use offers, limited-time deals, or curiosity hooks.
For example, Mixtiles uses a mix of emojis and speaks directly to its target audience with its subject line, "Give your walls a bloomin' makeover."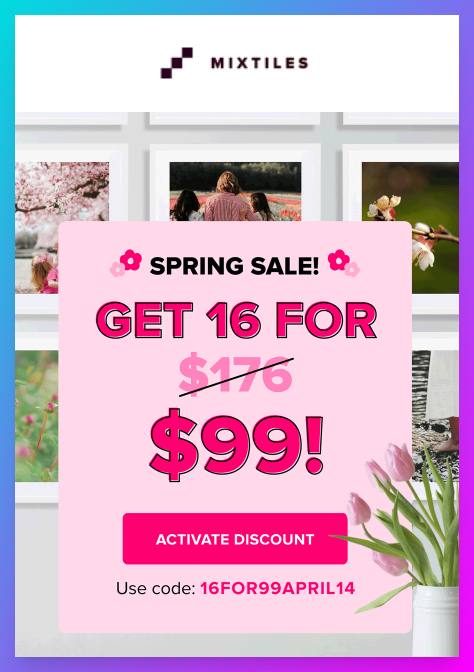 How to quickly automate your email marketing campaigns
Email marketing campaigns can bring you incredible results like increased brand awareness and a community of loyal fans.
Now that you know the basics of email marketing and the benefits it can bring to your ecommerce business, start with setting up different email sequences and building your email lists.
With MESA, you can use existing templates and not worry about technicalities. It's free forever and you can integrate it with your Shopify store to reach your email marketing campaign goals.
New Shopify Apps Weekly Newsletter
We watch for new apps then package them into an email sent every Tuesday.