If you run an ecommerce business with a Shopify store, then you know how hard it can be to stay ahead of the competition. With new technology and AI-driven store functions popping up every day, it's hard to keep on top of what will give your Shopify store the boost it needs.
Luckily, Shopify has many apps that leverage AI technologies such as machine learning models, AI powered decisions, big data, and customized services. These make store management easier while increasing more sales, adding more loyal customers, and optimizing the customer buying experience.
In this blog post, we'll explore some of the best Shopify apps available so you can easily add these scalable business opportunities across your entire online store.
Ready to save time by bringing AI into your business? Install MESA to easily manage your store using AI in everyday workflows.
How Shopify uses AI today
Shopify does use AI to help merchants better manage their businesses.
It's utilized to help surface third-party app recommendations in their App Store. Additionally, it helps power their search capabilities from the store owner's admin interface.
However, Shopify does not currently have any artificial intelligence features. They rely on third-party apps to integrate with ecommerce AI services.
Let's review the best AI apps available on the Shopify App Store today:
MESA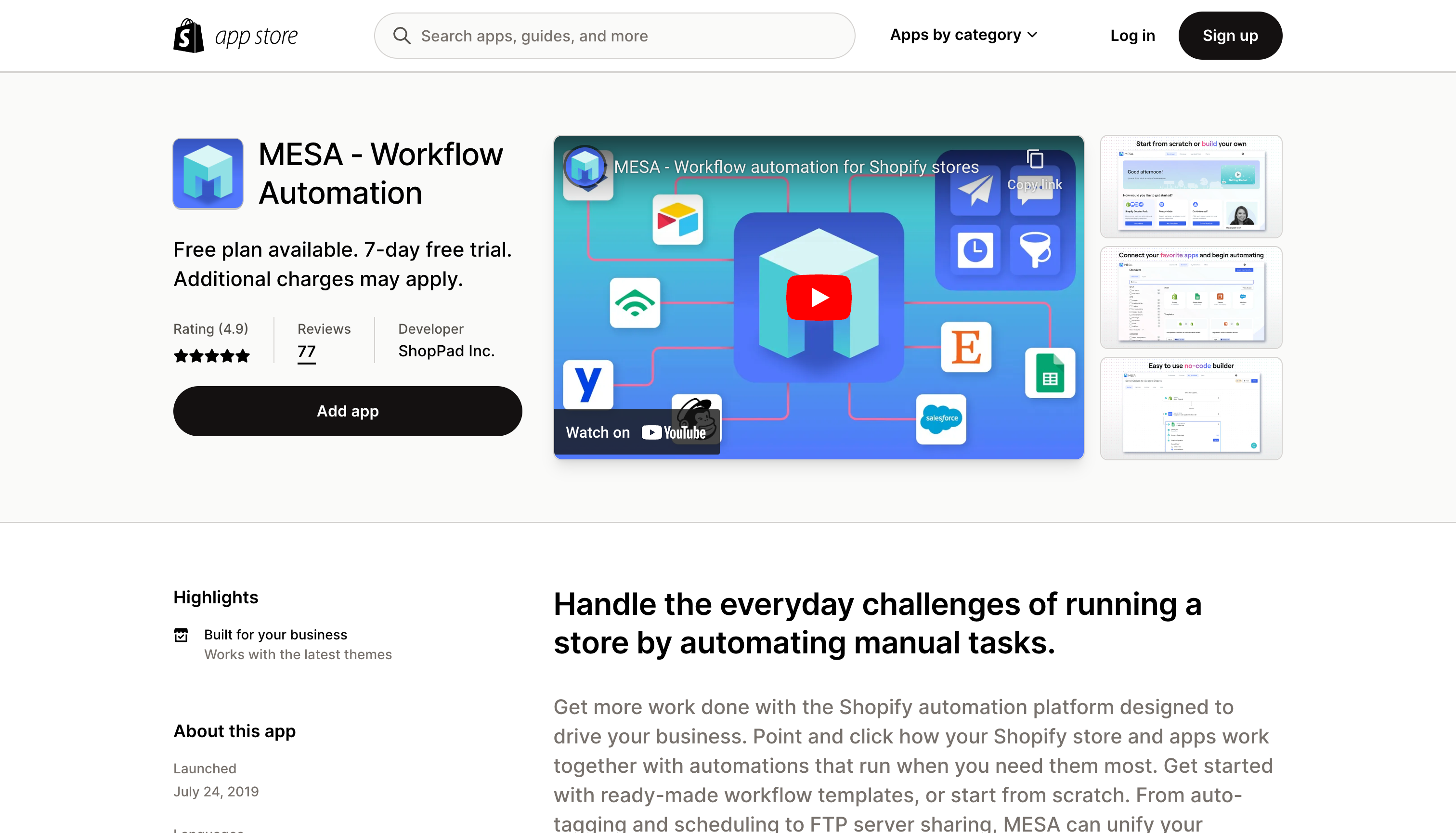 ★★★★★ (4.9) – https://apps.shopify.com/mesa
Pricing: Free plan available. Paid plans start at $20/mo.
Streamline your operations and focus on the big picture with MESA's powerful automation platform for Shopify stores. With ready-made workflow templates, you can slash manual labor to maximize efficiency and get more done faster than ever before. From auto-tagging to inventory FTP feed sharing – all within one centralized source of truth – trust that everything essential is taken care of reliably without needing any extra effort from you.
What makes MESA our favorite Shopify AI app is it's deep, one-click integrations with OpenAI, ChatGPT, DALL-E and it's own AI by MESA built-in app. With these app integrations, you can easily bring the benefits of AI into any workflow.
Pros
Workflow setup is available as is live chat and email support

Easy to use workflow builder

Pre-made workflow templates

Built-in app: AI by MESA included
Cons
Knowing the right steps to make workflows from scratch
Wiser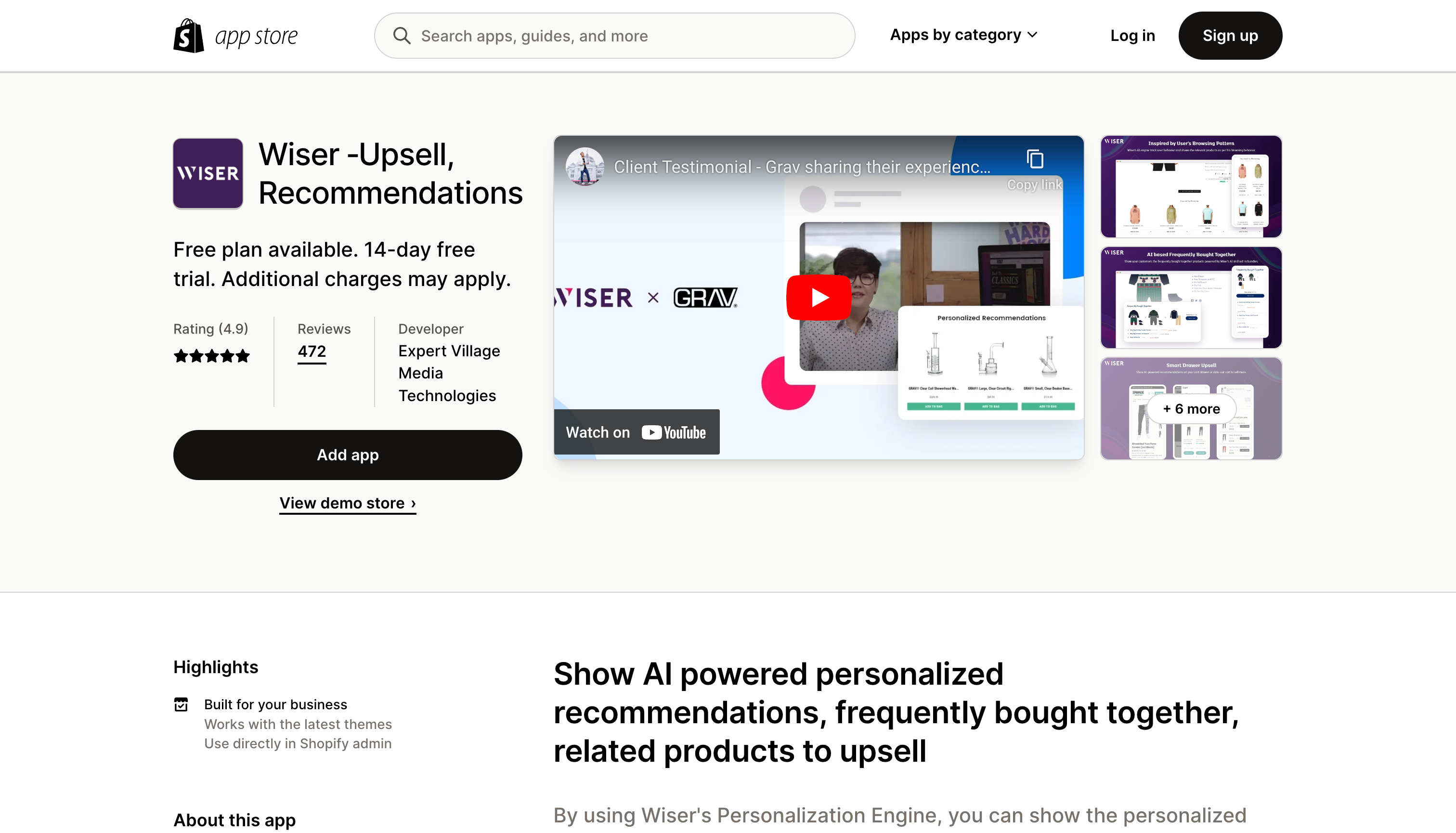 ★★★★★ (4.9) – https://apps.shopify.com/recommended-products-wiser
Pricing: Free plan available. Paid plans start at $19/mo.
Engage customers and keep them on the edge of their seats with Wiser's personalization engine. Using AI-powered, personalized recommendations such as frequently bought together items or related products to upsell at store checkout can not only increase average order value but also boost the buying process for maximum customer satisfaction. As a cherry on top, benefit from in-depth insights into customer journey data coupled with realtime product inspiration based on customer behavior.
Pros
Easy to use

Proactive support team

Customizable
Cons
Fees include + 2% of Wiser generated sales
Signifyd
★★★★☆ (4.3) – https://apps.shopify.com/signifyd
Pricing: Paid plans start at $1,500/mo.
Put your worries to rest and trust in Signifyd's Complete Chargeback Protection. Their platform uses AI to help screen for fraud in milliseconds. Their chargeback protection evaluates orders at checkout, giving you the confidence that approved transactions are insured with our financial guarantee against fraud and non-fraud chargebacks – enabling bold growth without the risk of losses associated with dispute claims.
Pros
User friendly services

Complete fraud protection

Fast case resolutions
Cons
Expensive for small store owners
Octane.ai
★★★★★ (4.9) – https://apps.shopify.com/octane-ai-quiz-personalization
Pricing: Paid plans start at $50/mo.
With Octane, you can turbocharge the customer experience and easily create personalized product recommendations. Unlock your Shopify store's potential with an interactive quiz – setting up questions allows customers to find items that best suit their needs, resulting in increased sales conversions, higher average order value, and elevated engagement between brand and consumer. Octane uses AI on its backend to help recommend products based on customer data provided through the quizzes and surveys they complete.
Pros
Personalization options

Customer segmentation

Ease of use
Cons
Intuitiveness building quizzes
Limespot
★★★★★ (4.8) – https://apps.shopify.com/limespot
Pricing: Paid plans start at $15/mo.
Discover a personalized recommendations platform that's changing the e commerce game. LimeSpot Personalizer is powered by artificial intelligence and designed to revolutionize customer engagement with tailored product recommendations, upsells & cross sells, bundling opportunities –– all of which can boost conversion rates and average order values (AOV). Setup takes minutes so you'll start seeing results fast.
Pros
Upselling campaigns

Customization options

Prompt support replies
Cons
Additional charges based on the store's revenue
Tidio
★★★★★ (4.7) – https://apps.shopify.com/tidio-chat
Pricing: Free plan available. Paid plans start at $19/mo.
With Tidio's all-in-one customer experience platform, Shopify store owners can provide exceptional service and make passive customers into active buyers. It comes with ready sales and supports conversational AI chatbots that boost revenue while quickly addressing the more popular questions from customers directly. Receive an efficient helpdesk solution for your team by consolidating messages in one place — plus multiple features specifically designed to integrate seamlessly with Shopify.
Pros
Ease of use

Quality of support

Ease of setup
Cons
Pricing per operator can get expensive
Recart
★★★★★ (4.8) – https://apps.shopify.com/recart
Pricing: Free plan available. Paid plans start at $299/mo.
Unlock an average 36.8X ROI and increase your Shopify brand's revenue by up to 33% with Recart SMS marketing services. With fully-managed services, you'll get custom online store popups, automations (like welcome flows/abandoned shopping carts), tactical SMS marketing campaigns — plus a dedicated Customer Success Manager from day one of the free trial period for implementation & optimization support. Plus weekly progress reports so that you can stay on top of all metrics throughout this journey.
Recart often comes up in conversations for AI chatbots but does not actually use any AI technologies or NLP (natural language processing) capabilities. So full disclosure: while often mentioned as a Shopify AI app, it shouldn't qualify.
Pros
Ease of use

Quality of support

Ease of setup
Cons
No use of AI technologies

Expected results can vary with Facebook Messenger
Shopify Apps Wrap-up
Running a Shopify store is hard enough, the last thing you want to do is waste time on apps that don't save you any. The good news is, there are plenty of great Shopify artificial intelligence apps out there that can help store owners take their online stores to the next level. To find the best AI powered apps for your needs, it's important to consider how each app works and connects to various merchant tools quickly, easily and accurately.
MESA is one such app that offers all of this and more. Plus, our experts will setup your first AI workflow free! So why wait? Get started today free and see how MESA can help transform your everyday work.
New Shopify Apps Weekly Newsletter
We watch for new apps then package them into an email sent every Tuesday.