With ecommerce becoming ever more competitive, standing out among the crowd is more important today than ever. As online shopping grows, business owners need to know the best way to reach their customers with their marketing efforts. If you need a new avenue to reach your buyers on Shopify, look no further than Shopify SMS marketing. Almost everyone has access to a connected mobile device – and outreach to these customers can have powerful means of promotion.
Once you understand how to send customized SMS messages at scale, you can encourage repeat business and grow your average order size.
What is SMS marketing and why it is important to Shopify merchants
Shopify SMS marketing has emerged as a highly effective way for merchants to engage customers and enhance their overall shopping experience. With the emphasis on email and social media marketing, the power of SMS marketing is often overlooked. However, this form of marketing remains highly relevant due to the widespread usage of mobile devices and the unique level of user engagement that SMS messaging offers.
Over 4.2 billion people worldwide still use SMS messaging, despite the popularity of alternative messaging apps like Messenger and WhatsApp. Furthermore, 80% of these users actively employ SMS for business purposes, making it a highly promising marketing channel. SMS messaging boasts an average click-through rate (CTR) of 19%, significantly outperforming the 4% average for emails. This is likely due to the fact that 90% of people open SMS messages, as they are perceived as more personal than emails.
To implement a successful Shopify SMS marketing campaign, businesses must first establish an existing customer base and obtain their consent to receive marketing communications. Encouraging customers to opt-in is well worth the effort, as SMS marketing provides numerous advantages to Shopify merchants.
The personalized nature of SMS messaging allows merchants to build a positive rapport with their customers. While email marketing often suffers from low penetration and conversion rates, SMS marketing has proven to be more effective, with brands witnessing a 2.5% conversion rate on SMS marketing forms used to collect phone numbers.
Shopify merchants can harness the power of SMS marketing to own the customer experience from start to finish, opening up versatile communication opportunities, such as:
Advertising and informing customers about upcoming events
Establishing VIP programs exclusive to SMS message subscribers
Offering checkout discount codes exclusively to SMS subscribers
Announcing new products and sale seasons directly to customers
What are the best apps for SMS marketing?
Moving towards Shopify SMS marketing does not necessarily mean entrepreneurs need to be responsible for writing legions of messages to their customer base. Business owners wondering how to send customized SMS messages to their buyers could be surprised at how many SMS marketing solutions are available today.
Here are some recommendations to consider and a description of their services and advantages.
Klaviyo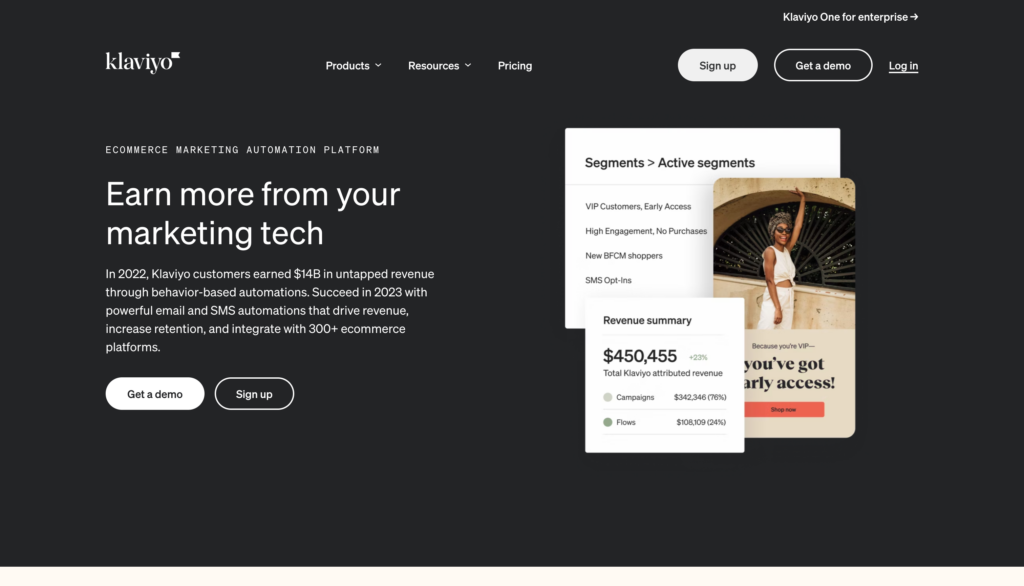 Klaviyo offers both email and SMS marketing tools, yet Klaviyo SMS marketing really deserves your attention here.
Its functionality offers personalized and more generic and broad-reaching automated SMS capabilities. However, the ease of use for both businesses and customers makes Klaviyo SMS tools so easy to recommend.
In addition, Klaviyo functionality gives customers options in how they sign up for your SMS marketing. This could be consent to opt-in at checkout, or rather multi-step forms or click-to-text web forms.
Klaviyo SMS functionality is designed to help keep customers engaged and increase revenues for those entrepreneurs using it for Shopify SMS marketing purposes.
That means intelligent solutions such as sending an SMS message to users who have abandoned their carts online, but there are also other powerful resources to put to good use.
Klaviyo also enjoys a degree of interoperability with other platforms – meaning that you can easily import contact lists and other data from different Shopify SMS marketing tools to make use of Klaviyo features if you choose. SMS by MESA features a template designed to help you do exactly that.
For example, Klaviyo SMS toolkits allow you to notify customers when fast-moving and highly desirable products are back in stock. Users can also set up exclusive offers, deals, and discount codes and alert customers to more permanent price drops among your product range.
Twilio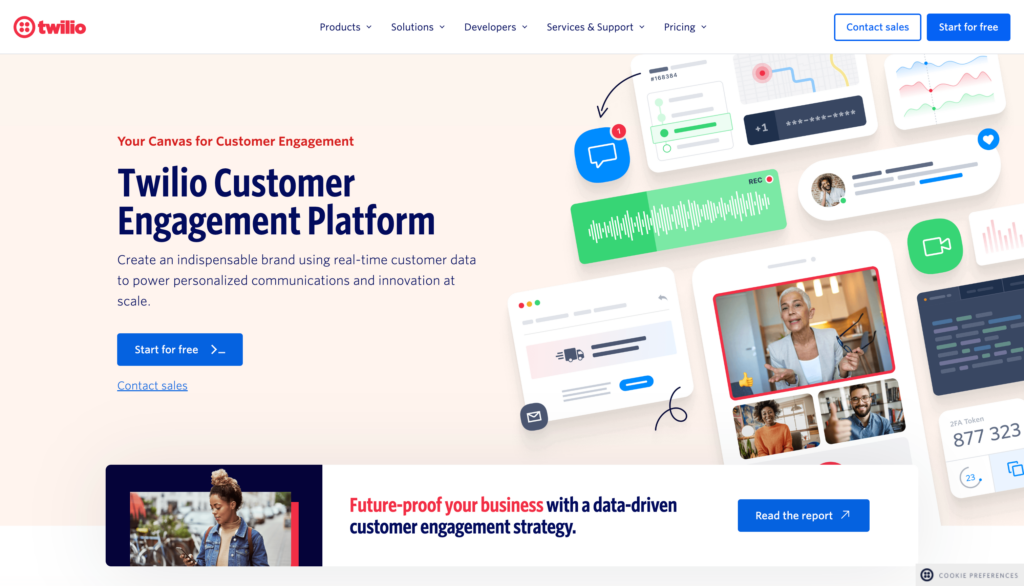 Twilio SMS marketing is made possible thanks to a powerful and versatile tool. Any business owners who may have found Twilio a touch too technical in the past may want to reconsider.
Although the platform favors coding knowledge, you can still send SMS messages with only a few lines of code. Twilio also provides in-depth API documentation for SMS shortcuts for common use cases.
Twilio SMS pricing is competitive because of how many variables your SMS marketing can cover with this software. For instance, if a package is delayed in transit, Twilio SMS messages can be triggered to smooth out the rest of the buyer's journey.
A unique feature of Twilio SMS is you're able to measure the performance of large-scale advertisements easily. This happens by tracking incoming data and opt-in rates all from Twilio's unique console.
You can even expand beyond SMS with Twilio into MMS, WhatsApp or add multichannel messaging via Twilio SMS Conversations. Twilio SMS also integrates with MESA to make it even easier to perform everyday Twilio actions automatically.
SMS by MESA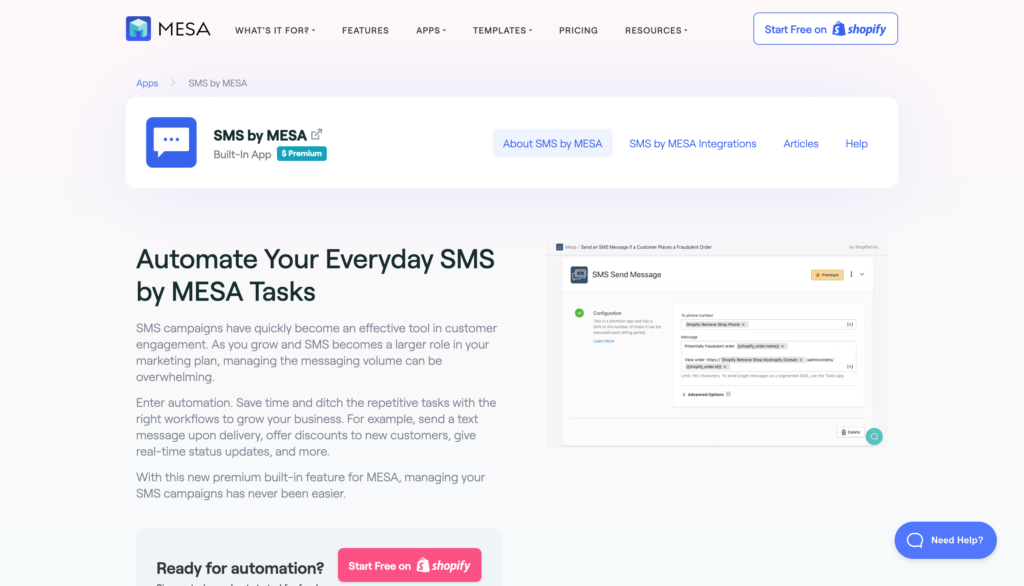 Setting up SMS marketing for your Shopify store can be quite a drain on time and resources to get campaigns up to speed.
MESA comes with a premium built-in app SMS by MESA that places great emphasis on automated workflows that can manage your SMS campaigns. For example, you can very easily set up automatic SMS marketing messages that give users discount codes.
Other creative SMS marketing ideas you can automate include –
Integrating workflows in your Shopify store and notify your team when a product goes out of stock.
Decreasing potential fraud by receiving a message when someone creates a fraudulent order.
Sending a text message upon package delivery with set-up instructions
Give your customers that feeling of being connected to your brand overall. As though you are more personally taking care of their purchasing experience – yet you are actually saving time, thanks to the power of automation.
Omnisend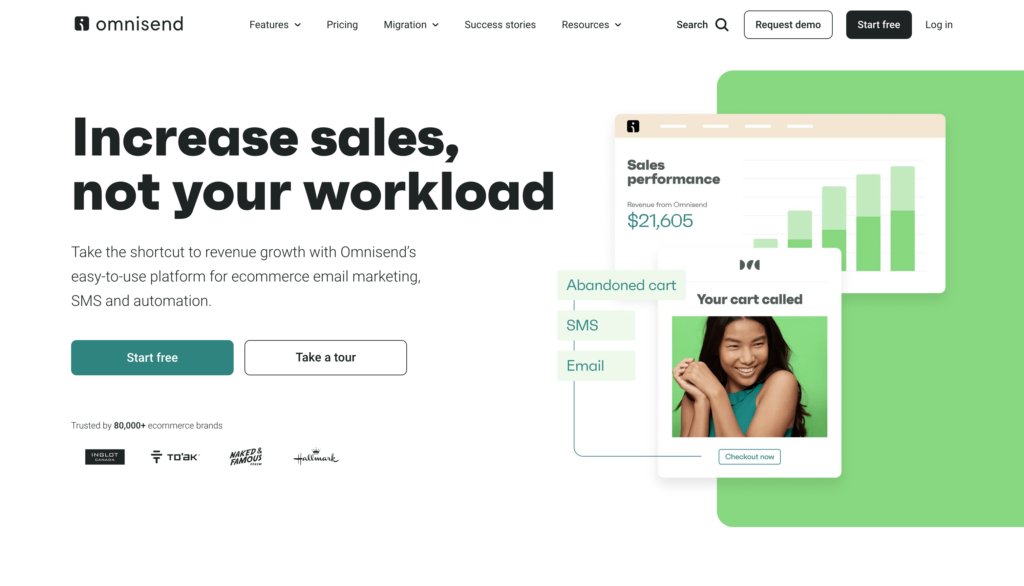 Omnisend is a comprehensive marketing automation platform designed for Shopify ecommerce managers, offering seamless integration, advanced targeting capabilities, and powerful automation features. Its user-friendly interface allows for effortless setup, making it a top choice for businesses looking to optimize their SMS marketing strategies.
Key features include advanced segmentation tools, enabling highly targeted SMS campaigns based on customer behavior and purchase history. This ensures personalized messaging, leading to higher conversion rates. Omnisend also provides pre-built SMS marketing templates that can be easily customized to match your brand, saving time and effort.
The platform's automation and workflow management features allow for efficient SMS campaign execution, with automated workflows triggered by specific events, such as cart abandonment or post-purchase follow-ups. Performance tracking and analytics provide real-time data on KPIs, allowing for data-driven campaign optimization.
Omnisend ensures compliance with regulations like the TCPA and GDPR, protecting your business from legal issues and providing a secure environment for customer data management. Its flexible pricing plans cater to businesses of all sizes, offering scalability as your SMS marketing needs evolve.
SMSBump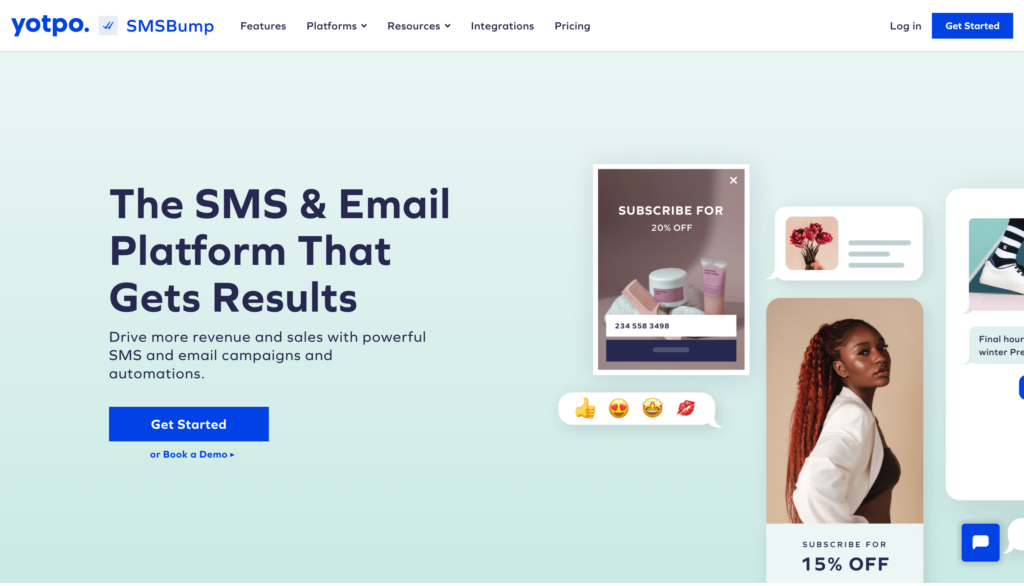 SMSBump is a powerful SMS marketing solution designed specifically for Shopify ecommerce managers. Its user-friendly platform, advanced features, and seamless Shopify integration make it an excellent choice for businesses seeking to optimize their SMS marketing strategies.
Key benefits of SMSBump include easy setup and integration with Shopify, allowing ecommerce managers to quickly launch their SMS campaigns. The platform offers advanced segmentation and targeting capabilities, enabling the creation of personalized SMS messages based on customer behavior, demographics, and purchase history. This leads to higher engagement and conversion rates.
SMSBump's automation features simplify workflow management, with automated SMS campaigns triggered by specific events, such as cart abandonment or customer re-engagement. This ensures timely and relevant messaging, maximizing campaign effectiveness.
Real-time analytics and performance tracking enable data-driven decision-making, allowing for continuous campaign optimization. SMSBump also prioritizes compliance with regulations like TCPA and GDPR, ensuring a secure environment for customer data management and protecting your business from potential legal issues.
With flexible pricing plans catering to businesses of various sizes, SMSBump provides a scalable and cost-effective SMS marketing solution for Shopify ecommerce managers, ultimately driving customer engagement and boosting sales.
Postscript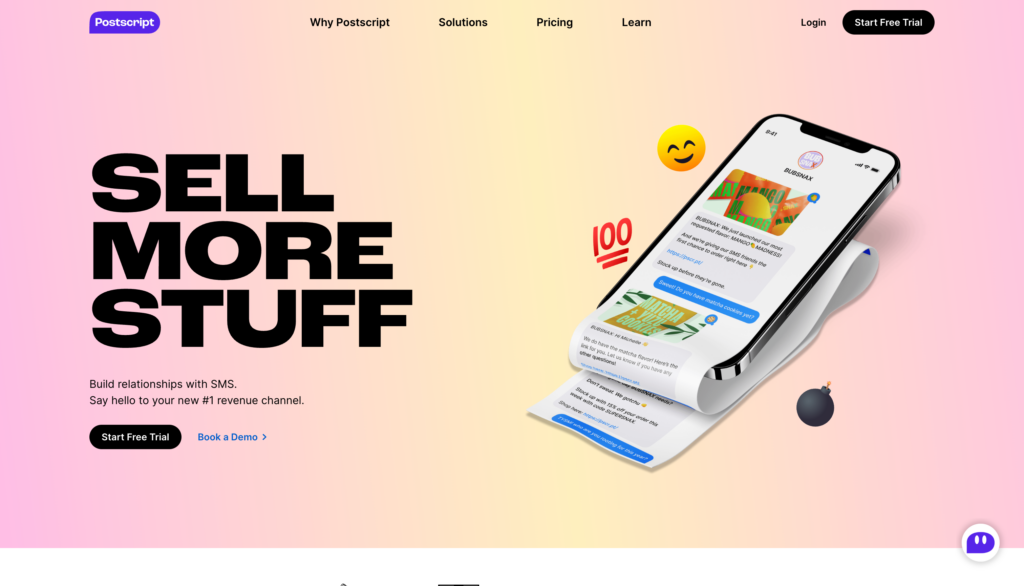 Postscript is a tailored SMS marketing solution for Shopify ecommerce managers, offering a user-friendly platform with advanced features and seamless integration. This makes it an exceptional choice for businesses looking to enhance their SMS marketing strategies.
With easy setup, Postscript allows for quick campaign launches. Its advanced segmentation and targeting options enable personalized SMS messaging based on customer data, leading to increased engagement and conversions.
Postscript's automation capabilities allow for efficient workflow management, with automated SMS campaigns triggered by events such as cart abandonment or post-purchase follow-ups. This ensures timely, relevant messaging that maximizes campaign impact.
Real-time analytics and performance tracking facilitate data-driven decision-making and continuous campaign optimization. Postscript also emphasizes compliance with regulations like TCPA and GDPR, creating a secure environment for customer data management and safeguarding your business from legal issues.
SimpleTexting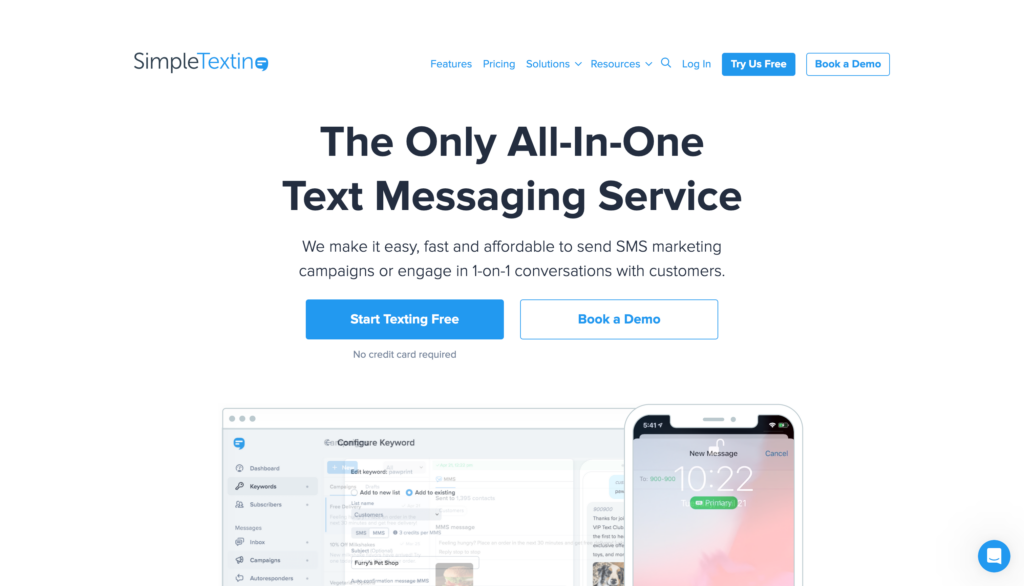 When you want to send customized SMS marketing messages both at scale and one-to-one, SimpleTexting has plenty to offer.
By creating a contact list, users can easily send identical SMS marketing messages to countless contacts at once – perfect for wide-reaching campaigns or big announcements.
Customers can also sign up for your Shopify SMS marketing using keywords. For example, you could advertise that if customers text the phrase 'BONUS' to a given cell phone number, they are added to your Shopify SMS marketing contact list – and can receive exclusive offers through messages you create with SimpleTexting.
Discount codes can be very rapidly created using SimpleTexting too. The full service also benefits from a comprehensive analytics dashboard that helps users understand which campaigns are the most efficient.
TextMagic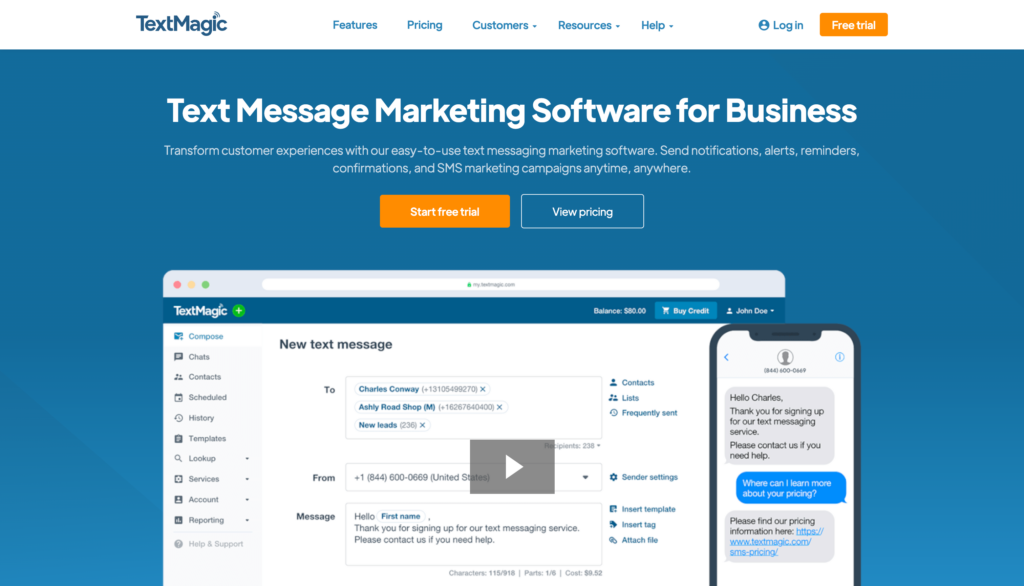 When you need a simple SMS marketing solution with an easy setup, TextMagic is a strong contender.
Active for over 20 years, TextMagic has thrived thanks to its ease of use and intuitive interface. Users can get set up and see their first Shopify SMS marketing messages sent out in minutes.
You can send messages via TextMagic any time you choose but also schedule them ahead of time.
TextMagic also has templates that let you quickly set up and send recurring messages on specific themes or events. You can also use a powerful SMS to route feature via the TextMagic API.
Users can take advantage of TextMagic's free trial to get a feel for Shopify SMS marketing. Still, there's no contract to worry about either – TextMagic functions as an entirely pay-as-you-go service.
Shopify SMS marketing is as versatile as you make it
It can be easy to assume that the best way to reach out to your customers and encourage them to keep spending is via the usual channels of social media and email.
But more often than not customers just want a personalized direct approach. In that regard, SMS marketing for Shopify stores is a great way of reaching customers in a meaningful and impactful way.
The barrier to entry is very low, too. With SMS marketing, even the most simple or outdated mobile devices today have the capability of receiving your content. Even 20 years old or more, mobile handsets can quickly receive these marketing communications, making for a diverse customer base.
Similarly, learning how to send customized SMS marketing messages to your buyers need not be an exercise in time-consuming typing or advanced coding capabilities.
Tools and resources designed to take advantage of the wealth of data, even a simple cell phone number put at your disposal. Create enticing offers, invitations to reverse course on cart abandonment, or simply announcements and community events that keep your buyers loyal and engaged.
With MESA, you can use existing templates and not worry about the technicalities. It's free forever and you can integrate it with your Shopify store to reach your SMS marketing campaign goals.
New Shopify Apps Weekly Newsletter
We watch for new apps then package them into an email sent every Tuesday.