The best Shopify order fulfillment apps help your fulfillment data stay organized and accurate while meeting your customers' (high) expectations.
Frictionless fulfillment process is just as important as product creation and supply chain, if not more. And your customers expect fast shipping service. In fact, 41% of global shoppers want to receive their order within 24 hours.
An order fulfillment app can help meet these customer expectations by allowing you to select the optimum delivery option, fulfill orders with ease and streamlining the purchase order fulfillment process.
MESA can help automate fulfillment. For example, you can automatically add a tag to a customer's profile when they purchase a subscription!
Let's compare the best Shopify order fulfillment app for ecommerce businesses.
ShipStation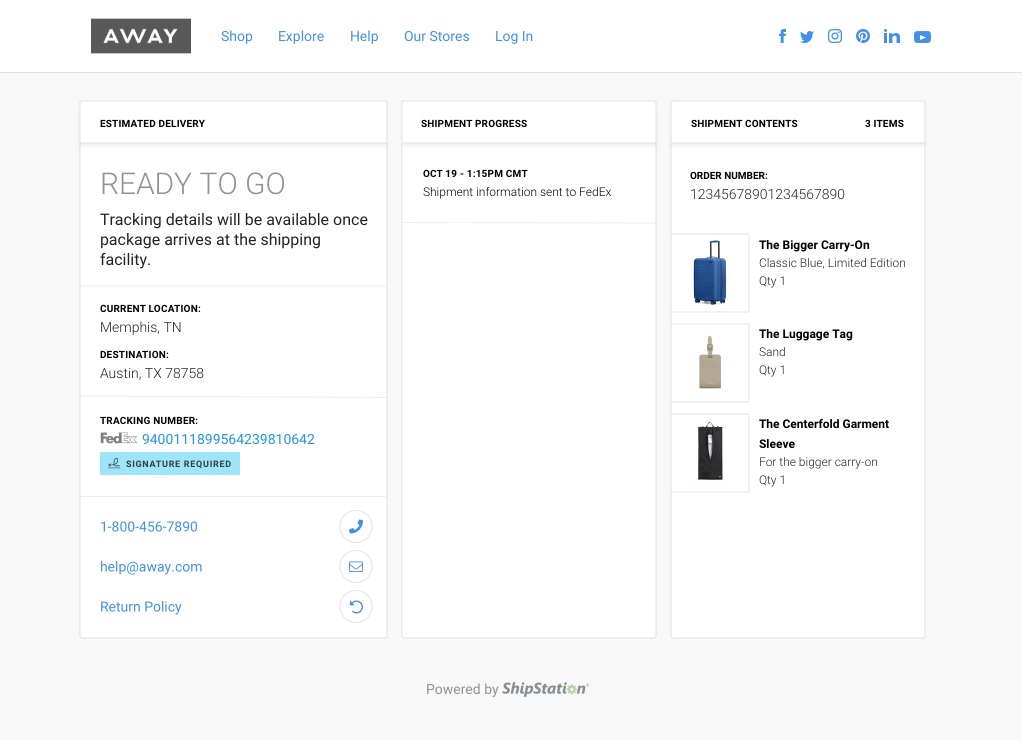 Rating: ★★★★☆ (3.5)
ShipStation is a Shopify order management app that streamlines the store owners entire fulfillment process. The app connects with your Shopify store in seconds. Once connected, you can start setting up automated shipping workflows and syncing tracking information.
The app offers discounted shipping rates from USPS, UPS, and DHL Express. This allows you to always pick the most cost-effective option without extra effort. ShipStation offers a holistic view of your selling channels. You can sync orders from various sources, including selling channels, marketplaces, and ERPs.
This shipping automation app keeps you and the customer in the loop. It instantly updates tracking information for the selling channel and the customer.
Price:
Starter plan: $9.99 per month

Bronze plan: $29.99 per month

Gold plan: $99.99 per month

Enterprise plan: $229.99 per month
Key features:
Discounted shipping rates from top carriers

Sync order data from multiple selling channels, marketplaces, ERPs, and more

Branded shipping labels and packing slips

Support via email and community forum (live chat and phone support on higher-tier plans)
Fulfillment by Amazon (FBA)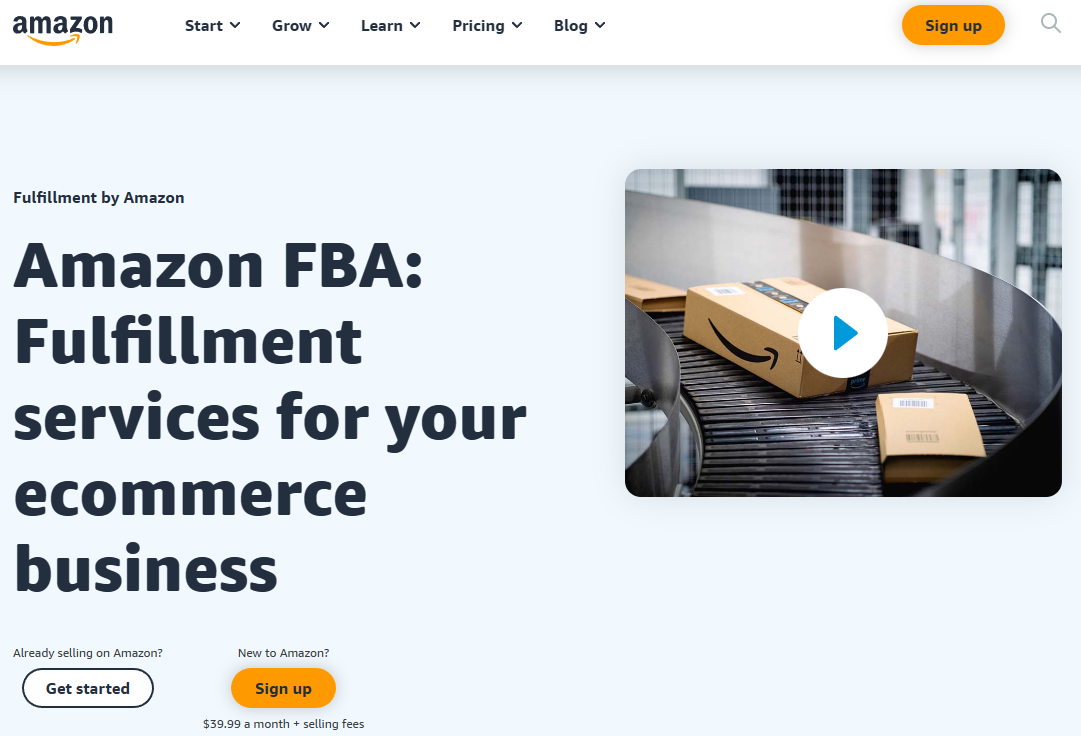 Rating: ★★★★★ (4.5)
FBA isn't a Shopify order fulfillment app. It's a complete fulfillment service from Amazon that allows you to focus on just selling your product.
You'll need to send products to Amazon's fulfillment centers if you choose to outsource fulfillment to Amazon. The good thing? There's no minimum quantity requirement. FBA offers free, two-day shipping to customers who order through Prime. Unlike other fulfillment services not on the list, Amazon also provides service and processes order returns.
According to Amazon, FBA costs 32% less per unit than the slowest-shipping major U.S. carriers. Signing up for FBA comes with the following fees:
Inventory storage fees

Aged inventory surcharge

Fulfillment service fees

Unplanned service fees

Removal order fees

Returns processing fees
Pricing:
Individual: $0.99 per item sold (plus additional selling, referral, and fulfillment fees)

Professional: $39.99 per item sold (plus additional selling, referral, and fulfillment fees)
Key features:
Track and monitor shipments

Free, two-day delivery on eligible Prime orders

Customer service and returns handling

No minimum quantity to send to Amazon fulfillment center
Shippo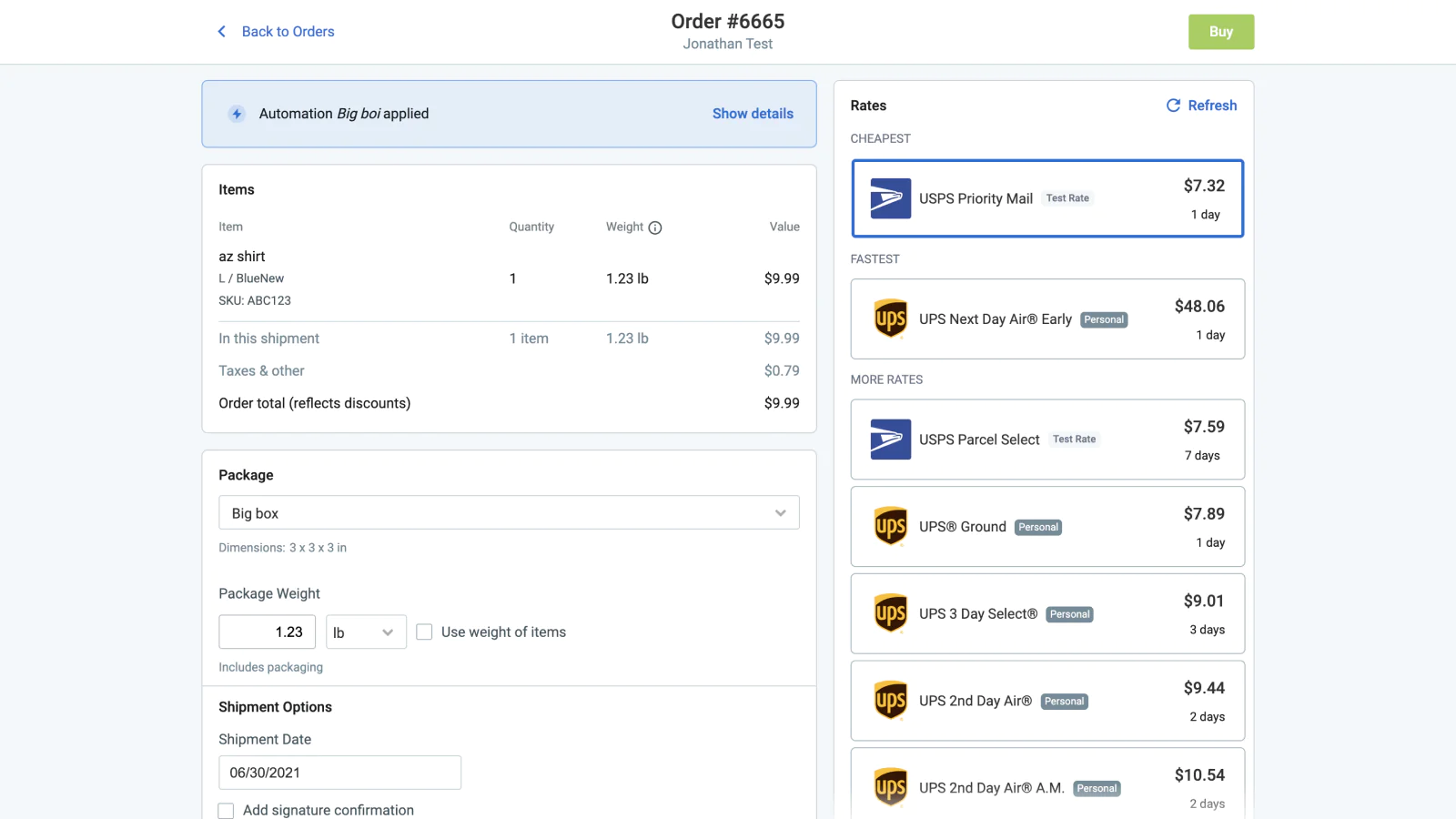 Rating: ★★★★☆ (4.0)
Shippo works with all Shopify stores and various other ecommerce platforms like Square, Wix, and WooCommerce. It automatically syncs shipping information with your ecommerce platform to streamline the entire shipping process.
The shipping solution helps you find the lowest possible rates for purchase orders from USPS, UPS, FedEx, DHL, and other popular carriers. You can also quickly download and print shipping labels out for your packages using Shippo.
Offer customers transparency and convenience with customized tracking and returns. Shippo gives customers details about the order's current location and status, as well as an estimated and original ETA.
Pricing:
Free

Professional: $10 per month

Premier: Custom pricing
Key features:
USPS, UPS, and DHL Express discounts

Branded customer experience

Custom text for email notifications

Email and live chat support
Easyship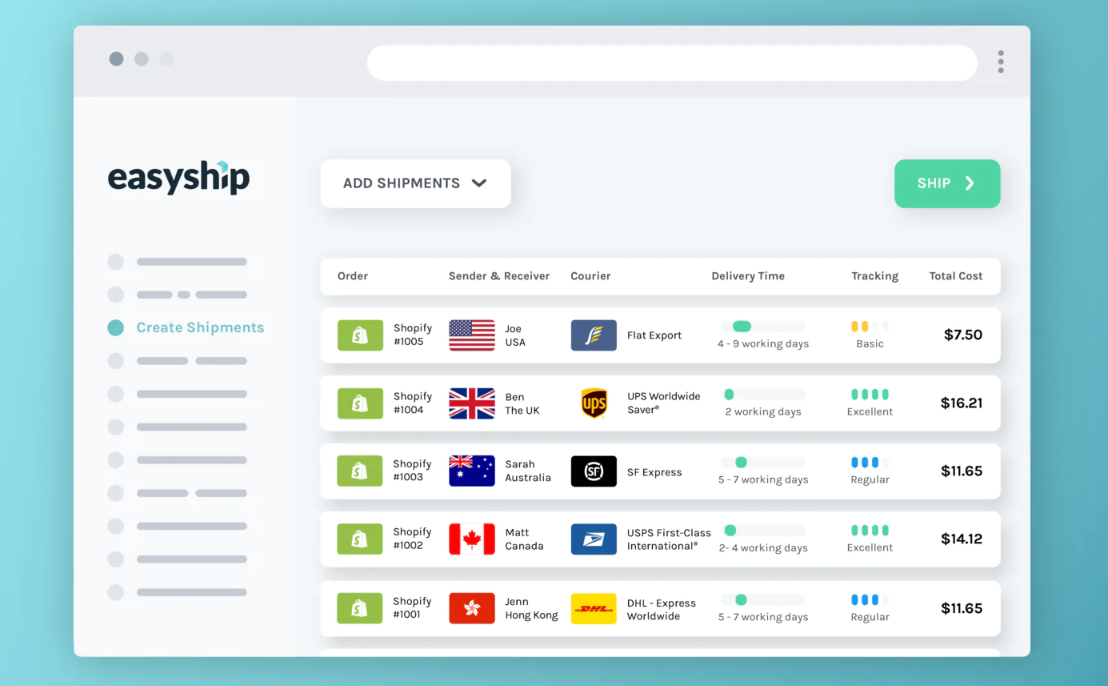 Rating: ★★★★★ (4.2)
Easyship offers exclusive shipping rates and the option to add your own courier accounts. You also get $30 toward free shipping when you connect your first ecommerce business.
Many think this is the perfect Shopify fulfillment app because it enables customers to choose their own shipping option with dynamic shipping rates at checkout. This can help improve conversions.
If you offer worldwide shipping, Easyship can automatically calculate taxes and duties based on the shipping location.
Pricing:
Free

Plus: $29 per month

Premier: $69 per month

Scale: $99 per month
Key features:
Unlimited sales channels

Live rates at checkout

Return management

Import tax and duty calculation and documentation
ShipBob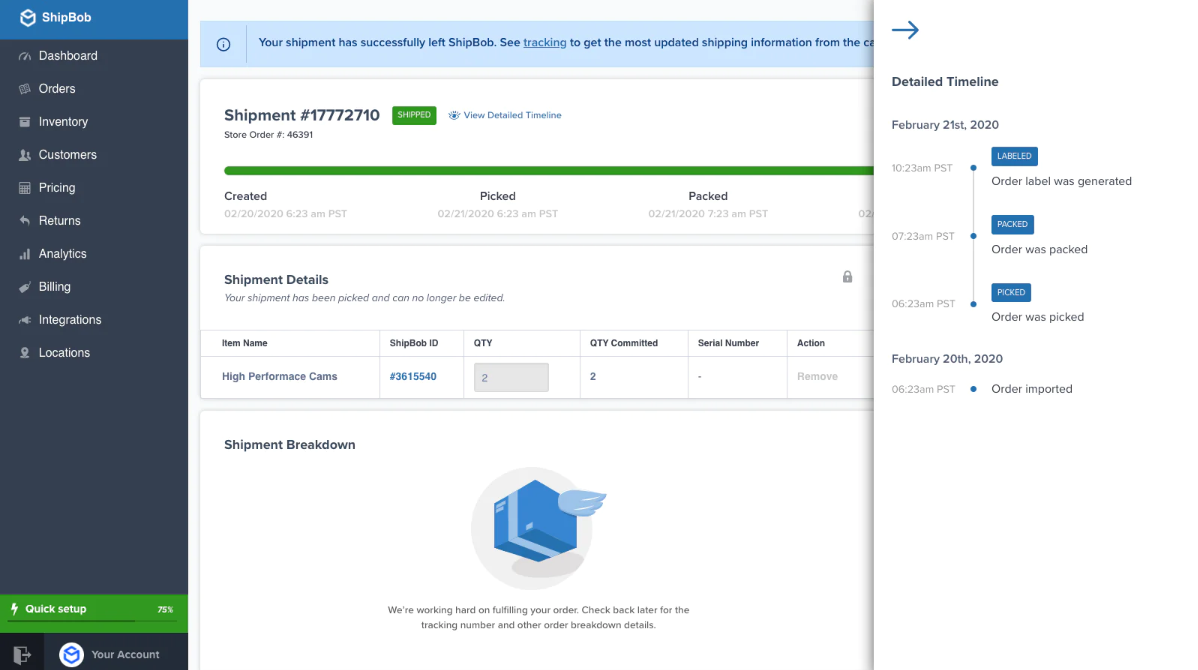 Rating: ★★★★☆ (4.0)
ShipBob offers your Shopify store excellent logistics across global sales channels. The platform has extensive customization options that help you create packing slips, inserts, and more. This allows you to have a great unboxing experience.
You can have online orders picked, packed, and shipped on the same day and choose a delivery speed based on your preference. ShipBob can manage the compliance requirements for fulfilling orders for any B2B or wholesale orders.
The service has over 40 warehouses across six countries, which gives you the global shipping scalability you need as you grow.
Pricing: A quote is available on request
Key features:
Same-day shipping

Extensive customization options

In-house B2B/EDI compliance management

REST APIs for ERPs
Tracktor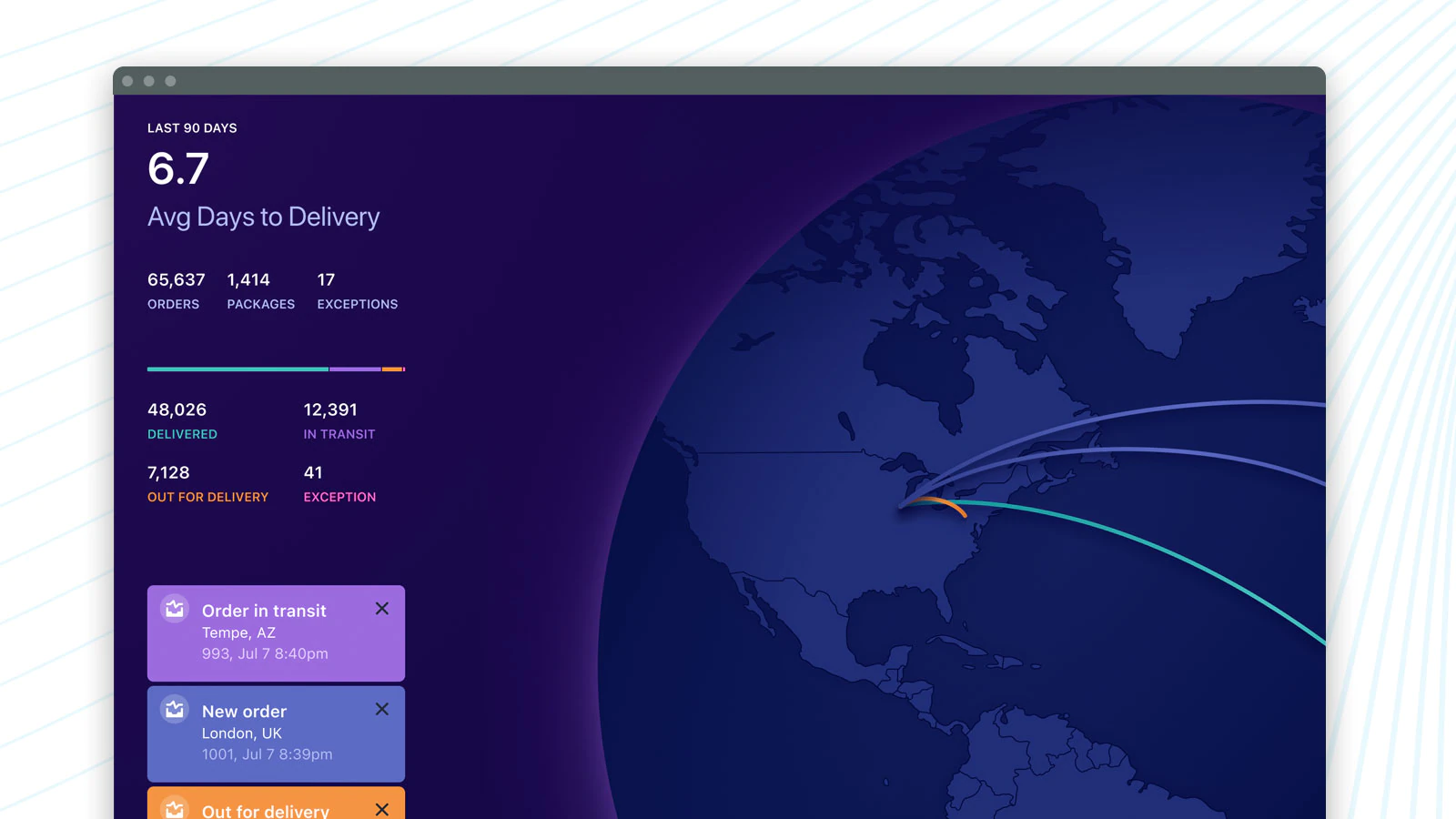 Rating: ★★★★★ (4.8)
Tracktor can help you add order status and package tracking that integrate with all major carriers to your online store. This seamless integration offers customers complete visibility into their package's status and location in just a few clicks.
You can create a branded tracking page. Also, the fulfillment app can notify customers when an order is out for delivery or arrives at their location via email or SMS notifications. The platform has a built-in mission control dashboard. Here, you can track inventory and can add timely tracking insights on a 3D interactive map.
Pricing:
Free

Starter: $9.99 per month

Essential: $39.99 per month

Advanced: $99 per month
Key features:
Integrates with all popular carriers

Email and SMS notifications when a package is out for delivery or arrives

Create a branded tracking page

Mission control dashboard
Importance of Shopify order management apps
You can continue managing inventory levels and shipping using a spreadsheet. Or you can use a robust order fulfillment app that helps automate fulfillment and streamline the entire process. Here's why you need one of these apps that take away the hassle of tracking and shipping your orders on time:
Meet customer expectations: Your customers want to be able to track their orders. A survey found that 68% of customers want to know where their order is throughout the delivery process. An order management app helps your customers view the order status in real time and receive notifications.

Efficiency: You already have a full plate. If you're the founder of an ecommerce startup, you're probably wearing many hats. Order management apps help streamline order fulfillment and inventory management, helping you save time that you can invest in financial planning or optimizing the product portfolio.

Find best deals: These Shopify apps make it easier to find discounts from shipping carriers. Over time, you can save a good amount of money on shipping with these discounts.

Centralize orders: A tool like one of these helps centralize orders from multiple sales channels and marketplaces. You no longer have to scour through websites or portals trying to get order details once you have an order fulfillment app.
How to choose the best Shopify order management app
Choosing an app can feel daunting since there are plenty of options out there. Each app has its strengths, so you should select one that best suits your needs. However, here are a few key things to consider when selecting an order management app:
Core feature set: The order management app needs to be able to create order profiles that bring the customer, product, source, and shipping details together in one place. The app should also allow you to track orders from inventory to the customer.

Additional features: The best order management apps include features like analytics and reporting, channel integration, inventory management, and more. Analytics provide insights into the effectiveness of your strategies, enabling you to optimize them over time.

Ease of use: You can make the best use of an app's features when they're easy to use. Look for testimonials from current users to see how easy or difficult they found an app.

Value for money: You still have a budget to stick to. Looking for the cheapest or most expensive option isn't a great strategy. Select an app that offers value for money and is within your budget.
Do more with Shopify order management apps
Order management apps help streamline order processing, manage inventory, and fulfillment and improve customer experience with real-time order status and updates.
Adding a tool like MESA to the mix can help augment the capabilities of an order management app. For example, you can create an automated workflow that sends a gift card to customers whenever an order is delayed.
Try MESA to see firsthand how it can streamline order management. It's free to install!
New Shopify Apps Weekly Newsletter
We watch for new apps then package them into an email sent every Tuesday.