Yotpo vs Judge.me – both are great review management apps. But do you really need one? Probably so. 46% of consumers trust online business reviews as much as personal recommendations from friends and family. 35% trust them as much as recommendations from social personalities. By collecting reviews, you can gain the confidence of 81% of buyers.
However, to collect reviews, you need a review collection app.
Choosing a review collection app can be confusing since there are plenty of them in the Shopify app store. In this article, we compare Yotpo vs Judge.me, two of the best review apps on Shopify.
Integrate MESA into your Shopify store now and effortlessly automate the transfer of your collected reviews to other systems, saving you time and enhancing your data-driven decision-making.
Main differences between Yotpo vs Judge.me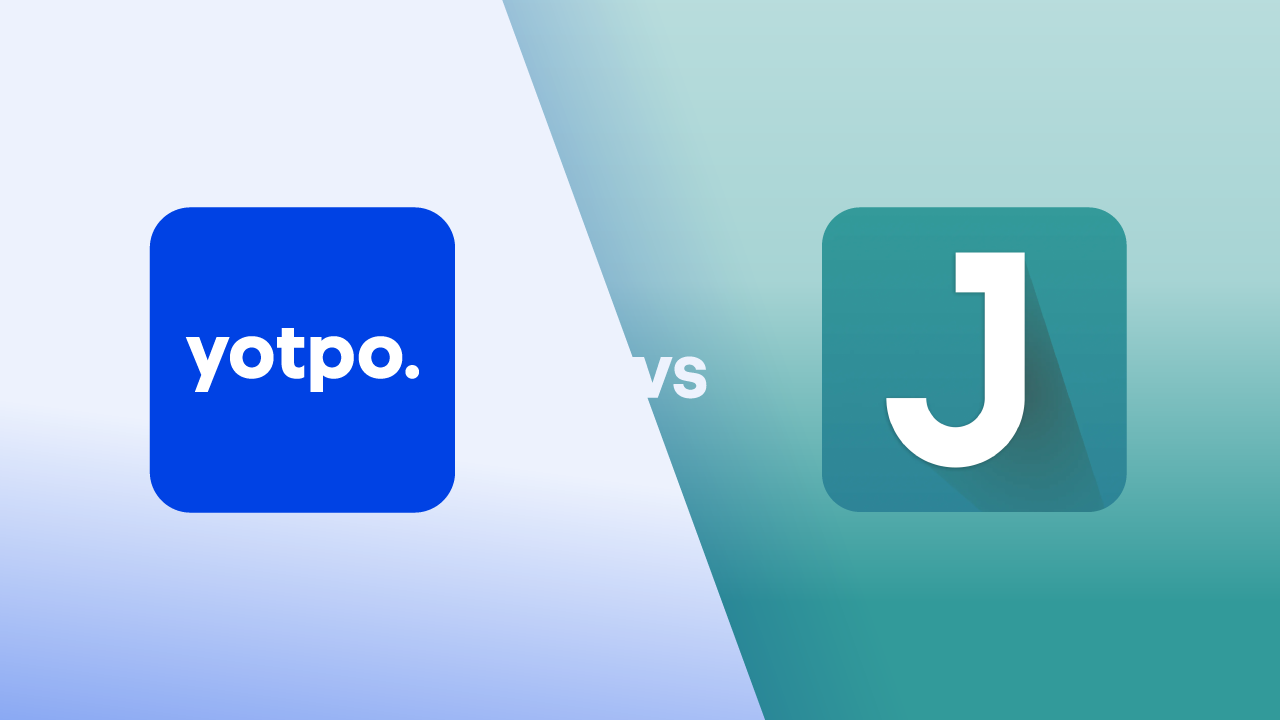 Judge.me is affordable and user-friendly with customizable branding, but it lacks the advanced capabilities of Yotpo. Yotpo boasts a comprehensive suite of features, including user-generated content, in-depth analytics, 24/7 live chat support, and built-in SMS marketing in its higher tiers. However, if you're looking for a straightforward review collection without the frills, Judge.me might be the better choice.
Both are great apps in their own ways. So you'll need to pick one that suits your own business needs well — do you need a no-fuss review collection app or one with extensive features?
Here are some key differences that might help make a decision:
Yotpo has a more comprehensive feature set, including user-generated content for reviews, ratings, Q&A, and photos.

Judge.me is relatively simpler but still offers features of Yotpo Reviews, such as customizable branding.

Yotpo has built-in SMS marketing in higher tiers, while Judge.me requires integrating with another tool for SMS marketing.

Yotpo offers subscription services. Judge.me doesn't.

Yotpo offers more in-depth analytics than Judge.me.

You get 24/7 live chat and onboarding support as a Yotpo user. Judge.me only offers email support.
Exploring Yotpo Product Reviews
Rating: ★★★★★ (4.9)
Price:
Free version

Growth plan: $15 per month

Prime plan: $119 per month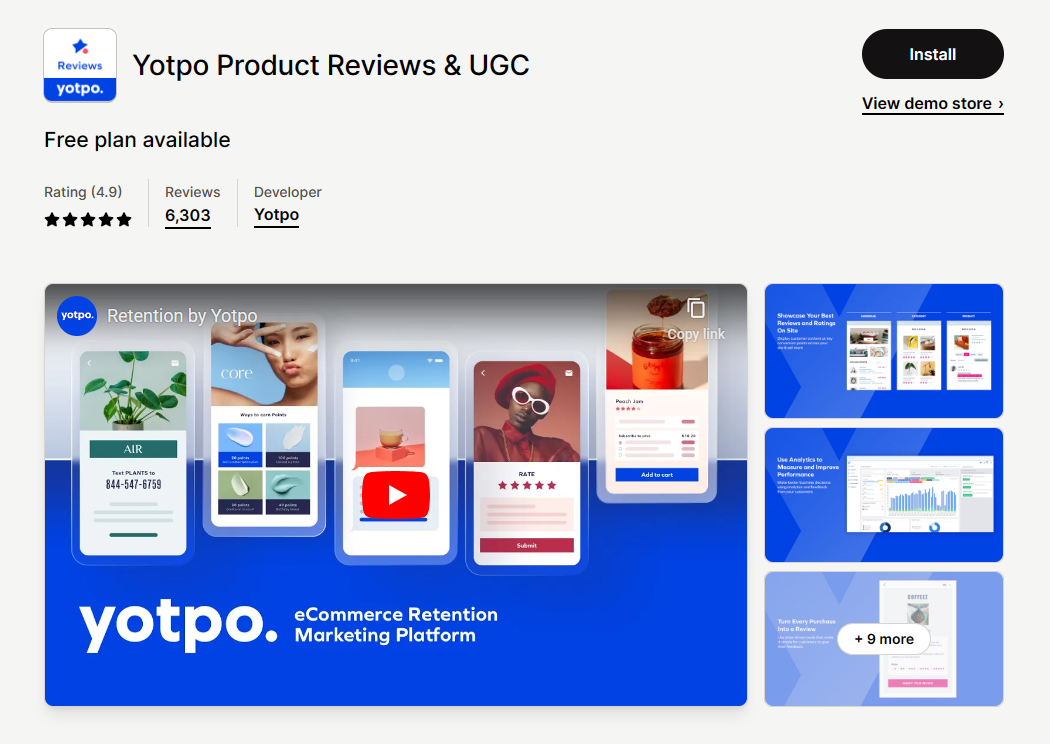 Yotpo Product Reviews helps brands create social proof by collecting unlimited review requests.
The app's partner integrations allow brands and businesses to show reviews and star ratings on search engines and social media websites.
The service's official partnerships with Google and Facebook boost brand discovery and bring in more traffic from these platforms. Yotpo enables you to encourage shoppers to leave a review by allowing you to reward them with a coupon for reviews. Shoppers can also add photo and video reviews, which earns your brand additional trust and loyalty from visitors.
Yotpo lets you customize the reviews widget so it matches your brand's style. Customization options are important because a generic review widget or collection app looks odd on heavily styled web pages.
If you're growing quickly, you're probably receiving dozens of reviews a day. Moderating these comments is crucial but time-consuming. Yotpo allows you to automate comment moderation with AI. Or you can retain moderation control yourself and delegate it to a team member.
Reviews are a great source of insight. Yotpo makes using these insights easier with its extensive analytics.
With Yotpo, you can engage more customers with community Q&A. Answer product- or shipping-related questions or help customers make the right choice in the Q&A section.
You can display relevant content with Yotpo's Smart Filters feature. Strategically using this feature can help boost buyer confidence, improving conversions.
Exploring Judge.me vs Yotpo
Rating: ★★★★★ (5.0)
Price:
Free version

Awesome plan: $15 per month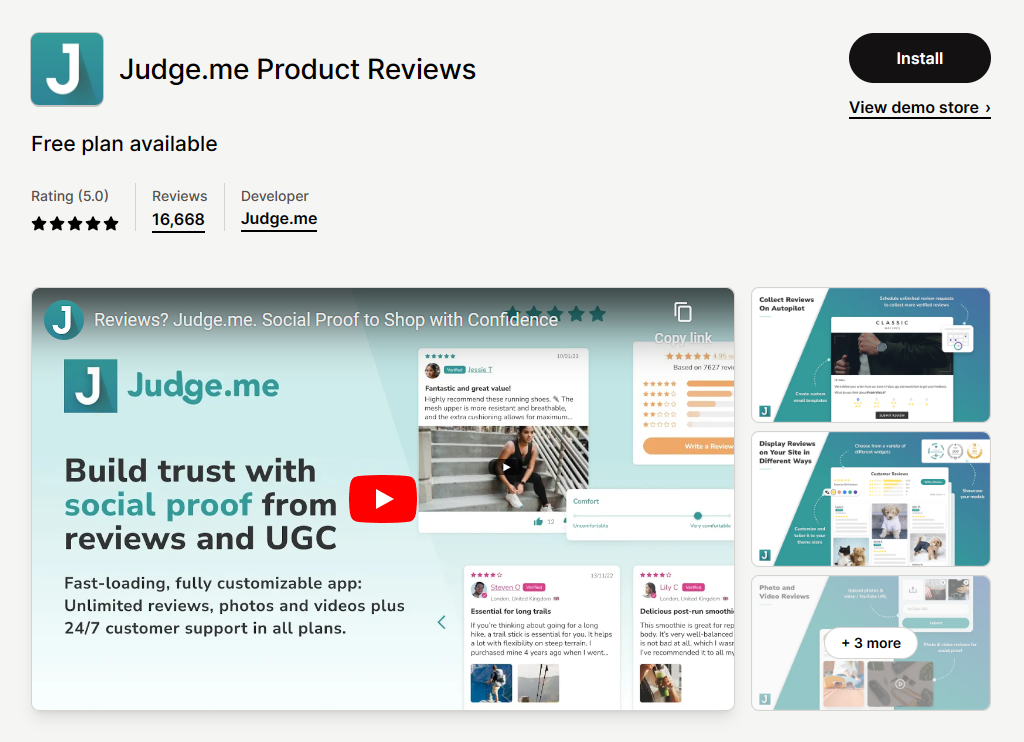 Judge.me is a highly customizable review collection app. It's lightweight, so it loads faster, which can help improve site load times or at least not increase the website's current load time.
The service lets you schedule automated emails to request reviews with photos and videos at the time of fulfillment and delivery. You can make unlimited email review requests and add in-email review forms.
Judge.me can help you place reviews and UGC on your storefront and social media, including Facebook, Instagram, and Twitter.
The app also helps add star ratings to Google, which offers SEO value. When shoppers search for your product, rich snippets of seller ratings generated by Judge.me can bring in visitors from Google search results.
The app allows you to sync and group product reviews across products as well as stores, so you don't have to migrate them manually.
Setting up Judge.me is quick and easy. The app has various built-in widget support and customization options, like changing widget text, colors, and themes.
If you need help setting up or using the app, you can get in touch with Judge.me's 24×7 support team.
Benefits of a review collection app
Collecting reviews is critical for feedback and social proof for online sales. In fact, buyers often avoid purchasing products that don't have any reviews.
Review collection apps have so many features that make collecting and managing reviews easier. Moreover, here are the benefits of a great review collection app:
Social proof
Review collection apps allow customers to share their opinions about the product. They can add photos display reviews and videos for context.
These opinions offer potential buyers insights into the product's quality, key features used, and usefulness.
Your customers might add reviews that offer visitors tips for using the product based on personal experience, insights into the delivery process and unboxing experience, and compare this product with similar ones.
All of these offer different aspects of value to potential buyers.
Feedback
Don't be afraid of negative reviews. They're an opportunity to see what customers think about a product and identify ways to improve it. This is also a chance to address the concerns your customers might have professionally to improve customer satisfaction.
Using a tool like MESA can ensure you never miss negative feedback. For example, you can configure a MESA workflow that auto-creates a Gorgias support ticket when a customer leaves a negative review in Yotpo.
Improved SEO rankings
Apps like Yotpo can help add star ratings and rich snippets to Google searches. This gives your product more visibility in organic search, bringing more traffic to your website.
Using reviews doesn't guarantee SEO success. But reviews are a critical ranking factor for local SEO. If you own a brick-and-mortar store as well, reviews from your online store can help increase traffic and boost sales while at your local store.
Automate review invitations
Review collection apps help automate sending emails requesting customers to leave a review after the order is delivered. This allows you to easily collect more reviews.
Of course, you can also automate product reviews on Shopify using an automation tool like MESA. Just like a review app, MESA helps send review requests after order delivery via email.
Customization
Review collection apps offer customization options that allow you to design the reviews section so that it merges seamlessly with your store's design. Customization options are especially helpful if your website sports a fancy design.
Why automate the review collection experience?
Automating review collection helps smaller businesses collect reviews at scale. If you're a brand selling hundreds of products a day, manually requesting customers to leave feedback isn't feasible.
Sure, you can add popups at checkout. But nothing beats a personalized email requesting a customer's opinion about their experience with your brand and the product.
The analytics built into review apps collect information from customer reviews and produce insightful reports. This information helps you find room for improvement so you can optimize your strategy over time.
Review collection apps help put customer reviews on the home page, product page, and more places on the website to increase the buyer's confidence.
You can streamline the review collection experience even more with MESA. For example, you can automatically send a thank-you email when a review is created in Yotpo.
Do more with reviews without the work
Yotpo vs Judge.me – both are in fact, great tools. Both have their strengths and offer value in different ways.
If you want an affordable, super easy get-to-use solution, Judge.me is your best bet. It offers an excellent feature set for a lower price than Yotpo.
On the other hand, Yotpo is loaded with features. It costs more, but if you regularly use reviews to market your business, Yotpo is the way to go.
Once you have a review collection app set up, add MESA to the mix. MESA will help automate the rest of the review management workflow, saving you plenty of time you can spend on other areas of business. Try MESA for free today!
New Shopify Apps Weekly Newsletter
We watch for new apps then package them into an email sent every Tuesday.