When it comes to your online business, being able to showcase why your customers choose you and your products is critical. This is where customer reviews come in. Getting customer reviews is not always a simple process, but with a reviews app that provides the ability to automate product reviews, you'll be raking in the review scores in no time.
In this blog post, we will show you how to send automated review request emails on Shopify and we'll look at Shopify's own product reviews app. We'll also compare it to other reviews apps, and offer a few tips for getting the most out of user generated content.
Ready to save time by automating product reviews? Install MESA to easily manage reviews for your products.
The importance of product reviews in e-commerce
Product reviews are a critical part of your online store.
A single product review can provide valuable insight into what a customer thinks about your items or services. In turn, they can help you improve the overall experience.
Product reviews are also key to putting your customers at ease. They help shape their buying decisions and boost the visibility of your online store in search engines.
Videos make these reviews even better. The reader can actually see someone interact with the items so the viewer and imagine themselves in the same situation. This can have a profound impact on buying decisions.
They act as a powerful form of 'word-of-mouth' marketing by offering honest and unbiased feedback on products from those who have already purchased them. This helps potential users gain an informed understanding of quality, features, and performance.
The benefits of automating product reviews
Harness the power of automation to save time, enhance efficiency and improve accuracy across your website.
Automating product reviews can yield tremendous benefits. Reducing manual effort, streamlining processes, and ensuring customer feedback is presented in an accurate manner, just to name a few. Customers also get a better experience. They're kept informed about the features and performance of products through automated reviews systems.
Automation also brings the power of organization, scalability, and analysis to your product reviews.
How to automate product reviews to do more
We've covered a few app options that you can consider to generate more reviews for your e-commerce site, but how exactly can you automate them? Let's take a closer look.
To get the most out of automated review strategies, set up your app with email reminders after orders are delivered as well as social media notifications when new reviews arrive. Doing so will help send automatic review request emails to encourage customers to leave their valuable opinions.
Once you have the reviews though, what are you going to do with them?
This is where creativity comes in. You need to evaluate if consumers are happy, neutral, or upset. Then, you need to have a communication plan in place to address each of these reviews. On top of that, you may want to save their feedback in in their customer account or your business CRM so that follow-up campaigns are possible in the future.
Understanding Shopify and its review capabilities
Shopify is a comprehensive e-commerce platform that provides users with the tools and resources to power their online stores. It's used by businesses throughout the world because of its versatility and ability to be tailored to different needs.
With robust features, an intuitive checkout process, an impressive selection of third-party integrations, and its own review app called Product Reviews – businesses can maximize customer satisfaction as well as build brand loyalty and social proof quickly.
Product Reviews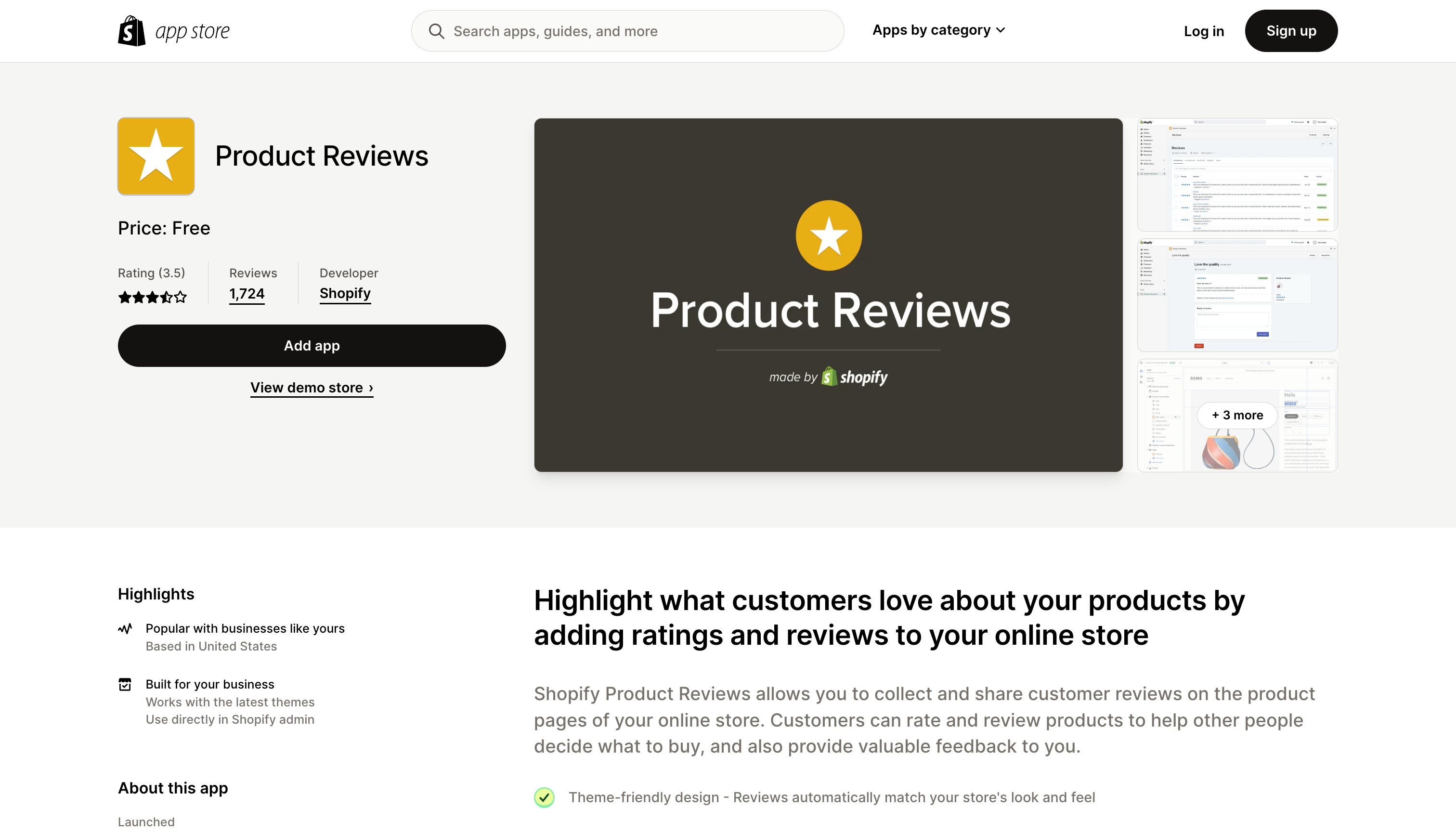 ★★★☆☆ (3.5) Shopify App Store
Price: Free plan only
One way to showcase the positive aspects of your merchandise is by integrating ratings and reviews into your e-commerce platform. With Shopify's Product Reviews app, you can gather and display feedback from your customers directly on the product pages of your online store. This feature enables shoppers to rate and review your items, assisting other potential buyers in making informed purchasing decisions. Additionally, it offers you valuable insights into your product's performance and areas for improvement.
Other Shopify Product Review Apps
When it comes to comparing Shopify product review apps, there are many to consider outside of Product Review.
Let's take a look at what other review apps for the Shopify store owner can do for your website.
Judge.me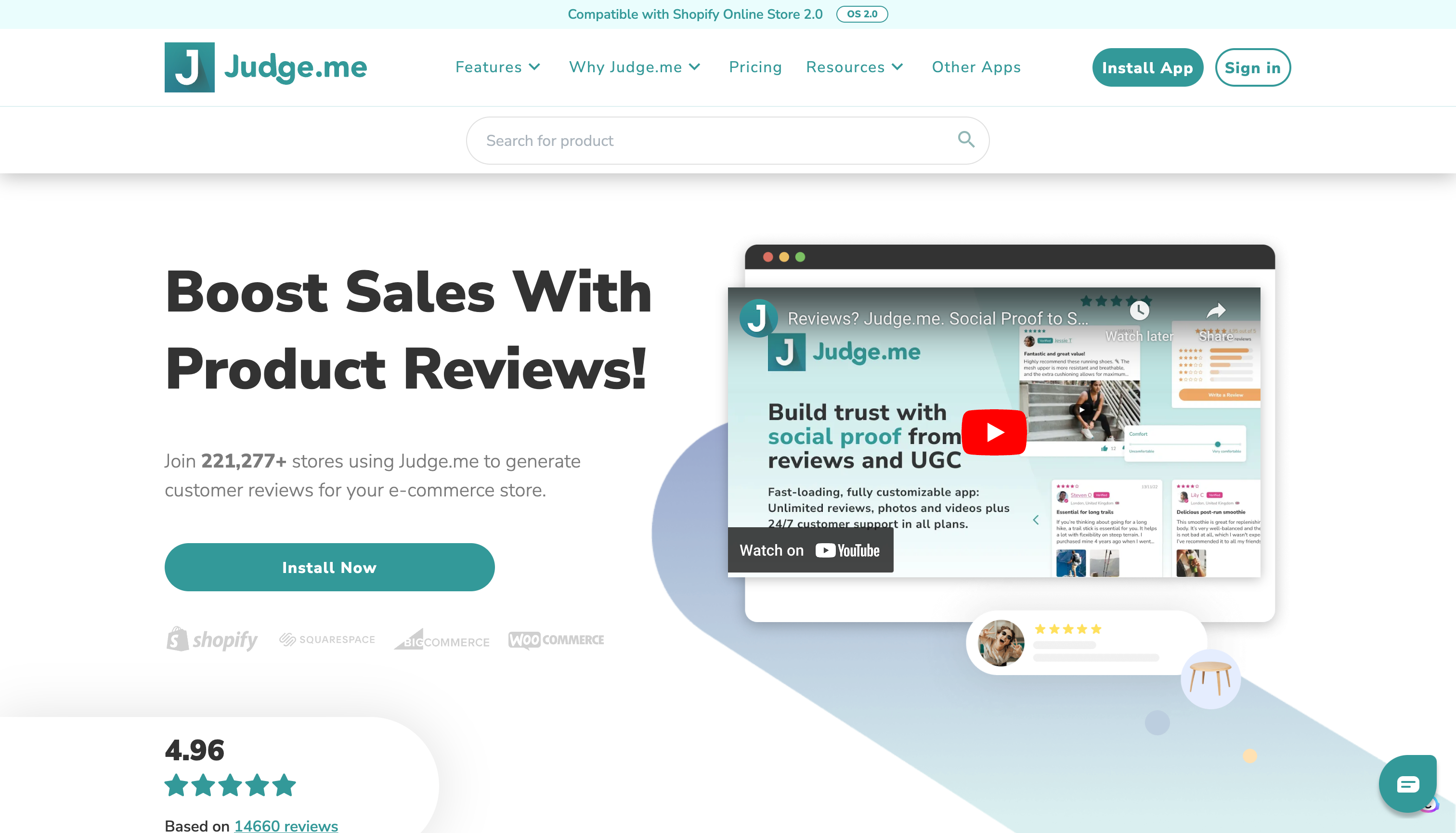 Judge.me provides the ultimate customer review experience, giving your customers a platform to share their feedback with text, star ratings, and even photo reviews or videos of their experiences. And what's more? The app rewards those who respond to review requests – making it easier than ever before to get genuine product reviews from shoppers!
Loox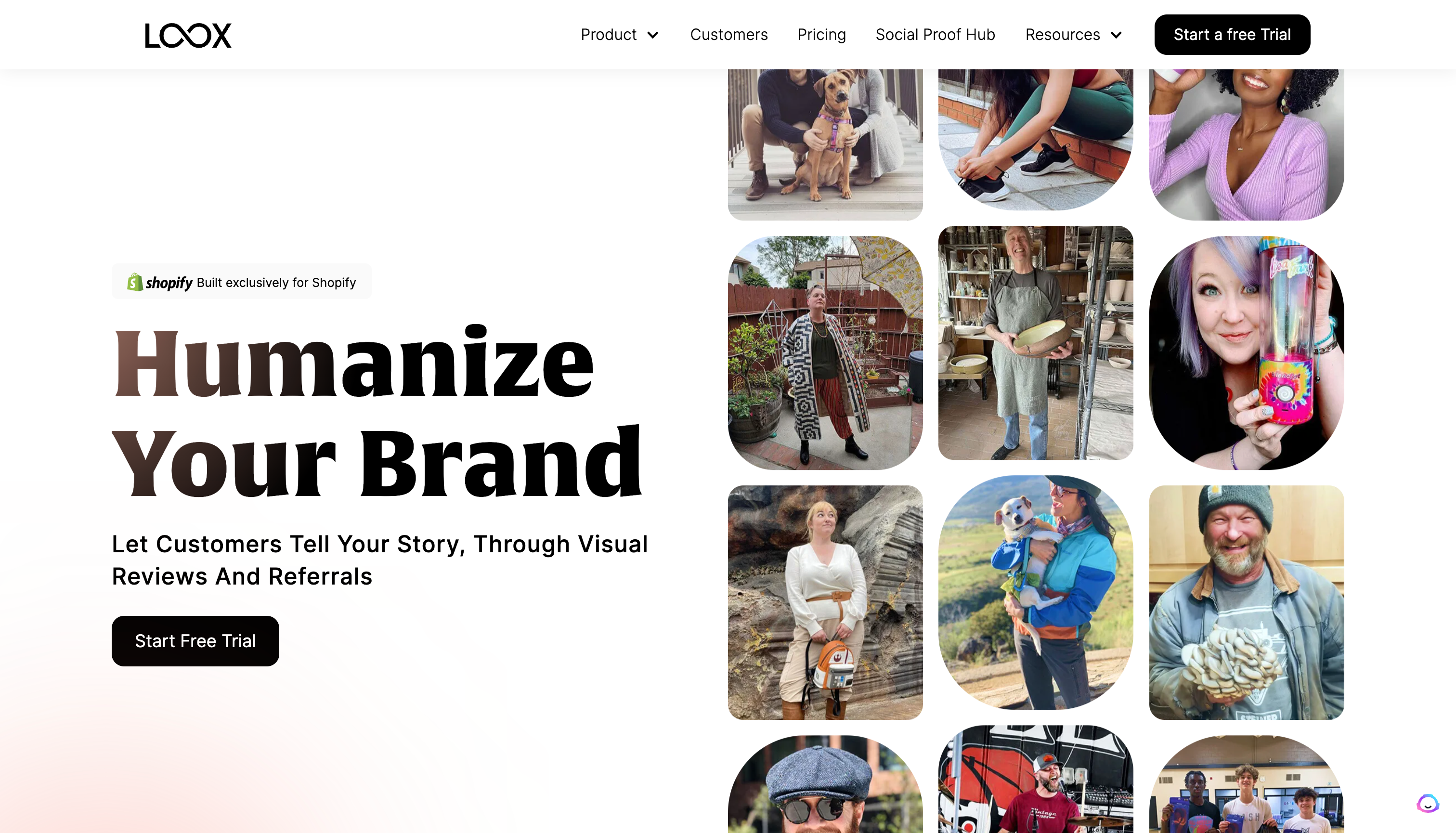 If you're a business wanting to boost customer engagement and gain strong social proof, Loox is the way to go. Through its customizable review request emails, segmentation options, and comprehensive analytics features – all wrapped up in an easy-to-use app – businesses can tap into their customers' experiences like never before. Loox made photo reviews mainstream with its unique platform. Happy customers are more likely to share reviews with photos which make the reviews on your store so much more powerful.
Stamped.io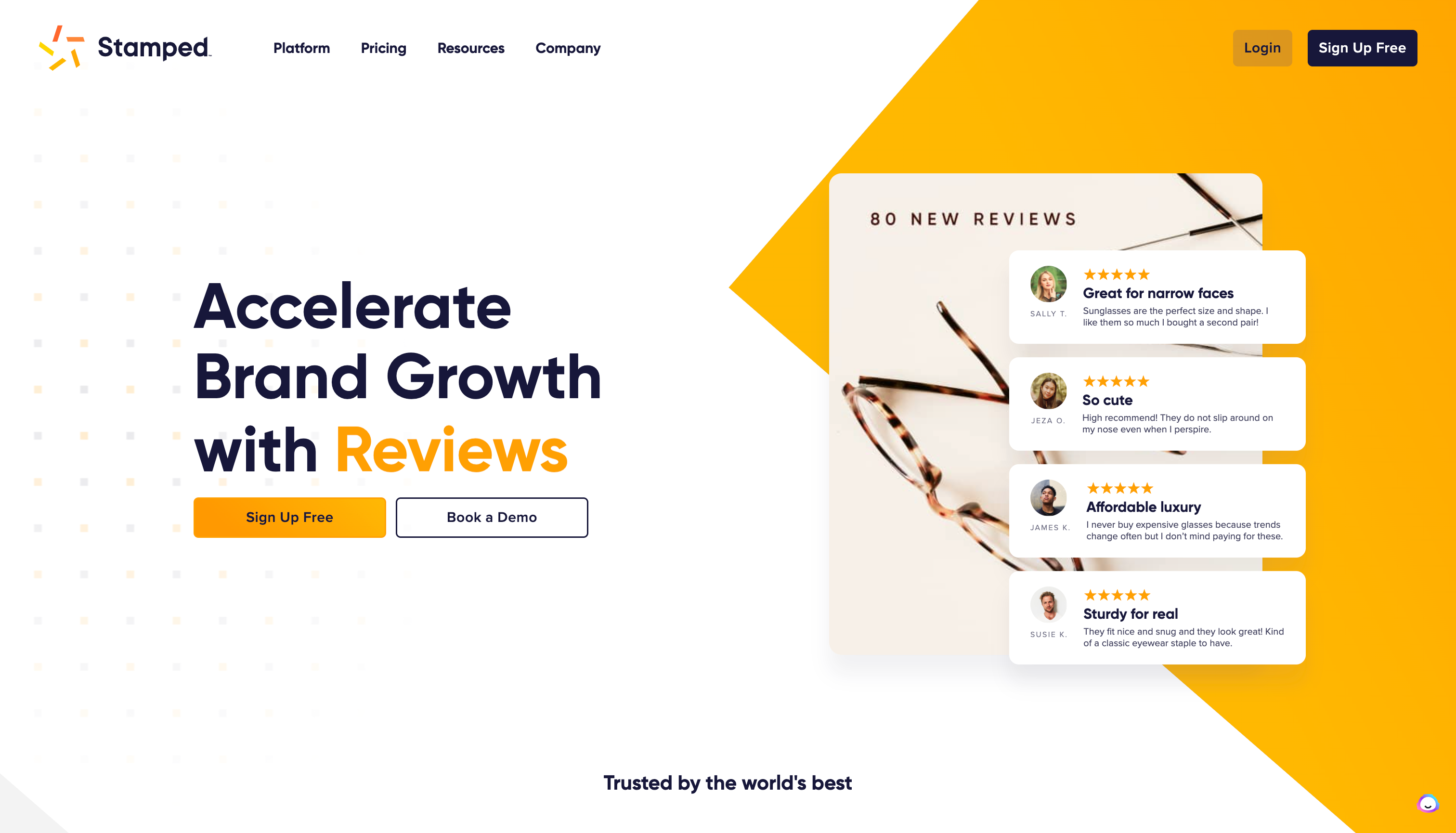 Stamped.io is a powerful customer marketing platform designed for collecting product reviews, featuring text and star ratings as well as incentives for potential buyers across their buyer journey. It also offers 10 customizable display widgets, along with an SMS review request service – all within a 7 day free trial period.
Yotpo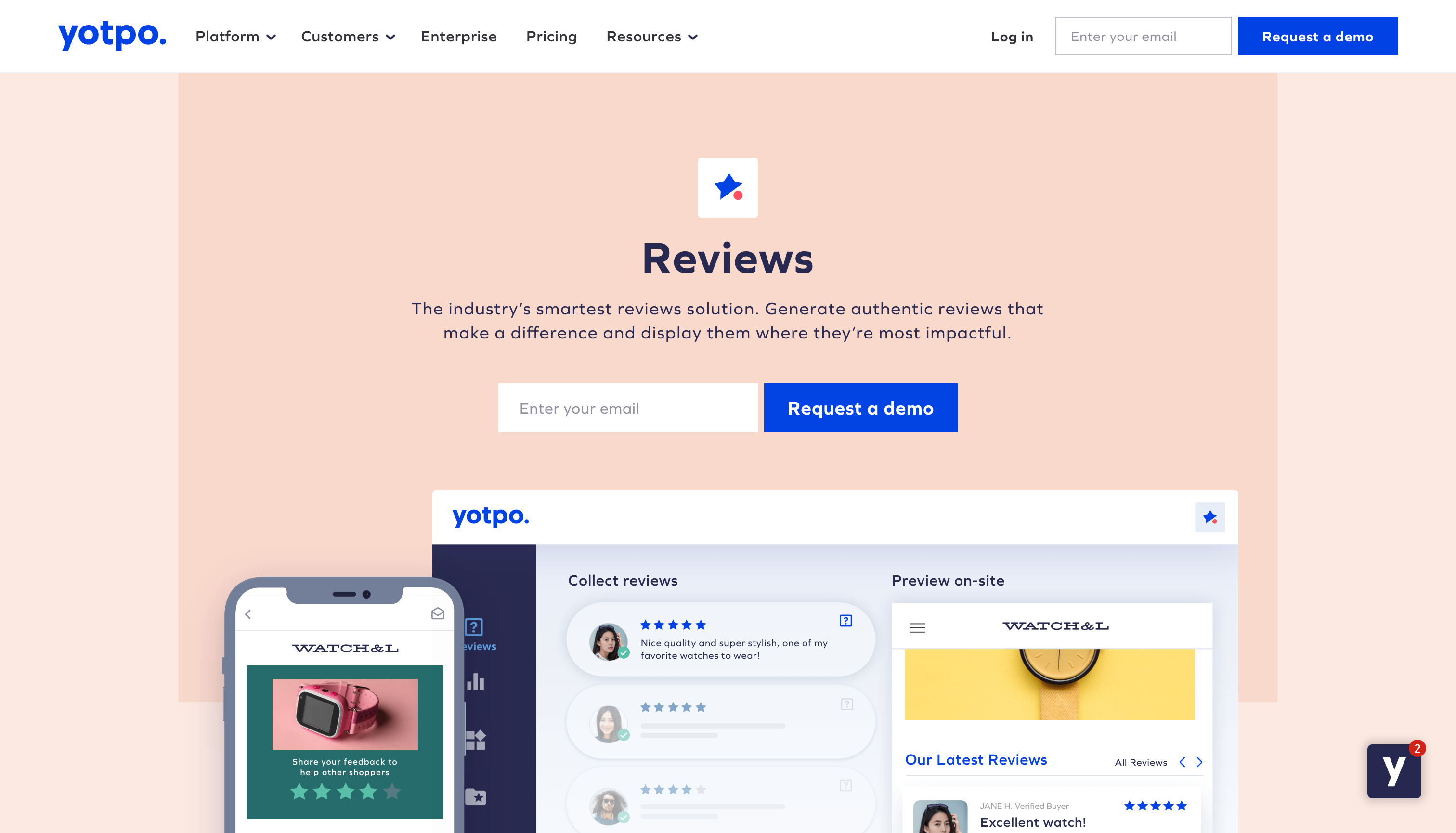 For businesses wanting to capitalize on cutting-edge customer review technology, Yotpo is a great option. It features easy-to-use tools and a suite of personalized performance options that make it an obvious choice for those running their product review platform across multiple Shopify stores. With this platform you can control your reviews from one central hub while highlighting noteworthy characteristics in each feedback summary. Plus, if data's your thing, there are powerful table breakdowns just waiting to be explored on the product page.
Fera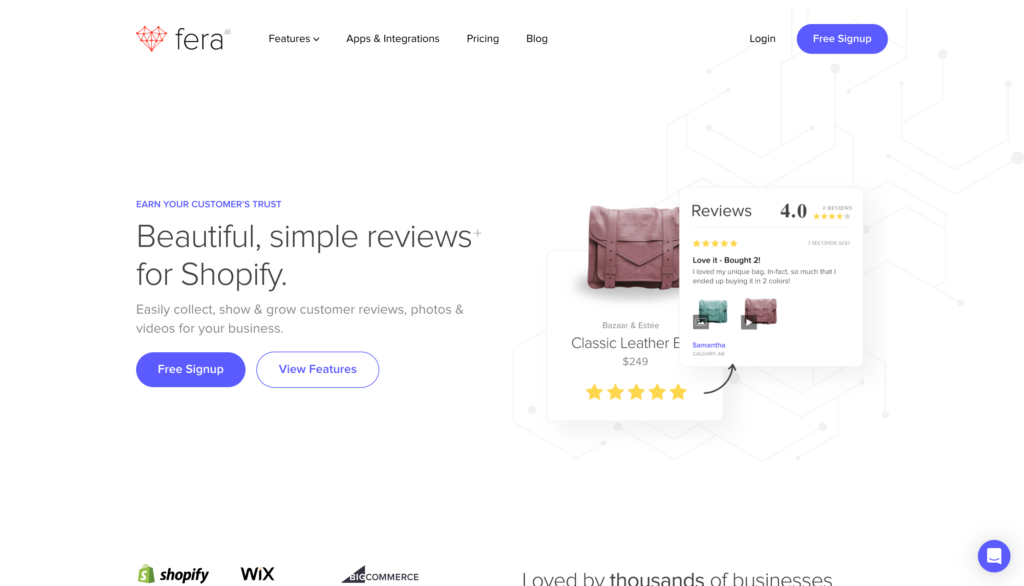 Fera.ai is a comprehensive ecommerce solution specifically designed to enhance online customer trust and subsequently increase sales for retailers. It provides a suite of features that allow online businesses to collect and display customer product reviews, ratings, and user-generated content. These elements are key in enhancing product credibility, providing valuable context to potential buyers, and ultimately driving conversion rates.
Moreover, Fera.ai's capabilities extend to offering personalized product recommendations, aimed at boosting your average order value. Its customizable widgets ensure that the visuals align with your brand aesthetic, maintaining a cohesive brand image. Additionally, Fera.ai provides A/B testing and detailed analytics, enabling businesses to make informed, data-driven decisions and continually optimize their strategy.
What to do with positive reviews
Reacting swiftly to genuine product reviews is essential in fostering strong relationships. When customers feel that their input matters and they are valued, it builds trust – a key component of retaining loyal shoppers. So, make sure you respond to all positive reviews; even it's just to say "thank you" in your own voice or unique way. It's a great opportunity to let your brand shine!
Also, show the world just how much your customers appreciate you by amplifying positive reviews on social media platforms, newsletters, and other communication channels. Be sure to publish photo reviews on your product pages so website visitors can see star ratings and genuine feedback from fellow shoppers.
For example, Gladskin supports photos directly on its product page. Reviews that highlight the before and after effects of their product on actual consumer skin which has a profound effect on sales.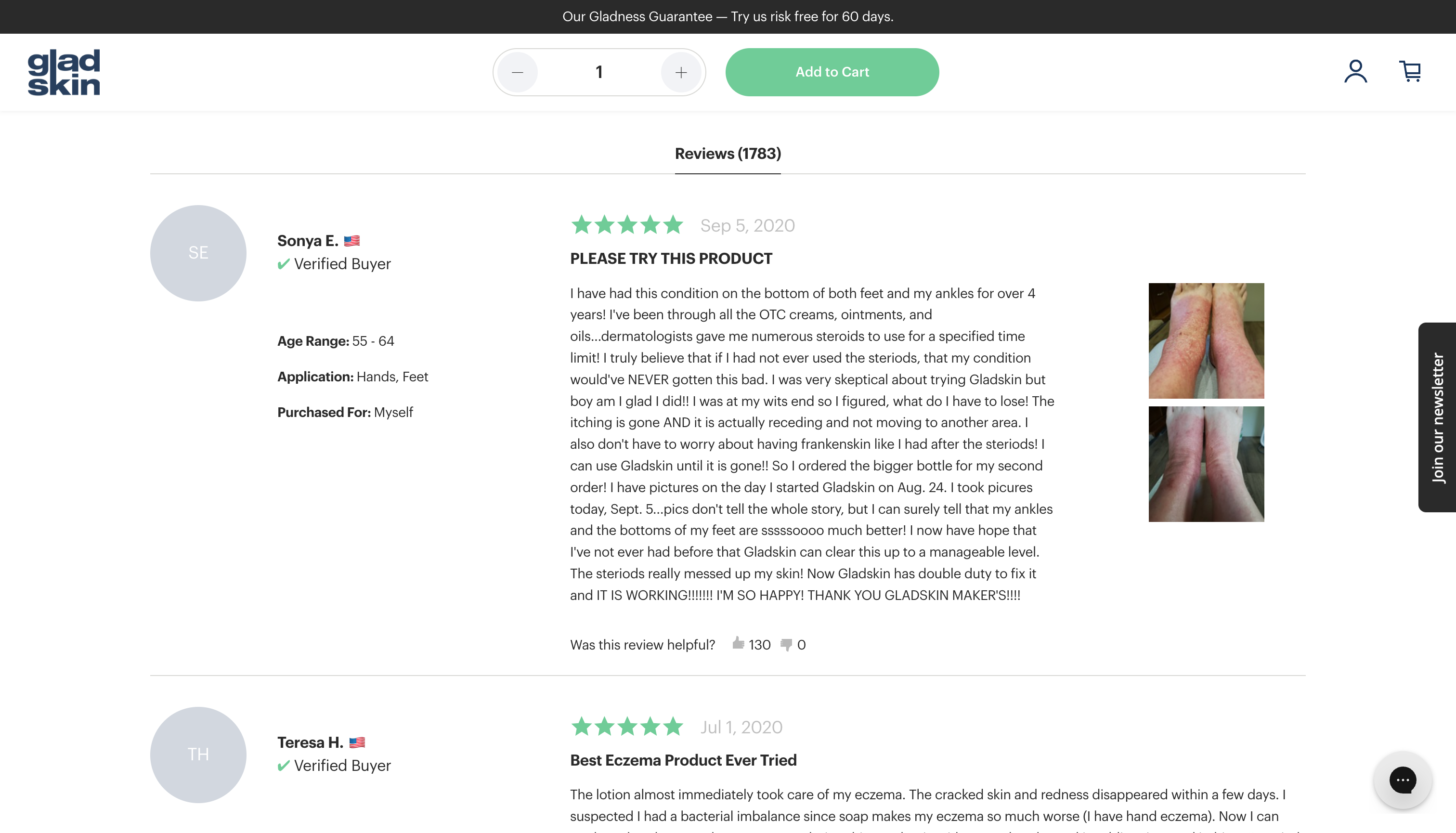 What to do with negative reviews
When it comes to negative reviews, there's no need to panic. It's important to remember that not every consumer is going to be happy with your product or service. The best thing that you can do here is taking the opportunity to turn a negative into a positive.
Constructive responses to complaints can help make a positive impression and maintain relationships. Show your customers (and window shoppers) that you care. Listen to them closely, apologize sincerely, and follow up after taking action on their concerns. Not only will they appreciate the effort you made in addressing the issue, but it may also inspire loyalty through offering discounts or replacements as an extra measure of goodwill.
By following these steps, you can turn negative reviews into positive experiences that will strengthen your relationship with the customer and improve your overall customer service. When website visitors can read how you treat existing customers, even in negative experiences, it can lead to an actual increase of sales, if done correctly.
Wrapping up reviews…
Automating your product reviews can save you time, improve accuracy, and enhance the customer experience. Additionally, it provides valuable insights that can help improve your overall business.
We'll leave you with this final tip for success:
Automating product reviews can be a great way to streamline the process and improve accuracy. It's also important to stay engaged with your customers. Show that you care about their feedback and always strive for customer satisfaction.
The end result will be increased customer trust, improved purchasing decisions, enhanced SEO visibility, and overall growth for your business.
Take control of your Shopify store reviews
MESA makes it easy for you to manage customer feedback, analyze trends and gain valuable insights. All of which, can help shape your business's direction. Get MESA. And bring the power of automation to your product reviews and reap the rewards.
New Shopify Apps Weekly Newsletter
We watch for new apps then package them into an email sent every Tuesday.