Did you know that product reviews can be a great way to encourage customers to connect with your brand? That's right – writing informative product reviews can drive sales for your Shopify store.
Customers want to see that people have purchased from you and had a positive experience. They also want to get a sense of what the product is like before they make a purchase.
Reviews can increase customer confidence and encouragement to buy products from your store.
Like most people, you love to read product reviews before making a purchase. Product reviews ensure you get an unbiased opinion about a product or service.
So, if you're looking for how to get product reviews, you may consider using a Shopify product reviews app. These apps can help you request feedback from customers and generate more reviews.
This article will review some of the best Shopify product review apps to help you make an informed decision.
What Do Statistics Say About Product Review Influence on Consumers and Sellers?
There is no doubt that online product reviews influence both consumers and sellers. But what do the statistics say about how much influence these reviews have?
Statistics show that product reviews have a significant influence on consumers and sellers.
According to an article published by The World Financial Review, 82% of customers read through product reviews online before purchasing. In addition, 79% of customers trust online reviews more than personal recommendations. Another statistic from Dixa indicates that 83% of consumers tend to spend more money on an item or service after a positive experience. 
Reviews play a starring role in the customer journey to buying a product from an online store. As a result, product reviews can drive sales conversion up to 270%. In fact, retailers who have implemented product reviews on their sites have seen, on average, an 18% increase in sales. 
But online reviews can sometimes have the opposite effect and drive away potential customers. For example, a study by Invesp shows that 86% of people avoid purchasing products from a company based on negative online reviews.
How to Get Product Reviews
If you're looking for ways to get more product reviews, here are a few ideas to get you started:
Make it easy for customers to leave reviews. Always include a link to your product page on your website, your email signature, and on social media.
Give customers an incentive to leave a review. For example, offer a discount or freebie for a review.
Ask customers to leave a review. A personal request is often the most effective way to get someone to take action.
Follow up with customers who have left a review. Thank them for their feedback and let them know you appreciate their input.
The key is to make it easy for customers to leave a review. This is where Shopify product reviews apps come in handy.
What Are Product Review Apps for Shopify?
Product review apps for Shopify give customers an opinion about a product. The apps also compare products to their alternatives. These apps can be beneficial when shopping online. This is because they provide an unbiased view of the products in question.
Many Shopify merchants have a store section where customers can leave product ratings and reviews after purchase. This is an excellent way for customers to share their thoughts and opinions about a product.
Review sections can be beneficial, so take advantage of them.
Why Product Review Apps Are Important to Shopify Merchants
If you are a Shopify merchant, you know that product reviews are essential. Product reviews apps are important because they:
Provide social proof about your products
Help potential customers learn about your products
Help to build trust and credibility with potential customers
Can improve your products by identifying areas that need improvement
Help increase your sales. This is by providing potential customers with positive reviews of your products.
Help you build customer loyalty. This is by providing a forum for customers to share their positive experiences.
Help identify potential new customers. For example, review apps allow customers to recommend your products to others.
Can improve your search engine rankings by providing backlinks to your website
What are the Best Review Apps for Shopify?
There are multiple order tracking and review apps available for Shopify. Below are some of the best product review software available.
Judge.me is a renowned app designed to aid Shopify businesses in accumulating, managing, and showcasing product reviews and ratings. Its main functionality is in the automated solicitation of reviews from customers post-purchase, as well as providing a platform to effectively manage and respond to these reviews. With the known influence of social proof in purchasing decisions, this ability to seamlessly generate and manage customer feedback can significantly bolster consumer trust and increase sales conversion rates.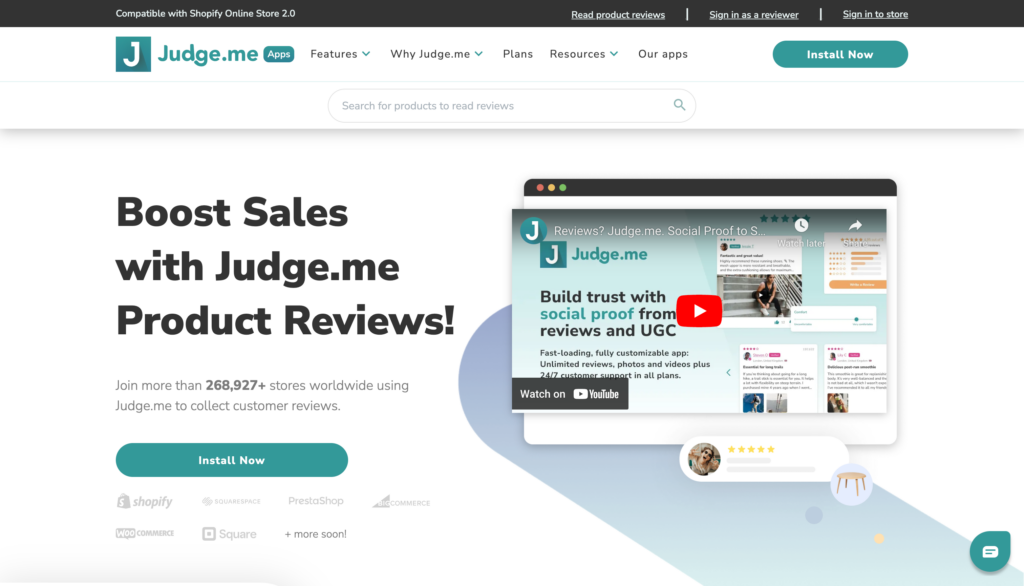 Beyond the collection and management of reviews, Judge.me stands out with its array of display options, including a review carousel, dedicated review pages, or within individual product pages. Customers can even contribute photo or video reviews, offering potential buyers a more tangible understanding of the product.
Additionally, the app's SEO feature showcases reviews in Google Search as rich snippets, and it allows review sharing across multiple storefronts for businesses with various brands. With seamless integration with other Shopify tools, Judge.me ensures a smooth, enhanced workflow for businesses.
Fera.ai is an advanced ecommerce app that empowers merchants to augment their sales through the enhancement of customer trust and experience. A significant feature of this platform is its product reviews and ratings functionality. This function not only promotes the collection of customer feedback but also displays it prominently on product pages, facilitating informed purchase decisions for potential customers.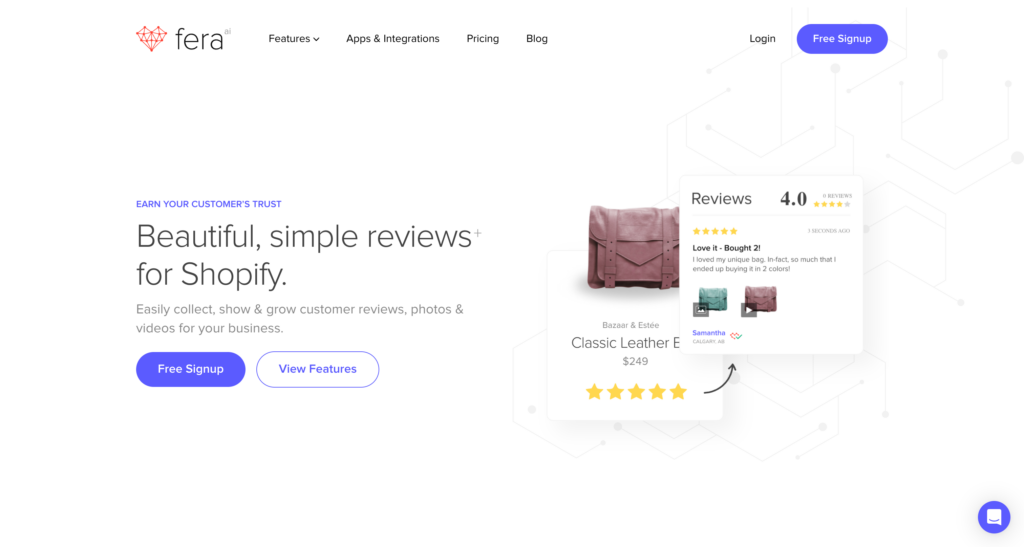 In addition to automatically soliciting reviews post-purchase, Fera.ai provides businesses with customizable widgets to present these reviews, creating a more personalized and brand-aligned display. Customers can contribute to reviews with their own photos and videos, thereby providing a more detailed perspective of the product.
Businesses have the power to manage these reviews, respond to them, and highlight the most impactful ones on their site. The real-time display of recent purchases and reviews leverages the power of social proof, driving customer confidence and increasing conversion rates.
Stamped.io is an excellent App for Shopify merchants to collect customer reviews efficiently. If you want to build brand credibility and trust with your customers, check out Stamped.
With Stamped, you can give your customers a voice and let them know that you value their opinion. Plus, the platform makes it easy to collect and manage customer reviews. So, you can always stay on top of what people say about your brand.
With features like automatic import and display of product reviews from Shopify stores, Stamped.io can help:
Increase rates of conversions and promote sales by using various widgets
Visualize customer review snippets. The snippets help in the Shopify store's SEO boost.
Build more social proof for your store and gain your customers' trust
Choose which review you want to publish and encourage customers to drop their reviews
79% of customers believe that social proof can influence their buying decisions. Thus Stamped.io offers customers coupons in exchange for feedback. This also helps in retargeting customers on social media. 
Pricing starts from as low as $19/month for a basic account. Tamped.io also offers a free Trial Plan for new customers.
Social proof is a powerful tool for gaining the customer's trust. If other shoppers love what you offer, they'll also be more likely to pull the trigger. So, if you need a user-friendly platform to generate customer reviews and testimonials, Yotpo will sort you.
With the Yotpo widget, you can easily collect customer reviews and testimonials. Besides, the widget enables customers to give direct reviews on-site. You can then showcase the customer feedback on your store to drive more sales and conversions.
Yotpo also has an AI feature that deepens your customer reviews and analyzes their feedback. You can use the insights to make better business decisions and improve your store.
Yotpo is affordable for most users. The pricing starts from $19/month with a free trial for new customers. 
What is Ali Reviews all about?
Ali Reviews is a product review app that allows users to leave reviews and ratings for products they've purchased on Shopify stores. The platform is very useful for potential shoppers. This is because it helps customers make informed decisions on buying products.
It enables merchants to use photo reviews, generating compelling user-generated content (UGC). You can showcase your customer reviews on any website page by preference. The collection and delivery review requests are via email and SMS.
Ali Reviews allows customers to write reviews by offering them discounts as a reward. It also brands your style of review by displaying personalized reviews based on customer info and shopping journey. This ensures that customers see the most relevant and helpful information possible.
Pricing starts from $9.90/month. Ali Reviews gives free trials for new users. It also has a free lifetime package that is only limited to small stores. 
If you're looking for a way to make your E-commerce store stand out, Loox is an excellent option.
With Loox, you can add customer reviews and photos to your products. This helps increase conversion rates and boost your sales.
Besides, Loox is a great app to build trust with your customers and show them that you're a reliable and trustworthy business.
Loox leverages the power of visual content. It sends automatic email review requests to your customers.
Loox also offers a discount on future purchases to customers who submit a review (especially with a photo).
Loox optimizes your store product reviews and ratings. This can be a great way to improve your store's organic search ranking. Thus, it creates a more user-friendly and informative search experience for potential customers.
Other useful features of Loox include beautiful displays that make your brand shine. It also uses eye-catching widgets to showcase content from happy customers.
Loox is also a high ROI and a powerful revenue generator for E-commerce businesses. It provides valuable insights that increase sales and conversion rates.
These insights can be in the form of testimonials, reviews, or even photos and videos. LoLoox'seferral program also offers a great way to generate additional revenue.
The pricing is affordable, starting at $9.99 / month for a beginner package. Loox also offers a free trial for new customers.
It can be challenging to determine which product review apps are the best. But, some apps stand out above the rest due to their features and ease of use.
What Features Should You Look at When Deciding the Best Product Reviews Software?
If you're in the business of selling products, having the right product review app can make or break your business. A good product review app will allow customers to leave honest and unbiased reviews. But also, a bad product review app can result in many negative reviews that can damage your brand.
Thus, it's important to be keen on how efficient a product review app works and if it meets your requirements.
So, how can you choose the right product review app for your business?
Here are some questions to ponder:
Does the app offer a way to contact reviewers? If not, it may be providing fake reviews.
Does the app offer a way to filter reviews? This can help you weed out fake reviews and only see the ones that are relevant to you.
Does the app have a good reputation? You can check online to see what others are saying about the app.
Does the app offer a free trial? This can allow you to test the app and see if it's right for you.
Does it have a good user experience? Ensure the app is easy to use and
provides a good user experience.
Is the app affordable or within your budget? DoDon'torget to consider the cost of the app.
Look for an app that offers features that are relevant to your business.
Make sure you have a product review app that can help you save time and make your business more successful. So, take the time to find the right app for your needs, and you'll be glad you did.
Choosing the Right Shopify Product Review App
Having the right product review app is crucial to your business's success. Potential customers are always looking for reviews before they make a purchase. And what better way to show them that your product is the best and that they should try your brand? It's simple, welcome them with great reviews.
A good product review app should allow customers to leave honest reviews to avoid biases. You also want to build brand credibility and trust with your customers.
Shopify product review apps offer both positive and negative product reviews from customers.
But regardless of the dynamics of reviews in these apps, you should look for a Shopify product review app that will:
Capitalize on social proof to drive revenue
Have integrations, such as MESA and In-Line SEO, that will automate your product review
Provide a good user experience
Offer a way to contact reviewers
Get inspired by other solutions our merchants are using. Our community is full of creative and resourceful merchants. So, take a look around.
New Shopify Apps Weekly Newsletter
We watch for new apps then package them into an email sent every Tuesday.