Returns are often considered the bane of an ecommerce business's existence. But what if I told you that learning how to manage the returns process could actually benefit your business in ways you never imagined?
That's right, by automating the returns process to be more efficient and customer-friendly, you could actually boost customer satisfaction and increase sales. So, let's go against the grain and turn a traditionally negative aspect of ecommerce into a positive one.
In this article, we'll explore the best Shopify apps that will help you do just that. Get ready to say goodbye to headaches and hello to happy customers and increased profits.
NEW! Shopify's customer self-serve returns
Shopify recently released a new self-serve feature that allows customers to process returns directly from their account pages. You then can approve/deny the return request in the Shopify admin which, if approved, email instructions and return shipping labels.
How to enable self-serve customer returns
First, from your Shopify admin, click Settings. Then. click the Checkout and accounts link. Next, you'll see this message box which links you to the actual functionality at the bottom of this page.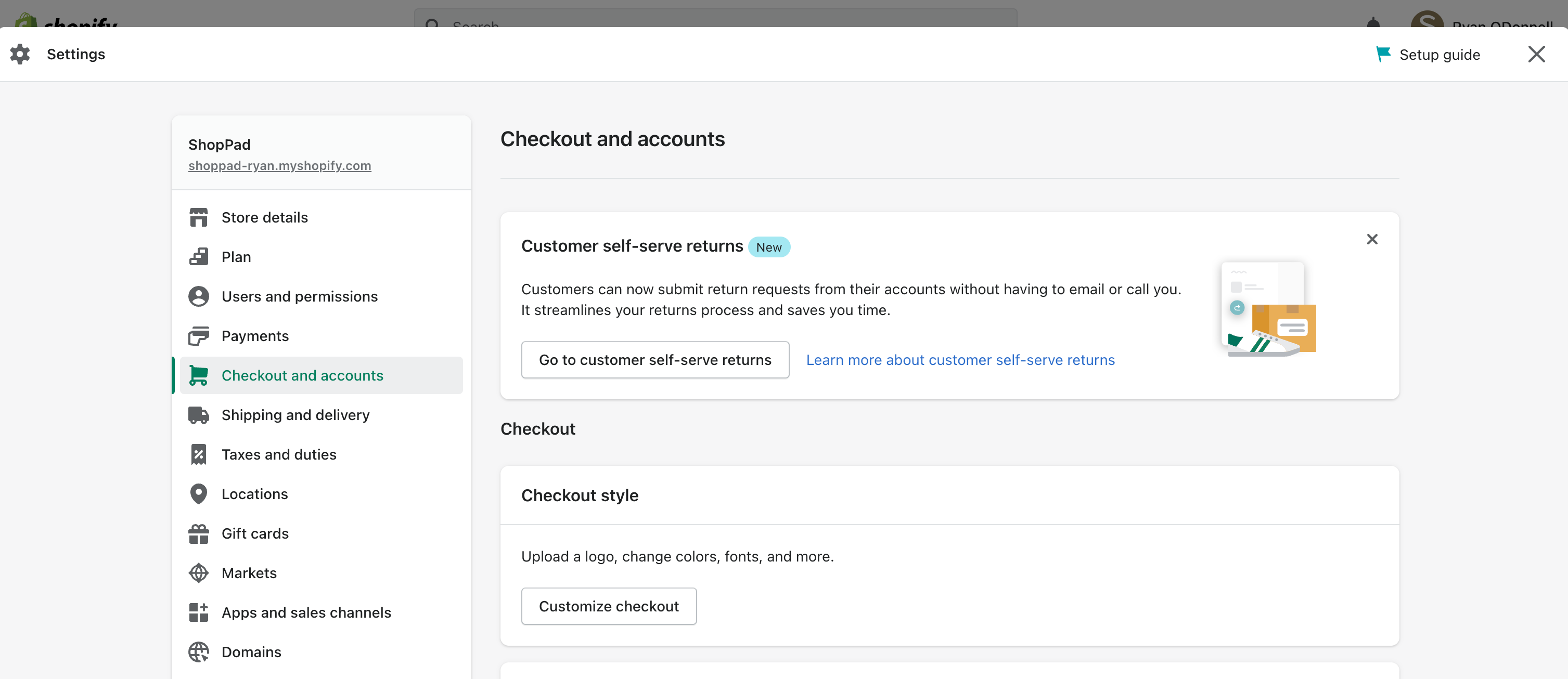 Clicking the button scrolls you to the bottom where you'll find the actual controls for this setting.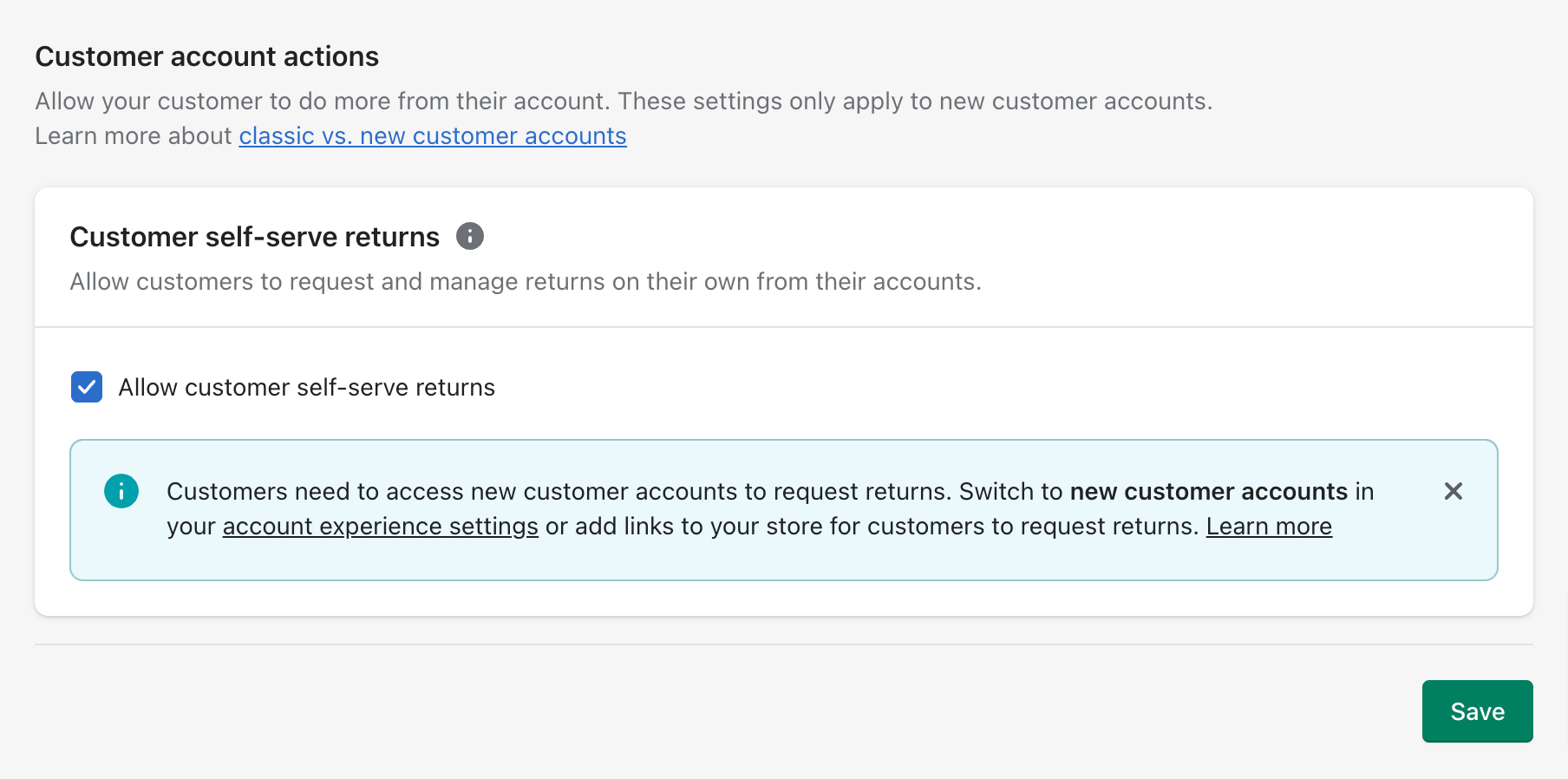 As the messaging states, you have to enable the "New customer accounts" functionality within Shopify. Otherwise, this self-serve returns process will not work.
Next, scroll up to Customer Accounts. Then, click "edit" within the Account Experience section. Now, choose the "New customer accounts" option.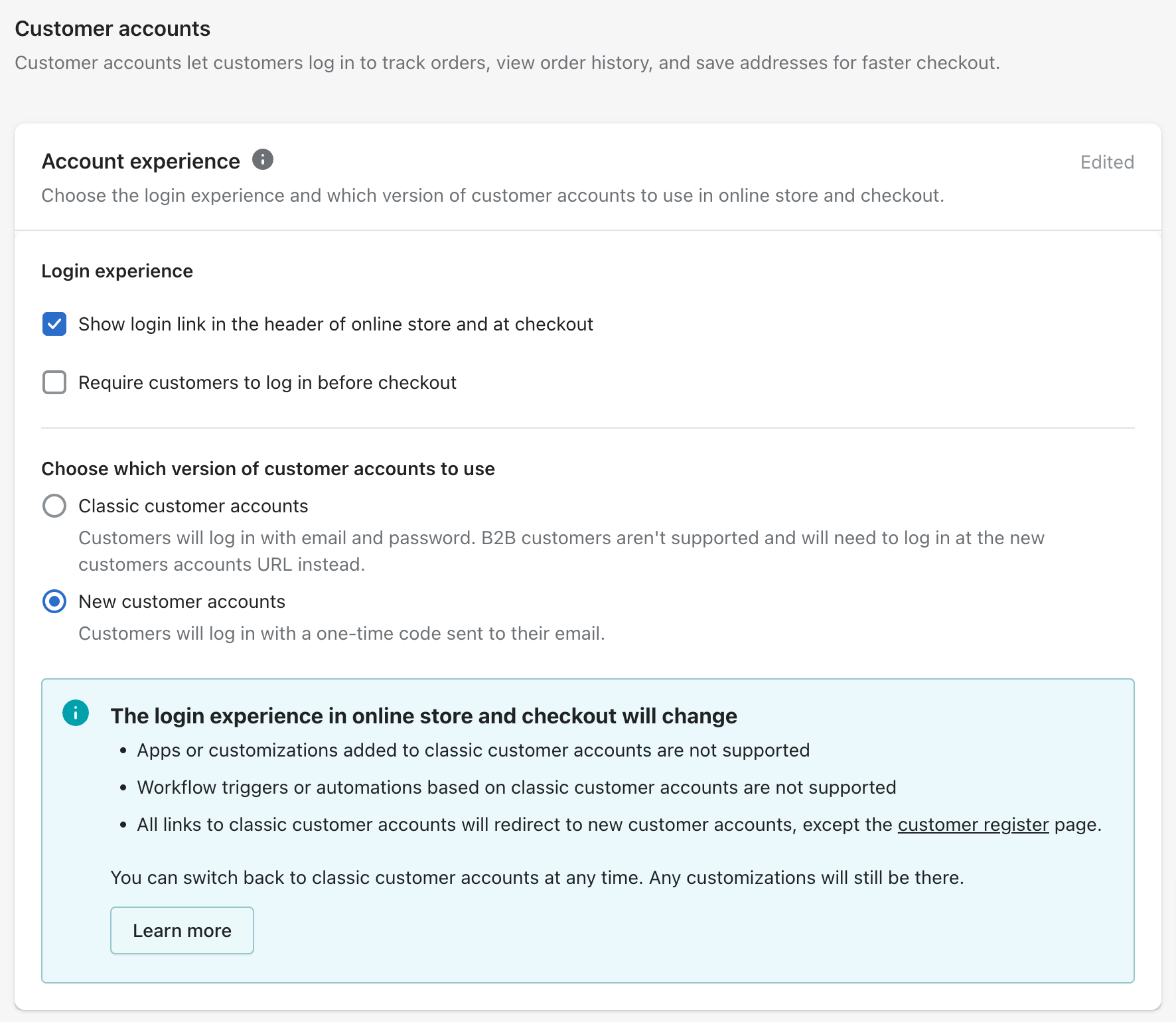 Be sure you understand how these changes could affect your other apps, workflows and theme.
Once enable, switching over to our example storefront, we can see this in action on the customer account pages on your online store. Customer can easily view their order's transaction history and create a return with one click.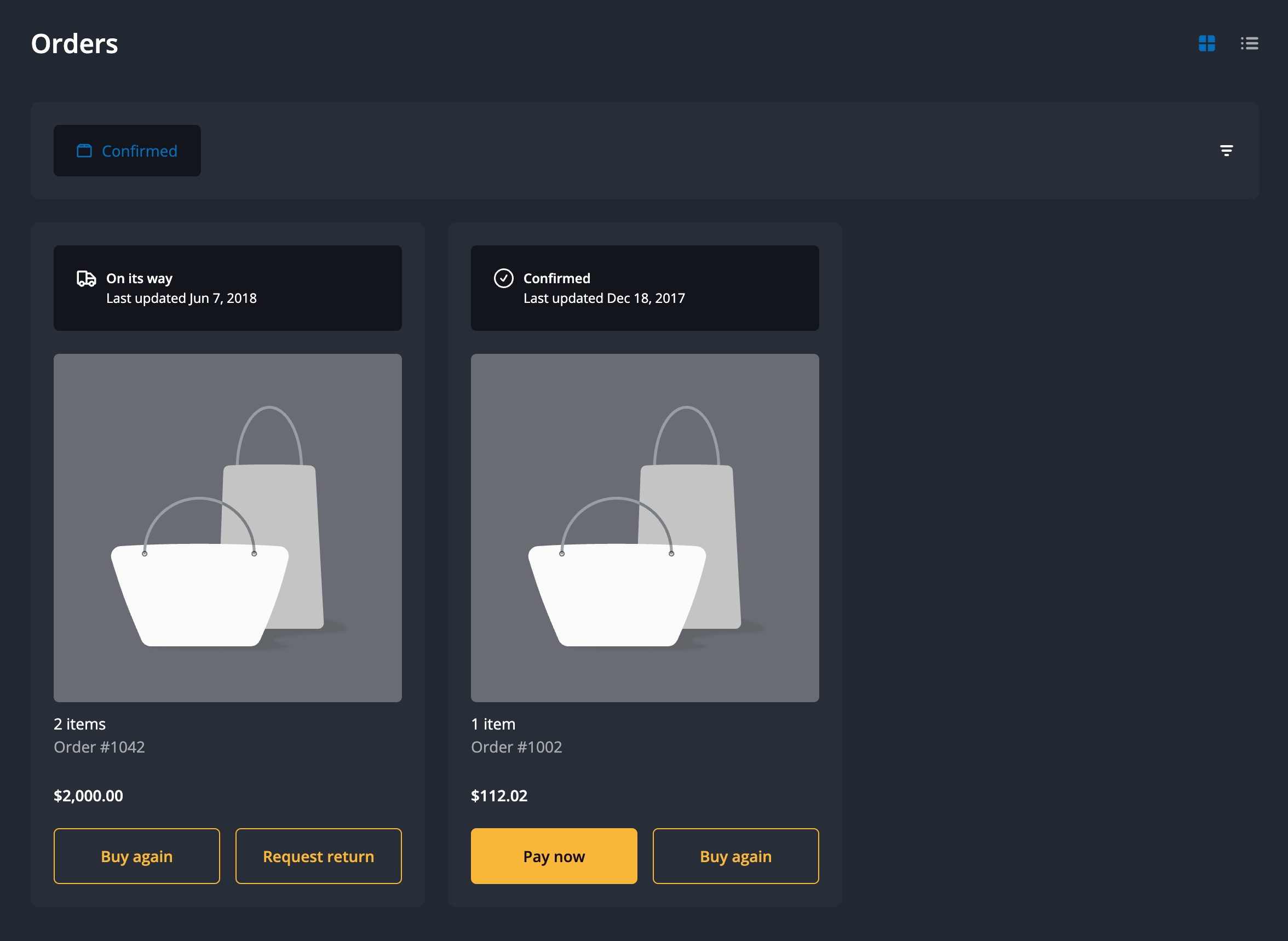 The customer can adjust the line items of the order, select a reason and add any additional notes.

Then, when a customer submits the request, on the Shopify admin, it looks like this: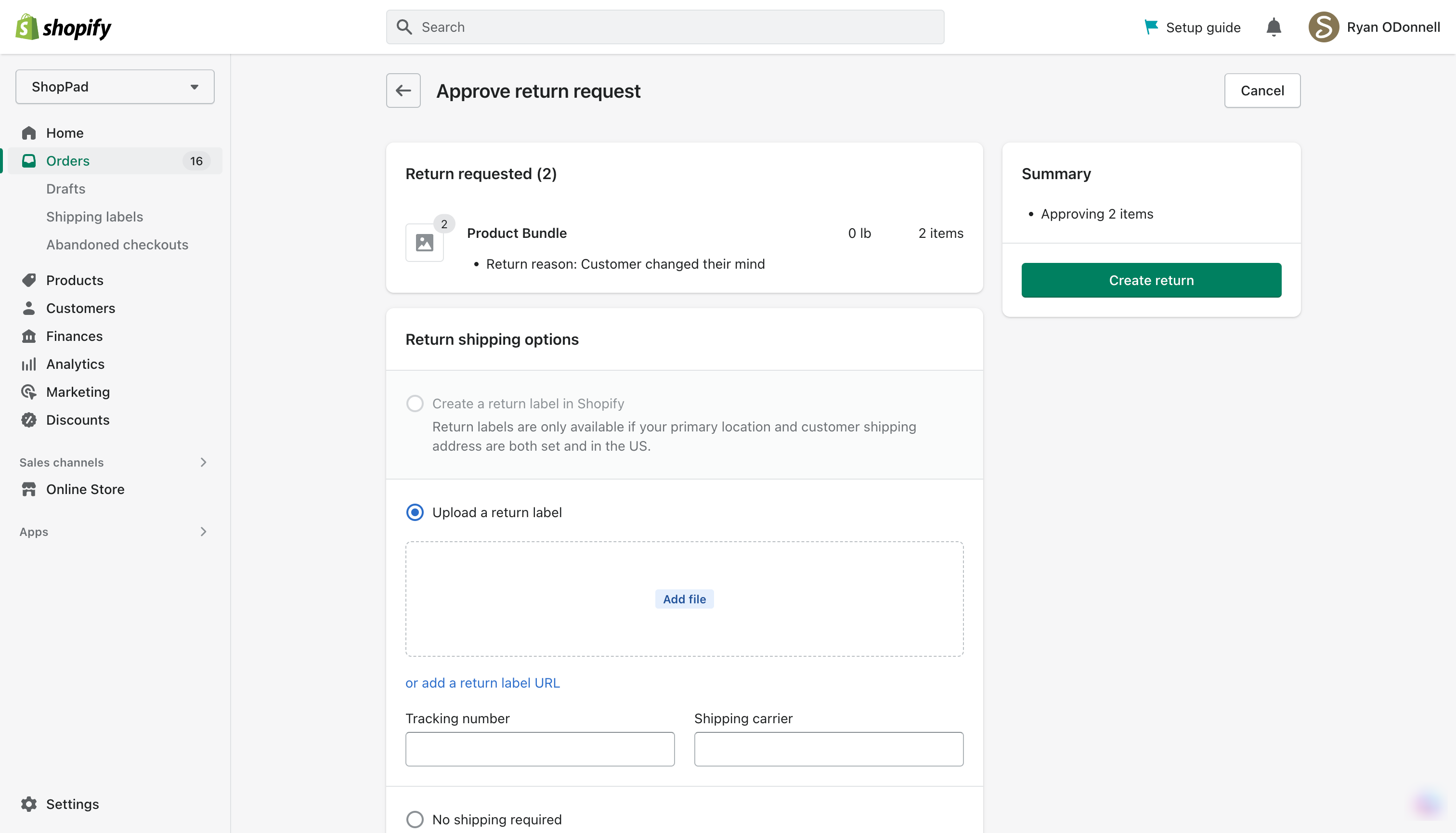 You can easily add a return shipping label, shipping carrier, and tracking number. Then, you can start seeing returns in your Shopify Analytics and Reporting.
Shopify Self-serve Returns vs 3rd-party apps
Like most new features, Shopify's self-serve customer returns is a great addition to its core functionality. However, it's very much a feature that bigger businesses will find lacking some important features. They'll likely want to see an update to include the exchange process, incentivize store credit, and generation of shipping labels.
Shopify is working to provide a better post-purchase experience so new stores will use this by default. Existing ones will have some auditing work to do prior but should make it a priority; if they're not already using a returns management app.
Returnly
★★★★☆ Shopify App Store Rating (4.6)
Pricing: From $99/month. 14-day free trial. Additional charges may apply.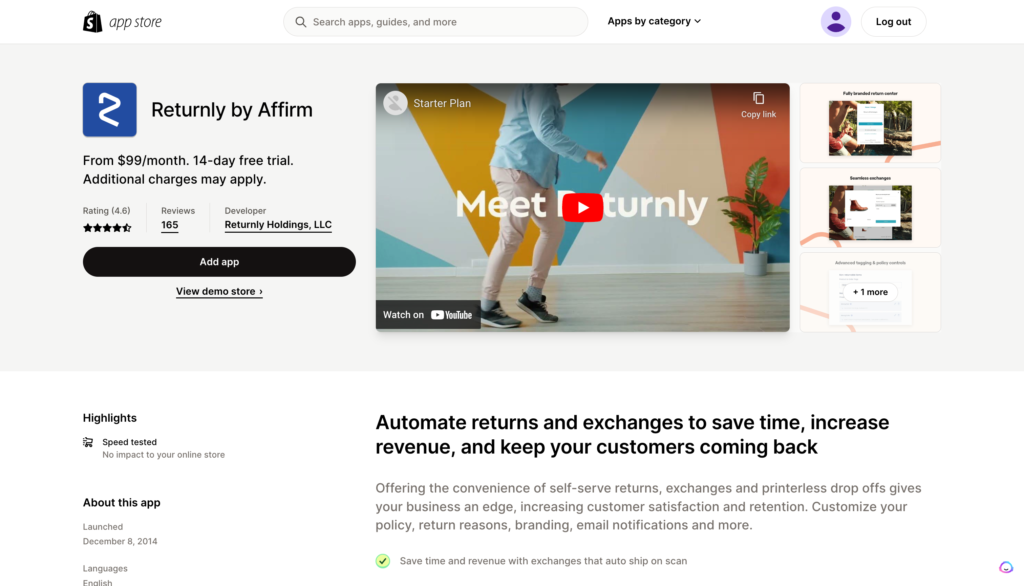 Returnly is a platform that provides an integrated solution for ecommere businesses to manage their return process. It offers a smooth and streamlined experience for customers to initiate returns, exchanges, or get a refund.
Returnly allows merchants to offer instant refunds, and customers can receive the refund within minutes, eliminating the traditional waiting period. This not only provides a convenient experience for customers, but it also helps merchants reduce the impact of returns on their cash flow.
Key Features:
Branded Returns Portal: Ccreate a branded returns portal for customers to request returns and exchanges.
Automated Processes: Streamline the returns process by automating many of the manual tasks involved. This includes sending return labels, creating replacement orders, and processing refunds.
Real-time Insights: Better understand your returns data and make more informed decisions. This includes information on return trends, return reasons, and more, all of which can be used to improve the returns process and reduce returns in the future.
Be sure to read our app comparison: Loop Returns vs Returnly
Loop Returns
★★★★☆ Shopify App Store Rating (4.3)
From $29/month. Additional charges may apply.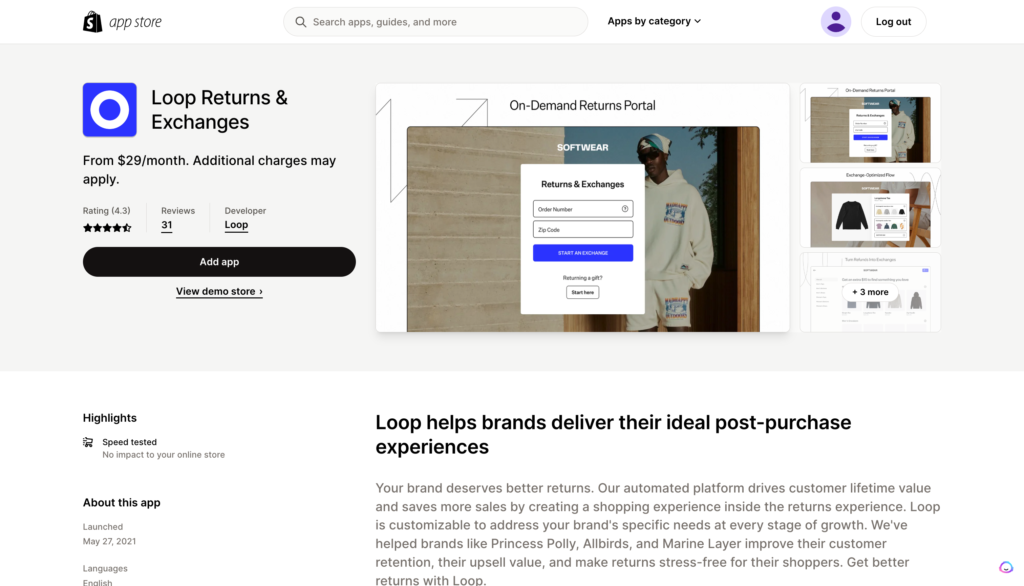 Maximize your brand's potential with Loop – a customized platform designed to deliver exceptional post-purchase experiences. By automating the returns process and creating a shopping experience within the returns experience, Loop drives customer lifetime value and increases sales. It can be tailored to meet the unique needs of your brand.
Key Features:
Optimizes return costs with tools and features.
Transforms returns from a cost center to a profit center.
Prevents return losses and abuse while maintaining good customer relationships.
Return Prime
★★★★★ Shopify App Store Rating (5.0)
Free plan available. Additional charges may apply.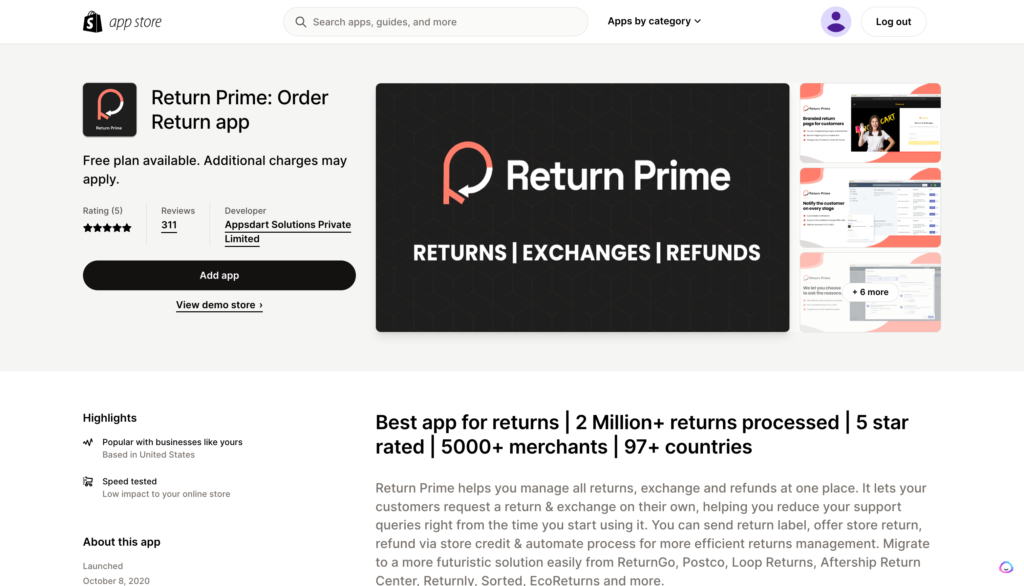 Return Prime is the leading app for managing returns, exchanges, and refunds for ecommerce managers. With over 2 million returns processed and a 5-star rating, it has been trusted by 5000+ merchants in 97+ countries.
Return Prime allows customers to request returns and exchanges on their own, reducing support queries for the ecommerce manager. The app offers various options for returning items, including sending return labels, offering store returns, and refunding via store credit, as well as the ability to automate the process for more efficient management.
Key Features:
Customizable to fit your brand's specific needs – The platform can be tailored to address the unique needs of your brand, helping to improve customer retention and upsell value.
Proven success with top brands – Loop has helped brands like Princess Polly, Allbirds, and Marine Layer make returns stress-free for shoppers while improving their overall customer experience.
Sorted Returns Center
★★★★☆ Shopify App Store Rating (4.5)
Free plan available. 14-day free trial.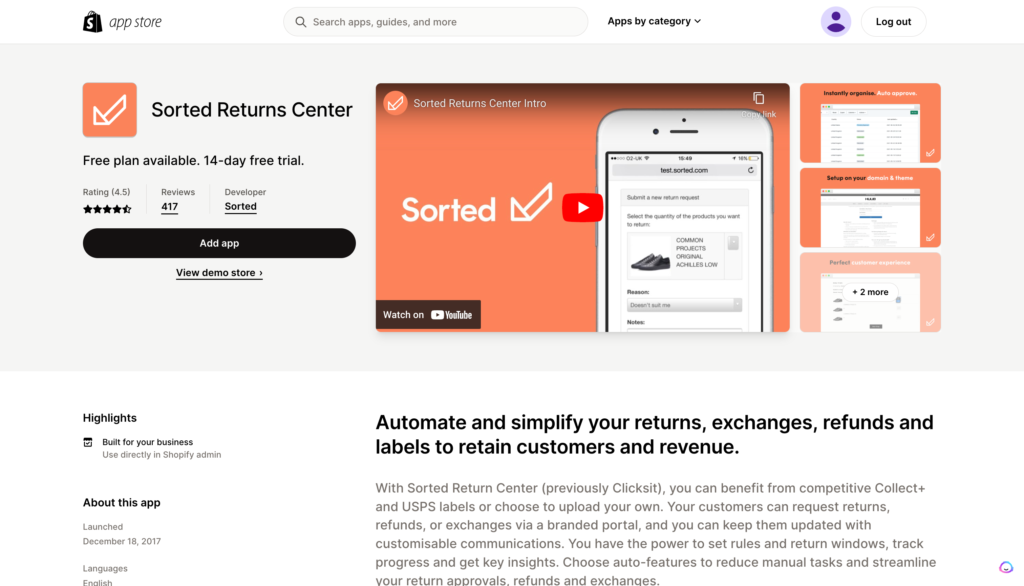 Sorted Return Center offers the ability to automate and simplify their returns process. With competitive Collect+ and USPS labels or the option to upload their own shipping labels, you can retain more customers and revenue. Customers can request returns, refunds, or exchanges through a branded portal, while you can customize communications, track progress, and gain insights.
Key Features:
Label Generation: The ability to generate competitive shipping labels makes shipping more cost-effective.
Efficient Returns: One-click refund approval and automatic creation of new orders for exchanges makes the process hassle-free.
Customizable Portal: A branded returns portal with the ability to change the look and feel to match your Shopify store.
Make an efficient returns process your priority
Streamlining your returns process is like hitting two birds with one stone: you not only make life easier for your customers, but you also give yourself a well-deserved break from the headaches that come with managing returns. So, why not take a step back, take a deep breath, and let your returns process run like a well-oiled machine? Your customers, and your sanity, will thank you.
New Shopify Apps Weekly Newsletter
We watch for new apps then package them into an email sent every Tuesday.

Yopto
Marketing

Shopify
Commerce

Segment
Productivity

Infinite Options
Productivity

Slack
Productivity

Etsy
Commerce

Discord
Productivity

Bold Commerce
Commerce

Tiktok
Marketing

Airtable
Productivity