In 2021, 16.6% of total US retail sales were returned back to where they came from; the inventory. This is why the returns process is termed "reverse" logistics.
With over 1 in 10 products sold being returned, ecommerce merchants face the challenge of managing the operational costs and process—68% of consumers consider free returns policy when purchasing online. With such a large number of shoppers asking for free returns, the costs add up significantly.
But the upsides of having increased brand loyalty and higher profitability make having an efficient returns process a must-have rather than a nice-to-have.
A strong return management process ensures that the return route a product takes from the end consumers to your inventory is secure and straightforward.
The problem is meeting the return requests on time while also managing other aspects of running the business. You risk overwhelming your customer support team and increasing manual errors. The solution is to leverage return apps for Shopify, built to handle the returns process.
What is the returns process?
The returns process is a sold product's journey from the customer to your inventory. It starts when a customer decides to return the received product and ends with the returned product getting restocked in your inventory, depending on the condition of the product.
Creating and implementing a concrete return process allows you to extract the maximum value out of the returned product.
The journey
Let's delve into the return management process from the beginning to the end.
A customer is unhappy with the product
As much as no business owner would like to see their products returned by the customers post-purchase, they cannot escape it in today's ecommerce scene. There can be multiple reasons attributed to the return, both controllable and uncontrollable.
Controllable returns are made due to issues that could have been avoided from the business's end, like the product being damaged, delivering the wrong product, or the product appearing not as aesthetically pleasing as how it appeared on the online shop.
On the other hand, uncontrollable returns are beyond the business's control, like the customer changing their mind or ordering multiple items to keep the ones they need and return the rest.
The company approves or disapproves the request
Depending on your company's return policy, you have to decide whether you accept or decline the return request. You must document why the return took place and find solutions to avoid situations like this in the future.
You can then initiate swaps, exchange or refund accordingly.
The product is picked up from the delivery address
Your next task will be to collect the returned product from its destination. To save time and money, many ecommerce brands tie up with a third-party logistics provider or 3PL. 3PL provides expert service to make the return process as safe as possible.
The product is delivered back to the warehouse
Once the returned product is delivered to the warehouse, it's time for quality inspection. The returned merchandise is sorted and replenished depending on its condition. If the product is beyond repair, there are options for recycling or disposal. If the product's quality hasn't been compromised, you can reinstall it in the inventory for resale.
The product is put back into inventory
The product still has its value intact makes it to the inventory to be sold to a future customer. This is the final stage which marks the end of the return logistics journey.
Key points of the return process
The return process uncovers and gives insights into your product quality and other business aspects. Paying close attention to these factors will provide insights into how to improve your company's return process. Plus, it'll help you decrease the number of returns by identifying the product or positioning gap.
Volume
If a specific product is getting returned repeatedly, that too in a large volume, the product might be an issue.
You've either incorrectly communicated the product's description, or the product doesn't match the quality your customer might be expecting.
In situations like this, your customers are your best friends. Ask them what made them return the product and act on them. You might have to examine the production process or change the product positioning online.
The bottom line is to find a solution to avoid similar cases of the product returning to increase customer satisfaction and minimize loss.
Percent of sales
As with keeping track of revenue and profits, you also need to keep track of the returns. Analyze the returns and calculate how much you're losing due to the returns. Compare them with the total sales and lay down the losses in number.
Understanding the magnitude of loss is the first step to finding a solution to avoid the losses.
After that, find out how many returned products are being restocked and resupplied into the supply chain. This is an important number as it'll tell you the number of unusable products.
The bottom line: once you've obtained the data from your returns process, reflect on it to formulate plans to make the process more efficient. This will benefit your business in the long run.
Condition of returned product
Once you have received the returned products, screen them for their faultlines. This is the step to identify why your product fails its quality test.
It becomes even more important for products being returned in a large volume. Try to notice any patterns in the quality assurance test. Is there anything similar among the returned products?
If you modify the product based on the reports, screening your products for quality will decrease the number of returns in the long run.
The bottom line: conduct quality assurance tests on items failing to meet consumer expectations to fix the root problem and bring higher value to your products.
Financial value
The number of returns and its losses are often ignored as not-so-important financial metrics. Some ecommerce store owners only keep track of the sales, completely ignoring the other aspect of it, blind to the fact that they are missing out on huge chunks of their potential revenue.
You want to avoid falling into this trap at all costs.
By closely examining your returns, you're likely to find ways to reuse the products or overhaul them, if needed, making your business more profitable.
You can still get value from the returned items by refurbishing, reusing, and restocking them back into inventory. This will save you from losing more money, as product returns are a resource-depleting event.
The bottom line: Assess the financial value of the returned product and find ways to reuse them to increase your profits.
Why the returns process is important
The returns process is unpleasant for both you and your customers. It lowers your profits as you have to bear the expenses for the return shipment, refurbishment of any damaged product, and inventory space.
Not only that, but you also risk losing a customer with a negative review. When you take these factors into account, returns become an expensive process.
On the other hand, customers have to spend extra time returning the product and reordering. They're not happy during the process either.
This calls for a better and more efficient returns process, where you can minimize your profits and make the process smoother for your customers. Here's why the returns process is important:
1. Boost brand loyalty
You can turn the unpleasant experience into a competitive advantage for your brand with a well-thought-out returns strategy. If you can successfully address the reasons for the product's return and find solutions, you're likely to retain an almost-lost customer.
Customers respond positively to a healthy return process—with 92% willing to repurchase if the process was easy. When you make a nightmare-like process even slightly better for the customer, you'll have an increase in happy customers, boosting your brand loyalty.
Having a genuine and effective return policy shows your customers that you value them more than any extra expense. It also signals confidence in your product's quality.
2. Increase profits
A systematic returns process helps you save money in many ways:
With more satisfied customers, you boost your customer retention. With a slight increase of 5% in customer retention, you can increase profits by 25%.
A quality assurance process for returned products will help you identify reusable products. What might have been discarded earlier can be restocked again?
Creating the process fast and efficiently will help you re-sell the products again, freeing up the cash tied with the returns.
What's more, an effective reverse logistics plan tries to get the most value out of returned items by recycling, reusing, or reselling them rather than dumping them and letting them go to waste. This will set your business on a more environmentally friendly route, raising profits while minimizing waste production.
What are the best returns apps on Shopify?
Manually handling the returns process as your business grows will result in many bottlenecks. Firstly, customers will have to manually request the return to your customer support team. Then your customer support team will have to manually verify and initiate the return shipment.
It'll not take long before your representatives get overwhelmed with customer email requests. Manual processes are also more prone to errors.
Here are some returns apps that will make the process easier, both for you and your customers, by automating the process:
1. Forms by Mesa
With MESA, you can link a form directly on your customers' "Order History" page. This allows them to quickly initiate the returns from the order page itself.
You'll automatically receive important details like the reason for return with the entire order details on your email and Slack channel.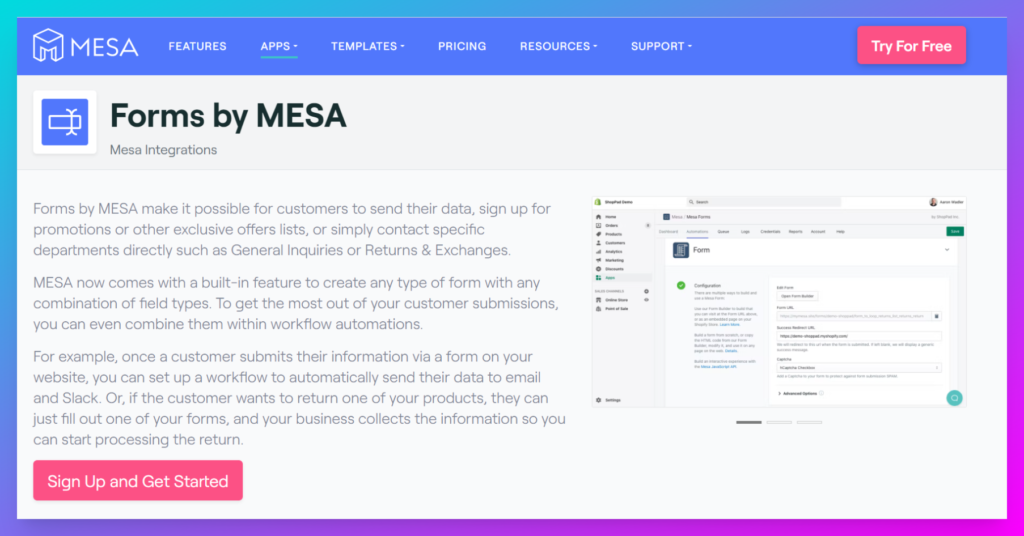 Pros:
Generate return labels for your customers automatically.
Integrate the workflow with your Shopify store directly.
Use the same app for different features like sharing a contact form submission with your team.
Integrate with customer support apps like Gorgias.
Connect with your Slack channel and notify teams automatically.
Here's how you can use the app to initiate a return: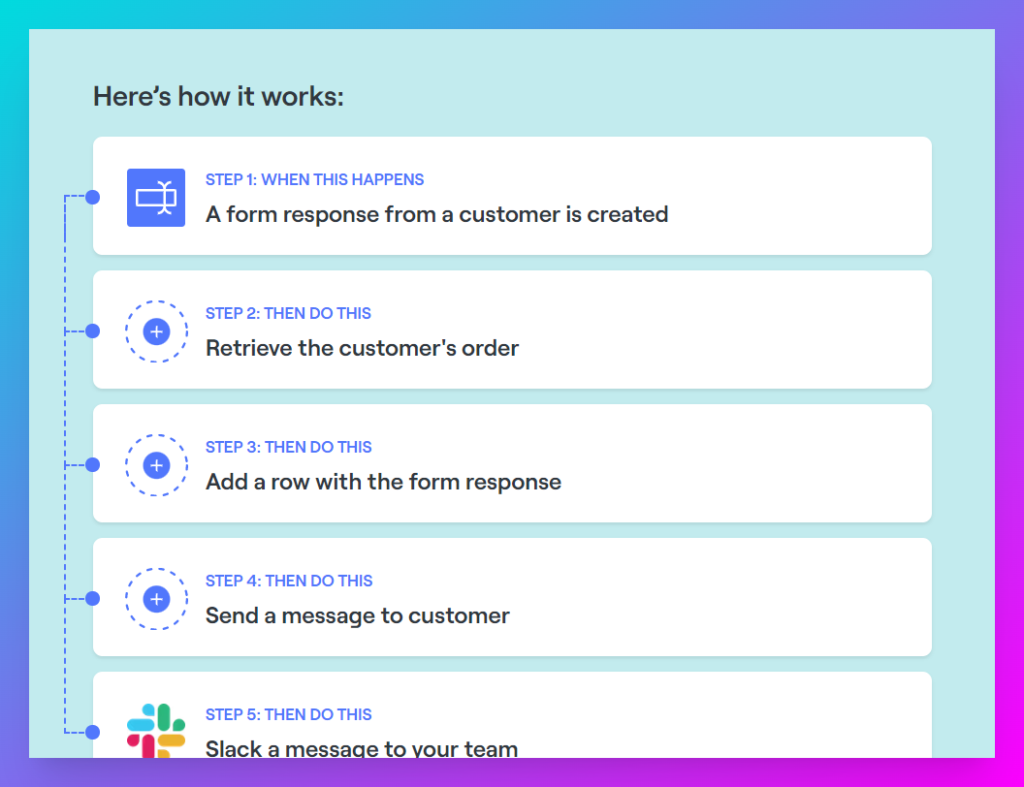 Not only returns, but you can also use the same tool for sending a contact form to an assigned email or Slack channel: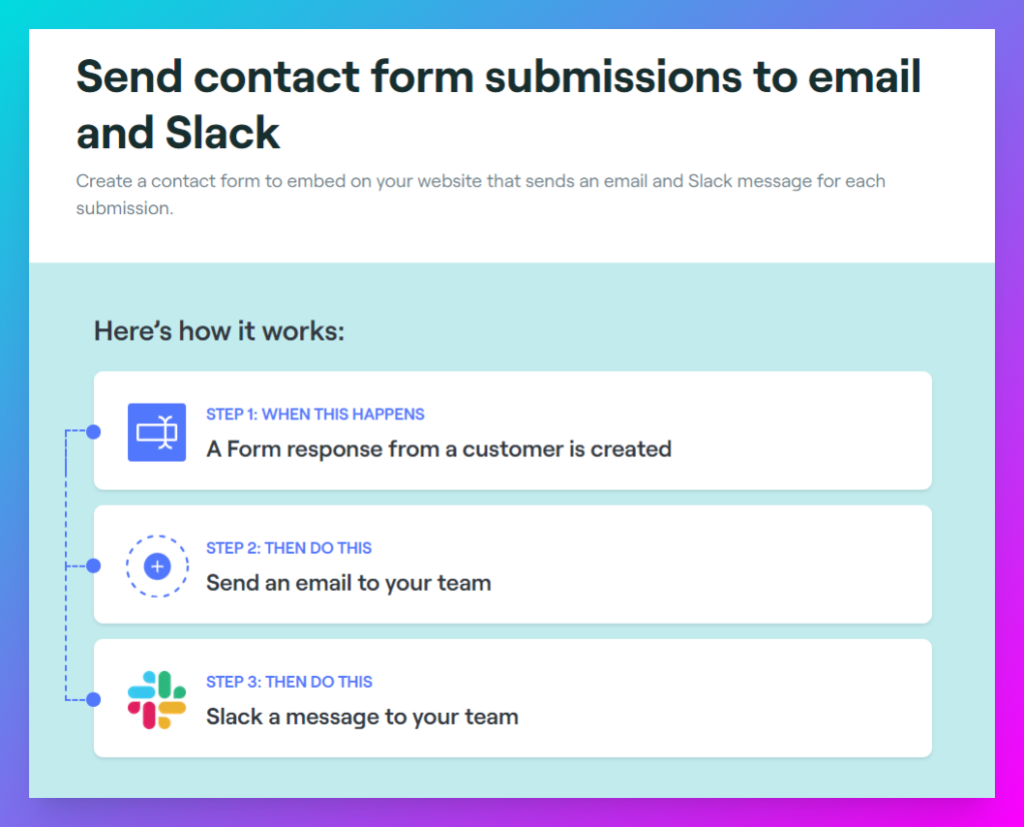 2. Returnly
Returnly assists you in managing and automating your returns by creating a self-serve return center for your customers. It gives customers the option to initiate an exchange instead of a return, increasing the probability of customer retention.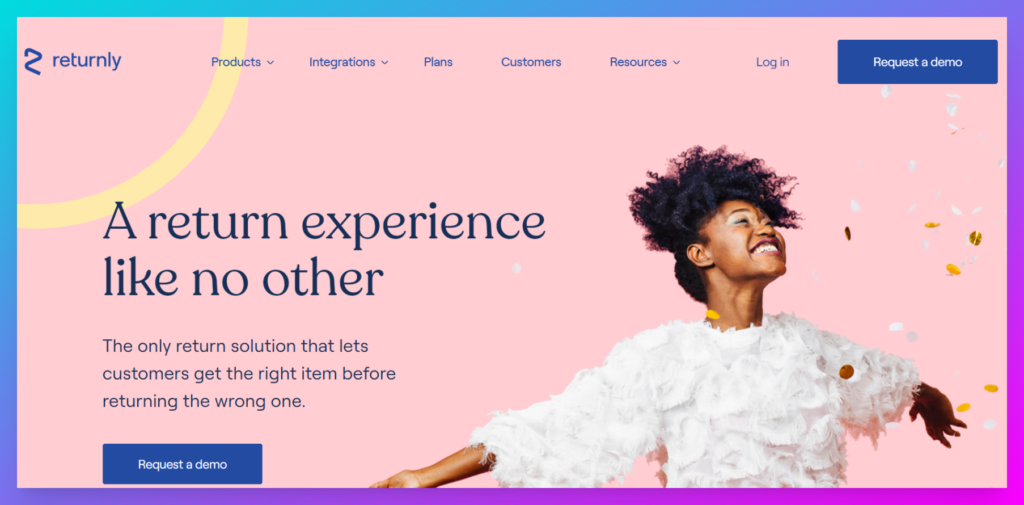 Pros:
Customize the "returns center" according to your brand theme and colors.
Extend to features like auto-refund, exchanges, and differently priced exchanges.
Integrate with your 3PL provider and help desk like Zendesk.
Automate shipping label generation.
Use Cases:
Offer Returnly credit to your customers instead of cash. Add points to the Loyalty Lion account of the customer to incentivize them to use the credits.
Automate sending Slack messages to your team as soon as a return is initiated.
Integrate with Google Sheets and automate the data handling. For example, it'll create a new row when a return is reimbursed.
3. Loop Returns
Loop Returns makes the return initiation easy for your customers by letting them request it with their order number and zip code. Like Returnly, Loop also lets the customers request exchanges instead of a refund.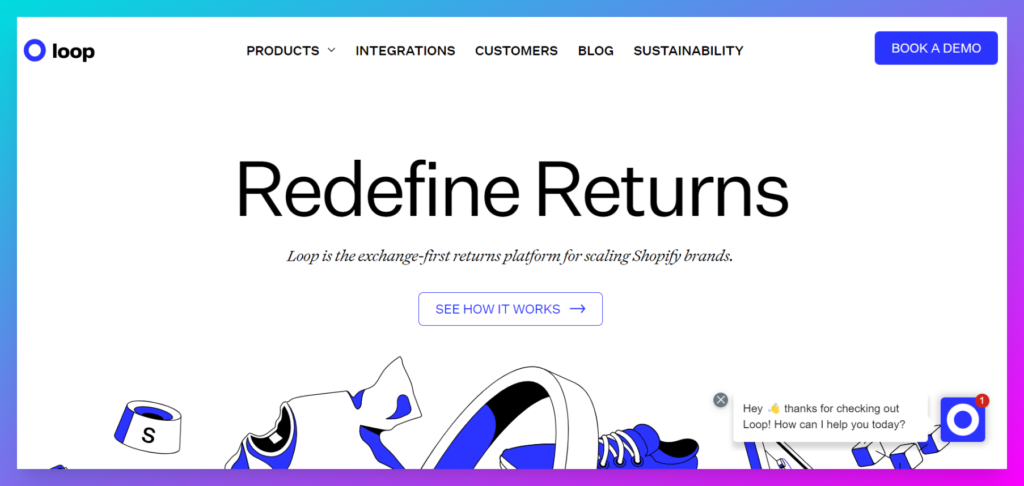 Pros:
Allow and automate the exchange process.
Customize the return portal in line with your brand.
Automate return approval by setting up triggers.
Give gift cards and store credits instead of a cash refund.
Use Cases:
Send email notifications to your team when a return is initiated.
Mark a return if a Gorgias ticket is raised.
Tag Shopify order with "return requested" when the return is created.
How to implement the returns process
Implementing the return process effectively can help your company provide better customer service and generate more revenue. Here are some best practices to follow:
Create a transparent return policy
Make your return policy easily accessible and transparent. Make sure it's easy to grasp for the customer so that there's no confusion. For example, Beardbrand, a DTC men's grooming brand, makes the return policy accessible by adding it on their website footer: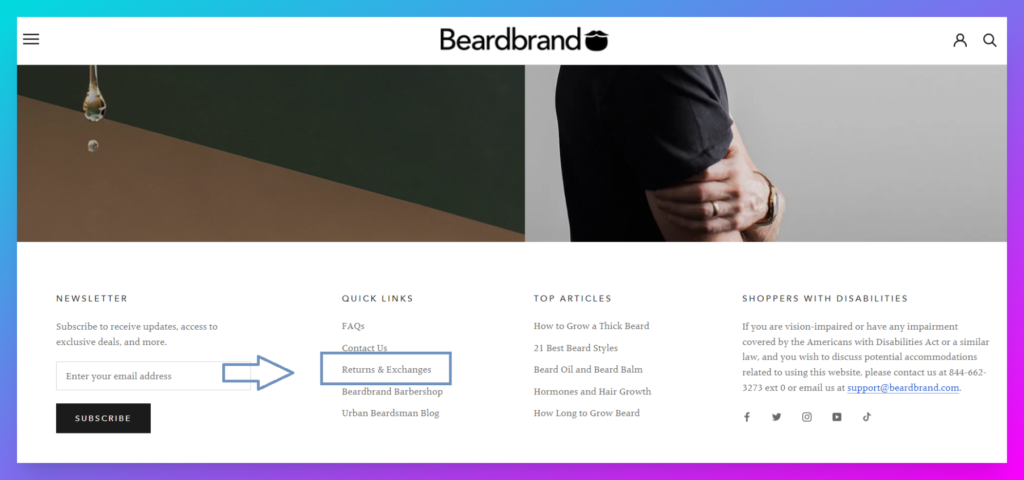 Not only that, they state their returns policy under every item, as well: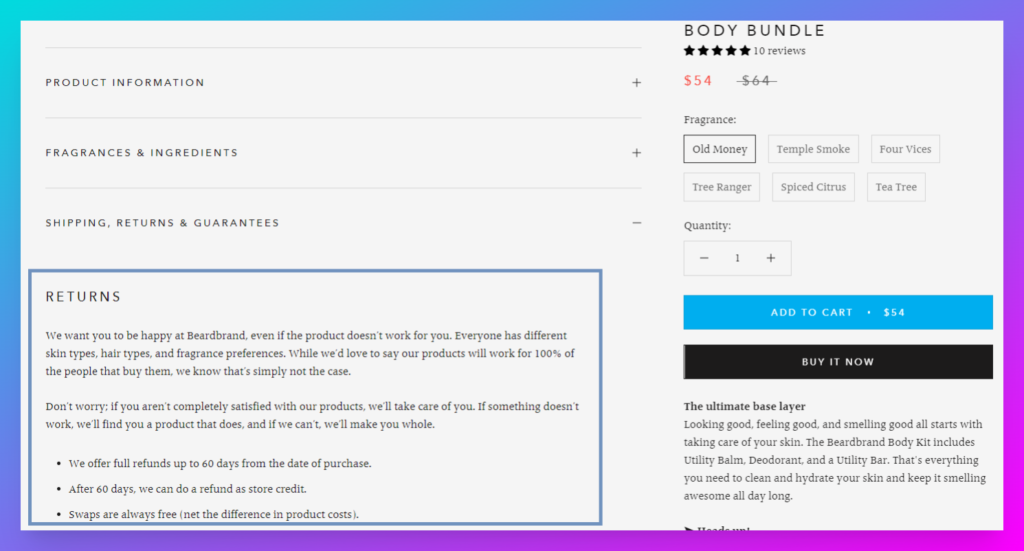 Mention the terms and conditions like the valid period for return and the condition you expect the product to be in. Clear terms and conditions will set expectations, saving time for both you and your customers. Here's how Beardbrand highlights its clear terms and conditions: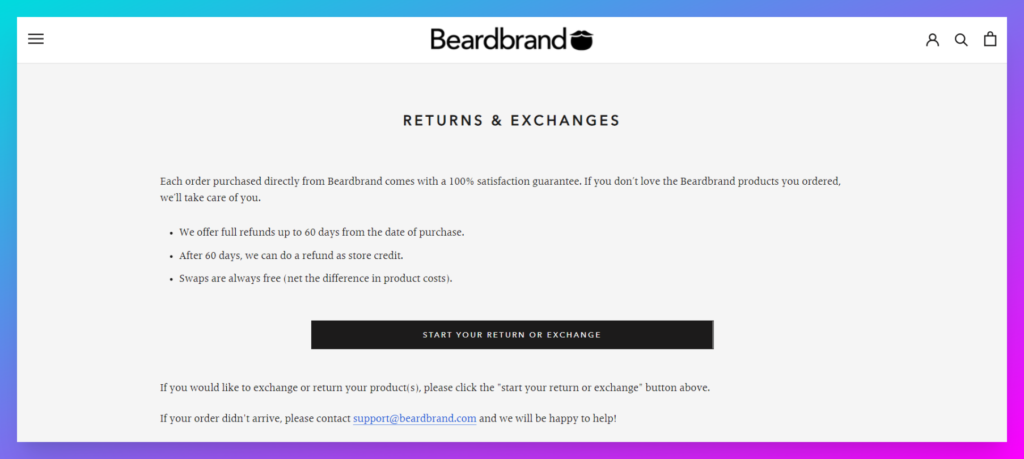 Lastly, streamline the process of collecting feedback by using forms. Customer feedback will highlight gaps you can fill to over-deliver the next time.
Plan ahead
Making a returns process smooth is difficult because of the unpredictability of returns volume and transport routes.
Take both these factors into account even before formulating the plan. Consider the delivery routes and give an estimated time to your customers accordingly.
Interestingly, just as sales increase during holidays, returns go up simultaneously. Be it wrong fit or product quality, you can expect increased returns and refund requests as the holidays season approaches. Prepare for it ahead of time. You can inform your customers if you're expecting a return pick-up delay.
Master reverse logistics
Not just inventory management, as an ecommerce business owner, you need to master reverse logistics management.
Take time to understand the customer and product journey during the reverse logistics. Unlike product delivery, reverse logistics starts with the customers to the supplier or manufacturer and ends at the consumer again with the refurbished products.
Make an efficient returns process your priority
The returns process is an opportunity for your brand to identify your shortcomings and improve based on the return data. If executed properly, this will increase your brand value and give you an edge over your competitors.
The challenge: Returns process is difficult to manage manually without errors.

With MESA, you can automate the manual workflows of the return process and provide your customers with a stellar returns experience. And it's free forever.
We'll help build workflows to automate your repeatable tasks.
Put our experts to work for you. Get started today.
Get MESA Free on Shopify
New Shopify Apps Weekly Newsletter
We watch for new apps then package them into an email sent every Tuesday.

Yopto
Marketing

Shopify
Commerce

Segment
Productivity

Infinite Options
Productivity

Slack
Productivity

Etsy
Commerce

Discord
Productivity

Bold Commerce
Commerce

Tiktok
Marketing

Airtable
Productivity