Efficiency is critical when helping customers manage returns on Shopify; the last thing you want is to cause more grief over a delayed return or refund. Automating your returns and refunds from the customer's pages take away all the guesswork. Additionally, it enables you to provide your customers with an incredible post purchase experience every time.
No matter how incredible your products are, there will always be people who want a return or exchange for one reason or another.
Around 30% of all items purchased online end up getting returned, compared to nearly 9% for brick-and-mortar shoppers. Of course, a lot of that has to do with trying items on or seeing things in person.
Still, returns are inevitable.
But here's the kicker: 92% of consumers say they would make another purchase from a company if returns processes are easy. Customers clearly value the post purchase experience should they find themselves here.
So how do you ensure that your return process of exchanges and refunds go as smoothly as possible for each customer?
Ready to save time by automating your returns and exchanges? Install MESA to easily manage those workflows for your business.
Return management apps for Shopify
Since your returns and refund process should be all about putting the customer first, you want to tailor your automation to fit the needs of your customers and your ecommerce business. Shopify apps can help you customize your returns process.
Examples of Shopify returns apps to automate these workflows:
Returnly – offers reverse logistics to process returns quickly

Loop Returns – offers auto-suggestions for exchanges

Return Prime – offers the option to refund to their card or gift card

Sorted Returns Center – offers features to notify customers of their return status
If you're considering a return management app or other creative solutions, check out our article: Best Shopify Apps for the Returns & Exchanges Process
The benefits of automating returns and refunds
Instead of you or one of your customer service team members processing every return and refund, you can use an app integration to automate the process. These solutions take care of everything from asking why the customer wants to return the item to generating the prepaid shipping labels to disbursing funds into the customer's original payment method.
Automation takes a lot of the weight of returns and refunds off ecommerce managers' shoulders because it simplifies and streamlines the process. Running a simple automation sequence comes with multiple perks, including:
Reducing human error
Machines are less prone to errors, saving time and effort to fix any potential issues or mollify a customer that's already irritated.
Improving the customer experience
Automation makes the return and refund process faster, more convenient, and less frustrating. And as we said before, a customer who has a hassle-free return experience is more likely to shop at your store again. 92% were willing to repurchase if the process was easy.
Increasing customer satisfaction and brand loyalty
While customer satisfaction and returns seem counterintuitive, your returns process is actually an opportunity to build brand loyalty. If you show that you care about their happiness with your product, customers feel well-taken care of and continue purchasing your items.
Tracking data easily
Automation lets you create returns and refunds data without having to do any of the heavy lifting. So you can identify trends and patterns that can inform future business decisions.
If a specific product is getting returned repeatedly, the product might be an issue. You've either incorrectly communicated the product's description, or the product doesn't match the quality your customer might be expecting.
Protecting your business
Automating returns and refunds reduces the risk of fraud and ensures compliance with legal and regulatory requirements, keeping you and your ecommerce business safe.
Creating your returns and refunds policy
Creating a returns and refunds automation takes a bit of work up front, but we promise it's worth it.
Before you automate your returns, you have to set parameters for what can be returned. As your business scales, your return policy may evolve, but it's essential to strike a balance between not getting taken advantage of and being fair to your customers.
What to include in a returns and exchanges policy
Clearly explain which items can be returned and under what conditions (e.g., makeup products can't be returned, but clothing can be returned).

Details on how customers should create a return, such as instructions for submitting a request to customer support teams or starting a return through an online form or returns portal.

The timeframe returns are accepted (e.g., 30 days after purchase, 60 days after items are delivered).

Whether customers are responsible for paying any associated shipping costs with their return.

Any relevant restocking fee that may apply.

Any additional terms and conditions related to returns, such as proof of purchase requirements or restrictions based on item condition.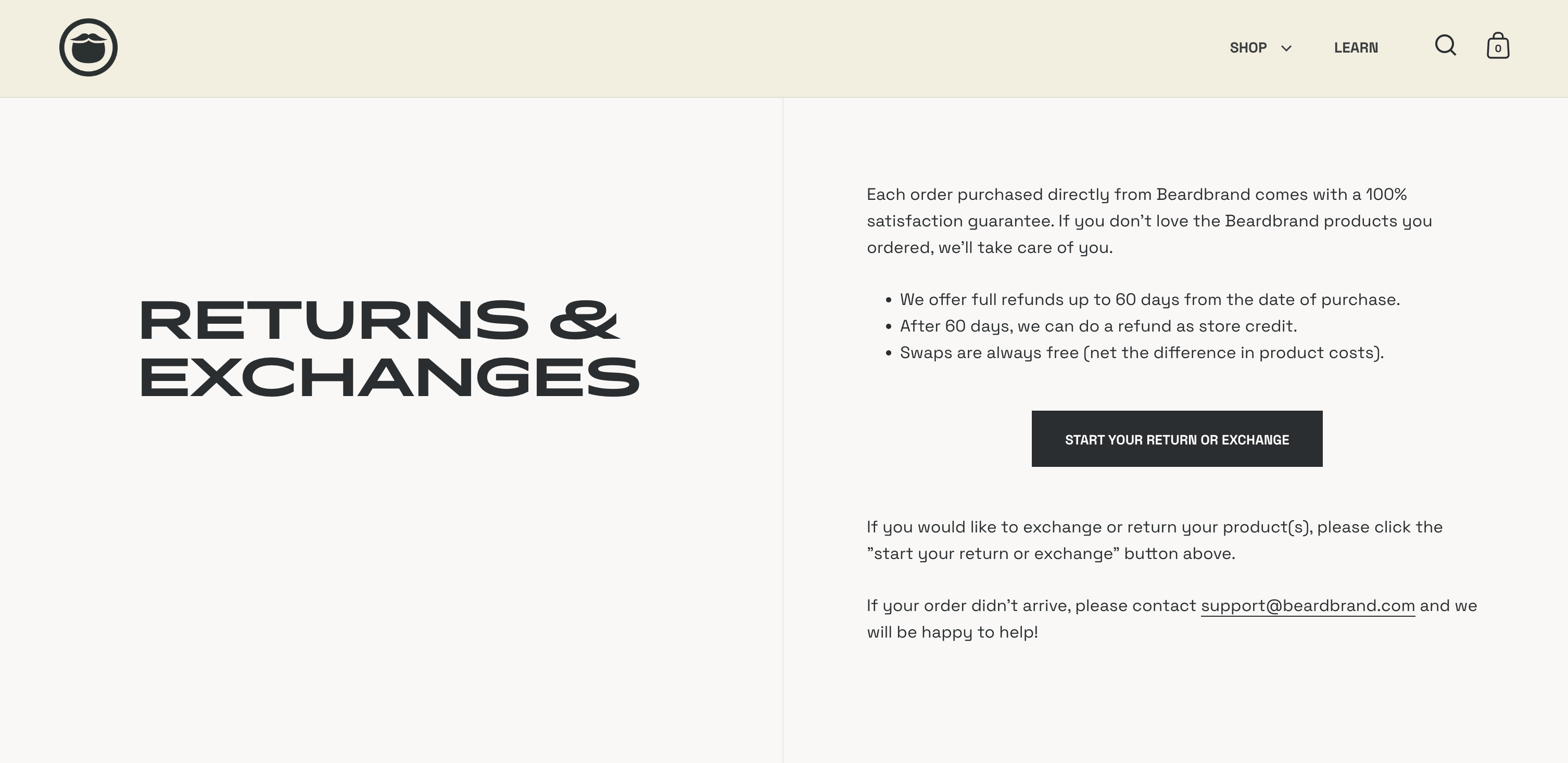 Set up automatic refund rules
Ideally, your return process will give your customers the opportunity to exchange the item for a different size or product. But when the shopper opts for a full refund, you must have the rules in place to ensure the refund is processed correctly.
Your automatic refund rules should include policies such as when it should apply, what percentage or amount should be refunded, and whether you send payment immediately or manually.
Ensure your refund policy is easy to understand – Clearly states the conditions under which a customer can return an item (e.g., the item must still be in mint condition, the product must still be in original packaging, customer can return for any reason if they're unsatisfied, etc.).
Be generous with refunds – But, also consider using restocking fees or other methods to discourage excessive returns.
Custom return rules – When setting up automatic refund rules, consider creating multiple rules that apply in different scenarios to create a more tailored refund experience for your customers.
Encourage exchanges rather than just a return – Some returns management apps will generate suggestions based on the customer's reasoning for returning the product (e.g., if they indicate the item was too big, you can offer to automatically exchange it for the next size down).
Diversify offerings to avoid returns – Consider offering discounts or other incentives, such as loyalty points, to encourage customers to keep their purchases instead of returning them.
Managing returns and refunds
The next piece of the puzzle is making sure that you stay on top of your returns and exchanges.
While automating the process will make your reports more straightforward and accurate, you still need to keep tabs on what's being returned and how frequently you have to issue refunds.
We know we keep saying it all comes back to customer satisfaction, but we can't emphasize this enough.
A customer who has to create a return is likely already frustrated. You have the chance to turn that around or make it worse. Losing track of their return or refund will definitely make it worse.
Effectively managing their return will most likely make things better.
Be fair
Establish transparent and fair policies that clearly define when refunds are issued.
Listen to feedback
Monitor customer feedback to get an idea of how often customers are returning items and why. Set up regular audits of your back end operations to identify areas that need improvement or adjust product prices if required.
Make it easy
Customers should easily find how to request a refund or exchange—no one likes having to jump through a million hoops.
Educate staff
Make sure your customer service team is familiar with the refund policies so they can answer customer inquiries quickly and accurately, whether that's in person or via chat.
Communicate quickly, often
Consider using automated notifications to inform customers of their eligibility for a refund or exchange. You can also include a return/exchange button in their order email or on the entire order page in their account.
Managing communications with customers
The customer may not always be right, but they're always opinionated.
Dealing with an unhappy customer isn't fun for anyone, but there are ways to mollify them while standing your ground. You can also take preventative measures (like making your return policy crystal clear) to avoid any issues later down the road.
This is when having an excellent customer support team can have amazing effects.
Tips for customer support communications
Listen to the customer thoroughly before taking any action or making any judgment.
Acknowledge the issue, apologize, and thank the customer for their feedback. Respond to customer inquiries promptly, even if the reply is just to acknowledge their message and inform them that you are looking into it.
Clarify with follow-up questions if needed to get a better understanding of the problem. Be clear and concise when describing your refund policies to customers.
Send shipping instructions and provide return labels so the customer doesn't have to perform any more work than absolutely necessary.
Solve the issue at hand and resolve it as quickly as possible. Offer helpful advice or guidance about exchanging items for different sizes or offering store credit before issuing a refund.
Follow up with customers about their satisfaction. Use automated notifications to keep customers informed of the status of their return or exchange requests.
Additionally, be sure there is a clear record of all contact with customers regarding complaints and concerns so you can track them if needed in the future.
Analyzing returns and exchanges data
The longer you use automation for your returns and refunds, the better picture you'll have of your customers' return habits or what influences them to request a refund rather than an exchange. Shopify has powerful analytics to make collecting and tracking this data a breeze.
Analyze the returns data over time to identify any seasonal or overall trends in returns and refunds—trends are constantly evolving, so check in regularly.
Look out for any anomalies or peaks within the data that could indicate a problem in your processes.
Group customers into segments based on their return and refund history to determine what drives those behaviors.
Use this segmentation to identify commonalities between customers who return items frequently, such as product type or location features.
Evaluate when return requests are received and processed to improve turnaround times if needed.
Use customer feedback to find out why customers are returning items or requesting refunds, so you can address these issues quickly and efficiently going forward.
Automate returns and exchanges into a profit center
Don't get hung up on refunds and exchanges. It's a part of business. Let automation streamline the process, improve the customer experience, and generate return reports so you can easily identify trends.
The best part is that once you get the rules and automations in place, you can focus on other things while your solution takes care of the rest.
As you build your returns and refunds automation, remember to keep your target customer in mind. What will make it easier for them open return requests, and what will benefit them the most? What do they value in a return experience; free returns, clear return status, free return label? Every audience is different.
Shopify has plenty of articles and support for automating returns and refunds. And as always, you can contact our support team at MESA to figure out what the best returns and refunds workflow is best for your business.
New Shopify Apps Weekly Newsletter
We watch for new apps then package them into an email sent every Tuesday.