Third-party apps are a key contributor to Shopify's popularity. Shopify apps are essentially plugins that extend a Shopify store's capabilities.
Without the apps, Shopify is just a secure, streamlined checkout experience that charges you per transaction—the more you sell, the more Shopify earns.
Shopify laid the groundwork in the early days by making APIs developer-friendly. The goal was to encourage developers to build innovative and powerful Shopify apps.
In this guide, we round up the top Shopify apps to scale your ecommerce store.
How To Find New Shopify Apps?
Here are sources you can use to keep yourself updated with exciting Shopify apps as they're introduced:
Shopify App Store
You'll find all publicly created apps in the Shopify App Store. You can find the newest apps in the Highlights section.
New Apps Newsletter by ShopPad
The New Apps Newsletter by ShopPad delivers Shopify's newest apps from the last 7 days to your mailbox. Instead of relying on a handful of public reviews, the newsletter helps you get expert insights on how new apps can add value to your store.
Best BFCM Apps
The best BFCM Shopify apps will help you with marketing automation. Your focus is on increasing your average order value and build brand awareness during the busy holiday season. Store owners of ecommerce stores need fast-acting apps that help execute their marketing strategy quickly.
MESA
★★★★★ 74 reviews
Pricing: Free plan available. 7 day free trial. The next plan starts at $20/mo
BFCM is a busy time for a Shopify stores, but MESA can help reduce your workload by automating your tedious tasks. You can continue using MESA beyond BFCM for marketing automation, sales, and customer experience processes.
Set up MESA's automation workflows without a single line of code. Or, pick a template from MESA's workflow library. If you can't find the right template and can't figure out how to build a custom template, the support team helps you create custom workflows that match your needs at no extra cost.
Announcement Bar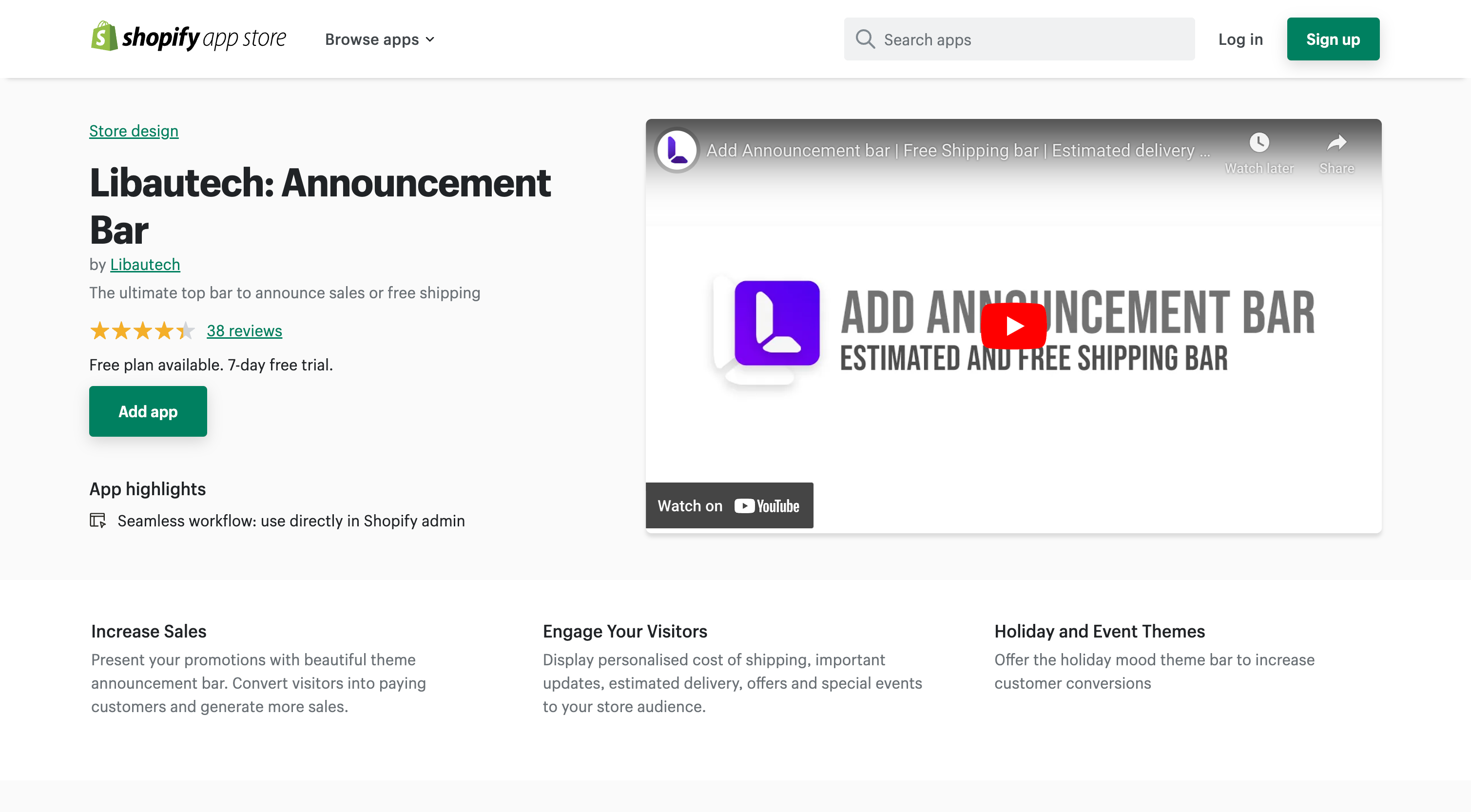 ★★★★☆ 38 reviews
Pricing: Free plan available. The next plan starts at $3.95/mo
Adding an announcement bar helps grab a visitor's attention with BFCM deals. Libatech's announcement bar app allows you to add attractive bars to your online store. You can also use the announcement bars to notify visitors about new arrivals, more sales, rewards program, or special events.
Seguno
★★★★★ 892 reviews
Pricing: Free plan available. The next plan starts at $10/mo
Seguno is an email marketing platform that lets you create, manage, and track emails. The app offers a giant library of email templates, and you can also create custom emails. Seguno helps automate various email marketing tasks. For example, you can automate sending BFCM deals, welcome emails, and abandoned cart emails.
Octane AI
★★★★★ 205 reviews
Pricing: 14-day free trial. The next plan starts at $50/mo
Octane AI helps you collect customer data off your Shopify store through quizzes and pop-ups. You can collect user data and generate insights to make better product recommendations and segment your customers while being GDPR-compliant.
TxtCart Plus+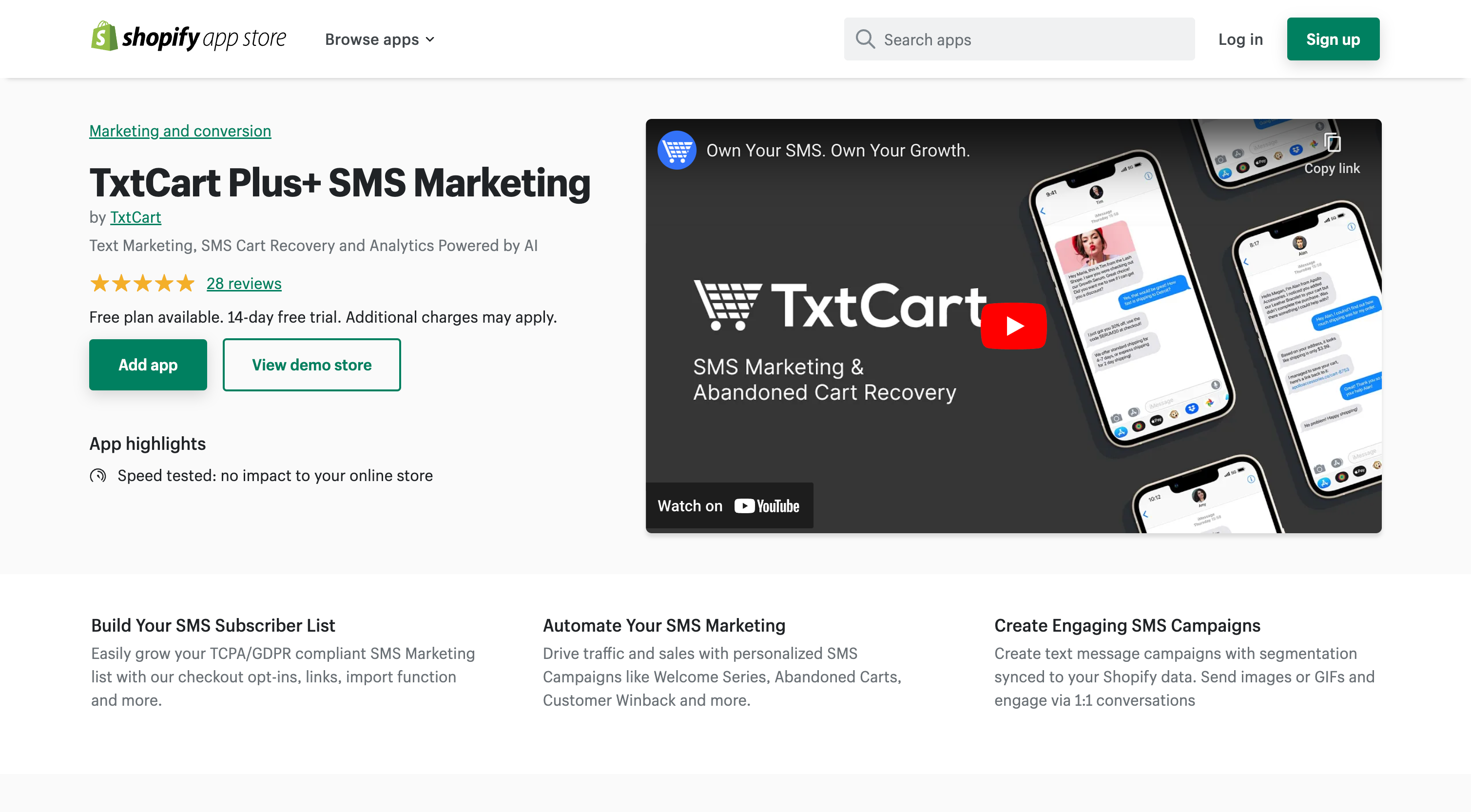 ★★★★★ 28 reviews
Pricing: Free plan available. The next plan starts at $49/mo
TxtCart Plus+ is a GDPR-compliant SMS marketing app that helps run marketing automation SMS campaigns. The app lets you schedule messages so you can choose to send SMS now or a day before your holiday deals go live.
TxtCart Plus+ can also send SMS messages to specific customers based on the segmentation data on your Shopify store.
Best Pre-order Apps
Preorder Shopify apps are great marketing tools that capture sales from loyal customers and help word of mouth marketing. Pre-order sales are great enhancing a loyalty points program or referral programs and part popular marketing strategies during key shopping seasons.
Pre-Order Manager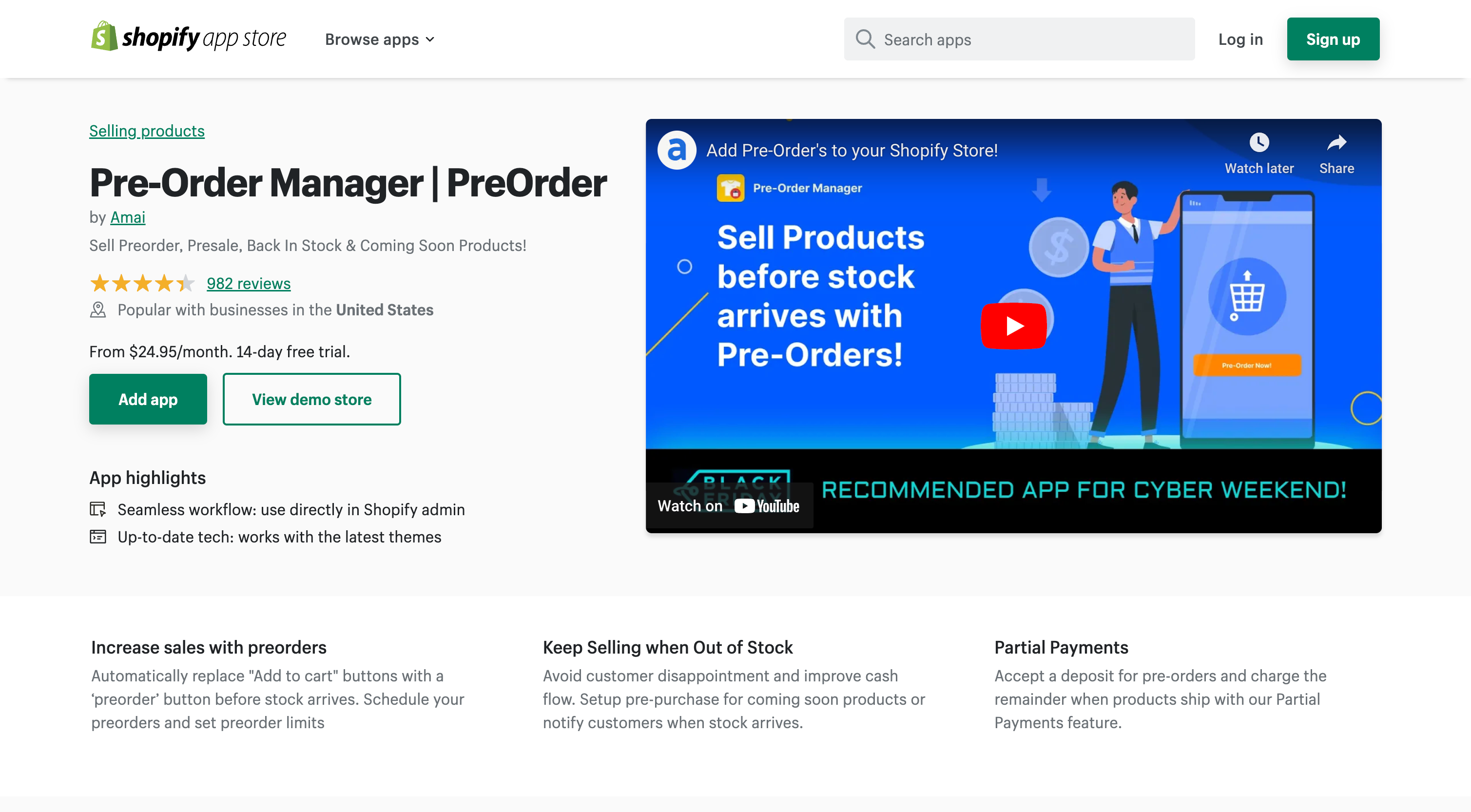 ★★★★☆ 982 reviews
Pricing: 14-day trial. The next plan starts at $24.95/mo
Stocks might run out, but you can still accept orders at discounted rates from new customers during a specific deal window using Pre-Order Manager. The app replaces the 'Add to cart' button with a 'Preorder' button. You can set preorder limits and also accept a deposit for pre-orders.
Best Shipping Apps
Shipping Shopify apps are critical to your operations and the success of ecommerce store. A simple marketing campaign for ecommerce businesses is having a great shipping experience. Post-purchase surveys help store owners understand how to improve the shipping experience which can lead to repeat purchases and increasing customer retention.
Easyship
★★★★☆ 365 reviews
Pricing: 14-day trial. Free plan available. The next plan starts at $29/mo
Easyship offers exclusive discounted rates on USPS Priority Mail, UPS 2nd Day Air, DHL ecommerce, and UPS Worldwide Saver. Easyship can help new customers quickly get through checkout by offering complete visibility of taxes and duties. You can also create tracking pages and emails to keep your shoppers in the know.
Shopify Local Delivery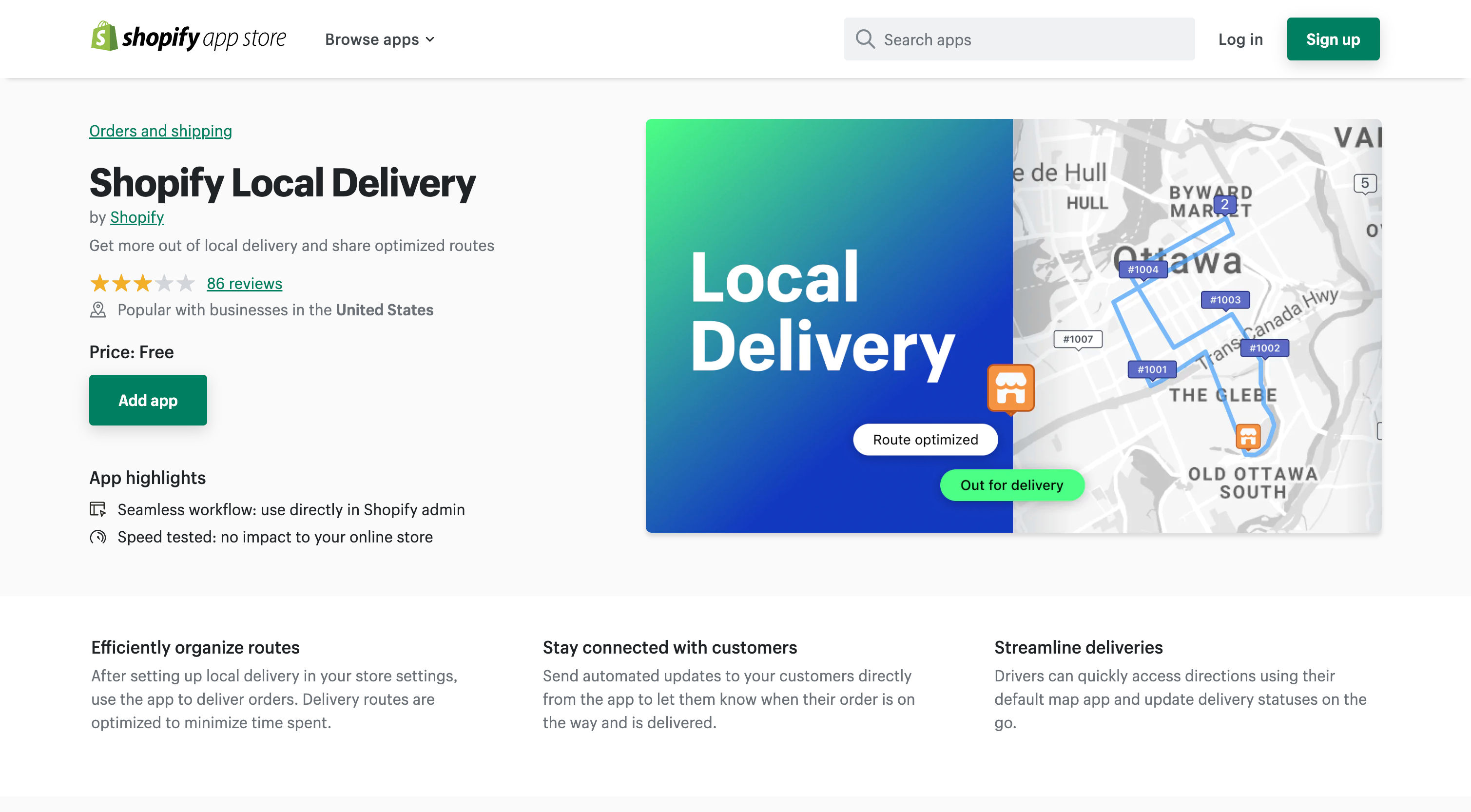 ★★★☆☆ 86 reviews
Pricing: Free to install
Shopify Local Delivery is an excellent addition to your Shopify store if you offer local deliveries.
The app helps you manage local deliveries by automatically suggesting the best routes and notifying customers about the order status.
You can create delivery lists within the app and share them with drivers. The app also lets you manually organize the stops if you don't want to use the automatically suggested route.
Shipping Rates by Parcelify
★★★★★ 289 reviews
Pricing: 14-day trial. The next plan starts at $19.99/mo
Shipping Rates by Parcelify is perfect for setting up area-wise rates. The app lets you customize pricing down to the postal code based on factors like product tags, SKUs, and collections.
Best Search Apps
Search Shopify apps help shoppers find the products they're looking for. Search engine optimization requires a wide array of marketing efforts. Getting listed with Google Shopping or other search engines is a great way to capture more sales by optimizing product pages to convert customers from search traffic.
Product Filter & Search
★★★★★ 1437 reviews
Pricing: 14-day free trial. Starting at $19/mo
Product & Filter Search supercharges your online stores search functionality. With the app installed, you can increase customer engagement by showing results as users type.
You can merge search results for words similar to the search query to drive holiday sales. The app's smart auto-suggest feature shows a live product preview, improving the user's search experience.
Algolia
★★★☆☆ 24 reviews
Pricing: Free to install. Starting at $1/mo
Algolia offers search features like autocomplete, filters and facets, and synonyms management.
The holiday rush might leave many items out of stock, but you want shoppers to be able to order them as soon as they're back in stock. Algolia ensures new products become immediately available in your search engines results with always-on syncing.
Best Returns Apps
Increasing customer retention is possible with Return process Shopify apps. The customer experience doesn't end at checkout. Your customer support team can retain more sales with the right return process. The less friction during this customer experience, the more customers will remain happy.
Returnly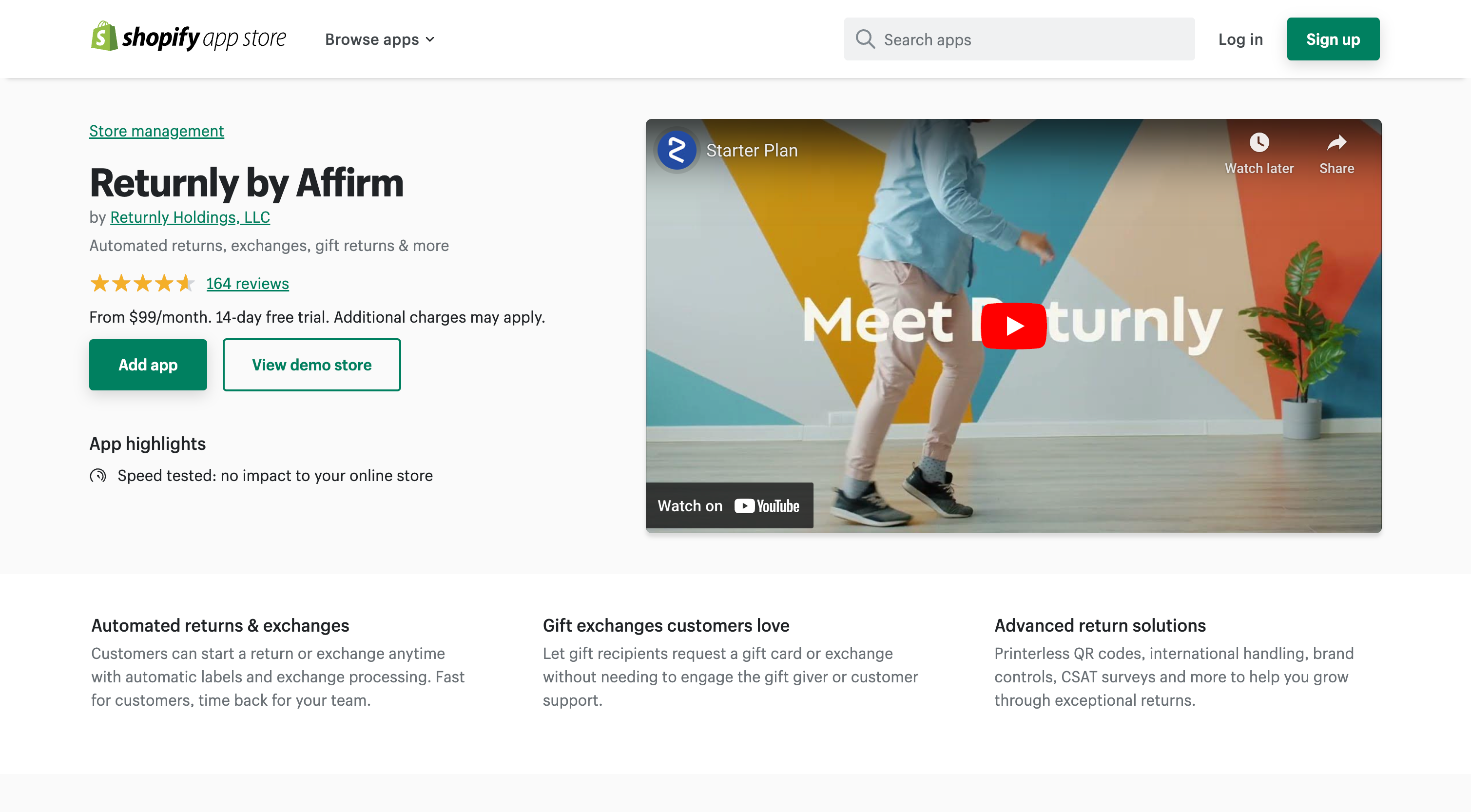 ★★★★★ 164 reviews
Pricing: 14 day free trial. Starting at $99/mo
Returnly makes returns management simple for you and your customers. The app supports three return methods — refund to the original payment method, return for store credit, or exchange for a variant.
You can set custom eligibility during holidays or peak seasons like BFCM. Once a customer initiates a return, Returnly sends automatic emails about the return status.
Best Popup Apps
Successful business campaigns rely on capturing customers with just-in-time messaging before they're lost for good. The best marketing automation tactics include pop-ups in key moments throughout the Shopify store. Popups have proven they can not only increase sales but also average order value by providing up-sell opportunities. Of all the marketing tools, popups are easily added with just a few clicks.
JustUno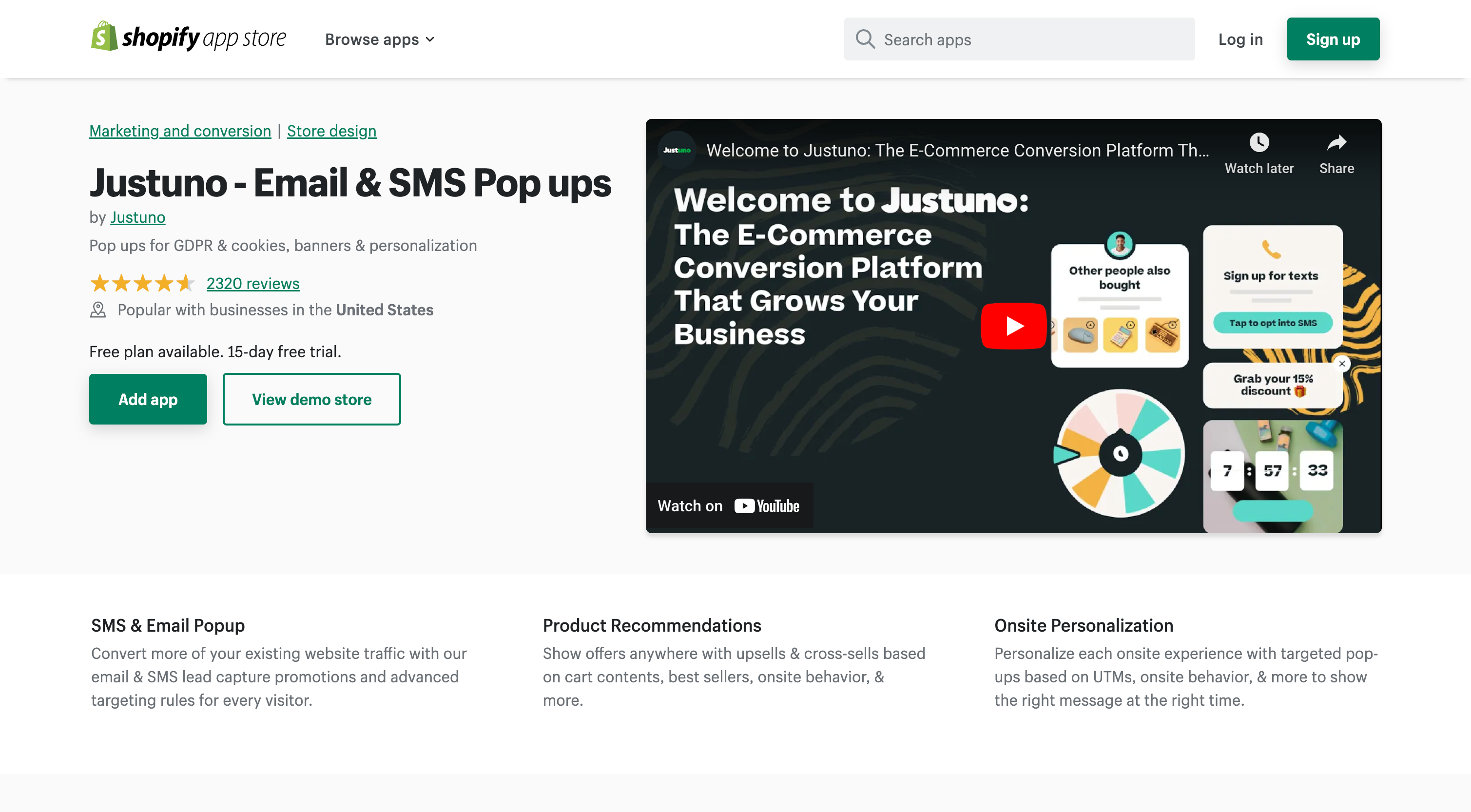 ★★★★★ 2320 reviews
Pricing: Free plan available. 15 day free trial. Starting at $29/mo
JustUno is an excellent popup app to boost sales by improving conversions and growing your email and SMS lists across your online store.
The GDPR-compliant app helps you use product recommendations anywhere on your online store. If you don't want to design a popup from scratch, use JustUno's template library to get started in minutes.
Best Page Builder Apps
Customizing your theme within the Shopify admin often means knowing how to code. But with the right page builder Shopify apps, you can customize product pages and other with just a few clicks. Controlling every page is great for search engine optimization and executing any marketing strategy imaginable.
Shogun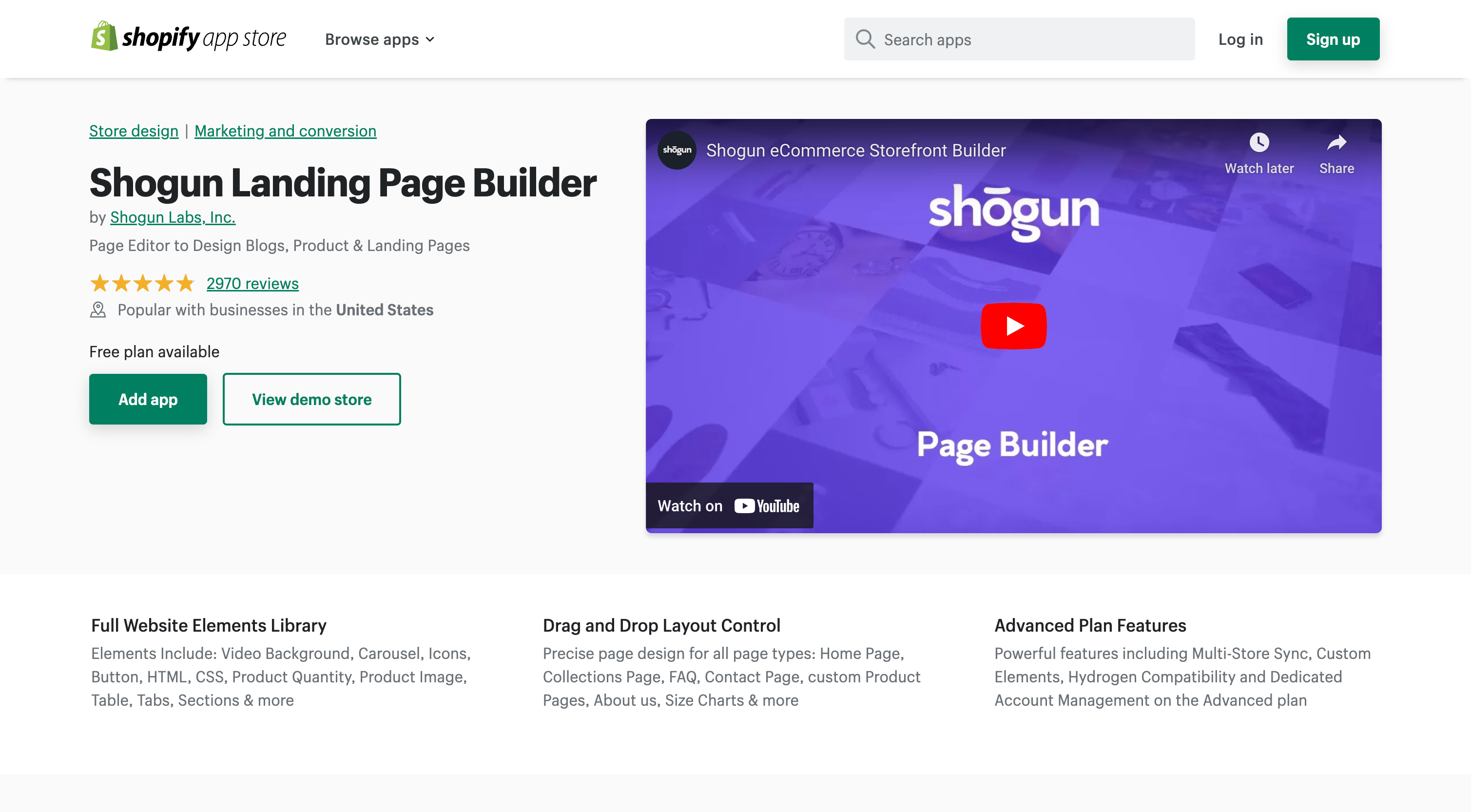 ★★★★★ 2969 reviews
Pricing: Free plan available. Starting at $39/mo
Shogun is a page builder that lets you build fast-loading pages, fast. You can use the Shopify app to build attractive product pages, landing pages, or promotion pages.
If you're short on time and need to launch, use one of Shogun's mobile-optimized page templates. With Shogun, you can build pages from scratch without any code and add custom elements using HTML/Liquid, CSS, and JavaScript.
Best Product Page Apps
Like page builder apps, Shopify apps that help you control the product page is the best way to increase sales. Showcasing the features and benefits with photo and video reviews or updating messaging so your Shopify store appears in Google Search.
Promo.com – Promo Video Maker
★★★★★ 990 reviews
Pricing: Free to install
80% of consumers feel product videos increase confidence, but how do you create videos for all products when you already have a full plate? The Promo app automatically creates videos for your product page, marketing, and social media. All you need to do is select the type of video and the product.
Stockbot Inventory Forecasting
★★★★★ 50 reviews
Pricing: Free plan available. 14 day free trial. Starting at $9/mo
Stockbot Inventory Forecasting offers two options.
The forecasting plan helps you forecast product demand and determine an optimum reorder quantity.
The low-stock email alert option includes email alerts for items below your selected level. You can receive alerts hourly, daily, or weekly and add unlimited recipients.
LimeSpot Upsell and Cross Sell
★★★★★ 1532 reviews
Pricing: 15 day free trial. Starting at $15/mo
LimeSpot Upsell and Cross Sell uses AI to make intelligent product recommendations across your Shopify store, email, and ads.
The app is headless-ready and offers advanced features like multivariate testing. You can use LimeSpot to boost sales by improving conversions and average order value (AOV) through upselling, cross-selling, and personalized content.
Best Order Tracking Apps
Every customer want to know when their order will arrive. Use order tracking Shopify apps to keep them coming back to your online store instead of the carrier's website. Your customer support team will appreciate less tickets simply asking "Where's my order?" questions.
Tracktor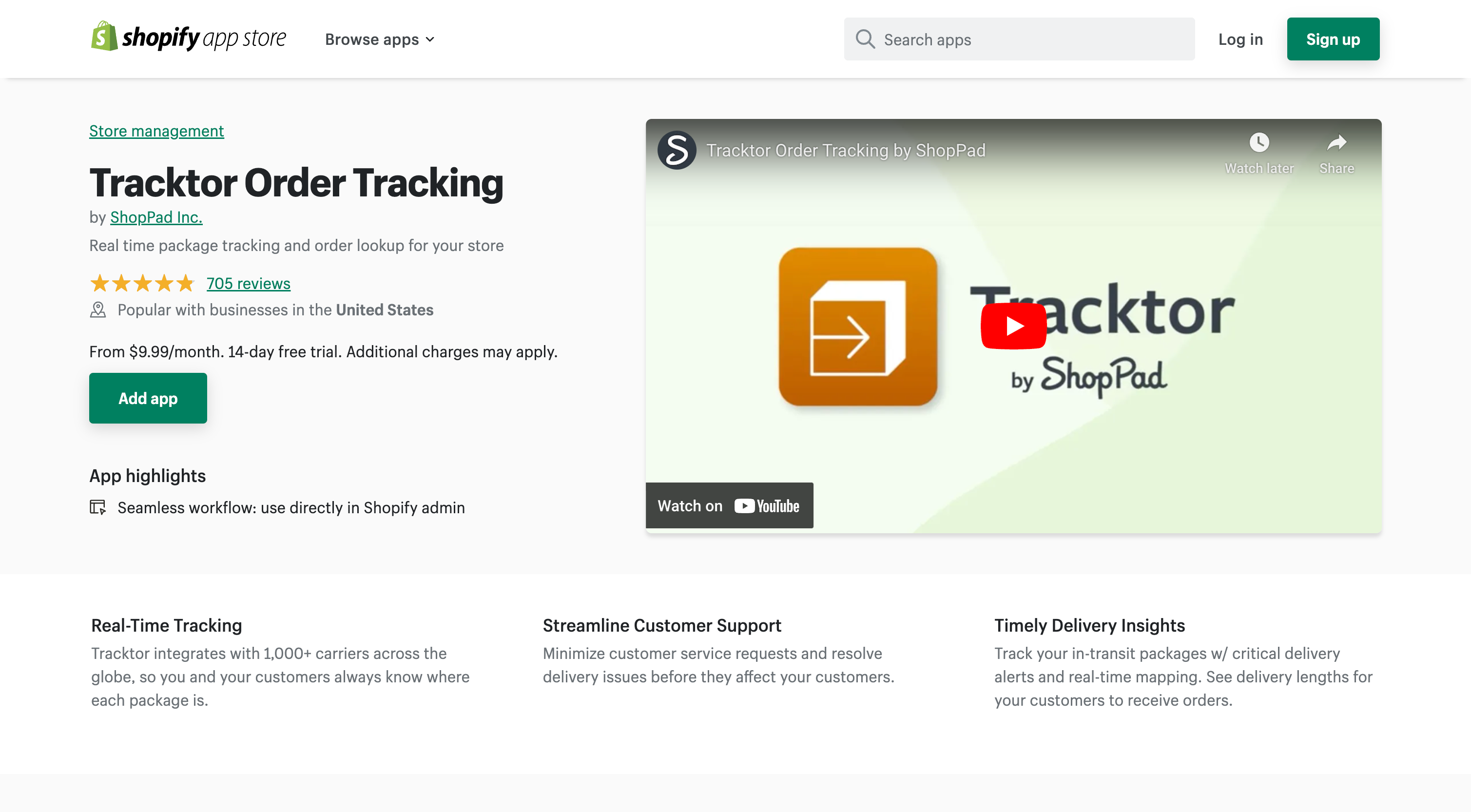 ★★★★★ 705 reviews
Pricing: 14 day free trial. Starting at $9.99/mo
Tracktor helps reduce support costs by answering one of the most common questions: "when will I receive the order?" The order tracking app allows you to add package tracking integrated with all major carriers to your store.
Tracktor does more than just track orders. You can create custom order statuses, send email or SMS notifications, and recommend more products based on order history on your branded tracking page.
Best Mobile Apps
Loyal customers can receive push notifications of upcoming sales or promotions. Loyalty programs grow best when customers feel connected to the brand they love. Once customers shop using your mobile app, SMS marketing apps and other referral program can become effective channels.
Vajro
★★★★★ 1446 reviews
Pricing: 30 day free trial. Starting at $99/mo
You can use Vajro to build a mobile app if you don't know how to code.
You can build native apps for iOS and Android without a single line of code and add features like push notifications and live selling to drive sales. Vajro is loaded with features, but if you can't figure something out, the team is available 24×7 over calls, emails, live chat support, and Zoom to help.
The app offers four pre-built themes. Use one of those and change the color scheme and layout to match your brand's style.
Best Chat Apps
Customers expect great customer support experiences. The best Shopify apps for customer supports start with live chat support.
Heyday – Chat & FAQ Automation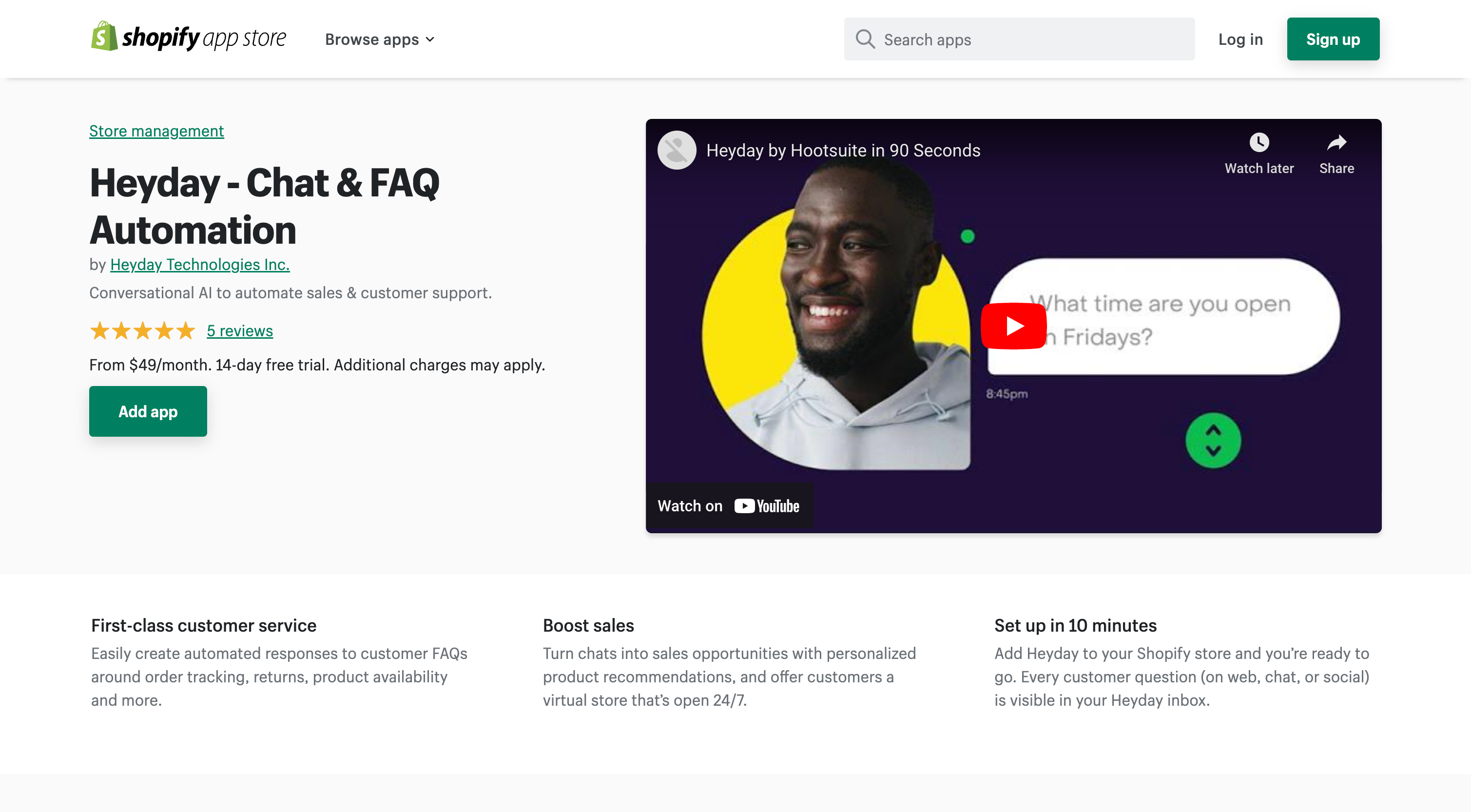 ★★★★★ 5 reviews
Pricing: 14 day free trial. Starting at $49/mo
How do you provide 24×7 support if you're a small team or managing support yourself? A chatbot like Heyday can help.
Heyday is an AI-powered chatbot that automates support by answering questions with templated FAQ responses. It can also provide product recommendations in chat or help customers track orders.
The app unifies conversations from multiple channels, allowing you to make running your business less stressful.
Best Social Apps
Social proof is a staple for word or mouth marketing to even exist. Social Shopify apps help share photo reviews across your online store. Sharing photo and video reviews through your social sites help shoppers build trust.
Shoppable Instagram Feed & UGC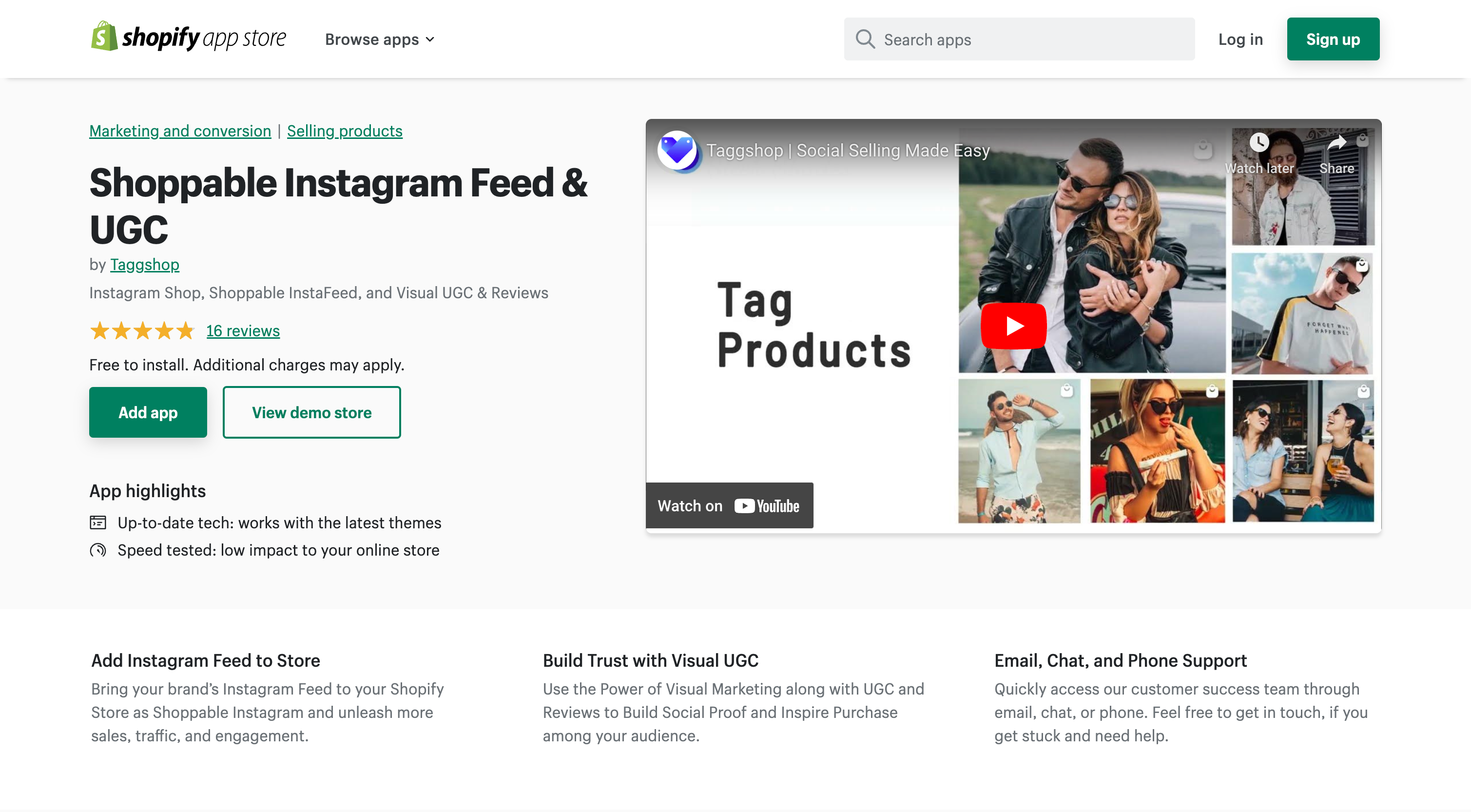 ★★★★★ 16 reviews
Pricing: Free to install
Bringing user-generated content and reviews from your brand's Instagram to your Shopify store can help you build trust with social proof and inspire visitors to purchase which help increase sales.
The Shoppable Instagram Feed and UGC app allows you to add your Instagram feed to your Shopify store and make it shoppable. You can add shoppable galleries to your product page, the home page, emails, or ads.
What Is Required To Create A Great Shopify App?
Shopify lets you create custom apps for your store so you can tailor-make features for your needs.
Consider creating embedded apps to deliver a more integrated experience. Embedded apps use Shopify App Bridge to integrate more deeply with Shopify. This means you can use the interface directly within their Shopify admin or point-of-sale (POS). Embedded apps also allow adding features to Shopify's UI using app extensions.
When creating public apps, a great way to improve the app experience is to offer in-app chat support. Live chat allows them to type in their query without the hassle of email. You should also clearly state your business hours to manage user expectations about when you'll be able to respond.
Read Shopify's app requirements thoroughly before you start so you know what they expect. You should ensure your app meets these requirements even if it's already listed on the app store. Remember, Shopify frequently audits existing apps to ensure trust and quality in the app store.
New Shopify Apps Weekly Newsletter
We watch for new apps then package them into an email sent every Tuesday.