Many Shopify business owners feel anxiety when it comes to accounting and finances. It's understandable, as this work can be intimidating. The good news, however: Shopify accounting and finance apps makes life easier.
The next question, then, is: How do you choose the best Shopify accounting and finance app?
If you're wondering what the key features of the top-rated Shopify accounting and finance apps are, how they differ in price, and what sets them apart from other solutions, keep reading—we take a look at six of the most popular accounting and finance apps for Shopify merchants out there with features that can help you stay on top of your finances. Let's dive in.
Or you can get started with MESA right now. MESA makes integrating any Shopify accounting app system a breeze.
QuickBooks Online
★★★★☆ (4.0) G2 Rating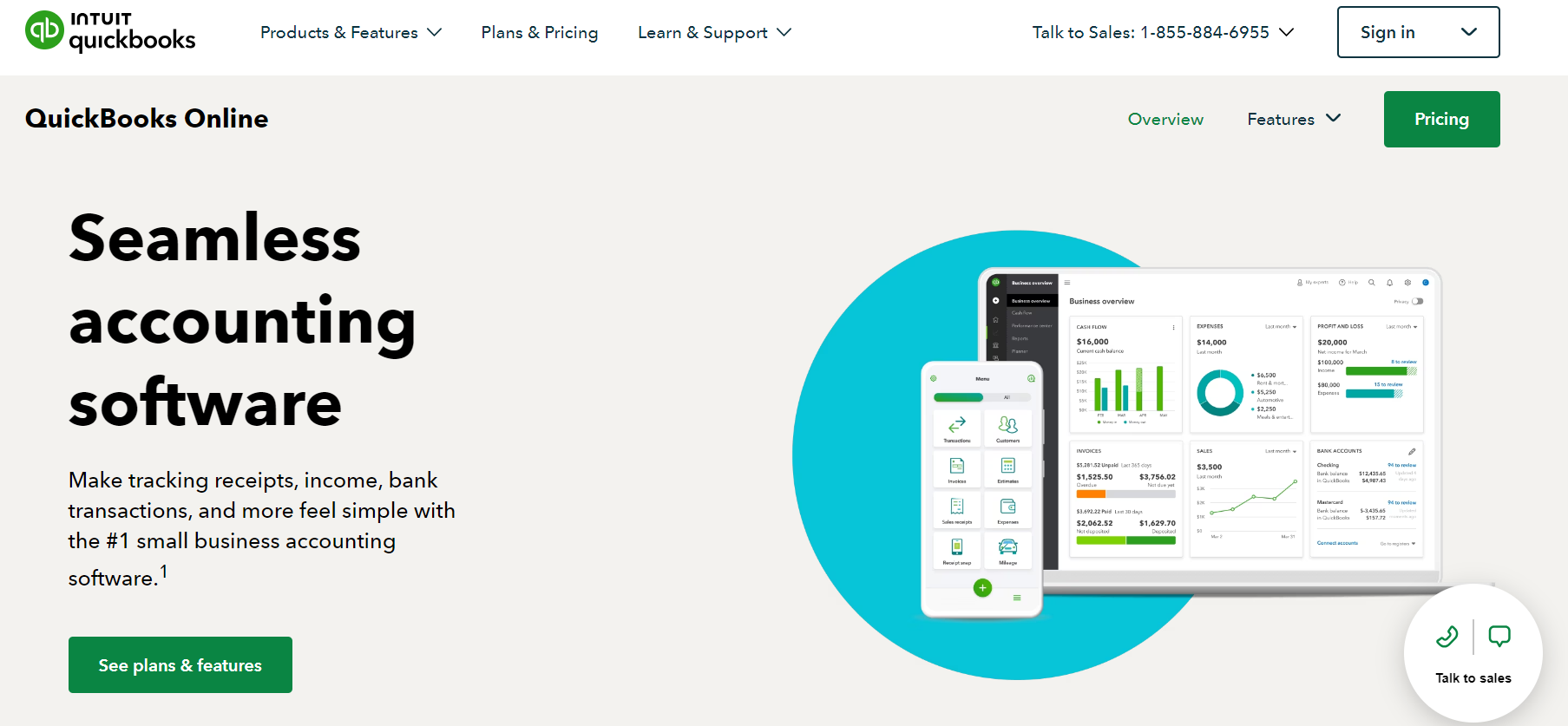 QuickBooks Online is one of the most popular small business accounting software solutions. Using QuickBooks, merchants can organize and manage bills online, track expenses, calculate tax deductions, send and get invoices paid online, a business bank account and much more. The interface is clean and simple, with intuitive reporting that enables even beginners to catch up quickly.
Price:
Free plan available: Yes. QuickBooks Online has a free trial for 30 days.

There are four paid options – Simple Start is $15 per month, Essentials is $27.50 per month, Plus is $42.50 per month, and Advanced is $100 per month. All plans include free guided setup, income and expense tracking, invoice and payments, tax deductions, mileage, sales and tax reporting, and tools to manage 1099 contractors.
Key Features:
Automatic categorization of payouts by sales, shipping, discounts, tax, and fees

Summarized sales receipts, refund receipts, and expense transactions

Income and expense tracking to maximize tax deductions for your Shopify business

Third-party app integration
Xero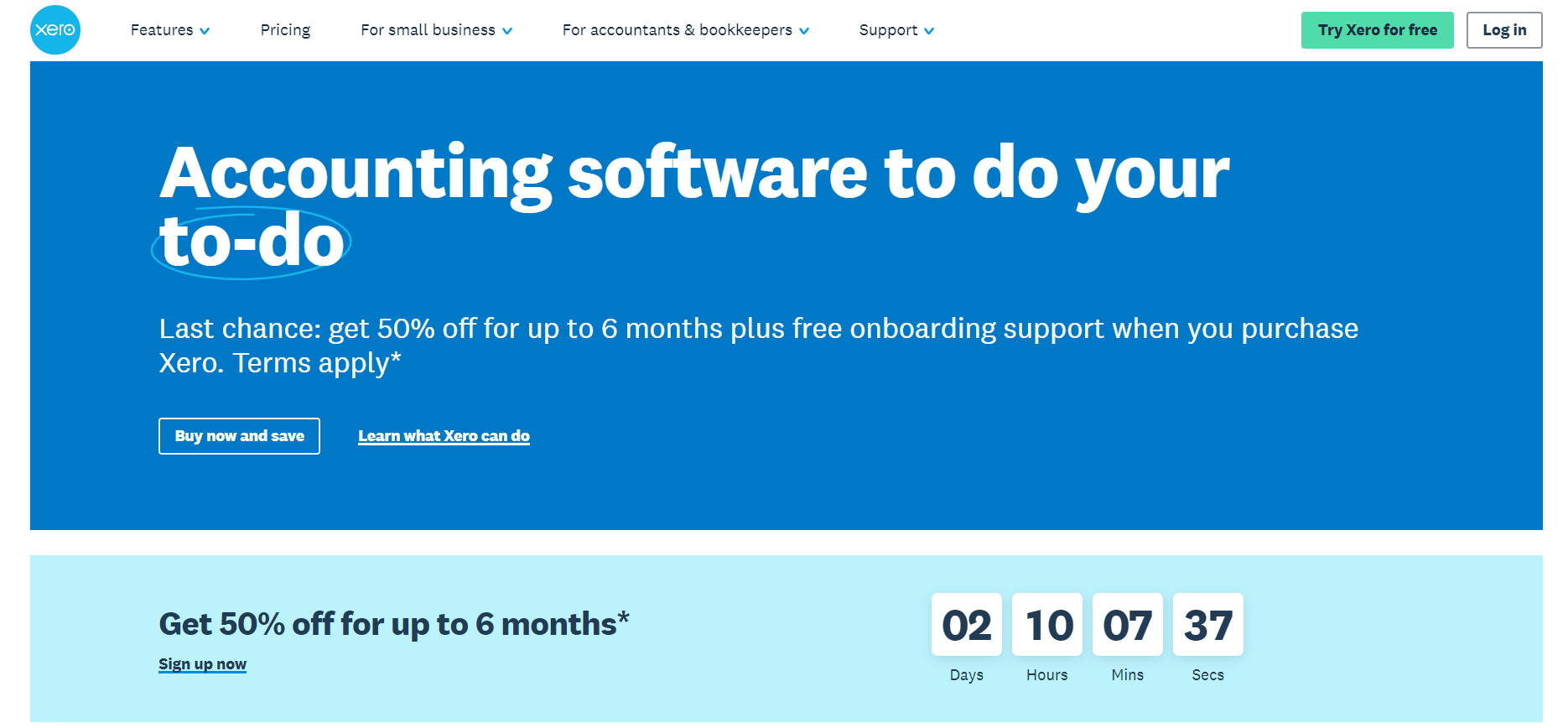 ★★★★☆ (4.4) G2 Rating
Xero is accounting software for small businesses, accountants, and bookkeepers. The platform includes a core accounting solution, payroll, workforce management, expenses, and projects. Xero offers a wide range of solutions for small businesses to manage their finances and run their business effectively.
It has a comprehensive ecosystem of connected apps custom accounting tools and connections to various financial institutions and banks, all within Xero's open platform. These features enable small businesses to access a variety of tools other apps and resources to support their operations.
Price:
Free plan available: Trial for 30 days.

There are three paid options – Early is $6.50 per month, Growing is $18.50 per month, and Established is $35 per month. All pricing plans cover the accounting essentials, with room to grow.
Key Features:
Automatic data entry by pulling records of sales and expenses directly from banks, invoicing apps, point-of-sale systems, ecommerce sites, and receipt scanners

Smart bank reconciliation

Online billing, including automatic payment reminders for unpaid invoices

Automated financial reporting

Real-time business dashboards

Third-party app integration
Zoho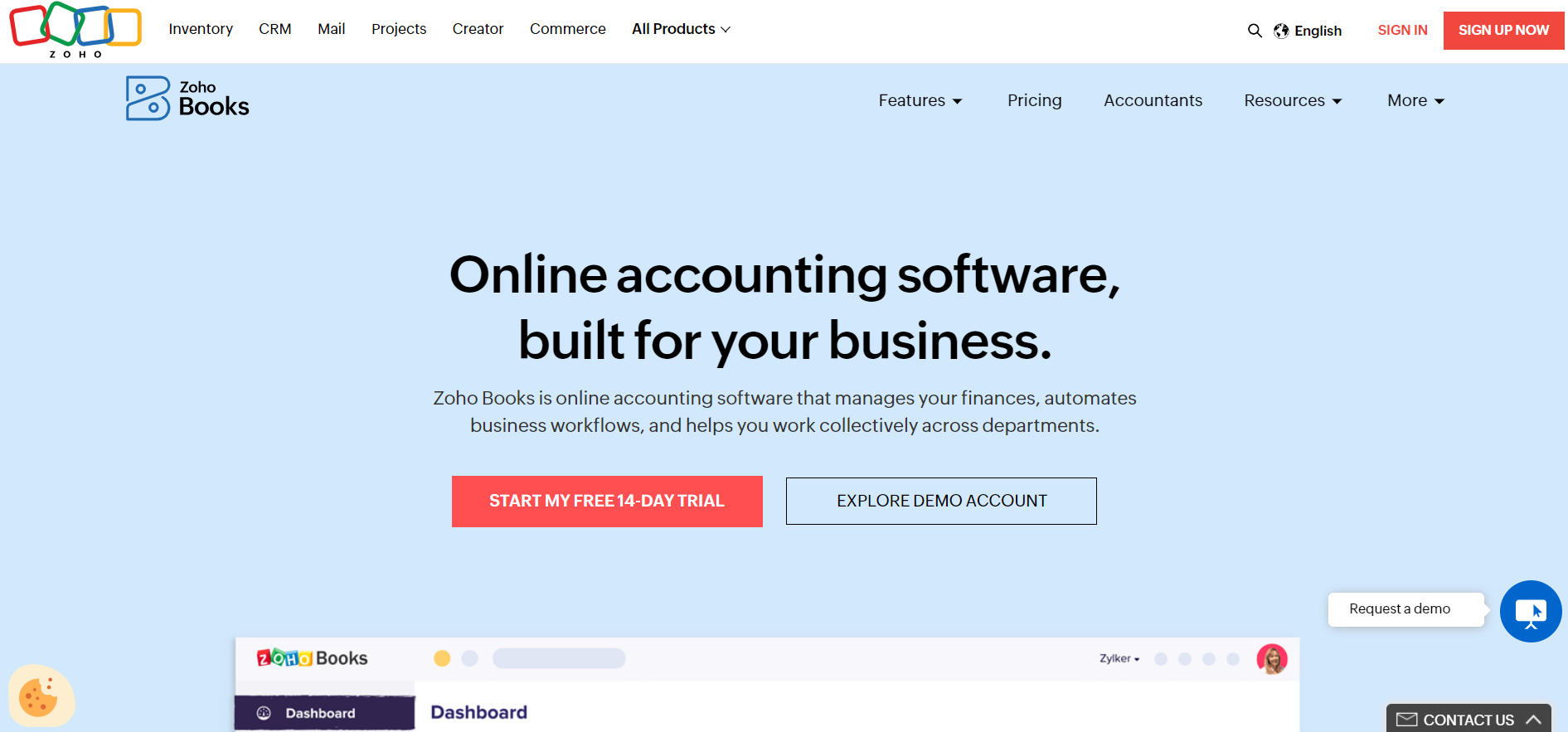 ★★★★☆ (4.5) G2 Rating
Zoho Books is online accounting software that helps businesses manage their finances, automate business workflows, and work collectively across departments. By utilizing Zoho's automation features, such as payment reminders, scheduled reports, and customized workflow triggers, businesses can significantly reduce the time spent on tedious bookkeeping tasks. The platform has role-based access allowing easy collaboration.
Price:
Free plan available: Yes, for businesses with a turnover of less than $50K per year.

There are five paid options – Standard for €12 per month, Professional for €24 per month, Premium for €36 per month, Elite for €129 per month, and Ultimate for €249 per month.
Key Features:
Automates populating default customer data, setting up systematic payments from clients, and automatically matching customer receipts to outstanding transactions

Ability to manage, track and report on numerous payment types

Automates recognition of revenue and expenses by defining recognition rules

Automates chronological tracking of transactions that have affected a specific operation, procedure, event, or record

Payroll module or integration to an external payroll provider which automates the recording of payroll
FreshBooks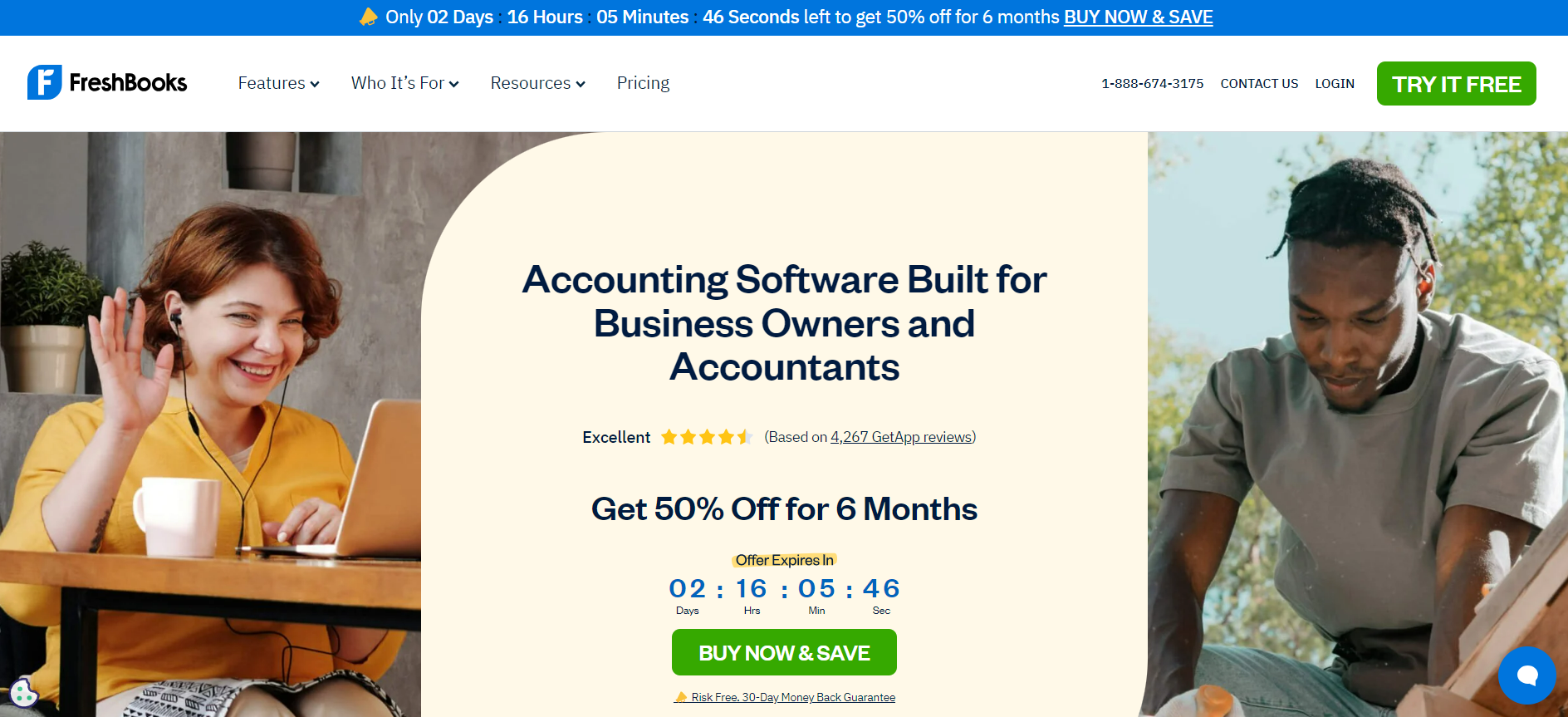 ★★★★☆ (4.5) G2 Rating
FreshBooks is one of the most well-known small business accounting tools that helps users reduce manual data entry thanks to back-office automation. The platform includes invoicing features, expense tracking, time tracking, online payments, double-entry accounting, balance sheets, mileage tracking, project profitability, bank reconciliation, and client retainers.
As a web application and a cloud accounting software, FreshBooks allows businesses to access data easily, wherever they are in the world. The platform is user-friendly and easy to navigate, making this free accounting software solution a good fit for small business owners and their teams, clients, and accountants.
Price:
Free plan available: FreshBooks offers a 30-day free trial with unlimited access to all the features.

There are four paid options – Lite for $8.50 per month, Plus $15 per month, Premium for $27.50 per month, and Customized plan for growing businesses.
Key Features:
Categories/account assignment based on past entries and credit card statements

Capture receipts digitally and automatically parse receipts to create expenses report entries

Easy entry of expenses in other currencies and converts to expense report currency

Intuitive interface that offers ease of creating expense reports

Highly rated customer support
Sage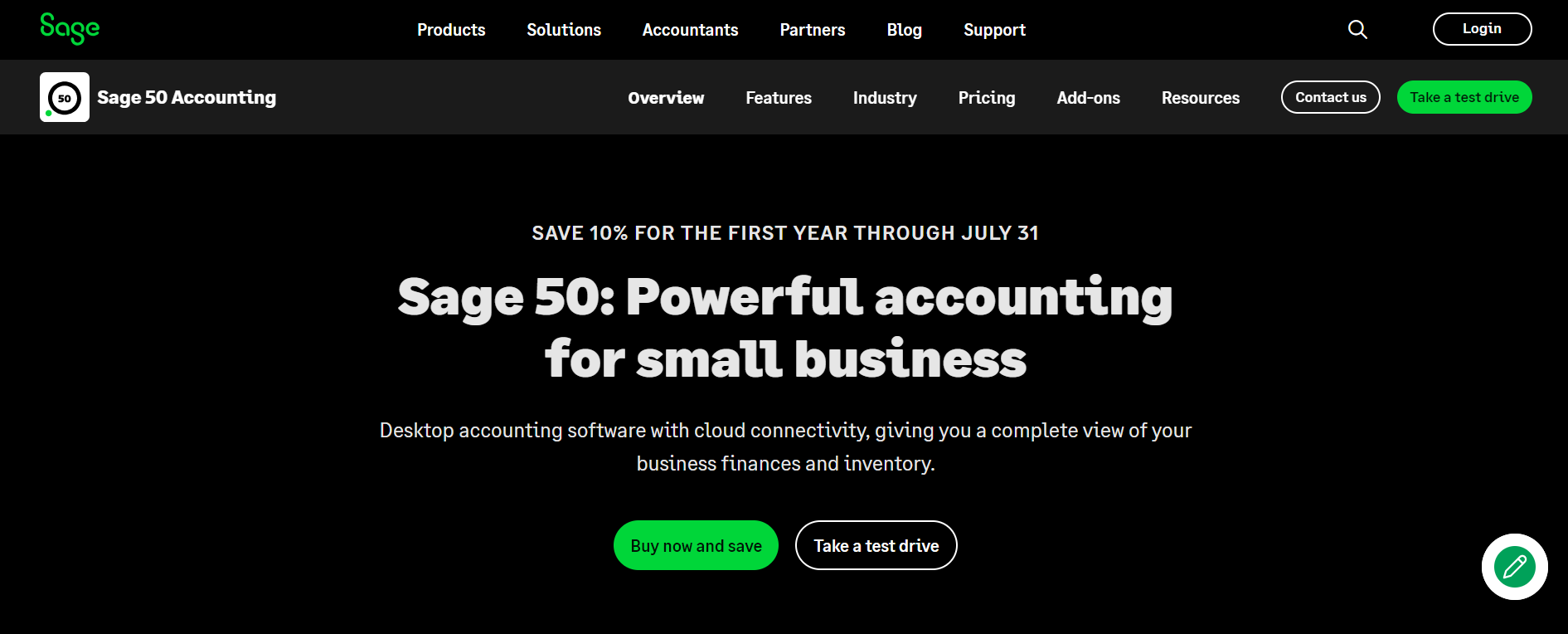 ★★★★☆ (3.8) G2 Rating
Sage 50cloud Accounting is a cloud-based software offering extensive customization options and advanced features. The software helps small businesses with processes like everyday bookkeeping service invoicing and financial management alongside more complex business accounting and payroll tasks. Sage 50 combines the power of desktop accounting with the flexibility of cloud connectivity, giving businesses advanced functionality and business-wide actionable insight into financial data.
Price:
Free plan available: No, the best way to try the product is to take a test drive or view an on-demand demo.

There are three paid options – Pro Accounting for $51.45 per month, Premium Accounting for $86.92 per month, and Quantum Accounting for $144 per month.
Key Features:
Streamlines accounting processes

Automates invoicing and billing

Offers many customization options

Provides tools to manage and track inventory

Includes financial reporting and payroll processing
Wave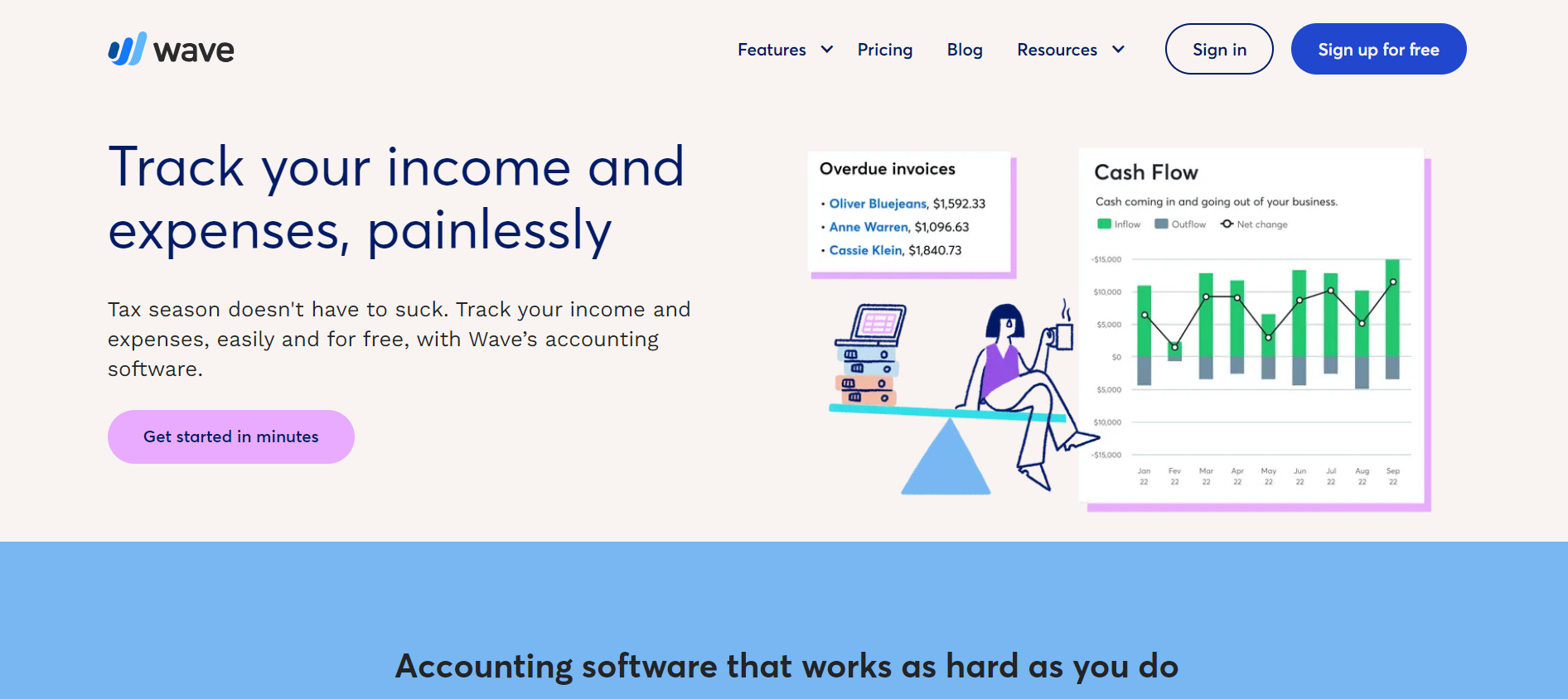 ★★★★☆ (4.4) G2 Rating
Businesses that are just starting out and don't have extra cash for accounting software can check Wave. Wave is a free, cloud based accounting software tool designed for small businesses enabling them to create customized invoices, create customizable invoice templates get unlimited income and expense tracking, add unlimited partners, collaborators, or accountants, and access helpful reports like Overdue Invoices, Bills, and Profit & Loss.
Price:
Free plan available: Wave's accounting software, invoicing software, or US-only banking software are 100% free. There are no trials, subscriptions, or hidden fees.

Wave's optional paid features include online payment processing, payroll software, and access to personalized bookkeeping services and coaching through Wave Advisors. Businesses can start a free 30-day trial for the payroll software.
Key Features:
Free invoicing and accounting

Double-entry accounting reports

Unlimited users with the ability to control user permissions

Customizable invoice templates

Mobile app
Importance of accounting and finance in ecommerce
Ecommerce accounting helps businesses with essential bookkeeping functions, like using bank accounts and managing invoicing, payroll, and balance sheets, but also more complex functions, and tax categories such as preparing financial statements and creating a strategic tax plan.
The right platform ensures you get a clear picture of your business performance by identifying trends, forecasting inventory needs, and understanding your finances. Ecommerce software is like a compass—it helps you navigate your path to growth. Without access to detailed reports about your cash flow, profit levels, and total sales, you can't make the right business decisions.
How to choose the best accounting and finance app
The importance of finances online business makes choosing an ecommerce accounting tool or app one of the crucial decisions for Shopify merchants. Let's look at the factors you need to consider before making the final decision:
Available features — Ensure you have access to features like invoicing, expense tracking, sales tax calculation, payroll, and multi-current support.

Ease of integration — Seamless integration is crucial for a smooth user experience.

Customer support — Whenever you are starting to use new software, there is a learning curve included. Having the help you need in the process will set you up for success.

Possibility to scale — Choose your ecommerce accounting software with the future in mind. As your company grows, you'll need advanced capabilities, so choose wisely to futureproof your business.

User reviews — Always check the feedback from other users to make an informed decision. Besides the Shopify App Store Rating, make sure to check other review sites such as G2 and Capterra as well.
Do more with accounting and finance apps without the work
It's an exciting time to be operating in the ecommerce space. The opportunities are endless. However, to be able to focus on strategy and growth, you need the right accounting and finance software for your Shopify business.
If you want to maximize the potential of your ecommerce accounting app, leverage the power of automation to set up workflows that take care of repetitive tasks and remove the need for manual work.
Ready to take your ecommerce and accounting solutions to the next level? With MESA, you can use pre-made integration templates already configured to handle common workflows. Try MESA today.
New Shopify Apps Weekly Newsletter
We watch for new apps then package them into an email sent every Tuesday.