When it comes to ecommerce, there are no visible signs of global online sales slowing down. Online sales are currently forecast to reach 22% of all retail sales in 2023, up from 14.1% in 2019. While a global pandemic is directly related in many ways to the percentage hike, we do not expect online retail sales to slow in a post-pandemic world.
With a quarter of ecommerce orders predicted to be cross-border commerce, signs of leveling for ecommerce and brick and mortar stores are showing. Placing ecommerce-based products into locations where consumers can access them right away is a game-changer for a couple of reasons.
If there's one thing we can be sure of, it's that consumers want their purchases quickly. Many companies struggle with affordable shipping options and keeping orders organized, especially during the startup phase. It's crucial to find an order tracking app that can help. 
Ready to save time by automating order status and fulfillment updates? Install MESA to easily manage those workflows for your business.
What Are Order Tracking Apps for Shopify?
There's so much more to tracking orders than just knowing their current location while in transit. A standard Shopify order tracking app will help you stay on top of consumer purchases and provide order status updates. It can also keep your customers happy and fully engaged with your brand.
Order tracking applications aim to mitigate customer complaints regarding the location of their order because they'll have access to track. Shopify order tracking apps process, monitor, and track all orders placed online, delivering real-time status updates to your customers.
Order tracking apps can help with customer retention because they are transparent and build a trust-based connection with the consumer. Your customers will be able to know the status of their order from processing to delivery.
If you're currently processing orders without an order tracking app, this is your sign to switch up your process. The best tracking app is out there; we're going to discuss its importance and how to find the right one.
Why Order Tracking Apps Are Important to Shopify Merchants
Order tracking apps are essential to Shopify merchants for many reasons other than complete and total convenience. They offer many positive attributes that business owners are looking for, regardless of business experience.
You'll reap many benefits when you utilize an order-tracking application for your business. These include, but are not limited to, the following.
Better Communication
Order tracking helps to create a personalized level of communication with your customers. Not only do they have access to the knowledge of where their order is at all times, but they'll have a direct line to contact you if they have any questions. Communication is a critical factor in any relationship, including the relationship between brand and consumer.
Enhanced Experiences
Order tracking apps help to enhance your customer experience by giving them a certain level of control. The bottom line is that they're spending their hard-earned money, and you can improve their experience by giving them the ability to take action.
Improvement in Customer Retention
Fantastic communication and an enhanced user experience can increase customer retention. Customer retention is inevitable if you're providing good services and allowing transparent insights into your process.
Drive to Maintain Standards
As your business grows, order-tracking apps will drive you to maintain your current standards. It's easy to keep up with demands when you're not receiving many. But inevitable growth will happen if you provide a good customer experience. With that growth should come the desire to maintain the same customer service to maintain your customer base.
What are the best order-tracking apps for Shopify?
There's a wide variety of Shopify order tracking apps available, and choosing one comes down to the application components that will work best for your business.
AfterShip allows users to get insightful tracking data all in one place to resolve delivery incidents faster and more efficiently. This can significantly increase customer satisfaction by being on top of all package tracking.
With AfterShip, you'll receive a branded tracking page that allows your business to upsell your products via marketing banners. You can track your orders, delivered globally, from your one location, your AfterShip dashboard.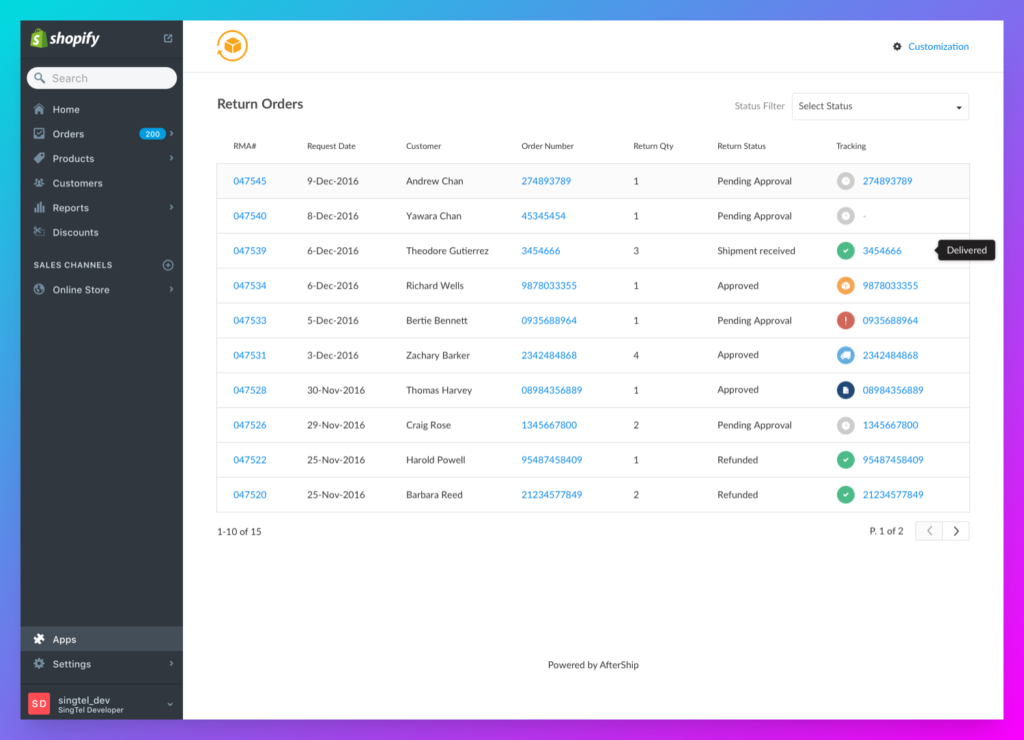 AfterShip will set clear delivery expectations by giving customers accurate delivery dates with more than 670 shipping carriers. The AfterShip order lookup widget, along with an order history page, adds tracking capabilities anywhere on your website. You don't need coding knowledge to make it happen.
Integrating AfterShip into Shopify is easy, and pricing is reasonable, starting at only $9 to manage 1,200 shipments each year. You can move up the pricing ladders as your business management needs grow.
The Tracktor app is aptly named, turning first-time customers into repeat shoppers. Tracktor promises to increase customer satisfaction while lowering support costs, two factors every business owner wants.
Tracktor features real-time tracking with over 1,000 carriers around the world. The ability to streamline support is essential, and Tracktor can help busy customer service teams eliminate redundant order-related questions.
Tracktor has many features, perhaps the best being the ability to resolve delivery issues before they affect your customers. While it's okay to be completely transparent about any shipping issues if you can fix them before your customer knows about them, why not take advantage of that?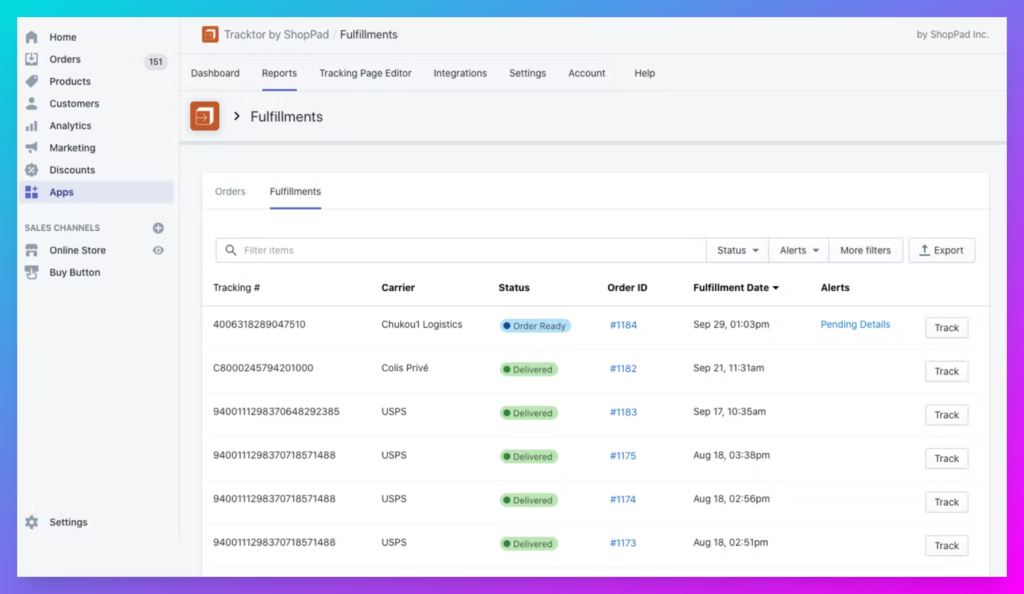 Tracktor provides the critical insights you need to help your order and delivery workflow run smoothly. You can see your in-transit packages on a detailed map while receiving delivery exception alerts. Also, the tracking the time it takes your customers to receive their orders.
The price for the Tracktor application is $10/month, which is incredibly reasonable for the services provided. If you're not ready to commit, Tracktor offers a 14-day free trial.
ShipStation is one of the most popular choices regarding order tracking apps for Shopify, and it enables store owners to increase efficiencies in processing, fulfilling orders, shipping, and inventory management. Connecting all significant shipping carriers so you can gather insight into the best competitive rates and shipping times simultaneously and making it possible to see your ideal option.
ShipStation lets Shopify stores automate every step of their shipping strategy, including repetitive tasks like adding product details to each order and printing out shipping labels. Automation is crucial as it streamlines the workflow and helps move things along faster, and ShipStation makes it happen with direct integrations to over 70 best-selling channels.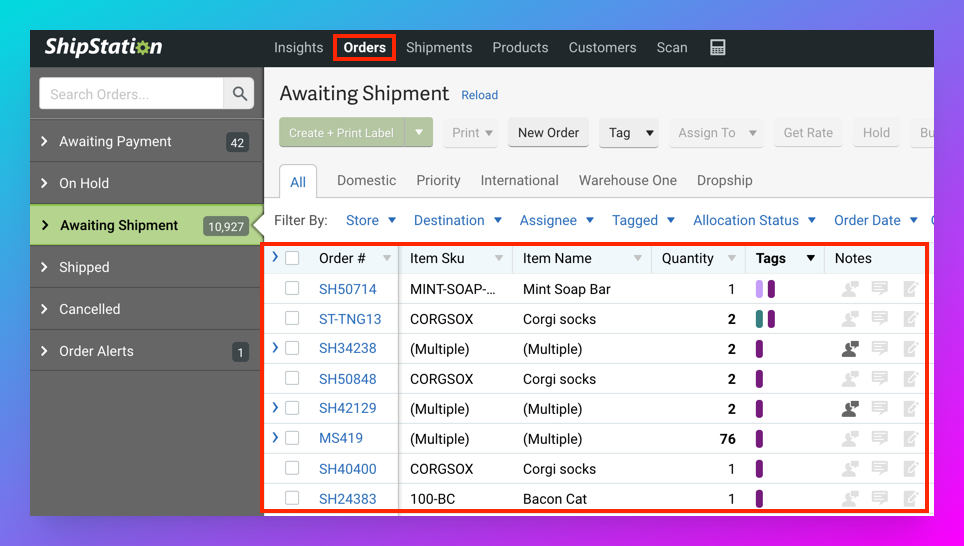 It also has an advanced mobile app that helps manage shipments, view your reports, and check pending orders no matter where you are in the world. A functioning mobile app is essential to any order tracking application, and ShipStation delivers in that respect.
With ShipStation, you can manually add preferred carriers that aren't included on the carrier list and preserve discounts from shipping carriers simultaneously. Branded shipping is a must-have, and ShipStation offers an excellent post-purchase experience, creating a personalized delivery experience for your customers, including customized shipping labels, a return portal, and an easy-to-use tracking page.
In combination with MESA, ecommerce stores can effectively save plenty of time and money on fulfilling orders. ShipStation allows you to create your own workflow for $10/month, allowing for 50 shipments every month.
Parcel Panel offers all-in-one tracking and notifications suitable for any ecommerce business of many sizes and industries. With real-time sync and the option to track all of your orders in one place, Parcel Panel supports 1000 couriers supported globally.
Parcel Panel has built-in shipping notifications, including SMS and Shopify native email. These options allow your customers to choose how they want to receive their order updates. You can update the Shopify native tracking link with one click to provide the most current information with the possibility to search, filter, and export orders right on the easy-to-navigate Parcel Panel dashboard.
Parcel Panel gives users a branded tracking page that generates automatically under your store domain. It's not only SEO friendly, but it contains an abundance of custom elements so you can make it all your own.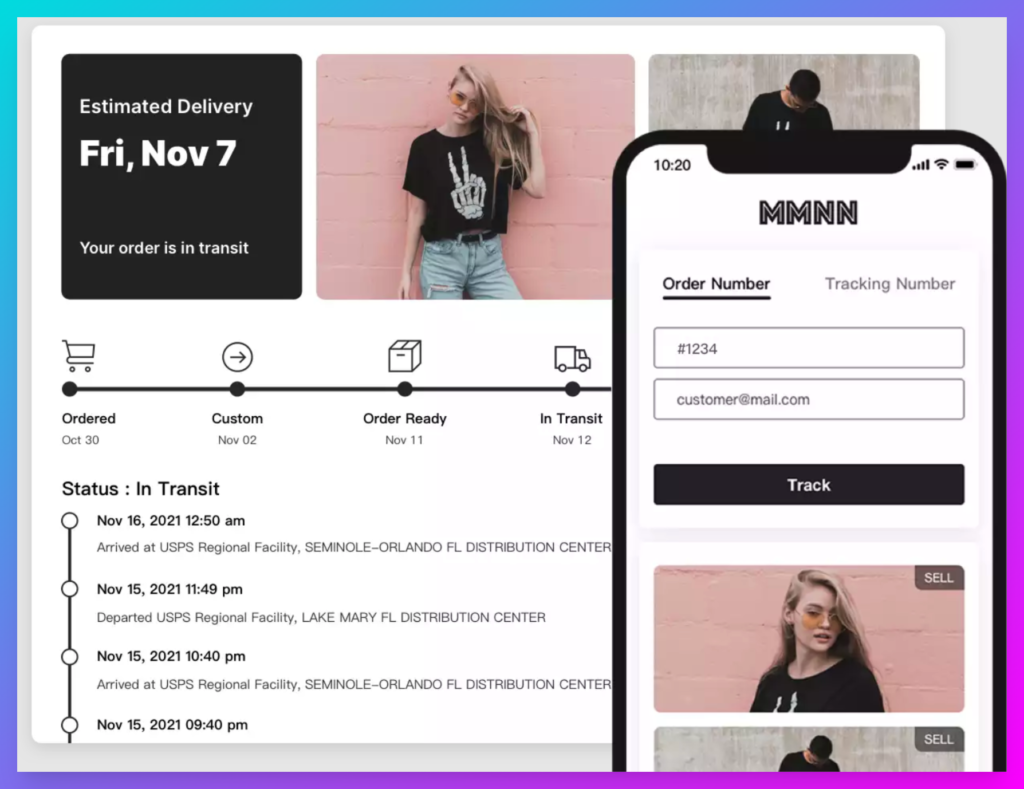 With the Parcel Panel estimated delivery time, your clients will always know when they are expected to receive their order and, if necessary, can make arrangements accordingly. They'll also receive immediate updates if orders are delayed for any reason.
Parcel Panel is excellent from a consumer perspective. Still, it offers all the modern backend technology that businesses expect from an order tracking application. It includes SEO optimization to improve search engine ranking and drive organic traffic to your website, which is a fantastic option for all businesses that depend on SEO.
Dropshippers will love Parcel Panel, as it supports many facets of owning a dropshipping business. Anyone who has ever run a dropshipping company knows how frustrating it can be to deal with ship times and options.
Choosing the Right Order Tracking App
Deciding on an order tracking app can be overwhelming. Each has its perks and drawbacks, and you want to ensure that you're landing on a product that will be a good fit for your business.
It's clear that not all order tracking applications are the same, and it's up to you to choose one that will help you grow your unique business without hindering your progress. It's essential to work with an application that you understand on a fundamental level.
Tracktor is extraordinary for automating workflows and works seamlessly with MESA, while Parcel Panel has the art of dropshipping down to a science. Just like order tracking apps, no two businesses are the same, which is why different applications match the needs of some businesses but not others.
Of course, the solutions mentioned here are not the only ones available today. You can easily find product inspiration based on what other businesses use to track their orders and stay on top of their shipping processes. The most important factor is to choose an app based on the premise that it has what you need, not what it does well for other businesses.
Suppose you have trouble choosing, never hesitate to contact app providers for more information. Picking an order tracking app is not something you have to rush into, although the sooner you get one up and running, the easier your business life will become.
New Shopify Apps Weekly Newsletter
We watch for new apps then package them into an email sent every Tuesday.