MESA is a better way to work. Get your data together with the only expansion pack exclusive to Shopify. Try MESA on your Shopify store 100% free for 14 days or contact our Customer Success team for additional help or questions.
###
With so many ERP systems on the market, finding the right solution for your Shopify store can seem daunting.
Business processes are getting increasingly complex, and retailers of all sizes need a system that can help connect different integrations and turn data into powerful insights. With back-office operations being the backbone of every business choosing the best ERP system is essential for success.
But before we get ahead of ourselves, let's cover the basics of what a Shopify ERP solution might look like for your business.
What is ERP System?
Enterprise resource planning (ERP) systems are complete, integrated systems that manage all core aspects of supply chain management, manufacturing, services, financial management, human resources, and other processes of an organization.
The main goal is to automate and simplify individual activities across a business or organization while providing transparency and cross-departmental alignment.
Why does it matter?
The past few years have been huge for ERP solutions. According to Market Research Engine, the Enterprise Resource Planning Market is expected to exceed more than US$ 49.50 billion by 2025.
But the question is, what is the real value in having an ERP system. Data from Panorama Consulting Solutions shows that when asked to select areas where ERP produced ROI, the top three answers that businesses pointed to were reduced IT costs (40%), reduced inventory levels (38%), and reduced cycle time (35%).
The same research shows that ERP implementation led to business process improvement for 95% of businesses.
What started more than five decades ago as Materials Requirements Planning (MRP) software has evolved over the years into advanced software that fully integrates every department.
Gartner originally coined the term "enterprise resource planning" back in 1990. Since then, ERP systems have moved towards the Software as a Service model (SaaS), eliminating the roadblocks for adopting this software such as expensive infrastructure and IT staff.
Fast forward to today, there is advancement in the field by incorporating artificial intelligence (AI) and the Internet of Things (IoT) in ERP systems. Gartner predicts that AI will be integrated into ERP systems by 65% of CIOs by 2022.
What to Look for in an ERP for Shopify Stores
If you're on the hunt for an ERP system for your Shopify Store, you're probably overwhelmed by the number of choices. Be smart—avoid the analysis-paralysis by understanding what you need for your business, and go from there.
Here are some pointers to help you focus on things that matter:
Shopify compatibility—One of the most important factors you should have in mind when choosing an ERP system is whether it can be easily integrated with Shopify. No matter how good a solution is, if it's not compatible with Shopify, it will only be a burden instead of an efficiency booster.

Seamless integration—Understanding how a system integrates with the overall tech stack is essential. Think of the ERP system as a gear in the mechanism. If it fits, it will accelerate the mechanism; if not, it will break it completely. This will help you be more efficient and share data between your ERP and other business platforms.

Scalability—The ERP you choose can have a significant impact on your business. It can either future-proof your business or make it vulnerable. It's important to understand how the software grows with your company and if it's scalable and easily upgradable.

Ease of use—The complexity of an ERP can be a stumbling block for users. Not only will it increase the cost and time of training, but it will also negatively influence the adoption process. Look for a vendor with a straightforward user interface, role-based functionalities, and customization.

Mobile-friendly—We're living in a mobile-first world. Most of the solutions are already in our pockets. With the rise of mobility and BYOD (bring your own device), choosing a mobile-friendly ERP system will increase your productivity.
7 Best ERPs for Shopify Stores
Now that we've covered the basics, we can dive deeper and talk about some of the best ERPs for Shopify Stores.
Netsuite
The well-known ERP system, Netsuite, is a cloud-based platform that covers all core processes from supply-chain to manufacturing and e-commerce to finance.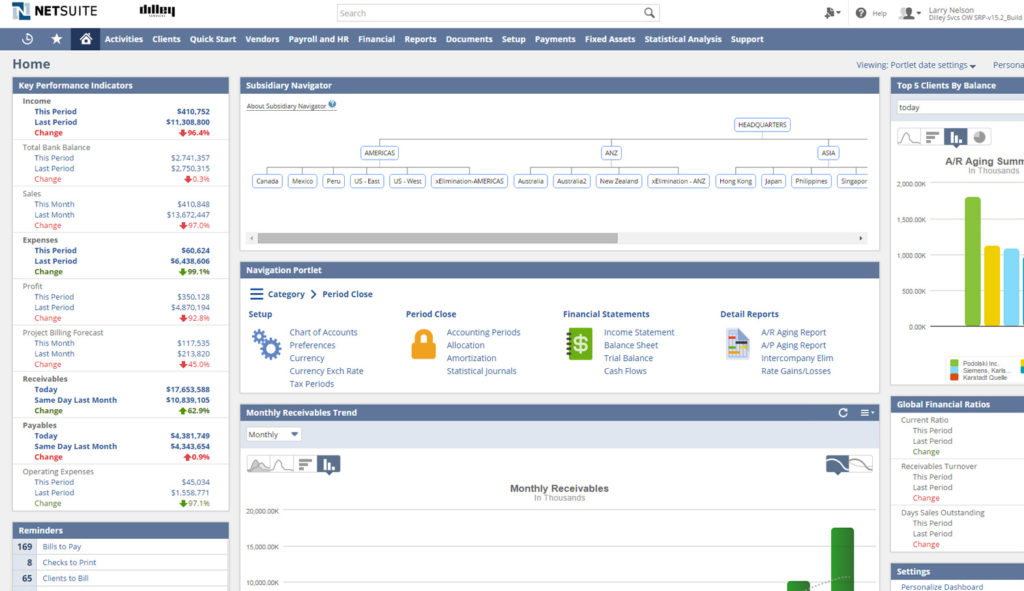 Suitable for companies of all sizes, NetSuite ERP gives companies clear visibility and control of their business. It automates front- and back-office processes while combining data with visual analytics to generate meaningful and actionable business insights.
NetSuite is the world's most deployed cloud ERP solution, used by more than 22,000 customers across more than 200 countries.
With built-in business intelligence and real-time reporting, it equips organizations to make better decisions. This system is highly-scalable, so users can easily add functionalities as their business grows.
Integrating Netsuite with your Shopify store will help you drive better results and unlock the power of this comprehensive ERP suite.
Odoo
Odoo is an open-source ERP software, leveraging thousands of developers and business experts to build an ecosystem of fully integrated business apps. The system includes customer relationship management (CRM), e-commerce, accounting, billing, inventory management, project management, warehouse management, financial management, manufacturing, and purchasing.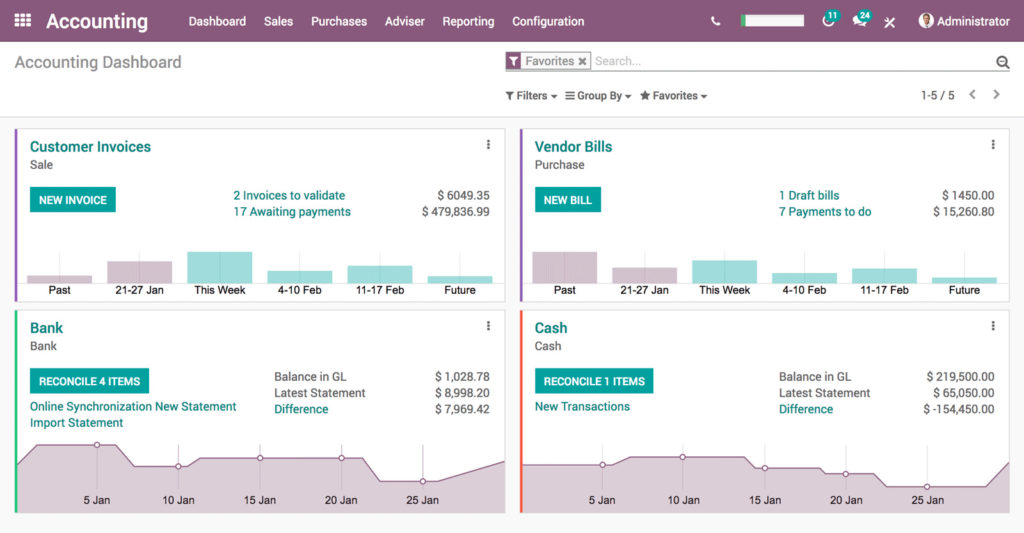 What makes Odoo unique is the framework that allows the community of developers to release regular updates. Odoo comprises over 30 main modules, and more than 27,000 third-party apps available in its app store. Because it's a modular system, customers can customize it to their preferences and add modules as needed.
Odoo comes with pre-built integration with MESA, making it even easier to create workflow automation between Odoo and Shopify.
SAP
With over 45 years of experience and 200 million cloud users in 180 countries, SAP is one of the world's largest enterprise software companies.
SAP ERP helps clients effectively manage their organizations. It's highly scalable, and it can be deployed as a SaaS service, on-premise, or as a hybrid model.
This ERP platform has all the capabilities of supply chain management, product lifecycle management, human capital management, financial management, and CRM solutions. Despite the common misbelief that SAP is only for large enterprises, 80% of its customers are small and mid-size businesses.
SAP has proven expertise in 25 industries, including retail, manufacturing, wholesale distribution, and professional services.
The most effective way to link Shopify to SAP ERP is to use a third-party solution that automatically synchronizes data, removing the possibility for human input error.
Microsoft Dynamics
Dynamics 365 is a modular, cloud-based enterprise resource planning system that offers tools for sales, marketing, CRM, project management, marketing automation, project service automation, sales forecasting, financial tracking, and more.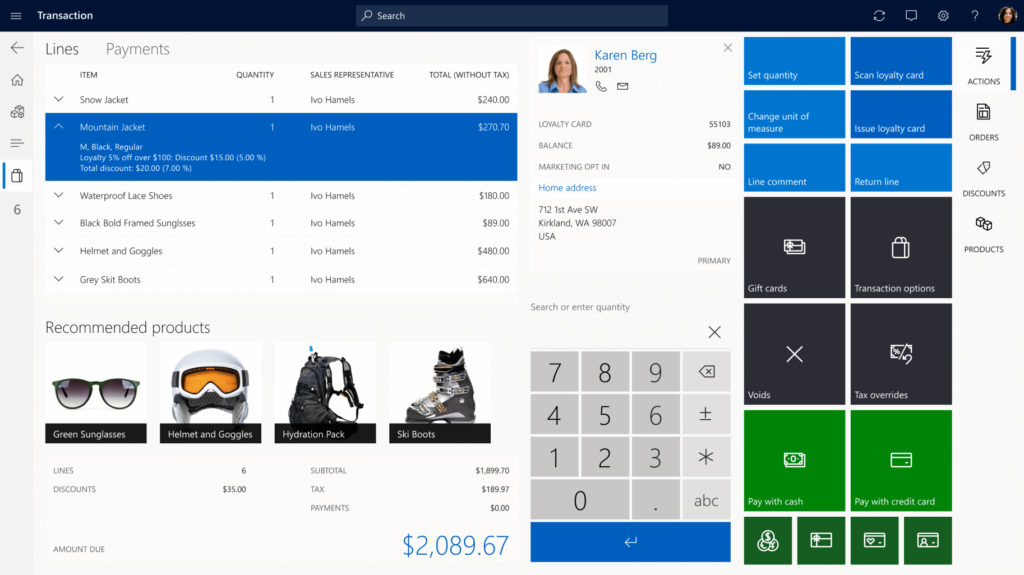 What makes this ERP special are the advanced customer relationship management (CRM) capabilities and integration with Microsoft products and LinkedIn Sales Navigator.
Dynamics 365 helps companies make data-driven decisions, increase efficiency, and get predictive insights. This is one of the most adopted ERP systems that serve businesses, nonprofits, and governments worldwide.
The solution goes a step further by incorporating artificial intelligence (AI), machine learning, and mixed-reality tools for businesses.
Microsoft Dynamics 365 is available on iOS, Android, and Windows phones. Users can use the apps offline, and data will sync automatically once a connection is reestablished.
Integrating Microsoft Dynamics 365 with Shopify will improve sales forecasting, customer communication, and reporting.
Sage
Sage is an Enterprise resource planning (ERP) software that integrates day-to-day business processes and helps companies streamline activities by leveraging accurate business insights.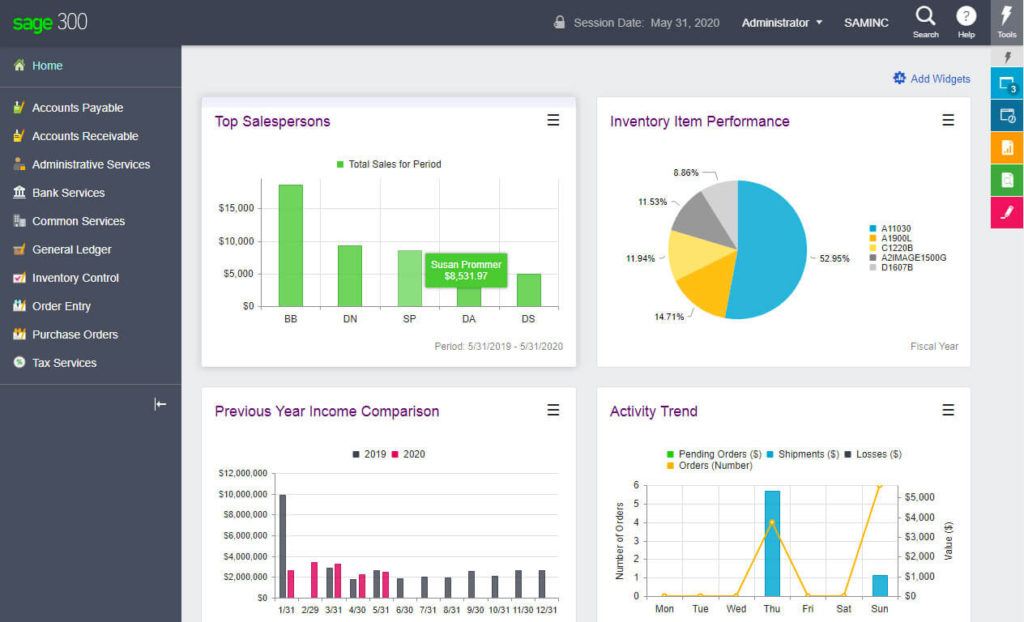 This system empowers users to connect the dots and share information across different departments, including HR, accounting, inventory management, and customer relationship management.
Sage offers traditional ERP solutions through Sage Business Cloud. For more complex business needs, there is the Sage Business Cloud X3 for established businesses looking for greater efficiency, flexibility, and insight.
Using the Sage Business Cloud tools, users can streamline key processes, increase productivity, identify areas for improvement, and plan business growth.
Sage is another ERP system that integrates with Shopify to empower seamless order fulfillment, sales transactions, and real-time updates on stock levels.
Epicor
Epicor ERP is an on-premise and cloud-based solution aimed at small and mid-sized businesses (SMBs), with a special focus on companies specializing in manufacturing and distribution.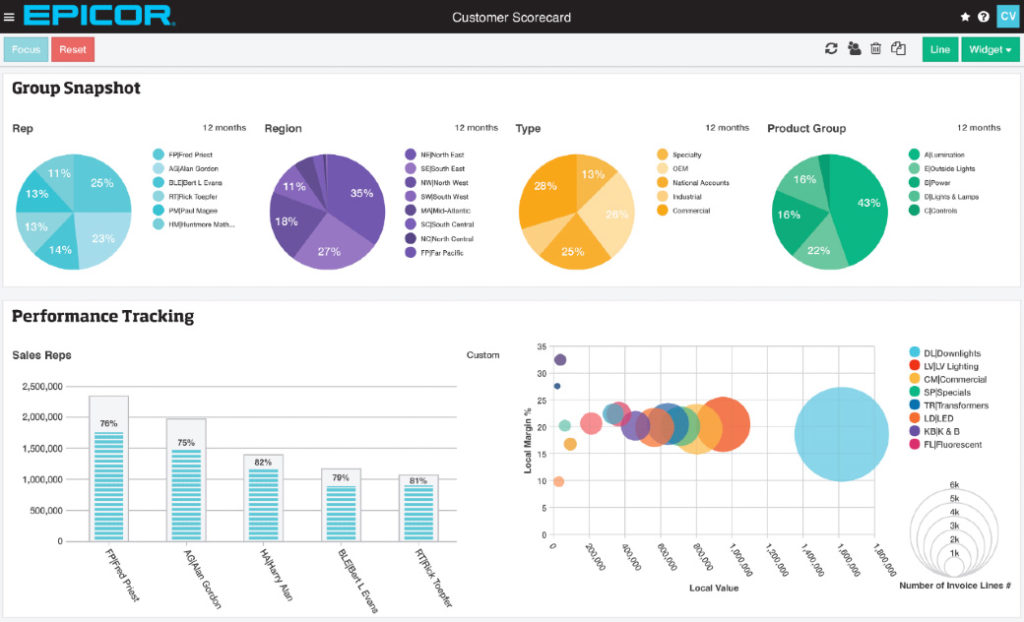 Using dashboards, companies can display key performance indicators (KPIs). However, setting up the dashboards can be challenging without the help of an IT department.
Epicor's mobile solutions allow users to assign work orders, manage inventory, review service history, complete billing processes, and more from any remote location.
Thanks to the Epicor Integration Cloud, powered by Jitterbit, companies can seamlessly connect this ERP to any in-house, on-premises, or cloud-based system.
With the right Shopify-Epicor integration, businesses can automatically synchronize sales orders, products, and pricing but also reduce order processing times and costs.
Blue Cherry
BlueCherry is an ERP solution by CGS suitable for large and midsize apparel manufacturers.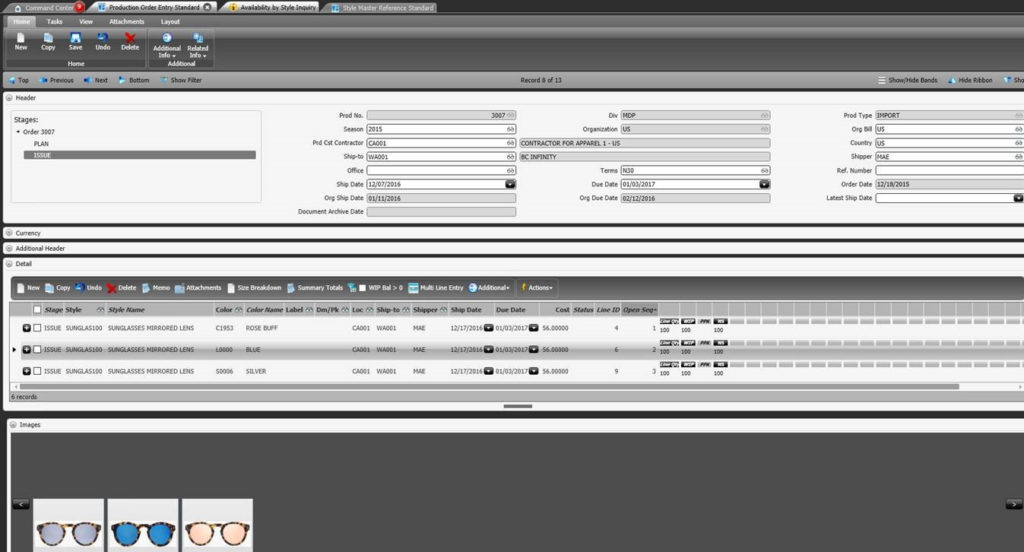 This omnichannel ERP software empowers companies to streamline processes, gain greater visibility, increase productivity and operational efficiency, reduce costs, and enhance competitiveness.
As an end-to-end fashion, footwear, and apparel ERP software, BlueCherry has business intelligence solutions that help users understand the most important issues, trends, and opportunities.
Fashion and apparel companies are faced with increasing supply chain complexities. BlueCherry is designed to help them overcome challenges and gain greater control of their supply chain.
BlueCherry integrates with the most popular ecommerce platforms such as Shopify, Magento, BigCommerce, and others. By connecting their ERP system to Shopify, users can automate several functions such as retrieving online orders, updating products and inventory, and immediately providing shipping information to their customers.
Do you even need an ERP?
Coordinating an array of business activities daily can be a real hurdle. Most people are just after collecting all pieces from your various apps and online systems. ERPs are typically large middleware systems that will require serious investment in both money and time to implement.
Ultimately, it's the driven, overwhelmed staff that identify a few key motivators for thinking they need an ERP:
A better way to work
Balance smarter hacks that allow some daily peace of mind.
Set work on autopilot and tame the everyday chaos.
Build a cohesive business with clever solutions to lighten workloads.
All your apps working together
Integrate data sources into a single view for better decision-making.
Expand the reach into any app connected to the internet.
Link existing apps to simplify the reliance on custom code.
Shopify Expansion Pack
Create unique experiences for teams and customers.
Take Shopify to new heights, faster than competitors.
Do more with the data and apps already in use.
Today's growing businesses don't need more bloated systems. They want to stay nimble and build quickly in case they need to shift their focus.
Get all your apps in one place with the only expansion pack exclusive to Shopify. That's MESA. We'd love to discuss how it could help connect your data or create that awesome experience for your brand. Give it a try with our 100% free 14-day trial.
Simplify the workload to manage your Shopify store in 2022
★★★★★
Get the playbook to help you get started with automation. See how other successful merchants found a better way to work →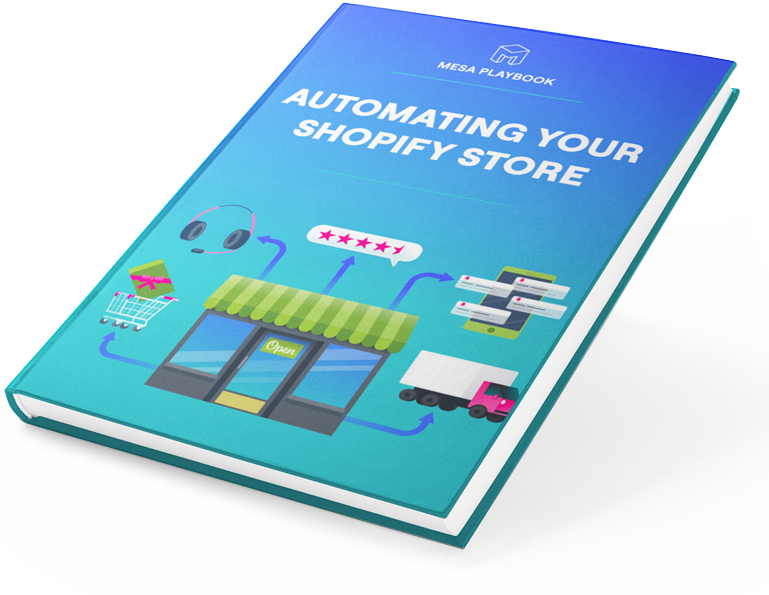 New Shopify Apps Weekly Newsletter
We watch for new apps then package them into an email sent every Tuesday.

Yopto
Marketing

Shopify
Commerce

Segment
Productivity

Infinite Options
Productivity

Slack
Productivity

Etsy
Commerce

Discord
Productivity

Bold Commerce
Commerce

Tiktok
Marketing

Airtable
Productivity