As your online store begins to scale, you may begin to weigh the benefits of Shopify Plus. Basic Shopify by itself is already the best platform that businesses can use to set up their ecommerce store.
There will come a time in your ecommerce journey when you'll want to scale. While your current Shopify plan did help your business in the beginning, you may now feel limited in its features.
Say hello to Shopify Plus, the most complete and scalable platform for ecommerce stores. It comes with all the tools that fast-growing brands need to crush their revenue goals and manage their business online store effectively.
However, you may still wonder if it's truly worth it to upgrade to Shopify Plus vs Shopify, considering that it costs $2,000 per month.
In this blog post, we'll cover some key benefits about Shopify Plus to help you out in your decision:
Let's get started.
Looking to save time by automating your Shopify store? Install MESA to add workflows that complete the everyday tasks of running your business.
What is Shopify Plus?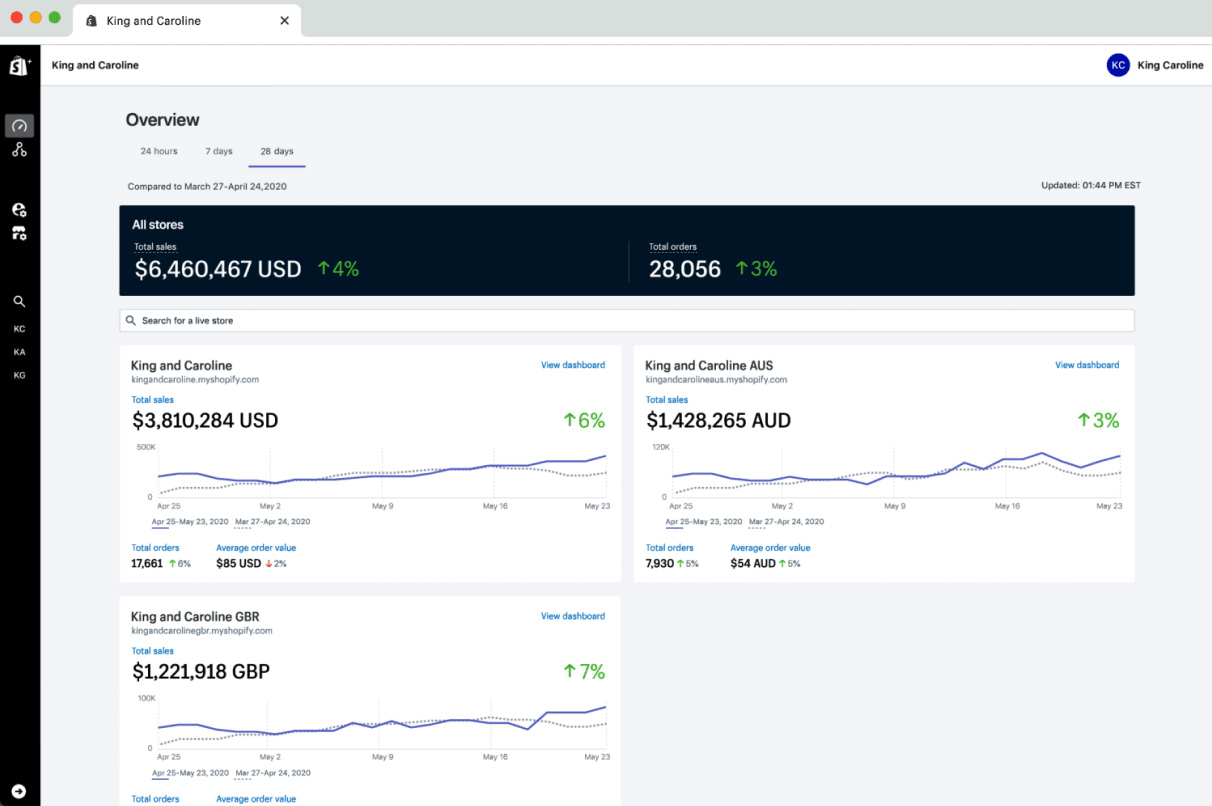 Shopify Plus is an ecommerce platform designed for high-growth merchants. It's used by some of the top stores in the world such as Kylie Cosmetics and MVMT.
It comes with various unique features that help your store scale and get to the next level fast. You'll be able to reach customers from anywhere and create a better experience for your online store.
Shopify Plus Benefits From Upgrading
You may wonder what differentiates Shopify Plus vs Shopify standard plans. This Shopify Plus Calculator is a great starting place to see a cost comparison and learn how much is Shopify Plus. Here are the benefits that come with making the switch from basic Shopify vs Shopify Plus for your ecommerce business:
Personalized Checkout Experience
The checkout experience is one of the most vital steps of the buyer journey. After all, it's what determines whether or not they'll become a paying customer.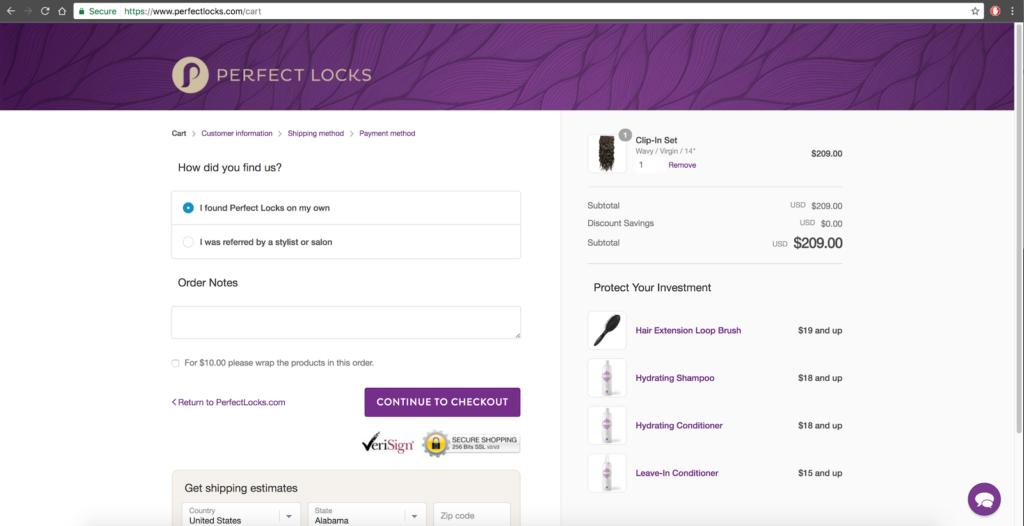 Thanks to checkout personalization, you'll be able to A/B test different designs to see which layout works best with your customers. As a result, your conversions and revenue will increase.
Access to Script Editor
A unique feature that comes with Shopify Plus vs Shopify is the Script Editor, which allows you to create personalized customer experiences and write your own scripts. You can run custom code on your online store without having to rely on third-party apps.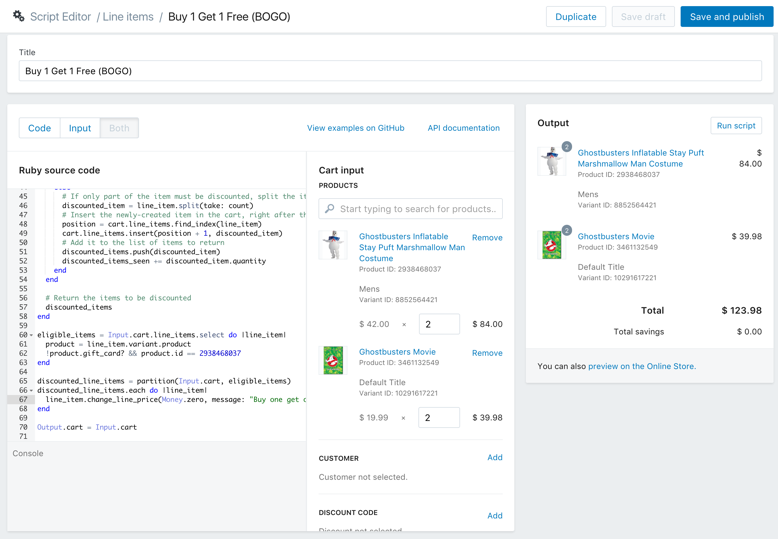 It's an ideal feature for brands that want to install custom functionalities to their store but can't find the right solution to set it up. Some of the unique features you can create with script editor include:
Special discounts such as BOGO offers and free shipping on customers orders
Special pricing and promotions for your best loyal customers
Reorder Shopify payments gateways
Product bundle offers
And more
In other words, the sky's the limit!
Lower Transaction Fees
One big complaint among basic Shopify merchants is the platform's transaction fees. With Shopify Payments, Shopify's credit card rates typically range from 2.2% – 2.9% plus an additional 30 cents per transaction.
It won't be the case with Shopify Plus, which doesn't come with transaction fees for merchants on the platform. You'll be saving money on your orders that you can reinvest into your online store.
Sell Across Different Platforms
The modern customer's attention is split across different channels. To maximize your sales and marketing workflows and boost your reach, it's therefore vital to target prospects on various platforms.
If you also sell on other channels such as eBay, Etsy, or Pinterest, Shopify Plus has you covered. It comes with integrations with countless platforms to market your products, so you can manage everything from the back-end.
Unlimited Bandwidth
As your store starts to grow, you'll naturally see an increase in web visitors. Your online store must be able to handle periods of high-traffic properly, especially during peak events of the year such as Black Friday.
Another benefit that comes with setting up your store on Shopify Plus vs Shopify is its unlimited bandwidth. Your online store will be able to handle huge traffic spikes (up to 500,000 hits per minute) and up to 6,000 checkouts per minute.
24/7 Customer Service and Support
Lastly, a vital perk that comes with Shopify Plus is its excellent customer service. Shopify has a special support team for Plus merchants to make sure that your migration goes smoothly.
During the launch, the platform provides you with a launch partner to set up your website. As you run your store, you'll also have a merchant success manager for any questions you may have during the process.
Shopify will take the extra mile to make sure that you get the most out of their Plus plan. You can rest assured that your store is in good hands.
Shopify Plus Benefits: 7 Questions to Ask Yourself
While Shopify Plus comes with many benefits for merchants, it's not for everyone. There are specific things to consider before you hop on the platform, such as your store's revenue, staff needs and how much is Shopify Plus.
As you discuss with your team, ask yourself these questions to figure out if upgrading to Shopify Plus is the right choice for your brand:
1. Are You Making Over $1m in Annual Revenue?
Once you hit over $1M in annual revenue, it's the right time to switch to Shopify Plus vs Shopify. The platform is designed for scalability so you can continue to grow your ecommerce store.
Not only does Shopify Plus make more sense from a growth perspective, but it's also better for you when it comes to financial costs. Let us explain.
In our complete guide to Shopify Plus, we broke down how much Shopify Plus to showcase how low the revenue is for migrating to Plus. At $300,000 in monthly revenue, for example, Shopify Plus takes out around 1% of your revenue.
The additional features that come with the platform justify the costs since they help you scale quickly and generate an excellent ROI.
2. Do You Need More Support on Your Ecommerce Journey?
Running an ecommerce business is very demanding. You can learn a lot by doing everything on your own, but if you're serious about scaling your business, you're going to need the help of experts to help you reach your goals.
When you upgrade to Shopify Plus, the platform will partner you with experts that help you from start to finish. Plus merchants get access to the Shopify Plus Academy, which includes various live workshops and training videos to help you run your store more efficiently.
As a bonus, you can join Shopify Plus' Facebook community to meet like-minded individuals. You'll get to learn from other entrepreneurs that were once in your shoes.
3. Are You Planning to Target an International Market?
The goal of every online store should be to reach an international market and grow their exposure.
According to a report by Mckinsey, over 1.8 billion people will become consumers by 2025. That's going to represent an annual spend of $30 trillion annually!
If you're looking to widen your customer reach, Shopify Plus has all the tools you need. For no extra cost, you can create nine clone online stores with different languages and currencies.
That way, you'll be able to adapt to wherever your customers are and boost sales.
4. Are Repetitive Tasks Preventing You From Focusing on New Growth Opportunities?
As your company grows, you may notice that you have less time on your hands. Some tasks (such as order management or shipping) may become repetitive, and you may find it challenging to focus on your business.
Shopify Plus comes with various tools that automate repetitive actions so you can focus on more vital areas of your store. Some of these automation features include:
Shopify Flow
Flow is an automation tool for Shopify merchants that allows stores to automate tasks through workflows. You can use it to manage various operations, such as order management, buyer experience, and promotions.
To set up your automation workflows, you can either use a template from Flow's library or use the visual builder. It's going to save you plenty of time in advance and boost your productivity.
Shopify Flow also integrates with your favorite apps, such as Smile.io, Asana, Trello, and more. 
Launchpad
Launchpad, on the other hand, automates your front-end processes such as product launches or marketing campaigns. It helps your Shopify Plus prepare for any promotional event while saving yourself time.
For example, you can select specific products for your upcoming sale. Or, choose a collection discount to go into effect once a sale starts. You also gain access to themes to give your campaigns a more branded feel.
That said…even if your store isn't ready yet for Shopify Plus, you can still benefit from using automation for repetitive tasks. Our software MESA, for example, is available to all Shopify stores and can automate every step of the ecommerce process from logistics to customer experience. It comes with a library of Shopify workflow extensions:
5. Does Your Store Sell Wholesale?
If your business sells wholesale products, Plus has a wholesale channel that allows stores to reach B2B customers as well.
The setup is quick and easy. You can already use your product, customer, and inventory data to create a store for your wholesale customers. From there, you just have to integrate your 3PL and other systems your business needs.
6. Are You Looking for a Customized Checkout Solution?
As mentioned earlier, Shopify Plus comes with various features that make it simple to customize your checkout process. If you're looking to update your checkout page for customers, then upgrading to the platform is the way to go.
It's all thanks to Shopify's checkout.liquid file, that allows you to change the look, shipping methods, and payment options on the checkout page. It's going to give you full control over branding and functionality.
7. Is Your Staff Outgrowing Your Staff Accounts?
The more your company grows, the more people you'll have to hire to your team.
Shopify vs Shopify Plus allows you to host a maximum amount of 15 staff accounts. That's something good to aim for stores starting out, but eventually, your staff number will get past that number.
The good news is that Shopify Plus comes with an unlimited amount of staff accounts. You won't have to worry about your staff's growth as you manage your store on the platform.
Final Thoughts: Are Shopify Plus Benefits Worth the Cost?
Shopify Plus is the perfect platform for ecommerce brands that want to scale and grow their business. However, before you migrate, you'll need to have a discussion with your team on whether it's the right choice to make.
Your annual revenue and your current goals will determine if Shopify Plus is the right platform for you. If you're a seven-figure store, Plus' features will help you get to the next level. If you're just starting, it's better that you focus on growing your business until you can migrate. You can still take advantage of Shopify vs Shopify Plus, such as its vast choice of integrations to manage your store.
New Shopify Apps Weekly Newsletter
We watch for new apps then package them into an email sent every Tuesday.