Slack vs Discord have many similarities. But branding makes these apps distinct.
Slack brands itself as a "digital HQ," primarily targeting business users. Discord calls itself a "place to hang out," tailor-made for building online communities. But in all other Slack alternatives, having a Discord server is the most popular.
If you run both apps side-by-side, you'll find an uncanny resemblance in the interface. Both have workspaces, channels, and chats on the left sidebar. You can make audio and video calls using both apps.
Slack offers more integrations. But you can always use a tool like MESA to integrate Discord into Shopify and other platforms. MESA will allow you to set up trigger-based workflows, helping you best use your communication app, Slack vs Discord.
In this article, we focus on the differences between these apps to help you decide the best communication app for your ecommerce business.
Main differences between Slack vs Discord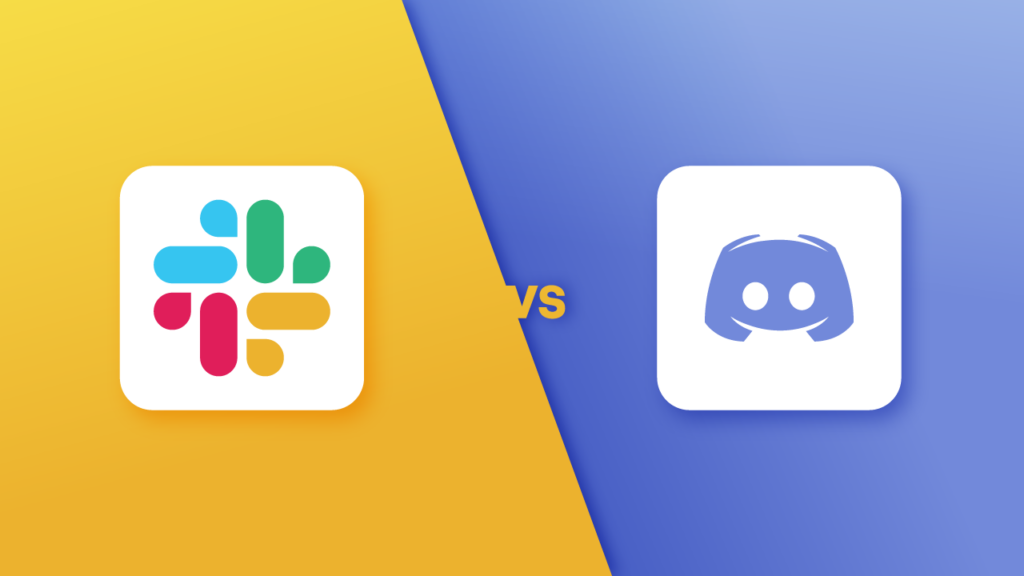 Slack is the perfect messaging tool for text-based business communication. On the other hand, Discord's strengths lie in its audio and video communication features.
Your internal team members are most likely to be using Slack vs Discord users are community members in your niche.
But this hasn't stopped people from building communities on Slack or conducting business on Discord. Here are some more key differences between Slack and Discord:
Mentions and reactions: Slack has a separate section for "Mentions and reactions," where you can view your tagged posts and reactions to your posts. Discord lets you track mentions in the inbox but doesn't allow tracking reactions.

File upload size on the free plan: Users with a free Discord account can upload files up to 8MB. Slack users get a total storage space of 5GB for file sharing on the free plan, with no per-file size limit.

Save posts for later: Slack lets you save posts so you can read them later. Unlike Slack, Discord has no feature to save messages for later. Discord makes up for it by providing unlimited message history.

Call quality and control: Using Discord for a voice call offers better audio call quality. It has dedicated video and voice channels where you can even adjust the volume for all audio call participants. Slack has Huddles, but the feature is limited to two users per call on Slack's free version.

Participant limit on calls: Slack's paid plans allow adding up to 50 users for Huddles (Slack's take on voice and video calls). Discord group voice calls allow for adding up to 5,000 users simultaneously. Also, video chat is available throughout all Discord servers.

Integrations: Slack has a massive integration library. You'll find integrations for almost all popular business apps. However, Discord doesn't integrate with nearly as many apps as Slack.
Exploring Slack
Rating: ★★★★☆ (4.5) (G2)
Price:
Free

Pro: $7.25 per month per user

Business+: $12.50 per month per user

Enterprise Grid: Custom pricing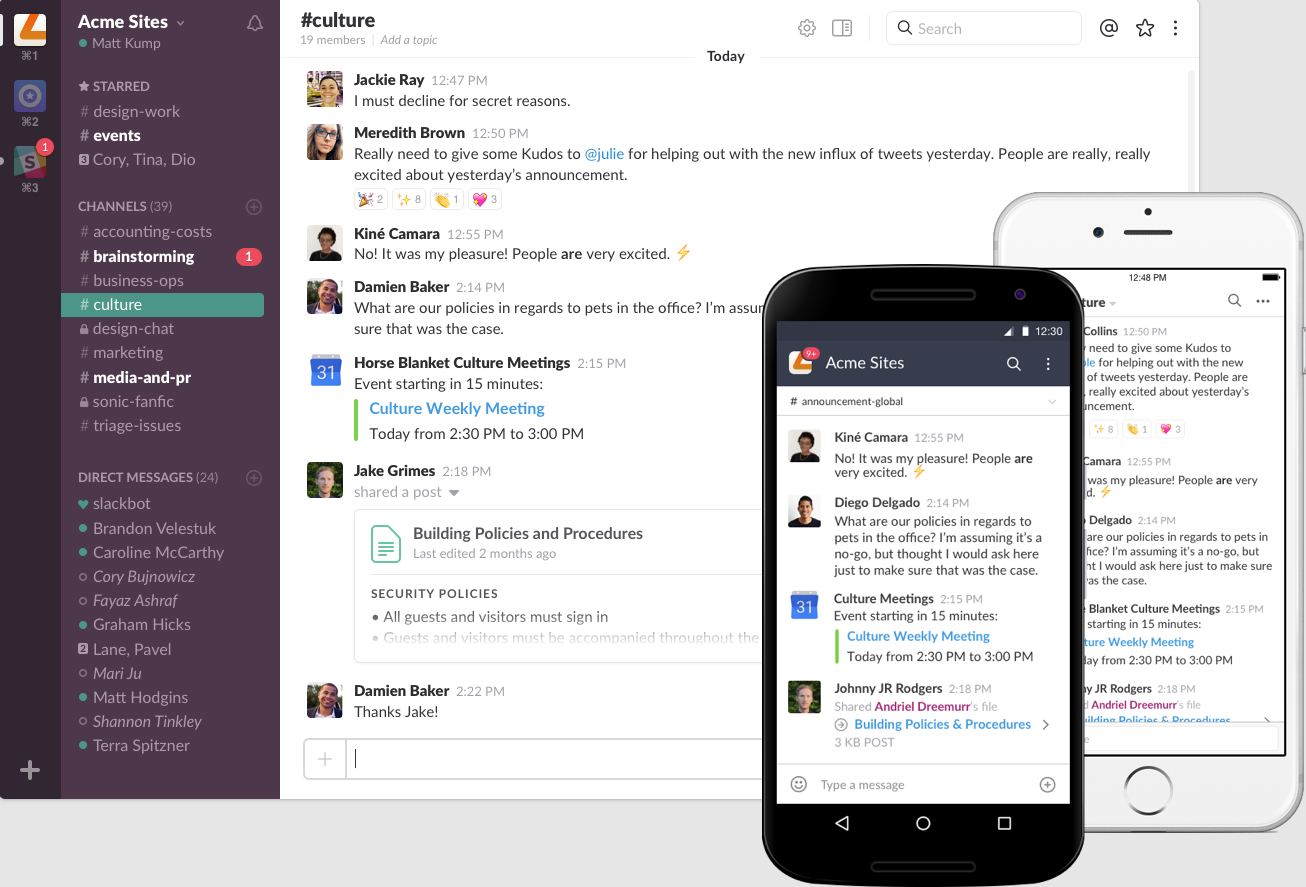 Slack is the most popular collaborative platform for businesses.
As an ecommerce business, you can integrate Shopify into Slack. Once set up, you can create workflows to send a Slack message when products go out of stock or when a product with infinite options is purchased.
The most appealing parts of Slack are its design and feature set.
Stewart Butterfield (Slack's founder) partnered with MetaLab to design Slack using the color scheme of a video game. That's why Slack has a playful feel.
A Slack workspace is designed with features focused on business use cases. For example, Slack direct messages (DMs) are confined to a specific workspace. Paid Slack users can access these DMs. However, you can't access DM logs on Discord.
Exploring Discord
Rating: ★★★★☆ (4.7) (GetApp)
Price:
Free

Discord Nitro Classic: $4.99 per month (or $49.99 per year)

Discord Nitro: $9.99 per month (or $99.99 per year)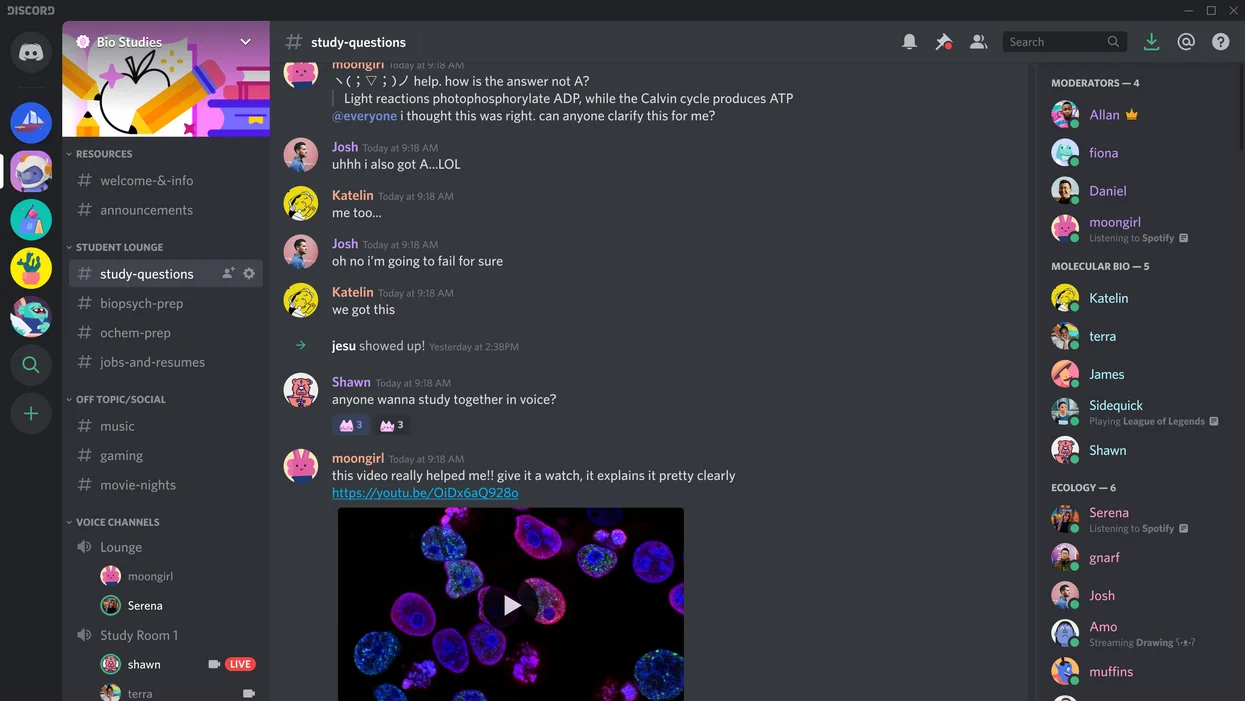 Discord is the perfect communication platform if you want to build a community. Most Discord features are free, though you get some minor upgrades, like higher-quality screen sharing, by upgrading to Nitro.
The app started as an app that allowed gamers to start an audio chat and leave it running while they play a game. The early focus on gamers is why Discord has robust audio and video features.
However, there are a few downsides to using Discord. For example, the documentation was created with gamers in mind. You might find the documentation confusing if you aren't familiar with gaming language.
Discord doesn't offer many integrations, but MESA can fix that problem. For example, even without a Shopify integration, MESA can help automatically send a Discord message when a tagged product is purchased.
Benefits of a great messaging tool
There are four benefits to a great messaging tool:
Real-time communication
Communicating via messaging apps is far easier than using emails—be it with your team on how the new marketing campaign is going or with your community on chatting with them during an event.
It also adds the option of voice and video communication within the same tool. Direct messages and tagging users make it easier to separate conversation threads among team members.
Improved engagement
Messaging app help get all team members to engage in decision-making. Quick polls make choosing between options easier, and a group chat makes it possible to get their opinions without any meetings.
Similarly, instant messaging apps can get your community members to weigh in, share their thoughts and engage with your campaigns. For example, you can host an Ask Me Anything session with your community to answer your loyal users' questions.
Great for project management
Using a messaging tool can help complete projects faster. Instead of going back and forth over emails, use real-time messaging to collaborate on projects.
You can automate notifications for overdue tasks, communicate with your entire team in real-time, distribute reports to stakeholders, and increase your project completion rate.
For example, you can configure an automation workflow that shares real-time updates about the project status in a relevant channel so all team members know who's working on what part of the project right now.
Creates insightful records
After a great employee leaves, communication records offer great insights into how they manage tasks, resources, and projects. These records are a great reference for future decision-making.
For example, suppose Paul from HR had an excellent way of dealing with unhappy employees. You can go back to Paul's communication records to understand his way of finding mutually agreeable solutions.
Why automate the messaging experience?
Communicating via messages can easily turn into a burden if you opt for doing everything manually. That's where the magic of automating messages comes in. Automation can remove the back-and-forth between different software and takes away the pressure to be 24/7.
You can set up different automation workflows for your use cases. You might've noticed some of them above. Here are a few more:
You can send an automated community message on Discord when you restock a product. Similarly, you can receive alerts on Slack or Discord when a customer raises a ticket.

Instead of hiring someone specifically to monitor inventory levels, you can set up automated reminders via Shopify. These reminders are sent to the relevant Slack or Discord channel so the relevant person can place an order or mark the item as sold out.
Do more with messaging tools without the work
Both Slack and Discord offer features for effective communication. But it's best to use the tools for the purpose they were created for.
Slack offers a robust collaboration environment for businesses. Discord is a great platform for building thriving communities.
Shopify store owners can integrate Slack or Discord with their store using MESA. MESA allows you to connect Shopify with Slack or Discord seamlessly, whichever message app is your final choice—so why not give MESA a try?
New Shopify Apps Weekly Newsletter
We watch for new apps then package them into an email sent every Tuesday.