Automating Shopify subscriptions has become a popular practice amongst ecommerce businesses in recent years. And for good reason. Automation simplifies so many parts of the subscription process without the need for manual intervention.
Subscriptions provide recurring revenue, increased lifetime value, and improve inventory management. Additionally, automation streamlines the business operations of stores, as they are able to process orders and renewals efficiently and consistently.
As such, automating Shopify subscriptions offers substantial benefits to both business owners and subscribers alike.
In this blog post, we'll show you how to automate more workflows on Shopify to maximize revenue with subscriptions.
Ready to save time by automating subscriptions? Install MESA to easily manage subscription orders for your business.
How automation can help grow subscriptions
Automating Shopify subscriptions can be a powerful tool for growing your business. It enables store owners to acquire new customers by offering convenient subscription options and encouraging repeat purchases.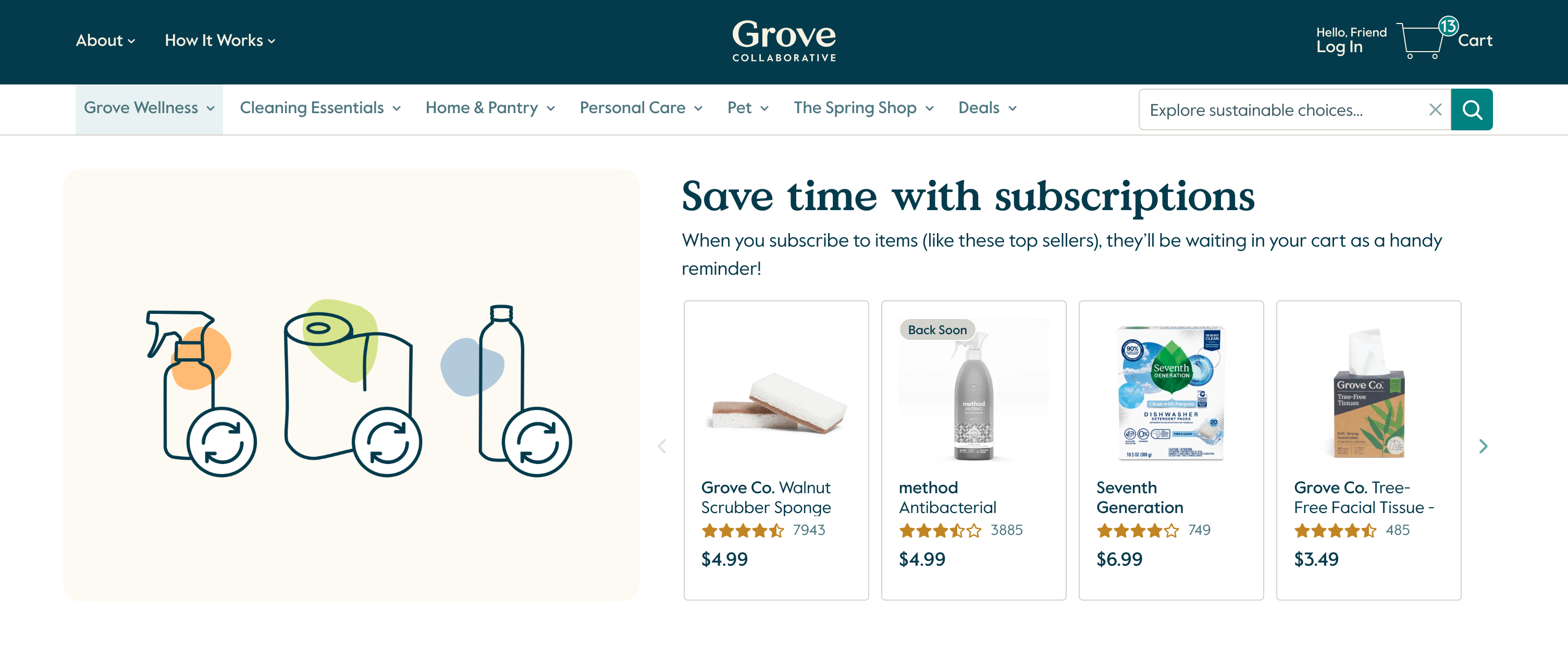 At its core, automation helps businesses in two ways:
Increases efficiency
Automation can help businesses streamline processes and reduce manual tasks, allowing employees to focus on higher-value activities and improving overall efficiency.
Enhances scalability
By automating tasks such as order status notifications or low stock alerts, businesses can handle increasing levels of demand without having to add significant overhead costs or personnel.
Additionally, automating Shopify subscriptions can help store owners better manage their inventory, as they have a clear view of the number of products that will be sold each month. As such, automation not only makes the subscription process more efficient and hassle-free for customers, but it also helps businesses increase revenue and grow their customer base over time.
Automating subscription order management processes
With the right automated subscription order management, you can save time and costs, improve accuracy, ensure scalability, have the right customization and flexibility, and enhance the entire customer experience.
By tracking customer purchases, businesses can monitor usage and better understand their customers' needs. To ensure timely delivery, it's essential to automate order fulfillment processes and keep customers informed about their order status and delivery updates through automated emails or texts.
Streamlining the process for returns, refunds, and cancellations enables customers to easily cancel subscriptions if necessary while reporting on customer purchases allows businesses to monitor order frequency and make informed decisions about product offerings and pricing.
Automation can significantly enhance customer retention, providing various benefits such as predictable revenue from recurring purchases, more cost-effectiveness than acquiring new customers, increased customer lifetime value, and strengthened brand loyalty. Additionally, continual feedback and data collection can improve customer satisfaction and retention rates over time.
How to set up subscriptions on Shopify
With the right setup in place, you can create a successful subscription product that keeps customers coming back.
First, choose the right subscription app. No matter what, to accept subscription orders, you have to use a 3rd-party app. Shopify does not treat subscription products differently than one-time products. However, it does treat subscription orders differently in the admin. You will see order frequency and associated products with each subscription.
Next, create unique subscription products. For easier inventory tracking, it's best to have unique product listings for one-time vs. subscription orders. Regardless of how the app presents the product to shoppers, reporting and forecasting inventory demands will be clearer to the business. From the product admin page, check the option for "Sell product as a subscription only"
Setup a discount code for your subscription products. A common tactic to increase subscription is by offering the item on a discount. Create or edit a discount in the admin by specifying the "Purchase type" to either subscriptions or one-time products.
Be sure to have the right payment gateway setup. Subscriptions can only be ordered if you're using Shopify Payments, PayPal Express, Authorize.net, or Stripe.
It's worth reading Shopify's documentation on Subscriptions. They're strict in what is allowed during checkout, so it's best to understand all limitations before choosing a subscription app.
Integrating Shopify subscription apps
Once you have chosen the right subscription app for your business, it's time to set up and launch your subscription products. This involves setting up a product page, creating payment plans and discounts, and configuring automated billing.
Here are a few aspects that you'll need to consider when choosing a subscription app.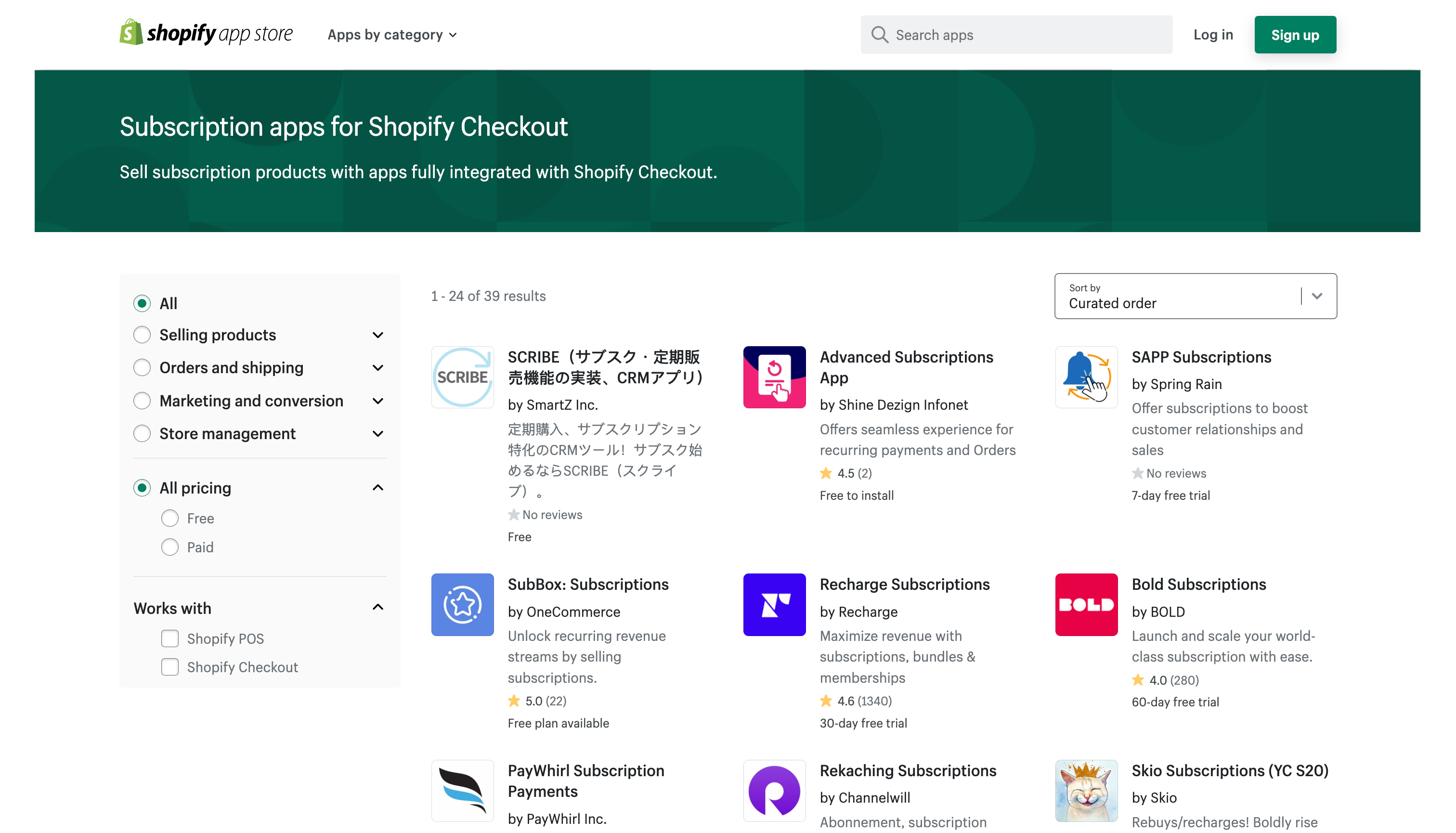 Choosing the right subscription product is key, as you'll need to decide on which one is best suited to your business and your business needs.
Here are a few of the popular Shopify subscription apps: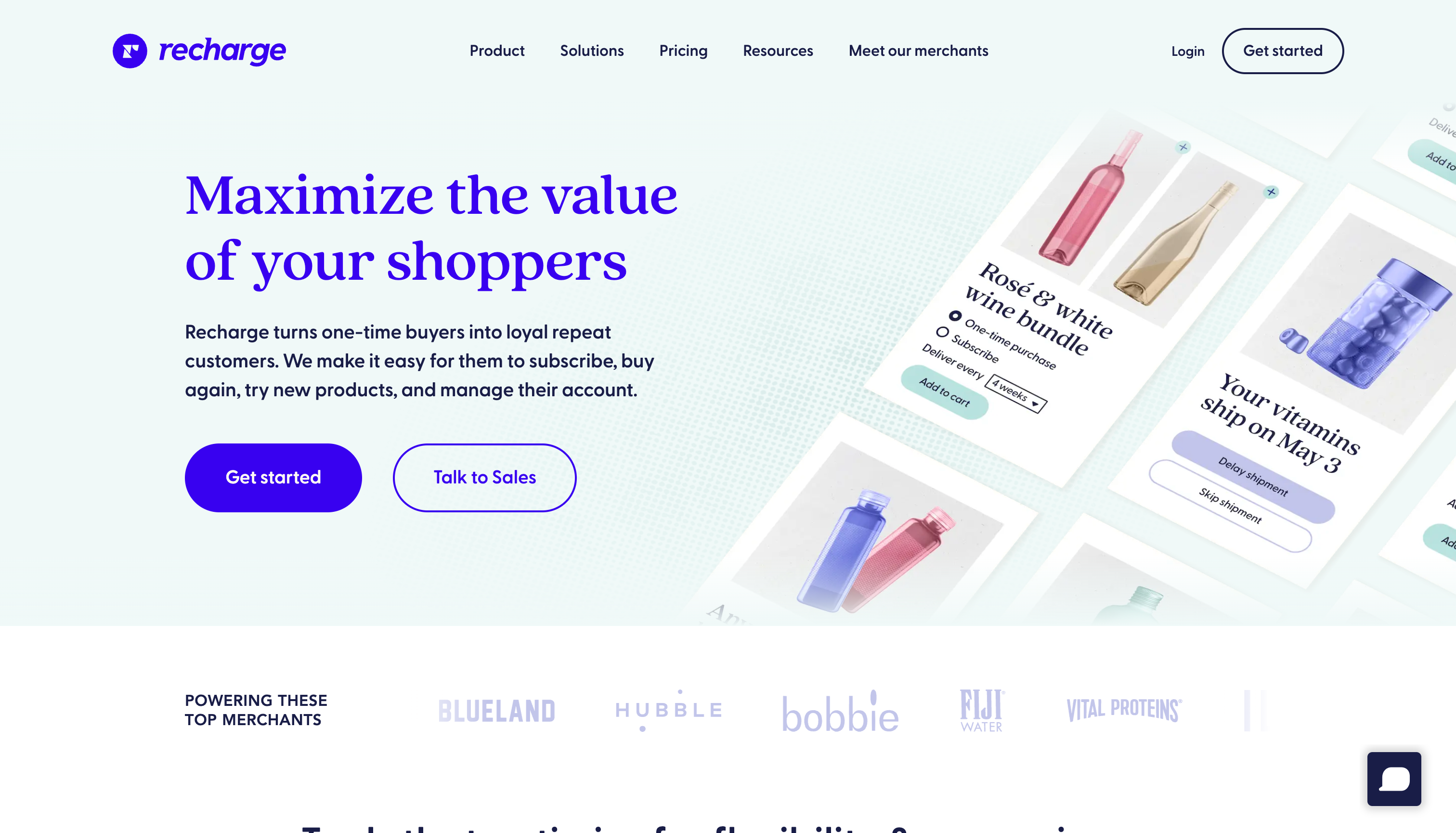 Recharge Subscriptions: Great for automating subscription businesses, strong analytics, and reports, custom pricing plans. Ideal for businesses that are exclusively subscriptions.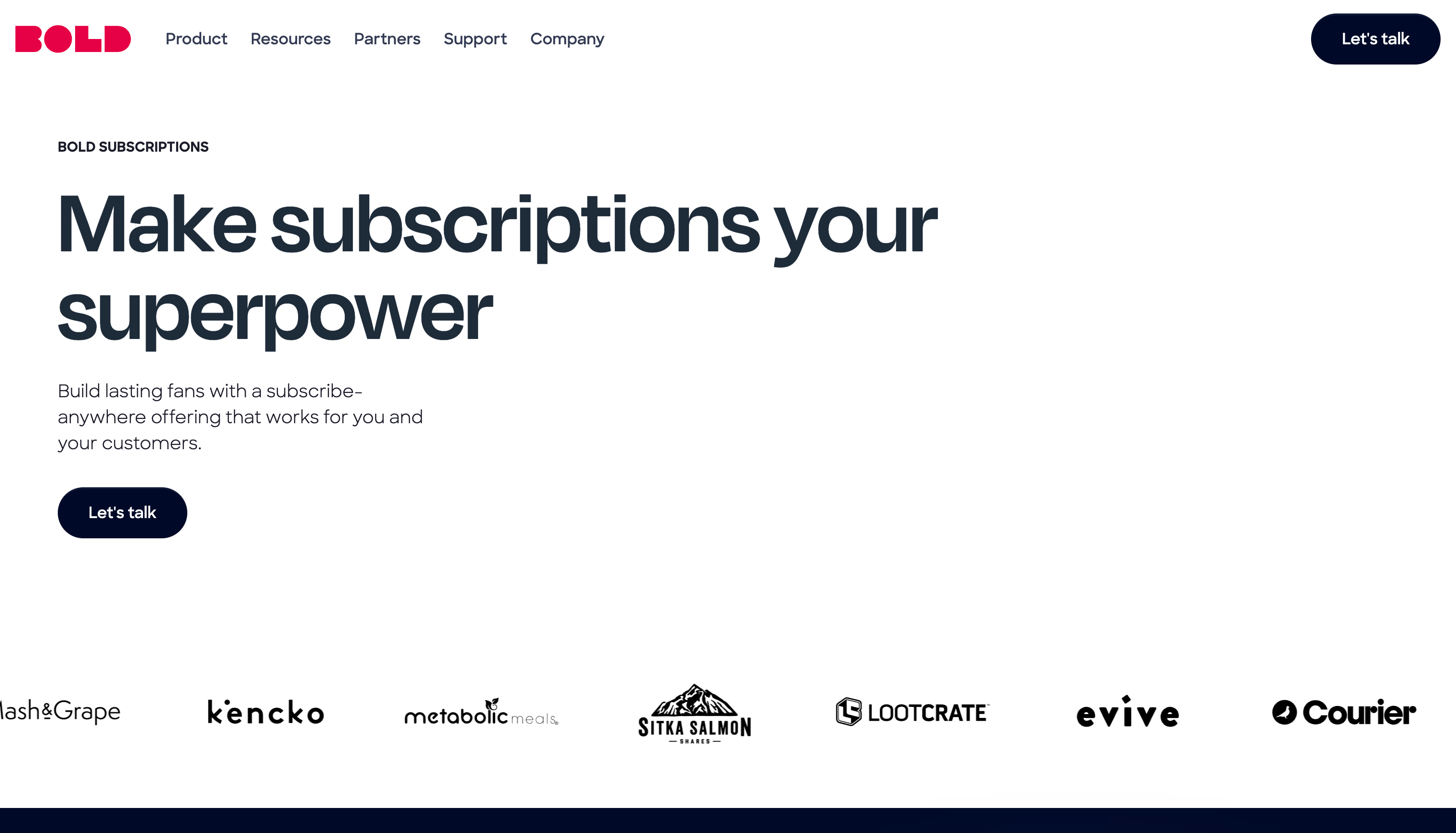 Bold Subscriptions: Automated billing and payment integrations, customizable plan options. Great for when you support both subscriptions and one-time orders.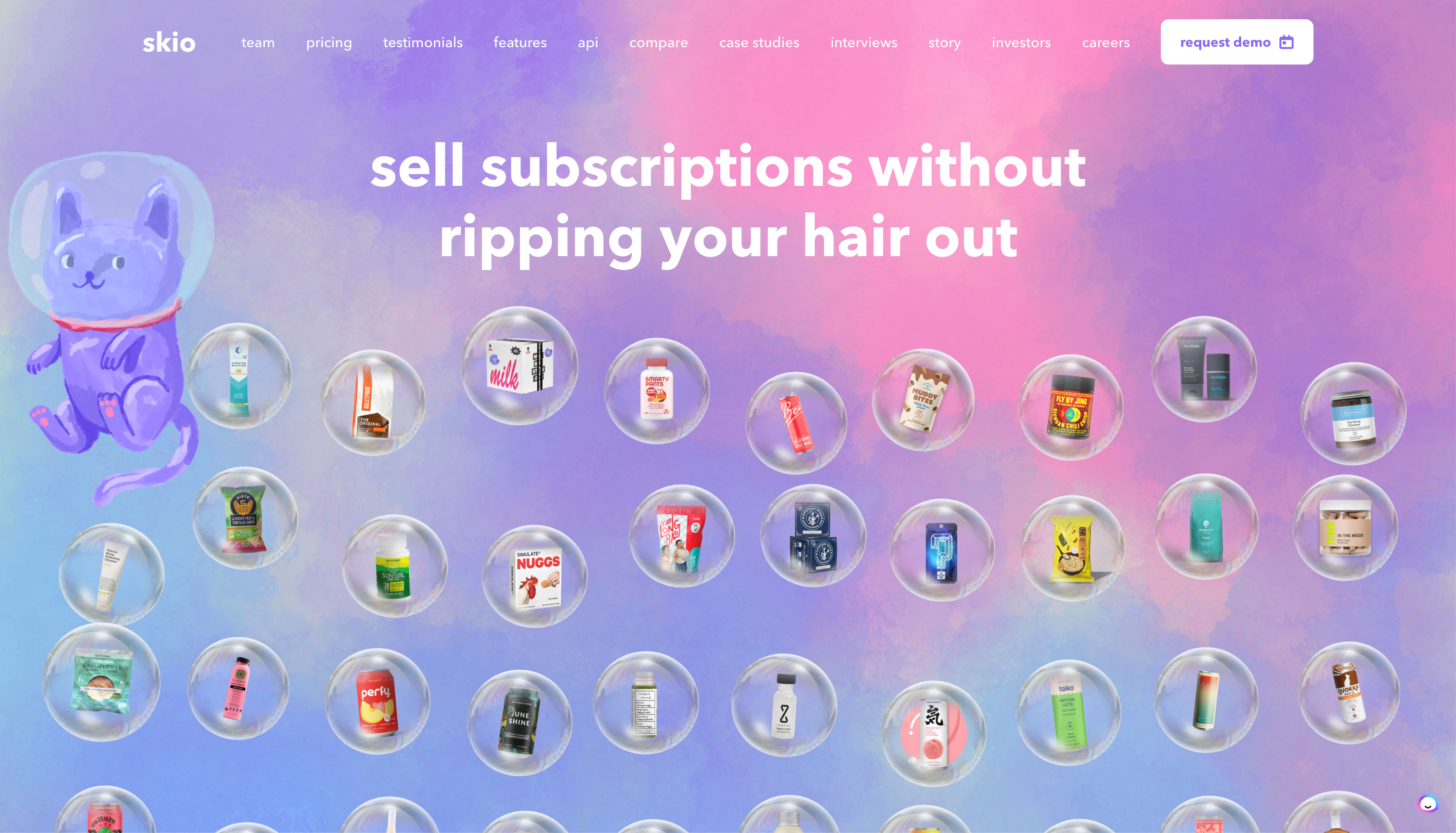 Skio Subscriptions: Easy-to-use interface, provides step-by-step guides on setting up subscriptions, and loyalty programs. Great option if you're migrating from Recharge.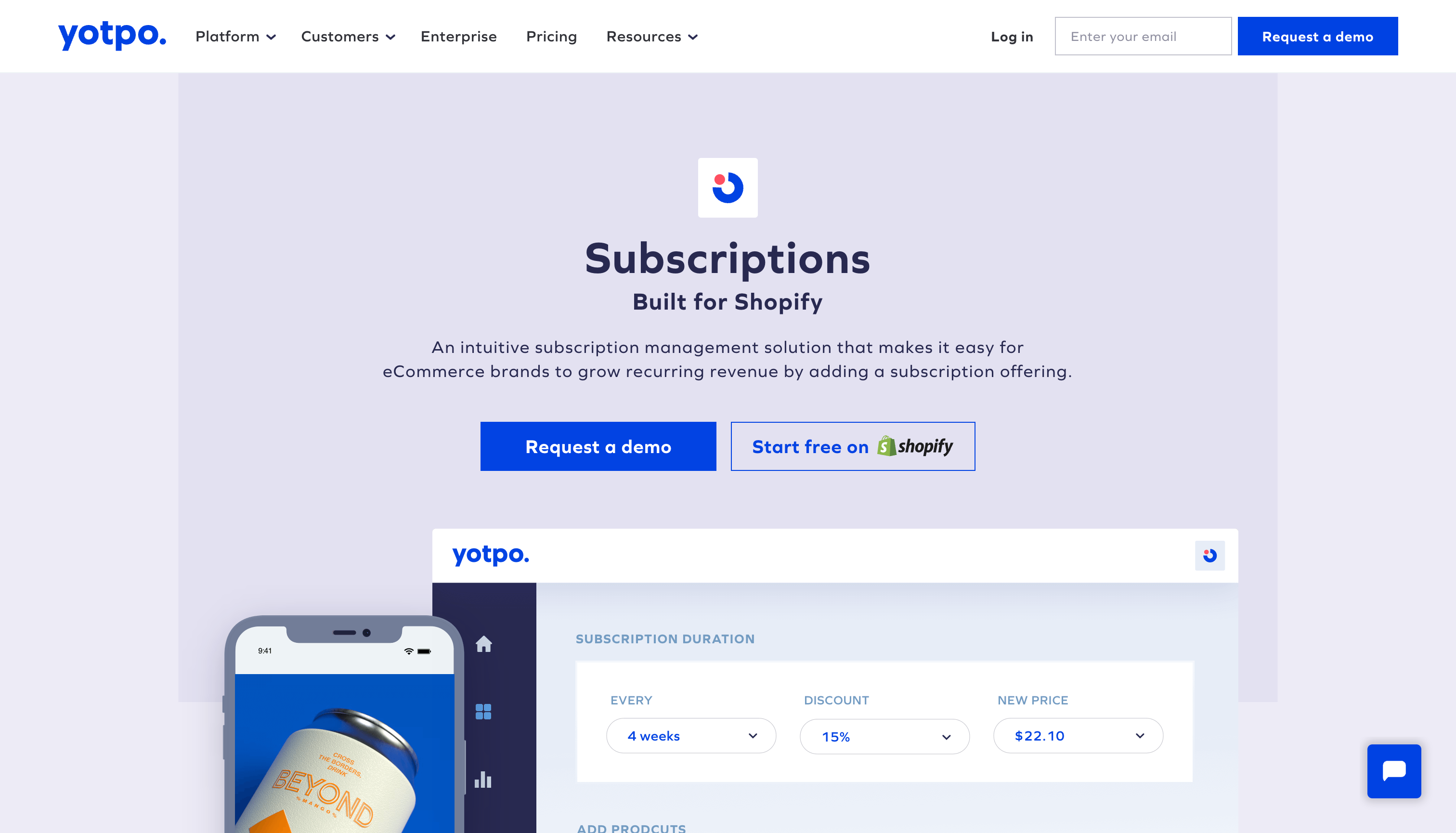 Yotpo Subscriptions: Customizable payment plans, automated billing, and insights into customer behavior, plus loyalty programs. Ideal if you're already using other Yotpo apps.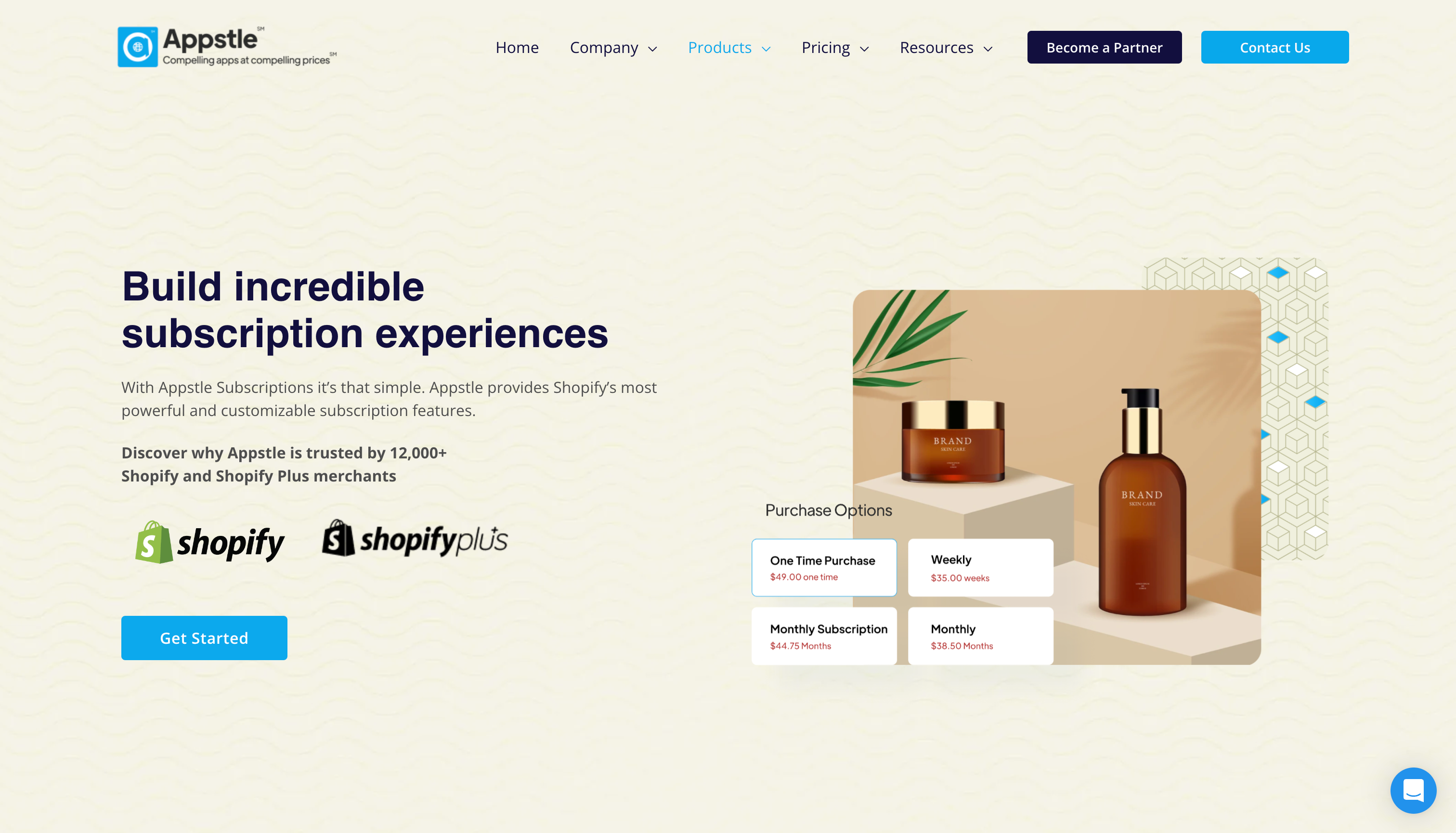 Appstle Subscriptions: Easy-to-use interface, drag and drop features, real-time insights into customer behavior. Great for businesses getting started with subscriptions.
Key features for subscription apps on Shopify
Once you've taken a look at the various options, you'll need to consider the following:
Customizable: Make sure you choose an option that provides customizable options to customers. This includes the ability to skip or pause subscription deliveries, change the delivery frequency, or choose from different product options or quantities. This is important for helping improve customer satisfaction and retention.
Terms and conditions: Be sure to communicate your subscription terms and conditions clearly to customers. Make sure to include pricing, delivery schedules, and cancellation policies. If you don't, you may end up confusing your customers and breaking down trust.
Analytics: Keep a close eye on your subscription performance using analytics tools. These tools will track key metrics such as subscription renewal rates, customer acquisition costs, and customer lifetime value. If used correctly, this data can assist in optimizing your subscription offering and pricing over time.
Integration: Be sure to choose an app that can integrate with your other apps. This includes email marketing platforms and customer service tools.
Once you have chosen the integration for your store, it's time to look at designing the perfect user experience.
The best recurring order experience
Creating a successful subscription product starts with designing an excellent user experience. This means creating a product page that clearly outlines the features and benefits of your subscription offering, as well as detailed explanations of how it works.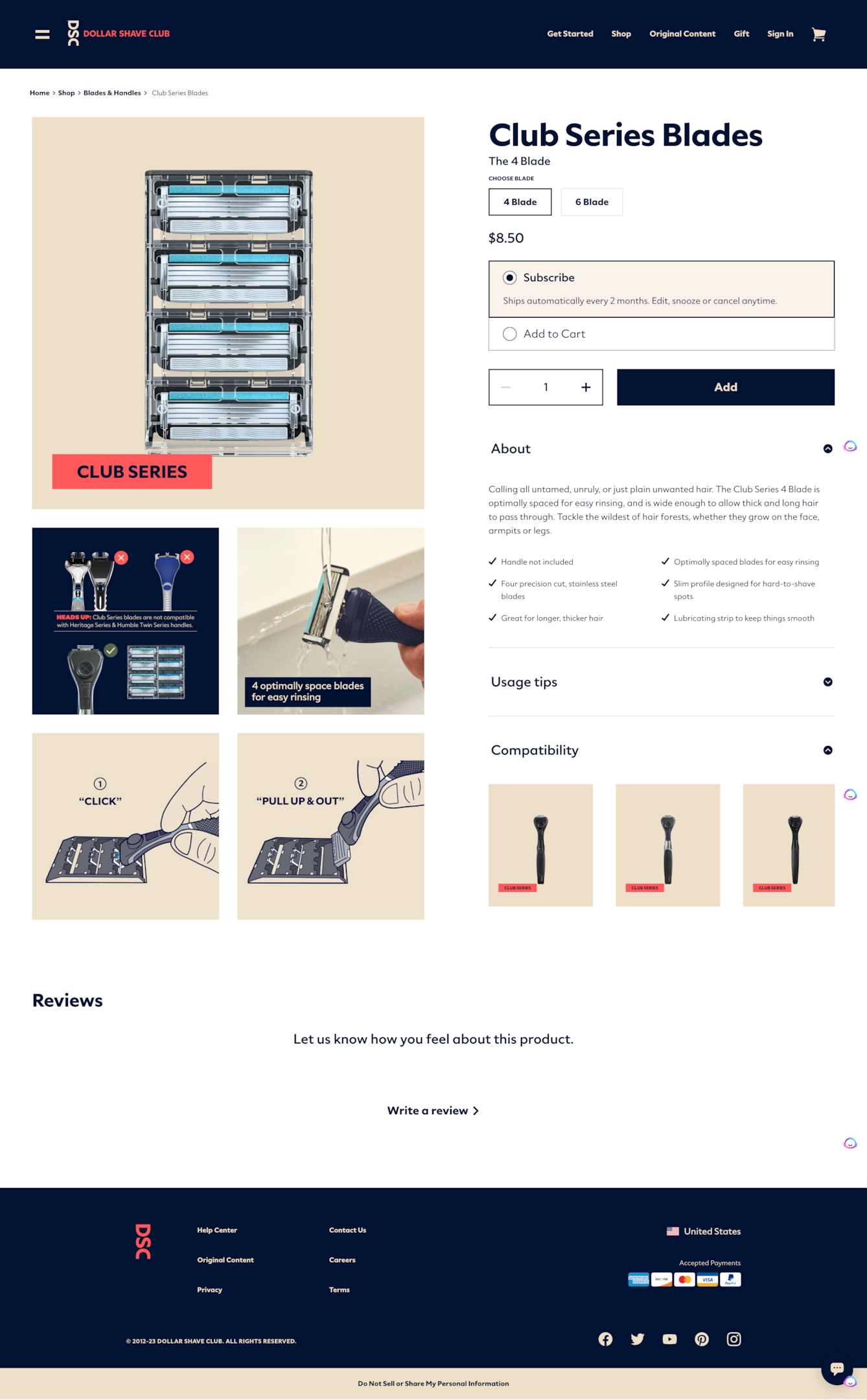 Another important aspect to focus on is convenience.
Make sure that you provide customers with an easy way to sign up for and manage their subscription. This could include automating billing so they don't have to manually pay each month, providing them with options to update or cancel their subscription at any time, and making it quick and easy for them to access their account information.
Next, to continue refining your product ensure that you listen to your customers.
Make sure you listen to feedback
It's critical that you listen to feedback from your customers. Ask them for their opinions on the subscription product and how it works, as well as any suggestions they may have for improving it. This will help you spot any potential issues or areas that need improvement before they become major problems.
When it comes to customer retention, getting feedback is essential. This will help you stay on top of any changes or improvements that need to be made so that you can keep them coming back and earning more revenue each month.
One way that you can do this is with a post-purchase survey.
You can ask customers to rate their experience and answer any questions you may have about the product. This will help you gain valuable insights into what is working for them and also identify any areas that need improvement.
Start incorporating automated workflows
Now that you have a subscription product up and running, it's time to start incorporating automated workflows. This will help ensure that your customers have the best overall experience when managing their subscriptions.
You can also set up automated loyalty programs for returning customers, such as giving discounts or offering additional benefits after a certain number of purchases. This will not only help you keep your customers engaged but will also encourage them to stay subscribed longer.
By designing an excellent user experience and incorporating automated workflows, you can create a successful subscription product and keep your customers coming back.
By following the tips outlined above, you can create a successful subscription product that customers will love. You'll have an easier time retaining customers and ensure your business is generating recurring revenue each month.
Recurring orders wrap-up
Automating Shopify subscriptions is a great way to increase customer retention and maximize recurring revenue. By setting up automated billing, loyalty programs, and order management processes, you can ensure that customers have a smooth experience when managing their subscriptions.
With the right setup in place, you can create a successful subscription product that keeps customers coming back for more.
If done correctly, you'll be able to automate Shopify subscriptions with ease and start generating more recurring revenue from your store. With the right approach and the right tools in place, you can create a successful subscription product that will keep customers coming back for more.
Automate your Shopify subscriptions with MESA
With MESA, you can fully automate the subscription process, including billing, order management, customer notifications, and loyalty programs. We offer real-time insights on customer purchases so that you can understand usage patterns and make informed decisions about product offerings and pricing.
MESA's automated workflows help simplify the entire subscription process for both you and your customers. Sign up for MESA today and experience all the benefits of automating Shopify subscriptions without any hassle or headaches.
New Shopify Apps Weekly Newsletter
We watch for new apps then package them into an email sent every Tuesday.