If you're like most Shopify merchants, you're using Recharge to power your subscription products. The latest update from Recharge utilizes the Shopify checkout APIs. As a result, some functionality may be different than before, such as Recharge tagging Shopify orders automatically. Luckily for you though; MESA can help with your Recharge automation!
In this post, we'll look at some of the best ways to automate your Recharge sales and billing processes. Stay tuned – it's about to get nerdy up in here!
If you're new to subscriptions, be sure to read our ultimate guide to subscriptions.
Recharge Automation Walkthrough Video
Listen and watch our resident Recharge expert walkthrough the latest Recharge Shopify updates and how it affects your Recharge automations; specifically Recharge tagging. Check it out:
With Recharge, customers previously had to use Recharge's checkout interface (separate from Shopify) when placing a subscription order through Recharge.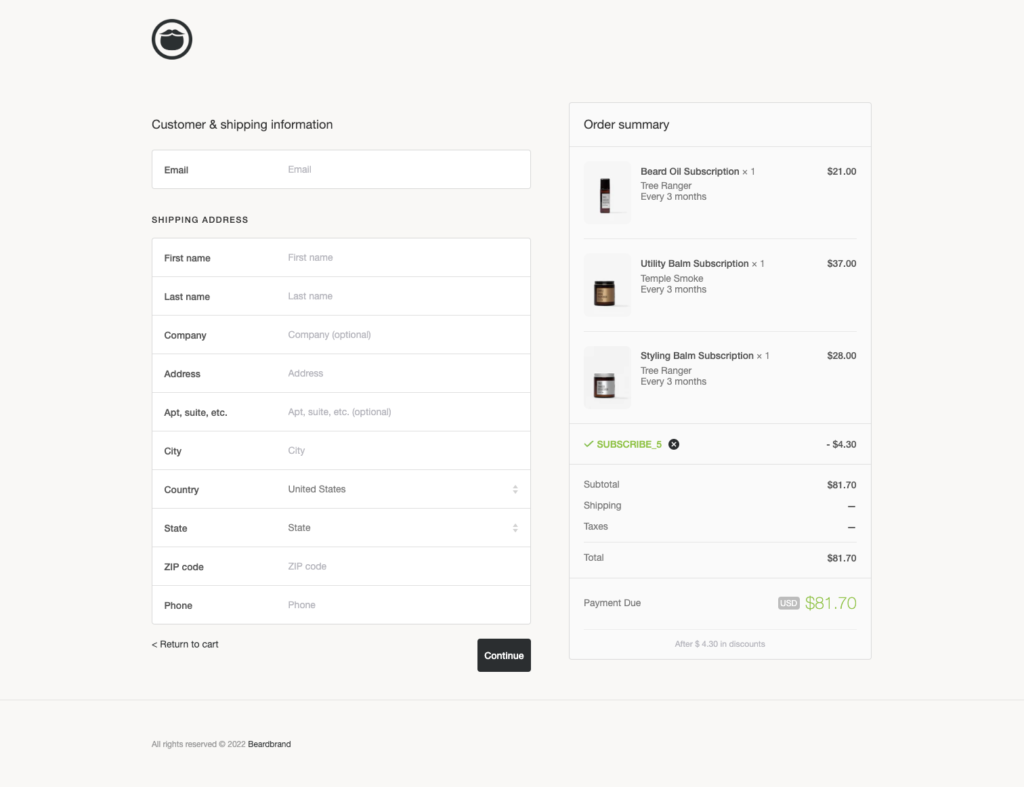 Recharge on Shopify allows customers to purchase subscriptions directly through their native checkout interface, rather than using an external site. This update was an effort to create a unified checkout for both subscriptions and one-time products.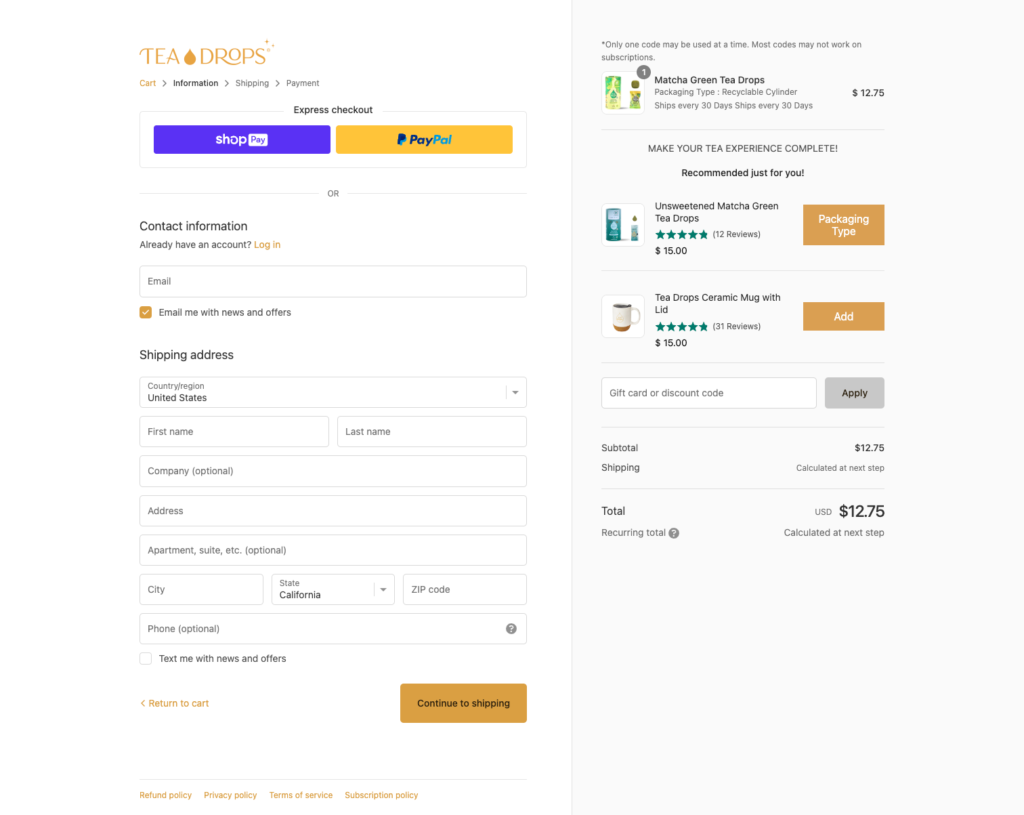 The differences mostly affect merchant capabilities within the Shopify admin and how Shopify handles subscription orders from Recharge. Important things to note:
Overrides – SKU or product titles cannot be customized in Recharge to be a different value than what is listed in Shopify.
Cart notes – These are displayed on orders originating from checkout, and shown on every recurring order.
There are many more technical differences between both, so here's Recharge's breakdown for Recharge Hosted technical capabilities.
Migrating Recharge to Shopify Checkout
Any Shopify store that is not currently using Recharge Legacy can install the new Recharge app using the Shopify checkout integration through the Recharge app listing on the Shopify App Store.
Shopify merchants that installed Recharge before November 2nd, 2020, can maintain their Recharge Legacy app instance.
However, if you are on Recharge Legacy with existing subscribers and want to migrate to the new Recharge app, you will need to make a request to Recharge for review. They let you know if converting to the Shopify Checkout Integration aligns with your business needs and if you meet the basic eligibility requirements.
Recharge Tagging Workflows
When you migrate to Recharge with the Shopify Checkout Integration, there are workflows you'll want to add.
Automatic Shopify tagging was/is a feature of Recharge that's no longer available in the Recharge Shopify Checkout Integration. This is incredibly useful for organizations to differentiate between regular Shopify orders and subscription orders. Managing this work manually isn't a good use of anyone's precious time.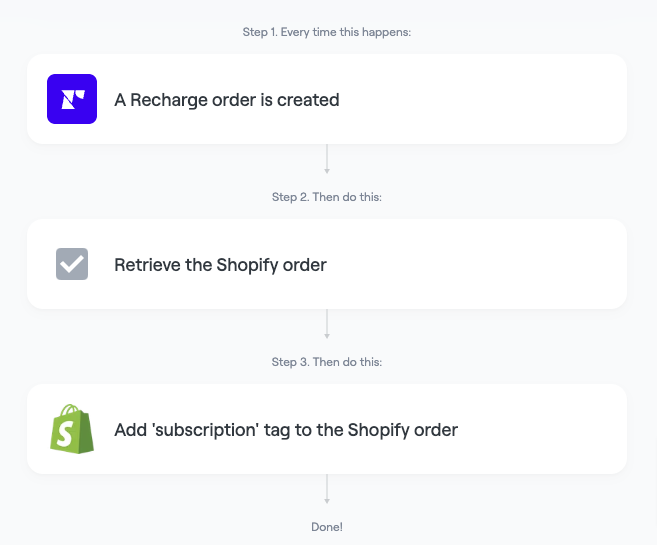 Previously in Recharge, any subscription order imported to Shopify would have the tag "Subscription" applied to the Shopify order. If it was the first order in the subscription, the tag "Subscription First Order" would automatically be applied as well.
Now, Recharge subscription orders are treated as normal Shopify Orders when they're created. This gives the merchant full customization capabilities from the Shopify Orders page and apps using the Shopify Orders API.
Supercharging Your Recharge Automations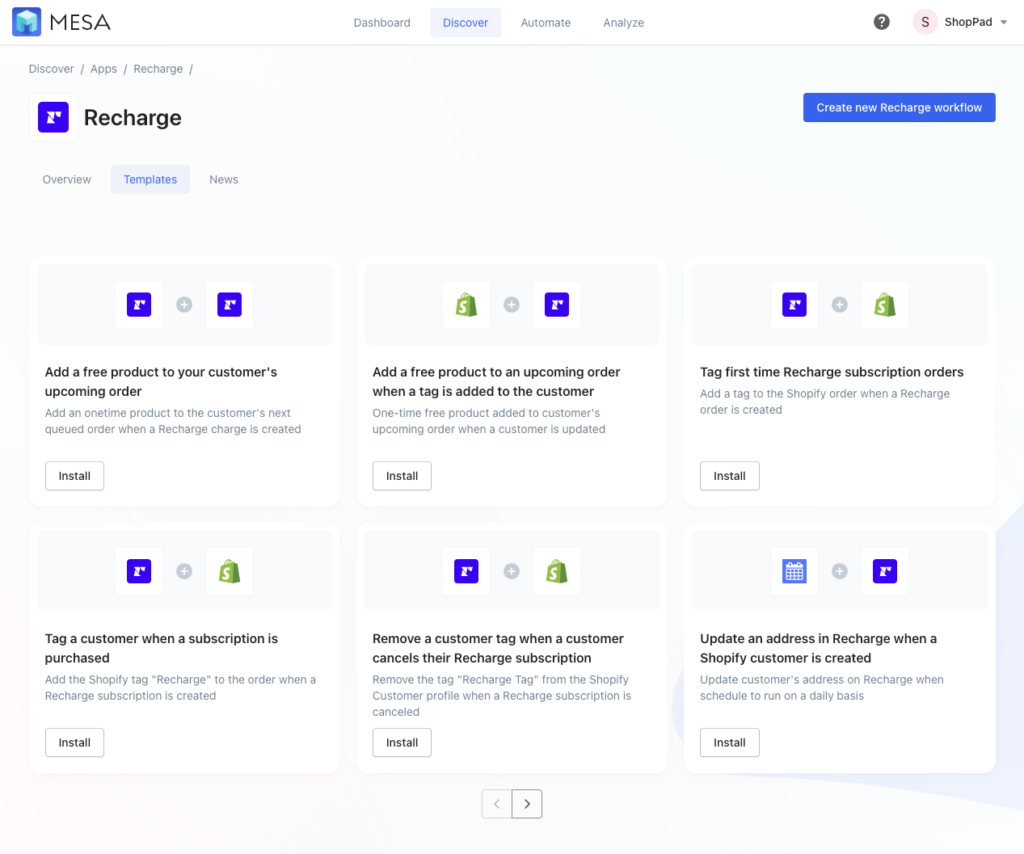 MESA is the easy-to-use Shopify automation app that connects Recharge and Shopify to make Recharge automations that save you time. Get back to your most important work and focus on customers instead of handling manual tasks like tagging orders. 
Auto-tag Shopify orders from Recharge subscriptions
This workflow template will tag orders with "subscription" any time they're processed with Recharge.
Remove a customer tag when a Recharge subscription is canceled
Cancellations happen. When they do, automatically remove the customer tag so they don't appear in your subscription lists or future orders.
Additional Recharge integration templates are available with MESA.
Personalize Your Recharge Automations
MESA templates are completely customizable to fit your exact needs. Our team of experts can even make workflows for you that meet your exact requirements. Don't take our word for it…
We love MESA! Not only were we able to create customized workflows that saved us from using a developer, but the customer support team is amazing. They're responsive, always willing to help, and able to troubleshoot several issues quickly. Highly recommend!

Tea Drops
If you're like most Shopify merchants, you probably spend a lot of time tagging orders manually. This process can be tedious and time-consuming, but it's necessary to keep your business running smoothly. However, there is a solution that can automate this process for you and save you time and hassle. Contact MESA today to have our experts make your Recharge automations so you can focus on what's important – your customers!
New Shopify Apps Weekly Newsletter
We watch for new apps then package them into an email sent every Tuesday.