Growing businesses need tools that can help scale operations with increasing customer demand. Shopify is an excellent ecommerce platform, and its greatest strength comes from connecting it with apps that can extend Shopify's functionality.
An ecommerce integration platform helps connect Shopify with other solutions like fulfillment software, customer support, email marketing solution, social media platforms, EDI integrations, inventory management system, and various sales channels.
Connecting Shopify using an ecommerce integration platform helps create an information bridge between your online store and third-party systems. Shopify and your software solutions can exchange data frictionlessly, allowing you to automate tasks and streamline business processes.
You'll find many integration platforms on the internet. Research is important to ensure you don't get stuck with a platform that doesn't work for you.
Here are five ecommerce integration platforms you might want to consider and what they offer.
Did you know we can build your integrations? Contact our Managed Services team to learn more.
Key Features for eCommerce Integration Platforms
An ecommerce integration platform can provide a wide range of features, depending on the specific platform and the needs of the business. Some common features that are often included in integration platforms for ecommerce businesses include:
Inventory management: The ability to manage and track inventory levels, reorder products when stock is low, and set up automated alerts to notify of low stock levels.
Order management: The ability to view and manage customer orders, including tracking order status, processing payments, and managing shipping and tracking information.
Payment processing: The ability to process and accept payments through a variety of methods, including credit cards, debit cards, and other payment processors.
Customer relationship management: The ability to store and manage customer information, including customer profiles, purchase history, and contact information.
Marketing and promotion: The ability to create and manage marketing campaigns, email campaigns, and customer loyalty programs, and to track the performance of these campaigns.
Shipping and logistics: The ability to create and manage shipping methods, and to integrate with shipping and logistics providers to track and manage shipments.
Analytic and reporting: The ability to generate reports, such as sales reports, customer reports, and inventory reports, and to use this data to gain insights into the performance of the business.
Multi-channel sales: An integration platform allows your business to sell through different channels, such as social media, marketplaces, in-store and more.
It's worth noting that different platforms may offer different levels of functionality, so it's important to research and compare platforms to find the one that best meets the specific needs of your business. There are even companies that provide development services to help implement them if you need that.
6 Best Integrations Platforms for Shopify Stores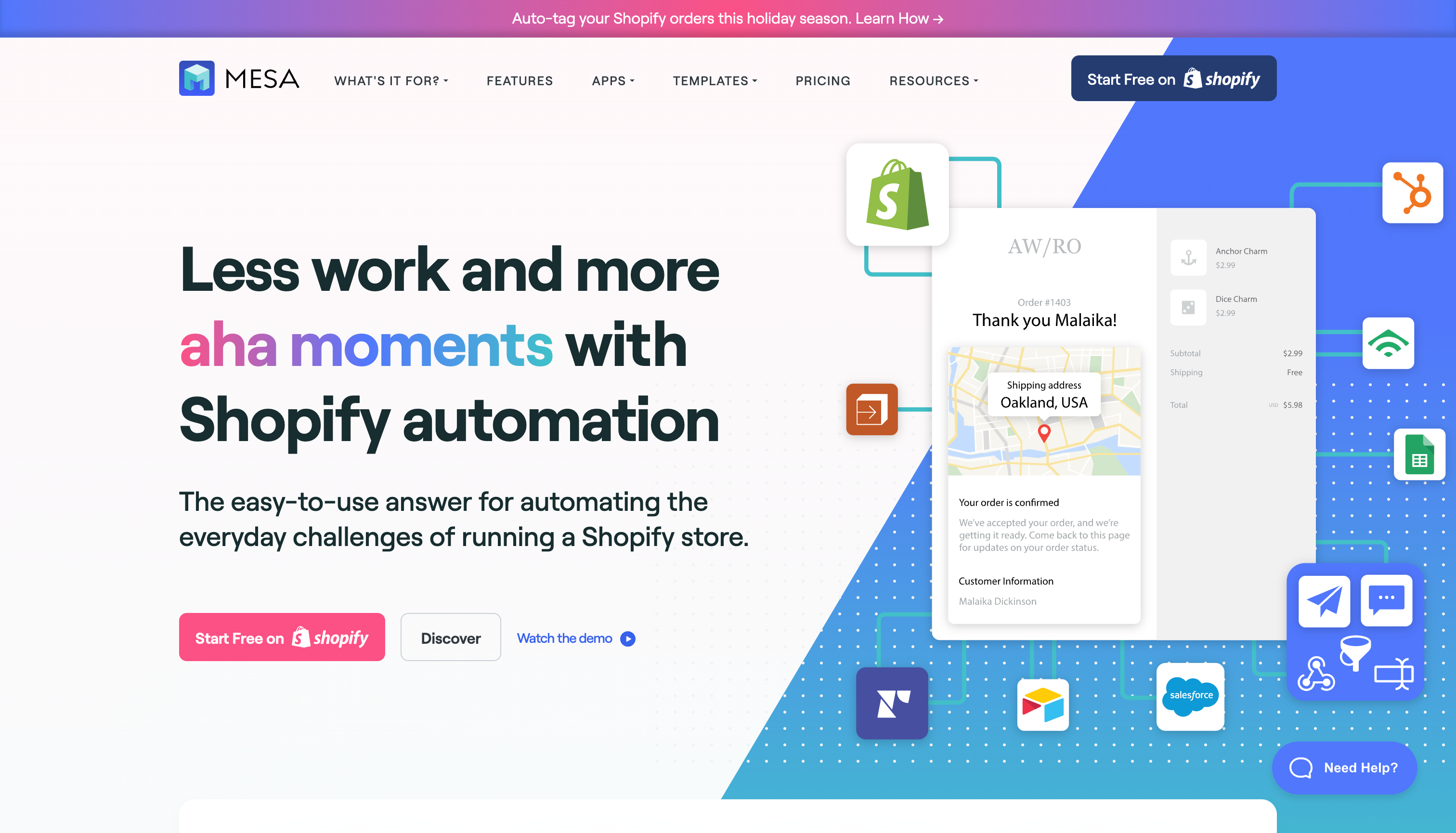 MESA
The only Shopify automation platform tailor-made for Shopify businesses. MESA allows automating workflows across business functions, including customer satisfaction, marketing automation, SMS marketing, shipping management, and inventory management.
70% of business leaders report spending roughly 45 minutes to over 3 hours daily on mundane tasks. If you're in a similar situation, hand over the repetitive tasks to MESA. That way you can focus on more strategic parts of your business.
Automating workflows also reduces the probability of human error. MESA gives you peace of mind about data accuracy without tying up human resources in manual data entry.
MESA has a user friendly interface that helps you to build trigger-based workflows. Each time a trigger occurs, MESA performs a specific action.
For example, you can add order details to Airtable automatically each time an order is placed in your online stores.
Check out their library of customizable templates for other popular ecommerce integrations.
UiPath
UiPath is a powerful low-code developer tool that helps enterprise-level businesses streamline processes. With UiPath, you can add AI technologies that help discover opportunities, test applications, and report workflow results with detailed analytics.
You'll need to set up the Shopify API and UiPath API and then manually integrate the two platforms. This makes UiPath not exactly beginner-friendly. It's more appropriate for CIOs who require a reliable, sophisticated integration solution for their backend business needs.
UiPath has a free plan with basic functionality. However, the paid plans can be expensive for small store owners.
Coupler
Coupler is an integration platform that helps create workflows to connect everyday business apps, including an ecommerce website.
You can select a source (such as a Shopify store) and destination (like Google Sheets) for the customer data. Then configure Coupler to migrate data on a set schedule automatically.
For example, you can configure Coupler to pull order, inventory, and customer data from Shopify and add it to Google Sheets, or Google BigQuery. This allows you to avoid exporting tons of files and spending time manually populating data into your data warehouse.
Coupler lets you do all this with zero coding skills. The platform doesn't limit the number of sources and destinations, no matter which subscription plan you're on. Additionally, you can migrate data to as many apps as needed.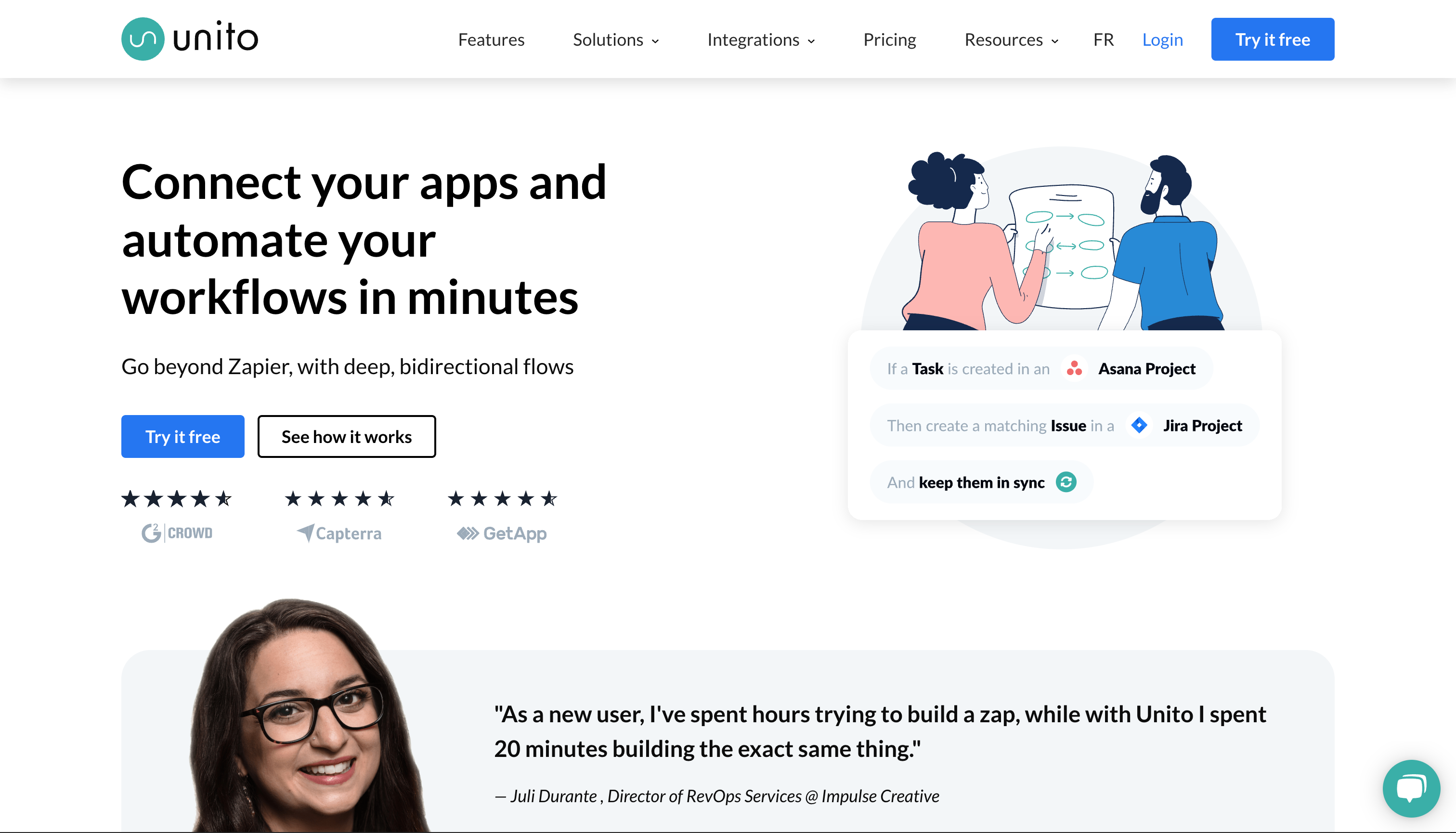 Unito
Unito is a two-way integration platform for online business apps with plenty of customization options. Unlike most other platforms on the list, Unito doesn't use action steps. Instead, you can configure Unito to sync data between two apps using a set of rules and field mappings.
For example, you can sync data between Shopify and Asana so that specific fields within Asana are automatically updated with real-time information from Shopify. Once you set up two-way sync, the apps continually exchange information without any triggers.
Also, you don't need coding skills to set up two-way sync. Unito's easy-to-use query builder helps you build integrations more logically than writing code.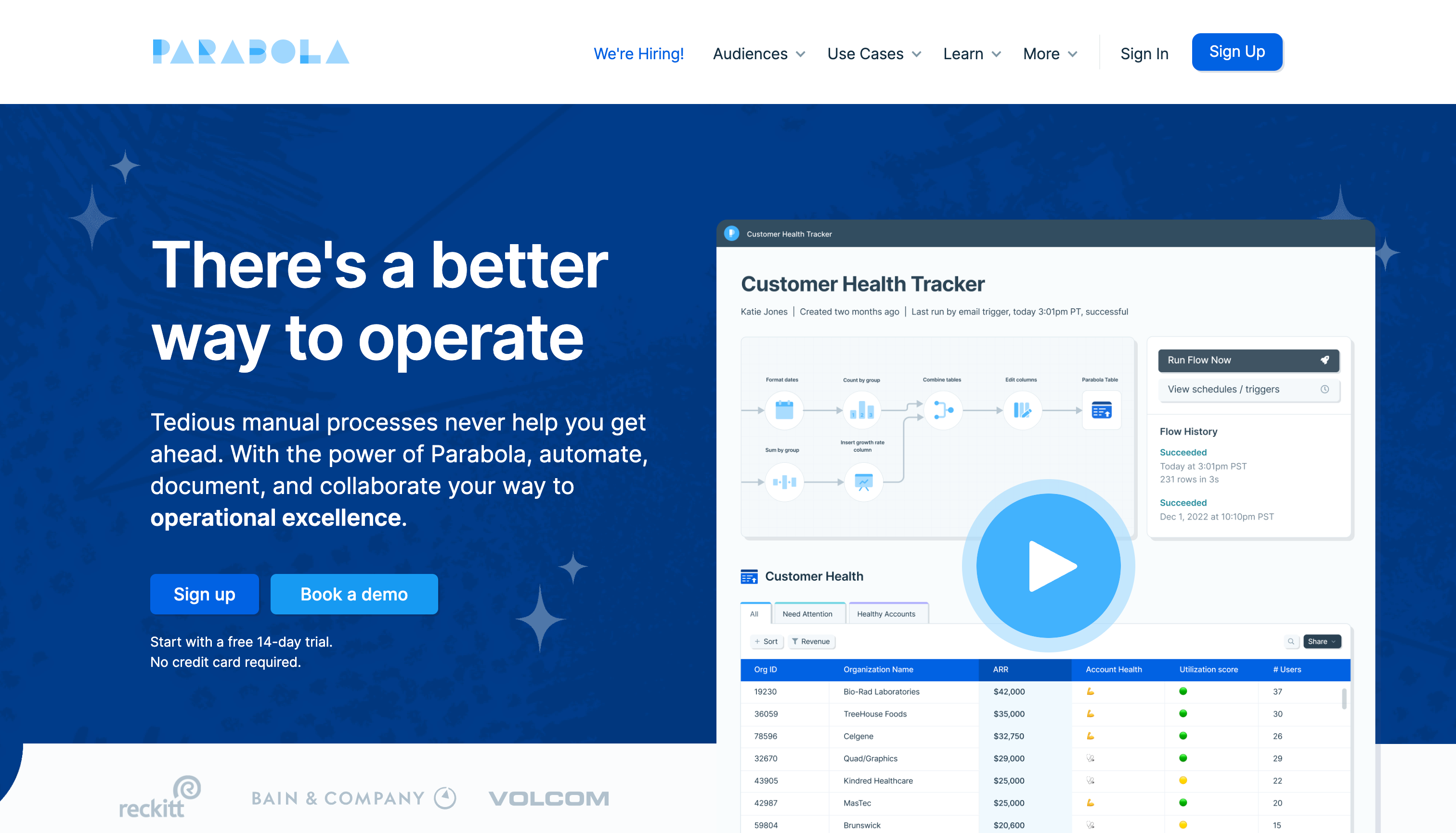 Parabola
Parabola is a web-based automation workflow builder. It is ideal for someone who understands code but has an engineering team that can't spend time creating workflows.
You can automate almost all repetitive tasks using Parabola. Examples of tasks Parabola can automate include adding or removing products from collections, updating customer tags, and triggering alerts (such as for low inventory) via Slack, email, or FTP.
Parabola has a visual workflow builder, which is great for businesses with sophisticated processes.
The workflow builder gives you an overview of the information's flow, showing the information's source, touchpoints, and destination. This also means you need to be technically inclined to use Parabola to its full potential and have intimate knowledge of the business systems you're trying to connect.
Parabola has a bare-boned free plan, but it's fairly limiting for practical use. The Plus plan costs $80 — there's no in-between. That's why Parabola is best suited for enterprise-level businesses.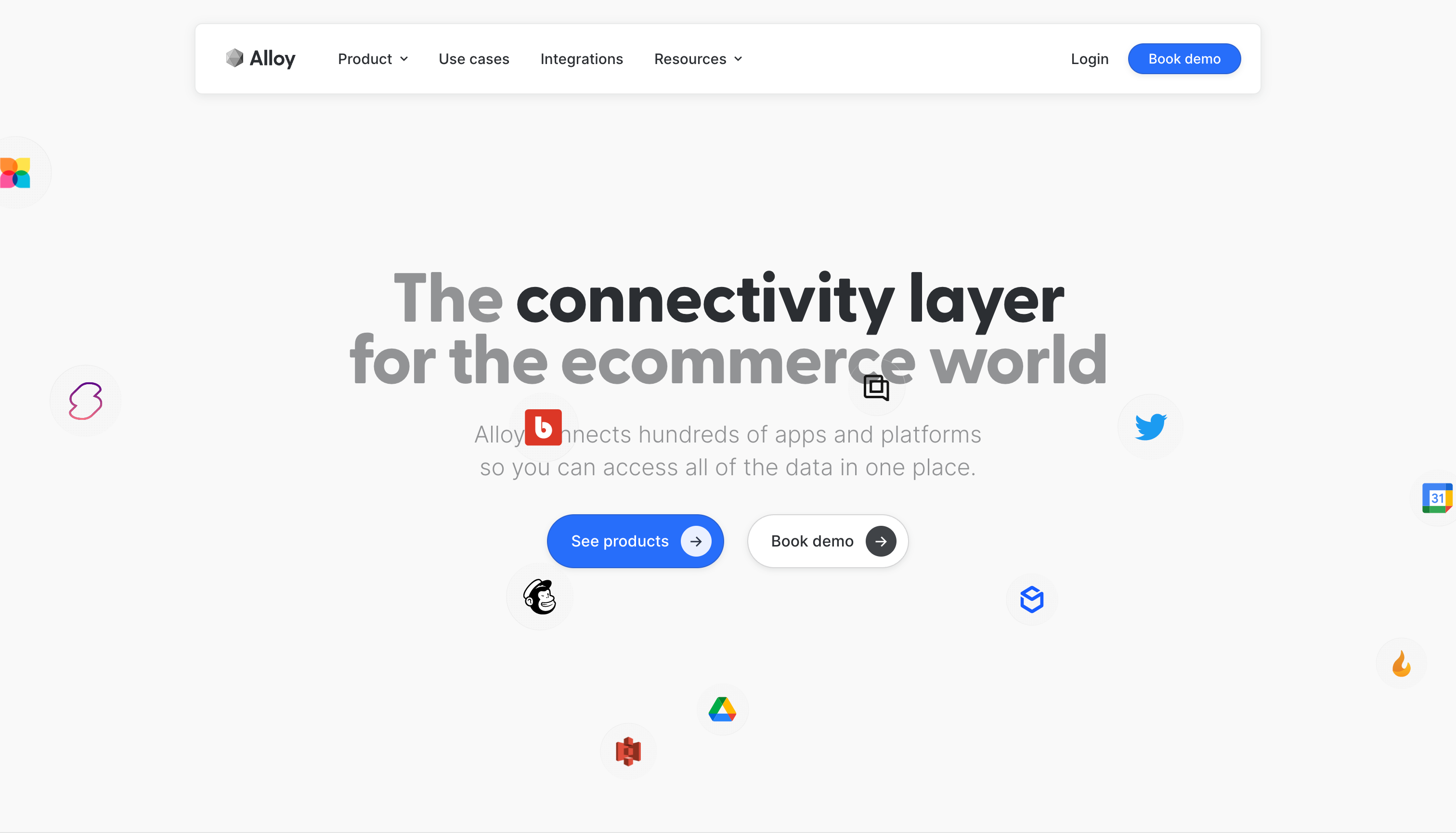 Alloy
Alloy is an integration platform for eCommerce. Their Embedded tool helps other SaaS apps and systems use Alloy for their native integrations. This helps those apps build out integration more quickly ultimately helping eCommerce businesses.
Their automation tool is similar to Parabola in that Alloy helps automate workflows across functions, including shipping, marketing, and customer service. You get 100+ integrations and 100+ pre built integrations out of the box, which includes almost all commonly used ecommerce workflows.
Their automation tool starts at $599 per month which makes it one of the more expensive options for growing businesses.
Supercharge Your Growth with Ecommerce Integration Platforms
Growth can get overwhelming rather quickly.
You don't want to be stuck entering data into a spreadsheet when you have a massive order queue to fulfill, and that's why growing businesses need automation.
A good ecommerce integration platform can help sync information and automate tasks so you can focus on the creative and strategic sides of the business, allowing you to save time and money.
MESA helps automate your work within minutes, and it's free — why not give it a try?
New Shopify Apps Weekly Newsletter
We watch for new apps then package them into an email sent every Tuesday.