As an ecommerce manager, you know that the key to success lies in offering your customers the right balance of convenience, variety, and value. In today's fast-paced digital world, that means tapping into the power of customer subscriptions. With more and more shoppers opting for the simplicity of automated, recurring orders, it's crucial for your online store to stay ahead of the curve. Enter the world of Shopify subscription apps – your secret weapon to unlocking untold potential with customer lifetime value.
In this blog article, we'll dive deep into the best Shopify subscription app for your business. We'll break down the various subscription apps, their features, pricing, and benefits. We'll help you determine which subscription program is the ideal fit for your business, empowering you to create a seamless shopping experience for your customers while boosting your bottom line.
So, buckle up and join us on this journey to uncover the best subscription apps to enhance your Shopify store, increase customer retention, and ultimately, drive long-term growth and profitability.
Let's get started.
Ready to save time by automating subscriptions? Install MESA to easily manage subscription orders for your business.
Recharge Subscriptions
★★★★☆ 4.6 – Shopify App Store Rating
Recharge is a renowned subscription management solution designed to help brands maximize the value of their shoppers by converting one-time buyers into loyal customers. With its scalable nature, Recharge enables businesses to grow their subscription business model while allowing customers to manage subscriptions effortlessly from the store. The app's customization capabilities empower brands to craft their own subscription experience, while its turnkey integrations seamlessly connect to your existing tech stack.
Recharge Subscriptions is an excellent tool for automating recurring payments. It allows customers to manage their subscription products in one place and choose their preferences such as delivery date, frequency, and quantity. Recharge also offers store owners the ability to set up automatic notifications for payment reminders, tools for subscription rules, and insights into customer trends. Plus, it offers one-click checkout and the ability to add subscription discounts and coupons to automatic recurring payments.
Overall, Recharge is a reliable subscription app that's easy to set up and use. It's also highly customizable with pricing plans ranging from basic packages all the way up to enterprise-level solutions.
Pricing:
From $99 per month with a 30-day free trial.

Transaction fee: 1.25% + 19¢ per transaction
Key Features:
Customer Portal: Tailor the store's customer portal interface to match your brand identity.

SMS Subscription Management: Empower customers to manage their subscriptions effortlessly via SMS.

Build a Subscription Box: Utilize Recharge Bundles to drive cross-sells and upsells of one time purchases for increased recurring revenue.

Unified Checkout: Streamline the checkout process, ensuring a seamless experience regardless of cart contents.
Bold Subscriptions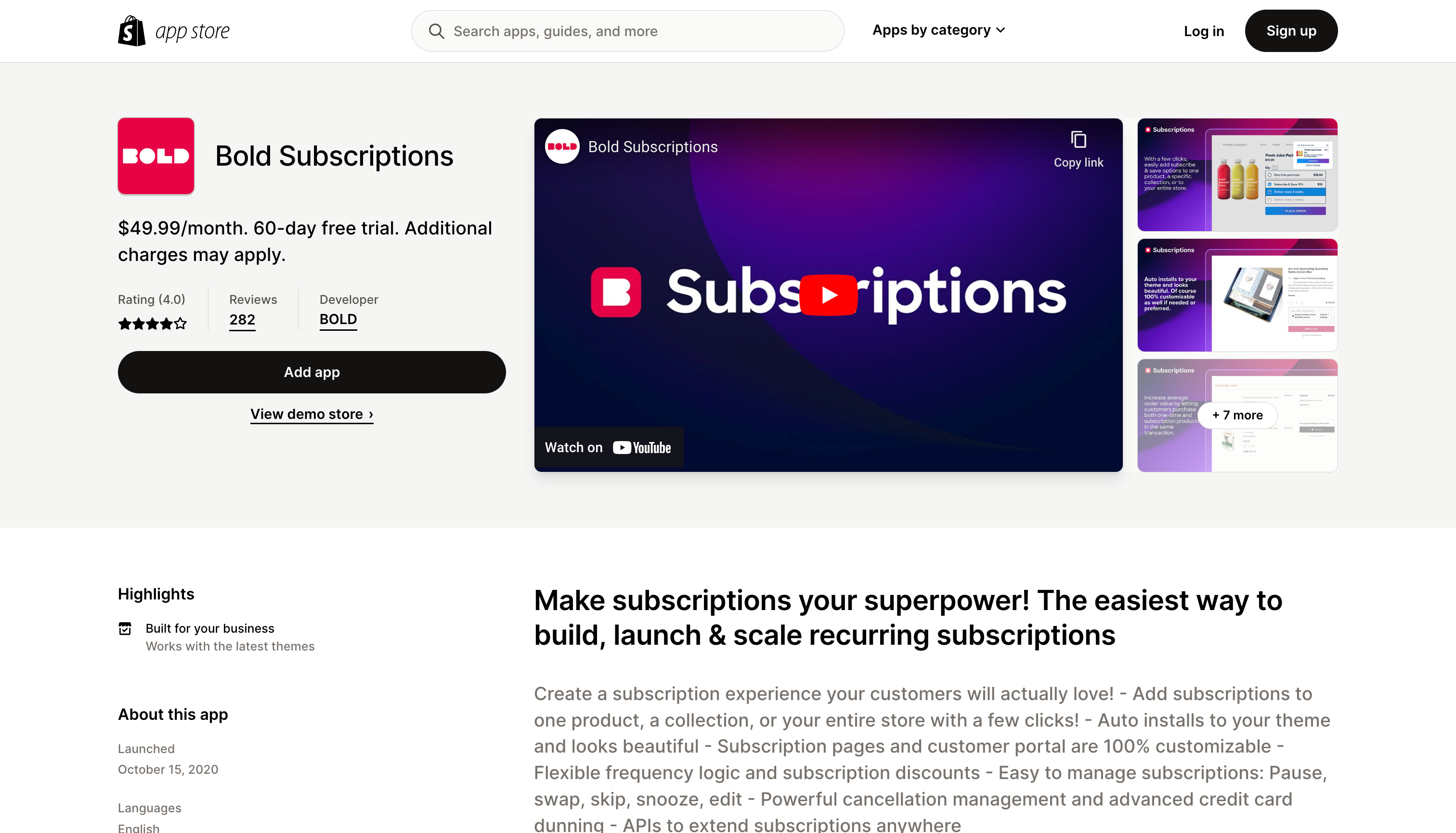 ★★★★☆ 4.0 – Shopify App Store Rating
With Bold Subscriptions, you can effortlessly build, launch, and scale your recurring payments, creating a customer experience that keeps them coming back for more. This intuitive subscription app enables you to enable subscriptions to individual products, collections, or your entire store in just a few clicks. Boasting seamless auto-installation, a fully customizable subscription widget, and customer portal, Bold Subscriptions ensures a seamless user experience.
Bold is a great option for automating any Shopify subscription. It allows customers to make one time purchases and subscriptions while managing everything in one place. The app also offers store owners the ability to create discount codes, adjust shipment schedules, and gain insights into customer behavior. Plus, it provides easy integration with popular payment gateways and the ability to customize billing cycles.
Additionally, one of the biggest advantages of Bold Subscriptions is its drag-and-drop interface, which makes it easy for store owners to quickly create subscription plans that customers can purchase from. Plus, it's highly secure and offers excellent customer service support.
Pricing:
From $49.99 per month with a 60-day free trial

Transaction fee: +1% of orders containing subscription products
Key Features:
Rapid Setup: Enjoy core features available out-of-the-box, getting your subscriptions up and running in minutes.

User-friendly Customer Portal: Keep subscribers engaged and satisfied with a powerful, customizable portal.

Retention Tools: Utilize cancellation flows and automatic dunning management to retain subscribers.
Skio Subscriptions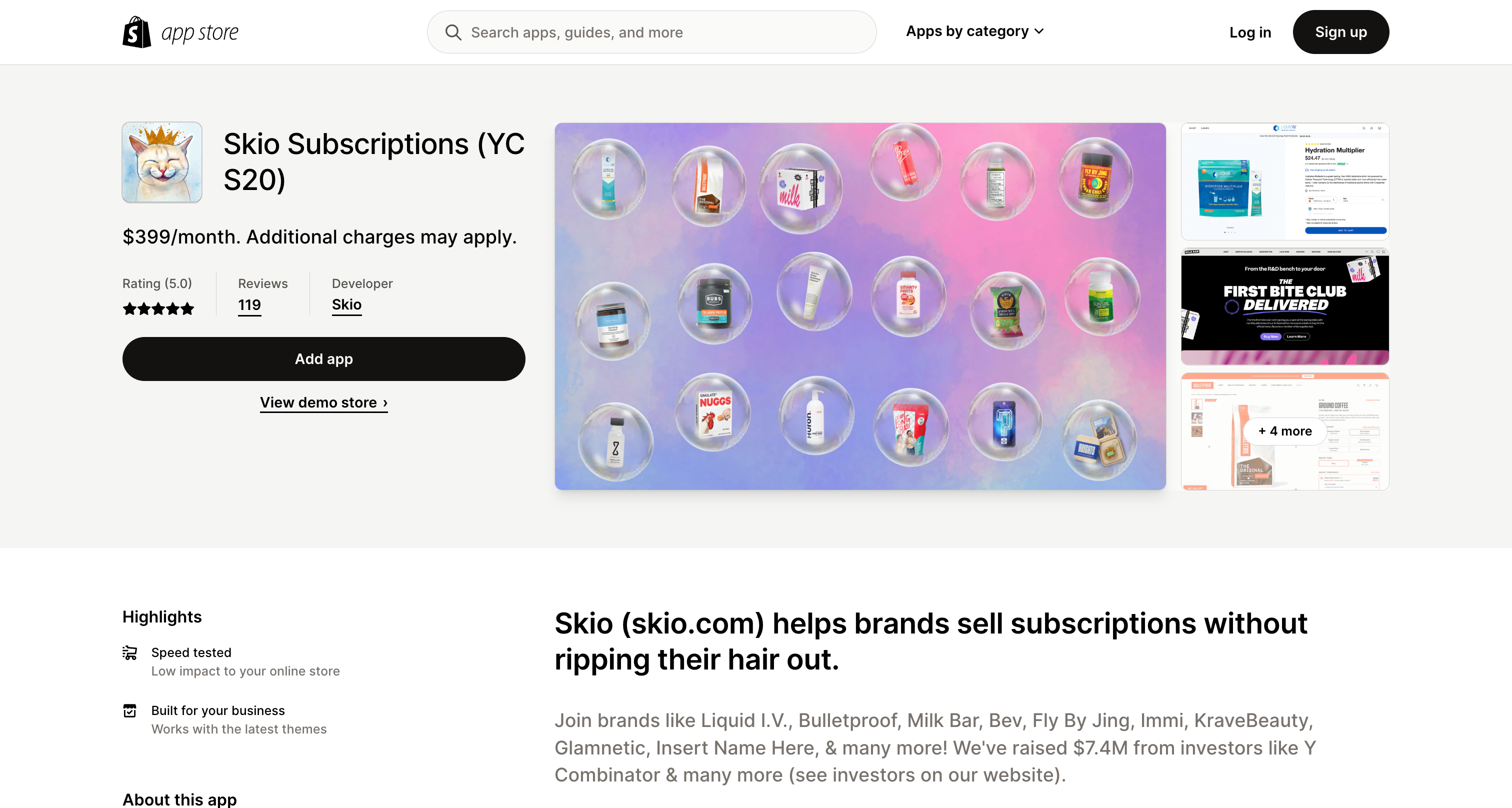 ★★★★★ 5.0 – Shopify App Store Rating
Skio Subscriptions App simplifies subscription management for brands, allowing them to focus on growth without the stress. Trusted by renowned brands like Liquid I.V., Bulletproof, Milk Bar, and many more, Skio has secured $7.4M in funding from notable investors, including Y Combinator. The app's experienced team boasts backgrounds at leading companies such as Shopify, Recharge, Attentive, Klaviyo, Google, Amazon, and Facebook.
Also, Skio Subscriptions offers a unique feature called "Subscription Playbooks" which provides store owners with step-by-step guides on how to set up a subscription model, launch campaigns, and optimize their recurring revenue. As a result, this makes it easy for store owners to quickly get started with a subscription program without needing any technical expertise.
Pricing:
From $399 per month.

Transaction fee: 1% + 20¢ per transaction
Key Features:
Seamless Migrations: Effortlessly switch from other subscription apps with the help of Skio's in-house Launch Engineering team.

Hassle-free Customer Experience: Reduce customer tickets using passwordless login for easy access.

Cutting-edge Subscription Portal: Stay ahead of the curve with new features in Skio's hosted subscription portal.
Yotpo Subscriptions
★★★★☆ 4.5 – Shopify App Store Rating
With over a decade of experience in ecommerce marketing, Yotpo introduces Yotpo Subscriptions, an intuitive solution designed to help brands grow recurring revenue by providing customers with an easy subscription program. This Shopify subscription app offers seamless catalog management and robust analytics, enabling you to gain insights into customer data and scale your subscription business effectively. Yotpo Subscriptions caters to any niche, with dedicated strategists available to help you get started.
One of the biggest advantages of Yotpo Subscriptions is its powerful analytics and reporting features. This allows store owners to gain valuable insights into customer trends, manage their subscriber base, and optimize their subscription rules. Plus, it integrates seamlessly with other Yotpo tools such as reviews and their customer loyalty program.
Pricing:
Free to install. Paid plans start when you exceed $500 in monthly subscription sales.

Transaction fee: 1% per additional transactions, no monthly fees.
Key Features:
Quick Onboarding: Launch your subscriptions in 5 simple steps with an 8-minute onboarding process—no coding required.

Frictionless Customer Experience: Allow shoppers to easily add, cancel, or manage subscriptions for a hassle-free experience.

Automated SMS Updates: Keep customers informed and engaged with automated notifications, encouraging longer subscription intervals.

Comprehensive Support: Benefit from 24-hour live-chat customer support and strategists ready to assist you in getting started.
Appstle Subscriptions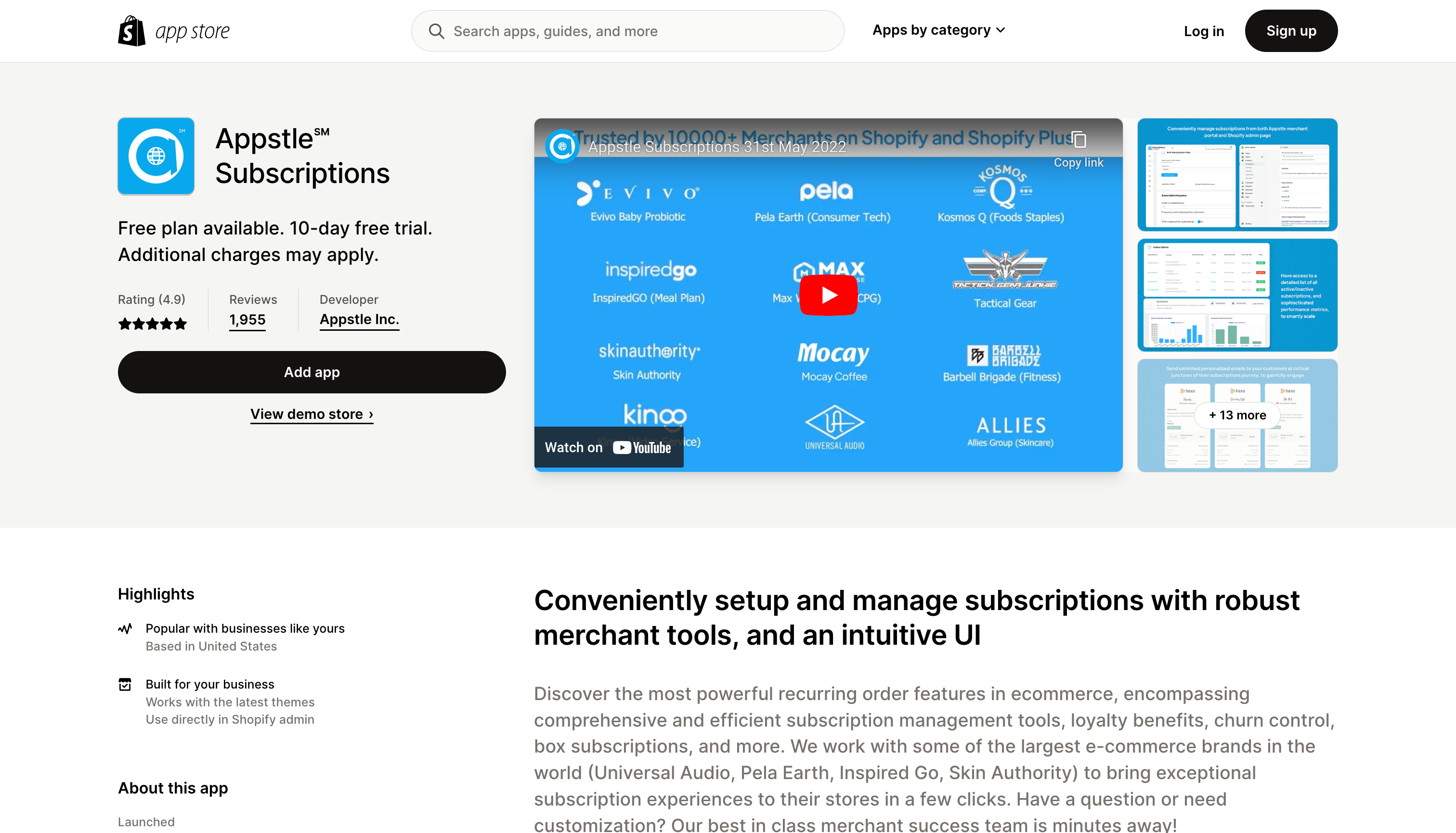 ★★★★☆ 4.9 – Shopify App Store Rating
Experience the convenience of robust merchant tools and an intuitive UI with the Appstle Subscriptions App. Appstle offers many advanced subscription features even within their free plan. Trusted by leading brands like Universal Audio, Pela Earth, Inspired Go, and Skin Authority, Appstle delivers exceptional subscription experiences in just a few clicks. With a top-notch merchant success team available for customization and support, you're never far from assistance.
Additionally, Appstle is the most positively reviewed of the Shopify subscription apps.
Appstle also provides an easy-to-use interface with drag-and-drop features, making it easy for store owners to quickly create subscription plans that customers can purchase from. Plus, it integrates seamlessly with popular payment gateways such as Stripe and PayPal.
Pricing:
Free forever until your store reaches $500/month in subscription revenue. Plans start $10/mo

Transaction fee: zero transaction fees
Key Features:
Versatile Subscription Options: Offer regular and prepaid subscriptions, free trials, build-a-box, and more.

Loyalty Perks: Enhance customer engagement with tiered discounts, custom shipping, gifts, and other customer loyalty features.

Feature-rich Customer Portal: Provide easy access with one-click login and quick action links to manage subscription orders.

Appstle Menu: Boost conversions using a shopper-centric menu template designed for optimal customer engagement.

Maximized ROI: Drive revenue with upsells, bundling, bulk automation, retention tools, and more.
Wrapping up the best Shopify subscription apps
There are three main features to look out for when choosing a subscription app for your Shopify store:
Subscription service
It's important that you find an app that offers the key features you need to support your subscription business model. This includes customizable subscription solutions and flexible billing and pricing.
Scalability
Next, when choosing a Shopify app, consider whether it can scale with your business as it grows. Look out for the ability to handle increasing levels of demand and support for multiple product lines or sales channels.
Cost
Remember, you get what you pay for. Take a careful look at the app's pricing structure. Look for transaction fees or revenue-sharing agreements. Make sure this structure fits within your budget and delivers a positive return on investment.
Also, research customer reviews of past experiences with the chosen subscription app to better understand of how reliable it will be for your product offerings. Taking the time to explore all aspects and do the necessary research during this decision process ensures that you have a winning combination for customers and your business.
Overall, all of these subscription apps offer powerful tools for automating Shopify subscription orders. They each have different features, pricing plans, and levels of customization, so be sure to research each one in detail before making a decision. With the right tools in place, you can easily launch and manage successful a subscription business.
New Shopify Apps Weekly Newsletter
We watch for new apps then package them into an email sent every Tuesday.