Choosing the right customer support Shopify app is one of the top challenges ecommerce brands have. It's more about identifying what your customers truly want and which Shopify customer support app works for your business.
So, what do your customers really want?
They want a solid customer experience—with 62% of customers even willing to pay 5% more for it. Although, at the same time, 74% of customers with a poor customer service experience will quickly shift to your competitor. As a result, US businesses alone lose $35.3 billion in customer churn.
Then, the question arises: what's a good and a bad customer support experience?
Customers desire highly personalized and empathetic customer support with quick resolution of their problems. It pays off, too. Customer loyalty increases 2.4 times if their issues are addressed quickly and efficiently.
However, the problem is meeting the demands of speed and personalization within a reasonable budget. Firstly, you'll require a considerable customer support team. That comes with a hefty price tag.
As a result, the solution is to leverage AI-powered customer support Shopify apps. Customer support apps make customer service affordable. Overall, don't compromise on the quality of the customer experience.
Ready to save time by automating support issues? Install MESA to easily manage customer service workflows for your business.
Importance of finding the right customer support app
Historically, customer support has always been a part of businesses. However, in the past, it was only limited to providing goods. Businesses were concentrated locally, catering to people within the same local area. So, customers had personal connections with the local vendors, which led to quick problem resolution. Yet, customers had limited options and had to stick to the local businesses, whether they liked it or not.
Thus, the advent of the telephone and the internet changed the face of customer support dramatically. People got exposed to more options via social media, referrals beyond geographical limits, and online forums. Now, they can make well-informed decisions before purchasing any product or service.
Therefore, this leads to growing competition among businesses to acquire and retain customers. You must have a differentiator that goes beyond your product. The only viable option is to develop a strategic support system to increase customer satisfaction, thus, cultivating brand loyalty.
Best Shopify customer support apps
Plenty of apps help you maintain a healthy bond with your customers by providing top-tier customer services. Here are the popular for business on Shopify:
Gorgias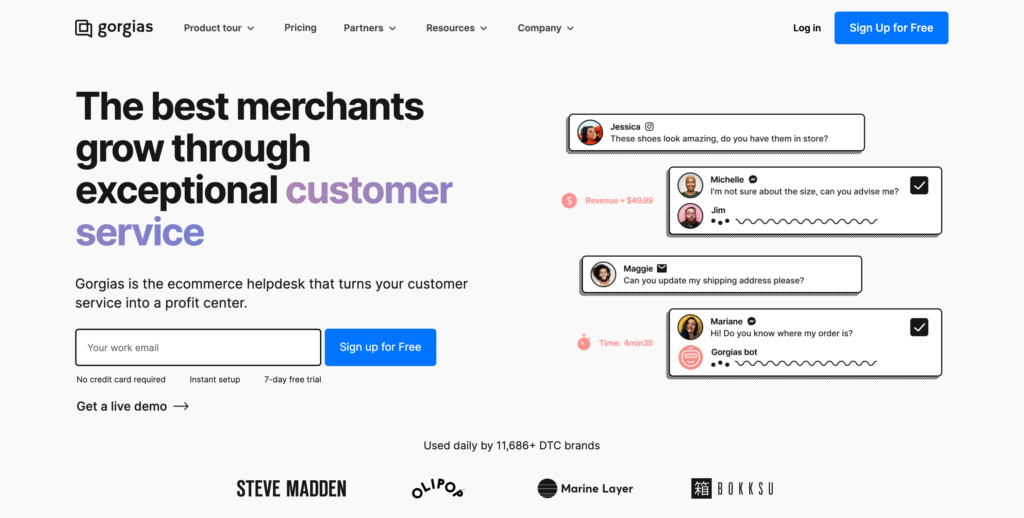 Gorgias is a help desk for ecommerce stores, which gives your customers multichannel customer support. But you don't have to juggle between apps to fulfill the customer tickets as you can manage all the activities in a single app of Gorgias.
Pros:
Easily manage the tickets from one spot.
Integrate it with 30+ apps, including Facebook, Instagram, Klaviyo, and Yotpo.
Works with Shopify, Magneto, and BigCommerce if needed.
Gorgias connects to MESA which offers you access to add popular automation templates.
For example, you can automate opening a support ticket whenever a customer leaves a negative review:
Help Scout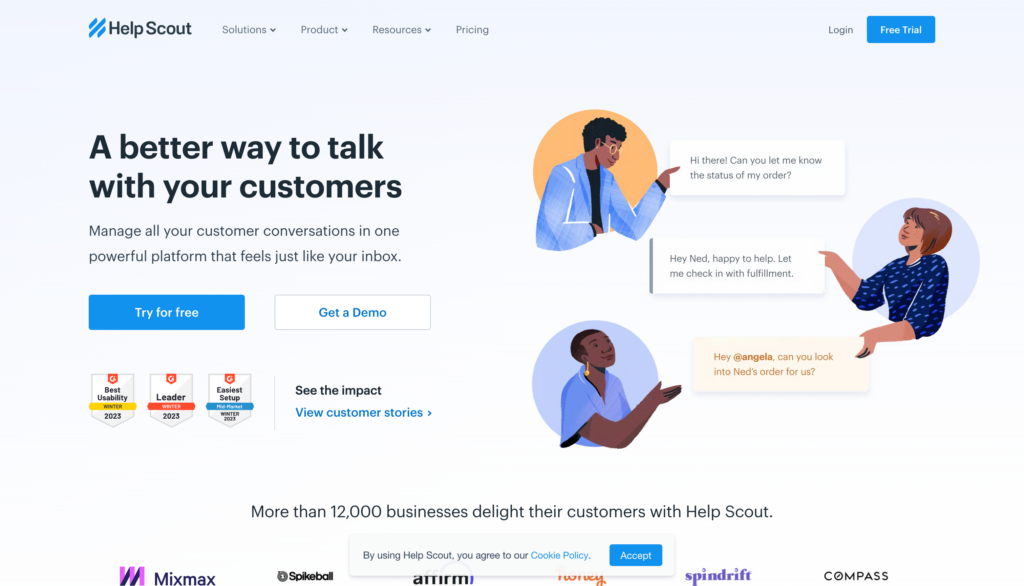 Help Scout is an all-in-one customer service solution, providing live chat, email support, in-app messaging, and a knowledge base.
Pros:
Intuitive and clean interface for tracking and replying to customer tickets
Onboard new users easily
Integrate with 90+ apps for all the features available
Quickly scale as you grow
Personalize customer experience and create optimal individual performance
Use cases:
Translate your knowledge base into the language of your choice
Plug webinars in the in-app messages for an upcoming event
Collaborate with your team by sending private notes
Send personalized emails and create templates for self-serve help
Zendesk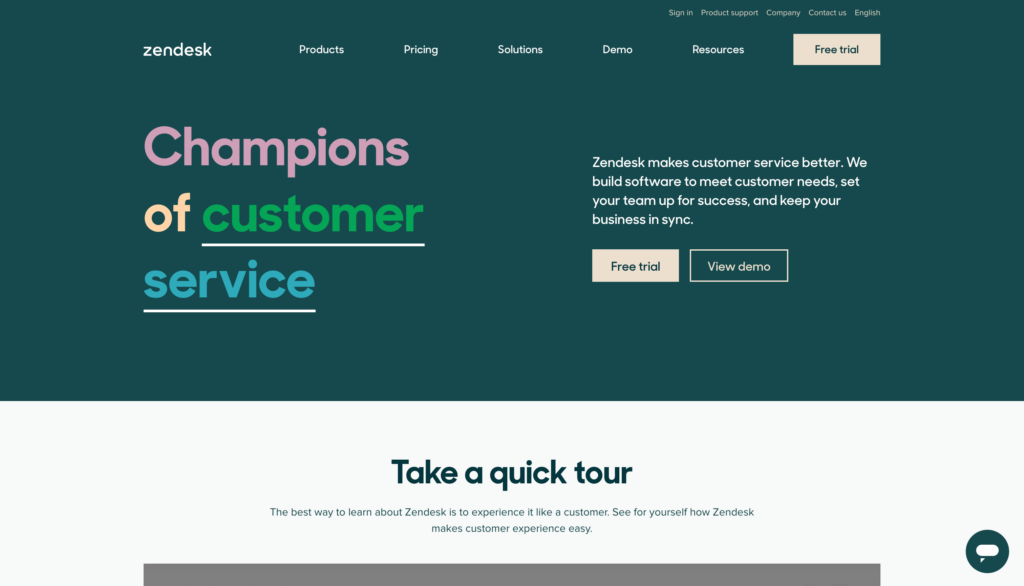 Zendesk is a customer-centric CRM tool with customer support and customer engagement features. It provides powerful and innovative customer experiences to companies regardless of their size.
Pros:
Handle support, sales, and general inquiries at the same place.
Create file requests automatically.
Divide communications into groups or departments depending on a variety of criteria.
Create a branded knowledge base for your employees, users, and customers.
Integrate with not only apps but themes and partners, too.
Perform customer satisfaction surveys and reports powerfully.
Use Cases:
Maintain a detailed record of essential activities such as repairs, deliveries, replacements, and the history and health of your customer-focused assets and connected devices.
For better-tailored experiences, get a complete picture of the customer journey across all touchpoints, including third-party apps and external systems.
Account hierarchies and user interactions between your customers, partners, and sellers are modeled to reflect how your marketplace functions.
Knowing the complete product and order lifecycle in connection to each customer helps you manage orders, delivery, and warranties.
Capture user activity and click routes to gain a deeper understanding of in-product behavior, resulting in the type of data that can assist enterprises in guiding users to their desired destinations.
Re:amaze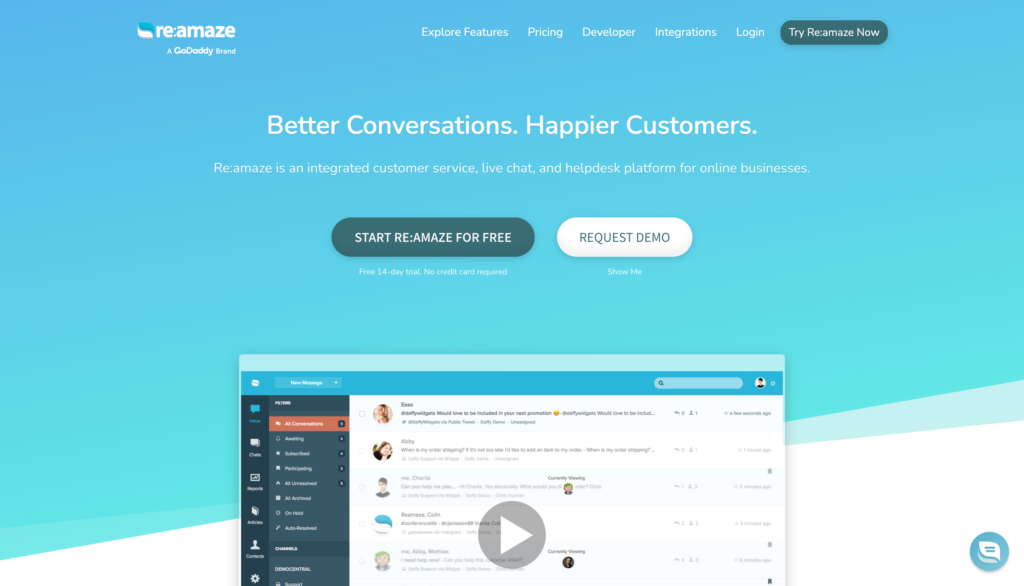 Re:amaze is a multi-channel customer support platform that combines helpdesk, live chat, chatbot, and social media support in a single dashboard. It offers automation tools, such as canned responses and smart workflows, to help your team manage customer inquiries more effectively. Additionally, Re:amaze provides robust reporting and analytics capabilities to track and optimize your customer support performance.
Tidio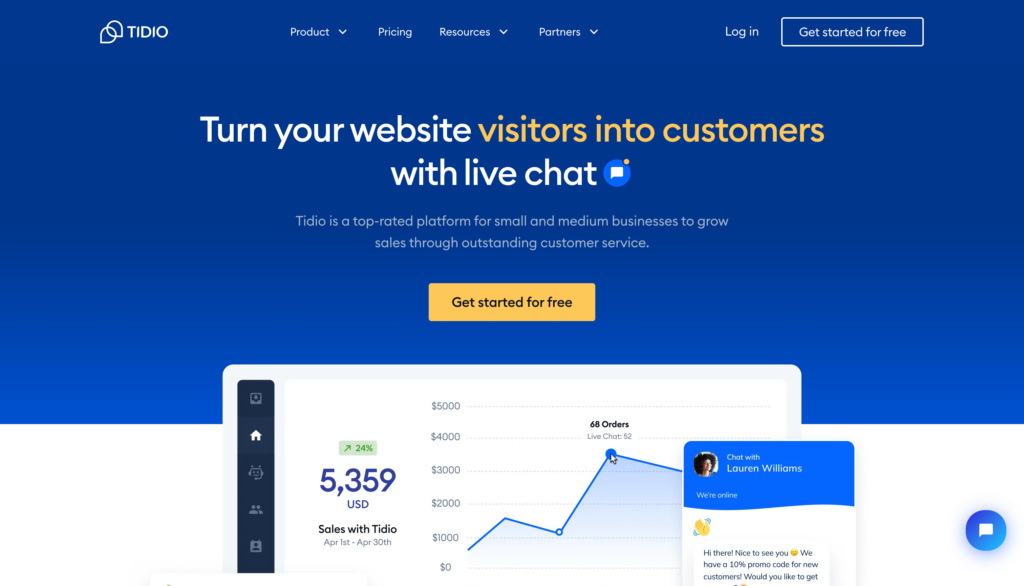 Tidio is an all-in-one customer communication app that integrates live chat, chatbot, and email support for Shopify stores. Its AI-driven chatbot can handle routine tasks, such as answering frequently asked questions or providing order updates, freeing up your support team to focus on more complex issues. Tidio also offers seamless integration with other popular Shopify apps and services, making it a versatile choice for your customer support needs.
HelpCenter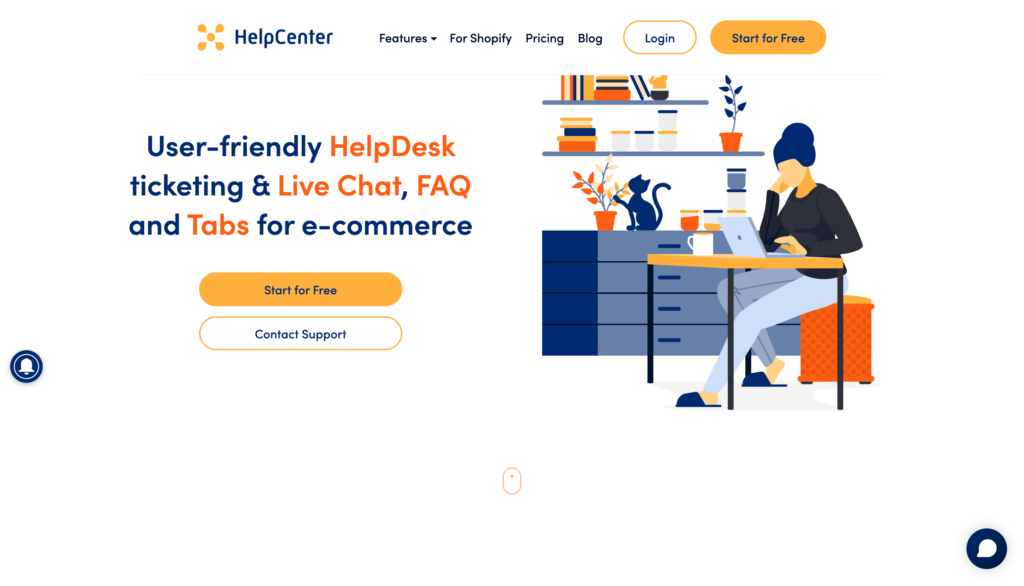 HelpCenter is a customer support app designed specifically for Shopify store owners. It enables you to create a branded FAQ page and offers a built-in ticketing system, live chat, and chatbot support. HelpCenter also provides AI-driven automation features that can help your team manage customer inquiries more effectively and efficiently.
Best practices when implementing customer support apps
Once you have your customer support app set up, it's time to implement the service with some best practices:
Maintain transparency with customers
Transparency breeds trust, value, and loyalty. To maintain transparency, a solid rule of thumb is to set clear expectations from the get-go to make sure your customers know exactly what they'll receive.
If you're expecting to deliver a product in X number of days, don't promise faster delivery than that. Once an expectation is set, you can't go below it. Instead, underpromise by giving a delivery time including a buffer, then strive to over-deliver within the X number of days itself.
Implement empathy-driven customer support
Empathy-driven customer support is the key to a close and personal bond with your customers. Empathy in customer service means understanding your customer's problems from their perspective and interacting humanly.
When you pay extra attention to identifying your customer's needs and tailor a solution to them, you make them feel heard and valued. Remember, robots can never replace the personal human touch, which keeps your customers engaged and loyal to your brand for a long time.
ClickUp, a project management tool, leads by example. To every customer grievance or request, they reply as a human rather than a robot-generated reply. See, for example, how ClickUp uses empathy-driven phrases such as "totally hear you" when answering a question:
Automation is the key to business growth
While customer support has traditionally been seen as an extra expense for the business, new reports are debunking this belief. Today, 64% of customer service and support leaders aim to grow the business with their service. As customer retention and the customer value generated via customer support increases, the 'cost' pays for itself.
For example, providing excellent customer support can increase your company revenue by more than 20%, with a boost in net profit margins.
Know your customer support channels
From telephones to AI-driven chat, you can choose different channels to provide support. The best-fit channel depends on your business type.
Here are the most popular:
Phone
Initially, this used to be the go-to support channel before the internet made its way. It's still effective. Customers can elaborate on their issues, and the customer rep can assist them properly. Undeniably, it's beneficial for older customers who might not be familiar with modern technology.
Make sure you highlight your available hours on your website along with the number. For example, this is how we've highlighted our availability on our website:
Live Chat
Live chat is an efficient customer support channel that outweighs telephone conversations in aspects like speed and efficiency. Specifically, your existing and potential customers can contact the support team via your website to receive a response instantly. The highlighted section is an example of live chat:
Email
Emails are best suited for issues that might require an in-depth response. Additionally, it saves customers time since they can leave a message without requiring an immediate response. For example, below is the MESA contact page. Completing a simple form will receive an email response.
Self-service
Customers are increasingly moving towards a self-service approach to solving their issues. In a survey, 88% of customers wanted to see companies having self-service support. Thus, having a self-serve system gives your business an upper hand in customer service. It comes in the form of FAQs or a knowledge base. Chatbots, video tutorials, and informative articles are also good channels.
For example, this is the MESA knowledge base with the option to search for the desired article:
Retaining your customers is 6-7 times cheaper and more profitable than acquiring new ones. To be precise, an increase of 5% in customer retention can increase your profits by a whopping 25%.
The reason is that the longer a customer stays with you, the higher their lifetime value. So, you've generated more value from the same customer without spending any extra dollars on customer acquisition cost (CAC). Excellent customer service helps you create a positive experience for your existing customers and keep them satisfied.
What's more, every bad customer experience is an opportunity for you to turn an unhappy customer into a loyal one. With fast customer service, you can still manage to keep a customer even if you've failed to meet their expectations. 96% of shoppers would stay with a brand if they sincerely apologized for a mistake.
Conclusion
Providing excellent customer support is essential for the success of any Shopify store. The right customer support apps can elevate your game and take your business to the next level. By implementing an app that automates the workflows of customer support tickets, you can free up valuable time and resources that can be used to grow your business.
With a streamlined customer support process, you can respond to customers faster, resolve issues more efficiently, and build a loyal customer base. Choose the right app for your business and start taking your customer support to the next level today.
New Shopify Apps Weekly Newsletter
We watch for new apps then package them into an email sent every Tuesday.