Choosing the right customer support Shopify app can be difficult. Gorgias and Zendesk are both great options. Ecommerce customer service software is a vital part of any business. But, it can be difficult to keep track of all the different channels through which customers might reach out.
Do you need an app that can handle email, social media, and in-person interactions?
What about one that integrates with your Shopify account?
In this blog post, we'll compare Gorgias vs Zendesk to help you decide which is right for your business.
Main differences between Gorgias vs Zendesk?
Gorgias is the right choice for businesses selling on Shopify or any other popular ecommerce platform. Every feature to its core is designed with ecommerce businesses in mind. Zendesk is more generalized support software that caters to a wider range of businesses other than ecommerce one.
Gorgias and Zendesk are both customer service software that allows businesses to keep track of customer queries and issues. Both apps offer a range of features, including the ability to track and respond to customer queries, create knowledge base articles, set up automated responses, and integrations with other business apps.
Lets explore the differences:
Exploring Gorgias vs Zendesk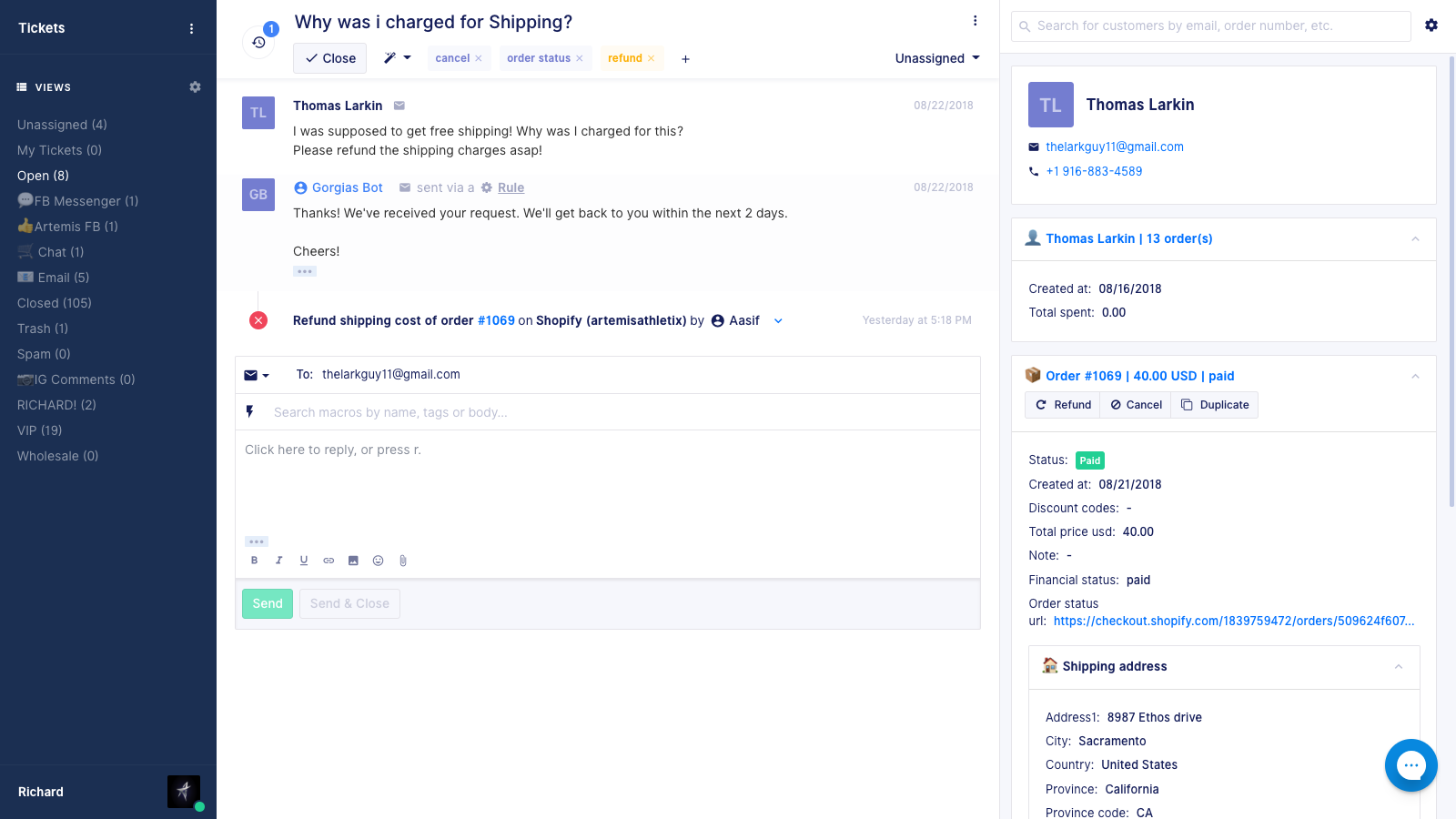 There are a few unique features that set Gorgias apart from Zendesk. First, Gorgias has built-in integration with Shopify, so businesses using Shopify can easily add Gorgias to their site without having to worry about code. Second, Gorgias offers a "triage" feature that allows businesses to prioritize and categorize customer queries so they can be dealt with in a timely manner. Finally, Gorgias' pricing is based on the number of agents using the app rather than the number of queries (like Zendesk), so it can be more cost-effective for businesses with a large number of customer service reps.
Here are factors that make Gorgias an excellent choice for ecommerce businesses:
Deeply connected with Shopify
Gorgias is deeply integrated with Shopify. It lets you refund, duplicate, cancel, and edit orders with a single click. Even better, you can add orders within support tickets, so your support staff always has easy access to accurate information.
Granular, ecommerce-specific information
Each ticket contains helpful details like orders, tracking numbers, and customer lifetime value. These details offer support staff granular insights needed to improve customer experience.
Centralized control
Gorgias also centralizes control over parts of your support workflow. For example, you can edit and cancel orders from within Gorgias without navigating to the store's backend.
Automation super powers
With Gorgias connected to MESA, you can pull data from apps into Gorgias for building comprehensive customer profiles. MESA has pre-made workflow with Gorgias to help you get more work done instantly. For example:
Create support tickets for negative Yotpo reviews: Constantly monitoring Yotpo reviews can be resource-intensive. But MESA can automatically notify you about negative reviews. MESA checks a Yotpo review once a customer posts it. If the score is less than three, MESA automatically creates a Gorgias ticket so you can help address your customer's grievances.
Start a return with Forms by MESA and open a Gorgias ticket: Forms by MESA offers a simple interface to capture details from customers. Embed a form on your order history page to allow customers to initiate order returns. MESA will automatically create a new Gorgias ticket with relevant order details whenever a customer submits a return request.
Exploring Zendesk vs Gorgias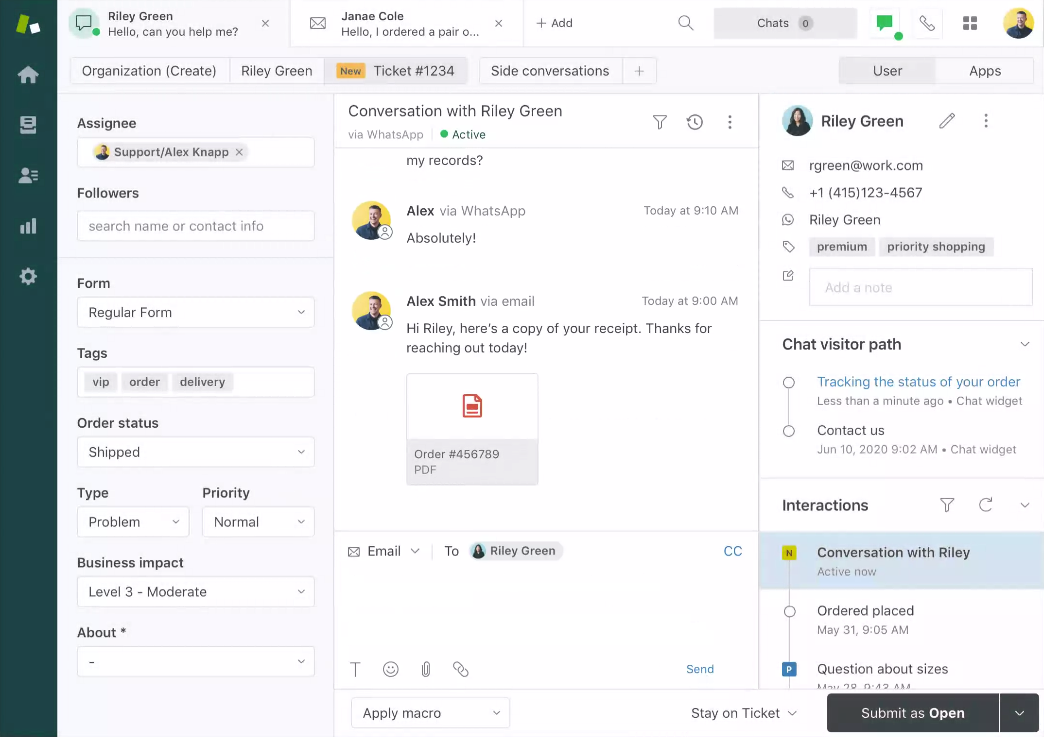 There are some unique features that make Zendesk worth considering.
First, Zendesk integrates with over 300 other business apps (compared to Gorgias' 75), so it's more likely to work with the other apps you're using. Second, Zendesk offers a "co-browsing" feature that allows agents and customers to view the same web page together (useful for troubleshooting issues). Third, Zendesk offers a "multilingual capability" feature that allows businesses to offer customer support in multiple languages (a must-have for international businesses).
Zendesk is a support solution for most industries.
When it comes to pricing, Gorgias and Zendesk have very different approaches.
Gorgias offers a free 14-day trial so you can try out all of their features before committing to a paid plan. After the trial period, pricing starts at $50/month for the Basic plan, which includes all of the essential features most businesses need. Zendesk does not offer a free trial but their pricing starts at $12/month for the Basic plan. However, this plan only includes email support so if you want to use any of their other features (live chat, phone support, etc.), you'll need to sign up for one of their higher-priced plans starting at $49/month.
Which is the right customer support app for ecommerce merchants?
Ultimately, it depends on your specific business needs.
If you need an app that tightly integrates with Shopify, then Gorgias might be a good option. However, if you need an app with multilingual capability, then Zendesk could be a better choice. Whichever app you choose, make sure to test it out thoroughly before committing to ensure it meets your needs.
New Shopify Apps Weekly Newsletter
We watch for new apps then package them into an email sent every Tuesday.

Yopto
Marketing

Shopify
Commerce

Segment
Productivity

Infinite Options
Productivity

Slack
Productivity

Etsy
Commerce

Discord
Productivity

Bold Commerce
Commerce

Tiktok
Marketing

Airtable
Productivity