Are you looking to reduce the repetitive tasks managing your ecommerce business? By utilizing automation tools, you can significantly reduce the amount of time and effort required to manage your business and successfully automate Shopify store. This is where the power of automation comes in. A fully automated Shopify store can eliminate time consuming work, human error and streamline resources; but it doesn't have to be a daunting process.
As entrepreneurs look to launch their businesses online, Shopify has become the premier platform for a number of reasons. It boasts an intuitive interface and a robust suite of tools. Shopify enables merchants complete control over their online stores while providing valuable analytics and insights businesses need to save money and grow online sales.
Shopify's success has skyrocketed (according to BuiltWith) in response to the growing demand for ecommerce solutions. They enable businesses around the world with the tools to expand their reach to new shoppers.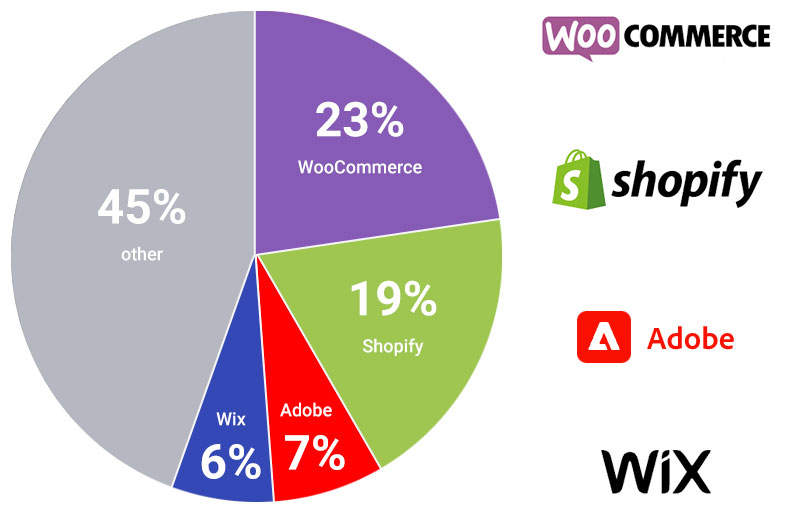 By offering a comprehensive e-commerce package in one powerful platform, Shopify has become the go-to for those looking to make real waves in digital commerce.
One area that Shopify has excelled in, is supporting automation.
In this post, we cover why ecommerce automation is important for Shopify stores and how you can take advantage workflow automation. We also talk about some strategic tips for maximizing your automation efficiency.
What is Shopify automation?
Shopify store automation, quite simply put, is a powerful technology that offers entrepreneurs the chance to consolidate their business processes and uncover cost savings.
It can automate repetitive tasks like notifications for shipping delays and customer interactions like negative reviews. This allows your team to develop new projects or long-term plans for growth. Embracing ecommerce automation throughout your company provides invaluable insights related to sales and marketing, inventory management, and customer's satisfaction. All of this helps Shopify businesses achieve greater efficiency without sacrificing performance or quality control.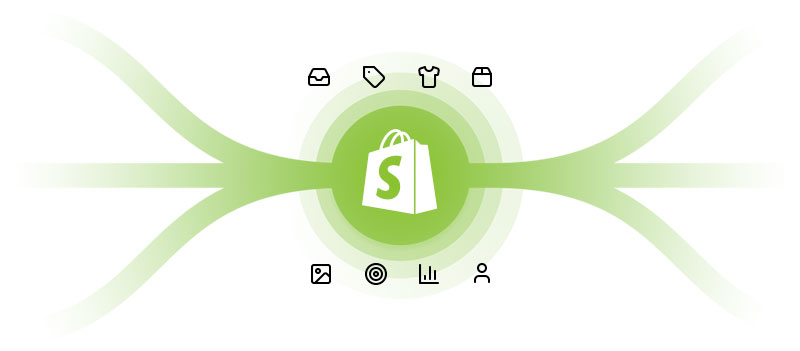 The good news is automation isn't something that every business has.
Thus, if you start automating common workflows throughout your Shopify store, you'll take your digital operations to the next level. You'll quickly far exceed your competitors who may not have considered automation, however big or small they may be.
The benefits of automating your Shopify store
Common processes such as order fulfillment, inventory management, marketing campaigns, and customer service can not only reduce human error every week but drastically improve the customer experience.
Let's take a look at some of these benefits.
Remove manual work
If your Shopify store ran on auto-pilot and provided more free time for you and your staff, what would you do?
Use automation to handle mundane work such as sending marketing emails to customers, creating invoices, tagging orders, and updating stock and inventory information. This leaves more time for you to focus on the more important aspects of running a successful business.
Tagging
Use workflows to categorize orders, customers, products, and more. This will help you quickly find the information you need when searching for it from the Shopify admin.
Scale faster
Any process that has a defined workflow allows businesses to scale up more quickly and easily. Manual tasks often become a bottleneck when scaling rapidly, but with automation, these manual tasks are completed automatically, freeing up resources to focus on scaling.
Better data collection & analytics
Automating your Shopify store gives you access to detailed info about customer behavior, which can be used to improve marketing campaigns, predict inventory needs and better understand customer needs. This also allows you to make more informed decisions when making changes or adding new products and services.
Integrate all your Shopify apps
Automation makes it easier to create an integration between each app on your Shopify store. If you're able to identify missing functionality, you can just create a new integration and enjoy its benefits. It also ensures that info is consistent across all apps, reducing errors caused by manual entry.
How to automate your Shopify store
When you're ready to embrace the automation lifestyle, here's how to get started:
First, focus on an area of your business with manual tasks to streamline. For example, tagging orders based on unique rules is a great place to start.
Next, define the workflow. It's best to document this somewhere so everyone on your team understands how the process works from start to finish.
Choose the best automation app for your workflow. While Shopify Flow is available on most plans, it doesn't connect with many systems critical to ecommerce businesses. Find a reputable app from the Shopify App Store. Consider affordability and support options too.
Setup the workflow steps within the app. Learning new software isn't always fun but necessary. When connecting two systems, it's important to take your time to understand how the data is stored within each. Talk to the support team of your chosen automation app if you have questions.
Enable your workflow. Be sure to communicate to your team when it's running. This way, you can eliminate old manual tasks and if anyone sees an opportunity to make the workflow more sophisticated by anticipating more use cases, they know how to proceed.
So, you are ready to take advantage of Shopify's automation capabilities and wonder which app is best. The answer is four simple letters – MESA.
Start adding automation today with the free plan. Or choose any paid plan and use the free workflow setup service and ask them to make a personalized one for you.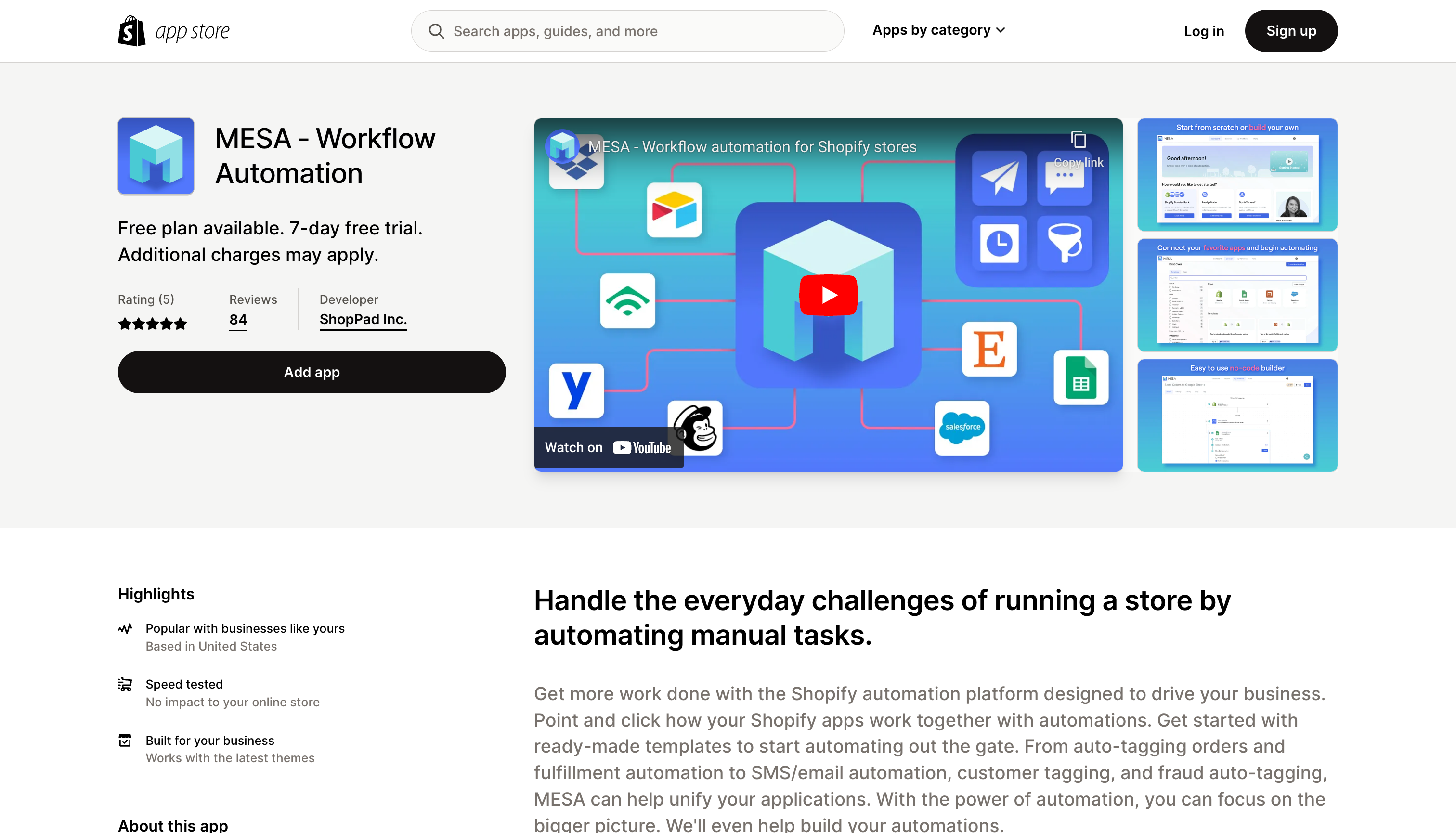 ★★★★★ 5.0 Rating – Shopify App Store
MESA is an easy-to-use app that helps you quickly and easily automate your Shopify store. It offers an easy, no-code interface to quickly create any automation for common tasks. For example, tasks like marketing, customer support, shipping and fulfillment, fraud, and discounts.
Here's why hundreds of ecommerce stores choose MESA to automate their entire online Shopify operations:
Built for Shopify
We've spent a great deal of time ensuring that our automation platform integrates perfectly with Shopify. It's built specifically for the platform, so every aspect of information within Shopify is available to any workflow in MESA. Additionally, there are several custom triggers and actions unique to Shopify because they understand its complexities and simplified them for you.
Ease of setup
MESA is simple and intuitive. So you don't need any coding or technical background to set up your workflows. Simply select the type of apps to connect, personalize the actions, then save and enable your workflow. Then, you're done. It's really that easy.
Integrates your favorite Shopify Apps
We also integrate with the most popular ecommerce apps from the Shopify App Store and other ecommerce platforms, so you can use MESA to create automation that utilizes powerful features from other apps. Additionally, with more than a dozen built-in apps, your workflows can be as unique as your brand.
Pre-built workflow templates
If you don't want to start from scratch, MESA also offers pre-made workflow templates that you can add immediately. Our team of experts carefully creates templates to take the guesswork out of setting up your automation.
Best of all, our team is available to help personalize any template or will make any custom workflow needed. Just ask— setup is free and included with every plan!
Trusted by some of the biggest brand names
Some of the biggest names out there trust MESA to help them automate their Shopify stores. It's not only about the big players though. We've designed our automation software to suit businesses of all sizes that want to automate their operations and save valuable time and money in the process.

Learn how one company decreased its processing time by 85%, and how another saved over $27,000 by unlocking the power of MESA's automation.
Can I use Shopify Flow to automate?
The answer is quite simply, yes. However, there are some caveats.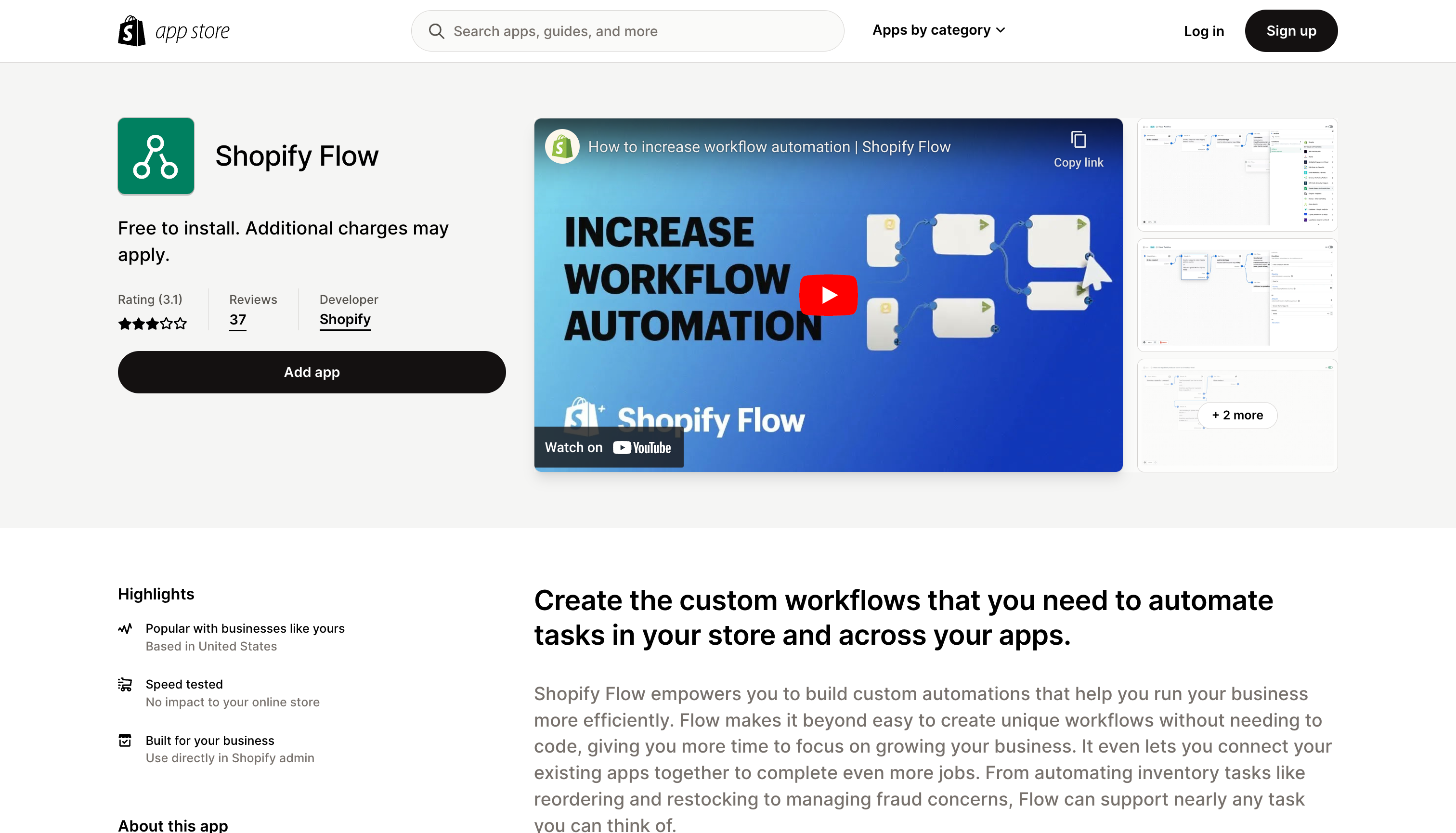 Shopify Flow is a tool built specifically to help you automate your store's processes. With Shopify Flow, you can create automated workflows—with triggers, rules, and actions—so that your store runs more efficiently without manual intervention.
The stipulation with Shopify Flow is that only third party apps with developed "connectors" into Shopify Flow can be used in a workflow. If that app developer didn't include that or the app you're trying to connect to doesn't exist, you'll have to find a workaround.
Tips on maximizing your automation efficiency
Now that you know what kind of automation opportunities Shopify makes possible, here are a few tips to help you maximize efficiency and get the most out of your automated workflows.
Analyze customer data and use it to inform your decisions
Use customer data insights such as purchase history, browsing behavior, and website activity to create targeted marketing campaigns that speak directly to customers' needs.
Test different scenarios in real-time
Experiment with different scenarios and test how they perform on your site before rolling them out. This allows you to adjust your marketing strategy as needed so you can ensure maximum success.
Connect everything
Automation works best when all the parts connect together seamlessly. From analytics to low inventory and stock alerts, and customer support, integrate everything in order to maximize efficiency. Stop manually copying and pasting data into spreadsheets and just let that info flow seamlessly.
Don't forget about the customer experience
While automation can help business operations, don't forget that the customer experience should always come first. Make sure you're providing the best experiences even when using automated tools.
With the right strategy in place and by considering these tips, you'll be able to scale your business and increase profits without having to spend extra hours managing your store manually.
Examples of Shopify Automation workflows
Now that you have a better understanding of the power of automating your Shopify workflow, let's unpack a few examples of exactly how you can do it, starting with marketing.
Marketing
With Shopify, you can create automated workflows related to marketing, such as reward customers when they make a high-value purchase, or creating unique "abandoned cart" campaigns that will follow up with customers who have added a specific product to their cart but have not completed the purchase.
This is a great component of your sales strategy, where you can create campaigns with personalized messages and product recommendations tailored to the customer's interests.
Customer support
Automating your customer support processes is another great way to free up time for more important tasks. With Shopify, you can set up responses to common customer inquiries such as shipping information, when a customer makes a negative review, refunds and returns, order status updates, and more.
This will give your existing and potential customers peace of mind that their needs are being met. It could be a simple query on a product or a more specific complaint that needs to be dealt with. Either way, making sure that you have customer support running efficiently will set you far ahead of your competitors.
Logistics & Fulfillments
When it comes to automating the shipping and fulfillment processes, automation can help complete more using less time by automatically calculating shipping costs, manage high risk orders, generating labels, and notifying customers when their orders have shipped.
If you are looking to streamline efficiencies in your online business, this is an important step to take. Why manually do all of these tasks during the fulfillment process when there is a far more efficient solution?
Fraud
Prevent fraud and high risk orders with a workflow that can stop more orders from costing you headaches in the future. You can set up workflow rules to flag suspicious activity and alert you when any potential fraudulent behavior is detected.
Remember, fraud is always evolving. Protecting your business and customers is a continual effort to monitor. An effort that is perfect for automation.
Upselling
Last, but certainly not least, with Shopify you can create upsells to customers who add specific products to their cart. Upselling is best described as the process of suggesting additional products that a customer might be interested in, based on their current purchase.
You can use set up automated rules and triggers for specific products so that customers are presented with relevant upsell sales at the right time.
For example, make rules that will automatically display related items or offer discounts and promotions based on the customer's preferences. This helps encourage customers to make additional purchases, increasing your average order value and boosting sales.
Amazing advancements with automation
Automating your Shopify store is an essential part of running a successful online business. With the right tools, you can save time and money while offering a better user experience to your customers.
MESA is the most popular Shopify app that can help you quickly and easily set up automation for marketing, customer support, shipping and fulfillment, fraud detection, and upselling. It's easy to use, integrates with your favorite Shopify apps, and is trusted by some of the biggest names out there.
New Shopify Apps Weekly Newsletter
We watch for new apps then package them into an email sent every Tuesday.