Creating a customer loyalty program for your Shopify store is easier than ever. The Shopify App Store lists multiple apps to help you create, manage, and adapt your customer loyalty program.
Our top 3 recommendations for Shopify loyalty apps are:
Yotpo Loyalty
LoyaltyLion
Stamped.io
Rivo
Let's review all the possible app options: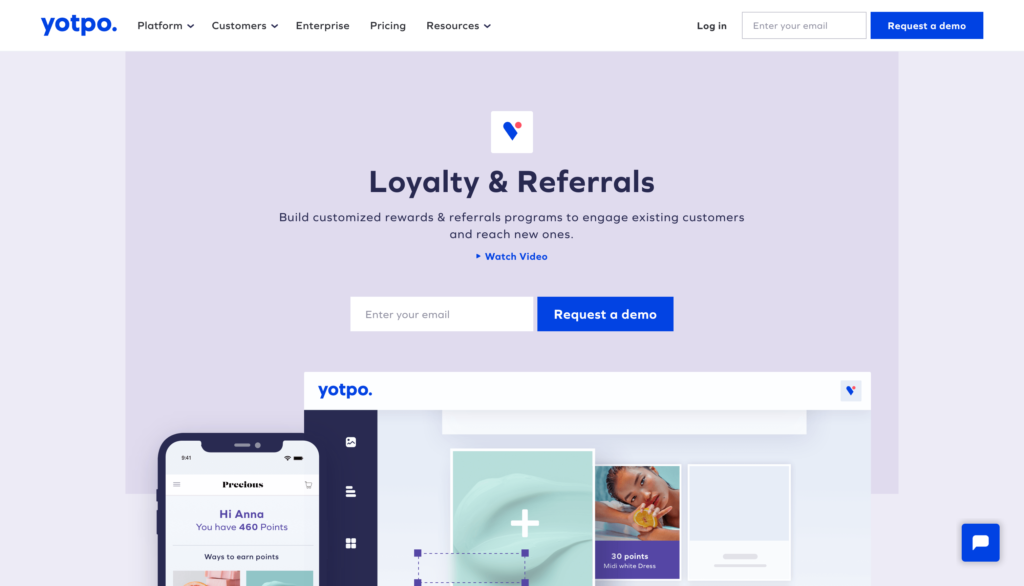 Yotpo Loyalty enables you to create Shopify rewards programs that reward customers purchasing your products. The app offers multi-channel support and multi-sharing options, and you don't need to be a coding wiz to use it.
Yotpo allows you to create a loyalty program based on points, spending, or referrals, and it offers analytical features to measure the impact and ROI of your program.
Other unique features include awarding points to customers who leave product reviews and collecting customer birthdays to send incentivized emails for their birthdays.
Shopify App Store Rating:
★★★★☆ 4.7 (2,400+ Reviews)
Pricing:
Free plan available. The next tier plan starts at $29/mo + $0.35 per order after 200 total orders per month.
What customers like:
Very easy to set up and understand for both those managing the program and for customers to engage. Support goes the extra mile even if it requires code changes.
What customers dislike:
Depending on your volume, the per-order charges can add up quickly, and the need to upgrade to higher tiers is common.
MESA Workflow Templates:
LoyaltyLion enables you to create a points and referral program that allows your customers to rack up points for purchases, reviews, birthdays, and more.
Customers can use their rewards for free products, shipping, VIP sales, vouchers, and more. Additionally, LoyaltyLion doesn't require any coding experience and seamlessly integrates with your other Shopify apps.
Other unique features of using LoyaltyLion include quickly notifying customers when they have rewards available. And incentivizing repeat purchases by offering bonus points with their next order.
Shopify App Store Rating:
★★★★☆ 4.5 (400+ Reviews)
Pricing:
Free plan available. The next tier plan starts at $159/mo.
What customers like:
Many users appreciate the onboarding experience with staff to help answer specific questions. That way, they're sure their programs are set up correctly.
What customers dislike:
Using all the features can require technical know-how that, if done wrong, can make for clunky customer experiences.
Stamped focuses on using social proof to reel in new customers. This can help overall brand loyalty.
The app lets you collect product reviews, consumer photos, Net Promoter Scores (NPS), and more. Then, you can showcase that feedback on your website. A website filled with positive reviews from customers helps you gain consumers' trust.
After a customer's purchase has been delivered, Stamped will send them an automated email. This email contains a link that takes the customers directly to your review page so they can share their thoughts. As a result, you can incentivize these reviews by offering rewards for taking the time to give feedback.
Shopify App Store Rating:
★★★★☆ 4.0 (100+ Reviews)
Pricing:
Free plan available. The next tier plan starts at $59/mo.
What customers like:
The support is responsive and helpful if you have questions about anything unique to your business' loyalty program.
What customers dislike:
Their integration with Shopify POS is still being developed. They're waiting on Shopify to fix problems with their API.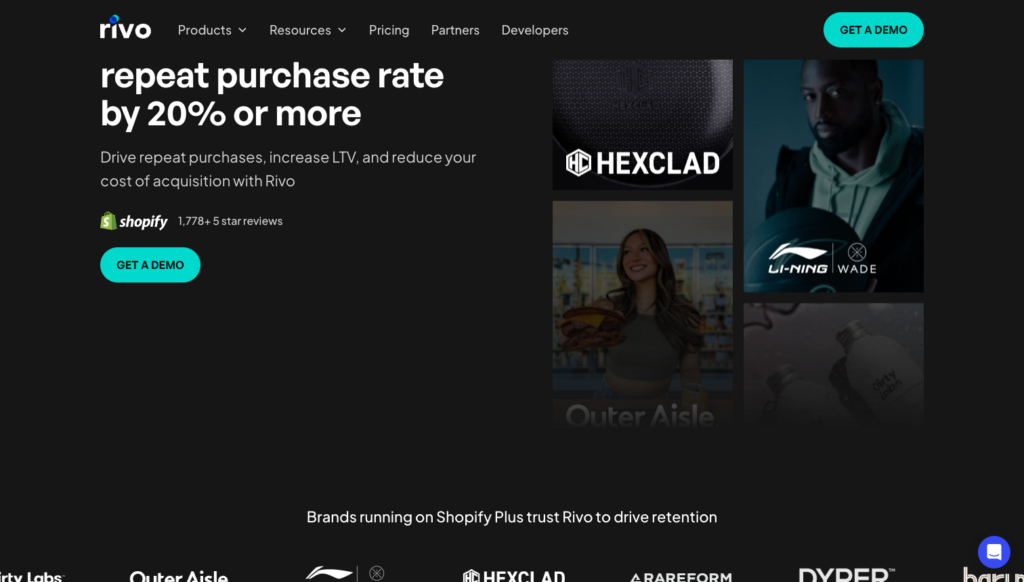 DTC brands such as Hexclad, Rareform, and DYPER trust Rivo to boost their customer LTV.
At Rivo, their distinction lies in weekly product updates, unparalleled customer success team spearheaded by ex-Shopify leads, and an unwavering commitment to enhancing retention metrics.
Leverage their customizable loyalty and referrals platform, designed specifically for rapidly evolving DTC brands, and benefit from 24/7 exceptional live chat support and seamless integration with tools like Klaviyo, Gorgias, and Postscript.
Shopify App Store Rating:
★★★★★ 4.9 (1,800+ Reviews) 
Pricing:
From $49/month. 7-day free trial.
What customers like:
Merchants value the comprehensive features, from pop-ups to integrated reviews, and its user-friendly customization for brand consistency. The advanced targeting and loyalty program enhance marketing and engagement, while exceptional customer service and easy integration stand out.
What customers dislike:
Some highlighted issues like lack of notifications for earned loyalty points and initial navigational complexity however, the team acknowledge these as being updated in a future release​.
If you want to learn more about your customers, you can use Delighted to incentivize providing feedback. The app makes it easy to discover ways to improve your products or service through feedback surveys sent via email, SMS, or link.
While reading what your customers have to say, your customers can redeem the points they collected for filling out a survey.
Make your customers feel valued by measuring their satisfaction with various survey options. For example, Net Promoter System (NPS) and Customer Terminal Value Margin. Collect accurate feedback in order to retain customers and increase sales.
Shopify App Store Rating:
★★★★★ 5.0 (5 Reviews)
Pricing:
Free plan available. The next tier plan starts at $224/mo.
What customers like:
Many users think Delighted is easy to use even when getting into advanced features. The interface is intuitive for getting at key metric values.
What customers dislike:
Customizing surveys and forms can require developers if you have strict branding requirements. Generally, the editor is good.
Postcardmania
Postcardmania makes snail mail fun again by sending postcards to customers to encourage repeat purchases. The postcards contain a promotion or discount code that inspires shoppers to hop online and see what they have in stock.
PostcardMania lets you precisely target the most qualified prospects with postcard mailings and optional matching ads on Google, Facebook & Instagram.
This isn't your traditional loyalty program where the person has to opt in for benefits. It does, however, creatively help you target your most valuable customers in a unique way.
Trustpilot Rating:
★★★★☆ 4.8 (200+ Reviews)
Pricing:
Standard 4×6 Postcards range from $0.13 – $0.05 depending on volume. They recommend contacting sales for a custom quote.
What customers like:
The overwhelming feedback from customers speaks very highly about the customer service they provide. It's been stated as both timely and professional. That goes a long way when trusting a company to handle your mailings.
What customers dislike:
Some noted the service to be a little expensive. Others felt frustrated their efforts didn't yield the results they were hoping for.
Benefits of loyalty programs on Shopify
A customer loyalty program, especially one that intertwines corporate social responsibility like planting trees for each order, can substantially benefit an eCommerce business. Such a program significantly enhances customer retention by providing a compelling reason for repeat purchases. It incentivizes greater spending and increases sales frequency as customers are more likely to return and shop more to contribute towards a good cause. Additionally, the loyalty program provides crucial data about customer behavior, helping businesses refine their marketing strategies.
New Shopify Apps Weekly Newsletter
We watch for new apps then package them into an email sent every Tuesday.