Data drives modern ecommerce brands. But there's too much of it, and to get a hold of the abundance of data businesses obtain daily, they need a tool or a solution to make something useful out of it.
Well-managed data can empower you to spot opportunities early on, make informed decisions and stay ahead of the competition.
While there are many tools for general data storage, Airtable and Google Sheets stand out as popular choices. But the question is: Which one provides all the functionality needed for ecommerce brands?
In this article, we'll compare Google Sheets with Airtable, based on the cost, features, and ecommerce use cases. Let's dive in.
Main differences between Airtable vs Google Sheets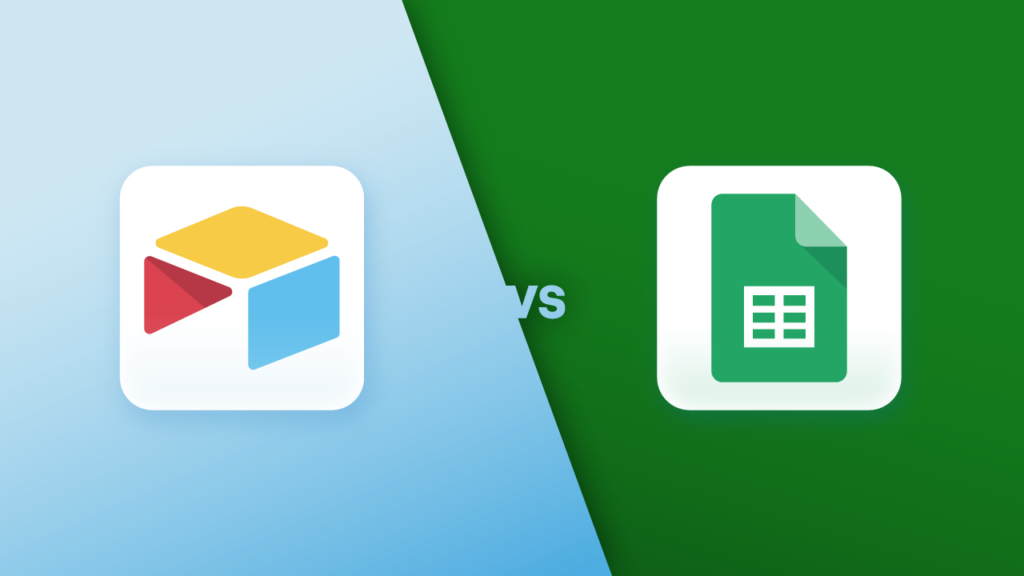 The main difference between Google Sheets and Airtable is that Google Sheets is a more traditional spreadsheet tool, while Airtable offers a database spreadsheet hybrid. Both Airtable and Google Sheets can store data and help you to organize it, but this core difference between how they are built expands in various forms.
Here's the head to head comparison between Airtable and Google Sheets:
Complexity — Both Airtable and Google Sheets give you a blank canvas to start with. Google Sheets comes with the simple rows and columns layout, and you cannot do much after that. Unlike Google Sheets, Airtable is an incredibly versatile tool that allows you to work on more complex projects. This functionality comes with a tradeoff in the learning curve, where Google Sheets is ready to use instantly, while Airtable has a steeper learning curve.

Field types — You can handle various data types, such as strings, numbers, files, buttons, barcodes, and more, in Airtable vs Google Sheets, where the input type is limited to text, numerical values, date and time, and location data.

Customization — Airtable allows you to create custom views of your data and choose between different view types such as grid, kanban, timeline, and calendar. Google Sheets offers the traditional spreadsheet experience.

Relational database — Unlike Airtable, which allows you to add linked records to your workflow, Google Sheets doesn't offer such advanced features. Google Sheets can be used as a basic data storage but requires the knowledge of dev tools to use it for your store. Airtable, on the other hand, has built-in integrations with other no-code tools that help you use the data stored inside it.

Cost — Google Sheets is free as part of the Google Workspace tools suite and offers a 10 million record limit and 100+ collaborators. Airtable also has a free plan that allows 1,200 records per base and up to 5 creators/editors. If you decide to upgrade, Airtable has paid plans starting at $10 per seat per month, billed annually.
Exploring Airtable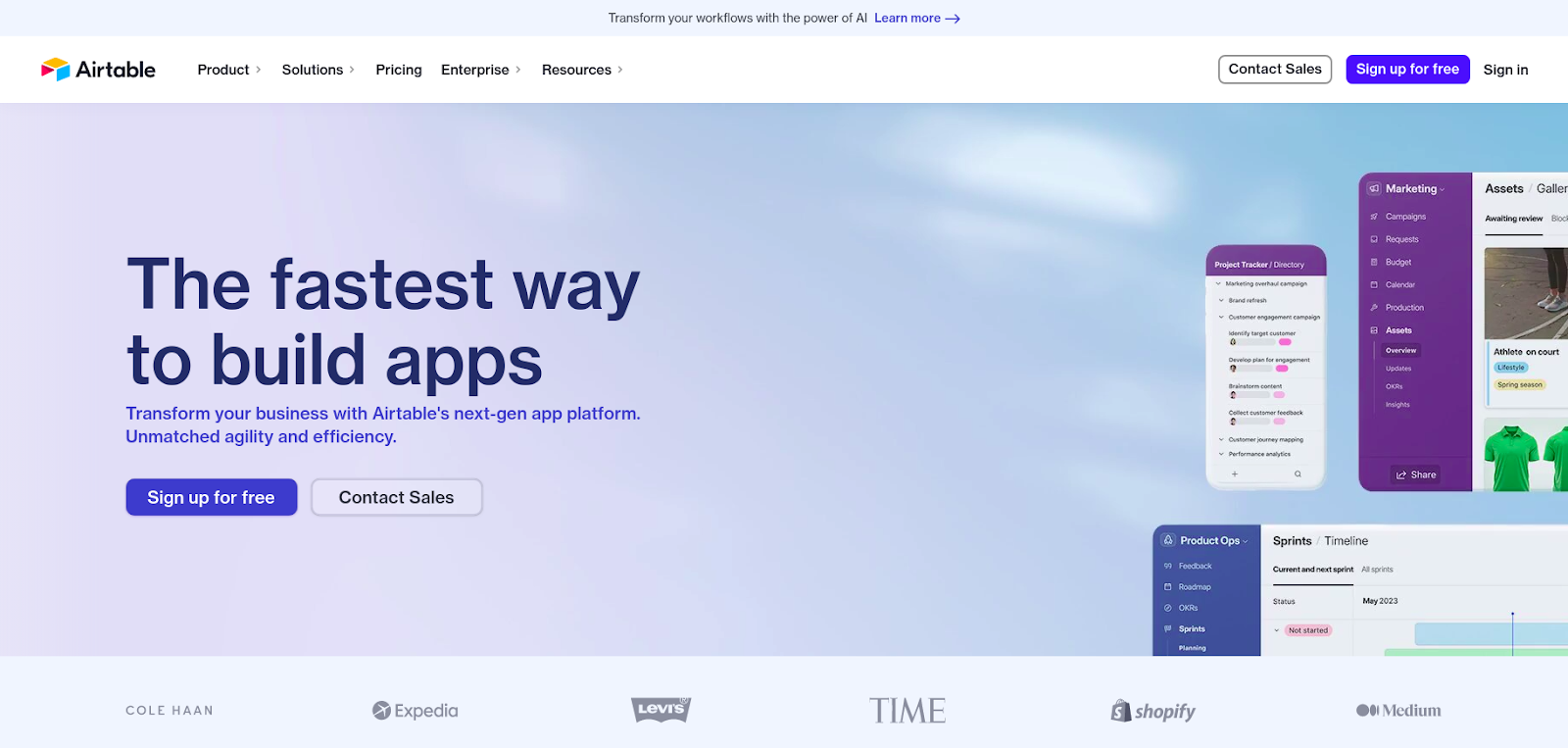 ★★★★☆ (4.6) G2
Airtable is a cloud-based platform that combines database, spreadsheet, and collaboration software features. It can be accessed via a web app or a mobile app on Android or iOS.
It's suitable for different tasks, such as storing and organizing data, project management, contact databases, task lists, and more.
With Airtable, you get the convenience of a spreadsheet with the added benefits of a powerful database rich with features that go beyond what a typical spreadsheet app can provide.
The core features of Airtable include:
An easy-to-use, spreadsheet-like interface but with advanced data fields.

Different user-permission levels for collaborative usage.

Relational database management system to link records in multiple tables.

Custom views such as grid, kanban board, timeline, and calendar.

An extensive list of integrations with other tools, no code platforms for ecommerce (like MESA)
Airtable has a free version for individuals or small teams that are just getting started with the platform. The free version allows Airtable users to create unlimited bases, 1,200 records per base, and up to 5 creators/editors. If you decide to upgrade, Airtable has paid plans that cost between $12 and $24 per seat per month.
Exploring Google Sheets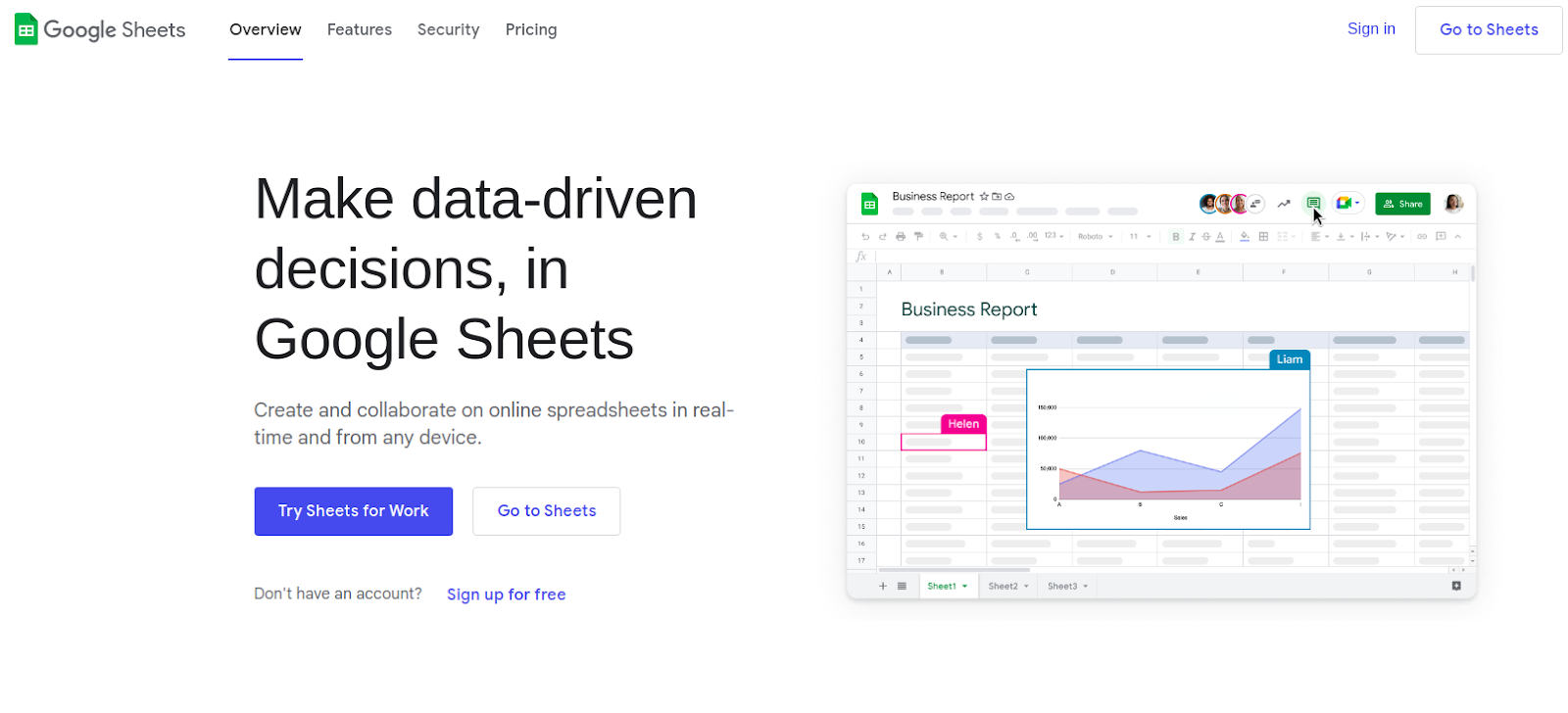 ★★★★☆ (4.6) G2
Google Sheets is a cloud-based spreadsheet tool, part of Google Workspace Suite. Some of the main use cases include data collection, calculations, and basic data visualization. Google Sheets interface has similarities to Microsoft Excel but offers more ready to go collaborative features than traditional spreadsheets—a blessing for remote teams.
With Google Sheets, you can create, edit, and access your spreadsheets forms different devices, such as your phone, tablet, or computer.
The core features of Google Sheets include the following:
Data tracking and analysis with formulas.

Basic project management.

A Collaborative tool with real-time updates.

Data visualization and reporting.

Integration with other Google Workspace apps like Google Docs and Google Calendar.
Google Sheets in itself is free and allows 10 million records and 100+ collaborators per sheet. For most use cases, the free plan of Google Sheets is sufficient. Still, if you want to upgrade for features like enterprise-grade security and dedicated support, Google Workspace's paid plans are available starting from $6 per user per month.
What makes a great data management tool?
The right tool to manage ecommerce data is crucial to avoid duplication, data silos, and complex management issues. It also enables businesses to scale effectively by providing a foundation with well-structured and systematized data.
Here are the features that differentiate different data management tools:
#1 User interface and ease of use: An simple interface like Google Sheets is suitable for users that prefer to start from scratch and create their own process. An interface with multiple options and templates (like Airtable) is easier for someone who wants to get the most out of the tool.
#2 Collaboration and sharing: Both Airtable and Google Sheets allow real-time collaboration. For most plans, Airtable has a small number of users you can collaborate with, but you can set up different access levels for different parts of your base. On the other hand, Google Sheets allow sharing to a large number of users very easily, but the access customization is limited to the entire file.
#3 Data management and organization: Consider the complexity of the tasks you'll be working on. While Airtable provides multiple types of input fields, the ability to import data, and other advanced capabilities, Google Sheets has limited functionality for complex workflows and data analysis.
#4 Customization and extensibility: As your business grows, the ability to scale and customize your data management tool is vital. Make sure that the solution you choose can handle your future data growth and business needs.
#5 Integration with other tools and services: Data does not exist in a vacuum. You need to integrate your data management tool with your CRM, ERP, email marketing system, and other platforms. Thanks to its API, Airtable lets you connect with apps such as Salesforce, Stripe, MESA, and many other third-party tools to build powerful workflows. Google Sheets, on the other hand, has more limited integration options.
Best ecommerce use cases for Airtable and Google Sheets
Airtable and Google Sheets are general-purpose tools with various use cases across many industries. While you need to focus on what you need to achieve, here are some of the most common ecommerce use cases for Airtable and Google Sheets:
Inventory management and tracking

Sales and revenue analysis

Customer relationship management (CRM)

Workflow automation and task management
Consider your specific use case and the functionalities you need when you compare Airtable vs Google Sheets. While Airtable is more suitable for inventory management, customer relationship management, data analysis, and reporting, Google Sheets is better for basic project management, simple data tracking, and personal finance tracking and budgeting.
Airtable or Google Sheets, which one to choose?
If you have limited data and want to perform basic calculations and visualizations, Google Sheets might be a good fit. However, if you are dealing with a large amount of data and want to manipulate and view data in a variety of ways, you should consider Airtable.
In addition, Airtable is a better fit if you have a dynamic use case like CRM or project management, as it acts like a relational database that lets you organize and connect all your information.
Regardless of whether you opt for Airtable or Google Sheets, you can use the power of automation to save hours of work. With MESA, you can set up a workflow each time a record is created or updated in the Airtable platform, or you send important information to existing Google Sheets automatically without having to fill in each spreadsheet manually.
Ready to boost your Shopify store efficiency? Sign up free to start automating your data management.
New Shopify Apps Weekly Newsletter
We watch for new apps then package them into an email sent every Tuesday.