A transactional email is a one-to-one email triggered by a customer's actions. Transactional emails are, in many ways, the most conversational type of email a marketer can send, as they are always in direct response to a customer. And because these emails are sent at high points of the customer's engagement with your brand, transactional emails have the highest amount of engagement of any email type. They have 8X more opens and clicks, and can generate up to 6X the revenue of other emails. That makes them incredibly valuable marketing real estate. Given that, let's take a look at the nine different types of transactional emails you need to be sending for your Shopify store.

1. Cart abandonment

Statistics suggest that nearly 70% of online shopping carts are abandoned, which is not a pretty number. If you have done the hard work of getting customers to your site and interested enough in a product to add it to the cart, it is very frustrating to fall at the final hurdle when that customer comes to pay.
Sending an automatic email to the potential customer is the best way to start working on earning that completed purchase. Artisan gin producers Tinkture have seen an impressive uptick in rescuing abandoned carts by offering customers a discount to return and make a purchase.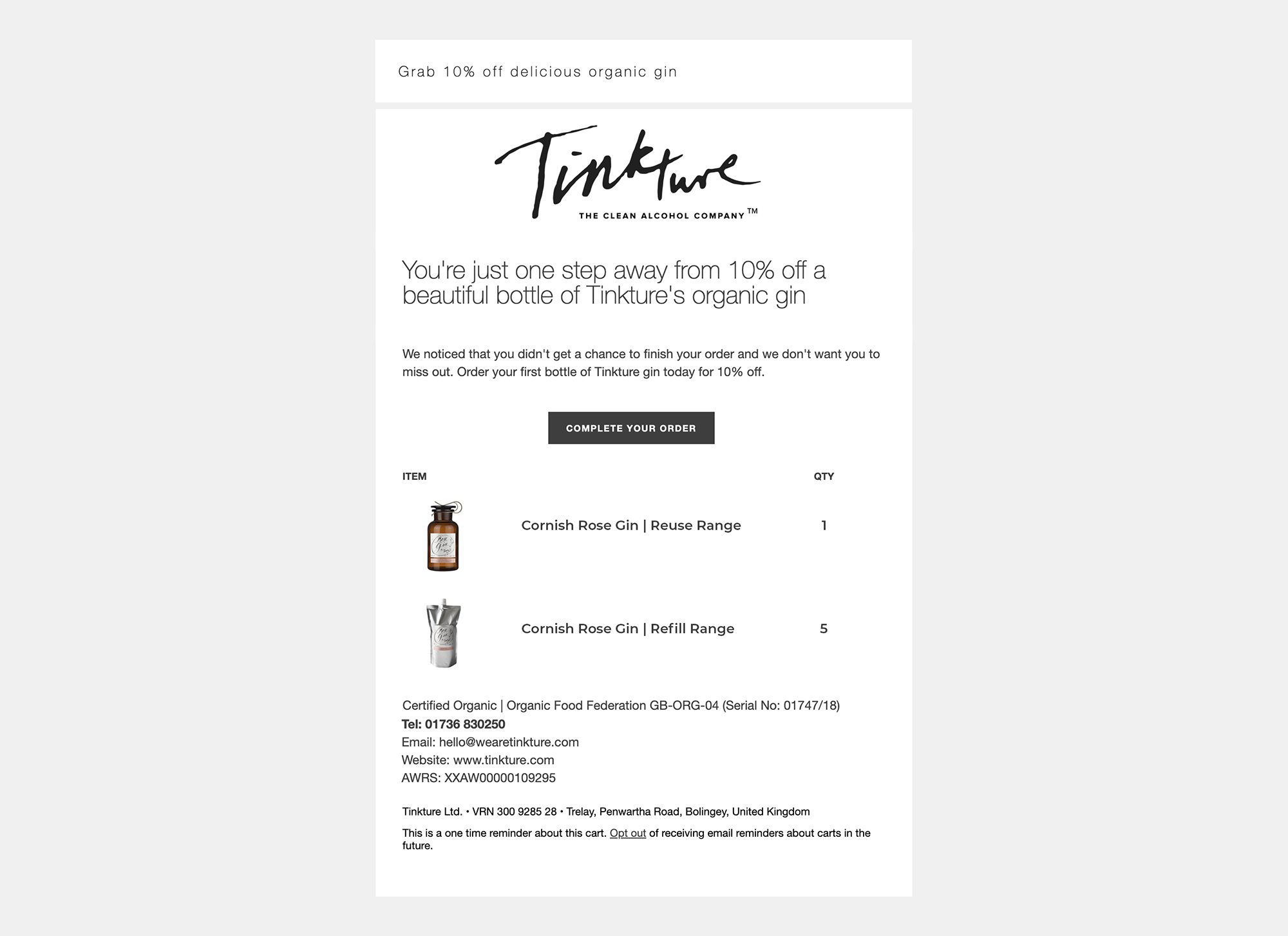 Sending abandoned carts emails for your Shopify store is super easy, too. Our app, Kit Karts, can send them out automatically for you if you're using Shopify's Kit. Get a free month now!
2. Order confirmation

Customers feel assured when they receive an order confirmation email. It can be an especially positive experience when that confirmation includes all of the specific details of the order including the ID number, the delivery address, and the specifics of the product or service that have been purchased. Order confirmation emails reassure customers that their money was spent safely and their order will be coming.
In fact, according to data released by Borrell Associates Inc and Merkle Inc, 64% of customers consider order confirmation email as the most important in their inbox. There are a huge range of fantastic examples of companies doing unique things with their order confirmations – but the key thing to note is that if you aren't sending these emails, your customers are being deprived of the most important email they are expecting to receive.
3. Shipping confirmation

It's not only crucial to confirm that the order occurred, but also to keep your customers updated on the status of their order. 93% of customers demand to know where their orders are. In fact, if you aren't sending shipping confirmations (and using an order tracking service), their queries about their orders could take up 30% of your customer service inbox. That's why the majority of eCommerce sites send shipping confirmations.
Take a look at this simple but effective best-practice example from the Fitbit ecommerce store – the text is bright and clear, with relevant product images included and a friendly message.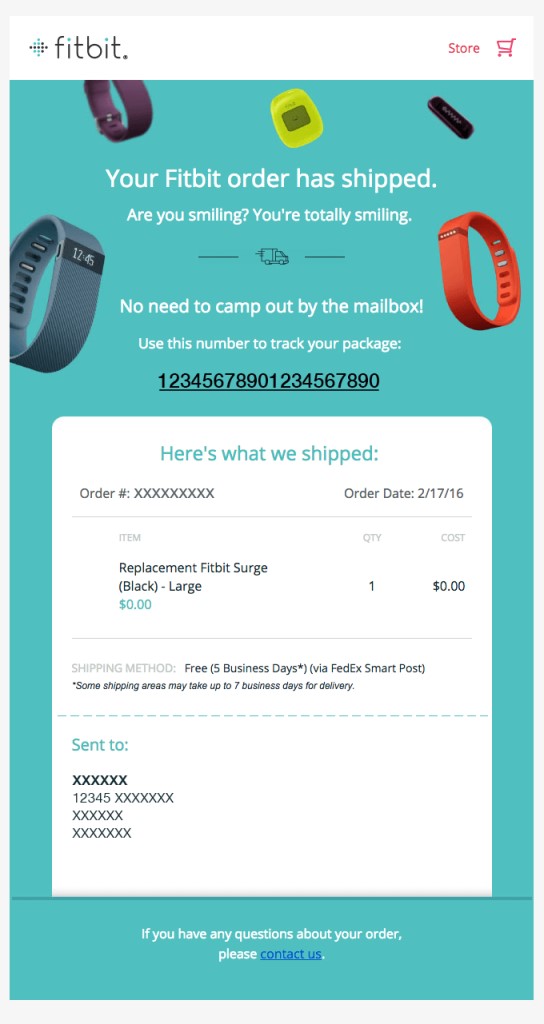 4. Renewal

Renewal emails can serve multiple purposes for subscription model stores. First, they show customers and clients that you are keeping track of their orders and subscriptions, allowing them to continue to trust your business. To do this most effectively, the email should have the start and end dates to any membership or service that you are providing.
Additionally, they can be used to remind customers of the value that you bring to them, helping to create a longer customer lifetime and therefore greater customer value. You can do this with a list of the benefits that they are currently enjoying. You could even offer an opportunity to upgrade, as seen in the example from Weebly below.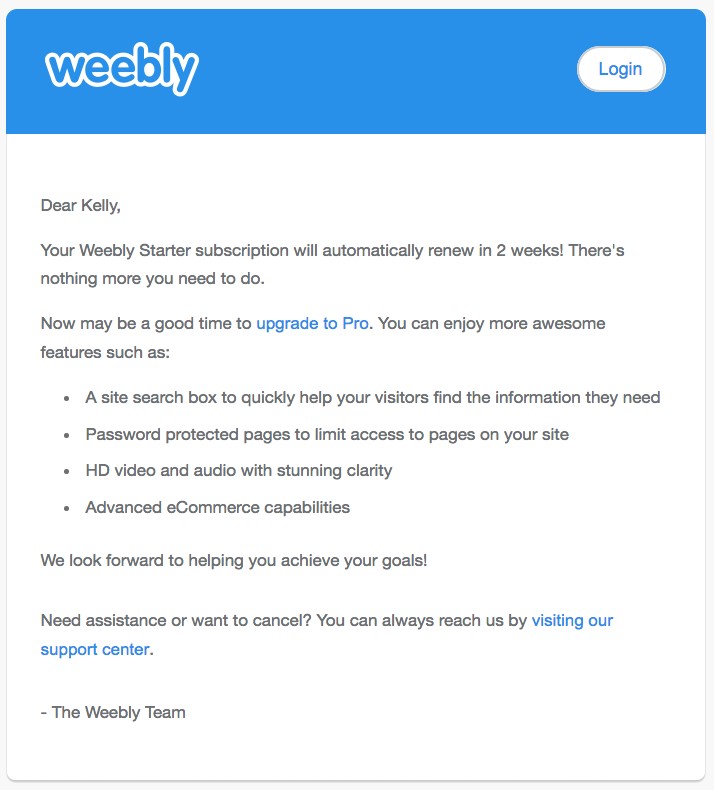 5. Refund

This one should be a no-brainer – if you are issuing a refund to a customer for any reason then you should always be sending them an email. Automatic emails updating a customer about their refund status eliminate a great deal of hassle and confusion, as well as put the customer at ease.
A simple email with the amount that is being refunded, and a transaction ID is all that is required here, but it can make a big difference to how the customer perceives you.
6. Dunning

Dunning emails are notifications that inform users that their credit cards have expired or their payment has failed. They represent one of the most important ways both to ensure that customers are getting the services or products that they want, and making sure that the client continues paying for their purchases.
The real skill in a dunning email is to provide the information in a friendly way, without looking like you are accusing the customer of deliberately not paying. Spotify uses the technique of writing a playful dunning email to help customers sort out the problem.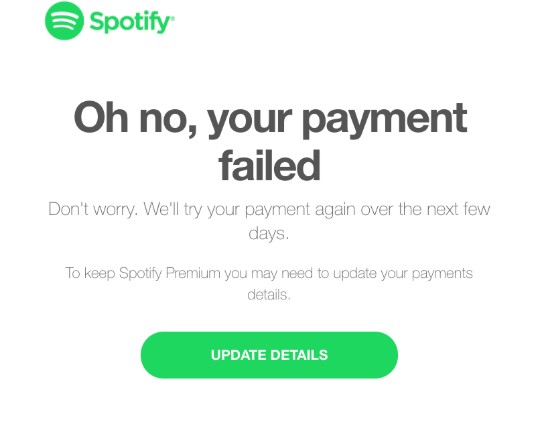 7. Review Request

Reviews are critical to the success of an eCommerce business – 90% of customers read reviews. The best way to collect reviews is to send an email request to your customers within a certain amount of time after purchase. That time period will vary depending on your products, but generally you want the wait period to be long enough that the customer has had time to use the product, but not so long that they've forgotten who you are. When it comes to sending a review request email, it's critical that filling out the review has as little friction as possible. Best case scenario, the customer can fill out the review as a reply to the email or simply click a star rating within the body of the email.
8. Customer account emails
If your customers are able to make an account, there are a number of transactional emails that you'll need to have set up in order to communicate with them effectively.
Notification emails are a key way to communicate with account members. Whether you're updated terms of service or letting them know they have expiring points, a notification email has the power to build your brand and even encourage the customer to return to your site and purchase. Take a look at how HR software provider Breathe sends notification emails. Rather than a generic message, the company adopts a far friendlier and more conversational tone. This helps to build a positive opinion of the business any time that someone reads one of the emails.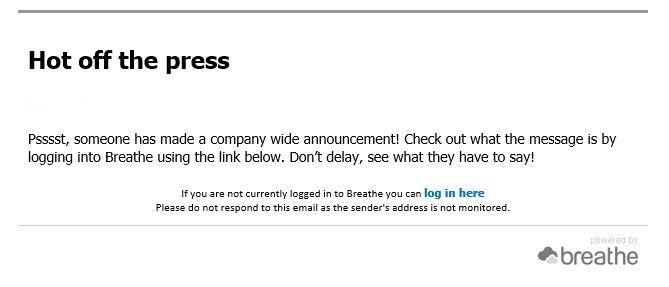 Account creation emails are necessary to send to your customers when they initially sign up to an account with you. This email should contain log-in details so that your customers can easily find them in the future in order to make further purchases.
Password reset emails are that most necessary of emails for account members. A password reset email should be short, to the point, and entirely clear about the steps that the member needs to take.
9. Double opt-in
When someone creates an account or signs up to your newsletter it's a good idea to send what's known as a 'double opt in' email. A double opt-in is sent as an automatic response when a contact initially signs up to ask them to confirm their site sign up. These help you to earn the trust of customers as it demonstrates that your company is thinking about their security.
Double opt-in emails are a particularly wise idea in Europe to aid in your continued efforts to comply with the General Data Protection Regulation (GDPR).
Signing Off
Transactional emails are the cornerstone of any smart email marketing strategy for your Shopify store. They are by far the most engaging emails of your strategy and should considered your most important emails. If you're ready to start running abandoned cart emails, try Kit Karts for free here.