Running an eCommerce store isn't as simple as launching a pretty website, adding a couple of products here and there, and running ad campaigns to drive traffic. For the best results, you must also optimize your website for Shopify sales and measure your conversion rate.
However, even when you're doing your best to optimize the customer experience, you may not understand why you're not getting the results you want. 
So What Exactly Is a "Conversion Rate"?
Simply put, a conversion rate is the percentage of visitors who took the desired action. You determine it by dividing the number of people who saw your page or message and dividing it by the number of people who converted.
The ultimate goal is to get the website visitor to make a purchase. However, they'll go through multiple conversions before doing so, which include:
Adding an item to their cart
Clicking into a product page
Clicking on a promotional banner
Clicking an ad
Starting a chat on your website
The most significant conversion rate that matters is how many people visited your website vs. how many made a purchase. After, your goal as an eCommerce store is to drive the most sales as possible, are we right?
What's a Good Conversion Rate?
The current conversion rate for eCommerce stores worldwide is a meek 2.86%. In other words, out of 100 web visitors, only 2.86 of them will end up making a purchase.
The hard fact is that it's not enough to drive traffic to your store. You must also optimize your website for conversion so that shoppers eventually pull the trigger after browsing through your products.
So how do you improve your conversion rate, you may ask?
It all comes to tracking the conversions of each of your pages on your website. From there, it's up to you to tweak those pages, so you eventually get the results you desire and win big.
How to Measure Your Shopify Conversion Rate on Google Analytics
Being able to measure your conversion rate on Shopify is vital to maximizing your eCommerce efforts. Without a clear picture of your store's performance, you won't know which areas your website needs to improve.
The best tool we recommend to measure your Shopify conversion rate is Google Analytics. It's an excellent platform that tracks your website traffic and provides relevant insights on visitor behavior. 
The tool is free for all businesses and you don't need a specialized version for eCommerce to start using it. Aside from your Shopify conversion rate, Google Analytics will also provide your store with data on the following:
Bounce rate
Unique and returning visitors
Website speed and performance
Facebook product advertising results
And more
Thankfully, measuring your store's performance on Google Analytics is a straightforward process. Here's how you can start measuring your conversion rate on GA in three simple steps:
Go to the Google Analytics dashboard and click on "Conversions"
Select "Ecommerce" and head over to "Overview"
From there, you'll get access to a chart of your store's performance over a specific period, along with your conversion rate underneath the chart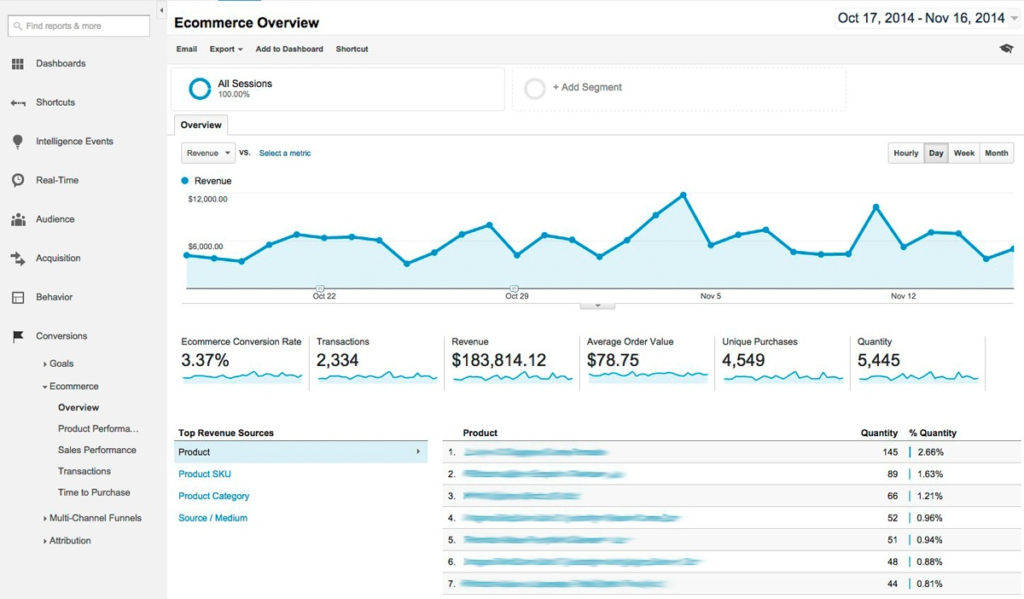 Now, we recommend that you start using Google Analytics once you hit at least 500 monthly visitors. If you've had more than 500 visitors, you want to segment that traffic into a timeframe, such as your visitors from last month.
How to Use Google Analytics to Improve Your Conversion Rate
According to Econsultancy, only 22% of businesses are happy with their conversion rates. By understanding exactly what is preventing you from improving your conversions, you can proceed to make changes and drive better results.
Here's how you can use Google Analytics' features as a roadmap to optimize your store:
Dive Deep Into Your Demographics
Improving your conversion starts by understanding your audience. By getting your products in front of the right people, you'll be more likely to drive sales and increase your traffic.
Google Analytics provides you with a lot of data on your customers, such as their age, gender, location, and more. It's information that you can use to improve your marketing campaigns and make them more personalized.
To uncover this data, perform the following commands: Audience > Demographics > Overview.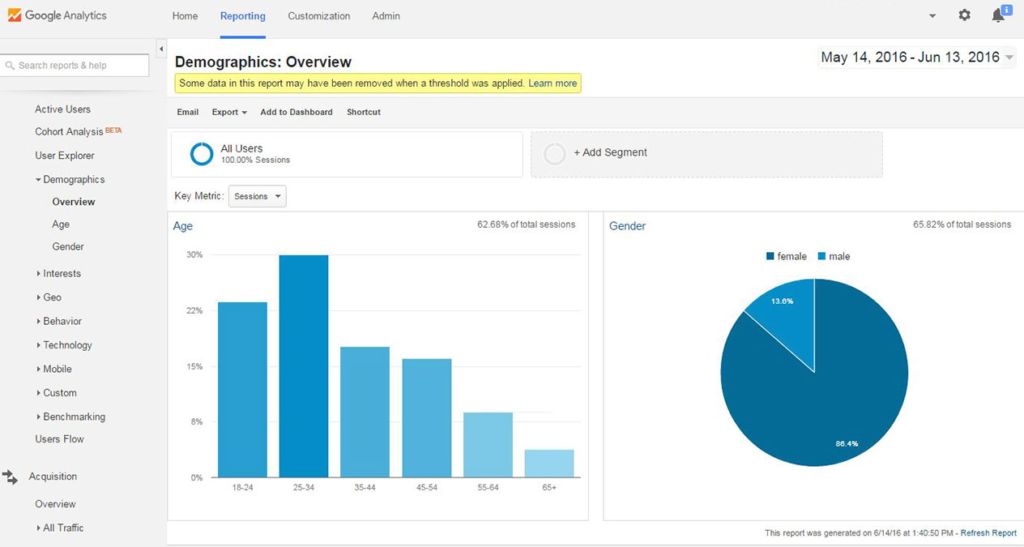 From there, you can keep all of this data in mind the next time you're launching a marketing campaign for your store, so you can target the right audience and make it more relevant.
Measure Each of Your Product's Performance
Next, you can't improve your conversion rate without knowing which product is selling well and which isn't.
Google Analytics allows you to instantly see what your best selling products are within a couple of clicks. You can do this by performing the following commands: Conversions > Ecommerce > Product Performance.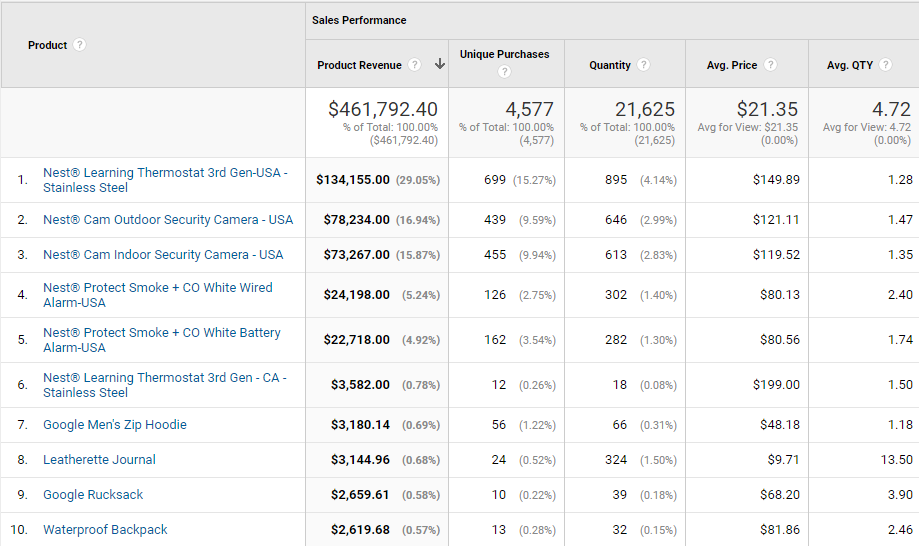 By identifying your best products, you can boost your sales by promoting them on the homepage so that first-time visitors can instantly check them out.
Determine Your Best Acquisition Channels
Do you know where you're getting most of your visitor traffic? Is it from social media, email, advertising, or referrals?
If you don't have a clue, you can use Google Analytics to identify your highest-converting channels, so you know which channels are most worth focusing on.
All you have to do is perform Acquisition > All Traffic > Channels. Here's how your dashboard is going to look like: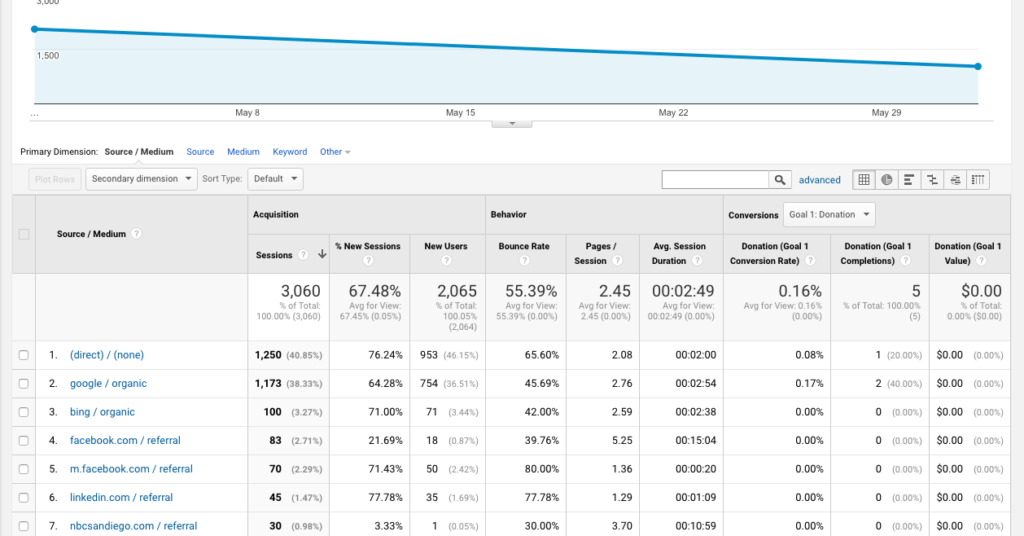 Once you analyze this data, you can spend more money on the channels that drive you the most revenue. On the other hand, If you notice that a channel delivers poor results, you can find ways to improve it and boost conversions.
Identify Pages That Load too Slow
Slow speed on your Shopify store is what could destroy your conversion rate. According to Google themselves, 53% of website visitors will leave your website if it takes 3 seconds to load.
It doesn't matter if you have the best product in the world. With a slow website, customers will just bounce off and not bother to make a purchase.
Thankfully, Google Analytics allows you to identify which pages are loading the slowest on your website. Here are the commands to uncover all of this: Behavior > Site Speed > Page Timings.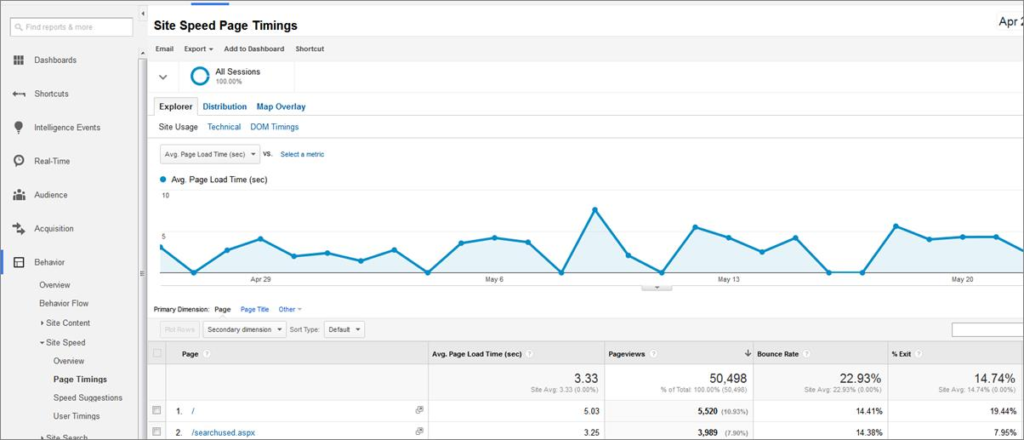 Once you improve your website's speed, fewer visitors will be tempted to bounce off your page. The result is that your conversion will naturally increase.
Getting the Most Out of Google Analytics With Automation
While Google Analytics is a great tool for measuring your performance, you don't have to stop there. You can also use automation to take your Google Analytics efforts to the next level.
An automation platform like MESA, which is designed with an eCommerce store in mind, can help you maximize each of Google Analytics' features. You can automate workflows to get deep insights into your store's performance and improve it for better results. One thing that Google Analytics lacks is the ability to track order returns. MESA allows you to automate workflows to monitor which products result in the most refunds, so you can take them off your store and stop returns from hurting your conversions.
Extra Tips to Boost Your Conversion Rate on Shopify
We recommend that you measure your Shopify store's performance at least once a week to see how it's growing overtime.
In the meantime, there are little changes you can do on your website that deliver big results. Here are some of the best things you can do to improve your Shopify store's conversion rate:
Optimize Your Website for Mobile
More and more people are using their mobile device to make their purchases. By 2021, mobile sales will represent around 54% of total eCommerce revenue.
So if your website isn't optimized for mobile, you're shooting yourself in the foot. You need to make sure that your website is responsive and looks good on all devices, so customers can easily make their purchase.
Send Cart Abandonment Emails
Cart abandonment may be a pain to deal with, but it doesn't have to represent the end of a sale. Sometimes, all it takes to boost conversions and win customers back is to follow up via email.
Here's a great example of what a cart abandonment looks like from Jack Wills:

In the example, they're giving the customer a second chance to finish their purchase. They also include other product recommendations if the item they added to their cart wasn't what they wanted.
There are many tools you can download on Shopify to send automated cart abandonment emails. The best one we recommend is Kit Karts.
Improve Your Checkout Page
The checkout page is a vital touch point of the customer journey. It's the last page that a visitor goes through before eventually becoming a paying customer.
Optimizing the checkout page goes hand in hand with improving your conversion rate. You want to remove any friction to your page so that customers can make their purchase with no problems.
You can also include various payment methods for the customer to do their purchase. By giving them more choice, they'll be able to find the right payment service that fits them.
Use High-Quality Product Images
It may come across as a no-brainer, but your product pages need solid images. According to ⅔ of customers, high quality images influence their decision to purchase a product.
Make sure to include various product images that show your item in different angles, so the customer gets a full picture of your product. If you can, we recommend that you hire a professional photographer to help you do this.
To take it up a notch, consider adding a product video to your pags, like top eCommerce brand Asos does regularly as part of their descriptions: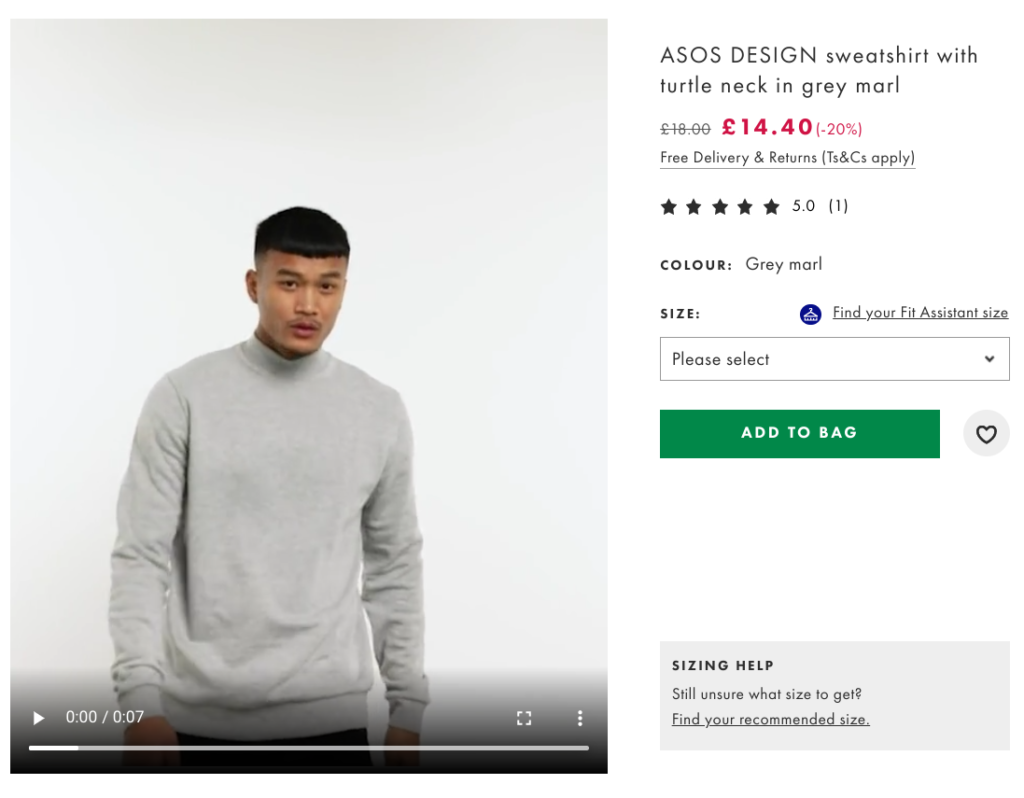 Leverage Positive Reviews and Testimonials
Social proof is a powerful trigger for conversion: 90% of customers use reviews from others as part of their purchase process. You can include customer reviews and testimonials in your products pages, just like The North Face does here: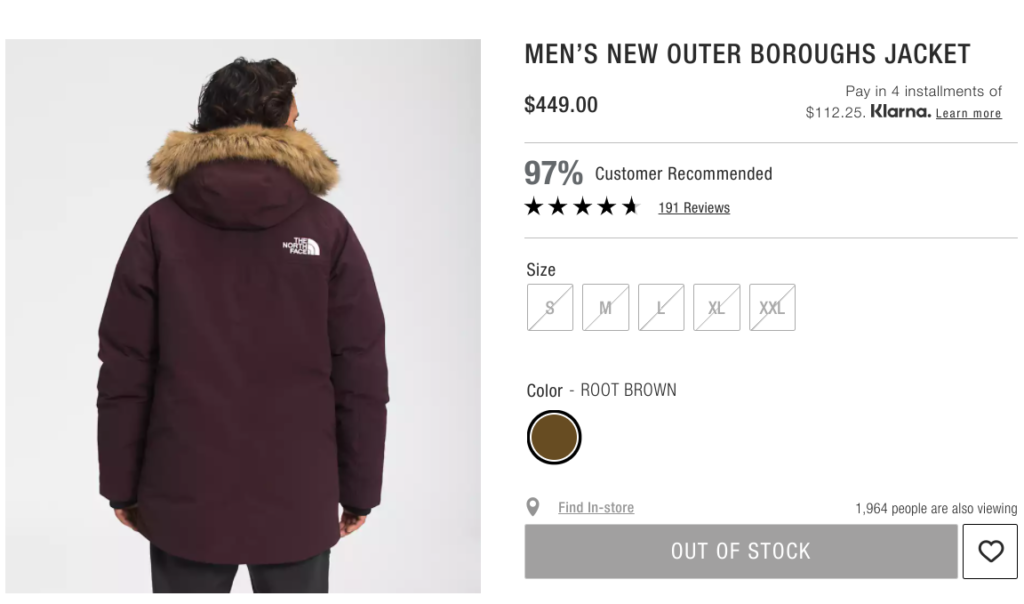 To take it even further, you can include user-generated content from your own customers to showcase your products. After all, who's better to promote your products than previous customers themselves?
Wrapping Things Up
Improving your conversion rate doesn't have to be rocket science. By using Google Analytics, you can identify blind spots on your website that are killing conversions and improve your marketing workflows. You'll generate more sales and drive better quality traffic as a result.
To learn more about how MESA uses automation to better understand your customers, try it out, it's free forever or contact us to talk to an automation expert.
We'll help build workflows to automate your repeatable tasks.
Put our experts to work for you. Get started today.
Get MESA Free on Shopify
New Shopify Apps Weekly Newsletter
We watch for new apps then package them into an email sent every Tuesday.

Yopto
Marketing

Shopify
Commerce

Segment
Productivity

Infinite Options
Productivity

Slack
Productivity

Etsy
Commerce

Discord
Productivity

Bold Commerce
Commerce

Tiktok
Marketing

Airtable
Productivity