Running a successful Shopify store requires ecommerce managers that pay attention to what customers need. Offering the right balance of convenience, variety, and value keeps buyers coming back over and over again. Utilizing a product options app on Shopify can significantly elevate the customer experience, encouraging repeat business.
So, how can you achieve this? By having the best product options available through apps like MESA, you can customize the online shopping experience to meet customer expectations.
Discover how you can unlock your ecommerce business's potential, create a smooth shopping experience, keep customers coming back, and see your profits soar. To jumpstart these efforts, install MESA (for free!) to save multiple custom product options to more apps.
Infinite Options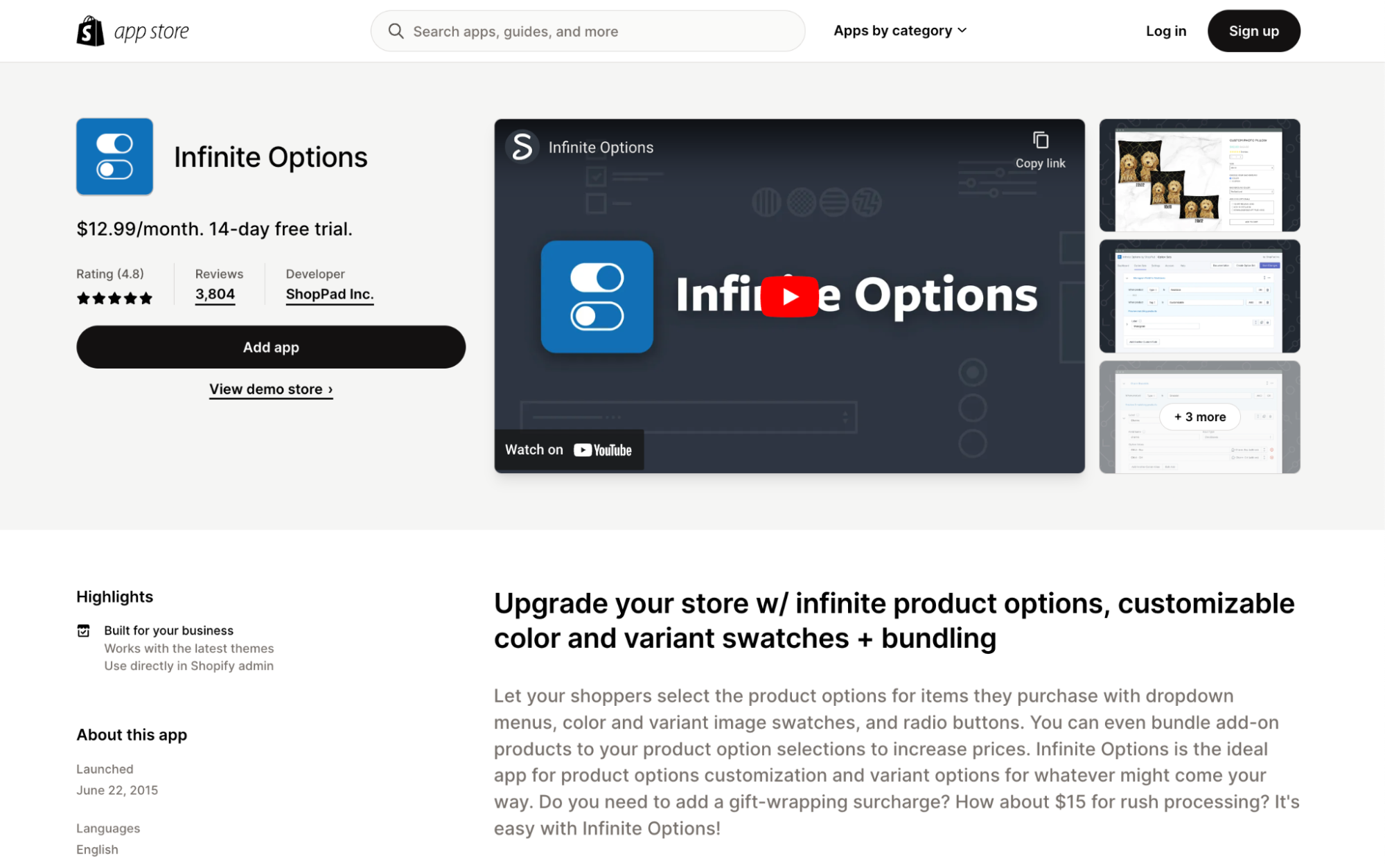 ★★★★★ (4.8) Shopify App Store Rating
When it comes to product options for Shopify, Infinite Options offers merchants features like customizable product options, color and variant swatches, and convenient dropdown menus and radio buttons.
Store owners can also bundle add-on products with options to boost average order values and maximize profits. Infinite Options gives business owners easy ways to tackle customization and variant challenges effortlessly within their Shopify stores.
Pricing:
$12.99/month

14-day free trial
Feature Highlights:
Infinite options: Add unlimited product options to your items.

Add-ons: Display per-option charges on the product page itself.

Product bundling: Increase sales by raising your store's average order size.
Uploadery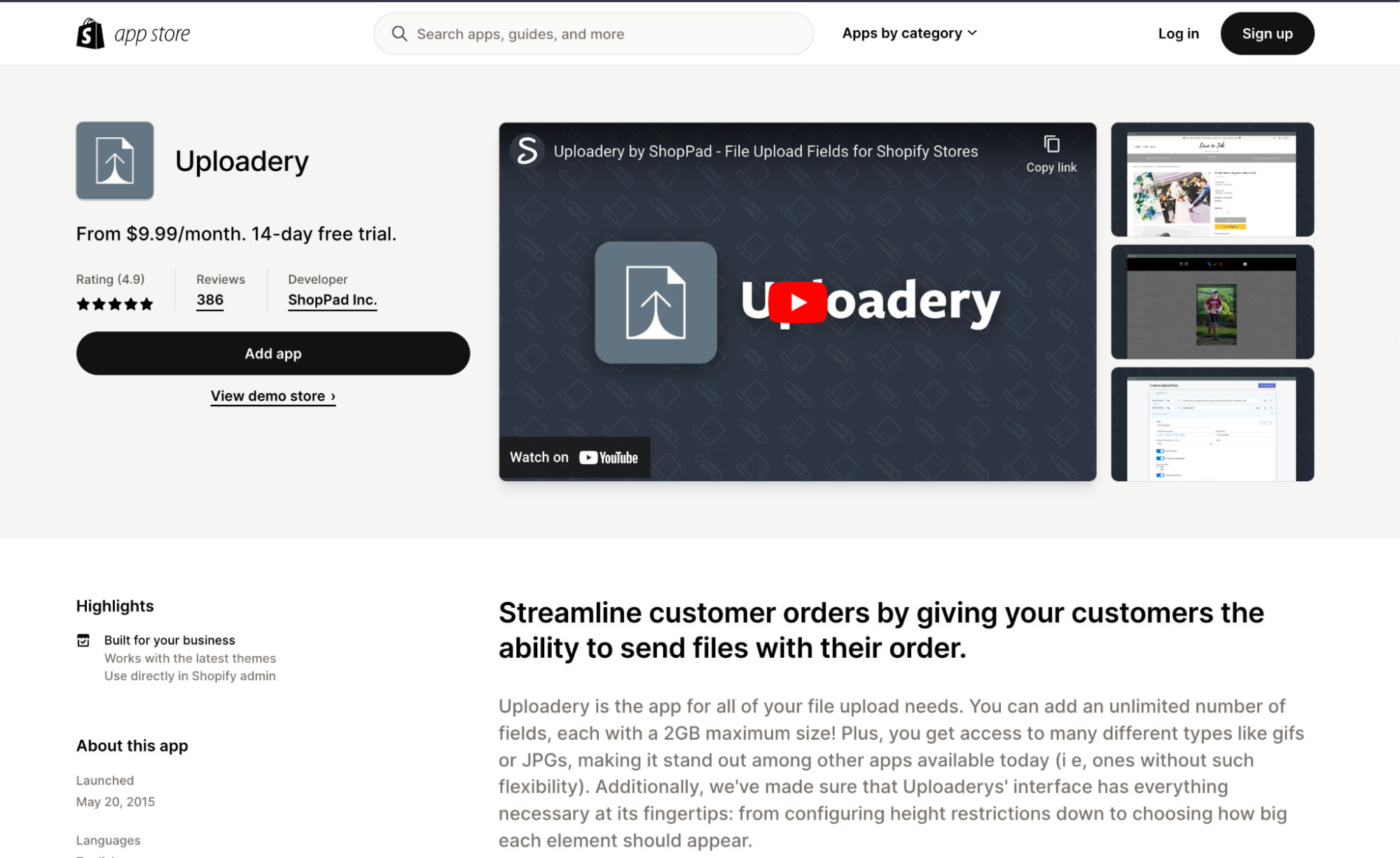 ★★★★★ (4.9) Shopify App Store Rating
Streamline customer orders by allowing buyers to send files directly with Uploadery, a go-to app for all your file upload needs. Add as many fields as you need, each with an impressive 2GB maximum size. Uploadery is different from other apps because of its versatility and easy support for various file types like gifs and JPGs.
And the best part? The app interface offers easy configuration of height restrictions and element sizes. Highly regarded for its reliable performance and smooth integration with Shopify 2.0, the app's fantastic features include image previews, a cropping tool, and support for larger files.
Pricing:
From $9.99/month

14-day free trial
Feature Highlights:
Send customers a personalized email with a preview image of their made-to-order item.

Allow customers to upload high-resolution images and large files (up to 2 GB).

Configure min and max heights, widths, and aspect ratios for uploaded images.
Bold Product Options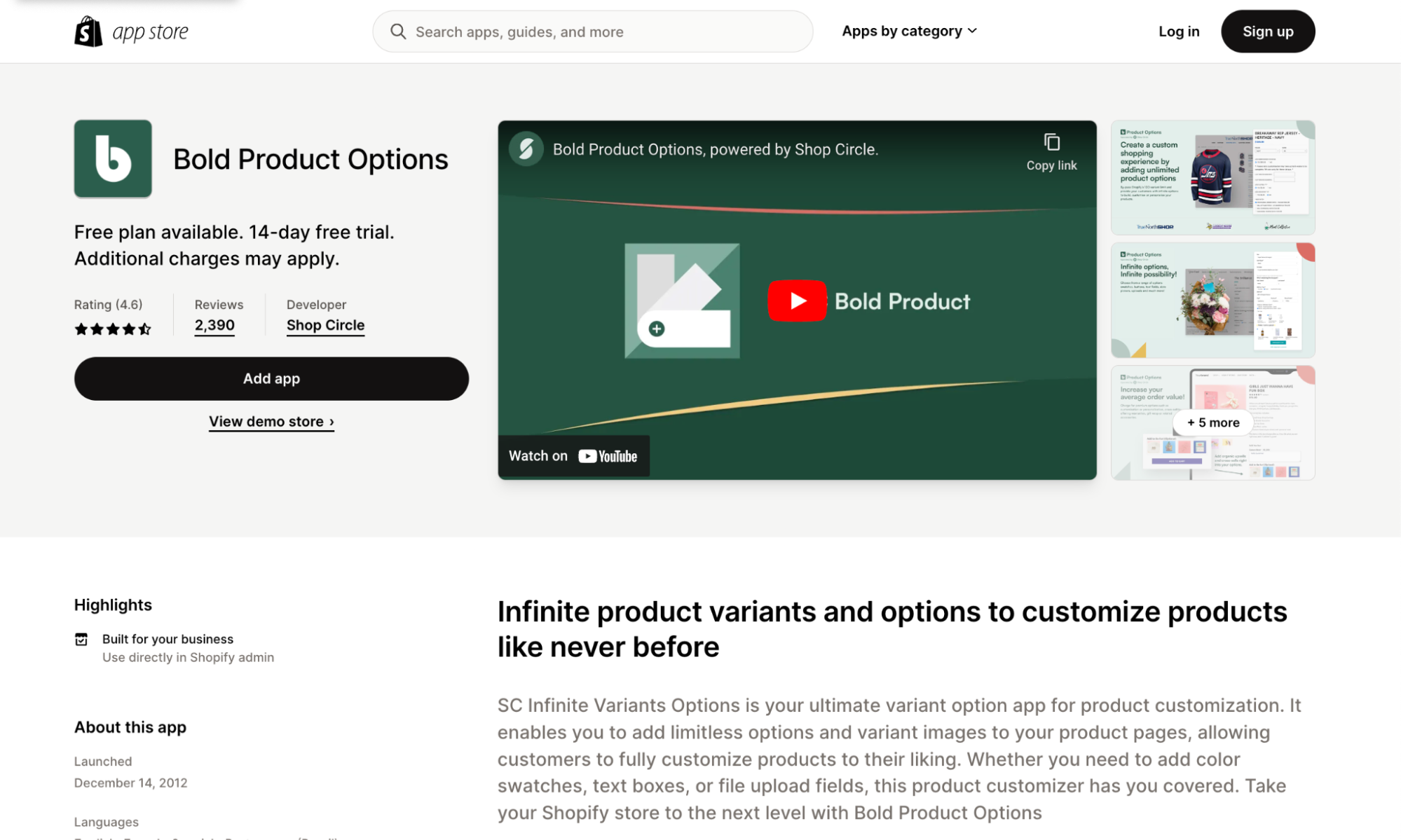 ★★★★☆ (4.6) Shopify App Store Rating
Elevate your customers' shopping experiences with Bold Product Options. This app offers buyers several options to personalize their products. Whether it's color swatches, text boxes, or file upload fields, it has all the tools merchants need to engage their customers and boost sales long-term.
The app's seamless integration with Shopify makes for easy installation, while its stellar customer service receives high praise for quick issue resolution and help with everything from set-up to code edits.
Pricing:
Free plans are available

14-day free trial
Feature Highlights:
Create unlimited product option fields with advanced conditional logic.

Upsell custom products to boost revenue and order value.

Support for color swatches and variant images to visualize customizations
Hulk Product Options
★★★★☆ (4.7) Shopify App Store Rating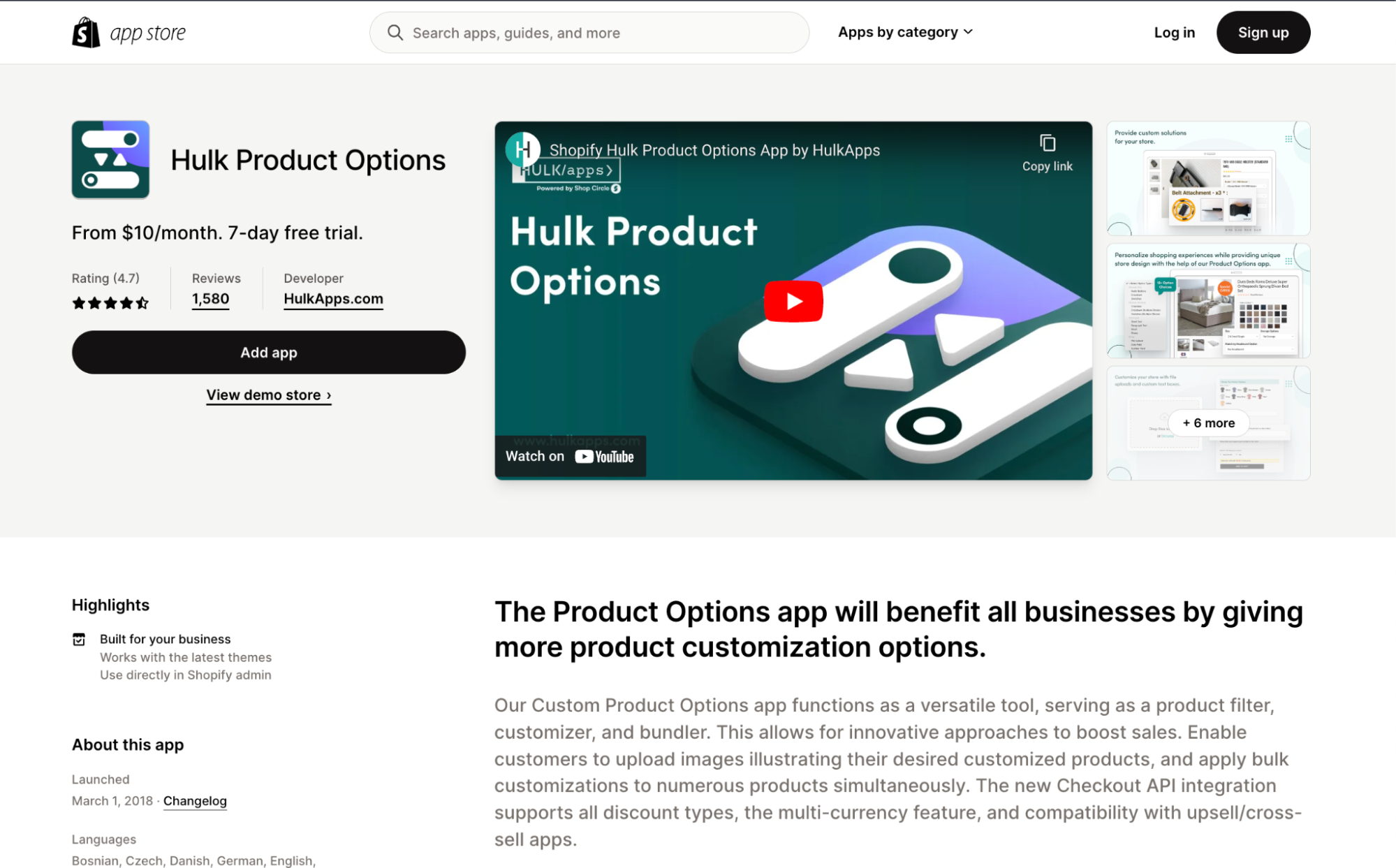 This custom product options app for Shopify is affordable and serves a variety of purposes: It acts as a product filter, customizer, and bundler, allowing sellers to increase pre-order value and overall sales.
App users can upload images for desired customizations and apply bulk requests to numerous products at one time, while the new Checkout API integration supports all discount types, and is compatible with other upsell/cross-sell apps.
Pricing:
From $10/month

Seven-day free trial
Feature Highlights:
There are several options for customers to personalize their products.

Compatible with Shopify "Buy Now" and Shop Pay Express checkout buttons.

Apply custom options to thousands of products at once.
Product Options & Customizer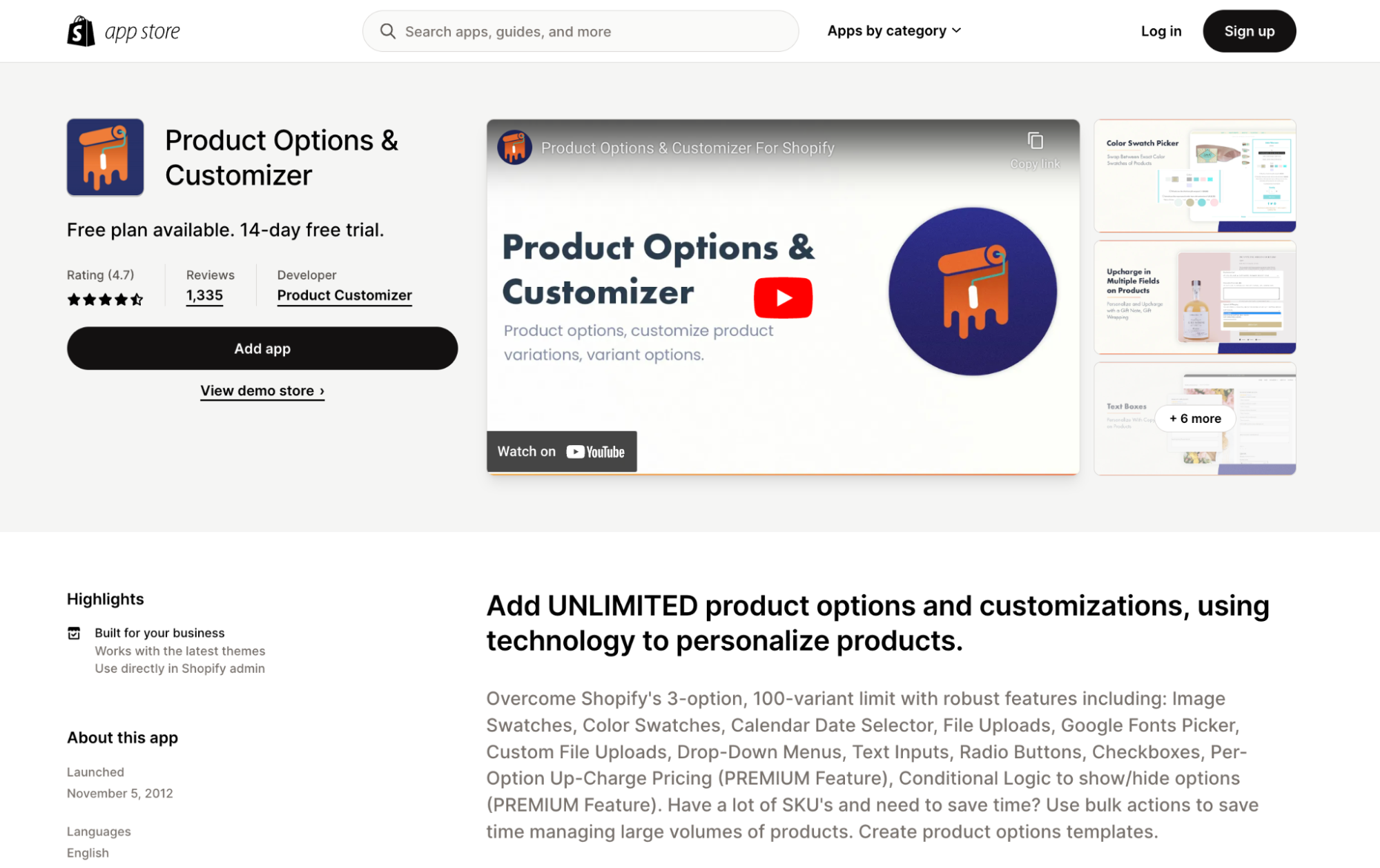 ★★★★☆ (4.7) Shopify App Store Rating
Say goodbye to Shopify's three-option, 100-variant limit with Product Options & Customizer. With features like image and color swatches, a calendar date selector, file uploads, a Google font picker, custom file uploads, drop-down menus, text inputs, radio buttons, checkboxes, and even conditional logic for showing or hiding options, the possibilities with this app are endless.
Plus, if you need to manage a large volume of products with ease, the bulk actions feature saves time, while user-friendly templates make customization effortless.
Pricing:
Free plan available

14-day free trial
Feature Highlights:
Upcharge: Custom option pricing to increase revenue per product or collection

Conditional Logic: Show or hide product options with conditional logic.

Combine variants with product variations across multiple products.
Globo Product Options and Variants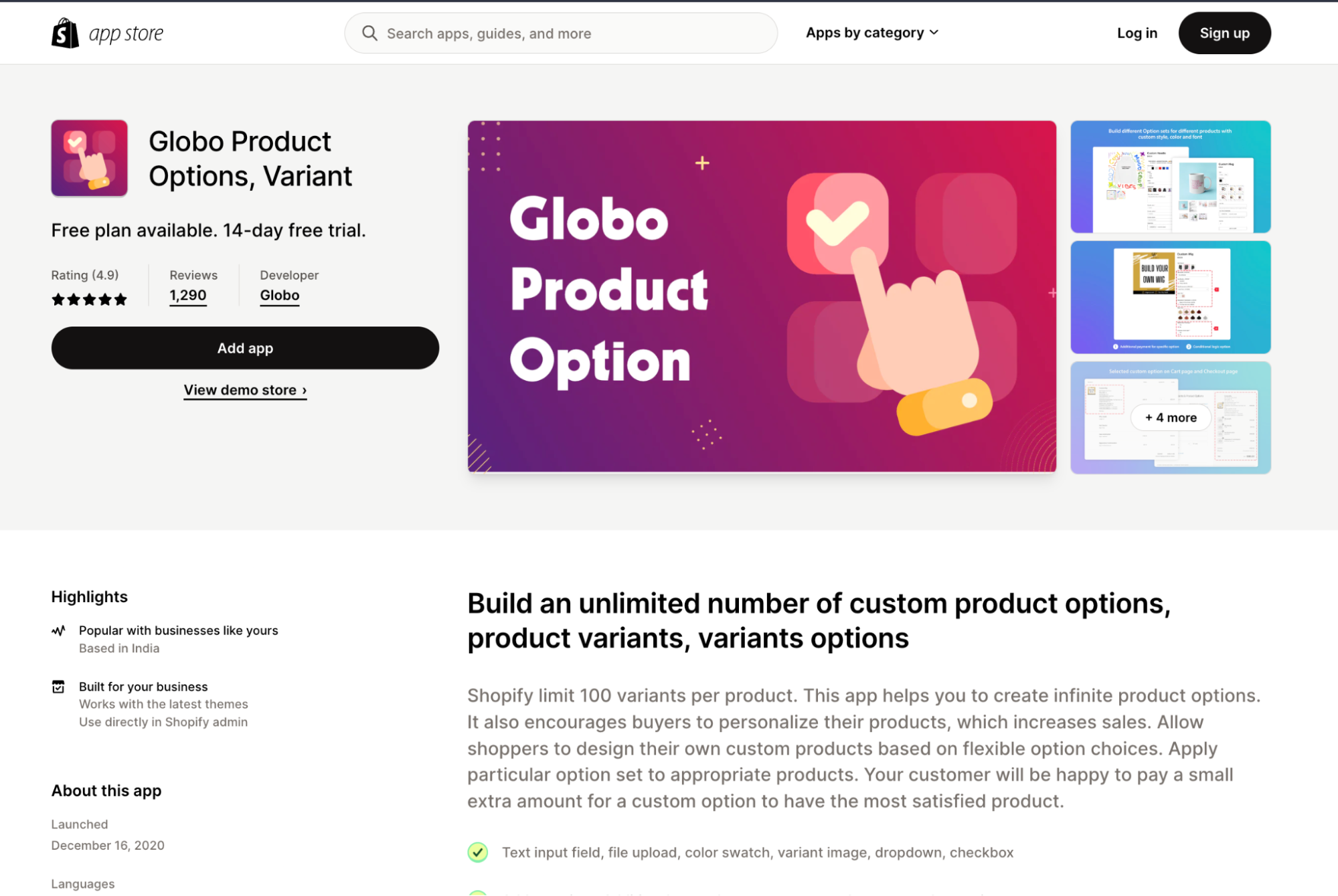 ★★★★★ (4.9) Shopify App Store Rating
Globo Product Options and Variants lets Shopify store owners create endless custom product options and variants to help boost sales. By allowing buyers to personalize with several flexible options, it gives them the freedom to design their own custom products, for which they are usually happy to pay a little extra.
Shopify store owners already love this app and its easily customizable product options. The fact that it handles a large number of sets without slowing down the site is a huge plus, as well as its user-friendly interface, reliability, and compatibility with other apps.
Pricing:
A free plan is available with a 14-day free trial
Feature Highlights:
Text input field, file upload, color swatch, variant image, dropdown, checkbox

Add-on price: additional cost when your customer chooses a product variant

Conditional logic: show or hide relevant options depending on the previously selected
Avis Product Options Variants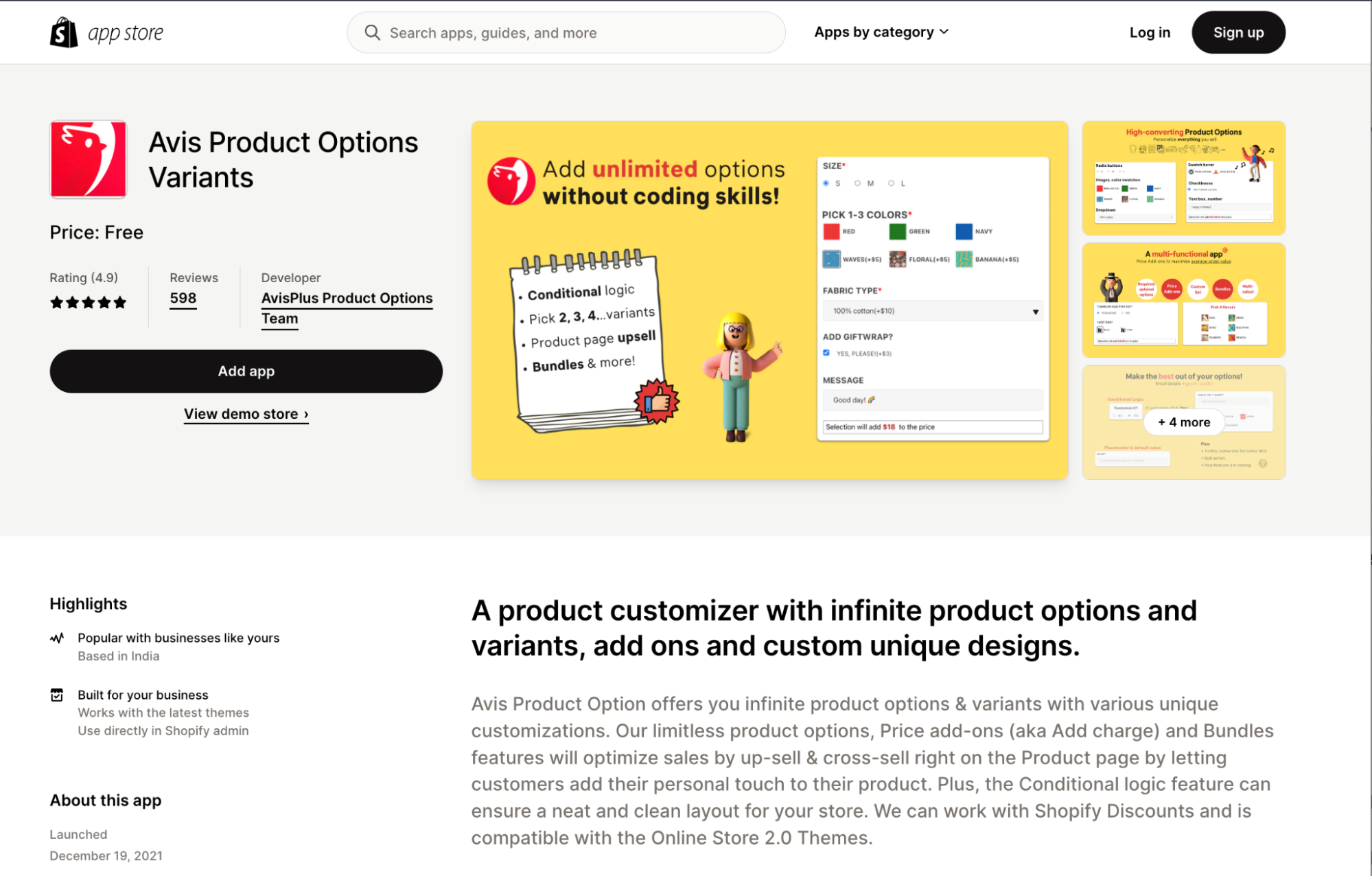 ★★★★★ (4.9) Shopify App Store Rating
Take product customization to a whole new level with Avis Product Options Variants. This app offers an endless array of product options and variants, along with unique customizations. Boosting sales is easy when you can upsell and cross-sell right on the product page. Give shoppers the chance to add their own personal touches to their items. With features like price add-ons, bundles, and conditional logic for a tidy layout, this app makes it easy to optimize any store for success.
Pricing:
Free plan available

14-day free trial
Feature Highlights:
Freely customize the option style or contact support for a free and unique custom design.

Boost sales with Price add-ons (add charge), bundles, and conditional logic.

Show product options and variants in the order, email, and other related notifications.
Why product option apps are important for Shopify stores
Product options allow sellers to provide their customers with a diverse range of choices they can apply to tailor any purchase. This kind of personalization leads to higher sales and conversions, as people are more likely to buy something when they can fit it to their needs exactly.
Product option apps also give businesses a competitive advantage. They offer valuable insights into customer preferences and trends, so future product lines can accommodate more popular colors, sizes, materials, and styles.
This data informs product development and marketing strategies to help meet customer demands and stay on trend. Embracing product options is a clever way to enhance a Shopify store's performance and thrive in a competitive marketplace.
How to choose the right product options app
Start by making sure the app is compatible with your current Shopify theme and other installed apps. Look for apps with user-friendly interfaces, intuitive controls, and reliable customer support. Reading through the app's pricing model and user reviews can also help you gauge its reliability in case you have more questions or issues.
Another thing to consider is the range of customization features it offers to cater to a wide variety of customers' preferences. Finally, look at scalability, because growing businesses need apps that can keep up with their needs.
Do more with Shopify product option apps
Running a successful ecommerce store is challenging, but managing business operations shouldn't be hard. By automating your Shopify apps with various workflows, businesses can manage repeatable tasks quickly, efficiently, and without any manual intervention.
Ready to transform your business with automation? MESA comes with automation solutions like readymade integration templates already configured to handle common workflows and proactive customer support to help users get started right away.
New Shopify Apps Weekly Newsletter
We watch for new apps then package them into an email sent every Tuesday.