Do you have an ecommerce store on Shopify, but wish you could use the Square products for your POS? You're not alone. Even though Shopify doesn't have a native integration with Square, there's still a way to have Square with Shopify.
In this article, we'll look at how merchants and entrepreneurs can easily integrate their stores to both platforms in order to maximize the benefits of both. We'll also discuss why having access to these two powerful ecommerce tools is important for businesses today. And, we'll explain how integrating them makes running an online store and retail store more efficient than ever before.
Read on for all the details about putting Shopify and Square together as one cohesive platform that helps you sell online and in person, easier than ever.
Ready to connect Square with your Shopify store? Install MESA to save time from manual tasks saving data between these two systems.
To be clear, you can NOT use Square as the payment processor for Shopify. That simply isn't possible.
What is Square?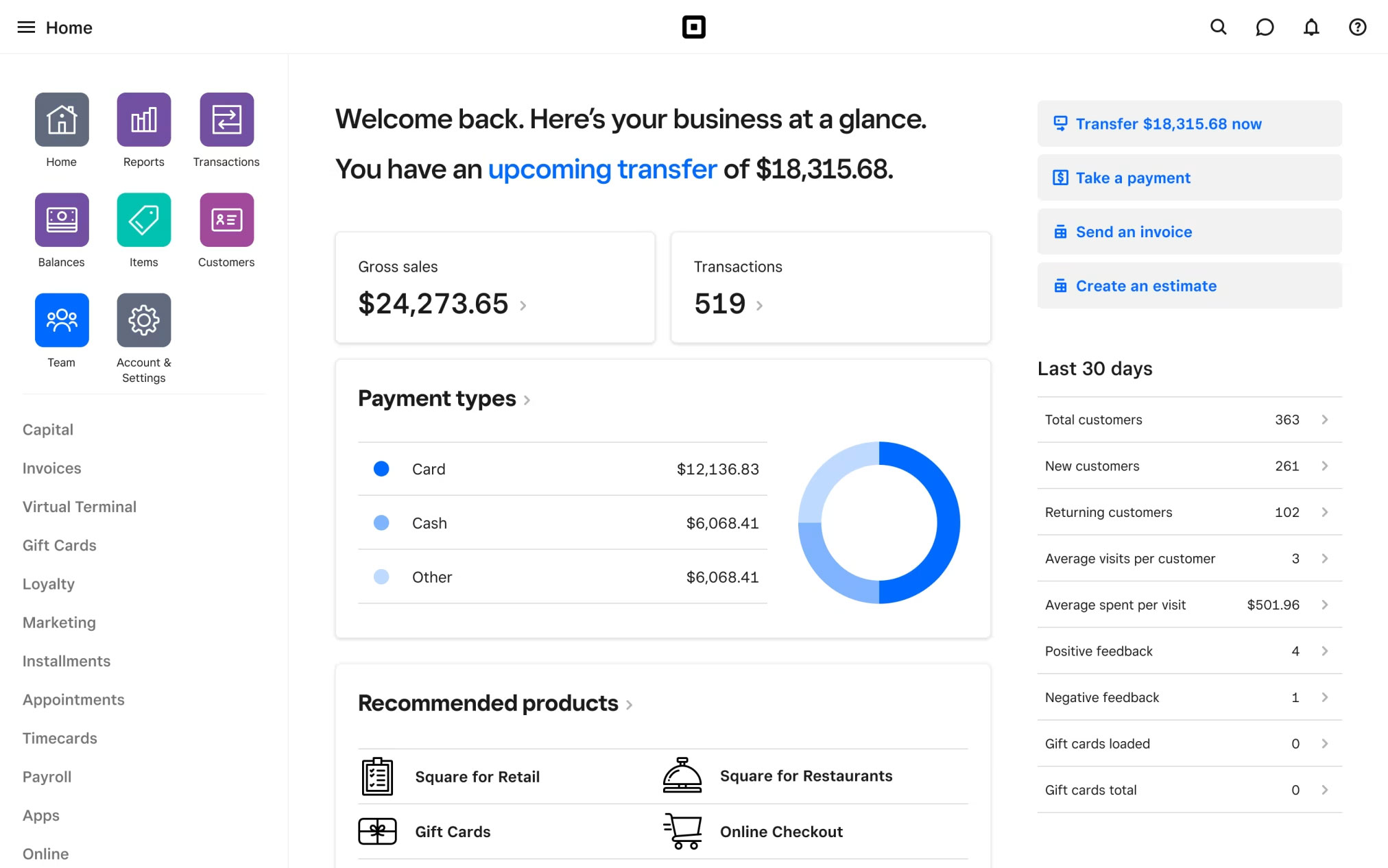 Square is a cloud-based point-of-sale (POS) system and payment gateway.
Whether you want to accept payments in your store, at an event, or online, Square makes it easy with its intuitive user interface and powerful in person payments capabilities. Not only that, they also offer essential business management tools like employee tracking, analytics, and inventory management.
Thanks to the versatility and depth of capabilities provided by Square products, you can seamlessly integrate it with Shopify data despite not being a native integration or an app.
Key features include support for major credit and debit cards, as well as Apple Pay, plug-and-play hardware setup, real-time analytics and reporting, seamless integration with third-party apps, strong security measures such as fraud prevention and encryption, and robust customer support, making it an attractive choice for businesses of all sizes.
What is Shopify?
Shopify is an ecommerce platform used by thousands of businesses to manage their online presence.
As a leading provider in its space, Shopify allows you to create beautiful storefronts and easily sell products. It helps merchants integrate with a popular payment gateway like PayPal or Stripe, or use Shopify Payments; their own payment processor.
Shopify's raise to fame comes from its user-friendly interface, expansive third-party app store, and tailored marketing tools. It's a great solution for entrepreneurs who simply want to get their businesses up and running quickly without sacrificing features or customer service.
Shopify is favored by businesses worldwide for its numerous attractive features. These include customizable, mobile-responsive website designs without requiring coding knowledge, the ability to manage unlimited products and categories, support for various payment methods such as Shopify Payments, built-in analytics tools for performance tracking, and comprehensive customer support, making it an appealing option for businesses of all sizes.
Why Square and Shopify are better together
Shopify and Square together is a powerful combination that keeps businesses organized, efficient, and profitable.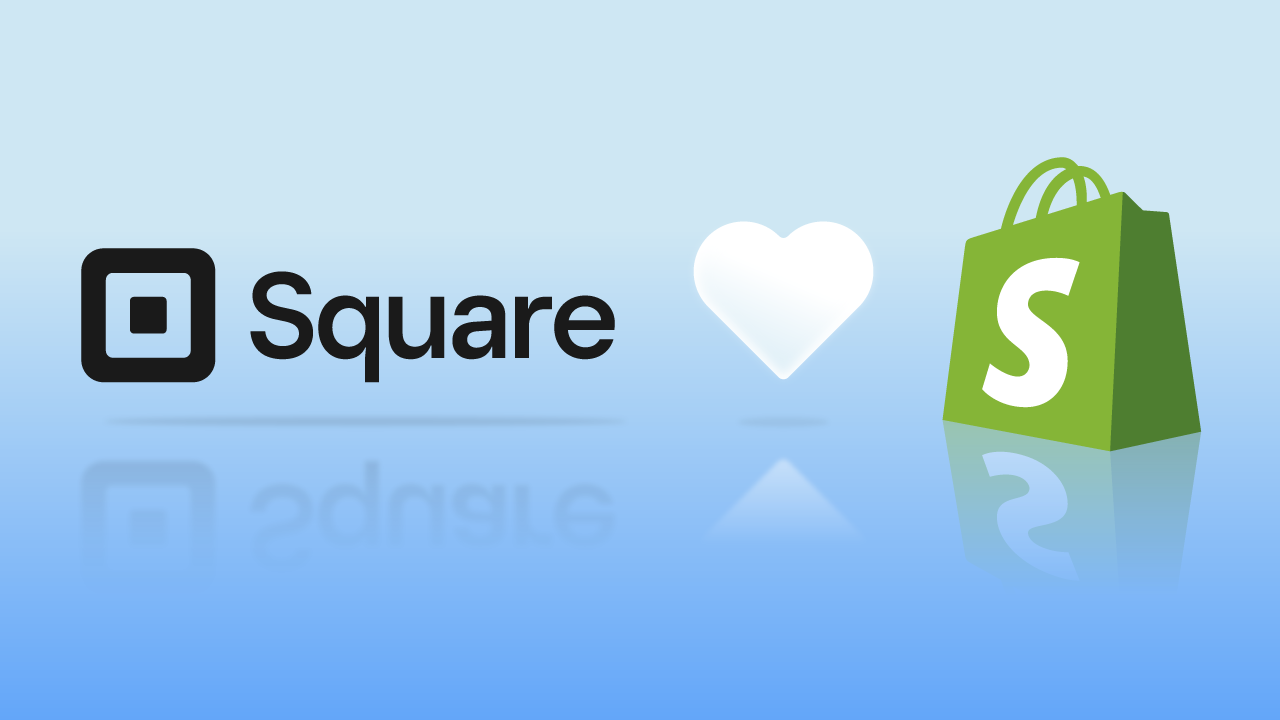 With all that said, let's clarify some of the most frequently questions about the two ecommerce platforms:
Can I use Square with Shopify?
Yes, but it's not straightforward. Shopify doesn't support Square as a payment method and there is not a Square app in the Shopify App Store that could help. You can certainly use Shopify for online sales and Square POS for in-person transactions. Then, using an automation platform like MESA, you can access Shopify data and Square payments into the system you choose as your single source of truth.
Does Square work with Shopify?
No, not natively. Since they're considered competitors, there are no one-click integrations between these two platforms. You can certainly use both as Square has arguably the best point of sale system and Shopify dominate the online store space. You then need to save the data occurring in both systems to be saved into a single database or source of truth like an ERP or CRM system.
Is Square compatible with Shopify?
There is not a native integration between the two platforms so technically, no. However, there is nothing making them incompatible either. With the right workflow, you can easily make workflows the move data between the two systems if they're both being used in your business.
When you integrate Square + Shopify, these solutions provides notable benefits, including simplified payment management, streamlined checkout processes, enhanced customer service, and automated analytics. This integration also enables greater scalability, fostering business growth and adaptability. By streamlining how you accept payments, connect data, enriching customer experience, and expanding sales channels, these combined solutions unlock in-person selling opportunities, creating a seamless and efficient business ecosystem.
Businesses benefit from the simplicity of managing all their operations on one platform – Shopify. Meanwhile, Square offers reliable a payment gateway for retail stores that makes it easy to manage finances and scale growth.
Here are three key reasons why it makes sense to integrate these two platforms.
1. Consolidating sales data from both platforms
With Shopify and Square integrated, businesses have access to a unified view of their sales data. Connect Square payments and online transactions from your Shopify store into a single source of truth. This makes it easier to monitor overall business health and identify trends across online stores and retail stores.
2. Leveraging advanced analytics and trends
Shopify and Square provide powerful analytics and reporting features that allow businesses to gain insight into customer behavior, sales performance, and other key metrics. Connecting Shopify payments and Square payments help you achieve a higher understanding of omnichannel customer activity. At the end of the day, integrating these two platforms will help you get an even deeper understanding of your data.
3. Making data-driven decisions for business growth
With the powerful data tracking capabilities of Shopify and Square, businesses can make better decisions to drive growth. Comprehensive reporting allows you to understand customer preferences and trends, optimize operations, and develop strategies for scaling your business.
Benefits of Square Shopify integration
By leveraging both platforms together, companies will find their sales go further than ever before. Let's take a closer look at each of the benefits of combining Square and Shopify for your business.
Expanding Sales Channels with Square and Shopify
When trying to expand your business's sales channels, you may find some limitations with Square. However, when integrated together, Shopify + Square allows businesses to leverage the features of both, resulting in increased sales opportunities.
Through a third-party integration provider, it is easy to connect your Shopify store with your Square account and create an all-encompassing sales strategy for both your online Shopify store and brick and mortar stores.
With this approach, businesses can benefit from improved product listing and inventory management as well as automated customer service tasks provided through both platforms in order to save time and resources while expanding their outreach.
Here's how:
Leveraging Shopify's checkout: Shopify is an ideal platform for e-commerce, providing features such as secure payment processing, custom checkout page, and the Shopify abandoned checkout workflows. With Square integrated into your business, you can offer customers a seamless and secure payment experience while leveraging Shopify's powerful tools to maximize sales.
Utilizing Square for in-person sales and events: By integrating Square's in-person payment processing capabilities, businesses can easily set up their physical storefronts and start selling right away. This also opens up opportunities to attend markets or events, allowing merchants to expand their reach even further.
Creating an omnichannel retail experience: By combining Square with Shopify, businesses can create an omnichannel retail experience that provides customers with a unified shopping journey regardless of where or how they shop. This allows merchants to provide a seamless shopping experience across both online and physical storefronts while also leveraging the features and capabilities of each platform.
In-Person Selling Opportunities
When it comes to in-person selling opportunities, Square with Shopify offer incredible solutions that integrate seamlessly with your business. The two platforms can easily be connected in order to create a smooth process from checkout to inventory updates.
This merged system can take care of both in-store and online sales, streamlining supply chain management and customer satisfaction. With the combination of Square with Shopify, you will be sure to maximize your business's potential in an efficient manner.
You can set up Square POS with Shopify integration, allowing you to receive information about orders in real-time and provide customers with a faster checkout experience. This integration also enables businesses to easily track their sales data across both platforms and leverage the powerful tools provided by each system.
You can also enhance customer experience at brick-and-mortar locations with Square and Shopify by providing customers with a personalized shopping experience. With Square and Shopify, you can enable customers to access their online accounts in-store or link sales data to loyalty programs.
Managing and tracking sales data from multiple sources will also be a breeze. Square with Shopify integrated, businesses can easily access sales reports from both platforms and get a better understanding of their customer base and overall performance.
Overall, integrating Shopify with Square provides businesses with an all-in-one solution for growing their sales channels, managing inventory, and providing customers with a unified shopping experience.
Connect Shopify Inventory with Square
If you're relying on both Shopify and Square to manage your inventory and sales, you may have noticed duplicate data since the two platforms don't offer a native integration. However, there is still a way to connect your inventory across both platforms.
With a few simple steps, merchants can leverage the functionality of both digital systems in harmony and easily manage their customers' orders with the greatest of ease. You'll receive the following benefits:
Real-time inventory updates across channels: If you're selling in-store and online, it can be difficult to keep track of inventory levels. By integrating Shopify and Square, merchants benefit from real-time updates that ensure the correct stock levels are reflected across the board.
Streamlined product and SKU management: With Square and Shopify combined, merchants can easily set up products and instantly connect them across both platforms. This simplifies the product management process and helps to ensure that customers always see accurate inventory levels no matter where they are shopping.
Simplifying restocking and order fulfillment: Connecting inventory between Shopify and Square makes it simple to restock shelves or fulfill online orders. This allows merchants to save time, money, and resources when managing their sales.
Unify Processing Fees
Your payment processor can have a huge impact on a business, from reducing monthly fees to enhancing security and fraud prevention.
In the past, merchants needed different payment processors for online payments and in-person sales, but this has changed with unified payment processing solutions. By consolidating processes with Shopify and Square, businesses are able to save significantly while simultaneously improving the customer experience by offering more seamless payment processing – all without relying on native integration or apps.
By combining your Square account with Shopify payments, you'll also be taking a big step toward scaling into an omnichannel business.
Reporting and Analytics
Leveraging both Square with Shopify can provide you with an in-depth view of your business data. Reporting and analytics are essential to helping entrepreneurs make informed decisions, such as when to roll out a new product or measure the success of current promotions.
By integrating these two platforms, businesses can track financial data from Square reports along with metrics from the Shopify dashboard. This means merchants can get access to valuable sales metrics like lifetime orders, Customer Lifetime Value (CLV), and average order value (AOV). Proper use of reporting and analytics will help you better understand customer behavior and trends that allow you to maximize profits.
Conclusion
Integrating Square with Shopify is a great way for businesses to take advantage of both platforms. With a unified view of sales data, powerful analytics and reporting features, and the ability to make better decisions based on customer behavior, businesses can easily improve their efficiency and profitability. At the end of the day, by integrating both platforms you'll position your business for exponential growth.
Whether you're a small business looking to grow or an established enterprise looking for an edge, integrating Square + Shopify is a great way to get the most out of your sales.
With the right workflow to connect data, you can be sure that your customers will have the best shopping experience possible.
Ready to connect Square and Shopify? MESA can help. With our workflow setup service, we can connect Square and Shopify for you quickly.
New Shopify Apps Weekly Newsletter
We watch for new apps then package them into an email sent every Tuesday.