Ecommerce fraud has increased by 18% from 2019, which means online store owners now have to deal with semi-regular fraudulent chargebacks and scam disputes. What's more: Global charge backs will total a whopping $615 million in 2021. Do you have a chargeback prevention plan?
Chargeback fraud consequences can diminish brand credibility and increase chances chances of being flagged as a high-risk merchant. Once you're tagged as high-risk, your payments service could blacklist your Shopify store and increase your transaction fees and chargeback fees.
This is why many Shopify online store owners are on the lookout for chargeback fraud prevention strategies to prevent fraudulent transactions from occuring.
We're diving into everything you need to know about chargebacks and how you can create customer support workflows that turn your backend operations into the best chargeback protection platform.
Avoiding chargebacks isn't difficult if you adopt the right strategy.
Ready to save time by automating fraud-related tasks? Install MESA to easily add workflows to monitor for fraudulent activity.
What is a chargeback?
Chargebacks are payment charges a bank reverses to its user's debit or credit card when the consumer disputes a transaction. These occur when a customer disputes the product charges on their account statements or credit card bills.
After the chargeback process is completed, this payment is deducted from the seller's already-credited account and reversed to the cardholder's account. This differs from refunds since returned payments don't come directly from the merchant. Chargebacks circumvent the merchant completely.
When customers contact their banks to return payments for purchased products, the seller takes the fall. For instance, if a shopper files a chargeback for damaged products, the merchant might completely lose:
Product payment
Cost of production and/or packaging
Cost of shipment to the buyer
The cost of transporting the damaged products back
Card networks and banks enforce chargeback rules to protect their users against merchants who might try to take advantage of them by sending wrong, damaged, illegal, or delayed products.
Why do chargebacks occur?
There are several reasons that could provoke customers to file disputes and request chargebacks from online Shopify stores.
Uncertain or Delayed Delivery
Customers can request chargebacks if the delivery of the products they ordered is unknown or delayed. When giving delivery dates, take unplanned delays into consideration and provide realistic timelines.
Wrong or Damaged Delivery
Delivering the wrong product or damaged goods due to inefficient packaging could make a customer file for a chargeback. Customer dissatisfaction plays the biggest role here.
Billing Error
Check your payment service constantly to ensure proper functioning. If a customer pays for an item and notices double-billing or a higher charge than the estimated price, they could ask for a chargeback.
Fraud
Some shoppers are simply fraudulent and perform charge back scams. They order products with the intent of disputing payment charges. For example, a customer could purchase different colors or patterns of the same product, select the best fit, and file for chargebacks for the rest.
Unknown Purchases
It's likely a customer who discovered an unknown purchase in their transaction bill will request chargebacks. Sometimes, customers might report as victims of identity theft and ask that their payments be reversed. This chargeback happens if a customer's payment information is hijacked and used by someone who purchases from your store but isn't the card owner.
Are ecommerce sellers liable for chargebacks?
Merchant's chargeback rights are limited compared to customer rights. They are more reactive than protective and aimed at reducing losses.
Here are the important chargeback rights:
1. Chargebacks shouldn't exceed the original transaction amount. It could include shipping and handling costs and other surcharges.
2. Chargebacks don't cover cash-back portions of cash-back transactions or transaction fees.
3. The customer must make attempts to return the purchased item—if it arrives by the due delivery date—before seeking a chargeback.
4. Several cardholder agreements instruct cardholders to contact merchants and try to resolve issues before filing chargebacks.
5. If a customer files for a chargeback, the card issuer should wait 15 calendar days before processing the chargeback to give the merchant a chance to respond—except the 15-day wait will exceed the deadline for chargeback filing.
6. In most cases, every process of the chargeback is completed before moving to arbitration.
7. The merchant has the right to dispute chargebacks by an arbitration process. As a merchant, this is your major right in the chargeback process.
Aside from recovering revenue, contesting chargebacks will help you set the record as an ecommerce seller who fights chargebacks. This would discourage fraudsters and send signals to banks to take more critical views at charge back scam.
Effects of chargebacks on your business
It's important to set up systems against customer chargebacks because the consequences can be unpleasant.
If your store continues to receive chargebacks, you could suffer from:
Fewer Sales
If customers often file chargebacks against your store, you'll lose sales and revenue. These people are less likely to buy from you again. Worse still, they'll tell more people about their negative experience with your store—even twice the people they'll share their positive experience with.
Lower Brand Credibility
Too many chargebacks entail risk as payment processors are sensitive to users' complaints. You could get blacklisted or labeled as a high-risk merchant, which could limit your ability to accept online payments.
Business Loss
If payment service processors ban merchants from accepting payments through their channels, they could ultimately risk the long-term viability of their businesses.
Next, let's talk about how you can prevent chargebacks.
10 best chargeback prevention strategies
Chargebacks are unpleasant happenings that put ecommerce stores at a loss and shake their reputation. However, with the right strategy in place, your Shopify store can be largely preventing chargebacks.
Here are the 10 best ways your store avoid chargebacks:
1. Set Up Order Tracking Workflows
When customers make purchases from your store, they deserve to get an overview of what's happening with their packages. This can be done by allowing them to track their order workflow from packaging to shipment to delivery.
Inadequately managed order processes show operational inefficiencies on the merchant's part. Therefore, customers need to ask questions about their product packaging, shipment, or delivery duration.
If there's a lack of clarity on the progress of an order, customers can file chargebacks. Therefore, you should be transparent and proactive about order status and ease customers' anxiety by setting up workflows that keep buyers in the loop.

Use a Shopify fraud prevention app. With MESA's order tagging workflows via Tracktor, you can keep your customers updated with their order progress. For example, you can send an SMS message to customers letting them know their packages are delayed in transit (before they panic and file chargebacks.)
2. Use Protective Packaging For Shipping Products
Customers can request chargebacks if their order gets damaged before getting to them.
If your shipments get damaged during the shipping process, that will negatively impact your bottom line. This is because customers can file for chargebacks, and in addition, you'll have to pay for the cost of transporting the product to the customer and back from them—without profiting from the sale. This results in a loss.
To get in front of this, use protective, damage-proof materials for packaging customer orders when delivering them. This is crucial, especially if you're transporting or shipping fragile and breakable items.
To be on the safer side, you can also apply for shipping insurance for your shipped products.
3. Deliver Products Promptly
Kount found that 45% of chargebacks are due to delivery delays. Prompt deliveries denote reliability, and not only do these increase customer satisfaction, but it also prevents chargebacks.
Certain products—food and beverages, pharmaceuticals, and chemical and medical samples—have expiration dates. This is another reason to deliver products within the stipulated dates. Deliver on time, and if delays occur, make sure your buyers know this ASAP.
4. Provide Proactive Customer Service
Offering proactive customer support is one of the easiest ways to get on your customer's good side.
Proactive customer service lets you reach out to customers to see if they need help with anything before they complain about an issue. By doing this, customers feel free to tell you about their concerns and dissatisfactions before filing chargebacks.
With 90% of customers stating that customer service is a determining factor in whether they'll continue to do business with a brand, you need to create effective solutions to provide proactive customer service. These solutions can be through automation such as live chat software and chatbots, help desk solutions, knowledge bases, and customer support tickets.

MESA empowers you to use workflow automation to create support tickets with Gorgias so you can manage and resolve customer complaints without mix-up—even on a busy schedule.
This way, you can resolve your customers' issues before they get into the land of chargebacks.
5. Disclose store policies
To minimize chargebacks, you need to set expectations for your customer by clearly stating your store policies. You should make your policies—including security, shipping, and return policy—publicly visible to avoid unpleasant surprises for your customers.

To ensure the display and efficiency of your return/refund policy, create a page where you highlight your policies and include your return policy across every customer touchpoint. These touchpoints should include your home page, product pages, product descriptions, and checkout pages.
While your store policies might scare off certain buyers who may not be comfortable with your rules, you need to create them to protect your Shopify store against chargeback disputes. Furthermore, stating your policies will help you acquire the right customers for your business—saving you the headaches of returns and chargebacks.
6. Optimize product descriptions
Your product descriptions play a vital role in customer chargebacks. You should avoid missing information or using misleading descriptions that could lead to customers filing for chargebacks.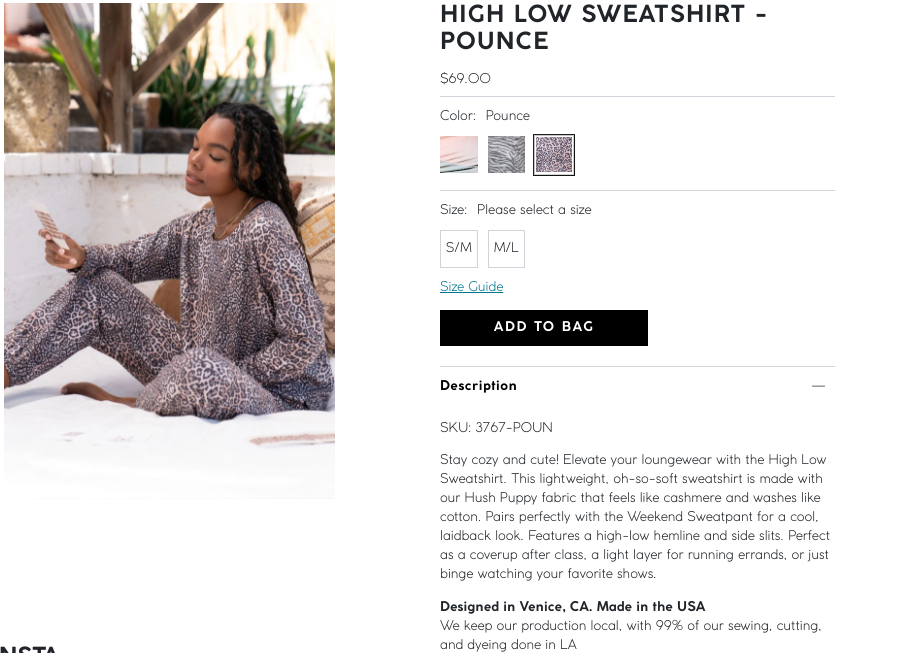 Always ensure that your descriptions are accurate and up-to-date. Manipulating product descriptions to boost traffic and sales will only come back to bite you. Accuracy and detailed images are simple ways to help online shoppers get a good grasp on what they're buying.
7. Ensure PCI complaince
Payment Card Industry (PCI) compliance is necessary to minimize chargebacks on your online business. Adhering to the PCI standards means your ecommerce business guarantees the security of card information your customers provide.
Ensure your payment processors are all PCI compliant. This way, you can prevent card data theft that could incur losses to customers and cause them to request chargebacks.
8. Inspect suspicious purchases
Ecommerce fraud is a huge problem ecommerce store owners deal with. Many lose as much as 5% of their annual revenue to fraud—including false declines, estimated to reach $443 billion in 2021.
According to the Federal Trade Commission, customers lost over $3.3 million to fraud in 2020. And online shopping accounted for up to $246 million of this loss.
Chargebacks don't necessarily only happen because a customer isn't satisfied. They could be due to:
A fraudster using a customer's identity and payment details.
Fraudulent shoppers who make purchases knowing fully well they're going to file for chargebacks.
Therefore, you should take strict actions to inspect all customers' orders and take action against all suspicious purchases.
For instance, a customer might repeatedly be trying, without success, to purchase an item on your Shopify store. You should first decline purchase authorization as the payment card might be stolen. Then, look into the purchase process.

MESA automatically notifies your Shopify store administrator via SMS if an order is identified as high-risk so you can thoroughly investigate transactions yourself.
9. Integrate with anti fraud chargeback apps
To further avoid chargebacks due to fraud, integrate your online store with third-party apps that kick against fraud.
There are several trustworthy third-party apps for this, such as NoFraud, eComm360, and Beacon. These tools help an online store detect fraudulent purchase attempts through big data points, including real-time threat intelligence, fraud scoring, digital verification, and order monitoring for advanced fraud protection.
With the fraud and chargeback protection apps, you can better manage customer charge back scam and cyberattacks against your online store. Based on behavioral analytics, your customers get a safety score. Your Shopify store will get instant alerts for high-risk orders and automatically pause them for review.
10. Respond quickly to customer complaints
Although 58% of shoppers file for chargebacks directly without contacting the merchant, it's crucial to resolve the dispute of the 14% who reach out to you.
Make it a priority to respond quickly to customers' disputes about damaged or wrong products, delayed shipping, multiple charges. If online store owners don't respond to customers' queries, they'll probably contact their banks for chargebacks.

Overall, chargebacks can result in reduced revenue and poor customer satisfaction score. This will affect your brand growth and credibility, considering that unhappy customers will tell twice as many people about their experience than happy customers would.
How to address chargeback disputes
While you can't completely eradicate customer chargebacks, you can keep them to the barest minimum with the methods above.
However, when rare chargeback cases occur, here's how to deal with them:
Add automated chargeback tasks
When defending your online business against a dispute or chargeback, make sure you have proof of the purchase, the charges, shipment and delivery, and other details to support your defense.

Since managing your customer records by yourself is time-consuming and could create a mess—and let's not forget human error—consider automating your data and transaction filing. This is why MESA includes a Shopify integration with Google Drive you can use to store customer data and transaction records in an instant. You can instantly save each customer's information directly to your Google Drive folder and share it with your online business team.
Enable Shopify Payments
Shopify Payments also integrates with Shop App and Shopify Shipping so you can keep contact information, checkouts, receipts, package, and shipping details in one place.
Shopify Payments has the Automatic Dispute Resolution feature, which helps store owners win against chargebacks by giving a comprehensive overview of every transaction. According to Shopify, its payments service (Shopify Payments) wins 45% more chargeback filings than its competitors.
You can also make use of Chargeback911, a solution designed to help you fight and win chargebacks effortlessly.
What's next?
You can avoid chargebacks on your ecommerce products through the measures we've explained above. By improving your services, creating workflow automation, and guarding your Shopify store against fraud, chargebacks won't be a critical issue for your online business.
New Shopify Apps Weekly Newsletter
We watch for new apps then package them into an email sent every Tuesday.