In this blog article, we will delve into a comprehensive comparison of Bold Product Options vs Infinite Options by ShopPad, examining their features, pricing, user experience, and much more. Our goal is to help you make an informed decision, ensuring that your Shopify store not only overcomes the variant limitation but also thrives in this ever-evolving world of ecommerce.
Offering a wide array of products tailored to your customers' unique preferences is paramount to achieving success. As a popular choice for online merchants, Shopify has empowered countless businesses to thrive; however, its 100 variant limit per product can be limiting for stores seeking to provide extensive product customizations.
Fortunately, product options apps have emerged as the perfect solution to this challenge, allowing you to offer unlimited options and enhance your customers' shopping experience.
So, join us as we explore these powerful apps and determine the ultimate product customization solution for your business.
Ready to save time by automating product options? Install MESA to easily save custom product options to more apps.
Main differences between BOLD Product Options and Infinite Options
These two are the most sought-after Shopify product options apps in the market today. Both these product options apps are designed to help the Shopify merchants break free from the 100 variant limit, but which one is the best fit for your store?
We recommend Infinite Options because both are so similar in features that we favor the more affordable app that offers installation service too. When something like product options is a commodity, the Shopify store owner should look to reliability and service.
The Bold app offers color swatches and image swatches slightly better and has file uploads included so if those are important features on your product pages, you should go with Bold.
Let's explore each in more depth.
Ultimately it's all about careful consideration of both apps' features to ensure that they line up with the requirements of your particular situation – so we encourage taking ample time to explore each one before settling on one of these Shopify product options apps.
Exploring Infinite Options
★★★★★ (4.8) Shopify App Store
Price:
$12.99 per month

14-day free trial included
Elevate your Shopify store with Infinite Options, the app designed to provide unlimited options for customizable products, including custom text boxes, color swatches, and has its own product bundle feature too.
With this Shopify product options app, your customers choose personalized products purchased through dropdown menus, color and image swatches, and radio buttons. Boost your revenue by bundling products with price add ons, effortlessly incorporating additional charges for services like gift-wrapping or rush processing. Infinite Options is the ultimate solution for seamless customized products and variants options, catering to diverse business requirements.
Infinite Options empowers you to add an unlimited number of product options to your product pages, offering greater versatility and customer satisfaction. Showcase priced options for transparency, and create conditional logic for your extensive catalog to bulk apply options.
Personalize your products further with advanced options, suitable for engraving, monogramming, and custom printing. This is one of the best Shopify product customizer apps that helps increase sales by raising your store's average order size, contributing to overall business growth.
Exploring Bold Product Options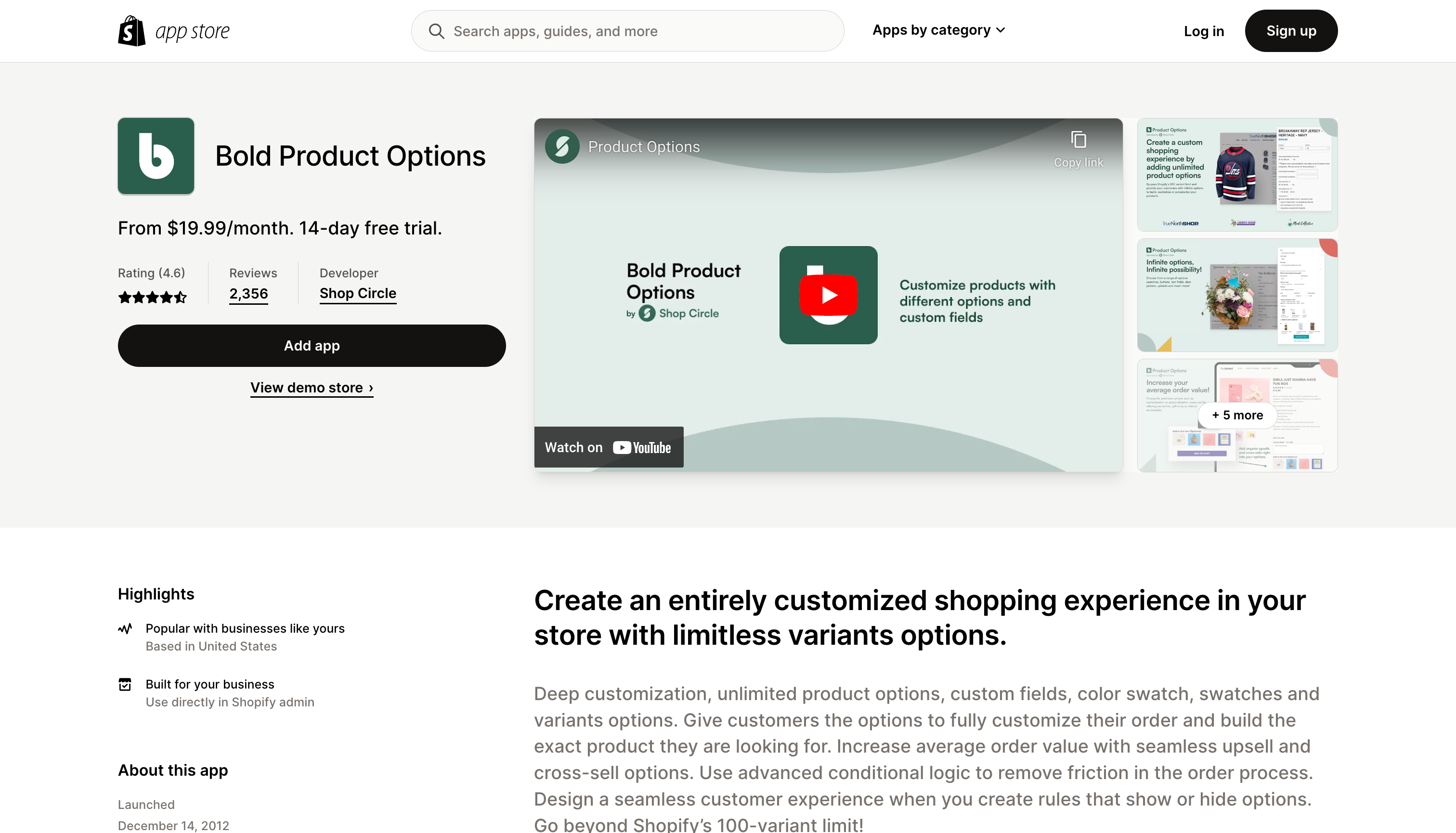 ★★★★★ (4.6) Shopify App Store
Price:
Starting at $19.99 per month

14-day free trial included
Bold Product Options is another popular Shopify product options app that's designed to help online stores create unique product customization experiences for their store visitors.
Transform your Shopify store featuring limitless display options like color swatches, radio buttons, dropdown menus, and file uploads for custom products. Boost average order value by incorporating seamless upsell opportunities. Also, use advanced conditional logic to display or hide options and streamline all the variations to minimize friction.
Elevate your ecommerce business by providing a truly tailored shopping experience.
The importance of custom options for your online shop
Offering customization is a crucial aspect of any ecommerce business, as it allows you to deliver tailored experiences for your customers while capitalizing on upsell and cross-selling possibilities.
By providing multiple product variations, customers can personalize their selections, discovering items that meet their aesthetic preferences and feel just right for their needs, whether for personal use or as a thoughtful gift.
What makes a great product options app?
A great product options app for Shopify store owners should possess several key features and qualities to enhance their store's performance and customer experience. These include:
Unlimited product variants: The app should allow merchants to bypass Shopify's 100-variant limit, offering an infinite number of product options to cater to diverse customer needs.
Ease of use: A user-friendly interface and seamless integration with the Shopify platform are crucial for efficient setup and management.
Custom fields and options: The Shopify product options app should enable merchants to create custom fields and options, such as color swatches, dropdown menus, and checkboxes, allowing customers to personalize their purchases.
Advanced conditional logic: The ability to show or hide options based on customer selections helps create a streamlined and intuitive shopping experience.
Upsell and cross-sell opportunities: A great app should facilitate seamless upselling and cross-selling opportunities to increase order values and boost revenue.
Extra charges and add-ons: The app should allow merchants to easily apply additional charges for customizations or add-on services, such as gift-wrapping or expedited processing.
File uploads: Customers should be able to perform image uploads or files for personalized products, such as custom prints, engravings or a t-shirt product.
Responsive customer support: Prompt and effective customer support is essential to resolve any technical issues and ensure smooth operation. Ideally free installation service is available or look in to existing an app review to set your expectations.
Regular updates and improvements: Great Shopify product options apps should be regularly updated with new features and enhancements to stay competitive and address user feedback.
Pricing and scalability: The app's pricing should be transparent and offer a suitable range of plans to cater to businesses of different sizes and growth stages.
Comparison Conclusion
To give your customers the ultimate shopping experience, both Bold Product Options and Infinite Options are ideal ways to create personalized product options for your Shopify store.
Dedicating some time to explore each of these apps is a surefire way to gain insights into which one best suits you – giving you an edge when it comes to providing customer satisfaction!
Save time by automating orders with custom product options
Regardless of whether you opt for Bold Product Options or Infinite Options, your Shopify store will be well-equipped to offer custom product options with minimal effort.
Ultimately, whichever app you select, you can be confident that it will simplify the creation of custom product options without compromising quality or customer experience.
MESA, with its user-friendly interface and smooth integrations with other apps, emerges as the all in one solution for effortlessly creating workflows handling the custom options that come through from your online store.
Sign up free to start automating your product options and enhance your Shopify store's efficiencies.
New Shopify Apps Weekly Newsletter
We watch for new apps then package them into an email sent every Tuesday.