Developing new promotional features isn't fun so we did it for you. Use this customizable workflow template on your Shopify store. This article presents other via options worth considering too.
###
Coming up with ground-breaking, innovative promotions that grow your business isn't something that comes naturally to most of us, so it's useful to rely on ideas that have demonstrated their ability to be effective. Giving your customers a free gift with their purchase is one such tactic that's proven to grow e-commerce businesses.
What is a "gift with purchase" promotion?
The gift with purchase offer is a sales strategy used to increase conversion. The goal is to capture and convert customers based on the incentive of an additional "free" product. This maneuver allows you to steer shoppers toward making purchases at specific dollar amounts that have strategic benefit to your business.
How can I grow my business if I'm giving away merchandise?
Increase Conversions When shoppers are on the fence, sometimes all they need is a gentle push in the right direction. The built-in nudge of this offer generates a sense of urgency for a valuable opportunity because of scarcity or exclusivity. Everybody loves a good 2-for-1 deal, and that's why it's one of the oldest tricks in the book.
Upsell Opportunity Adding a free gift when an order meets a certain dollar or item quantity is rewarding in several ways. Most notably, it justifies purchase decisions for customers that have the ability to spend more but might not want to spend for the sake of spending.

For example, if a customer is already willing to spend $80, but is on the fence about some additional purchases, adding a mystery pack offer for orders over $100 will entice them to grab one or two more items to get additional products for no cost. This allows you to sell slow-moving inventory and generate higher average order values.
Brand Loyalty Customers appreciate businesses that make the most of their spending habits. If you're able to provide tantalizing offers for shoppers in a way that adds value to their purchases, they're inclined to associate your brand with delivering "more" than competitors.
The relationship between your store and your customers is ultimately just that — a relationship. There has to be a sense of reciprocated value to remain invested in any relationship. Customers are naturally more comfortable making repeat purchases with businesses that cater to them throughout the buying process. Rewarding shoppers who spend more by adding a free gift reminds them that you appreciate them as a customer.
Using Infinite Options to add a free gift from the PDP
In addition to helping you offer customized products, Infinite Options also allows you to configure bundle offers as one of its option items. Here's a quick breakdown of how you can set things up within the Infinite Options app:

1. Start by creating an option set assigned to a product that you want to offer a free gift for. Since free gifts are typically reserved for purchases of higher value, consider offering this on your higher-end products.
2. Add a descriptive Label suggesting customers can claim a free gift. For example, a good free gift for a beauty bundle might be a nice travel tote that holds everything together.
3. Change the Field Name value from infinite_options_1 to something more descriptive. Be sure to keep the Field Name values unique, as they will overwrite each other if they match. In this example, the field name is Free Travel Tote.
4. Change the Input Type to Swatches.
5. In the Option Values section, write a descriptive option value that lets the customer know the selection is for a Free Travel Tote.
6. You will see an "Add image" icon to the left of the option value. Click on the icon. To attach an image, you can click on Image Upload. Then click Choose File to upload your image. Be sure to add an image that draws the customer's interest.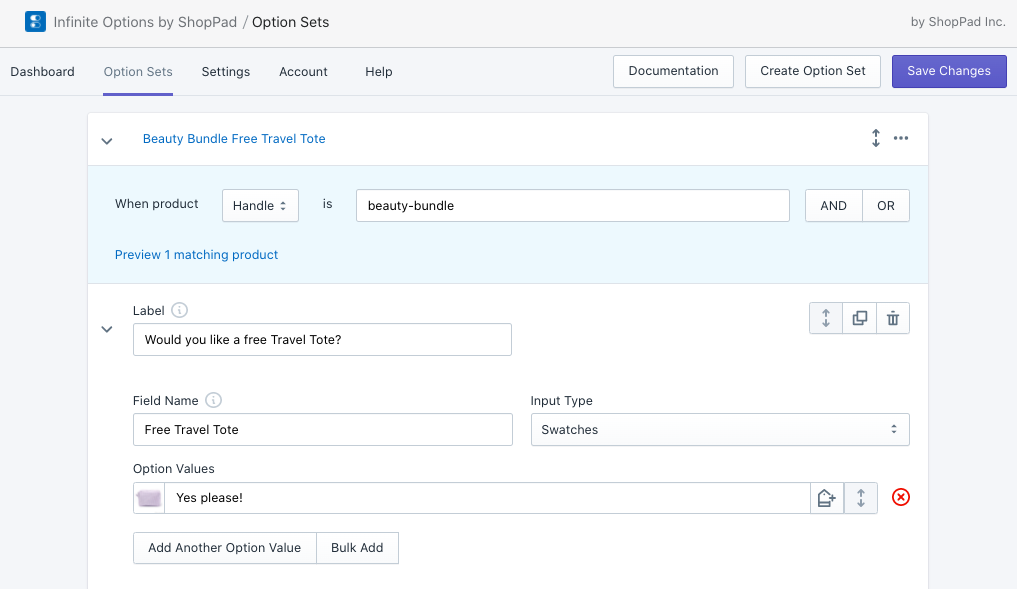 8. Save your changes for the swatch image and on the Infinite Options dashboard.
Here's what that offer looks like on an example product: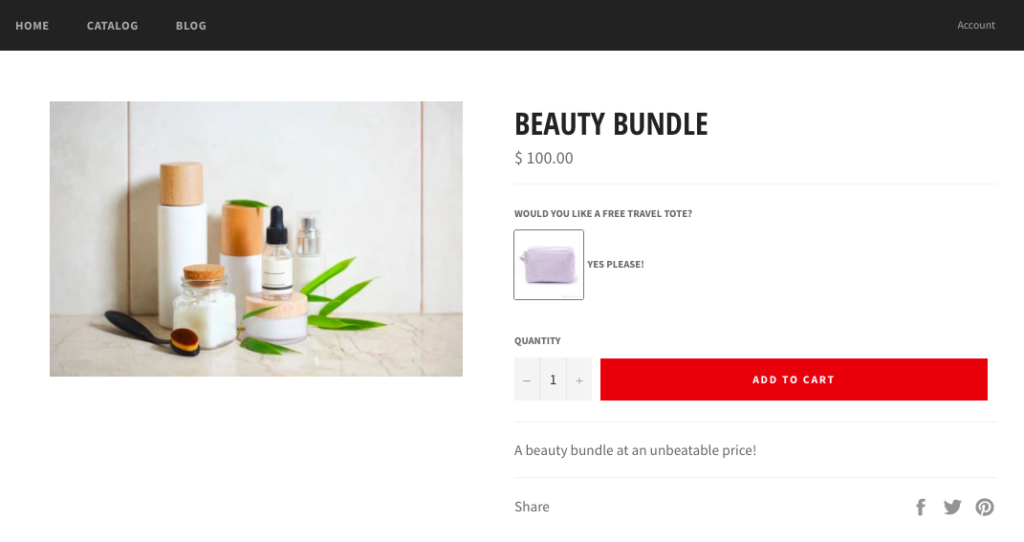 Using Mesa to add a free gift to order after checkout
If you prefer that your free gift skip the shopper's cart and get added post-purchase, you can use our Mesa app to set up a workflow for these kind of special offers with one click.
For example, this template will automatically add a free product on all orders over $100. When an order is placed on your Shopify store, Mesa will begin to process the order data. While parsing the data, Mesa will identify whether the order's total cost is over $100. If the order's total cost exceeds $100, Mesa will add a free gift of your choice to the order automatically.
Mesa is designed to free you from the constraints of managing tedious processes that may arise when creating offers like this for your store. The time saved will help you focus your attention on additional sales and marketing practices to maximize your brand.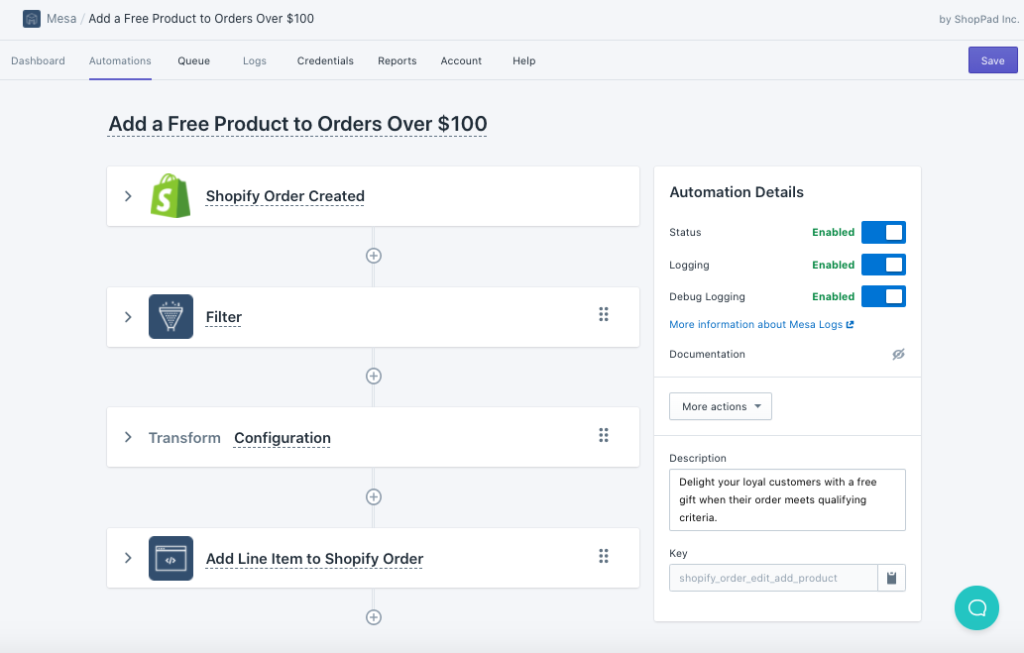 Other Shopify apps
Shopify's expansive third-party ecosystem includes several other ways to provide your shoppers with a free gift at purchase, including:

Gift Box — Free Gifts on Order by Digismoothie. With Gift Box, you can offer free gifts or gift cards with purchases based on the limits and restrictions you configure within the app. Their simple setup and design allow the free products to be added to the cart automatically when limits are met.

Free Gifts by Secomapp. This app has been utilized for stores across the globe to advertise promotion offers virtually every step of the way. The flexibility of the Free Gifts app allows you to offer deals at a product level and cart level, along with promotional banners and messaging to make sure customers always have these offers in mind.
Conclusion
You're able to generate brand loyalty, increased conversions, and repeat customers for your Shopify store through useful selling tactics like adding a free gift with purchase on orders with an exclusive offer.

Adding these offers to your store through powerful solutions like Mesa can prove vital in growing your brand.

With one click, you can begin offering more to your customers while doing less busy-work. That in itself is an offer that's hard to refuse.
Master productivity instantly by automating any repeatable task or process with the ease of Mesa's point-and-click setup. Our Customer Success team is here 24/7 to help set up and configure any workflows so you can get more done today.
Get more done with the expansion pack exclusive for Shopify stores

★★★★★5.0 Rating
New Shopify Apps Weekly Newsletter
We watch for new apps then package them into an email sent every Tuesday.

Yopto
Marketing

Shopify
Commerce

Segment
Productivity

Infinite Options
Productivity

Slack
Productivity

Etsy
Commerce

Discord
Productivity

Bold Commerce
Commerce

Tiktok
Marketing

Airtable
Productivity