With over 2.14 billion ecommerce buyers across the globe, your audience of potential customers is larger than ever. In 2021, you can sell online anywhere, any time.
Incentivize this swath of ready-to-buy shoppers around the globe by using a smart approach that speaks to our natural desire to attain new things: Offering a free gift with purchase.
We're diving into everything you need to know about this marketing workflow (and how to do it well.)
Ready to save time by automating promotional offers? Install MESA to easily add this workflow to your Shopify store.
What is a "gift with purchase" promotion?
A free gift with purchase promotion is a marketing offer businesses use to increase sales by offering free gifts to buyers whose purchases meet a set of predefined thresholds (such as spending, repeat purchases, etc.)
Below are some examples of free gifts with purchase promotions from beauty brands.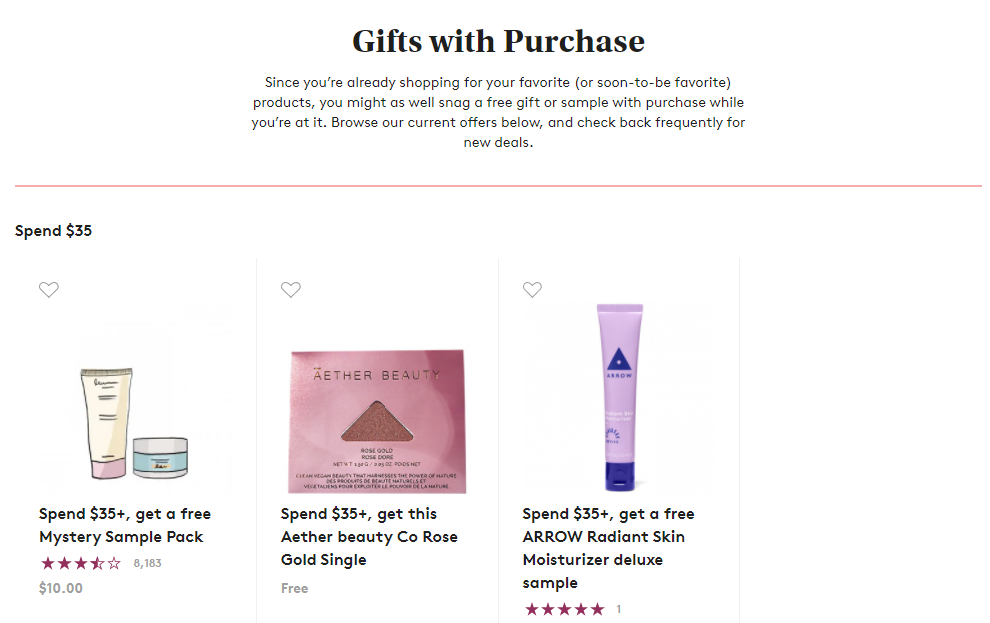 Free gift with purchase offers often increase sales and revenue by leveraging FOMO (fear of missing out). This retail psychology boosts average order value by increasing the customer's desire to get access to a compelling free offer when they meet the promotional requirements.
Why Your Shopify Store Should Offer Free Gifts with Purchase
The main reason you should offer gifts to promote sales is: It works. I mean…who doesn't love a good deal?
Offering free gifts with purchases allow you to:
Increase sales. Telling buyers they'll get something extra (free!) for buying creates the FOMO effect.

Upsell and cross-sell products. An excellent upselling and cross-selling strategy is adding in free gifts to encourage customers to buy high-end or complementary products.
5 Factors to Consider Before Offering Free Gifts With Purchase
The key to making a free gift with purchase tactic effective for you is to make sure you consider the following before diving in:
Product relevance. Is your free gift something your customers will find useful or compelling? Focus group your offer with your VIP customers to get honest feedback.
Product stock quantity. How much of the product do you have on hand? Make sure you account for enough gifts or add a "while supplies last" disclaimer.
Additional expenses. It's great to offer free gifts to boost sales, but it shouldn't break the bank. Be sure your free offer doesn't cut too far into your profit margins and calculate what added costs you'll incur with your free item.
Promotional Strategy. Make sure you market your free gift promotion so customers are in the know about it. Tactics like sharing a sneak peek on social media or with your email subscribers or running a paid advertising campaign are great ways to spread the word.

Offer duration. Set a start and end date for your promotion, as this creates a sense of urgency and helps maximize sales.
Setting Up Your Free Gift With Purchase Promotions Using MESA
MESA is a workflow automation app for Shopify stores with premium features—such as a visual (no-code) workflow builder, pre-built Shopify workflow templates, reports and activity logs, and integration with top apps—you need to run your ecommerce processes in one place.
MESA manages tedious processes and provides an easy-to-create workflow so you don't spend hours figuring out how to create your free gift with purchase offers. This will let you run your store more efficiently so you'll be able to focus your attention on other sales and marketing practices to grow your sales.
Example #1
With MESA, you can set up a workflow for your free gift with a purchase offer in a single click. You can also automate your free gift to skip the shopper's cart and get added post-purchase.
Let's jump in with a quick overview of the process. The first step in the workflow is called the trigger, and in this case, it happens when a Shopify order is created.
Next, MESA uses its built-in Filter App to quickly determine if this is your customers' first order.
And then finally, you're able to assign what free product you'd like to attach to the order. In three short steps, you're already on your way to better customer retention and increased sales!
Example #2
What if you'd like to do something a little more involved? Like adding a free product to gifts over a certain dollar amount? Check out this next template:
The first step happens when a Shopify order is created, just like in our first example.
But now, this time in the built-in Filter app, we're going to determine if the cost of the Shopify Order Created is greater than $100.
You can assign what free product/product variant you'd like to add to the order in the last step. Again in just three quick steps, you're already on the way.
Every step in these workflows is also 100% customizable. Let your imagination run wild and customize your free product offerings to fit your audience. Advanced users can also use the Custom Code by MESA app to easily connect to any third-party services that MESA doesn't already integrate with.
Ready to Offer Free Gifts With Purchases?
You're busy running your Shopify business, so spending time trying to manually add a free gift with purchase feature to your shopping experience can be time-consuming. More times than not, using a third-party app is the best solution.
MESA has all the workflow automation features needed to increase sales by making your promotions stand out and it's free forever. These features include a no-code workflow builder, a collection of pre-built Shopify workflow templates, an integration system for top apps and services, and detailed reports.

New Shopify Apps Weekly Newsletter
We watch for new apps then package them into an email sent every Tuesday.