Are you looking to improve the speed and efficiency of your content creation efforts? Chat GPT Shopify apps have evolved very quickly and revolutionized the way we create, curate, and optimize content.
From product descriptions to meta descriptions and blog articles, it's now easier than ever to generate high-quality text and human like responses that engages readers. It's becuase ChatGPT is trained on vast amount of writing data from all over the internet. When you give it a prompt the tech behind it (an LLM) is analyzing what it should write next.
Now there are versions to use ChatGPT that is trained on marketing data to produce content and develop marketing strategies for Shopify stores. But it can be tough to figure out which one actually works and is right for your business needs.
That's why we've created a list of the best Chat GPT Shopify applications – so you can make an informed decision about how to move forward with your digital marketing and content creation activities.
Read on for our roundup of the top Chat GPT Shopify apps!
Ready to save time by automating Chat GPT? Install MESA to easily add AI into workflows throughout your business.
Best Shopify Chat GPT apps for Content Creation
If you are looking to automate your content creation process, then the variety of ChatGPT apps that can be integrated with Shopify will make a significant impact on your life.
Let's take a look at a few of the many options out there, starting with MESA.
MESA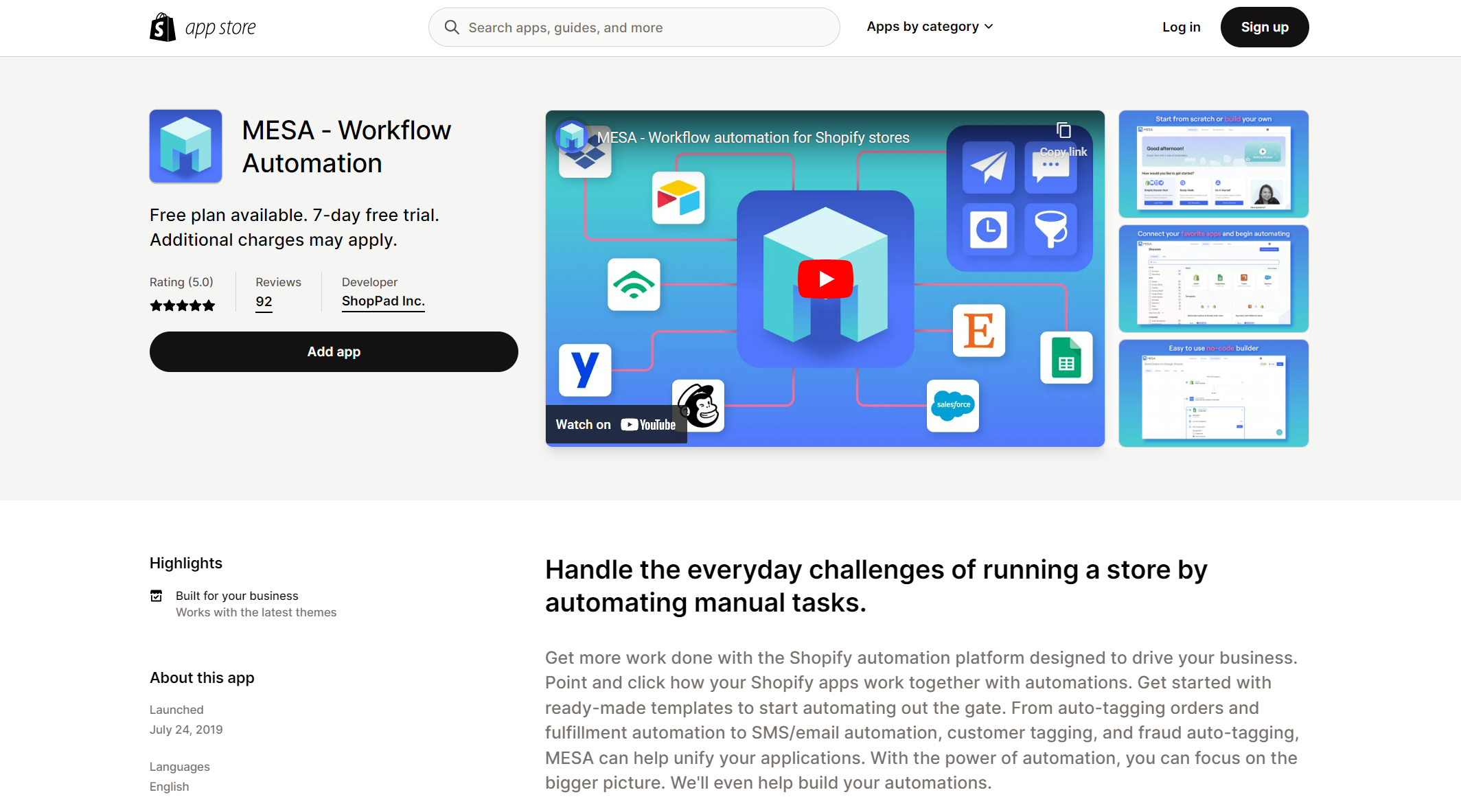 ★★★★★ (5.0) Shopify App Store
With MESA, you can quickly and simply connect Shopify to ChatGPT. Once you've integrated the apps, you'll be able to get far more tasks done automatically which will save you many hours of work each week. It's one of the preferred apps for automating content between Shopify and ChatGPT, and it's one you'll want to keep a close eye on. Thousands of ecommerce businesses swear by it.
You'll be able to effectively integrate Shopify and use ChatGPT with no-code workflows, which means that you'll get far more work done.
By using the power of MESA, you'll be able to eliminate the routine and everyday tasks of running your ecommerce business. MESA offers a simply-to-use no-code builder that will make integrating Shopify to Chat GPT a breeze.
You'll get a forever free plan for core features, live chat and email support, and a workflow setup for all paid plans. MESA also offers a 7-day free trial for premium apps.
Product Description ChatGPT AI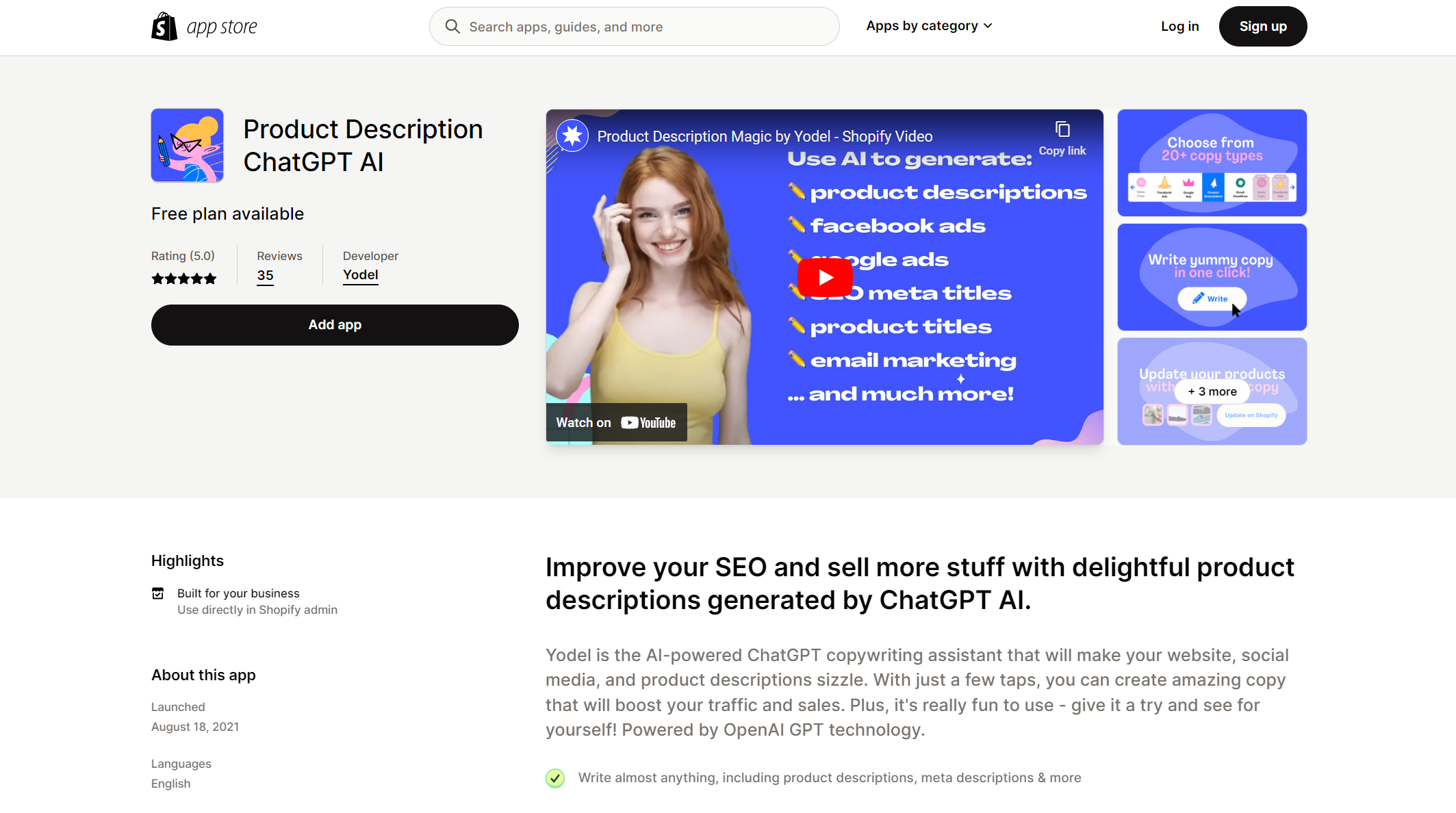 ★★★★★ (5.0) Shopify App Store
Among the best options out there is Product Description ChatGPT AI. This app harnesses the power of AI to help you write engaging product descriptions that convert into sales.
With Product Description ChatGPT AI, you can use chatgpt to generate descriptions and other text data for over 1,000 products in one simple click.
With this app, you can easily create accurate product descriptions that are optimized for search engines like google, helping you to increase your organic traffic and sell more. It also provides analytics so you can track the performance of your product descriptions over time.
Price:
Free Plan – 100 tokens/month.

Basic Plan – 1000 tokens/month for $29.99/month.

Pro Plan – Unlimited tokens for $49.99/month.
Key Features:
Write almost anything, including product descriptions, meta descriptions & more.

Generate descriptions for 1,000+ products in one click.

Get to the top of Google with our SEO toolkit and powerful tool.
WorkGPT: Create Content ChatGPT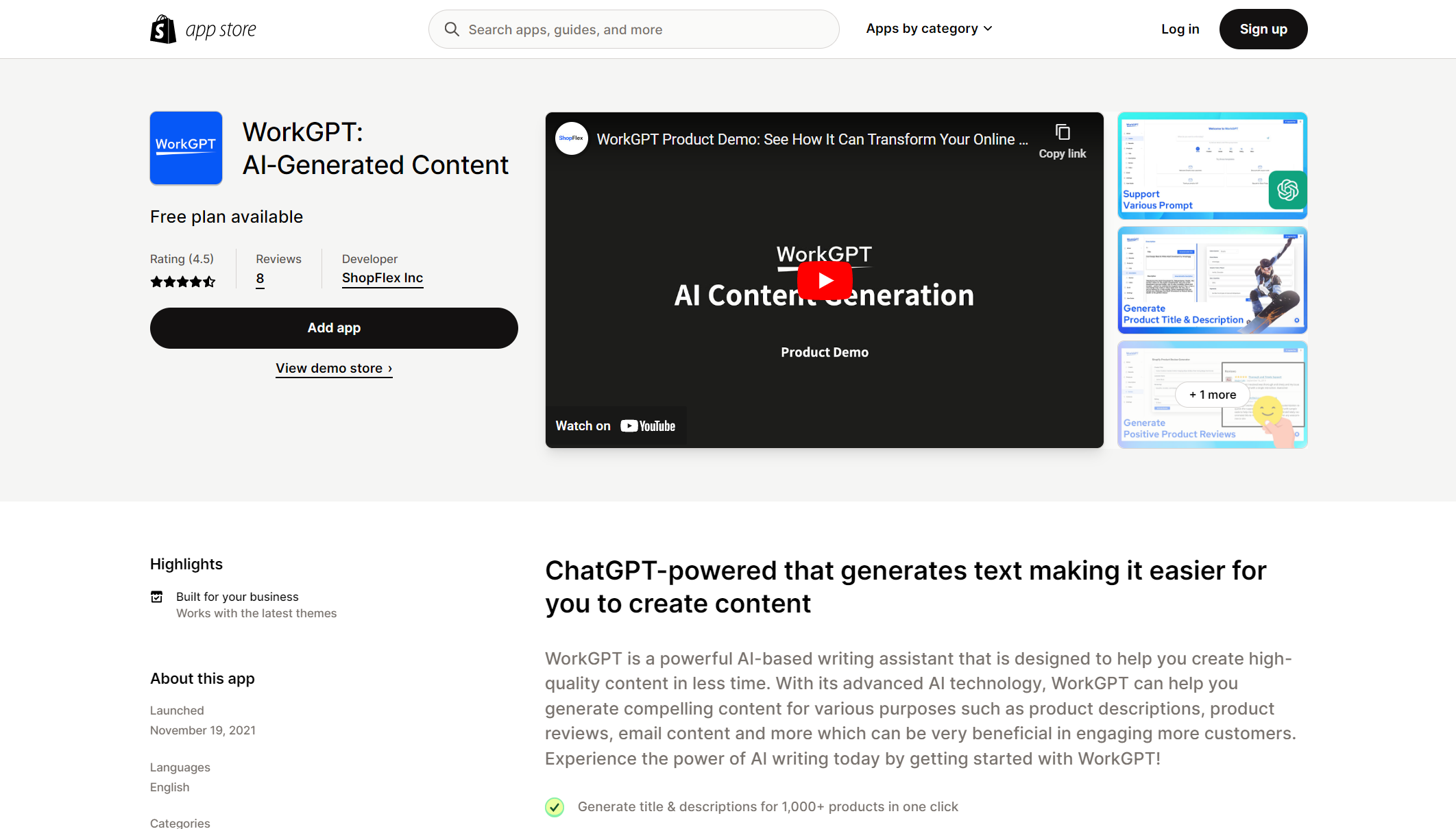 ★★★★☆ (4.5) Shopify App Store
Another great option for content creation on Shopify is WorkGPT.
This platform uses an AI-powered language model to produce high-quality content quickly and efficiently. With WorkGPT, you can generate blog posts, articles, product descriptions, and other forms of content that are not only well-written but also tailored to your brand's tone and style.
Simplify your content creation process with WorkGPT and focus on other important aspects of growing your business.
Price:
Free Plan – 5 content credits and no contacts

Basic Plan – 100 content credits for $9.99/month

Professional Plan – 1000 content credits for $59.99/month
Key Features:
Generate title & descriptions for 1,000+ products in one click.

Convert text to audio/video for product promotion.

Generate content and content snippets optimized for SEO.

SEO-optimized blog posts that help drive traffic to your website.
Product Description Generator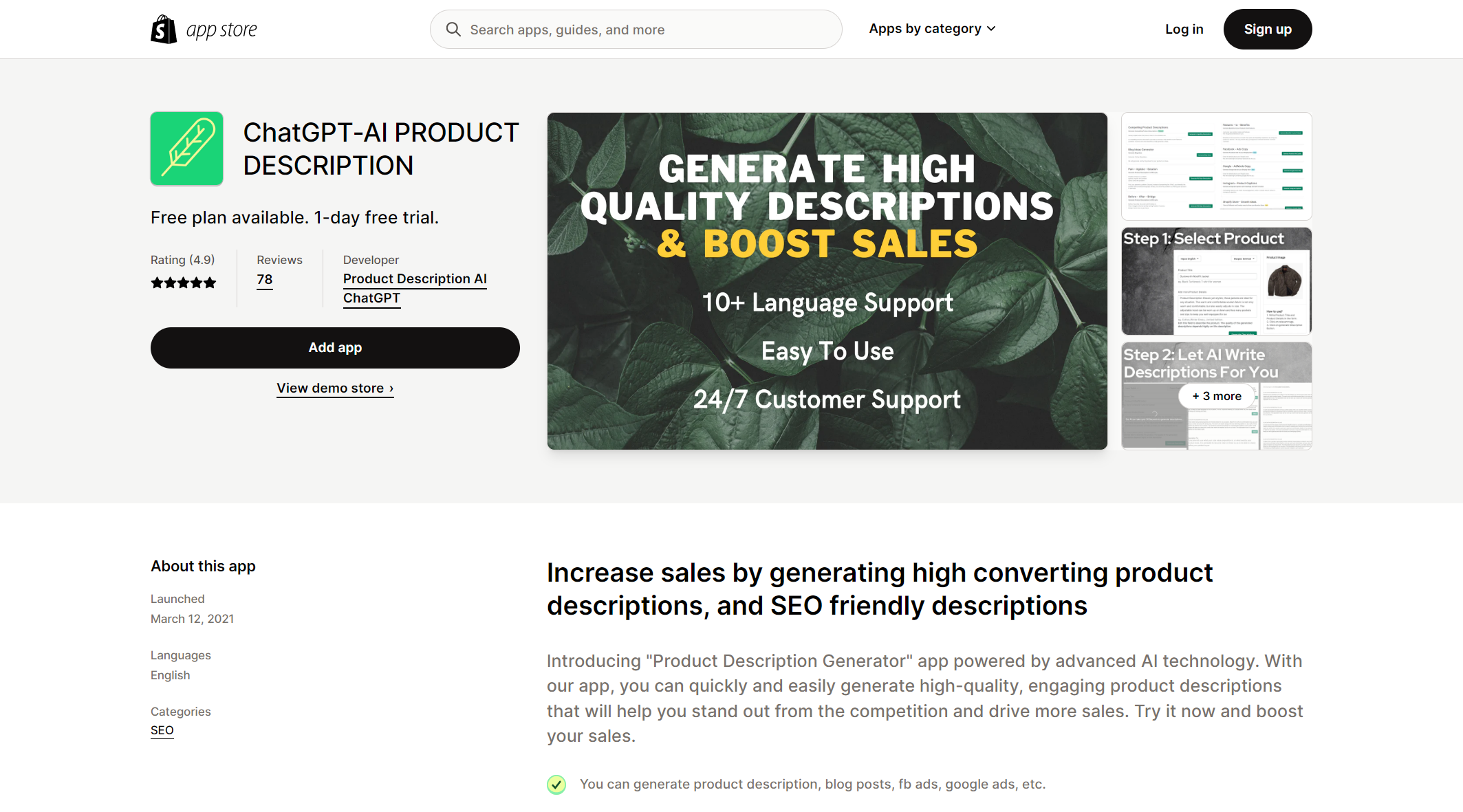 ★★★★★ (4.9) Shopify App Store
Product Description Generator is another great option for quickly generating product descriptions. This app uses an advanced AI algorithm to generate unique and engaging product descriptions that are tailored to the specific needs of your store.
Product Description Generator offers a range of features. With this app, you can easily create accurate product descriptions that are optimized for search engines, helping you to increase your organic traffic and sales.
Price:
Free trial – 1 day free trial.

Premium plan – $9.50 for unlimited access to all tools.
Key Features:
You can generate product description, blog posts, fb ads, google ads, etc.

You can generate product descriptions in 10+ languages.

We have made the user interface simple to use and easily understandable.
GoWise: AI Product Description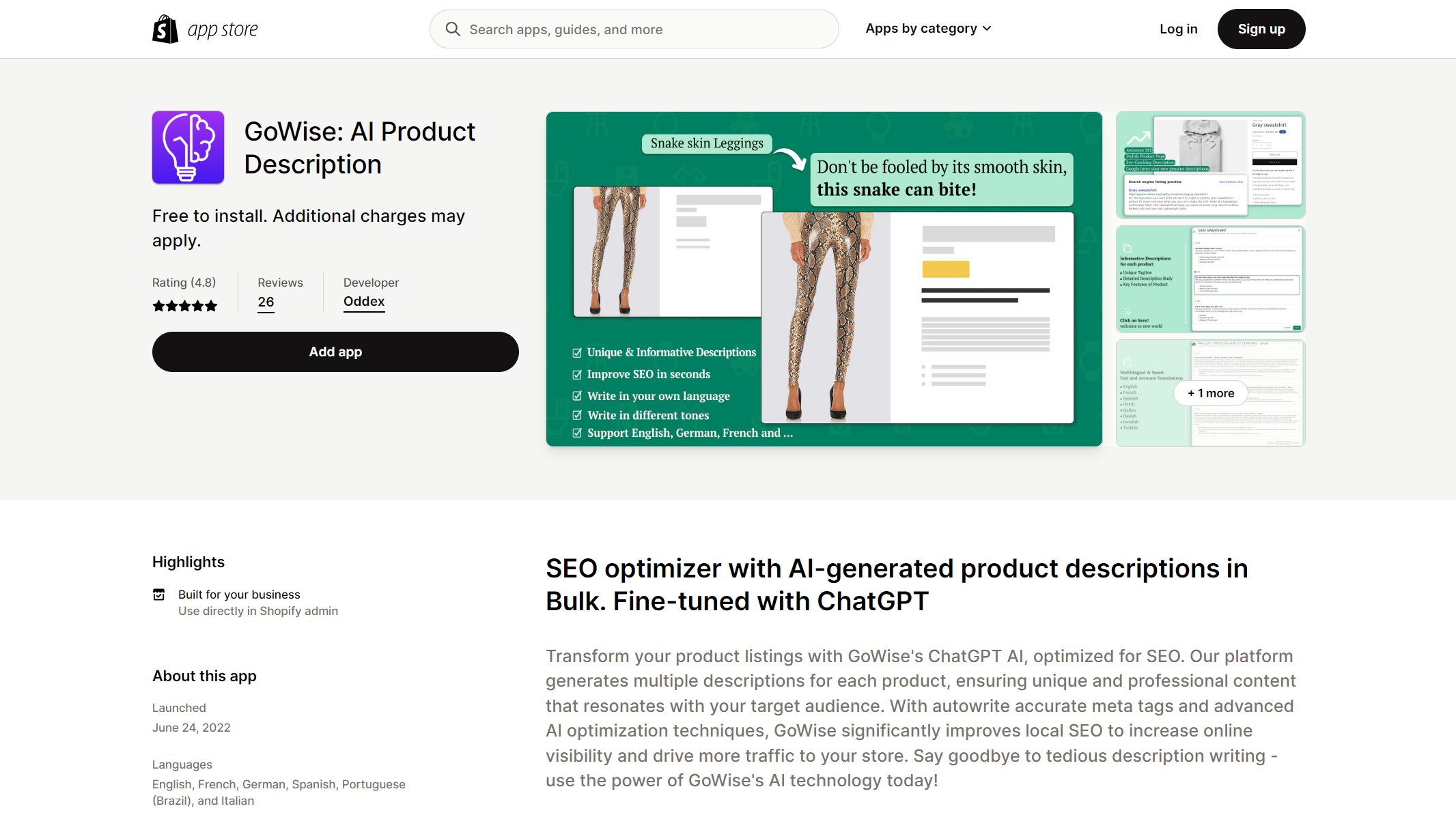 ★★★★★ (4.8) Shopify App Store
One of the best apps available for creating product descriptions is GoWise AI product description. As with the others we've listed, this app uses AI to generate unique and product-oriented descriptions that are engaging and help to increase the conversion rate.
It saves time and energy, while still taking care of the details that are important to customers. With GoWise AI product description, businesses can easily create high-quality content that grabs the attention of potential customers and boosts sales.
Price:
Pay as you go plan with first five product free. Each product costs $0.125 after that.
Key Features:
SEO keyword-focused descriptions by AI based on your product and store category.

Perfect ChatGPT templates for descriptions: tagline, body, and key-features.

Write descriptions for multiple products in seconds with the Bulk feature.

English, German, French, Spanish, Finnish, Portuguese, Spanish, Dutch and more.

Descriptions in formal/informal tones with focus on keywords. Live chat support.
Brainy: AI SEO & Content Boost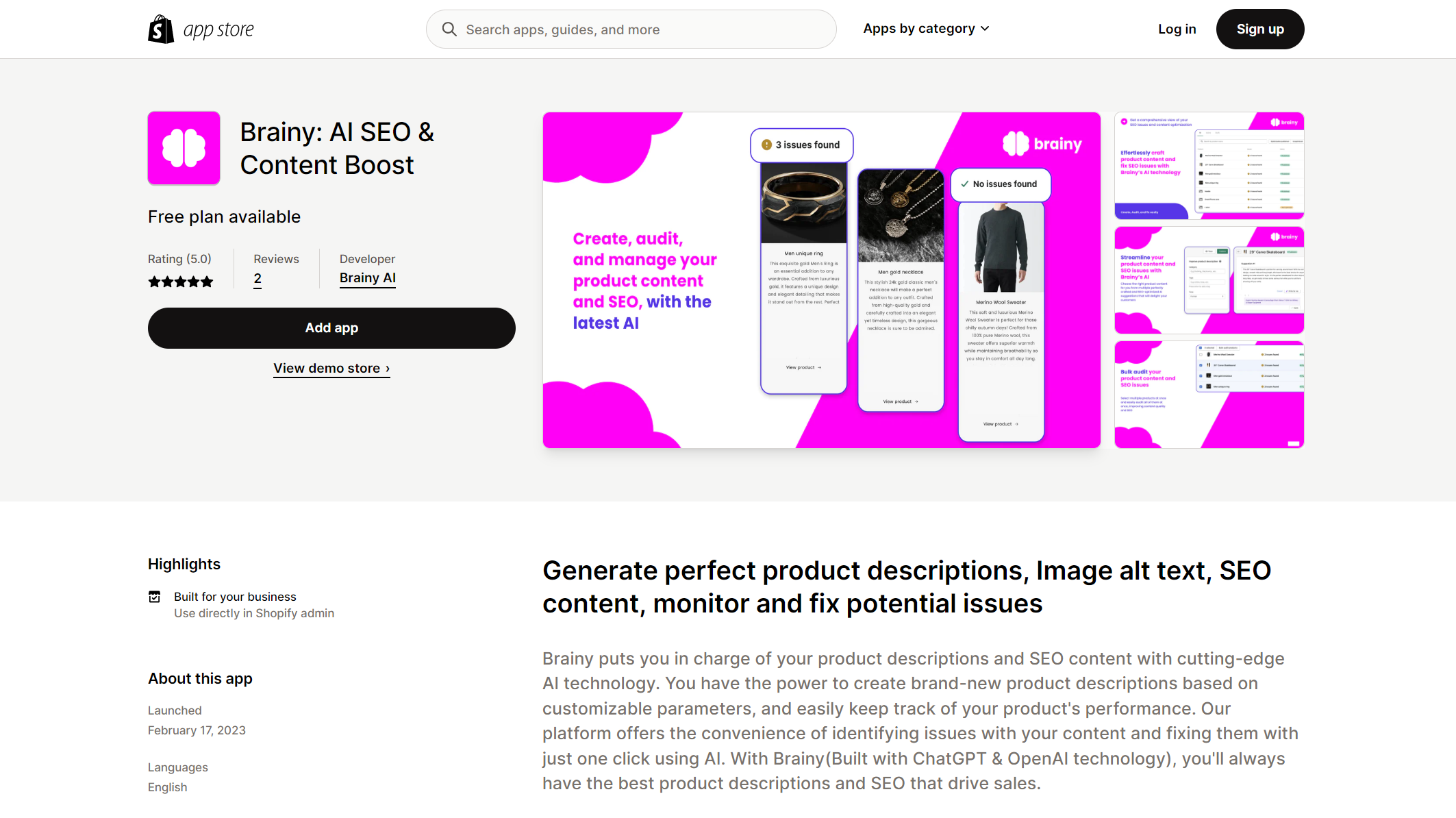 ★★★★★ (5.0) Shopify App Store
Brainy: AI SEO & Content Boost is one of the best apps on the market for creating top-notch content that stands out from the competition.
With its advanced AI technology, Brainy can analyze your website for historical data and identify areas of improvement, allowing you to tailor your content to your target audience and boost your search engine rankings. It allows you to generate perfect product details, descriptions, image alt text, and SEO content, as well as monitor and fix potential issues.
Whether you're new to Shopify or a seasoned pro, Brainy's powerful features make it an essential tool for any content creator looking to take their website to the next level. Its AI-powered features are easy to use and can be quickly integrated into existing content.
Price:
Free Plan – 5 product optimizations per month.

Paid Plan – $6.99/month for 100 product optimization with advanced features.
Key Features:
Create customized product content and SEO content using ChatGPT AI.

Monitor your products' content and SEO in realtime and identify any issues.

Select the right content for you brand from multiple AI-generated suggestions.

Effortlessly resolve product content and SEO issues with just one click.

Dedicated 24/7 expert customer support team to help you with any issue
The growing importance of AI and ChatGPT in e-commerce
In today's fast-paced digital world, e-commerce has become an integral part of our lives. With the rise of artificial intelligence (AI) and ChatGPT technology, the e-commerce industry is seeing a massive transformation.
AI is enabling businesses to automate their operations, streamline their responses and personalize their services, while chatbots powered by GPT technology are providing quick and efficient customer service with 24/7 availability.
The growing importance of these technologies is helping businesses to create a better shopping experience for their customers, resulting in increased customer satisfaction and loyalty. Moreover, AI and ChatGPT are also helping businesses to optimize their products and services, reduce operational costs, and gain business intelligence insights.
As we move towards a more interconnected and digital world, the integration of AI and ChatGPT in e-commerce is becoming more crucial than ever before.
Benefits of integrating ChatGPT into a Shopify store
By integrating ChatGPT into a Shopify store, businesses can provide their customers with immediate and personalized support, creating a seamless shopping experience.
ChatGPT's artificial intelligence allows for intuitive communication, saving businesses time and money by reducing the need for human customer service representatives. Trust and loyalty between businesses and customers can also be fostered through the built-in feedback system, ensuring that the customer's voice is always heard.
Overall, use ChatGPT with a Shopify store for countless benefits and enhance your customer experience and increase sales.
Conclusion
In conclusion, AI and ChatGPT are becoming increasingly important for e-commerce businesses.
By taking advantage of these technologies, businesses can save time and money while optimizing their operations and focusing on customer loyalty. Ultimately, AI and ChatGPT are revolutionizing the e-commerce industry and have become an essential part of doing business online.
How are you integrating AI into your business?
New Shopify Apps Weekly Newsletter
We watch for new apps then package them into an email sent every Tuesday.