It goes without saying that Black Friday and Cyber Monday is a great weekend for ecommerce stores. But BFCM comes with its own set of problems like high bounce rates and higher abandoned carts.
As a store owner, it's important to set up strategies to reduce cart abandonment during BFCM and maximize conversions from your carts. Let's dive into these tried and tested marketing workflows.
1. Re-capture attention with an email popup.
Popups are a must-have for BFCM because they're highly effective at grabbing a consumer's attention and making them stay on your site by offering them a tempting discount. A well-contextualized pop-up can convert at over 40%!
There are many ways to set up a pop-up, so here are some ideas:
Display an exit-intent popup using a tool like Optimonk. The popup can be used to create a sense of urgency around current offers, to list down the active coupon codes or to even ask them to subscribe to your newsletter to get those coupons in their inbox!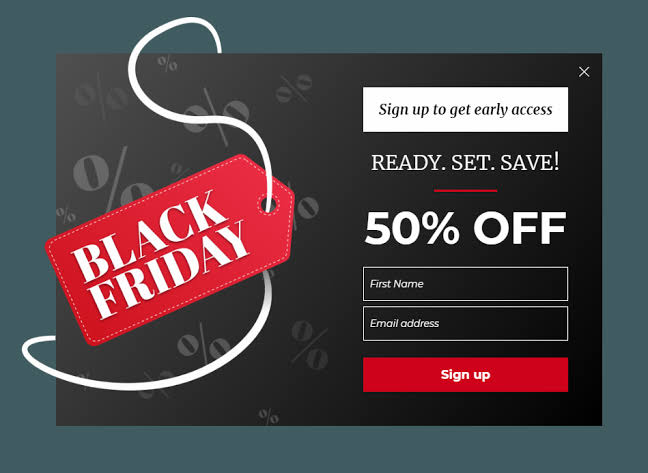 You can also gamify discount hunting during BFCM by targeting your actively browsing visitors with an email popup using apps like WooHoo. They can to play the wheel of coupons, match the reel or a simple card game to 'win' big discounts.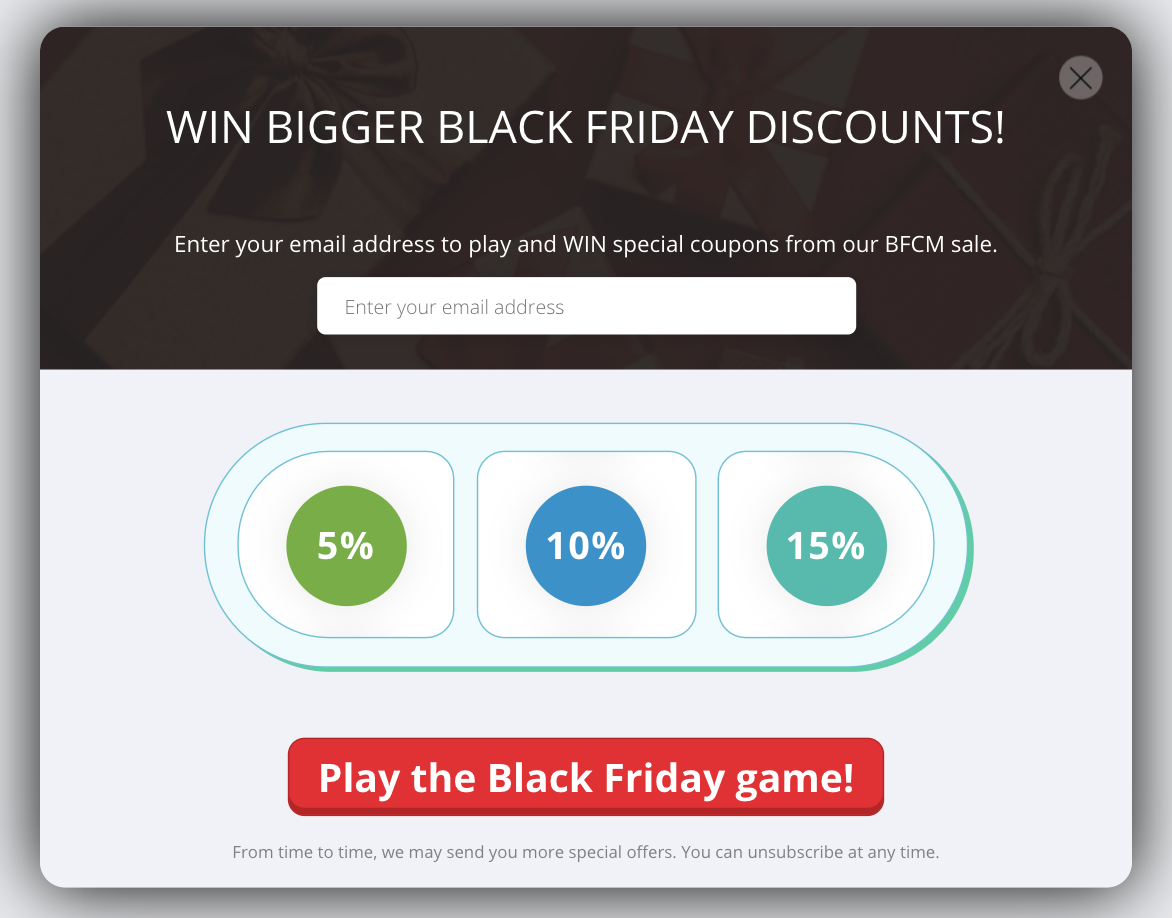 Remember that context is key to reaching those high conversion numbers, so place your pop-ups thoughtfully.
2. Use on-site notifications to keep shoppers engaged. 
Another way to reduce cart abandonment during BFCM is to keep them engaged throughout the shopping process with on-site notifications.
One option is to share recently purchased products to provide social proof that other shoppers are taking advantage of your sale. Bonus points if you have a limited supply of items because these notifications can also contribute to creating a sense of urgency as supply visually decreases. You can implement this type of on-site notification using an app like Salespop.
3. Offer shopping assistance. 
A major contributing factor in why a shopper tends to purchase more from a brick-and-mortar store is because of the help they get in store. With someone assisting them, they are able to resolve questions on the spot.
That said, BFCM sales can be overwhelming and confusing. Consumers more often than not abandon their carts because of a lack of information about the deals or their chosen products. That's where a little help can go a long way to helping them complete the purchase.
You can offer a similar experience to brick-and-mortars by setting up shopping assistance with a live chat using an app like Tidio.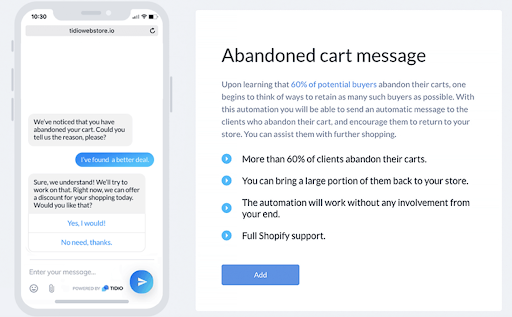 If you see a shopper spending a little more time on the cart page, trigger an automated message letting them know you're around to help. And if you see the shopper engaging, jump on to have a quick conversation to help them out!
4. Re-engage with web push notifications. 
Web push notifications are a smart way to pull shoppers back to your store after they've initially abandoned their cart. Delivered straight to their device screens, these messages are hard to miss, letting the shopper know their cart is about to sell out or the deal is ending.
With apps like PushOwl, you can enable up to three automated reminders. With the first two, you can simply remind the shopper of what they've left behind. For the third one, create a sense of urgency around the product they left behind by reminding them that the BFCM deal is ending soon.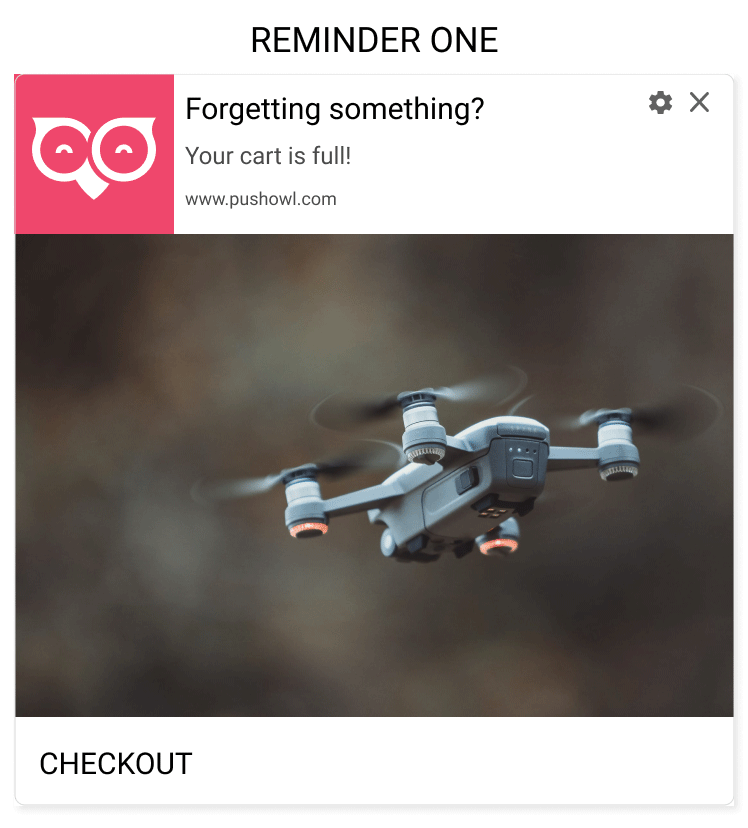 Brands like Headphone Zone were able to recover a considerable amount of their abandoned carts with web push notifications. The strategy led them to recover $123,279 worth of sales.
5. Reach out to cart abandoners on Facebook Messenger. 
More than 1.3 billion people use Facebook Messenger every month, with 20% click through rates on chatbot messages, making it a promising channel to re-engage customers by reminding them of what they've left behind.
Even on Messenger, you can automate multiple cart recovery reminders to ensure your message is received and read by the shopper by using apps like Flashchat. All you need to do is get the messaging right and make the shopper feel like they're losing something great.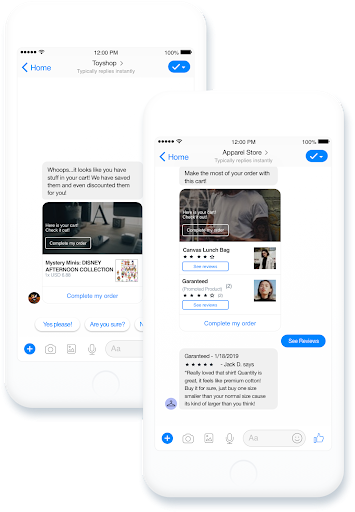 6. Send out cart recovery emails. 
When it comes to re-engaging a consumer, emails are still one of the most effective tactics. Automate your cart recovery email marketing campaign with an app like Kit Karts to send out a timely reminder of what the shopper has left behind. An email sent out within the first 24 hours after abandonment should have an average open rate of 40%, with 50% of clickers finishing their purchase! Consider spicing your email up with a time-sensitive extra discount so that customers move immediately to purchase.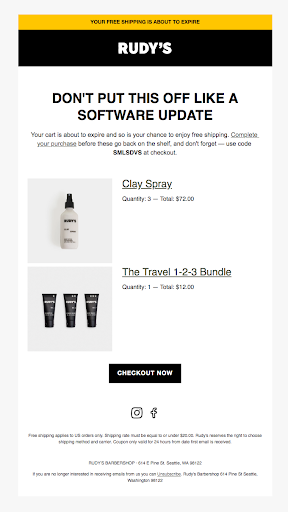 7. Use remarketing ads. 
Cart abandoners are shoppers who are looking for bigger and better deals on the products they love. You can continue to market to them while they're actively searching for other deals by setting up retargeting ads on social media with apps like RetargetApp or Ako Retargeting.
Advertise the items in the cart and offer a value add like 'free shipping' on their BFCM purchase.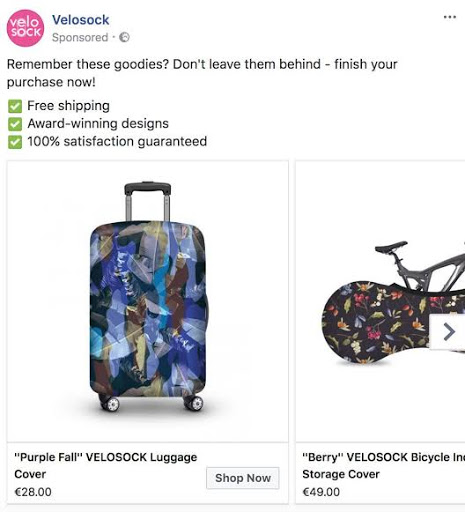 Reduce cart abandonment to increase BFCM revenue!
Remember, an abandoned cart isn't a lost sale. It's just a step in the modern sales funnel.
As you gear up for your BFCM sale, use your existing customer data to set up strategies to reduce cart abandonment beforehand. It's important to have your methods in place before the madness begins!
We'll help build workflows to automate your repeatable tasks.
Put our experts to work for you. Get started today.
Get MESA Free on Shopify
New Shopify Apps Weekly Newsletter
We watch for new apps then package them into an email sent every Tuesday.

Yopto
Marketing

Shopify
Commerce

Segment
Productivity

Infinite Options
Productivity

Slack
Productivity

Etsy
Commerce

Discord
Productivity

Bold Commerce
Commerce

Tiktok
Marketing

Airtable
Productivity