Instagram is one of the top performing platforms for retailers period. It has over 1 billion users, 80% of whom follow at least one business and 30% of whom have purchased a product they found on Instagram. As a visual-first platform, Instagram makes it easy for retailers to show off their products. And good news for stores using Shopify: Shopify has a partnership with Instagram that empowers you to utilize Instagram even better than before.
Setting up your profile
The very first thing you'll need to do when you start using Instagram is set up your store's profile. You'll need to choose:
Set your highlighted stories (eventually)
In general, brands use an image of their logo for their profile photo and some version of their store name for their handle. This is a recommended practice so your profile is easily recognizable and searchable. However, if you happen to have another picture or handle that suits your branding well, there's certainly no rule against using it.
The Instagram bio has historically been of massive importance for company pages because it was the sole place you could put a link to your store on Instagram. That link rule is changing now (as we'll discuss soon), but you should still treat the bio seriously. Keep it short and sweet (there's a 150 character limit), stating clearly who you are. Include a clear call-to-action that introduces your link. You have a number of options for what link you use:
Link to your homepage. This is the old classic and most people shorten the link using a tool like Bit.ly.
Non-Shopify users could use a link that makes your profile shoppable. A tool like Curalate enables visitors to actually land on a page that's selling the products in your photos.
Send your customers to a special landing page made for a marketing campaign you're currently running.
Finally, story highlights are the last part of your profile. These highlights allow you to permanently keep themed stories available on your profile for visitors to learn more about you. You likely won't immediately have any stories to highlight, but going forward, you'll want to go ahead and do this. Common highlights for retailers include a story showing the latest products, a behind-the-scenes of a product photo shoot, and/or a meet-the-team story.
To show these best practices in action, check out this perfect brand profile by Modcloth.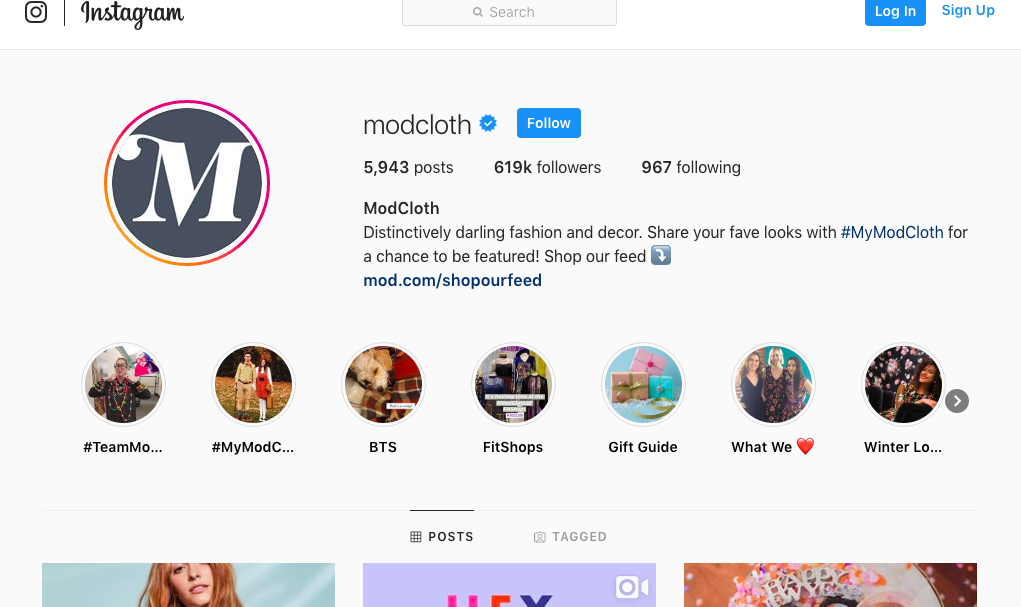 Be sure to switch your profile to a business profile, which will require you have a Facebook business page. You'll have to log into your Facebook page's settings and switch the Instagram account to business from within Facebook.
Once the profile is set up, Shopify merchants will want to make use of Shopify's integration with Instagram so you can:
Create a shoppable Instagram account. The integration enables you to tag your products right in your photos so viewers can actually shop your feed without having to go the old "link in bio" route. (See an example of what this looks like below.) Please note: you will have to have a Facebook Shop up and running within your Shopify account to utilize this feature. This feature is highly effective – Circulate Digital found that this functionality gave one of their clients a 30:1 ROI.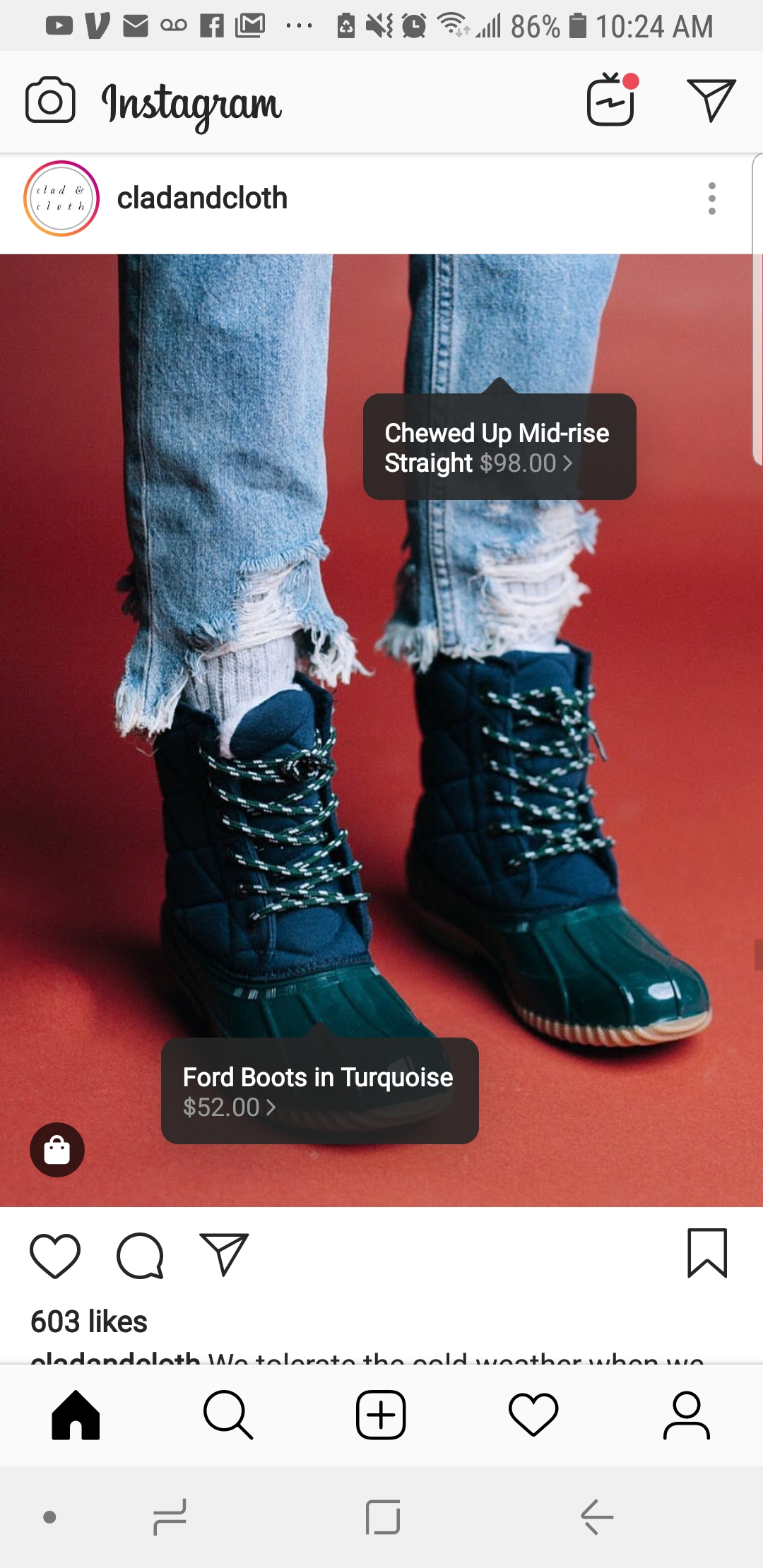 Display an Instagram gallery on your store site. There are a number of apps available on Shopify's app store for this purpose (stand-out app: Instafeed – Instagram Feed, 4.7 stars, free). Having a gallery on your site will provide your store with social proof and help boost your Instagram engagement.
Put Instagram follow buttons on your site. Instagram follow buttons on your site increase your Instagram engagement, and also offer a way for visitors who aren't ready to purchase from you stayed engaged with your brand.
Install your tracking pixel on Shopify, making retargeting campaigns a breeze.
Content Placements
Once your profile is set up, you're ready to get sharing. Content creation is ultimately the key to Instagram, as you'll be sharing static photos, GIFs, and videos as your main content. There are a surprising amount of options you have here though, starting with content placement. There are two placements for content: your stories and your feed.
1. Your feed
The feed is the classic form of Instagram – you share your photos for others to see and they remain attached on your profile as a sort of photo album unless you delete them or make them private. These photos are traditionally shared in the form of a 600x600px square, but now you can also share your photos in landscape or portrait forms. Landscape is displayed as 600×337, and portrait will display at 480×600. No matter what shape you choose, Instagram will crop photos to squares in your profile. Feed posts also include a caption of up to 2,200 words.
2. Your stories
Stories are a newer placement type to Instagram and they're incredibly popular. Stories allow a user to post an image or video for 24 hours. Stories also allow for words and stickers to be placed on top of the image or video. These stories are accessible from the top of someone's feed and cannot be seen unless a user chooses too. Nonetheless, stories are great for brands for a number of reasons:
Stories are not meant to be polished pieces of content but rather are expected to be a bit more "raw." This means you can share fun behind-the-scenes sneak peeks and action shots from your physical locations that let users see and connect with the humanity in your brand.
Most importantly, you can link your stories! I can't overstate how exciting that fact is for businesses, truly. Jinal Sampat of Sampat Jewellers Inc. points out that Instagram Stories have a greater organic reach than feed posts, making Story links highly effective.
Captioning Pro-Tip: "Copy in 2018 is wildly different than your traditional Mad Men-esque copy. Sometimes the best copy could be three heart emojis or a simple "either/or" question. You want to drive engagement so make your copy a two-way conversation or informative." – Liz Whiting, Head of Marketing for Daily High Club
Content Creation
With the content placements established, let's talk about what types of content you might actually want to share.
1. Product photos/videos
The most basic type of image that brands should be sharing is photos and/or videos of their products. Show off your goods. And they don't have to be bland photos. Get creative and share photos of your products in action – just make sure they're still the star of the photo. Jonathon Gilde, who works with Pigment, has actually found that their top-performing posts are photos of their products on display in the store. Check out some of this wonderful example from Under the Crown Jewelers: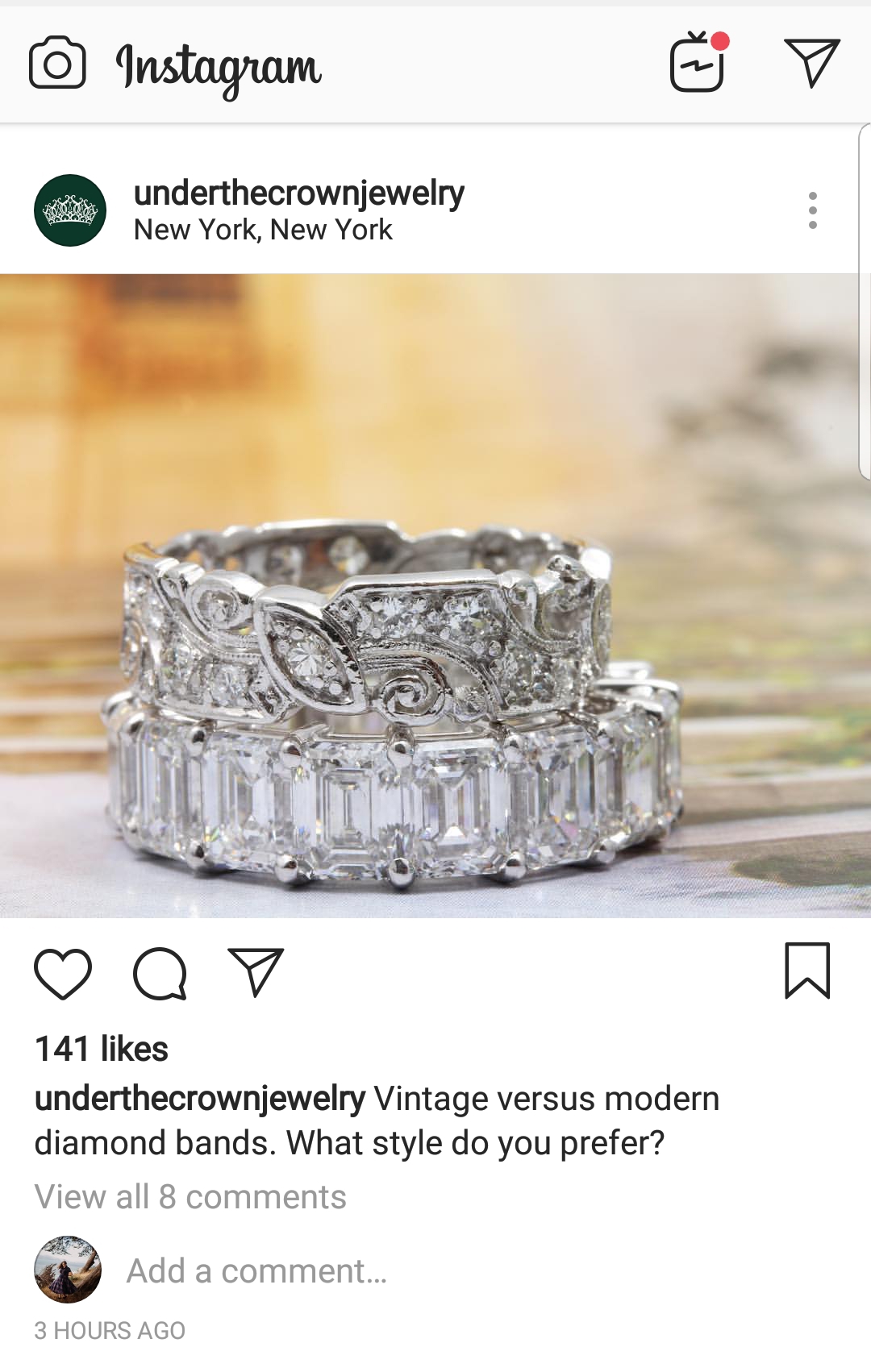 2. Behind the scenes/sneak peeks
I already mentioned this, but everyone loves a good behind-the-scenes photo, and Instagram stories are particularly well-suited to this type of "unpolished" content. Share videos from your office, of floor employees unboxing the new product, or of photographers shooting your models!
 3. Memes
Humor may not be right for every brand, but if it's right for yours, you may want to share memes. These memes can be original to your brand or you can re-post someone else's. If you repost, be certain to give credit to the original poster.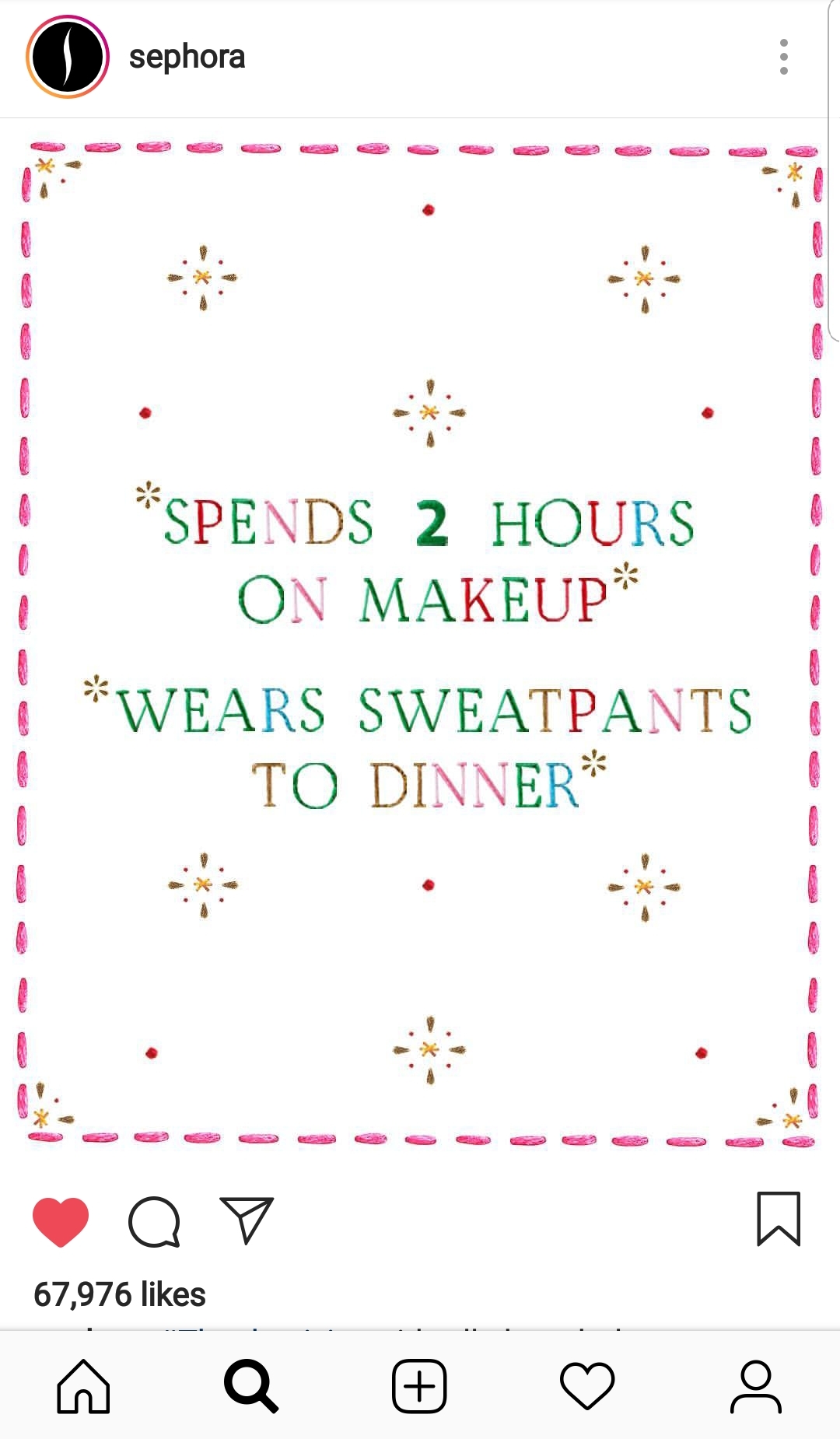 4. Educational posts
Many products lend themselves well to educational posts. The food/cookware industry, in particular, does great things with this type of post. There are hundreds of cooking tutorials available on Instagram on how to make recipes with certain products if you ever need cooking inspiration. Cookware are not the only products that makes for easy educational content, though. Even products that seem straightforward to use, like clothing, can use educational posts. Check out this fascinating one from Thirdlove on what a bra is made of: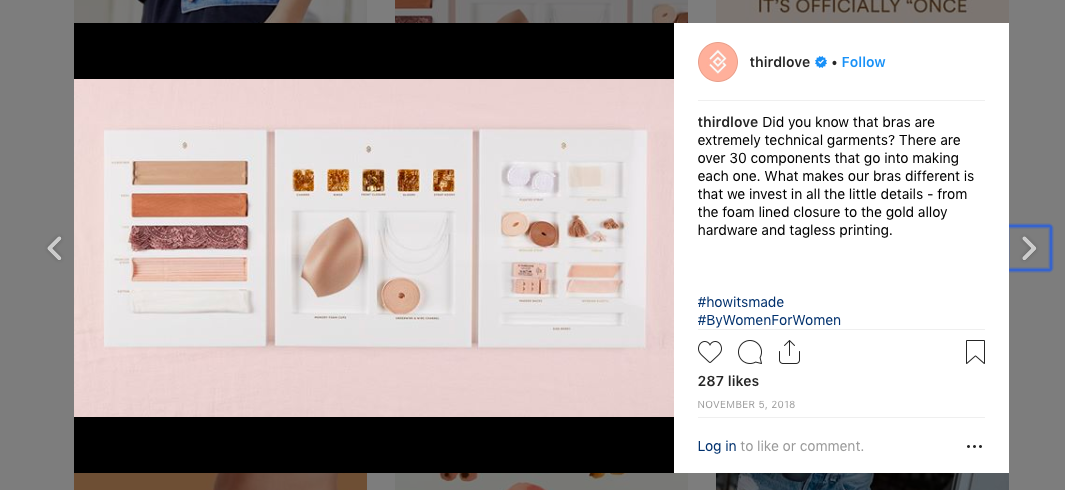 5. Live
Live-sharing is done through your stories and, as the name implies, is when you share a video of something in real-time. Live-sharing is often interactive, as viewers can also comment on the video throughout the live stream. As a result, live-sharing lends itself really well to Q & A's. Brands often successfully run Q & A's on upcoming products, for instance.
6. Interactive content
Live-sharing is not the only way to create interactive content. Stories allow you to post polls and questions that viewers can answer. These questions don't have to be about your products – plenty of brands run lifestyle polls like "Coffee or Tea?" etc. to engage their followers.
7. User-generated content
User-generated content is a truly fabulous way to engage with your audience. It enables you to celebrate them and provide social proof that your brand is loved all in one go.
There are many ways in which you can gather user-generated content:
Start a hashtag that your customers can share their photos to. Morphe, in particular, has done this really well. #MorpheBabe is a vibrant hashtag where Morphe customers share photos of the makeup looks they've created with their Morphe products. Morphe often chooses to repost these photos from their own account. (Fun fact: 70% of hashtags on Instagram are branded!)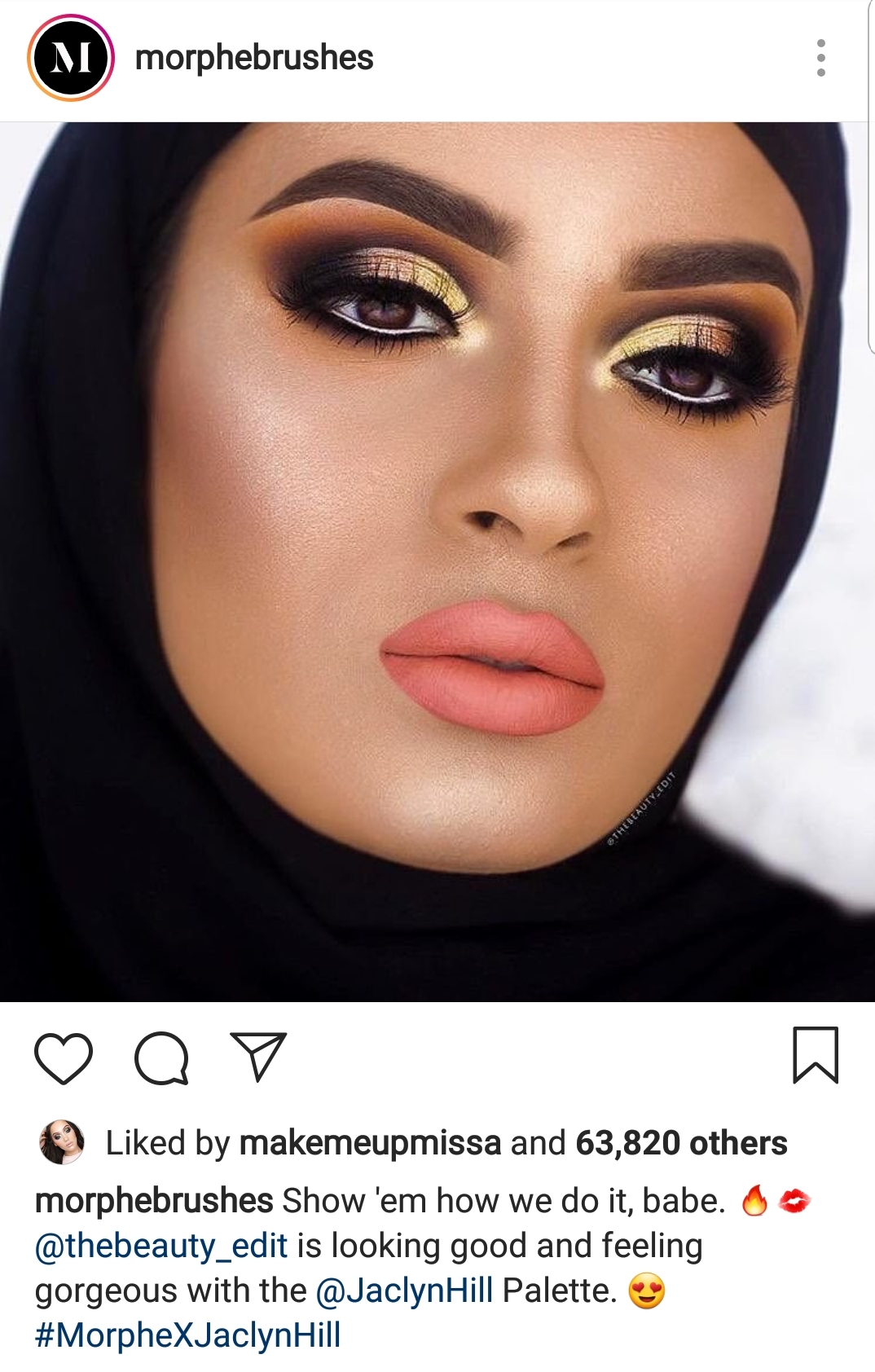 Run a contest where your customers have to tag you in their photos that include your products for a prize.
Gather content from your followers or relevant hashtags that you didn't actively request. Think inspirational quotes or other on-brand images that your followers post.
You can use an app like Repost for Instagram, which shares the photo with the original poster's handle in the image. Finally, make sure to tag the original poster and give credit in your caption.
Content Creation Best Practices
Before you jump into creating content, you should make sure you're familiar with industry best practices so you know you're creating excellent posts.
1. Create a brand aesthetic. Ashley Graham, Founder & Creative Director of Brandesso, points out, "Popular Instagram accounts all have one thing in common — they have coherent feeds. Create an aesthetic that is deeply rooted to your brand identity, following a common theme that can speak volumes about what you're all about!" Many experts recommend using the same filter on all of your photos in order to give that consistent aesthetic.
2. Use high-quality photos with bright lighting. Try to avoid over-editing the photos to the point of looking fake, though.
3. Use your own content instead of stock photos. Andrea B. Sager, Owner of Andrea Sager Law PLLC says, "I am a small business attorney that works primarily with eCommerce businesses regarding copyrights and trademarks and I see many eCommerce businesses that use stock photos getting their pages shut down by Instagram. Little do they know that many of the stock photos that the suppliers use are photos that have been stolen, so each person that uses the photo is committing copyright infringement."
4. Make the most of hashtags – they're the best method of organic growth. Graham mentions, "Hashtags make it easier for users to find your photos, grabbing the attention of those who may be unfamiliar with your business. Use hashtags that are both trendy and applicable to your brand."
5. Plan shoots for Instagram. Just like you have to build product shoots into your schedule, you should also plan Instagram shoots in. In an hour or two, you can take enough photos to fill your schedule for the next month or so.
Scheduling and Engagement
Posting on a regular basis is key for growing and engaging your following. Ashley D. Johnson from Creole Couture Boutique says she gains about 25 followers per post, demonstrating how valuable regular posting is to your following.
As a digital marketer, I can tell you that keeping consistent is difficult if you don't use a tool to help you schedule out your posts. The good news is that there are many excellent tools that enable you to schedule your Instagram posts out up to a few months in advance, some of which have Shopify apps.
In addition to posting consistently, you'll also need to interact with your followers and community in order to grow your engagement (and ultimately your sales). Nate Masterson, CMO of Maple Holistics, says brands should also seek to use their interactions and engagement on Instagram to encourage brand loyalty.
Unfortunately, you can't schedule your engagement out ahead of time. I recommend you set aside a fixed amount of time each day to reply to comments and comment/like/follow users interacting on relevant hashtags. As Ashley Graham says, "Use automation lightly when it comes to engagement. Organic is always the best engagement you can have. There have been a plethora of automation tools that have emerged on the Internet, claiming to "instantly boost your Instagram engagements." In reality, it is hard to gain followers and likes overnight without putting in actual work. Utilizing these commercial programs allow bots to run your account, commenting and liking posts under your behalf. Although this can attract new visitors to your Instagram, it goes against Instagram's policies and brings in "fake followers" that may or may not be interested in your business at all. As long as you post consistent, relevant content, the engagement will come."
Engagement Pro-Tip: "This is a very simple strategy, and it works incredibly well at getting more post impressions. First, you decide on what product your post will be about. Let's say your product is a dog toy. You'll look up popular accounts that feature dogs. But don't focus on just the big fish – look at accounts with more modest follow counts, so long as they have good engagement. Follow them, and tag them in your post. A lot of the time, they will like the post, and that will help your post get discovered at an accelerated rate." – Elizabeth Bradshaw, Owner of Canvas Art Boutique
Monetization
While Instagram isn't a pay-to-play network, strategically dropping money is advisable (once you've optimized your website and profile). There are two main ways to you can pay for exposure on Instagram: ads and influencers.
Ads
There are a few types of ad placements you can utilize on Instagram, and all allow for a caption, CTA, and destination URL:
Single photo ads: a single photo (or GIF) that appear in a user's feed almost like an organic post.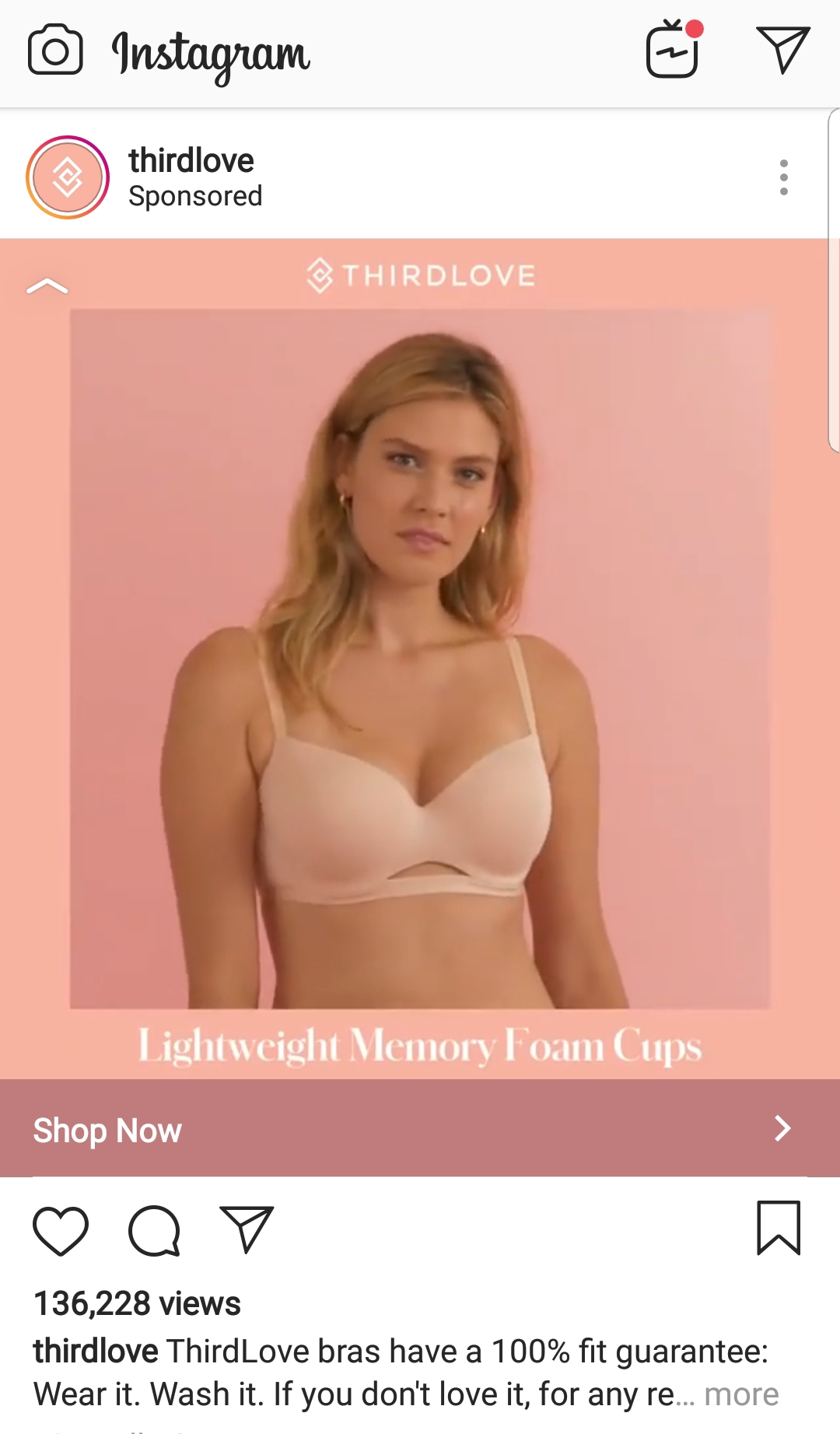 Carousel ads: multi-photo ads with up to 10 photos. Carousel ads provide you the opportunity to create an interactive ad.
Video ads: up to 60 seconds of video that appear in the feed.
Story ads: ads that appear automatically in between organic stories as a user watches through. These ads disappear after 24 hours just like organic stories. With story ads, the caption and CTA will float on the image itself, rather than appearing beneath it, as with the other placements.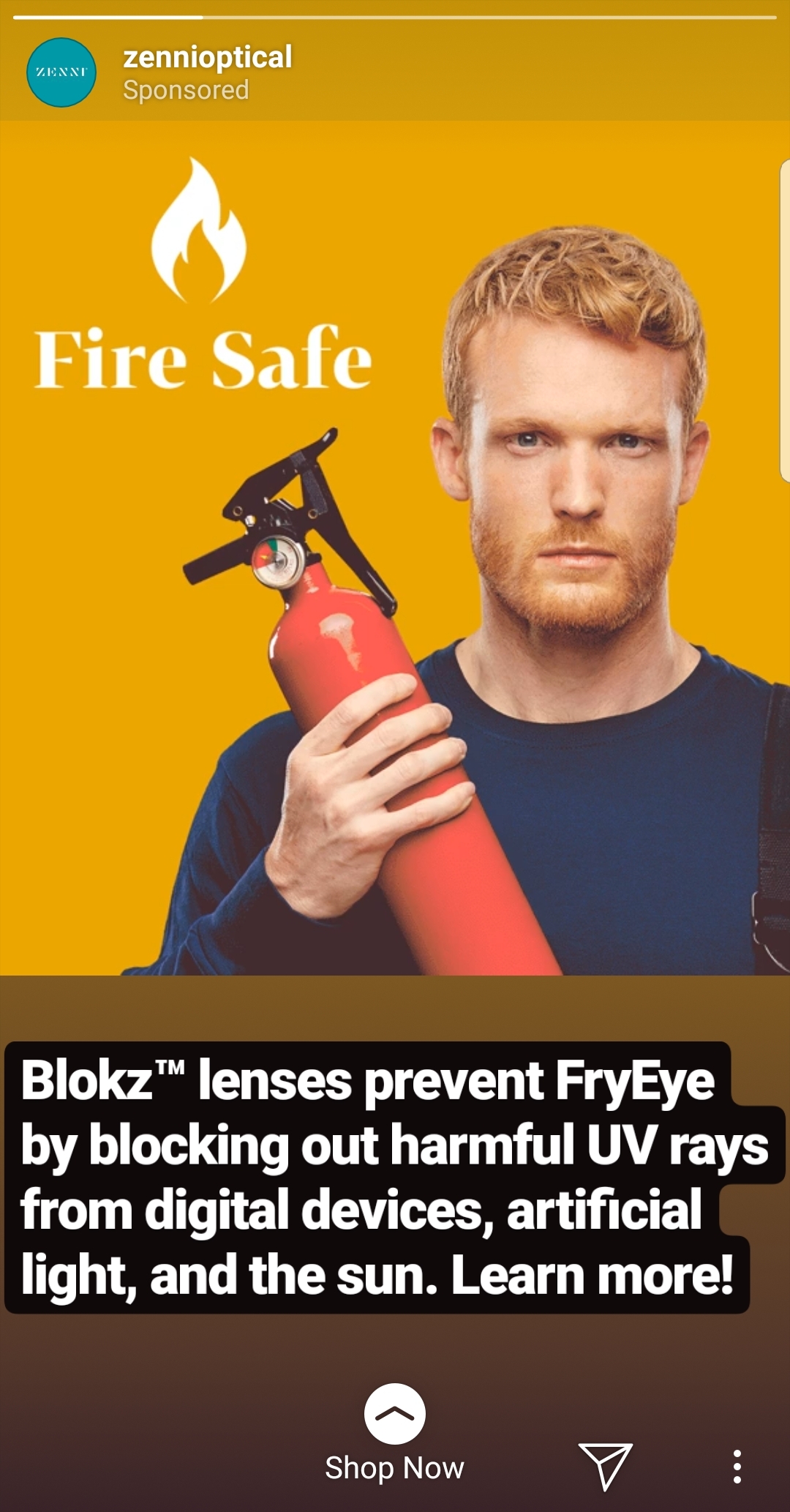 The best way to create your ads is actually through Facebook's ad manager. Facebook's ad manager is incredibly powerful, but still very user-friendly. Even a newbie can hop right on and figure out how to work the creator using Facebook's fantastic guided creation.
That said, let's get into some best practices you should observe:
1. Focus your goal.
First things first, you must have a clear, focused goal in mind for your ad. A clear, focused goal enables you to measure your success and tell your viewers clearly what to do. A clear, focused goal also tends to create better results because your viewers will actually understand what they're supposed to do.
A clear, focused goal means that you have a single action you want your viewers to take and you make it as easy for them as possible, rather than creating an ad who's end goal is nebulous. For instance, if you're advertising a piece of furniture, you'll want to make the ad clearly aimed at getting people to click through to the landing page with the intention of purchasing that item. You'll ensure the landing page is simplified so that they can then purchase this item with as little friction or distractions as possible.
2. A precise audience is a good audience.
In addition to having that clear, focused goal, you'll want to ensure you're advertising to the people that will want to complete that goal. Fortunately, Facebook has a wealth of data on its users that permits advertisers to create extremely granular audiences.
You can target by many things including:
Demographics (age, gender, etc)
Your buyer persona should help guide you through creating a precise audience. Don't shy away from creating multiple sets of audiences to test. Additionally, most businesses have multiple customer personas. You'll most likely want to create separate audiences for each of those personas.
3. Test, test, test
I touched on this just a moment ago, but testing is key for any marketing workflows you ever partake in. With Instagram ads, you'll want to be A/B testing every detail, from audience to creative. Only make one small change at a time so that you know for certain what detail is making the difference.
4. Use hashtags
Good news! Ads can have hashtags too, so they get a bit of organic circulation on top of the paid. Don't miss out.
5. Switch your ads up regularly.
Instagram users expect new content every time they log in. If you keep the same ad in rotation for too long, users will lose interest. In addition to switching up your ads, Ross Palmer, Digital Marketing Manager for Lab Society, says to ensure your organic posts are providing consistent value so that new followers gained from ads are encouraged to engage with you further.
Instagram Ad Pro-Tip: "Similar to how product reviews assist in shoppers' decisions making, seeing a product's usage in action by real people also validates the brand. We advise clients to politely ask those users who have kindly shared those images if they may use the images to be reshared or used in ads. We've seen ads utilizing this user-generated imagery drive better engagement than similarly styled imagery that was professionally shot." – Gabe Hernandez, Digital Marketing Director at ROI Swift
Influencers
Influencer marketing, in essence, is when you pay someone to promote your product(s) to their following. There are a number of ways you can utilize influencers on Instagram:
Sponsored posts. Here you'll pay an influencer for a specific post they run for you in their feed or story.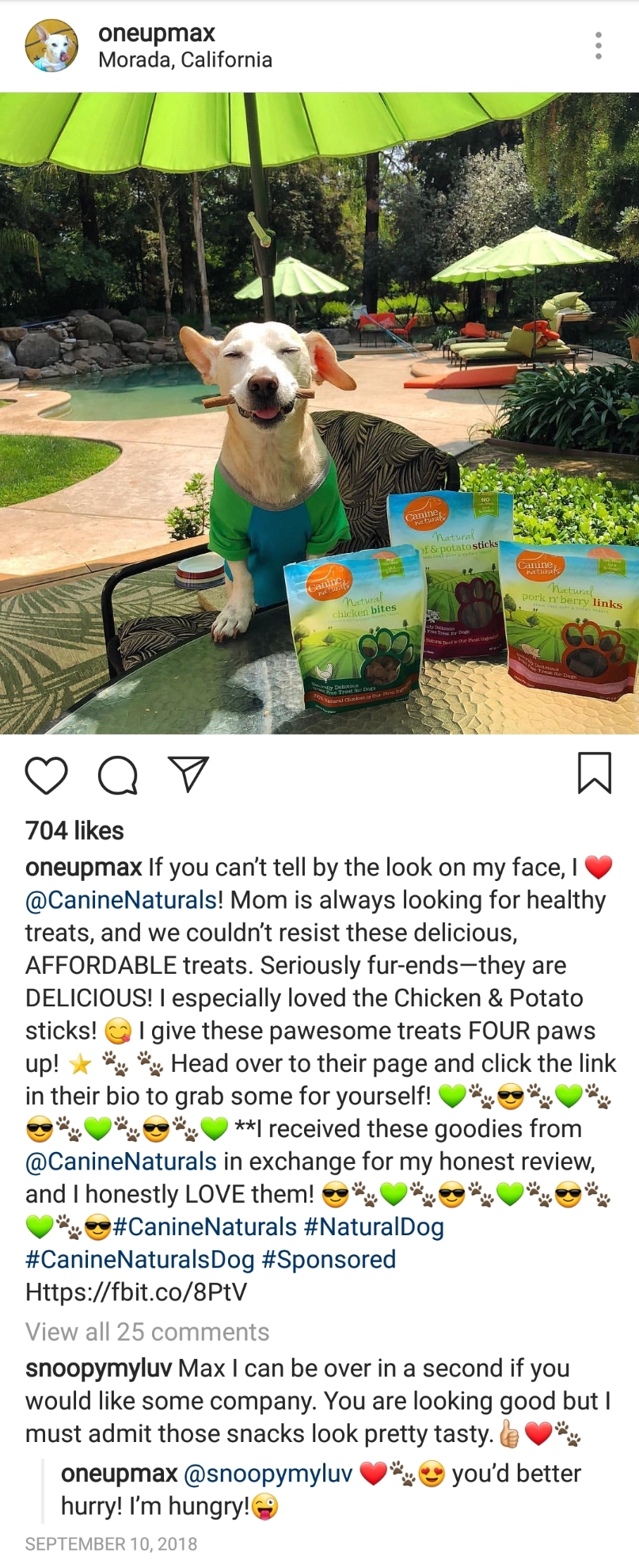 Affiliate program. With an affiliate program, each approved influencer will receive a special link or coupon code that you can trace purchases to. They receive a certain percentage of each sale made with that code. Affiliate codes can work very well when done right. In fact, Morphe was built entirely using this type of marketing.
Co-branded products. Create a product with an influencer. (Typically this consists of them doing very basic work like choosing the final details while you do all other production.) You may choose to pay them a flat fee for this or a percentage of total sales. These products tend to perform well when the influencer has a devoted following. (Jaclyn Hill's products with Morphe, for instance, always fly off the shelf, often selling out in minutes.) [Screencap]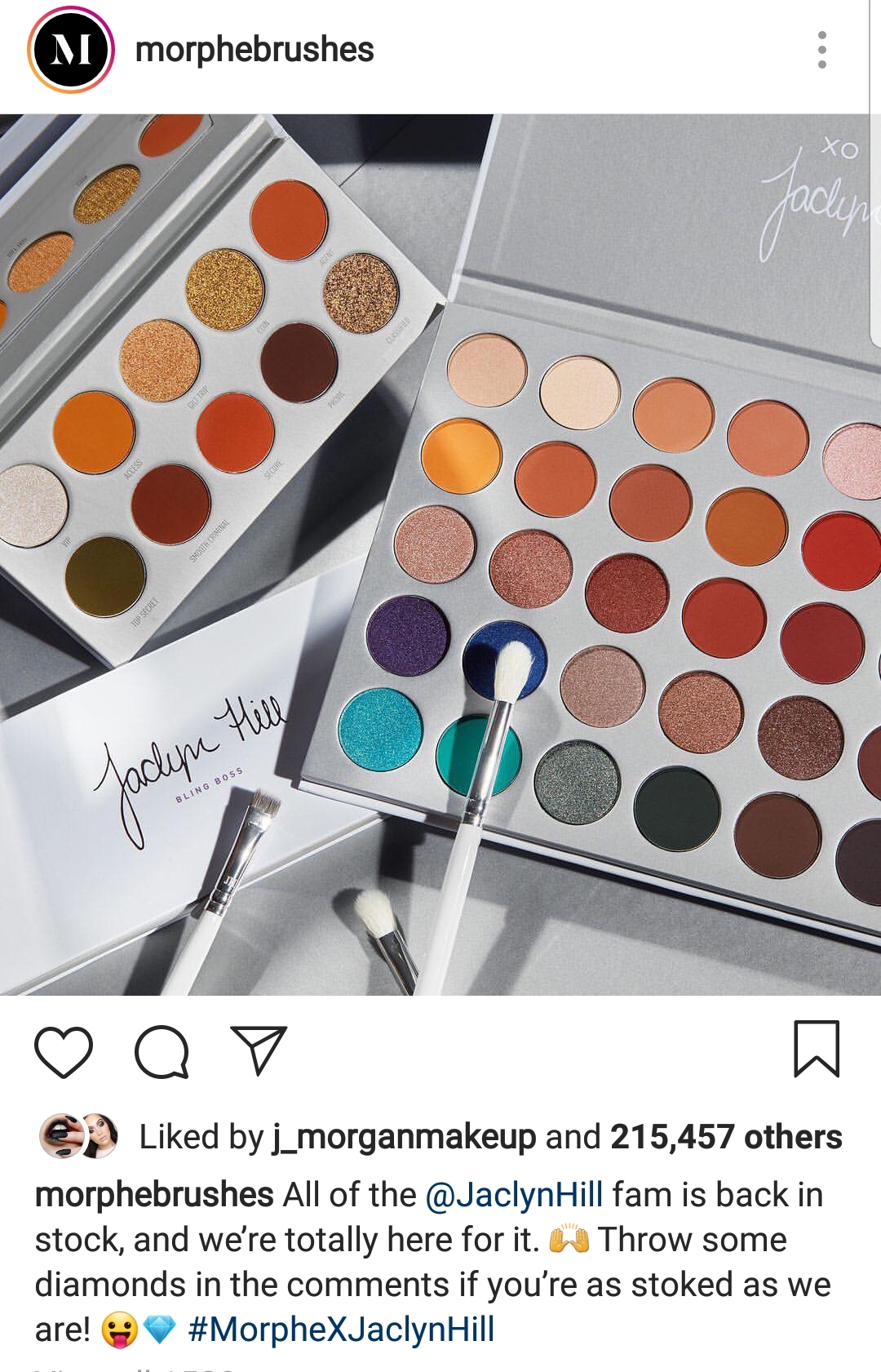 Send free products out. The beauty industry is also very on top of this strategy. Brands will send out their new products ahead of launch to influencers for free in the hopes that influencers will talk about their products. Influencers will often respond with unboxing videos on their stories or product reviews. Sending free products is not foolproof, though. It can be fairly expensive and there's no guarantee that even one person will talk about your items. Bigger influencers sometimes won't even mention free products because they can command a lot more money for a paid post.
When you decide to run an influencer campaign, there are a few steps you'll need to take.
First, you'll need to define a clear objective. Every marketing campaign starts with a clear objective. You'll do this for the same reasons as you do for creating an ad.
Next, choose your influencer(s). My personal favorite way to do this is to immerse yourself in your audience's world on Instagram. Check out the hashtags they're using (are they potentially even hashtagging your brand?). This exercise will not only help you discover who's having an impact on your audience, but it will help your social media marketer understand exactly who they're talking to a lot better. Two birds, one stone. However, there are plenty of tools out there to help you hunt down influencers, including ones with Shopify apps (stand out app: LeadDyno Affiliate Marketing, 4.6 stars, $29/month).
When determining which influencers to use you'll want to consider:
Their reach and engagement. Some influencers have millions of followers, but half of them are bots, so their engagement rate is very low. (Learn how to spot an account with fake followers here.) Some influencers may only have a few thousand followers, but those followers are massively engaged. Your objective can also alter your thoughts on reach. A brand awareness campaign will do better in the hands of a few influencers with massive followings, while a product promo may do better with many micro-influencers who have highly engaged followings.
Their brand. Influencers have their own brands. Sometimes an influencer's brand may be a poor match for yours. For instance, some influencers' brands are intentionally shocking or rude, which won't work for every retailer.
Their rate. Most influencers (especially the established ones) have set prices for sponsorships, and these rates may exceed your budget. (Some beauty YouTubers, for instance, command upwards of $60,000 dollars for a single sponsored YouTube video, and a bit less for an Instagram post.)
Once you've chosen your influencer(s), you'll need to communicate the following to them:
Timeframe. It's imperative that you give your influencers a timeframe, especially if you're running a timed promotion.
Production. You will need to clearly define which content types and how many posts your influencers need to create for you. You will also want to define what exactly you want influencers to share. Should they share a story about your brand? Should they share a promo? Which words should they hit on in their caption? Etc.
Usage rights. If you wish to repost your influencers' content, you'll need to gain the content usage rights.
Compensation. Of course, you'll also need to work out how much you will pay the influencers for their work. Many influencers already have set rates, but if they don't, you'll have to work out if you will pay by the project or by the post.
And of course, working with influencers is a collaboration. Influencers will have input on all four of the above and you will likely have to negotiate most of those points, even down to the creative. The influencers know their audience well and sometimes you need to trust them.
Shopify Apps for Instagram
Shopify merchants are at an advantage when it comes to using Instagram, not just because of Shopify's integration with Instagram, but because the app store is filled with apps you can add to your Shopify account that can help you manage every aspect of Instagram, including:
Ready, set, go!
We've covered a lot of ground in this post. You're ready to go start marketing your brand on Instagram today!
New Shopify Apps Weekly Newsletter
We watch for new apps then package them into an email sent every Tuesday.