So you've launched your eCommerce store! Congratulations! It's a pretty exciting feeling, right?
Unfortunately, getting your store up and running is only half the battle to get your first sale. Once you've launched your store, you need to pivot from graphic designer to marketer. That means adding social media icons and creating a blog so people can see what else you have produced or plan on producing in the future. It is much easier for existing customers—or friends with similar interests as yours—to buy something than it is for complete strangers who may be interested but don't know how they would fit into your community yet. Now, reaching  the point where your site will make sales on its own – that's a whole other story. (Though Shopify has an app called Kit that can make a sale allllmost on its own!)
To complicate things, there are really two parts to making your first sale:
The first is getting people to your site at all.
The second part is creating an experience that makes them want to purchase from you once they're on your site.
The good news is that I have plenty of specific and actionable ideas for you to get started enacting in both categories!
Getting Eyeballs on Your Site
1. Paid Advertising
You gotta spend money to make money they say. But for real, $10 on Facebook, Instagram or Pinterest can go a long way when you're targeting the right audience with a good ad.
I recommend Facebook, Instagram, and Pinterest for three reasons:
Facebook, Instagram, and Pinterest are ideal for retailers because of how image-heavy their ads are.
These platforms are incredibly cheap per click, averaging $.25 or so a click. Facebook can even get down into the single cents/click!
These platforms are very easy to learn to set up an ad on. Facebook and Instagram, in fact, are run off the same ads platform. Other ads platforms, like Google, for instance, are incredibly hard to use well, to the point that there are marketers who specialize entirely in Google ads. While some articles may recommend you try out Google ads to make your first sale, I'd encourage you to avoid that platform while you can still make great use of other, easier-to-use ones.
Excellent advertising is a blend of art and science and would take an entire post to go over, so for an exhaustive overview of social advertising best practices and how-tos, start with this article from Hootsuite.
2. Strategic social outreach
Social media is a fantastic tool for interacting with your audience organically, too. Chances are you haven't yet built yourself a following on your own accounts, though, when you turn to organic social media to make your first sale, you're going to have to get creative. Go find where your audience is already hanging out (subreddits, hashtags, groups, maybe even DM them) and post there.
Don't just blast out promotional work, either. At best, promotional spamming will get your posts ignored; at worst, you could end up banned from a site like Reddit. Come up with posts that start a conversation with your audience.
3. Partner with the right influencers
We live in the social media influencer age. Many Instagrammers and Youtubers, in particular, cultivate highly engaged followings online and can cause a product they promote to completely sell out. Entire brands have been launched and made successful by their careful use of influencers. Morphe, a makeup brand, for instance, strategically partnered with a number of influencers in the beauty community early on and as their influencers grew in fame, so too did Morphe. Morphe is now a powerhouse of a brand that still makes massive usage of influencers.
To replicate Morphe's success, you should look into not just which influencers are in your niche but hunt for the up-and-coming ones. Smaller influencers are cheaper and often have a fanbase that is even more engaged than a larger influencer. And, like Morphe, if the partnership works out, you will grow with your influencers.
4. Get offline
You're an online store, but you shouldn't discount going to your customers in person. After all, not only does that allow you to bypass using your website to convince them to close the sale, but it also allows you to form real connections with your customers, cultivating their loyalty right from the get-go.
Some ideas to get you offline:
Try setting up a stand at a local farmer's market. You don't have to be selling food to be successful. A small dress shop I consulted for set up a stand at a farmer's market occasionally and would not only make great connections with people, but they would completely sell out their inventory over the course of the eight hours they were open.
Set up a pop-up shop at a local store whose mission complements yours. Create synergy, as Jack Donaghy would say. For example, a pet supplies shop could find partnering with a local shelter and opening a pop-up shop there on Saturdays to be very lucrative.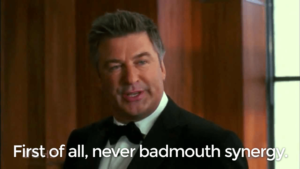 Give out freebies where you know your audience gathers. For instance, that same pet products company could give local veterinarian offices' samples of their products (perhaps a healthy food – always popular with vets) to share with their clients.
5. Work with box companies
A newer method of getting the word out about your product is to partner with some type of subscription box company. Product subscription solutions are very popular these days. The entire model is based around the idea that customers should be trying new things in a fun, festive way. There are subscription boxes for just about everything these days, so you should be able to find a box that caters to your audience!
There's an added bonus to partnering with a subscription box: many of the bigger subscription boxes will actually appear in influencer videos on Youtube. "Unboxings" are a popular type of video on Youtube (particularly in the beauty community) and many mega-stars will film themselves unboxing and trying out the included products. So partnering with a box is a great way to get a mega-influencer to talk about your product even if you don't have the money to get that same influencer to do a solo-sponsorship of your products.
A killer example of a brand achieving their first sales through a subscription box partnership is Alamar Cosmetics. The brand launched their first two products this past spring and partnered with Boxycharm to have one of the two products, an eyeshadow palette, shipped out in the May box. The palette received a substantial amount of buzz in the beauty community thanks to the unboxing videos and was sold out completely by July!
6. Craigslist
If I have to give you just "1 weird trick to make your first sale" it would be Craigslist. No one really thinks of Craigslist as a place to make sales for business products, but it's actually a surprisingly great place for a wide variety of products, from dog collars to furniture. Just set up a new listing every few days with product images, a product description, and a link to your website.
What to do once they get to your site
Now that we've talked about how to get actual eyeballs ON your site, let's talk about a few things you need to do to get them to make that purchase.
1. Discounts
Discounts are a wonderful tool to achieve first sales throughout the lifetime of your store because people love discounts. Studies actually show that discounts cause a rise in oxytocin levels and a drop in heart rate levels! Other statistics show that 57% of shoppers are actually motivated to complete their first time purchase because they are able to redeem a coupon.
Many stores today offer between a 10-25% incentive for a first purchase. Typically this discount is also tied to the customer giving their email and has a time limit. For instance, check out Randy's Pickles. Within about 10 seconds, they have a pop-up on the page offering you 10% off your next order in exchange for your email.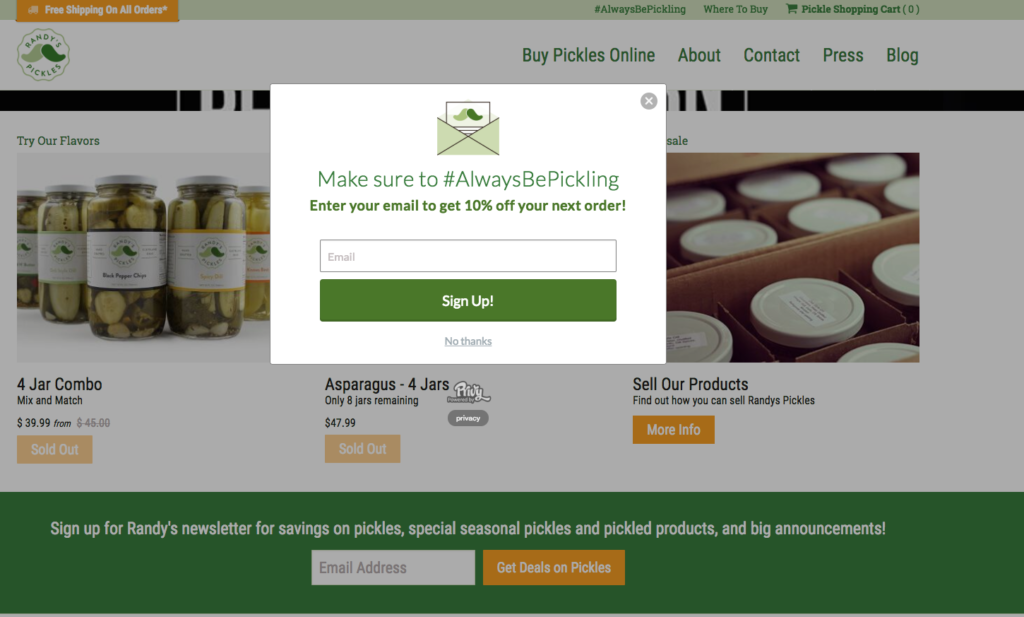 Using the discount to obtain a visitor's email is quite key as well because it allows you to follow up with a visitor who chose not purchase. Via email, you can remind them to finish their purchase, send them other products they may be interested in, or even send them better discounts.
Another smart discount to run that can aid in achieving your first (and millionth) sale is free shipping. 90% of people claim that free shipping is their number one incentive for purchasing online.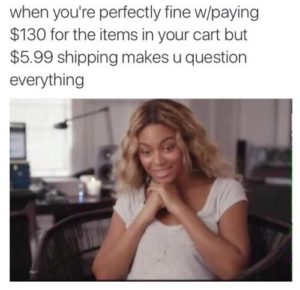 That's a pretty good deal for you, too. If you run only a free shipping incentive, you give up perhaps $5-15 on a sale, as opposed to potentially far more with a discount that offers a percentage off the entire sale. (You could also average the cost of shipping and add that amount to all of your products to cover that incentive.)
2. Easy, mobile-friendly checkout
Long, complex checkouts are well-known for putting potential customers off. This is doubly true for mobile users. Mobile purchasing increases in popularity each year. As of 2017, 40% of all online transactions were already completed on a mobile device. There are plenty of ways you can improve your checkout experience, but here are a few tried-and-true recommendations from Neil Patel:
Utilize a progress indicator.
Don't require your customers to login before purchasing.
Create a mobile-optimized check-out page specifically for your m-commerce visitors.
Ask for the least amount of information you can.
3. Trust factors
Trust factors are key to making sales, especially with eCommerce, where the customer gives you a payment on the good faith that you will send them what they want at a future date. When you have yet to make your first sale you are, of course, barred from some fabulous trust factors such as product reviews, but there are some other options available to make your company look trustworthy:
Third-party badges and seals like SSL certificates or badges from your payment provider help to demonstrate to the customer that you're backed up by other trustworthy companies.
Offer a trial period or free sample that would allow your potential customer to actually try the item before they buy and see that you're for real. An excellent example of this is ThirdLove's Try Before Buying program. They allow customers to choose a bra to try for 30 days. If the customer doesn't love the bra during that time they can send it back without having spent a penny. If they decide to keep it, Thirdlove will then charge their card.
Consider giving away some free products in exchange for product reviews early on. Product reviews are so important for ALL eCommerce websites because not only do they allow customers to make a more informed decision, they prove to browsing visitors that other people trust and love your brand. You don't have even have to give the products away to strangers. Have your friends and family test out your products and leave reviews!
If you have an international audience, you'll want to display your prices in their home currencies. It cuts down the math for them and also makes you seem more local, which is trustworthy. (If you're a Shopify user, our app Coin makes displaying home currencies a snap.)
Wrap-Up
Making your first sale takes work, but if you use the tips above, you'll find yourself making that sale sooner rather than later. What other methods have helped you make your first eCommerce sale? Share them in the comments below!
New Shopify Apps Weekly Newsletter
We watch for new apps then package them into an email sent every Tuesday.