Starting an Etsy shop has been the start for most store owners. As they expand their online business, the Etsy marketplace falls short of branding and other ecommerce efforts. Though, with platforms like Shopify, Etsy sellers have been able to create their brand while selling online.
Here's the catch, running your online store on multiple platforms, i.e., Etsy and Shopify simultaneously, comes with the problem of your sales, inventory, and other data scattered in different places. That leaves store owners with the question: Does Shopify integrate with Etsy?
Yup, the solution to smoother operation is connecting Shopify with your Etsy Shop. Thanks to MESA, you can benefit from having both of these marketplaces. With this tutorial, you'll understand how to perfectly integrate Shopify and Etsy to optimize your sales efforts and streamline your business.
Get the automation app, MESA, and easily connect Shopify to Etsy today.
Why should you own a store on both Etsy and Shopify?
Running a Shopify store along with the Etsy store is a better decision. You don't have to choose one over the other. Even though business owners might feel more comfortable using either of these platforms on their own, linking them offers several benefits. Take a look.
Increased market exposure: Shopify and Etsy serve different kinds of audiences. Linking these two platforms allows merchants to build a brand on Shopify, attracting customers via marketing their own website. At the same time, the Etsy marketplace allows customers to discover your products from the search results.
Synchronized inventory management: When merchants combine their inventory across both platforms, they can avoid overselling and give their customers up-to-date information on available inventory.
Improved operational efficiency: Combining Shopify and Etsy allows timely automation of tasks like sending out product information updates, inventory tracking, and end-to-end order processing.
Enhanced customer service: Connecting Etsy and Shopify is the ideal solution for business owners who have a great product but also want quality support options while growing and expanding their customer base.
Shopify and Etsy: Connect to your audience anywhere.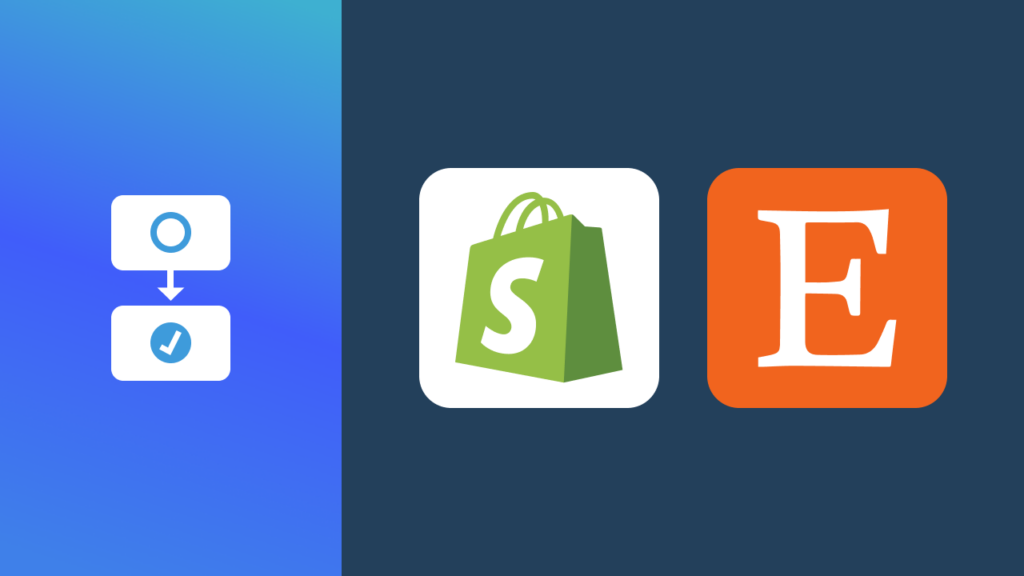 Both platforms have a lot going for them separately, but together they become a superpower that every business needs in their arsenal to sell products online. Let's take a look.
The case for a Shopify store.
Shopify is an ecommerce platform built for small businesses and enterprises alike. Post a 14-day trial Shopify comes with a monthly fee starting from $29.
Improve customer experiences and build a brand: Justifying its upfront subscription payment, Shopify allows you to build your own website, a robust backend analytics interface, and a dedicated place for your own store.
No special skills are needed: Thanks to an uncomplicated interface, customizable themes, and reliable support, the platform is extremely user-friendly, making it accessible to users with varying technical expertise.
Multichannel marketing and reliable support: Besides supporting multichannel marketing, Shopify also has ton of native marketplace integrations via its app store. Besides, its reputation for having trustworthy technical infrastructure helps ensure businesses avoid server time-outs during peak sales events, especially around the holidays.
Benefits of an Etsy shop.
Etsy stores are free to start. That leads to a higher transaction fee on the platform, with multiple other fees for actions taken via the seller account, such as product listing fees or updation fees. Having an Etsy shop allows additional benefits beyond the Shopify features.
Target a niche market: The platform attracts a niche community of buyers looking for customized or one-of-a-kind items, which makes it a great starting point for new sellers. The analytics built into the Etsy shop allows sellers to track customer behavior and make more informed decisions for future sales.
Reach the right audience: The extensive user base gives sellers many benefits. Merchants get immediate exposure to relevant traffic, while Etsy's search algorithm prioritizes new listings, so new businesses get a free boost the first time they populate online stores.
Even the seller community on Etsy is different. The platform fosters a friendly, personal atmosphere that allows merchants to network efficiently and gain advice or insights from peers.
Why should you integrate Shopify and Etsy now?
Integrating Shopify and Etsy into a comprehensive e-commerce strategy gives sellers the unique advantage of accessing diverse markets, using more business features, and automating several workflows across platforms. Here are a few things you can accomplish:
Make no-code Etsy integrations to automate tedious tasks.

Sync orders on your Etsy store with your Shopify online store.

Subscribe Etsy customers to your email marketing platform.

Notify your team when an Etsy listing is created.

Send customers an automated thank-you email when an Etsy receipt is generated.

Start and personalize workflow templates to complete more tasks.

Customize workflows with several apps from the Shopify app store.
Import products from Shopify to Etsy
Importing products from Shopify to Etsy isn't merely a technical process; it's a strategic move that requires thoughtful planning and execution. The purpose of this import can vary from broadening reach, diversifying sales channels, or utilizing unique features of each platform. By understanding how to navigate this process effectively, sellers unlock new avenues for success and create opportunities for growth and flexibility in the ever-changing eCommerce landscape.
When importing products from Shopify to Etsy, it's essential to recognize that each platform has its unique audience and selling dynamics. Once the products are imported to Etsy, sellers should invest time in optimizing the listings to suit the specific demands and characteristics of Etsy's marketplace. This might include customizing product titles, descriptions, and tags to appeal to Etsy's audience, as well as adjusting pricing, shipping, and other relevant details to align with Etsy's unique market dynamics.
Optimizing listings on Etsy isn't just about making minor adjustments; it's about understanding the Etsy community and leveraging its promotional tools to highlight new products. Tailoring your listings to resonate with Etsy's shoppers can enhance visibility and conversion rates on this platform. By taking the time to understand and adapt to the nuances of Etsy, sellers can create a seamless and effective transition from Shopify, making the most of both platforms and maximizing sales opportunities.
Try these workflow templates to get started more quickly:
Step-by-step workflow instructions
Time needed: 10 minutes.
To get started, ensure you install MESA on your Shopify store. Then, follow these step-by-step instructions to connect Shopify to Etsy.

In this example, any time a product is created in Shopify, our workflow will automatically create a draft listing for our Etsy store using the same product details in Shopify.
Start your workflow using the Shopify Product Created trigger

Create a new workflow then select the starting app, Shopify. Then, choose the Product Created trigger event. This will start your workflow any time a new product is created on your Shopify store.

Add the Etsy app to your workflow

Next, search and select the Etsy app.

Next, select the Create Draft Listing action

This is the action that will create a physical draft listing product in your shop on the Etsy.

Authenticate access to your Etsy store

Log into your Etsy store using your email and password. Next, you need to "Grant Access" to the permission needed to connect Shopify to your Etsy store.

Next, edit this step to personalize

When created a listing in Etsy, there are certain required fields before it can be saved in Etsy. Look for the fields with a red asterisk (*).

Next, use the variable selector to add the corresponding Shopify data

These are the fields we'll add the Shopify variables to so the data in Shopify is copied to Etsy. Variables represent dynamic content that can be passed from one app to another.

Lastly, save then name your workflow. Be sure to turn it "On"

Once you have the Shopify product details set for your draft Etsy listing, save your workflow and turn it on! Personalize your workflow as needed.
Automation opportunities with MESA
Automating time-consuming manual tasks lets businesses streamline operations and focus instead on improving customer experiences and other areas. By integrating Shopify and Etsy, merchants can automate several kinds of workflows. Here are a few:
Inventory synchronization: MESA can automatically update stock quantities in real time across both platforms to ensure data consistency and avoid overselling. Automated workflows also allow sellers to reduce manual errors.
Order processing: Eliminate the need for manual order entry by setting up MESA to flawlessly import orders from one platform to the other. Sellers can also ensure customers receive timely updates and tracking for their orders by automating order fulfillment across both platforms.
Customer service and communications: By automating customer service and communications with MESA, sellers can send customers shipping confirmation emails, including tracking details, and automatically provide order status updates. Clear communication helps customers stay well-informed and ultimately pleased with their shopping experience.
Supercharge your e-commerce success.
Starting ahead of the game in the current e-commerce marketplace is crucial to ensuring your business's profitability and long-term success. Using MESA to bridge the gap between powerful platforms like Shopify and Etsy is a strategic move streamlining important everyday operations.
MESA can also help automate other repetitive tasks in your ecommerce business to save you time and effort so that you can focus on the strategic ones.
New Shopify Apps Weekly Newsletter
We watch for new apps then package them into an email sent every Tuesday.