If you run both an online and a brick-and-mortar store, you most likely have different point of sale (POS) software for both. Or maybe you have just one for your online store.
Your physical store may be having challenges managing inventory, offering customer services, and even keeping track of reports and analytics.
A POS solution for your online store or separate ones for the physical and online stores can be confusing. You'll have challenges reconciling and managing your inventory, an inaccurate view of sales, order management, and customer experience.
Shopify retail POS enables you to sell in-person, seamlessly ringing your online store into the physical world. With Shopify POS, you can sell anywhere—from physical stores to pop-ups and markets.
If you already have an online Shopify store, Shopify POS syncs with the store and tracks your inventory, orders, and sales across all your retail stores and other sales channels. Additionally, you can automate retail workflow operational processes such as orders and checkouts.
What Are the Benefits of Retail Automation?
Increased Data Accuracy
Tasks completed manually are prone to human error and inaccurate data. While it's impossible to eliminate errors 100%, you can avoid most of them through the proper use of technology.
Human fatigue and distractions often lead to inaccurate data. To avoid this, you can automate recurring tasks such as inventory management, billing, and purchasing.
The technology eliminates manual reporting, communication, data entry, and other tasks, thus resolving data inaccuracies. Additionally, your employees will be less tired and less stressed, and they can perform better.
Reduced Labor Costs
With retail automation, technology can handle time-consuming, repetitive tasks. You'll relieve the burden on your workers and reduce your retail expenses.
Think about the stationery needed for paperwork, the extra employees you have to hire, facilities, equipment, and benefits. They may not seem a lot but add up to significant amounts.
Why spend all that money?
Instead, automate routine and recurring processes that can perform well even with little human intervention. The technology will get you better results in less time and at fewer costs.
Improved Efficiency
Retail automation enables you to complete tasks quickly, accurately, and accurately, repeating the process with consistent results. For instance, the system can collect data, analyze it, and generate reports accurately in just a single click.
Efficiency can be in different forms, including;
Reduced downtime
Operations run around-the-clock
Fast order fulfillment, inventory management, and return processing
Improved response time and quality of services
Optimized Time Management
Automated retail workflows enable you to optimize your time and get the most out of it. Processes that would otherwise take long to complete are done in less time, and you can move on to other tasks.
Your employees will have more time to attend to customers. Consequently, you can resolve customer issues quickly, thus improving their experience, handling time-sensitive tasks, and ensuring all work is done on time.
Poor time management can lead to losses. For instance, if you are late to place orders with your supplier, you might end up with no products. You'll miss out on all the selling opportunities and potentially lose clients.
Additionally, workers may need to work after hours, an extra cost to your business. Automating processes optimizes time management, ensuring every minute is well spent.
Improved Customer Experience and Brand Loyalty
Automation results in faster services, personalization, and quick order fulfillment. This improves customer experience, making them more likely to return and buy again.
With an automated system, your business can ensure orders are fulfilled in time, customers receive personalized and timely support, and they're informed throughout the buying process, such as billing, shipping, etc.
According to Netomi, 78% of consumers feel excellent customer service is fundamental to earning their loyalty and business. Plus, 86% of the buyers are willing to pay more for exceptional service. You'll gain not only brand loyalty but also increase revenue. Automation enables you to streamline and simplify processes impacting customer experience and interaction.

Increase Sales and Growth
When you streamline processes, you can serve more customers and sell more. Automation scales up with you to meet the needs of your retail business.
Improved customer experience, increased sales opportunities such as online marketplaces, and efficient workflows increase sales and, thus, growth.
Instead of building new processes, automation allows you to optimize them for growth. Consequently, you'll spend less and sell more. For instance, traditional retail stores can only sell during their working hours, but with automation, retail stores can make sales at any time.
Mitigate Fraud Risks
Online fraud targeting retailers is on the rise. From chargebacks to refund fraud and card cracking, fraudsters can easily wipe out a retail store's profits. This can result in negative financial implications and mistrust from customers.
Technology enables retailers to set up security measures to protect the store and customer data. While physical stores hire people to catch shoplifters, you can use technology to monitor activity in your store.
Automated systems can monitor your transactions for suspicious activities such as inconsistent billing and shipping information. Additionally, you can erect firewalls to protect your databases like customer data and encrypt outgoing data.
Why Shopify POS?
It's One of the Most Popular POS Solutions
Over one million businesses, including popular brands such as PepsiCo and Allbirds in 175+ countries, power their eCommerce stores using Shopify. With 100,000+ downloads on Google Play, Shopify POS is one of the most popular retail POS solutions.
Furthermore, businesses using Shopify POS solutions see a 30% annual revenue growth.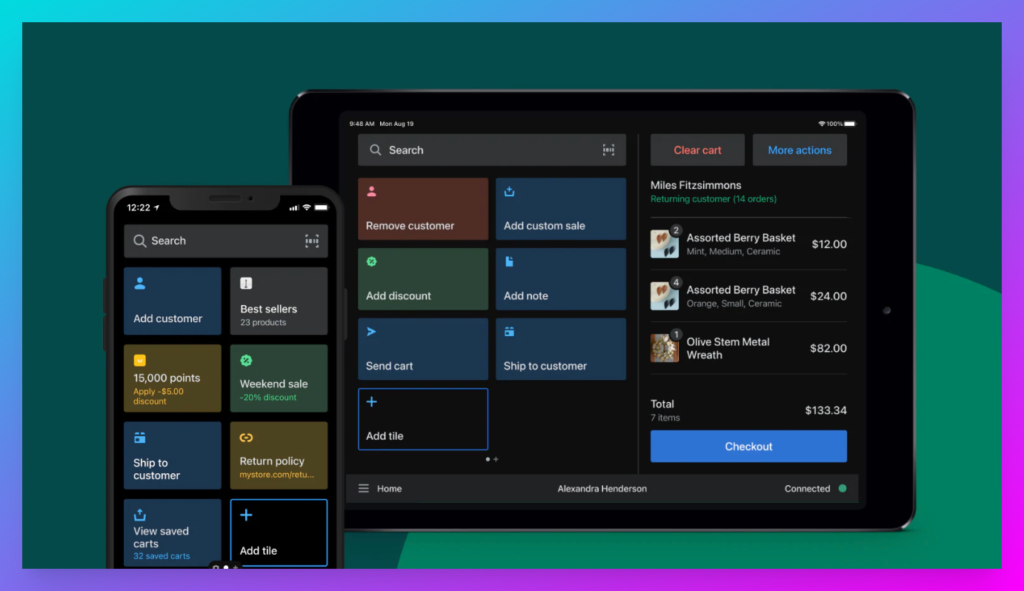 Unified Data Reporting and Analytics
Shopify POS enables the unification of data and analytics from in-person and online stores. You get daily insights into sales and staff performance, cash tracking, products reports, discount reports, and inventory management reports, all synced from both stores.
Allows Customers to Buy Online and Pick Up In-Store
Do customers prefer to pick up the products from your physical location to avoid costly shipping fees? Shopify POS is the answer. They can buy and pay online and then pick them up in-store. That way, you bring your online customers into your physical store and can take advantage of the opportunity to upsell at pickup.
Customizable Staff Permissions
Shopify POS allows you to control staff access in the POS system so you can delegate duties seamlessly. Other staff management features include;
Unique staff POS PINs
Track staff performance
Add and manage unlimited POS staff
Manager approvals for when your employees would need manager approval for actions such as issuing refunds
Attribute sales to employees for commissions
Customizable Interface That Supports Third-Party Apps
Shopify allows you to seamlessly manage in-store sales, eCommerce sales, and those from online third-party channels such as social media marketplaces.
It integrates with third-party apps and different sales channels, ensuring consistent services and customer experience. With Shopify POS, you can manage sales in one place without needing complicated APIs and jumping between systems.
Furthermore, you can customize your workflows and dashboard and create shortcuts for faster checkout.
Accept Payments From Popular Methods
POS accepts popular payment methods like cash, checks, credit and debit cards, custom payments such as split payments, gift cards, mobile payments, and even cryptocurrency.
Mobile App for iOS and Android
Shopify POS supports both iOS and Android. You can run it on its own or if you have a Shopify store, sync it to track your customers' in-store and online orders.
It integrates hardware such as a barcode scanner, credit card reader, receipt printer, iPad stand, and cash drawer, enabling you to turn a tablet or smartphone into a checkout point.
Other features that make Shopify POS the ideal solution for retail include;
Order notes to track order details.
Product collections to categorize products by season, type, etc.
Multi-location inventory.
Create rich customer profiles, including marketing preferences, tags, contact information, lifetime spend, and more.
Demand forecasting based on the season or recent product performance.
Ideas for Automating Shopify POS
Send a "Thank You" card
After a customer has successfully purchased items in-store, you can have a "Thank You" postcard mailed to them with a discount code for their next in-store purchase. This is great for increased customer loyalty and a way to drive customer retention.
Keep your team in the loop with notifications
Send your teammates updates on large purchases made in-store or special requirements via Slack, SMS, or email. Keeping your team with up-to-the-minute information becomes critical when handling product fulfillment and restocking. Inventory surprises, be gone!
Nurture your in-store customer base
Auto-tag them for follow-up engagement campaigns when a new customer is created on location. You can keep them coming back in store for future promotional events and turn them into repeat customers.
These are just a handful of use cases to help get your creative juices flowing. There are no limitations to workflows when considering automation for your POS.
Getting Started With Shopify POS Automation and MESA
Shopify POS improves the efficiency of your processes, saves you time and money, and improves the accuracy of your data so your retail business can run seamlessly.
With MESA, you can build a workflow and start with any Shopify Retail POS event, such as when an order is made, paid, or fulfilled. If you'd like to learn more, why not try MESA? It's free forever, and 100% setup included. You can also tell us about your workflow if you get lost, and we'll build it for you; just ask.
New Shopify Apps Weekly Newsletter
We watch for new apps then package them into an email sent every Tuesday.

Yopto
Marketing

Shopify
Commerce

Segment
Productivity

Infinite Options
Productivity

Slack
Productivity

Etsy
Commerce

Discord
Productivity

Bold Commerce
Commerce

Tiktok
Marketing

Airtable
Productivity