Ecommerce brands are constantly fighting a battle on multiple fronts to win on the digital shelf. There are so many things they need to keep tabs on—from product assortment and inventory quantity to winning-back email sequences, loyalty points, and customer reviews.
The relief is that you can automate repetitive parts of these tasks. Shopify store managers can use Shopify's own app and platform Shopify Flow for this. The Shopify Flow platform helps ecommerce brands to create workflows for automating different business processes.
To start a workflow, you need a trigger (anything that happens in a store or in an app). While Shopify has its own trigger steps within Shopify Flow available to Shopify Plus merchants, they are limited. For example, creating workflows based on events such as "customer updated," "order updated," or "product updated" from Shopify Flow directly is not possible.
That's where third party apps come in where you can use different events that happen in your store (or in the app) as custom triggers. Using connectors in Shopify Flow, you can enable these apps to create a workflow trigger.
In this article, we take a look at eight of the most popular Shopify Flow apps and connectors out there with custom triggers and actions to help you create unique workflows. Let's dive in. 
Discover the best Shopify Flow alternative, and easily make workflows that save hours every week.
MESA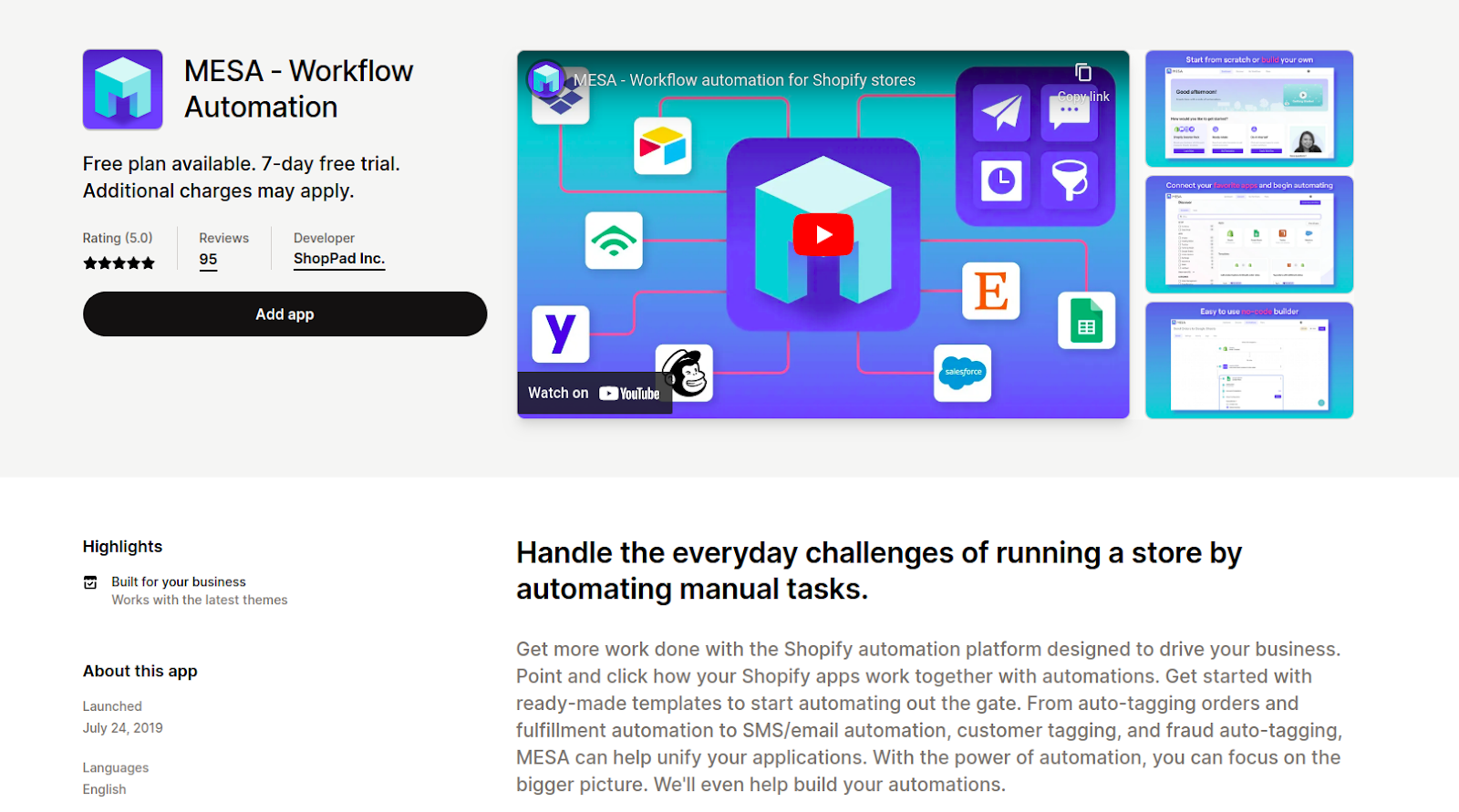 ★★★★★ (5.0) Shopify App Store Rating
MESA provides ready-made templates allowing ecommerce businesses to start automating with ease. MESA makes auto-tagging orders, fulfillment automation, SMS/email automation, customer tagging, fraud auto-tagging, and much more possible for Shopify brands.
That's because MESA offers 52 triggers covering all the API endpoints from Shopify's API, compared to only 31 offered by Shopify. MESA also comes with a simple no-code automation builder to customize workflows for your needs.
Merchants can extend Shopify Flow by connecting their existing workflows to an automation app, like MESA. Additionally, ecommerce businesses can use MESA to feed data from other apps, otherwise not available, back into Shopify Flow.
Price:
Free plan available: Yes. This app has a free version offering merchants 2 Workflows, 50 automations per month, as well as live chat and email support. There's also a 7-day free trial.

There are three paid options – one being $20 per month, the other $75 per month, and a third one for $300 per month, allowing businesses unlimited workflows and 50,000 automations per month.
Key Features:
Connects to Shopify's entire API to handle payload requests without writing code.

Comes with 17 built-in apps to handle everything from email/SMS to reporting.

Setup is included at no additional charge.

Allows sending product options to third-party databases, including Google Sheets & Airtable.

Offers simplified Shopify order auto-tagging to streamline operations and fulfillment.
Yotpo Product Reviews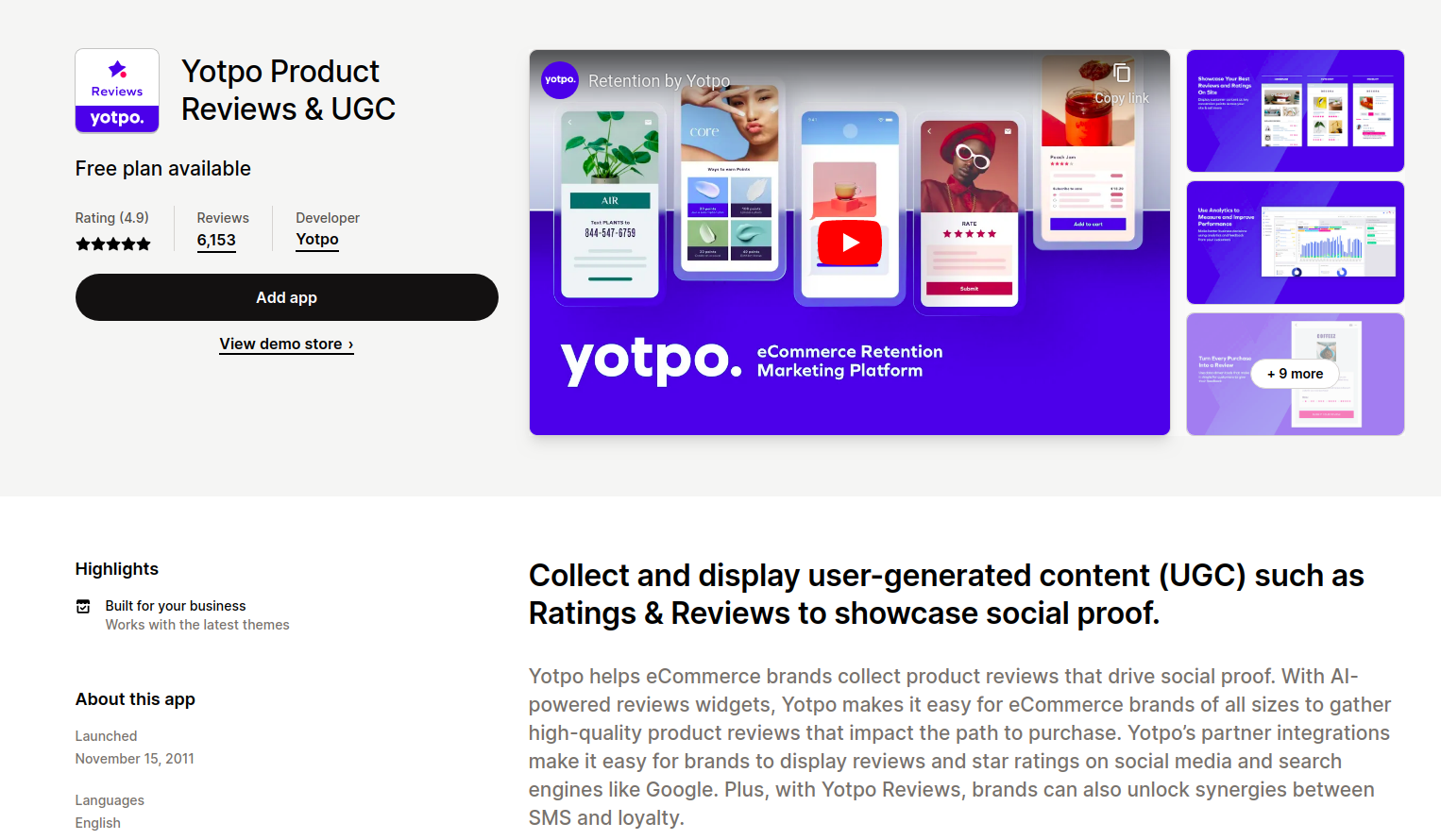 ★★★★★ (4.9) Shopify App Store Rating
Next Shopify Flow connector is Yotpo product reviews. Yotpo makes it easy for ecommerce brands to gather high-quality product reviews that impact the path to purchase. With Yotpo, brands can easily display reviews and star ratings on social media and search engines.
Using Yotpo triggers, businesses can reward positive reviews with loyalty points, automatically open support tickets for negative reviews, send follow-up emails after a customer leaves a review, or issue a gift card for an outstanding review.
Automation allows you to make the most out of your product reviews. For example, you can use a new yotpo review as a trigger to showcase a discount code to the customer in appreciation for leaving the review.
Price:
Free plan available: Yes. Merchants get up to 50 monthly orders, automatic review requests, email templates, reviews moderation, displaying reviews on-site, and 24/7 chat support.

As for paid plans, it offers two of them. The Growth plan costs $15 per month, and the Prime plan is $119 per month.
Key Features:
Allows merchants to connect reviews with their SMS, loyalty, and subscriptions product synergies.

Brands can customize their site reviews widget using the marketer-friendly solution.

Yotpo users can collect and display photo and video reviews to showcase social proof.

Businesses can leverage smart filters to help shoppers find the information they need to make quick buying decision.
Loox Product Reviews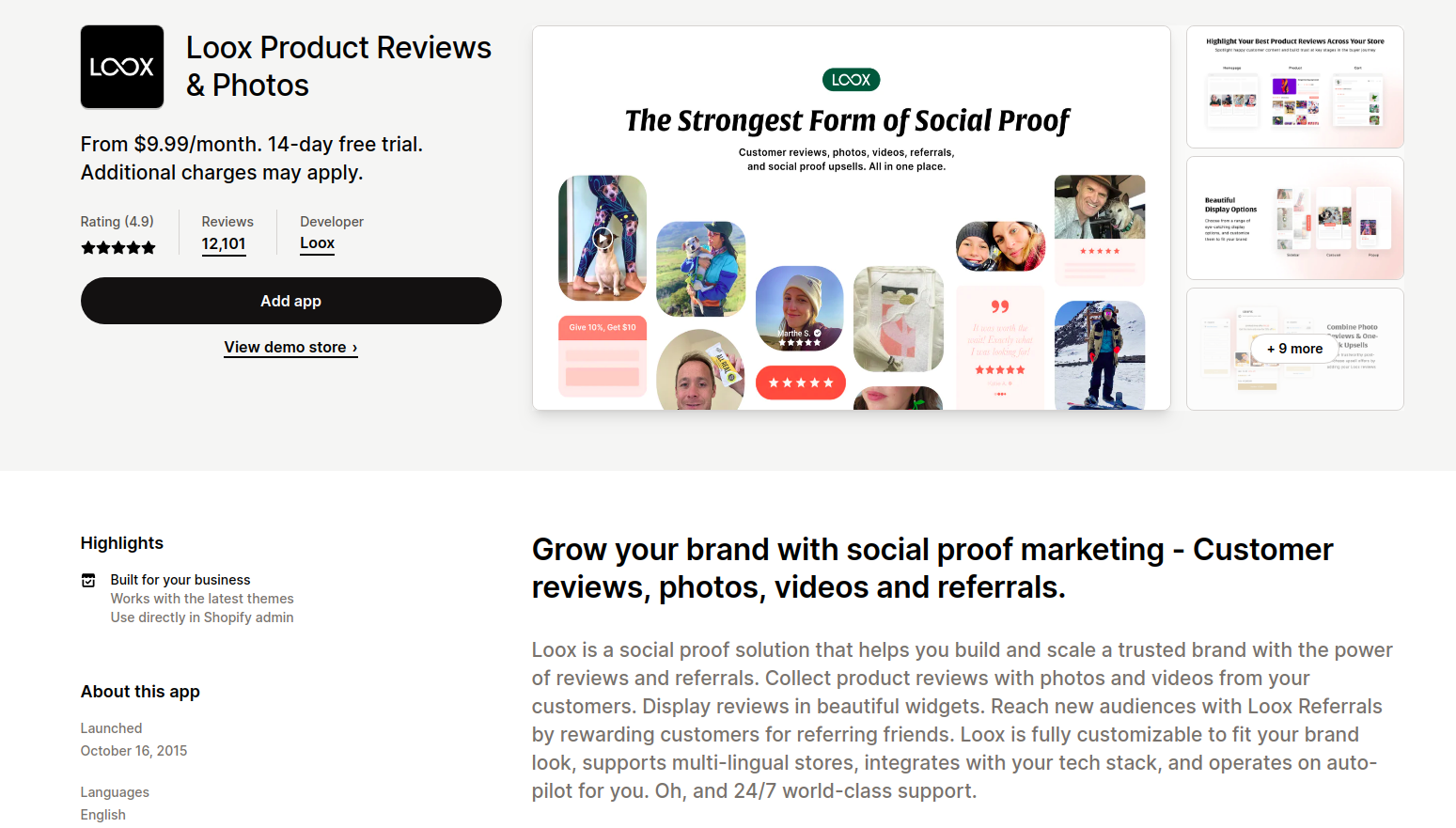 ★★★★★ (4.9) Shopify App Store Rating
We live in a visual world. Photos and videos are the most powerful way to capture attention and build deeper customer connections.
Loox is a social-proof solution that empowers businesses to collect product reviews with customer photos and videos. Besides this, brands can reach new audiences with Loox Referrals by rewarding customers for referring friends.
This app is fully customizable, supports multi-lingual stores, and integrates seamlessly integrates with your favorite theme, page builder, and Shopify apps—no coding required.
Price:
Free plan available: Yes. In addition, there's a 14-day free trial as well.

There are three paid options – Beginner for $9.99 per month, Growth for $34.99 per month, and Unlimited for $299.99 per month.
Key Features:
Brands can send automatic review request emails or offer discounts for adding a photo/video.

Displays reviews in beautiful widgets: grid, list, carousel, popup, and sidebar.

Offers integration with Google Shopping.

Auto-generates referral links to reward customers for referring friends.

Empowers brands to increase order value by leveraging social proof in post-purchase upsells.
LoyaltyLion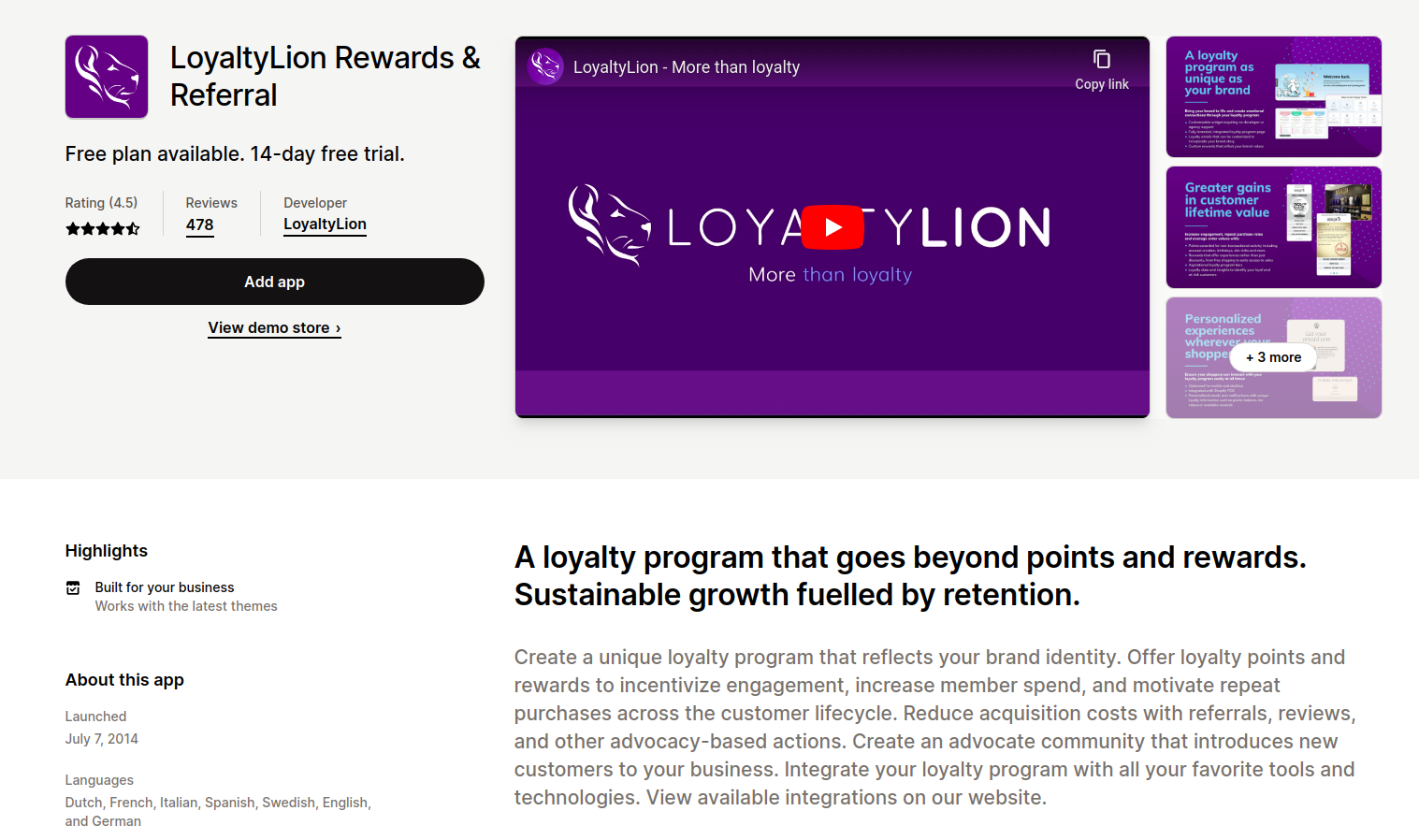 ★★★★☆ (4.5) Shopify App Store Rating
With the constant rise in customer acquisition costs, customer loyalty has become more important than ever. LoyaltyLion is a rewards and referral app that allows businesses to create a unique loyalty program that fits their brand identity.
With LoyaltyLion, ecommerce businesses can offer loyalty points and rewards to incentivize engagement, increase member spending, and motivate repeat purchases across the customer lifecycle. The app easily integrates with other tools and technologies and encourages sustainable growth fuelled by retention.
Price:
Free plan available: Yes. In addition, there's a 14-day free trial as well.

There are three paid options – Small business for $159 per month, Classic for $399 per month, and Advanced for $729 per month.
Key Features:
Rewards positive onsite behavior with customizable points and gifts.

Integrates across touchpoints such as email, SMS, and helpdesk.

Allows brands to customize their loyalty program and tailor it to their needs.

Keeps customers engaged even when they're not ready to spend.
Aftership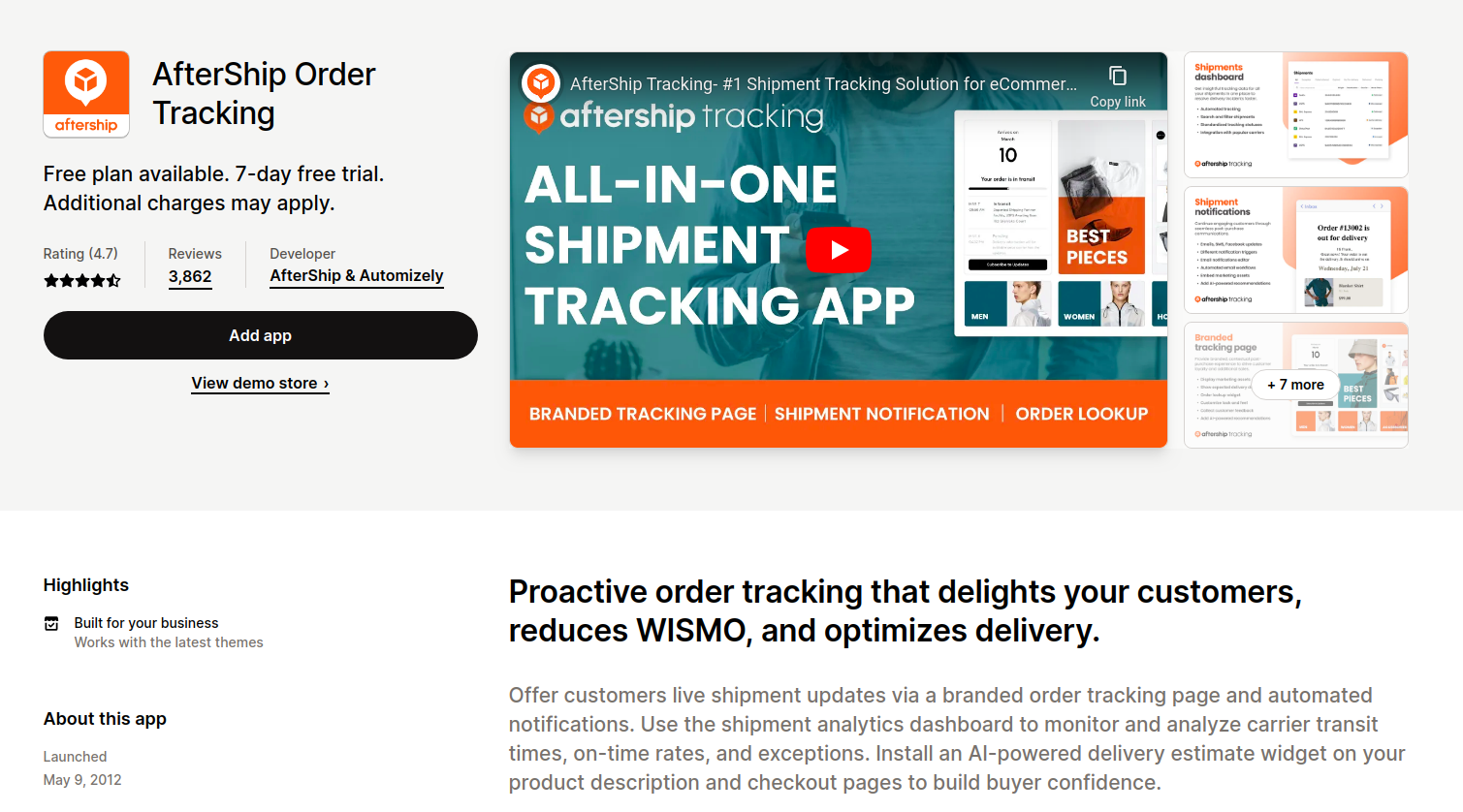 ★★★★☆ (4.7) Shopify App Store Rating
Aftership is a great option for Shopify store owners looking to track and trace their orders worldwide. Their proactive order tracking system helps ecommerce businesses reduce "where is my order" (WISMO) inquiries while also optimizing delivery.
Using Aftership, brands can send automated email notifications informing customers about their shipments. Customers can also check the tracking page, where they can keep track of the progress of their shipments by entering the order or tracking number. Besides this, the app allows brands to monitor how well their marketing and engagement campaigns are performing with insightful analytics and reporting.
Price:
Free plan available: Yes. There's a 7-day free trial as well.

There are three paid options – Essentials plan for $11 per month, Pro plan for $119 per month, and Premium plan for $239 per month.
Key Features:
Email and SMS notifications to reduce WISMO calls.

Branded tracking pages with personalized product recommendations to boost sales.

Centralized shipment dashboard to track shipment status and identify exceptions.

AI-powered estimated delivery dates.

Built-in analytics to get insights into performance.
Back in Stock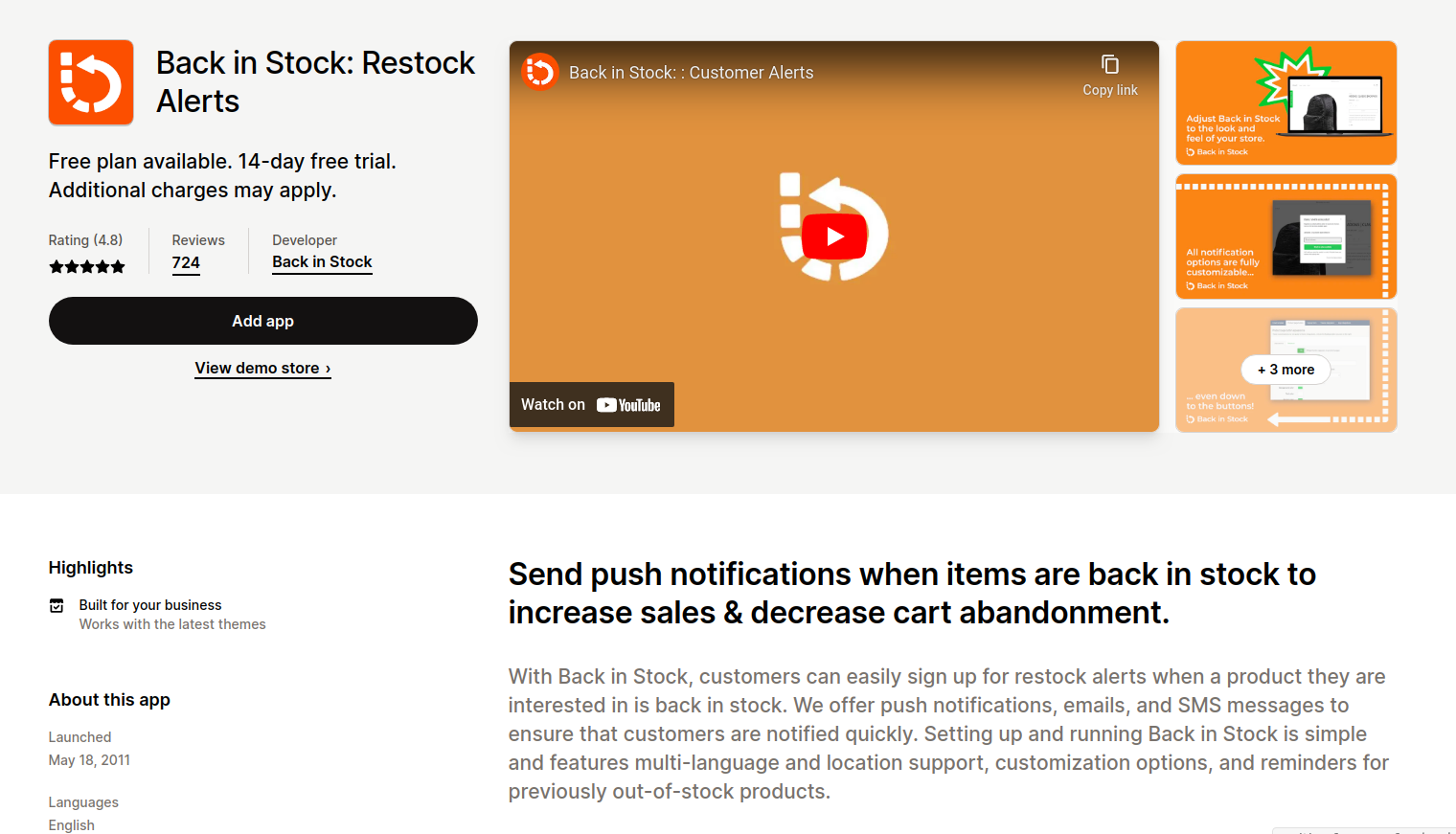 ★★★★★ (4.8) Shopify App Store Rating
When some of your bestsellers are out of stock, you can suffer from lost sales opportunities. Here's where restock alerts can help. With Back in Stock, customers can easily sign up for restock alerts when a product they are interested in is back in stock.
Back in Stock offers push notifications, emails, and SMS messages to ensure customers are notified quickly. The setup process is simple and straightforward, and ecommerce businesses also get multi-language and location support, customization options, and reminders for previously out-of-stock products.
Restock notifications can boost your bottom line by capturing lost sales from products that are back in stock, while showing customers you care—it's a win-win.
Price:
Free plan available: Yes. There's a 14-day free trial as well.

There are three paid options – Lite plan for $19 per month, Startup plan for $29 per month, and Small business plan for $49 per month.
Key Features:
Automated push notifications, email, or SMS when a product is back in stock.

Customizable emails and themes.

Ability to monitor conversions, most-wanted out-of-stock items, and recent notifications.

Multi-language support.
Smartrr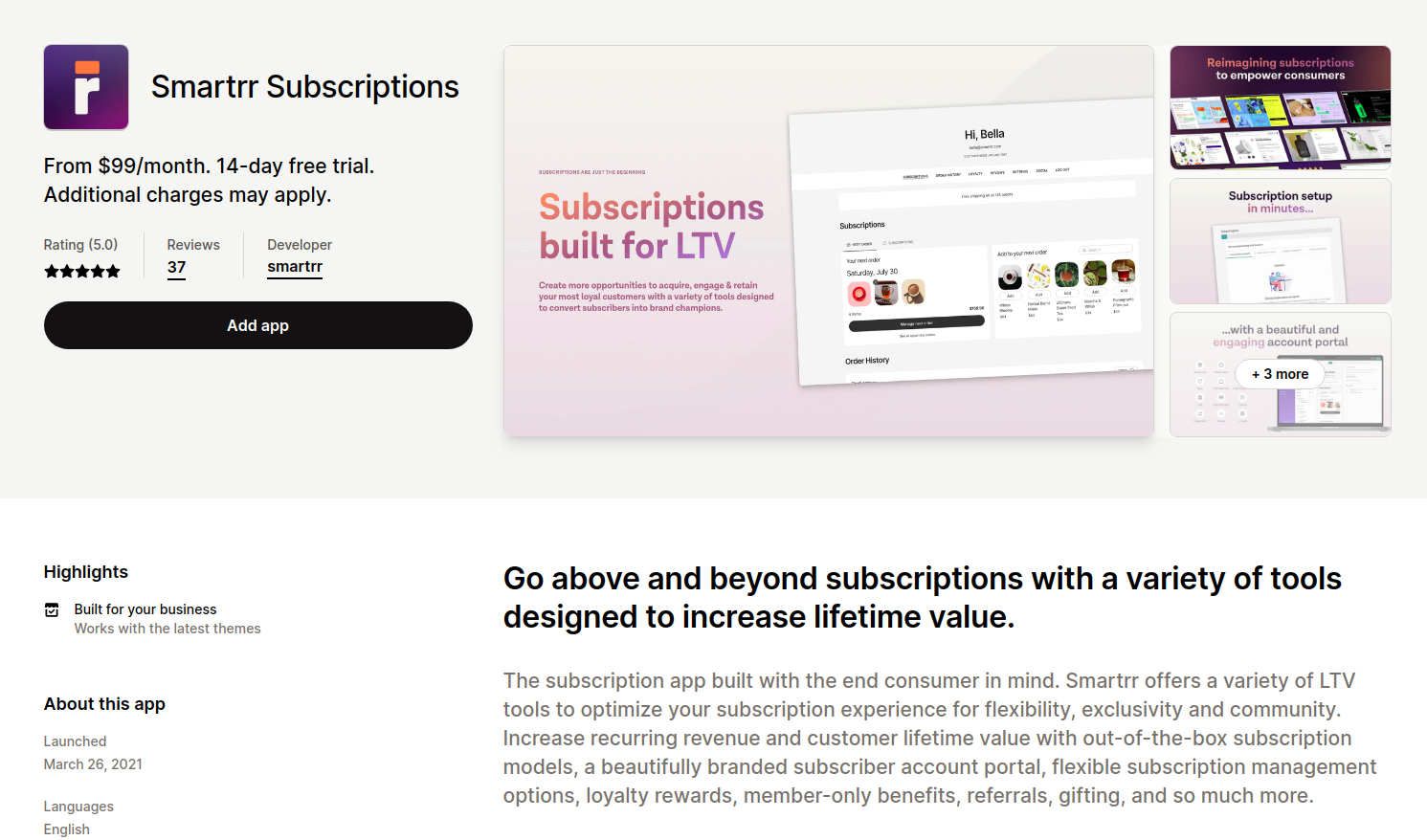 ★★★★★ (5.0) Shopify App Store Rating
Ecommerce businesses looking for ways to turn one-time buyers into recurring customers should explore the subscription model. With a subscription app like Smartrr, brands can enjoy a variety of tools to optimize their subscription experience for flexibility, exclusivity, and community.
This way, they can increase recurring revenue and customer lifetime value. Smartrr offers out-of-the-box subscription models, paid service, a beautifully branded subscriber account portal, flexible subscription management options, loyalty rewards, member-only benefits, referrals, gifting, and more.
Price:
Free plan available: No. But there's a 14-day free trial.

There are three paid options – Launch for $99 per month, Grow for $299 per month, and Exell starting at $499 per month.
Key Features:
Tailored out-of-the-box subscription programs that can be set up in minutes.

Ability to personalize your customer experience with a Bundle Builder.

Loyalty program built-in to the customer account portal.

Tools to turn your recurring customers into brand champions.
Wonderment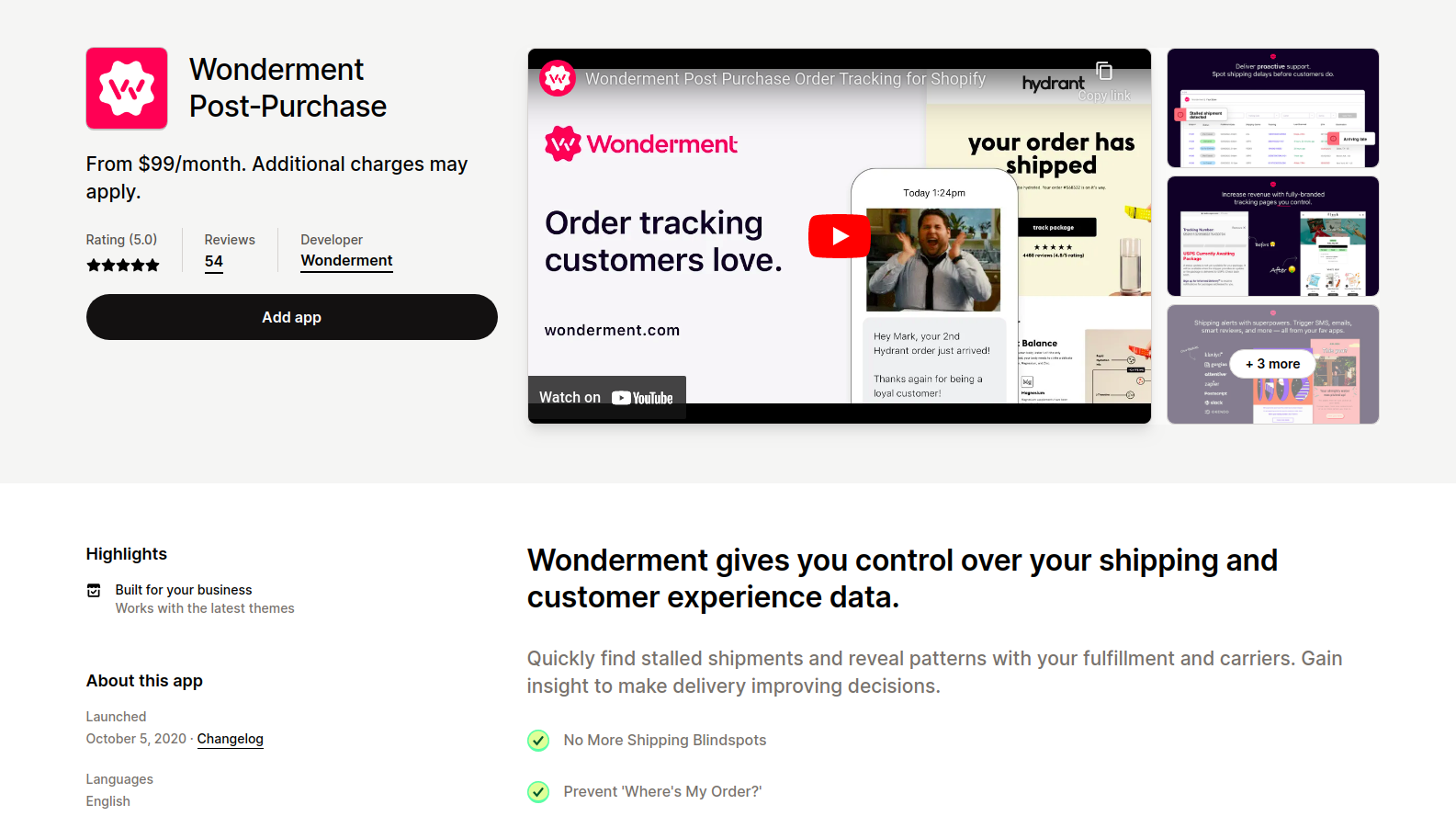 ★★★★★ (5.0) Shopify App Store Rating
Wonderment is a post-purchase experience platform that gives ecommerce businesses control over their shipping and customer experience data. The app provides a proactive customer experience platform that helps you overcome order issues, prevent delivery delays and avoid lost packages.
With Wonderment, you can create completely custom order tracking experiences in minutes using their no-code, Shopify-native builder. The best part is that Wonderment automatically alerts you of stalled shipments, late shipments, packages returned to sender, and more. Having timely information lets you notify customers via email or SMS or alert your team via Slack or Helpdesk.
Price:
Free plan available: No. There are no free plan or free trial available for this app.

There are three paid options – Starter plan for $99 per month, Pro plan for $189 per month, and Premium plan for $349 per month.
Key Features:
Custom order tracking pages to prevent WISMO calls.

Proactive alerts to tackle delivery delays before they become complaints.

Comprehensive reporting and analytics.

Extra transactional events that Shopify doesn't offer and a library of flows and templates for a fast setup.
Importance of identifying automation triggers in ecommerce
Staying on top of everything that happens in your ecommerce business seems easy in the early days. However, as your business grows, things tend to get more complex. All the things you've been able to do when there were just a few orders weekly, such as sending a marketing email, tracking your inventory levels, or managing customer reviews, become a huge burden once your business reaches a certain threshold.
For growing ecommerce stores, manually managing every aspect of the customer journey is not an option. Whether you are a small business owner, or an ecommerce manager, the only way to scale the business further is by noticing triggers for your repetitive tasks, and automate them.
Some of the biggest benefits of using Shopify Flow triggers to automate include the following:
Saving time and improving efficiency.

Eliminating manual work to create scalable processes. 

Minimizing the possibility of human error.

Creating a seamless end-to-end customer shopping experience.
How to choose the best Shopify Flow app for creating triggers
Let's look at the factors you need to consider before making a decision to choose one of these Shopify Flow apps and connectors:
Ease of integration — Seamless integration is crucial for a smooth user experience.

Customization — One size fits no one. Ensure the app you are choosing allows you to customize workflows to get the most out of your Shopify Flow connectors.

Pricing — Consider the features you are getting for the price that you are paying and whether the offered price plans can help you scale your business in the future.

Customer support — Whether you have experience with automation or you are just getting started getting the customer support you need in the process is a prerequisite for success.

User reviews — Unbiased feedback from other users can help you make the right decision and understand whether a certain app is the right fit for your business. Go beyond the Shopify App Store Rating and check other review sites such as G2 and Capterra as well.
Reminder: You need to have both the external app and Shopify flow installed in your store to set conditions, triggers and actions.
Do more with unique Shopify Flow triggers without the work
Running a successful ecommerce business is not easy. All the repetitive tasks that need to be done every single day keep ecommerce managers and business owners up at night. But it doesn't need to be that way. With the power of automation, businesses can create workflows that take care of repeatable tasks without manual work.
Using Shopify Flow triggers ecommerce brands can eliminate possible errors and scale their businesses faster.
Ready to transform your business with automation? With MESA, you can put your Shopify store on autopilot with automation solutions from pre-made integration templates already configured to handle common workflows. Get started today.
New Shopify Apps Weekly Newsletter
We watch for new apps then package them into an email sent every Tuesday.