Running an eCommerce business comes with its fair share of challenges. From customers abandoning their carts to finding ways of standing out from the crowd, store owners have a lot of obstacles on their hands to solve.
One thing that really stings businesses, however, are chargebacks from customers.
When a customer feels they're unfairly charged for a purchase, they can go to their banks and file a chargeback claim. On top of losing merchandise, your sales can take a hit: it's estimated that eCommerce stores lose over $6.7 billion in revenue due to chargebacks alone.
The worst part? It doesn't even stop there. If your company loses too many chargeback disputes, you can get yourself flagged as a high-risk merchant and blacklisted by payment processors.
Thankfully, minimizing chargebacks for your store isn't a difficult feat. It all goes down to adopting the right strategy and technology, which we'll go over in this blog post.
What Is a Customer Chargeback?
A chargeback is when a customer disputes that they didn't purchase from your store and asks for a full refund. While the goal of chargebacks is to protect customers, there are cases where shoppers use them to scam eCommerce stores.
Here's what typically happens when a customer decides to file a chargeback against your brand:
A customer goes through their credit card statement, only to notice a transaction they don't think they made.
They contact their bank about the transaction. From there, the bank will reach back to you and ask for relevant records on the customer's order as proof that they purchased your item.
Based on the information you give, the bank will decide whether or not it's valid. If they think the data is invalid, they'll provide your customer with a full refund on their purchase.
Why do Chargebacks Happen?
Many chargebacks are usually due to poor customer service or a bad experience with your brand. According to research, about 70% of chargebacks happen due to any of these five reasons:
The product or service was not what they want
The item didn't arrive on time
The product never arrived
Your brand won't accept to cover refund costs
The customer doesn't realize the fraud and thought it was a fraud
It's worth noting that these reasons are not enough for a customer to file a chargeback. They'll usually first reach out to your support team to file a complaint or leave a negative review.
If you don't respond to their request, that's when they'll contact their bank to get the issue resolved.
8 Best Ways to Guard Against Chargebacks
Chargebacks are a pain to deal with, but it's not the end of the world. By having the right strategy in mind, you can set up your store in a way that's chargeback-proof, so you stop losing money.
The best tactics your store can apply to minimize chargebacks include:
1. Set Up Order Tracking Workflows
Customers need a clear idea of what's happening with their package. Otherwise, they may have too many questions, such as if their product is on its way or when they can expect it to arrive.
A customer may just file a chargeback due to confusion surrounding their order. By communicating directly with your customer, you'll be able to ease their anxiety, just like in this example from chewy, that lets the customer know the product is on their way:

Thanks to Mesa's order tagging workflows with Tracktor, you can instantly provide customers with updates on their orders. For example, if an order is delayed in transit, you can instantly let the customer know before they freak out and file a chargeback.
2. Use The Correct Packaging To Protect Products During Shipping
Getting your goods damaged during transportation can harm your bottom line. On top of the fact that you'll have to cover refunds, you'll also have to cover transportation costs to bring the item back.
Make sure to use strong packaging to protect your items during their delivery to the customer. It's even more vital if you're shipping physical items or fragile products such as glass.
As a bonus, you can also apply for shipping insurance for your shipped products.
3. Automate Your Customer Service
One of the best things you can do before a customer demands a chargeback is to respond fast to their complaints.
It all starts with optimizing your customer service: 90% of customers say that a brand's customer service determines whether they'll continue doing business with them.
With effective customer service that solves your customer's issues quickly, you'll be able to avoid countless chargebacks in advance.
However, customer service is a lot of work. With so much on your hands as a business owner, you may not find the time to check and respond to every customer request out there.
Thankfully, automation can make it easy to handle customer service even on a busy schedule. With an automation tool like Mesa, you can use workflows to create a new ticket within Gorgias whenever a customer reaches out with a complaint.
You'll be able to instantly solve the customer's issue before they demand a chargeback.
4. Make Your Store's Policy Clear From the Start
To minimize chargebacks, the expectations between you and your customer must be clear. You want to make your policy as visible as possible on your website so there are no bad surprises for the customer.

To do this, make sure to include your return policy on every customer touchpoint. That includes on your home page, in the product description, and on the checkout page.
Now, doing so might scare off some customers due to your possible restrictive rules on returns. However, it's also going to save you so many headaches by preventing you from dealing with unhappy customers who can't get their return like they wish.
5. Optimize Your Product Descriptions
Your product descriptions play a vital role when it comes to customer chargebacks. Factors such as a misleading description or missing information can all lead to customers demanding a refund.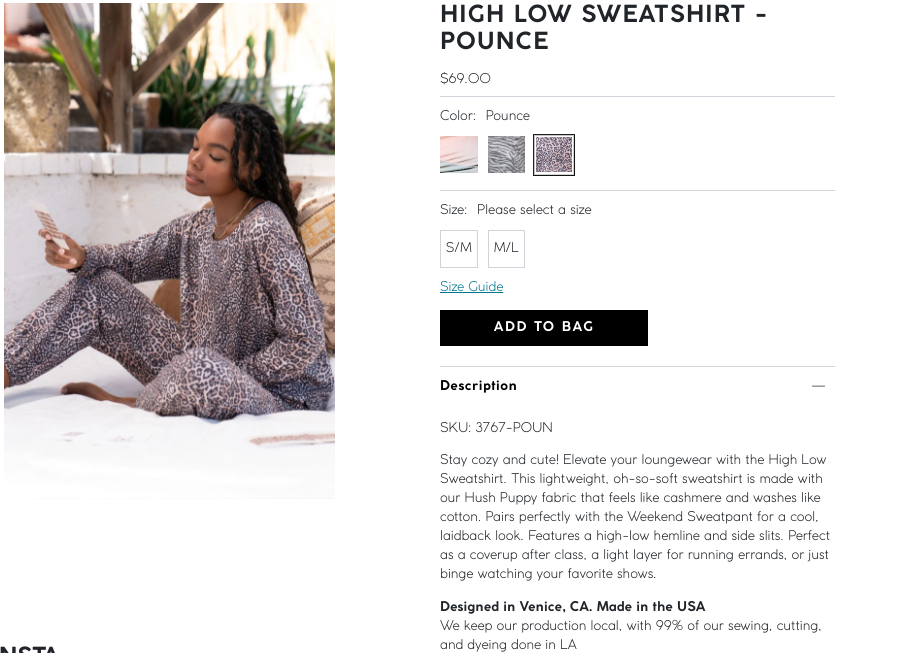 Ensure that your descriptions are always accurate and updated to protect against uninformed purchases that come back to bite your business. It's going to give customers one reason less to file a chargeback against your brand.
6. Keep Thorough Records of Customer Data
To defend yourself against a dispute, you'll need proof of the transaction, the charges, shipment and delivery, and any other details that will bear out your side of the story.
Managing your customer records by yourself, however, is a very time-consuming process. You're also putting yourself at risk for human error, which you want to minimize as you're managing customer data.
Mesa includes an integration with Google Drive, which allows you to store customer data effortlessly. You can instantly save each customer's information directly to your Google Drive folder and share it with your team.
That way, if any customer demands a chargeback, you can take a quick look at your file and get all the information on their order.
7. Inspect Suspicious Purchases
Chargebacks aren't always what they seem. Sometimes, they could be attempts from dishonest customers to hack your eCommerce store and commit fraud.
It's why you must inspect your order once you notice red flags. For example, if a customer is repeatedly failing to make a purchase, they could be using stolen credit cards.
Or, if you're receiving multiple orders with different cards that have the same billing address, it could also be another sign that the shopper is a scammer.
8. Make Sure You're PCI Compliant
Lastly, to minimize chargebacks on your store, your payment processors must be all PCI compliant. What it means is that you're following Payment Card Industry Security Standards Council's rules to protect customer data.
For more information, feel free to check out the Security Standards Council website.
The Best Fraud and Chargeback Protection Tools on Shopify
While following the tips above will help you minimize chargebacks, there's also plenty of chargeback tools on Shopify that protect you in case of potential fraud. Here are our top recommendations of platforms you can download today:
NoFraud Fraud Protection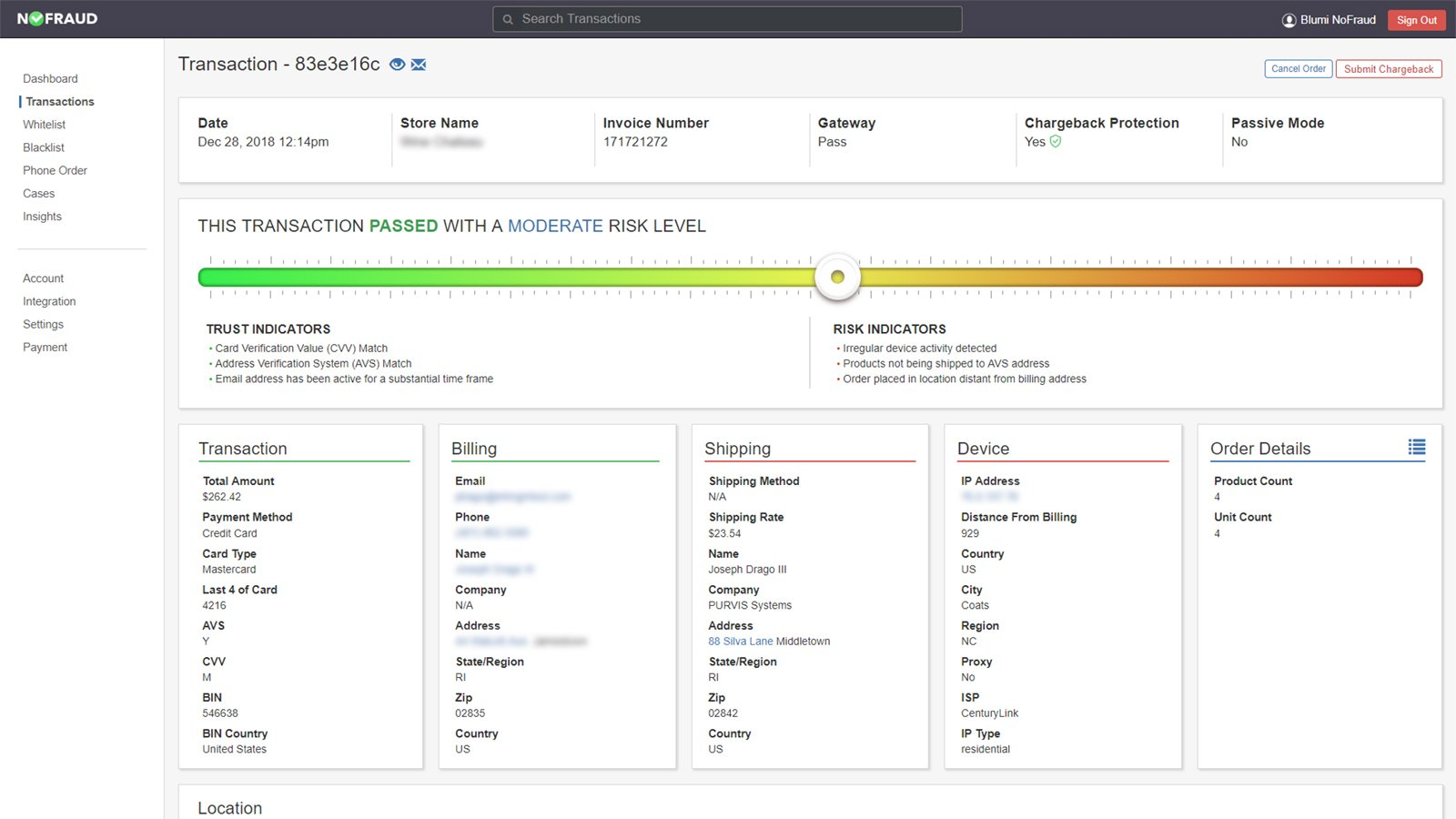 There's a reason why NoFraud is the top rated fraud prevention tool on Shopify. The platform comes with all the features stores need to manage their chargebacks and put a stop to any fraudulent activity.
Each transaction goes through identity verification and thousands of data points. Payments get classified into two categories: "pass" or "fail". For every transaction that falls under "fail", you can choose to cancel the fraudulent order.
As a bonus, you can even create your own blocklist and keep track of which customers are frequently buying and returning products. The platform comes with a free two-week trial for any store on Shopify.
eComm360 Fraud Prevention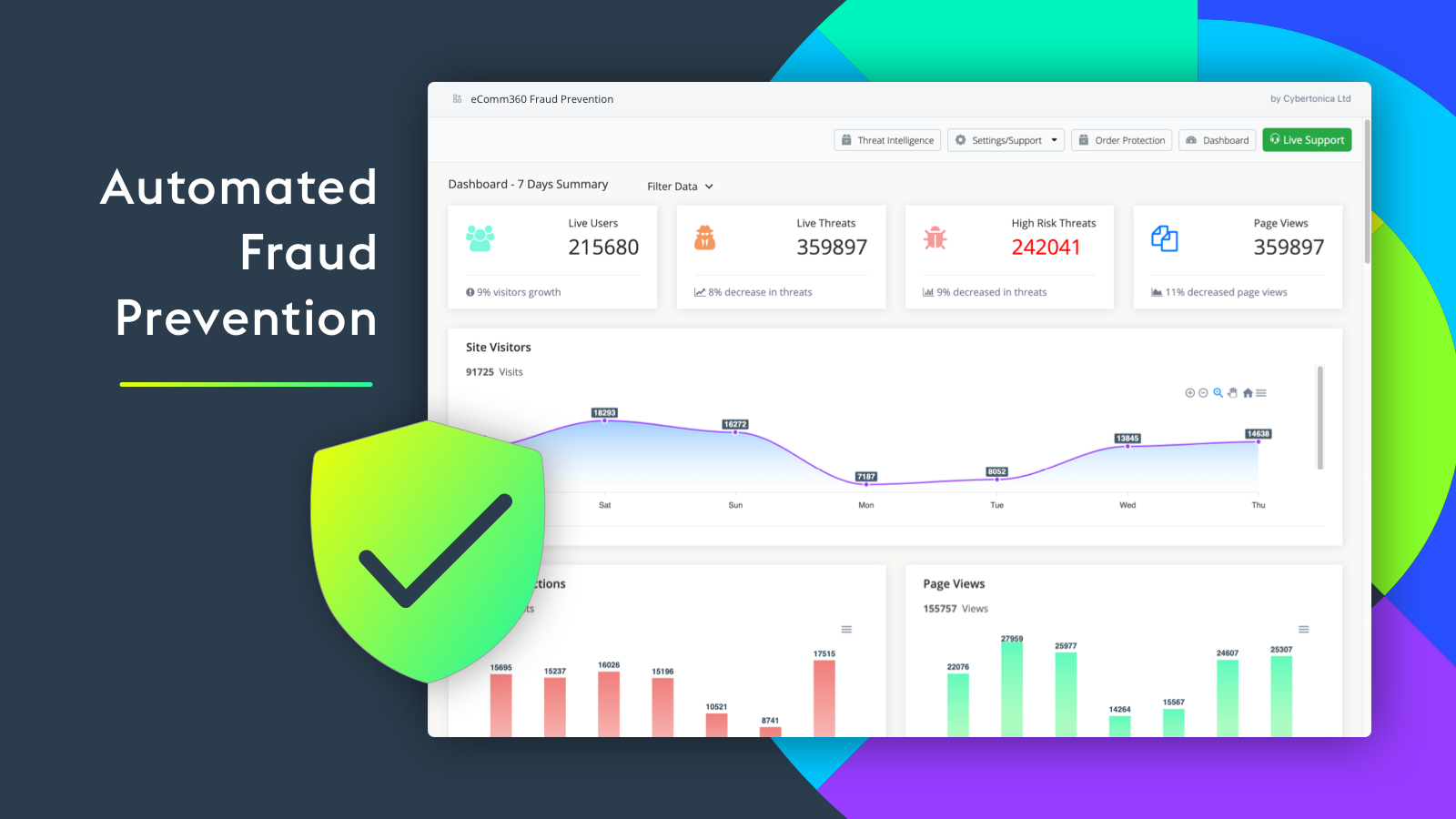 eComm360's platform combines real-time threat intelligence, fraud scoring, and order monitoring for advanced fraud protection. That way, you can better manage chargebacks and cyberattacks to your store.
Each customer goes through safety scoring based on their behavior and analysis of historical risk, so you don't have to worry about scammers going past checkout.
Each high-risk order is paused before you can choose to accept or decline them. Your store will receive instant alerts after a high-risk purchase is detected.
Beacon Fraud Protection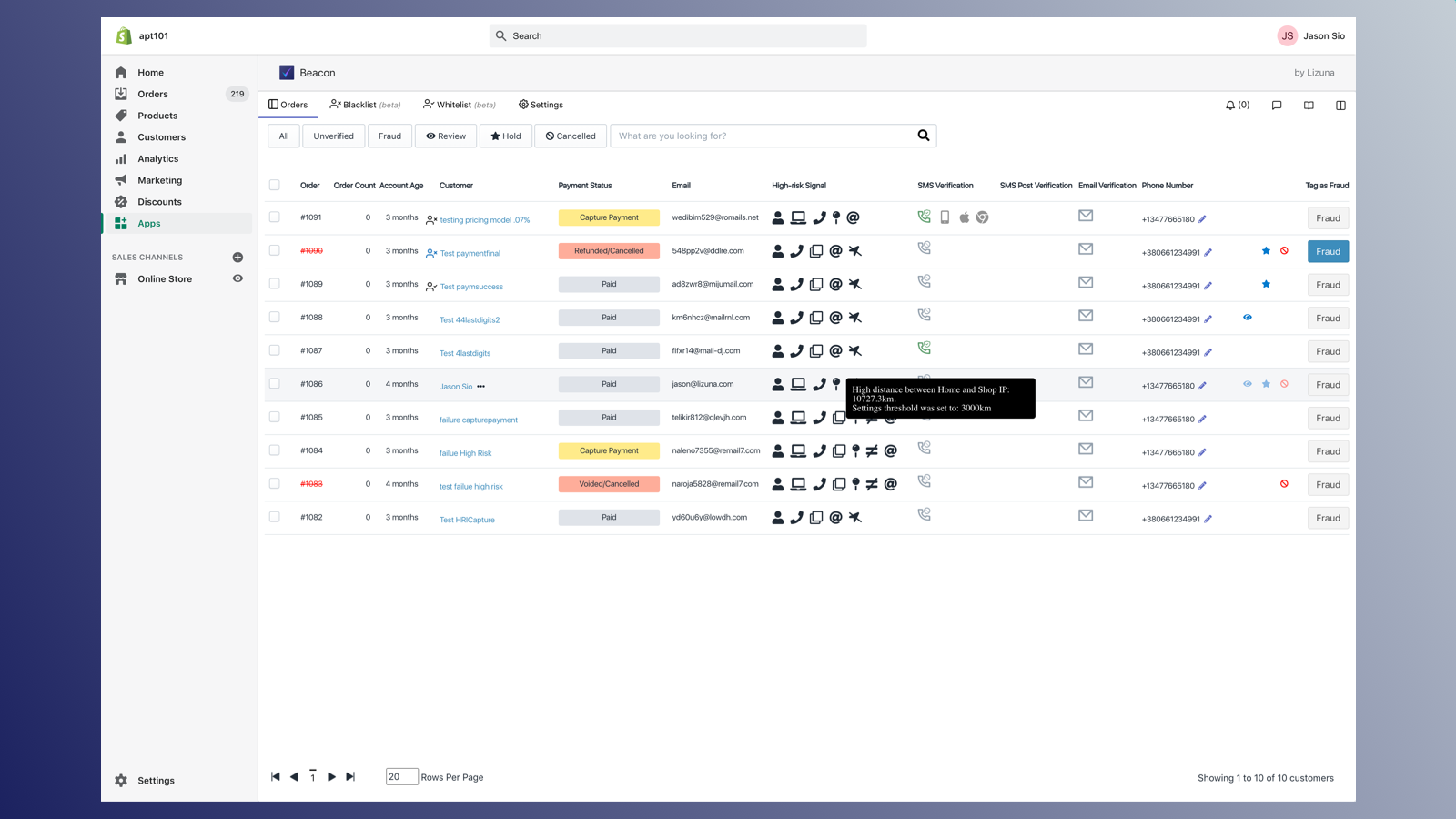 Beacon Fraud Protection helps detect fraudulent orders while keeping your legitimate customers. To do this, it uses three main technologies: big data, digital verification, and machine learning.
It identifies potentially fraudulent orders based on various factors, which include:
Customer information
Multiple accounts
Unusually high amount of spending activities
VoID
The longer you have Beacon Fraud Protection installed in your Shopify store, the more it will become effective. Once you identify known fraud accounts, you can proceed to add them to a blacklist so they can stop buying from you.
Final Thoughts
Chargebacks don't have to be a roadblock to your store's success. By better understanding your customers, improving their experience with your brand, and using the right technology to identify potential fraud, you can turn chargebacks into an issue of the past.
If you're looking for the best automation software to deal with chargebacks, we can help. Feel free to schedule a demo with Mesa today to learn more about our platform.
New Shopify Apps Weekly Newsletter
We watch for the latest Shopify apps then package them up into a neat little email sent every Tuesday.