Shopify Flow templates can make running your business processes easier with automation. These templates include three components: triggers, conditions, and actions.
For example, Shopify Flow can auto-tag customers (action) when they place an order (trigger), provided the order value is more than $100 (condition).
But it's difficult to figure out what templates you need to get started with and where to find these templates. Well, once you install Shopify Flow, you can use third-party apps using Shopify Flow connectors that can help you with pre-built templates.
For example, MESA extends Shopify Flow by connecting it with popular business tools. With MESA, you also get a more extensive template library that works with more apps. Try MESA to see how it can streamline your business — it's free.
Order templates
Orders are the primary Shopify Flow triggers to create Shopify Flow workflows. Here are some templates with different types of order activity as the trigger:
1. Get notified when an order containing a specific product is canceled
Suppose you're trying to monitor a product that isn't gaining much traction. You're trying a few things, like optimizing the product description and adding product videos.
But to understand what's working, you need to monitor order cancellations. That's when this template comes in handy.

2. Cancel and tag orders from known bad email addresses
Shopify Flow can use the bot protection feature built into Shopify Plus to flag bots and emails with a history of fraudulent orders. Detecting and canceling these orders is even more critical during peak seasons, like Black Friday and Cyber Monday.
Whenever someone places an order with a blacklisted email, Flow triggers the workflow and cancels the order.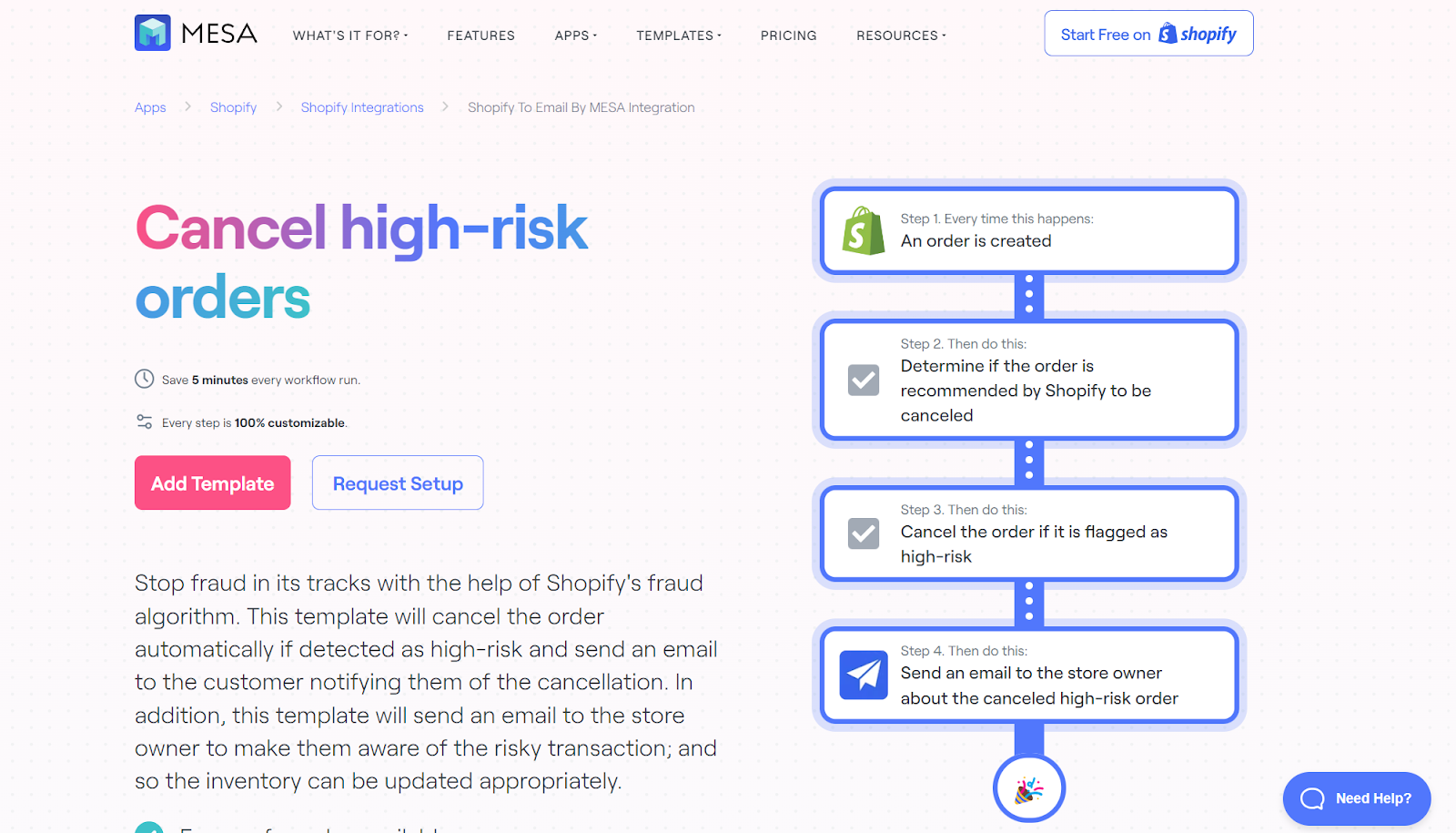 3. Notify fulfillment if a customer with the tag "Serial Returner" places an order
Serial returners cost your business thousands of dollars. But 60% of customers agree they're more likely to shop with a return option.
Instead of removing the option to return, look for reasons "serial returners" return the product. Shopify Flow helps you track orders from serial returners by notifying you whenever they place an order.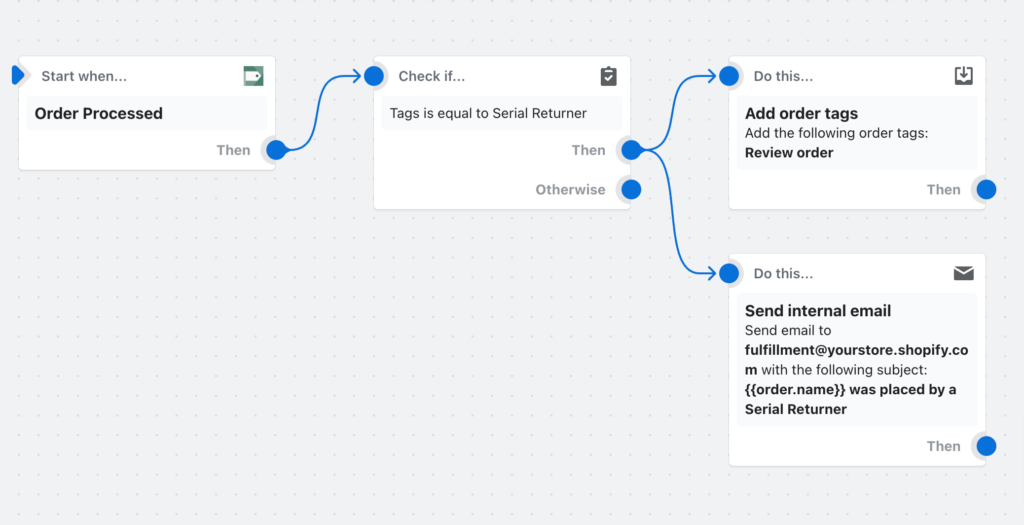 4. Notify your fulfillment provider about upcoming orders
Giving your fulfillment provider a real-time overview of the fulfillment pipeline is always best. Shopify Flow helps set up a workflow that automatically notifies fulfillment providers about upcoming orders.

5. Tag orders by sales channel
Why sort orders manually to analyze channel-wise performance? Shopify Flow can auto-tag orders by sales channel.

Inventory templates
Inventory templates are handy for monitoring stock levels, fulfillment status, and stockout warnings. Here are some templates using inventory level as a Shopify Flow trigger:
1. Get notified by email when product variant inventory is low
Stockouts are a major problem — they cost US and Canadian retailers an estimated $349 billion a year. Stockouts can occur because of long lead times or not placing orders on time.
Shopify Flow can help you receive notifications when your product variant inventory quantity reaches a certain threshold. This helps you place orders on time and reserve enough stock depending on the average lead time.

2. Get notified (via Slack) when inventory is low and hide products when out of stock
If you have multiple team members managing different product categories or a Slack channel for inventory management, low inventory Slack notifications can help.
The team members can immediately work on placing an order. If you want to discontinue the product or don't plan on placing an order for a while, the team can monitor the product after seeing the Slack notification. Once it's sold out, they can hide the product.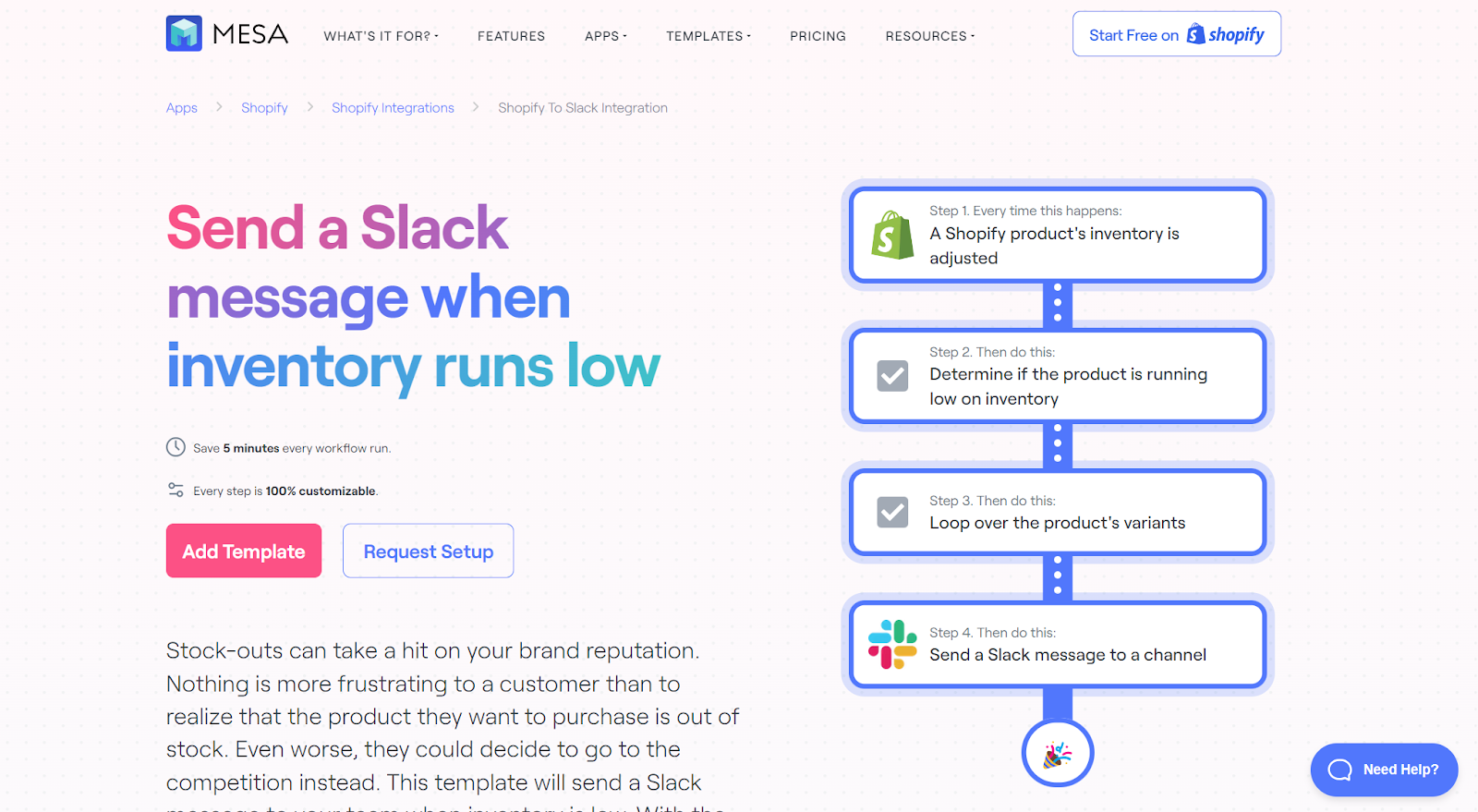 3. Create a Trello card when product inventory is low
Do you use Trello to manage tasks, including order placements? Instead of manually adding Trello cards each time inventory dips below the safety level, configure Shopify Flow to do it for you.
This template allows you to set up a workflow that automatically creates a Trello card when inventory is low. The card may be used to place a new order, hide the item temporarily, or do any other task in your inventory management workflow.

4. Create a task in Asana when product inventory is low
Asana is a productivity powerhouse that can streamline your inventory management workflow. Adding automation in the mix can supercharge your team's productivity.
Shopify Flow integrates your Shopify store and Asana. This Shopify Flow workflow can auto-create Asana tasks when a product's inventory is low, so your team can act on it quickly.

Customer templates
Managing customers is critical to your store's success, but it becomes difficult as you scale. Here are Shopify Flow examples for automating the work for your customer service team:
1. Notify, track, and create a support ticket when a new product review is created
Reviews help build a reputation. In fact, 99.99% of customers will read reviews before buying from your store. When you receive a review, it's important to look into it and promptly address the review.
Based on the rating, you create workflows for a relevant customer service ticket for every new product review.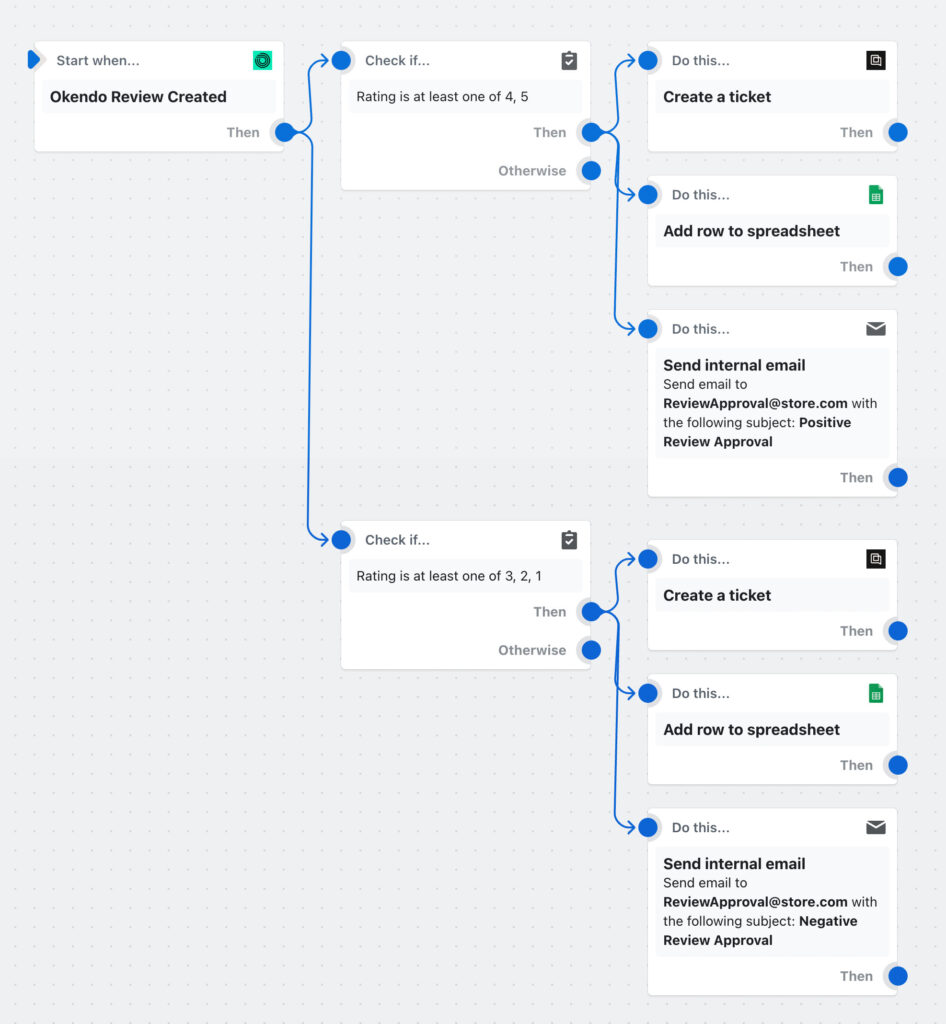 2. Track and create a support ticket after negative reviews
Negative reviews hurt your brand reputation, in turn, losing sales. The solution is to address the customer's issue. What if, instead of manually checking for new reviews, the customer service team could focus on addressing key concerns?
By using a Shopify Flow workflow to create a customer service ticket in Gorgias when a customer leaves a negative review in Yotpo, you can save 4 minutes on every use of this workflow.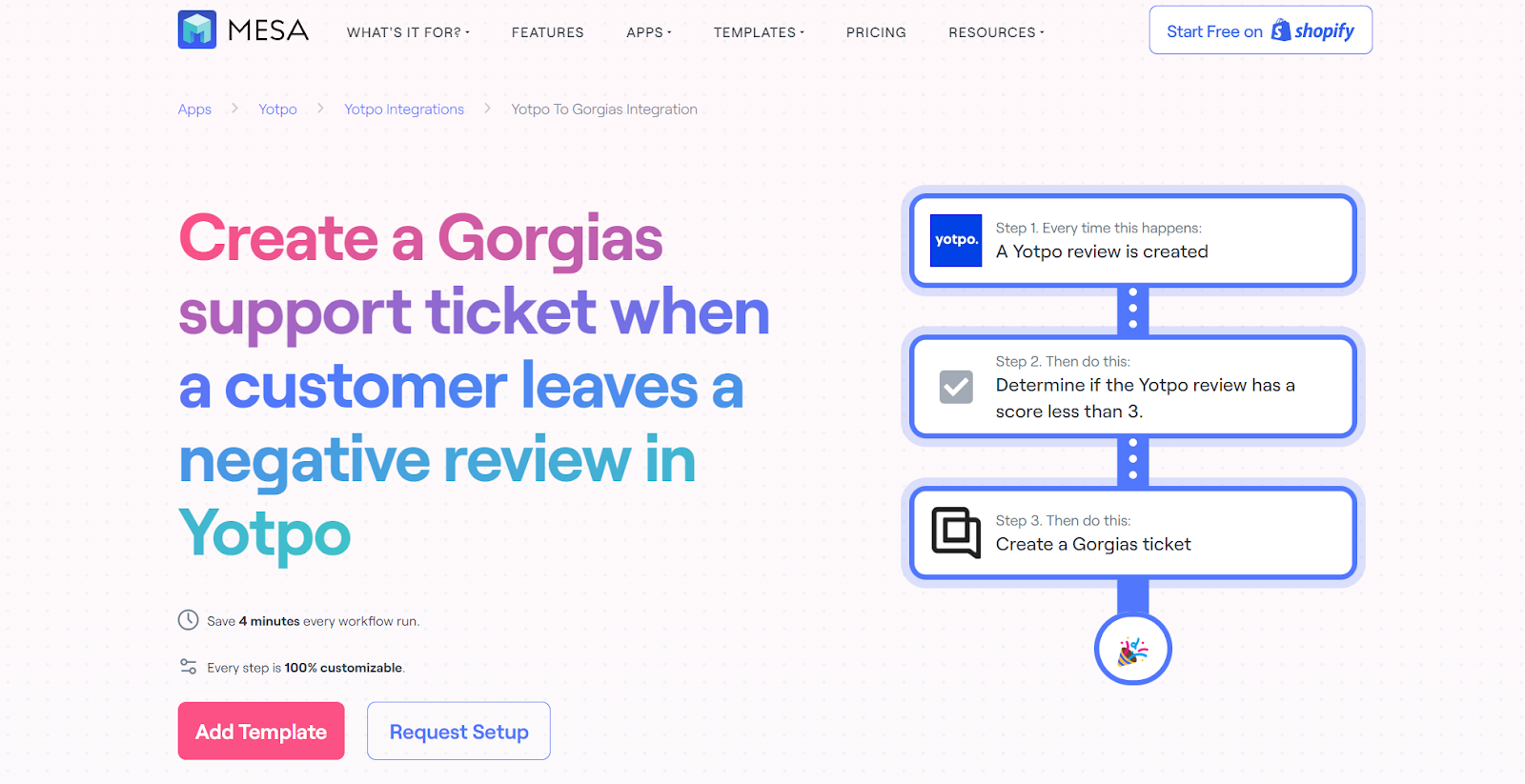 3. Send a Slack message when new company reviews are published
Instead of receiving notifications for reviews on your email, you can configure this template to receive notifications via Slack. You can create a Slack channel for the support team where they're able to see the latest reviews.

4. Tag customers that have purchased in-person
Tagging customers based on how they purchased your product helps segment them. This Shopify Flow template helps auto-tag customers once they purchase a product via a brick-and-mortar store instead of your online store.

5. Tag employee customer accounts by email domain
Use this template to tag employees based on the domain in their email address. Using this workflow, you can identify employees that also have customer accounts. Another one could be customers from a specific organization. By connecting to a customer engagement platform, this data can help offer special discounts to these customers when they're about to check out.

Do more with automation without the work
Shopify Flow templates help automate repetitive tasks, saving you plenty of time across your ecommerce business.
Automation allows teams to focus on areas of work that require a human touch instead of spending time on mundane tasks.
However, Shopify Flow has its limitations. For example, it can't connect with popular third-party tools that you might use regularly.
That's where MESA comes in. It can connect your Shopify store to business applications like CRM and ERP. And it's free forever, so why not try MESA?

New Shopify Apps Weekly Newsletter
We watch for new apps then package them into an email sent every Tuesday.