Automating processes saves you time that's otherwise spent on tedious, repetitive tasks. Instead, you should use Shopify automation apps to streamline workflows and get more accomplished in less time. Putting your processes on autopilot allows you to focus on critical thinking tasks.
With the right Shopify app, store owners can automate their marketing strategy efforts, and customer journeys including customer communication, inventory management, and operations. Automation will save you hours every week, improve productivity, and ensure data accuracy across all your systems.
If you want to join the 80% of business leaders who plan on accelerating business automation, here are some of the best Shopify automation apps you might want to consider for your Shopify store.
MESA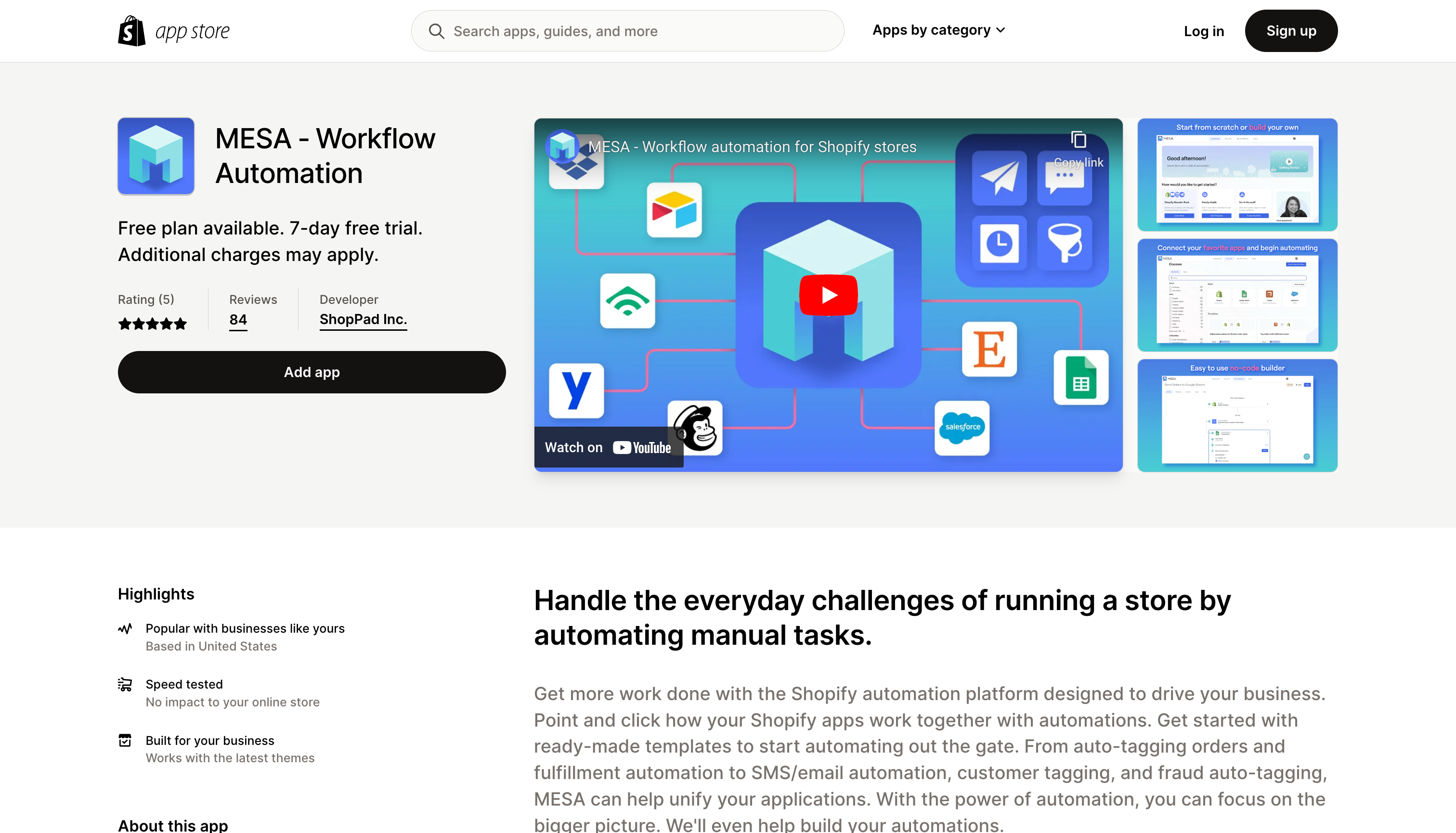 ★★★★★ 5.0 – Shopify App Store Rating
Pricing: Free plan available. 7-day free trial. Additional charges may apply.
MESA helps add automated workflows in every part of your ecommerce business. It deeply integrates with data throughout your Shopify store. This allows you to automate data moving in and out of your Shopify online stores that can involve third-party systems too.
The best part about MESA is its support. You get a massive library of automation templates, but if you need help setting up any automated workflows, MESA's team of experts can help at no cost to you. It's easy to understand why it's considered one of the best ecommerce automation apps regardless of your Shopify plan.
Start adding automation today with the free plan. Or choose any paid plan and use the free workflow setup service and request a personalized one for your business.
Key features
Built-in workflow apps to send email notifications, SMS, approvals, and more

Ready made templates

User friendly workflow builder

Integrates with popular e commerce business tech stack (like Google Sheets, Airtable, Klaviyo, Gorgias, and more)

Free workflow automation services
Shopify Flow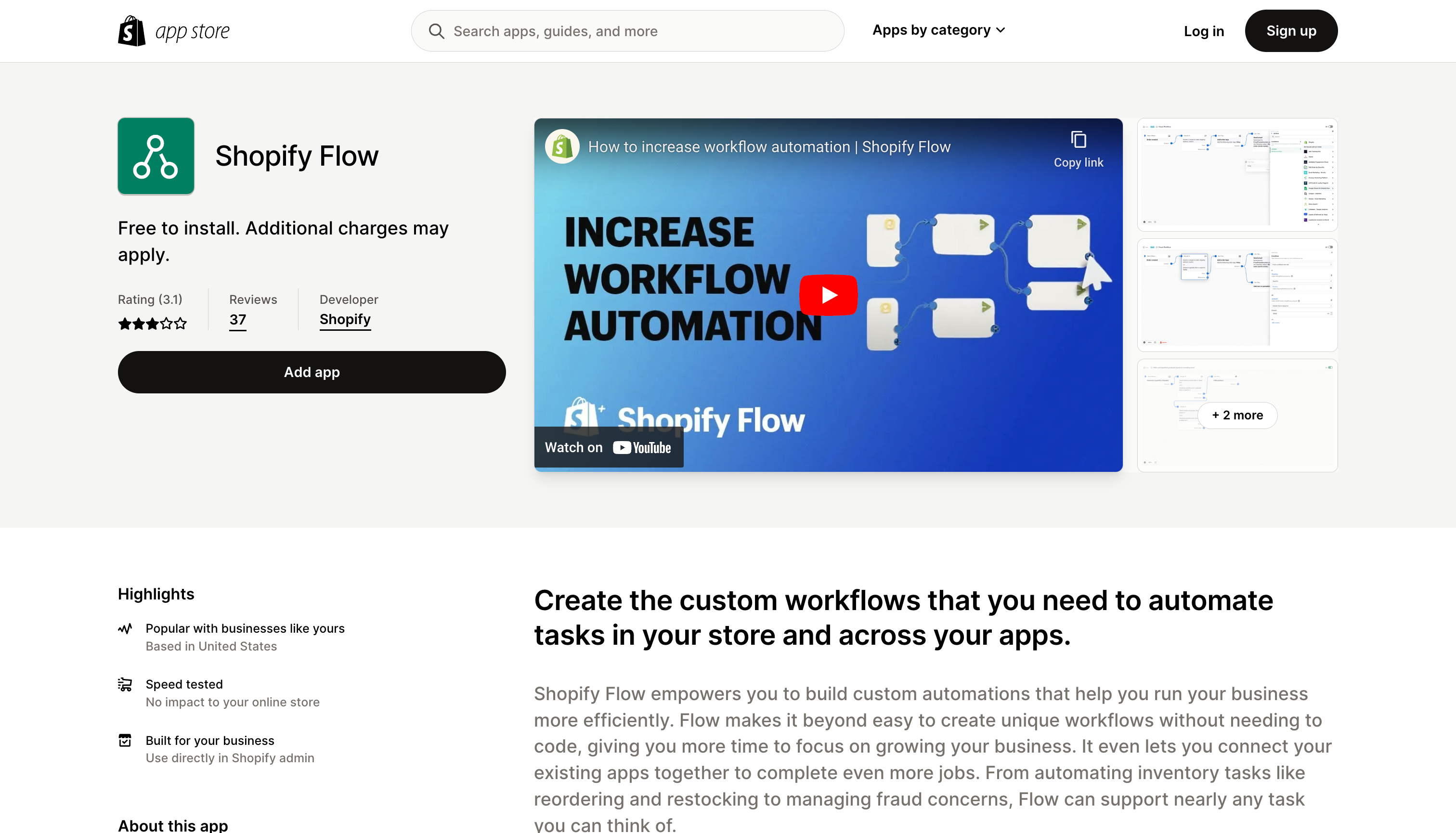 ★★★☆☆ 3.7 – Shopify App Store Rating
Pricing: Free to install. Additional charges may apply.
Shopify Flow is an automation apps from Shopify included in the Shopify, Advanced, and Plus plans. You can automate tasks, email marketing, and business processes with its visual workflow builder. However, unlike MESA, Shopify Flow only integrates with apps that have connectors, which means you might not be able to integrate Shopify with many apps without code or extra development efforts.
Key features
Visual workflow builder

Integrates with Slack and email marketing efforts

Pre-built templates for common use cases
SC Order Tags & Flows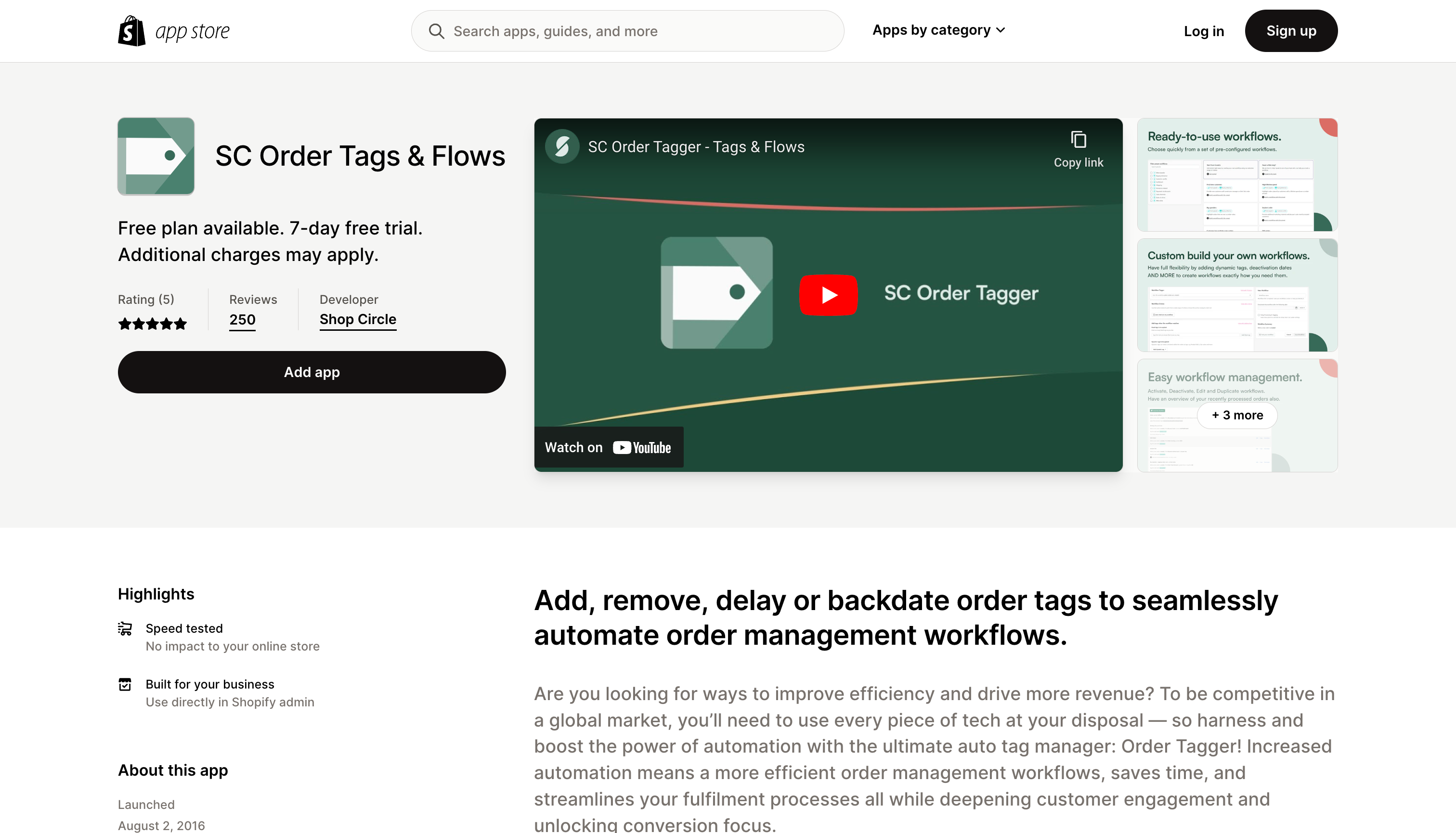 ★★★★★ 5.0 – Shopify App Store Rating
Pricing: Free plan available. 7-day free trial. Additional charges may apply.
Order Tagger is an auto tag app that helps in automating order data workflows by adding, removing, delaying or backdating tags. This automation leads to the efficient management of orders, saves time and streamlines fulfillment processes like tracking orders. The tool offers auto tags that can automate specific order management actions and allows creating unlimited custom workflows based on unique needs of your Shopify store.
Key features
With the help of auto tags that can initiate essential order management actions, businesses can effectively save time.

Establish connections with their shipping and fulfillment partners, as well as their orders on the Shopify Admin Page.
React Flow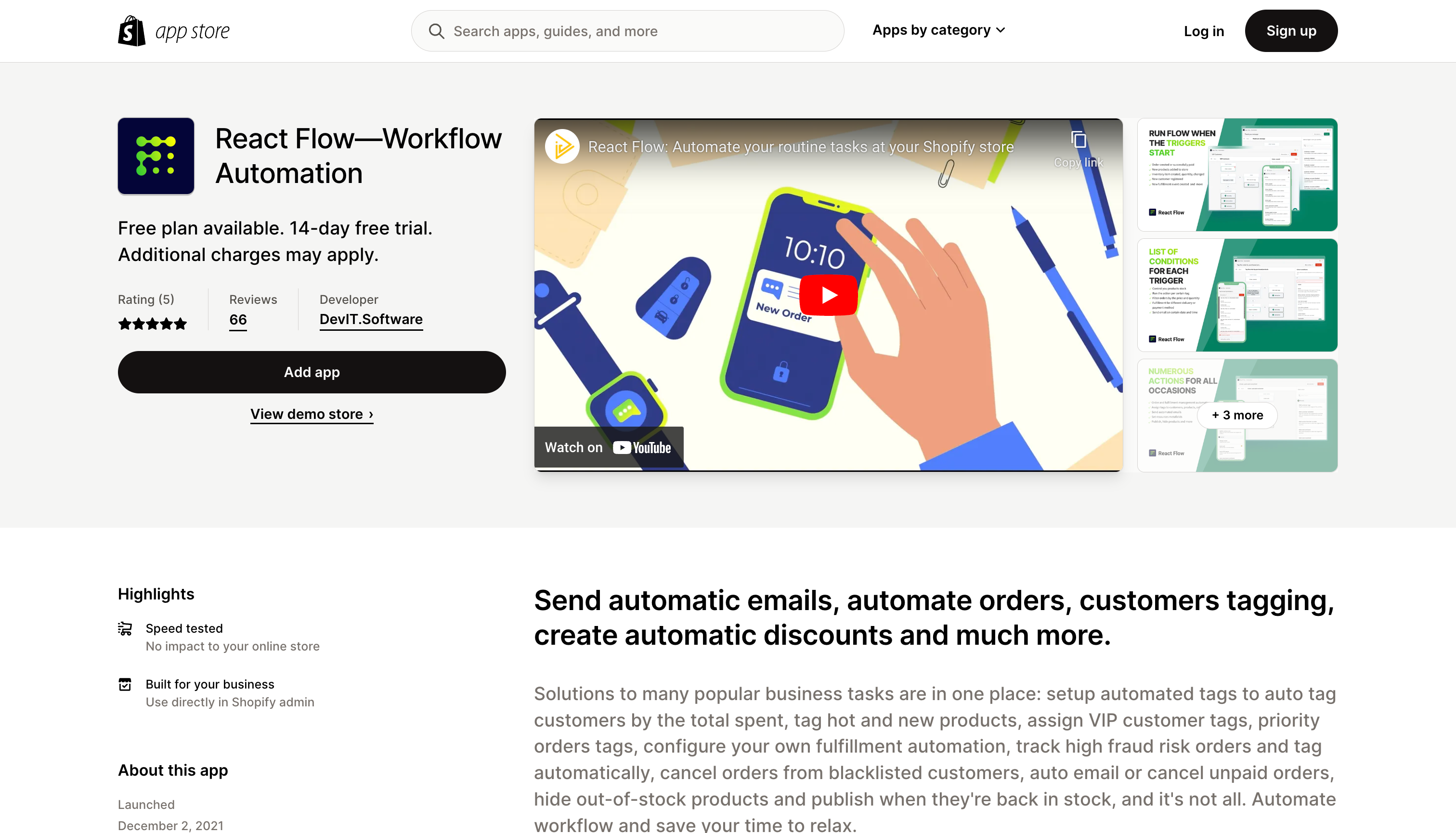 ★★★★★ 5.0 – Shopify App Store Rating
Pricing: Free plan available. 14-day free trial. Additional charges may apply.
React Flow's workflow builder helps automate all routine tasks across your ecommerce stack, such as archiving out-of-stock inventory items, email marketing and sending order notifications. React Flow allows adding multiple triggers, actions, and conditions for each workflow, or you can start with one of the templates in its library.
Key features
Scheduled workflows

Multiple triggers, actions, and conditions for a single workflow

Create automated custom counters for any event

Ready-to-use templates
Mechanic
★★★★★ 5.0 – Shopify App Store Rating
Pricing: From $9/month. 15-day free trial.
Mechanic helps more technically savvy Shopify merchants automate tasks. However, unlike other automation apps, Mechanic lets developers write serverless code in Liquid, which store owners can then configure to automate their workflow. Signing up with the app also gives you access to Mechanic's Slack community, where you can request help for tailor-made solutions to your automation problems.
Key features
Allows writing logic in Liquid

Library of over 300 automation templates

Integrates with Shopify Flow, allowing you to trigger Shopify Flow with a time delay

Slack community to learn and request help
Arigato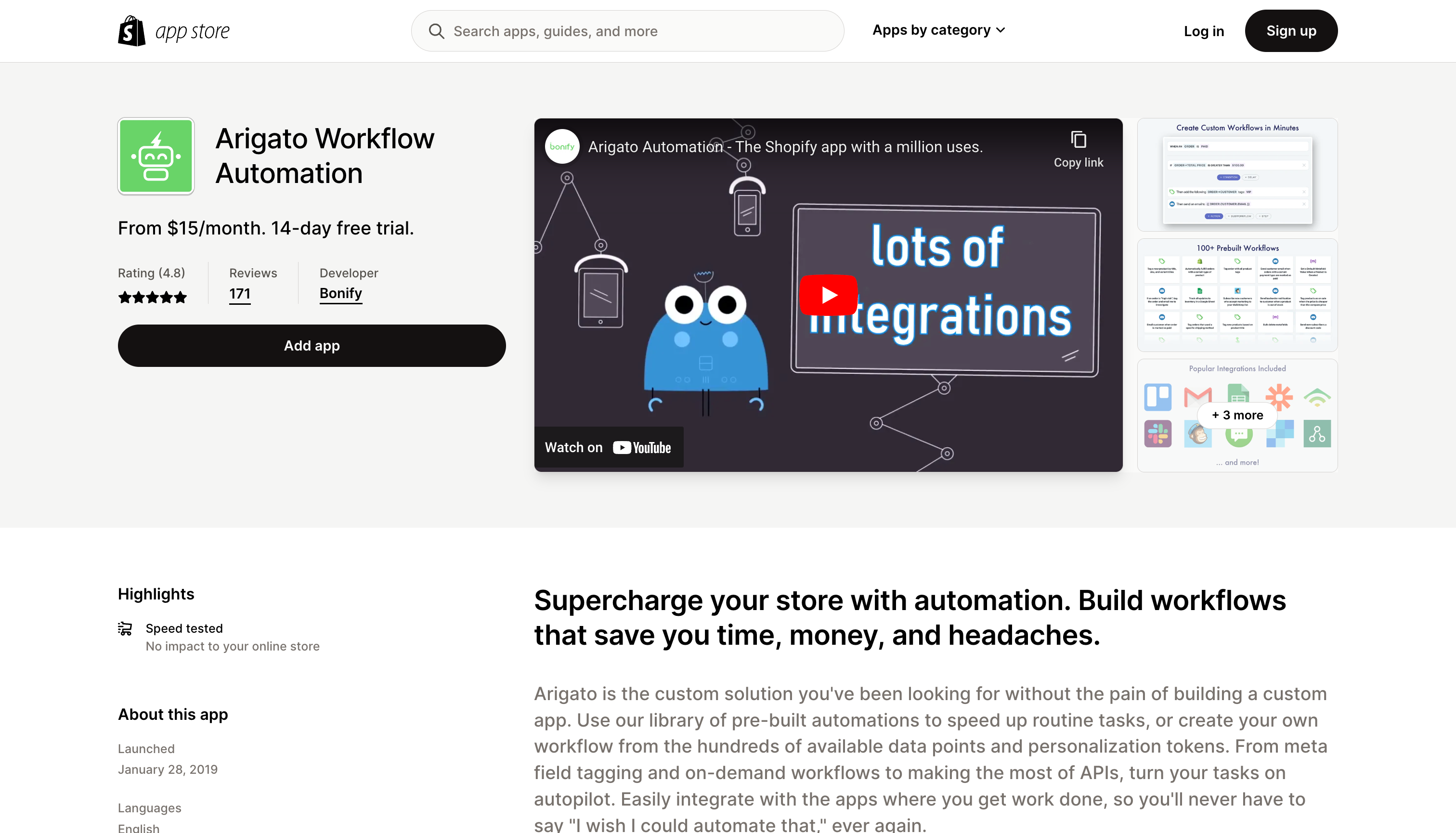 ★★★★★ 4.9 – Shopify App Store Rating
Pricing: From $15/month. 14-day free trial.
Arigato helps you create trigger-based workflows and write custom logic so you can make calls to Shopify or other Shopify apps and use data from them to perform an action. It's a great app, except that the pricing is based on your Shopify plan, not your needs. If you're a Shopify Plus user, you pay $100/month even if you only need a few automation workflows.
Key features
Run scheduled and on-demand workflows

Pre-built automations for tasks like Slack messages and HTTP requests

Test workflows while building them

Integrations for apps like Mailchimp, Trello, and Klaviyo
Parabola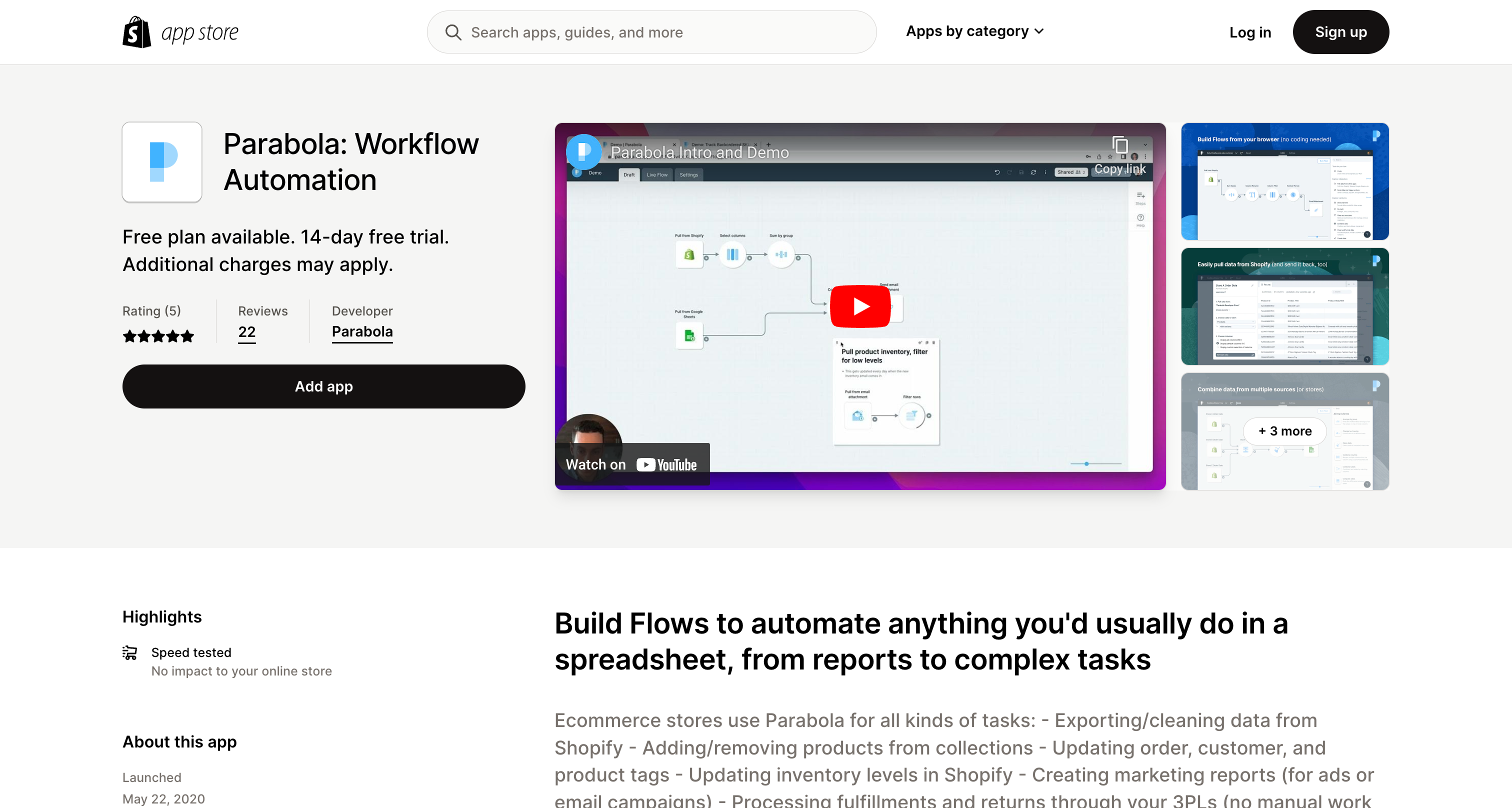 ★★★★★ 5.0 – Shopify App Store Rating
Pricing: Free plan available. 14-day free trial. Additional charges may apply.
Parabola has an excellent interface for visually making an automation. The workflow builder gives you an overview of the workflow with all information touchpoints. Clicking on a touchpoint provides you with a detailed log of information. Parabola integrates with all the popular tools like Google Sheets, ShipStation, and Facebook Ads, allowing you to pull data from or send data to them.
Key features
Visual workflow builder

Allows collaborating with your team when building automation workflows

Integrations for Google Sheets, Google Analytics, Facebook Ads, Shipstation, and more
Alloy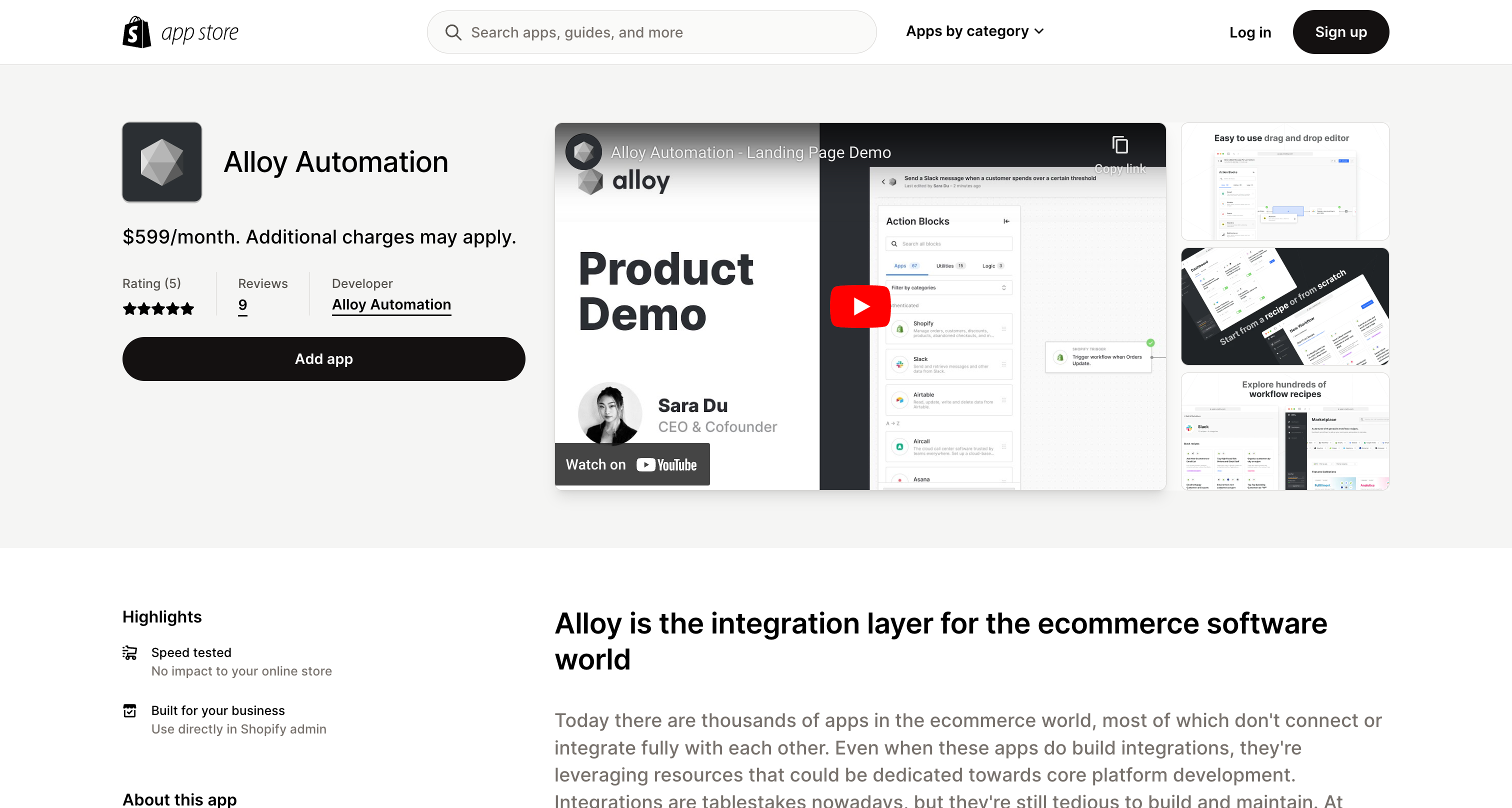 ★★★★★ 5.0 – Shopify App Store Rating
Pricing: $599 monthly price. Additional charges may apply.
Alloy is a platform that simplifies and streamlines ecommerce operations by providing a connectivity layer that integrates with hundreds of apps, including popular platforms like Shopify and Netsuite. With Alloy, businesses can avoid the tedious and resource-intensive process of building and maintaining integrations between disparate apps. By automating tasks and streamlining workflows, Alloy helps your ecommerce store save time, reduce errors, and improve overall efficiency.
Key features
100+ templates (called recipes)

Integrations for over 100 apps (and the team can build new integrations for you)

Use Alloy's SDK to invoke workflows from your code
Target time consuming tasks with automation
In conclusion, automation can be a game-changer for store owners looking to streamline their operations and get more sales. With the help of the best Shopify automation apps, managers can easily complete more tasks without sacrificing quality, accuracy, or customer behavior. From email marketing and cross selling to inventory tracking and slow customer support, these apps can automate various aspects of your business, saving you time, effort, and resources.
Of course, the right automation app for you will depend on your specific needs, goals, and budget. However, by considering factors such as features, pricing, user reviews, and integration capabilities, you can make an informed decision and select an app that works best for your business.
Ultimately, the key to success with automation is not just to set it and forget it but to monitor and fine-tune your automation services over time. By regularly reviewing your automation workflows and making adjustments as needed, you can ensure that your business is maximizing the benefits of automation and staying ahead of the competition.
So why not explore the world of Shopify automation apps today and see how they can help your business thrive?
New Shopify Apps Weekly Newsletter
We watch for new apps then package them into an email sent every Tuesday.