Printful is a print-on-demand service that integrates with Shopify and allows users to create and sell custom-designed products. By integrating Printful with Shopify, users can automate the entire order fulfillment process, from order placement to shipping, and even customer service. With these systems connected, you can enjoy a fully automated Shopify store. Now you're free to focus on other aspects of your business.
With automation in place, orders can be processed and shipped quickly and accurately, leading to improved customer experience. This aids in reducing errors, resulting in fewer complaints and returns.
In this blog post, we'll cover all the steps necessary for setting up a fully automated Shopify store. We'll go over everything from the connecting Printful products to your Shopify store. Follow us to the end to learn tips and tricks for automating everything from fulfillment notifications to customer support and marketing campaigns.
Let's do this!
How to connect Printful to Shopify
Printful makes it easy to connect products to popular ecommerce platforms and marketplaces. After signing up for an account on Printful, simply follow these steps:
First, click "Stores" from the main navigation in Printful. You'll have the option to choose your ecommerce platform or manually connect using their API. Choosing the guided option is recommended.
Next, choose Shopify from the list provided. It's the first platform listed. You'll be taken to a page that explains how to install the Printful app from the Shopify store app store. Click the install link provided to visit their App Store page and install the app.
After installing the app, you'll be asked to login to Printful. You now connected Printful to Shopify. Congrats!
How to add products from Printful to Shopify
Printful lets you choose from a wide array of products that can be customized and then sold on your Shopify store.
First, create a new Product Template in Printful. These are a combination of your artwork files and Printful's products. Together, they will become products available for sale on your Shopify store.
Follow the guided Product Template setup. Printful will walk through choosing an item, defining possible variants, mockup images, and pricing options. Once completed, you'll have a template that can be edited to be added to your store when you're ready.
Next, from Product Templates, click Add Product. This will walk you through the details once more in case there are availability changes or modifications required. After defining the product details, images, variants, and pricing, you'll submit the listing to your store.
Watch the tutorial video
Step-by-step instructions: Fully automated Shopify store
Time needed: 20 minutes
To get started, you'll need to sign up for Printful and Shopify. Then, follow these step-by-step instructions.
Signup for Printful

It's free to get started and you'll only pay when you make a sale.

Create a Product Template in Printful

These templates are based on the artwork being printed on items. For example, if you want a shirt with your logo on the front-left chest, that's one product template. If you want your logo on the front and a bigger design on the back, that's another product template. There are no limits to the number of product templates you can create.

Upload your artwork to be printed on product items fulfilled by Printful

Be sure to define the sizes and pricing details for each product template. Printful supports flat-cost price additions or percentage-based. Choose which profit margin metrics are right for your business.

Signup for Shopify

Once your store account is ready, you'll be able to start customizing your business settings and website themes however you wish.

Install the Printful app on your Shopify Store

From the Shopify App Store, install the Printful app. This will connect your Printful account with your Shopify store.

Import Products into your store

From the Printful app within your Shopify store, you can now import the products directly into Shopify. Optionally, you can edit the details in Shopify and add tags to help keep your store organized.

Launch your Shopify store and start accepting orders

With your store live, you can sit back and relax. Every order received will be sent directly to Printful for fulfillment.
See this workflow in action
When Shopify receives an order, the details send to Printful immediately.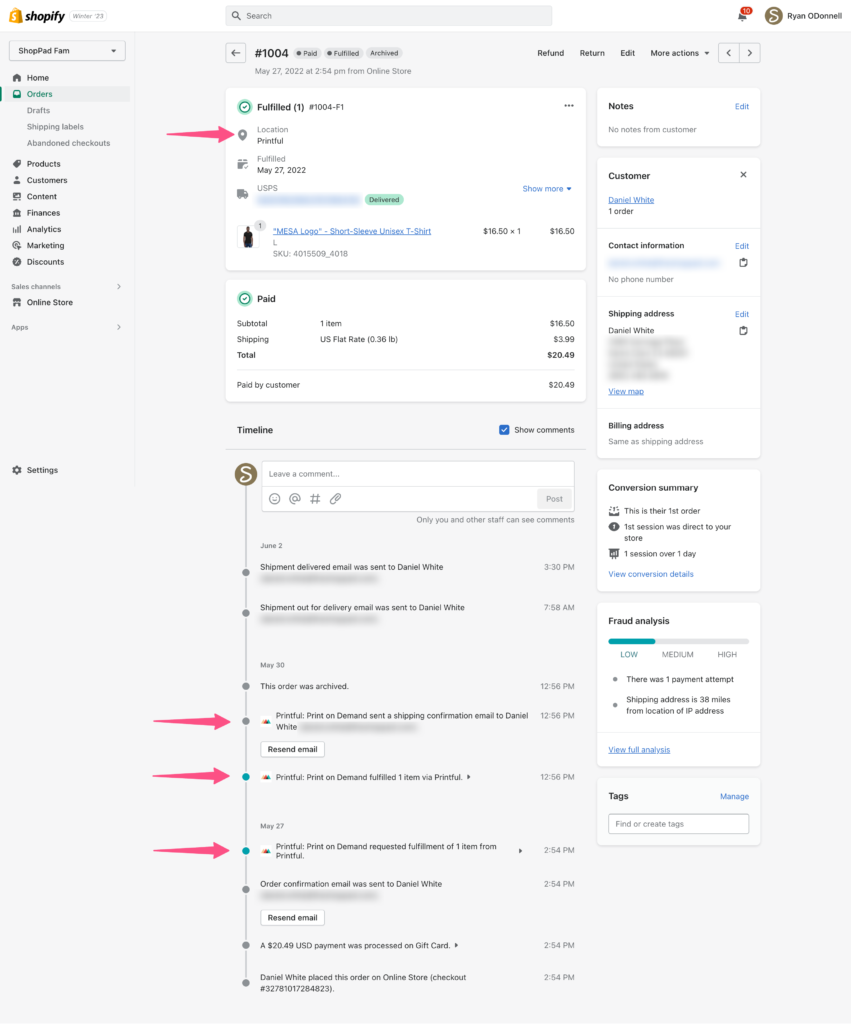 In Shopify, the order's fulfillment details are updated automatically.
Then, your customer will receive the product from Printful's printing and fulfillment warehouse.
Tips for importing products into your Shopify store
Naturally, you should still add the missing information and organize the imported product information to make managing products easier later.
Then, follow these tips after importing products to improve their listing on your Shopify store:
Write original product descriptions
Writing original product descriptions allows you to optimize them for search engines. It's also where you can disclose important information that the imported description might lack. The idea is to make the description appear original and convey essential details in a few words.
Include quality images
Printful provides images, but consider taking your own pictures for the best results. Consider taking high-quality product photos and editing them in line with your brand style.
Notebook Therapy is a great example of how you can create images that align with your brand style:
Add and organize product details
Importing the product might include the product description or no description at all. It might exclude information like tags and generic product titles. Edit these details to optimize the product page and keep details organized so it's easier to match products with collections.
Extra: Automate customer service tasks
Automating customer service tasks can save time and resources for your team by automating repetitive tasks such as answering common customer inquiries.
Furthermore, automating customer service can help in scaling up the business. As the volume of customers and inquiries increases, an automated system can handle a larger volume of inquiries without additional resources or staff. This frees you to focus on other critical aspects of the business, such as marketing and product development.
Extra: Automate marketing and distribution tasks
Reaching new shoppers in existing marketplaces can be time-consuming to handle manually. For example, places like Etsy are great. But, managing data in Shopify and other sales channels can become time-consuming work. As a result, these are the sorts of tasks that are perfect for automation apps.
Consider automating repetitive tasks such as social media postings, email campaigns, and promotions. Additionally, you can schedule and manage these tasks in advance.
Workflow wrap-up
In conclusion, with the availability of easy-to-use systems, building a fully automated Shopify store has never been easier. So if you're looking to save time and resources, and improve the customer experience, it's time to start building your own automated store.
Not only will automation enhance your business operations, but it will also allow you to focus on other aspects of your business, scale your operations, and grow your customer base.
New Shopify Apps Weekly Newsletter
We watch for new apps then package them into an email sent every Tuesday.