In the ever-evolving ecommerce landscape, harnessing new technology for the success of your online store is a breeze. Among the myriad of ecommerce enablers, Shopify stands out, offering robust features and options for effortless setup. However, there can be limits on customization, such as adding extra information or images due to lack of additional fields. The solution? Shopify metafield apps! These apps unlock extended functionality for your store, ensuring you never have to compromise on the capabilities of your online presence.
A metafield is just a place to keep information in your Shopify store. There are some existing metafields but these external metafield apps have become increasingly popular with ecommerce business owners looking to create custom fields. These fields can contain more information that is not necessarily possible through existing Shopify metafields.
If you're a Shopify store owner looking to take your ecommerce game to the next level, you won't want to miss out on the top Shopify metafields apps. These innovative tools allow you to go beyond Shopify's built-in product page fields and add custom fields for your products, orders, customers, and more.
But as with every popular Shopify app category, finding the right metafield app can be a difficult decision. There are some great options out there that are ideal for a business of any size but which one to go with.
The good news is that we've done the work for you! In this blog post, we'll take a look at five of the best Shopify metafields apps out there.
Ready to save time by automating metafields? Install MESA to easily manage custom fields in workflows throughout your business.
Metafields Guru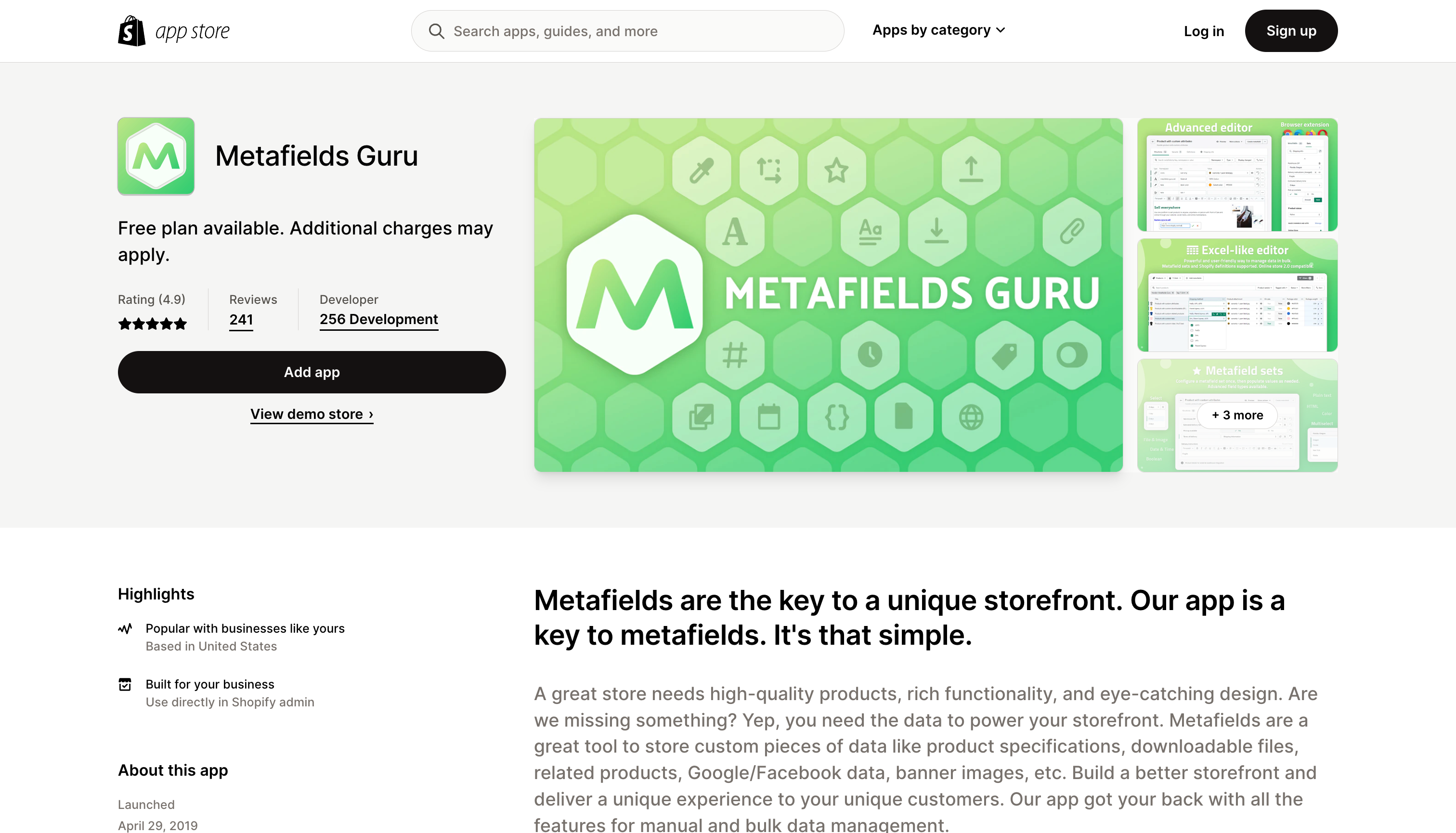 ★★★★★ (4.9) Shopify App Store Rating
Let's start with Metafields Guru. It's the one with the most total reviews on our list with 230 5-star reviews.
Metafields Guru is a revolutionary app that's changing the way we handle online content. With its ability to add custom metafields, you can now tailor your website to your specific needs more easily than ever before.
For those who are short on time, Metafields Guru provides a streamlined approach for creating and editing metafields. One particular feature that stands out is the output language code, which allows users to optimize their content for specific languages, such as EN-US.
This means that your website can have a more targeted approach to your audience, making it a powerful addition to your digital toolkit. Whether you're a seasoned marketer or just starting out, Metafields Guru is one of the must-have shopify metafields apps that can help take your online presence to the next level.
Price:
Free plan available – Yes.

Three paid versions: $9 allowing 2000 entities in bulk upload, $19 with 20000 entities and $59 with 100000 entities.
Key Features:
Create, update, and delete metafields in bulk with a single click.

Import export metafields from a CSV file of any structure.

Advanced filters with Excel-like spreadsheet interface.

Add more structure to your data with metafield sets and Shopify's definitions.

Use browser extension to manage metafields directly in the Shopify admin panel.
Metafields Custom Field Master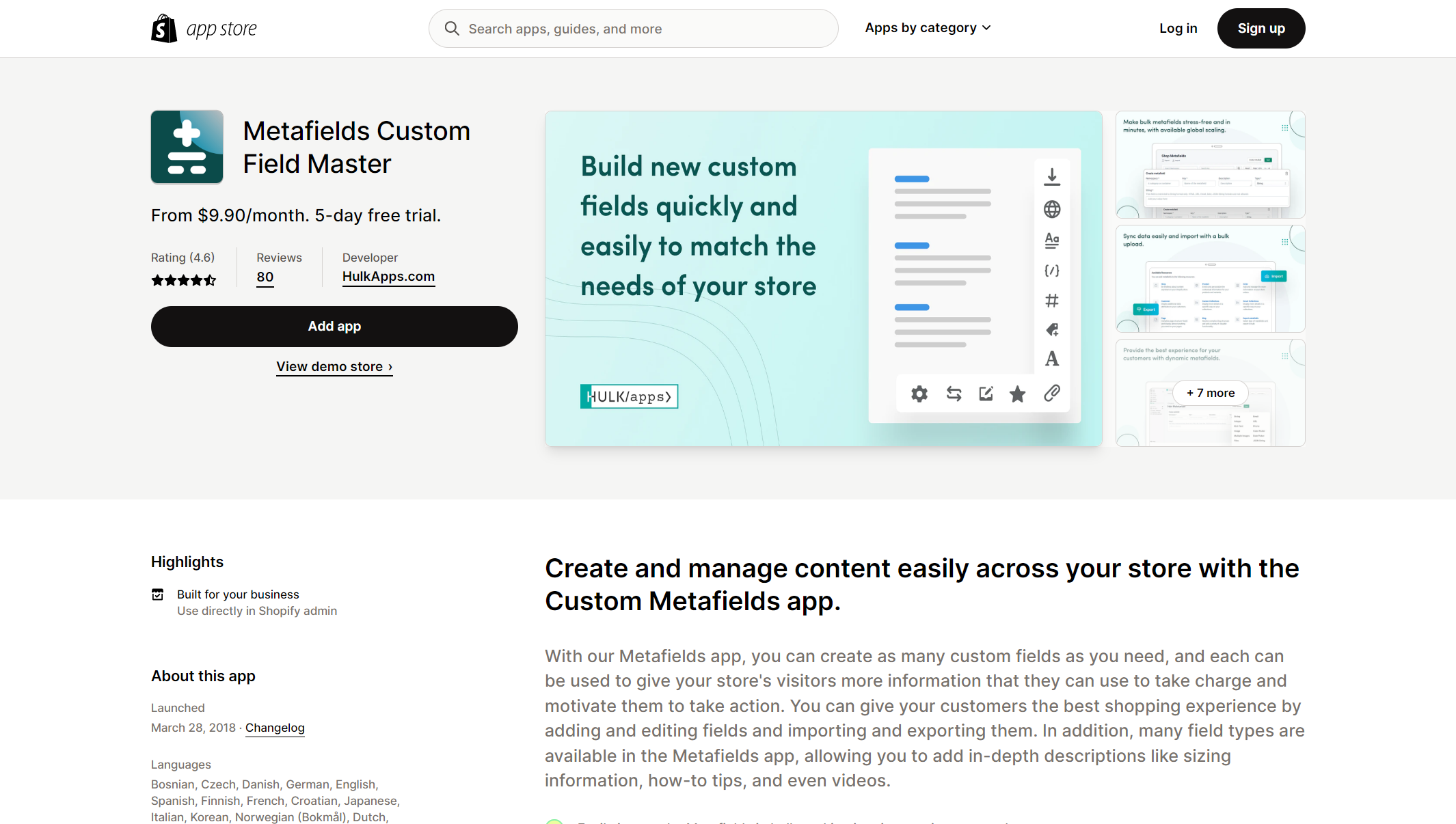 ★★★★☆ (4.6) Shopify App Store Rating
As Shopify continues to evolve, merchants are looking for ways to enhance their online stores, and fortunately, HulkApps' Metafields Custom Field Master app is a great option to consider.
With this app, users can easily create and edit meta fields to add additional data to their products, collections, and pages. What makes this app stand out is its user-friendly interface and efficient navigation system, making it easy to manage and maintain all metafields.
Additionally, Metafields Custom Field Master allows users to import bulk edit and export metafield values in bulk, which is especially useful for store owners dealing with a large inventory. Overall, this app is an excellent choice for those looking to optimize their Shopify store with custom metafields.
Price:
Free plan available – No. Only 5 day free trial is available.

There are three paid plans with the first paid plan being $9.90 per month, and the top-end version costing $49.90 per month.
Key Features:
Easily import the metafields in bulk, making it a time-saving approach.

Create dynamic logic to personalize the shopping experience further.

Personalize your metafields' look, feel, and functions whenever you choose.

Add and display additional information in any language using metafields.

Place and manage all types of content with metafields in your store with its metafields manager.
Bonify Custom Fields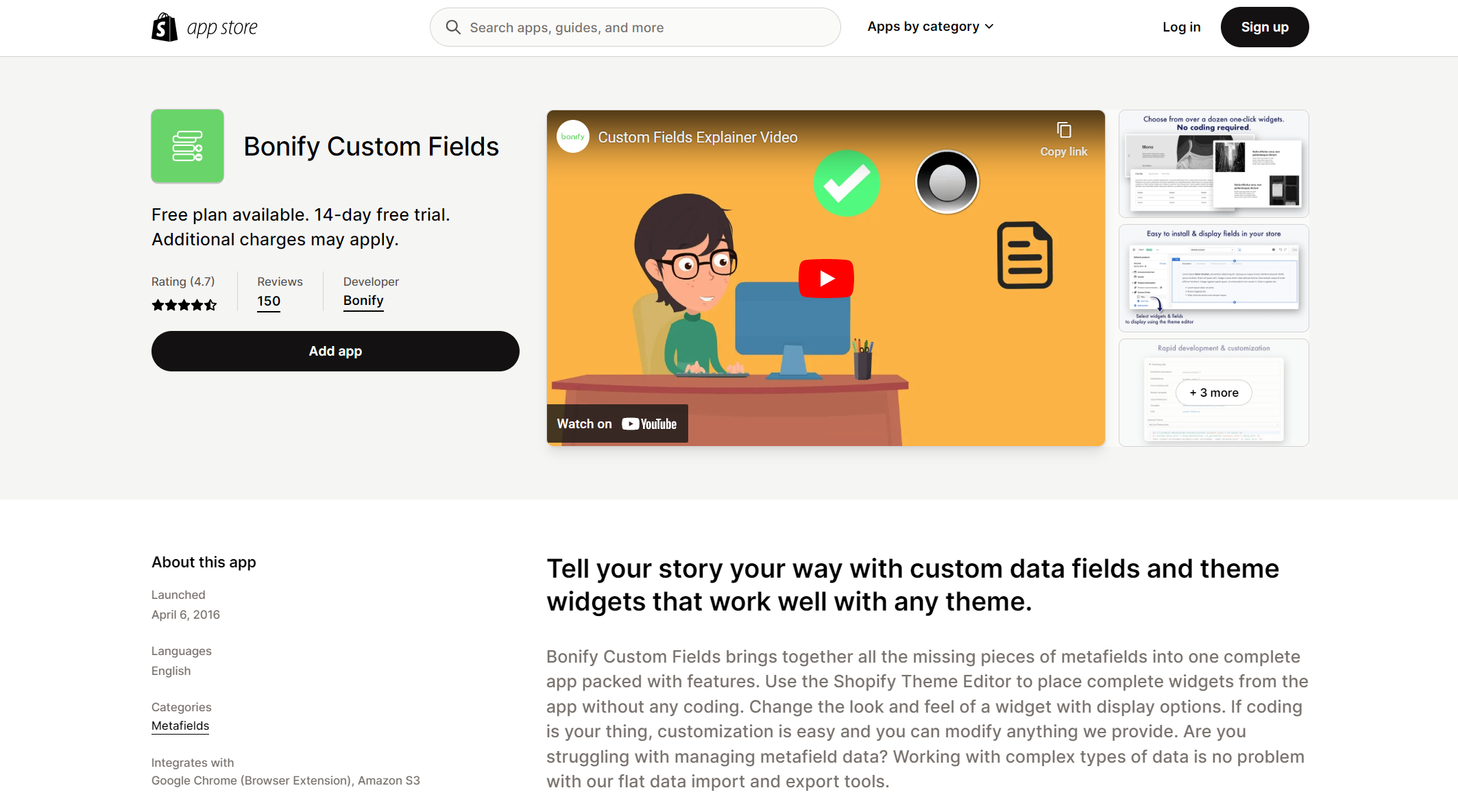 ★★★★☆ (4.7) Shopify App Store Rating
Shopify store owners who are looking for efficient ways to manage their product data should definitely check out Bonify Custom Fields. With 91% of their total reviews at 5 stars, this is definitely worth checking.
This powerful Shopify metafields app is designed to help merchants add unlimited custom fields to products, orders, customers, and other areas of their store. With Bonify Custom Fields, you can easily enhance the functionality of your store and boost your sales.
The app makes it simple to add, edit, and delete different types of metafield values, including text, date, checkbox, and more. You can also import and export your custom fields data with ease. Overall, Bonify Custom Fields is a must-have app for any Shopify store owner who wants to optimize their product data management.
Price:
Free plan available: Yes. This app is free to use for development stores. There's a 14-day free trial as well.

There are two paid options – one being $14 per month and the other $19 per month.
Key Features:
Data imports including file/image imports and all types of metafield data.

Works with all Shopify metafield data types and includes exclusive field types.

Build out complex field groups with nested fields.

Automatically imports any existing metafield configurations.

Bulk upload and editors for quick changes to multiple items at once.
Accentuate Custom Fields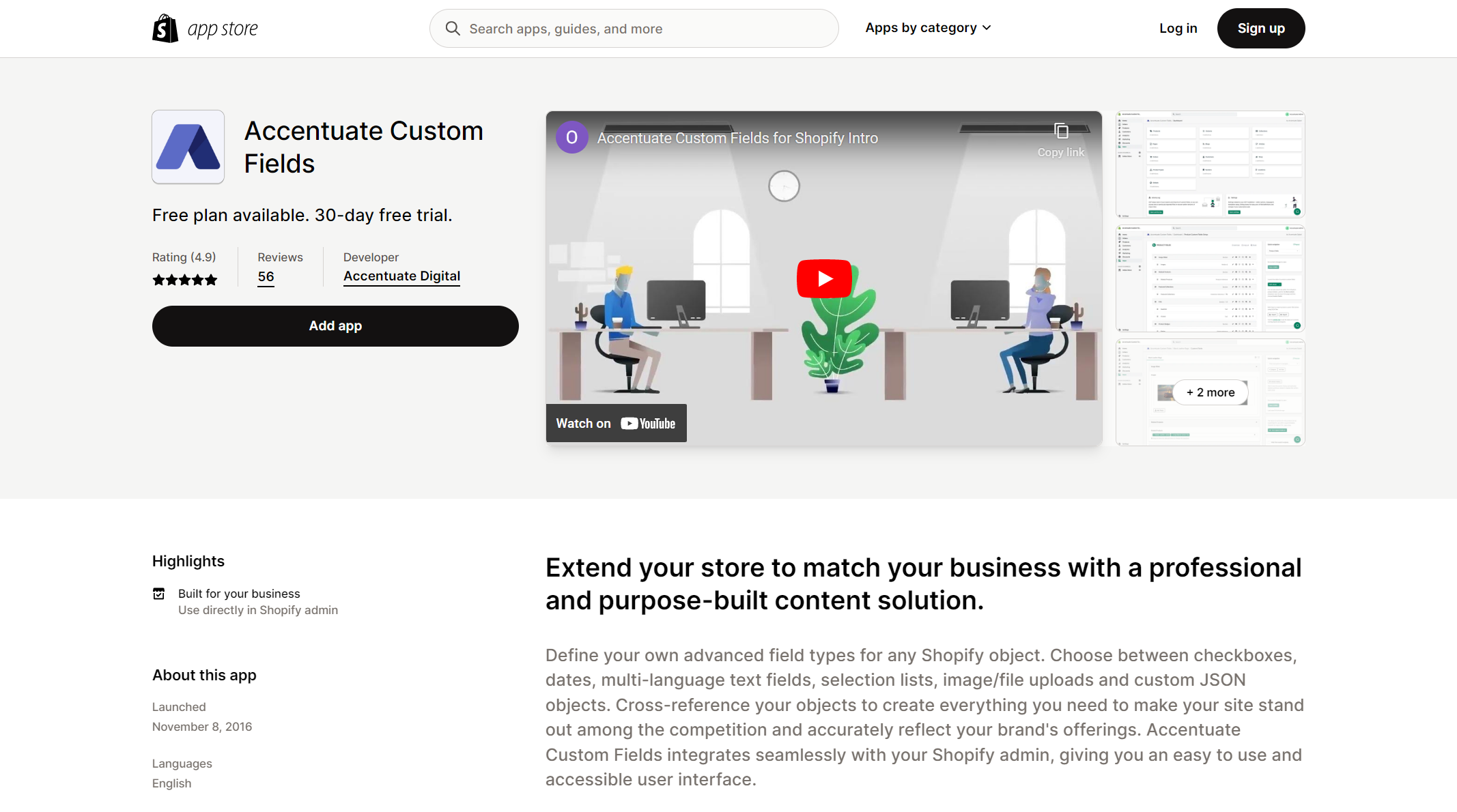 ★★★★★ (4.9) Shopify App Store Rating
Accentuate Custom Fields is a great, metafields manager app for Shopify store owners who are looking to supercharge their product data. With this app, you can easily add custom fields to your products, collections, and other areas of your store.
This app also allows users to create multiple types of fields and assign them to various locations on the store. Additionally, this app provides users with an easy-to-use UI for managing and customizing their store's metafields and data.
Overall, Accentuate Custom Fields is a great app for those who want to fine-tune their product data and make it more engaging for customers.
Price:
Free plan available – Yes. In addition, there's a 30-day free trial as well.

As for paid plans, it offers two of them. The professional plan costing $20 per month, and the professional plus plan costing $40 per month.
Key Features:
Improved metafield editor experience. Full support for Shopify OS 2.0 types.

Define custom layouts for specific product, pages etc. to use in your theme.

Advanced image resize/crop and transformation options directly in Liquid.

Sync metafield definitions and transfer data between stores using Excel.

See our website for a full list of ACF features, including versioning of data.
Advanced Custom Fields (ACF)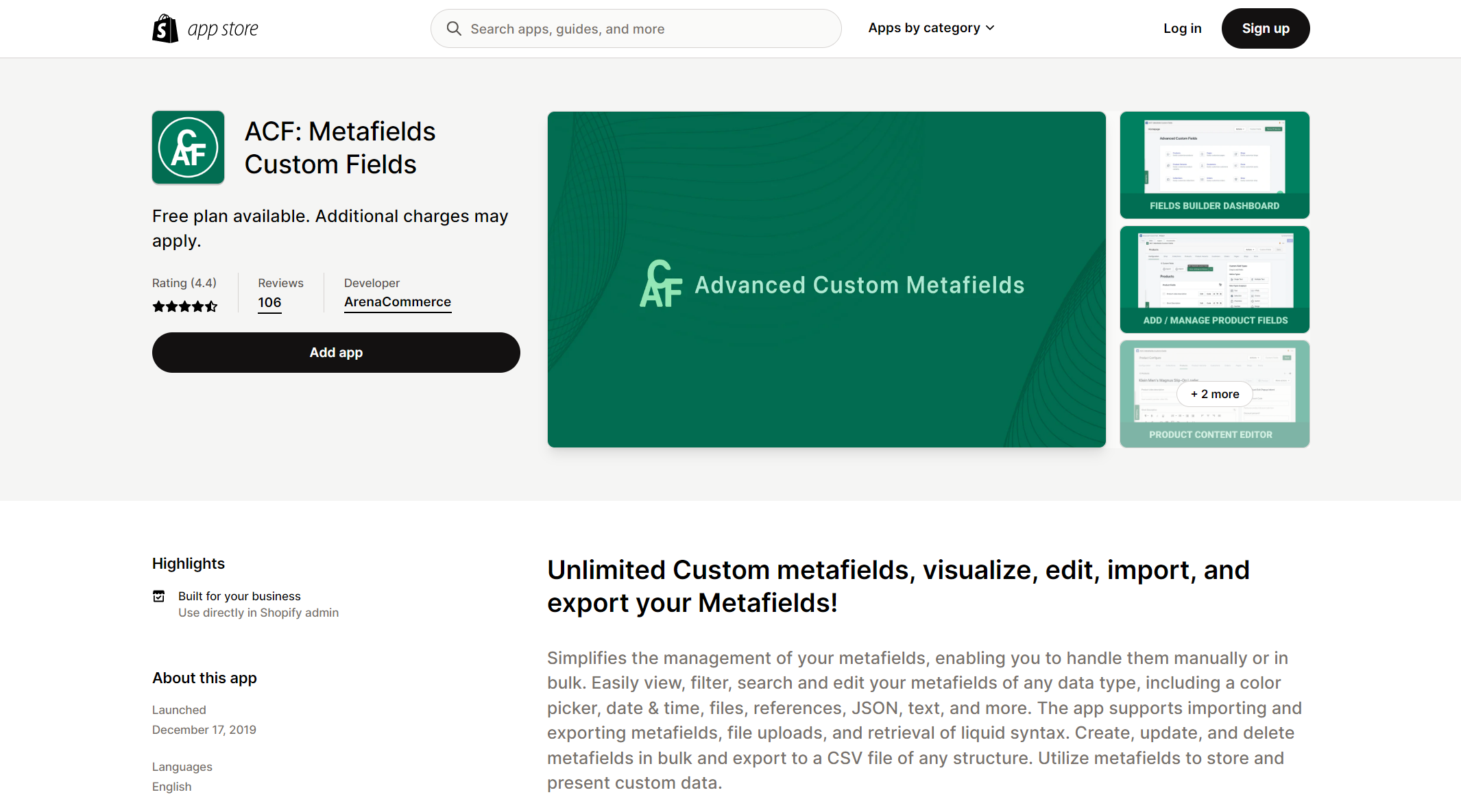 ★★★★☆ (4.4) Shopify App Store Rating
This is another great option for Shopify store owners looking to easily add custom fields to their products and other areas of their online store. With this app, users can create text, number, and checkbox fields, as well as radio buttons and drop-down menus.
With Advanced Custom Fields you'll completely simplify the management of your metafields. You'll be able to handle them manually or in bulk. Other functionality includes easy view, color picker, as well as the ability to search and edit your metafields of any data. ACF also has filter support if you want to export metafields in their paid plans.
Overall, ACF is an excellent choice for those looking to optimize their product data management.
Price:
Free plan available: Yes. There is a free option to install with a $2 per 500 Energy points.

From there, there are $4.99 per month and $12.99 per month options.
Key features:
Streamlined metafield management: Supports all data types.

Simplified data control: Import/export in various formats.

Easy media uploads: Store and present custom data.

Retrieval of liquid syntax: Quickly incorporate custom data.
Tips for maximizing the benefits of using a Shopify metafields app
Shopify metafields app can enhance your online store functionalities and give your customers an exciting shopping experience. However, to get the most out of these Shopify apps, it is essential to know some tips for maximizing their benefits.
Firstly, use any one metafields app to add more product information, including images, videos, and descriptions, to your online store. This way, customers can have a clear and better understanding of the products they are buying.
Additionally, you can use the app to add metadata that can improve your search engine optimization (SEO) efforts. Finally, automate repetitive tasks using the app, such as adding tags or categorizing products.
By following these tips, you ensure your online store's efficiency and have a seamless shopping experience for your customers.
Factors to consider when choosing a Shopify metafields app
There are a few factors that you might want to consider before making a decision to choose one of these Shopify apps.
Integration: Firstly, seamless integration with your current Shopify theme is important for a smooth user experience.

How customizable is it? Next, the app should offer customizable options and the ability to store various types of data.

Pricing: Are you getting the features you need in your budget range? If an app only has advanced filters or bulk upload in higher-tier plans, it might not be for you.

Customer support and user reviews: You might also want to check if the app supports multiple languages and offers a reliable customer support service in your preferred language. Also check the user reviews.
When you have found an app that ticks all these boxes, you will be well on your way to improving your store's functionality with metafields.
So, which Shopify metafields app is right for you?
So you've decided to take your Shopify store to the next level and start using metafields. But with so many apps available, how do you choose the right one?
Luckily, the list above will help guide you in choosing one from these best shopify metafields apps for your business. Whether you're after a simple, free app to manage your shopify data, or an advanced and customizable solution, there's something here that will suit your needs.
Remember to weigh up the different features of each app before making your decision – this way you can be sure that you're getting the best value for money.
With the right metafields app, you can improve your store's user experience and make managing product data much easier.
Good luck!
New Shopify Apps Weekly Newsletter
We watch for new apps then package them into an email sent every Tuesday.