Let's review some of the most innovative Shopify AI chatbot apps. From straightforward FAQ answers to complex customer service conversations – you can rely on the best chatbot apps for quick and effective solutions.
Shopify AI powered chatbot apps are truly revolutionizing the way potential customers interact with an ecommerce website. By leveraging artificial intelligence, ecommerce business owners can provide these potential customers with a personalized shopping experience via custom chatbots using natural language processing that adjusts to each unique request. This helps users feel better connected to the brand, increasing overall satisfaction and loyalty.
The best AI chatbot for Shopify offers unparalleled insights into customer data, enabling savvy marketers to craft custom chatbot strategies for success while providing exceptional service in real time. Ultimately, resulting in an enhanced shopping journey for store visitors.
Take your customer engagement game up a notch.
Now that you have a better understanding of the importance and capabilities of Shopify chatbot apps, let's take a look at the one making the biggest impact for Shopify store owners.
Ready to save time by automating what AI chatbots can do? Install MESA to easily manage chatbot workflows for your business.
Tidio Chat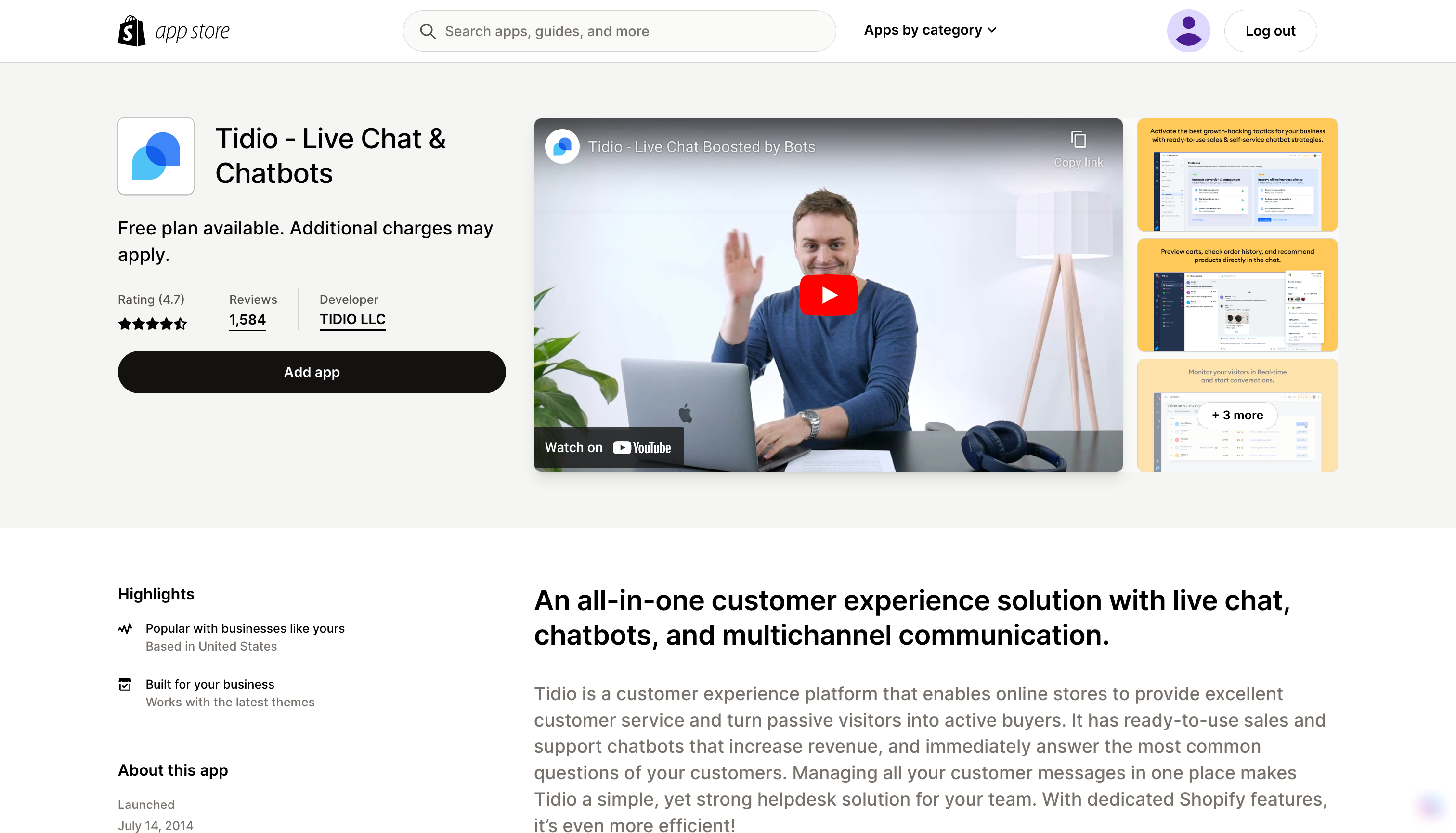 ★★★★★ (4.7) Shopify App Store
Tidio is an AI-powered chat application that enables you to stay connected with your customers and provide support whenever needed. With its 24/7 customer service, this chatbot can take care of inquiries quickly, so that e-commerce managers have more free time for other vital tasks.
With Tidio's AI chatbot, e-commerce managers can maximize customer satisfaction and sales by offering personalized product recommendations to customers while they navigate the website.
Not only that, but it also allows them to generate reports based on customer behavior in order to better understand their needs and preferences. Ultimately, it ensures efficient and convenient customer support for unparalleled engagement with your target demographic – something any manager should take advantage of.
Pricing:
Free plan available. Additional charges may apply.
Key Features:
Engage with your visitors in real-time via live chat – fast problems solving as well as proactive sales opportunities.

Harness the power of pre-made chatbot strategies to increase sales and streamline problem solving.
Intercom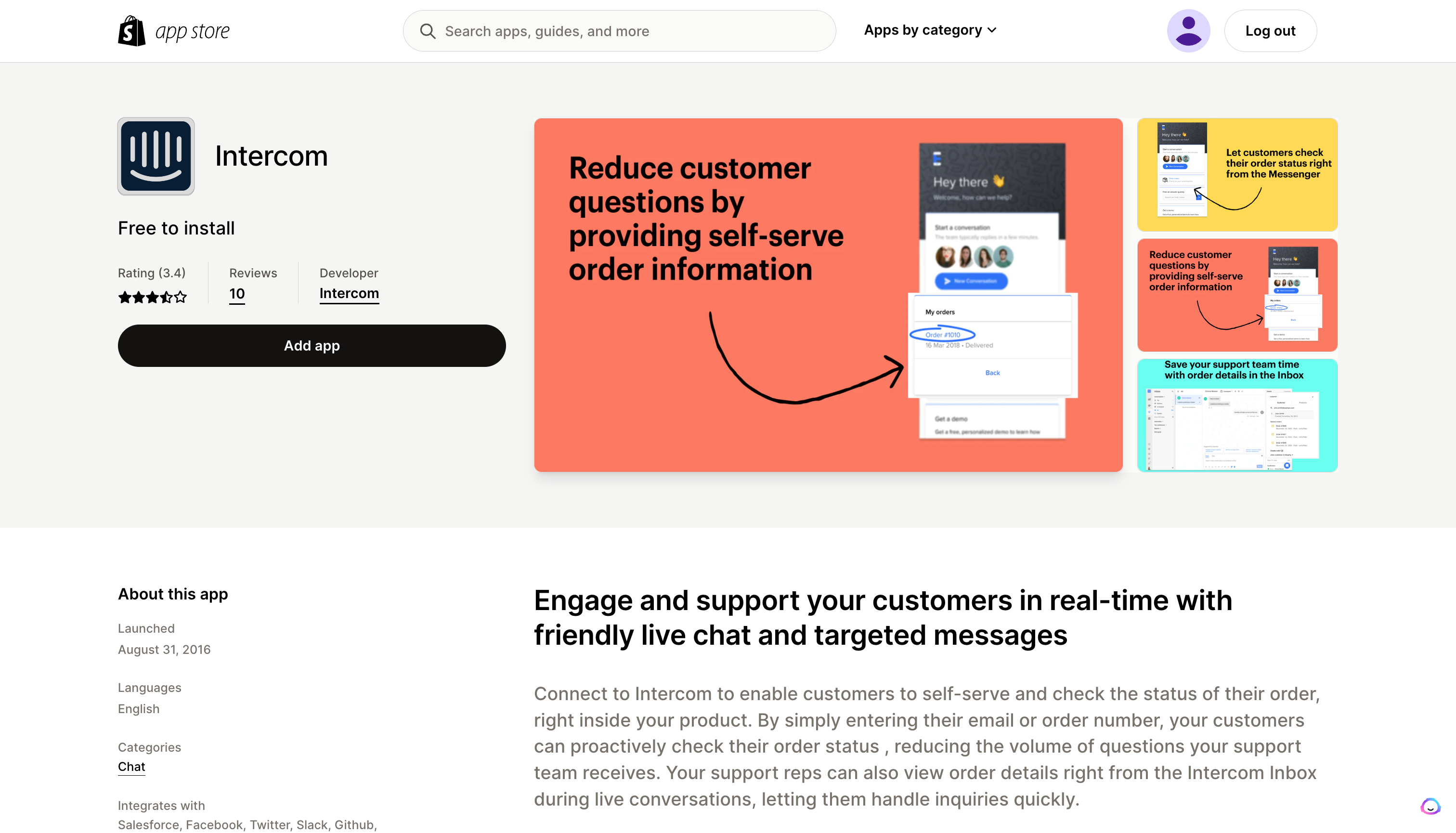 ★★★☆☆ (3.4) Shopify App Store
Intercom provides a seamless customer experience with intelligent automated conversations, allowing merchants to build relationships in real time. This app gives store owners the power to truly understand their customers and scale up all areas of their business – an invaluable asset.
Pricing:
Free to install. Plans start at $74/mo. Additional charges may apply.
Key Features:
Give your customers the ability to directly track their order progress right through Messenger, making it easier than ever for them to stay in the loop.

Streamline the customer experience and save your support team time by providing self-serve order information. Put your customers in control with up-to-date, comprehensive order details conveniently located directly within their Inbox.
Formilla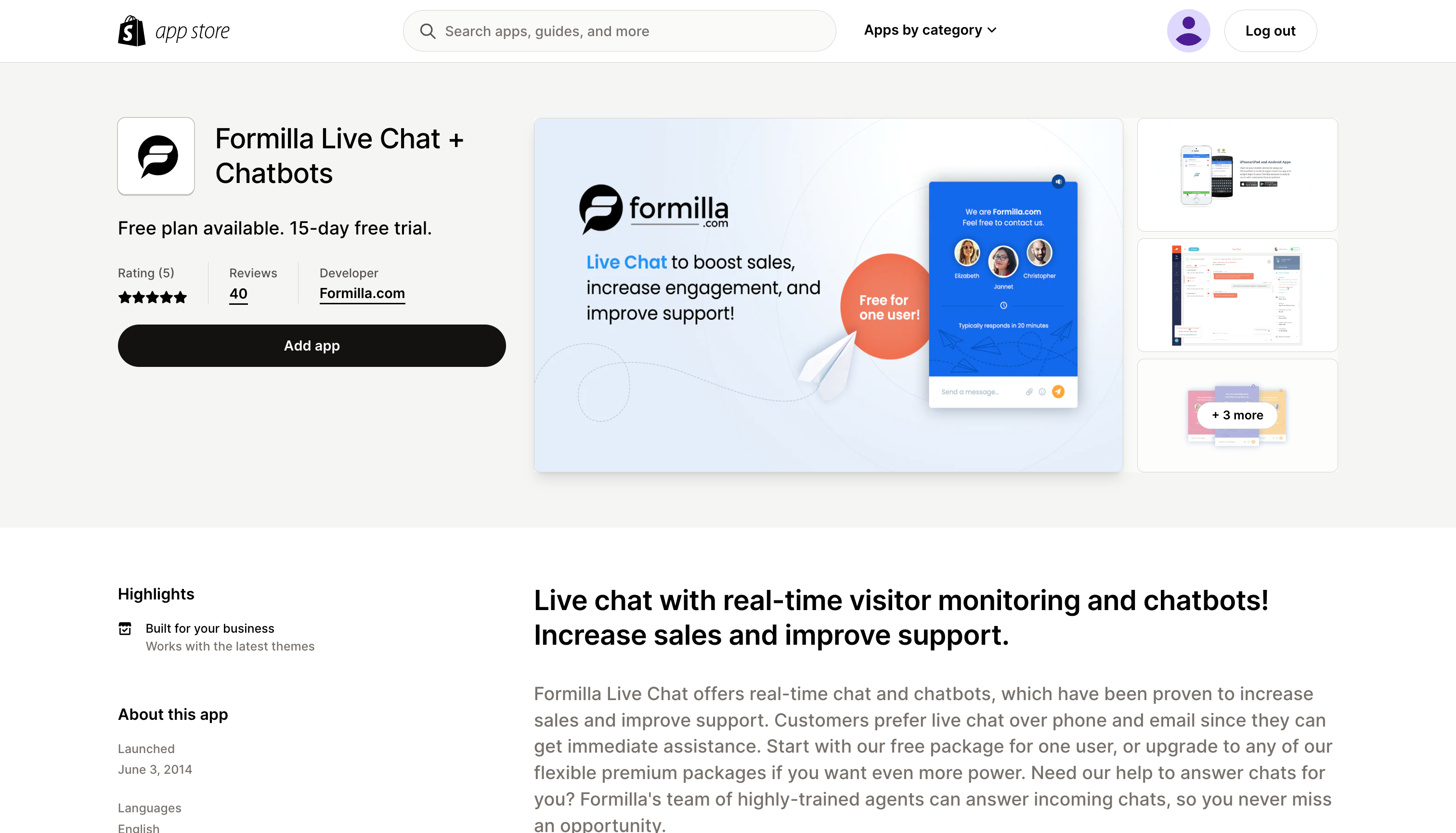 ★★★★★ (5) Shopify App Store
Formilla is designed to help e-commerce stores take their customer service experience and real-time engagement with customers to a whole new level. Its powerful analytics tools provide merchants with the invaluable ability to gain deeper insights into how customers interact, allowing them unprecedented access to tailor services for better user experiences in sales, marketing, and support.
Pricing:
Free plan available. 15-day free trial.
Key Features:
Reach out to your customers anytime, anywhere with mobile chat apps. Keep the conversation going and engage them even when you're on-the-go.

Equip chatbots to ensure leads around the clock, and promote your products automatically for maximum efficiency.
Reamaze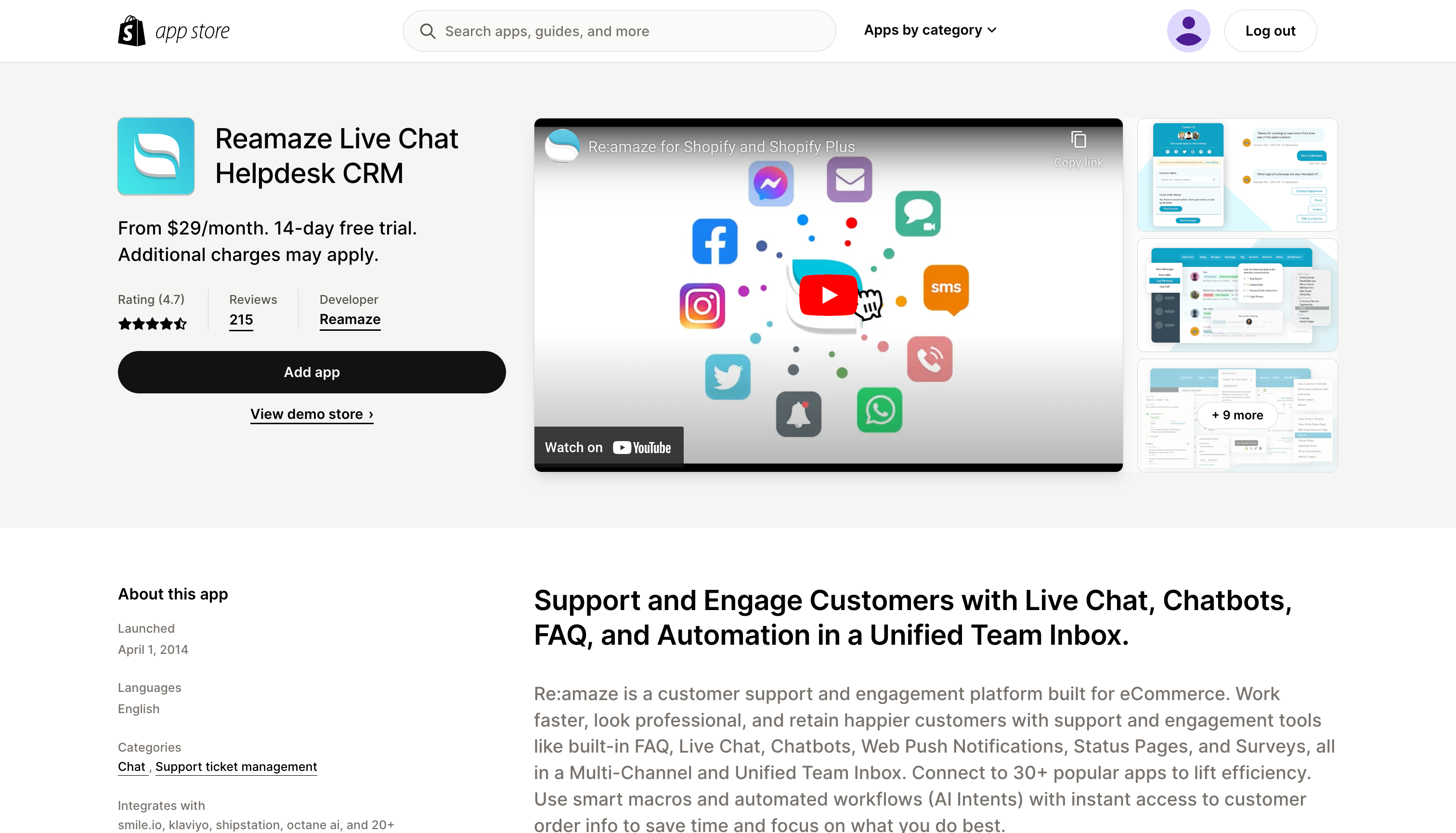 ★★★★★ (4.7) Shopify App Store
Reamaze provides store owners with an AI-driven platform to offer their customers a more seamless, efficient, and personalized shopping experience. Powered by advanced features such as automated conversations, quick FAQ answers, and customizable chatbots – Reamaze is another great tool for optimizing customer service.
Pricing:
From $29/month. 14-day free trial. Additional charges may apply.
Key Features:
Access customer service requests from a multitude of sources, such as email, chat, social media platforms, SMS messages and even phone calls – all in one place.

Capitalize on automated engagement, push notifications, and chatbot prompts to drive more sales with the help of artificial intelligence.
Gorgias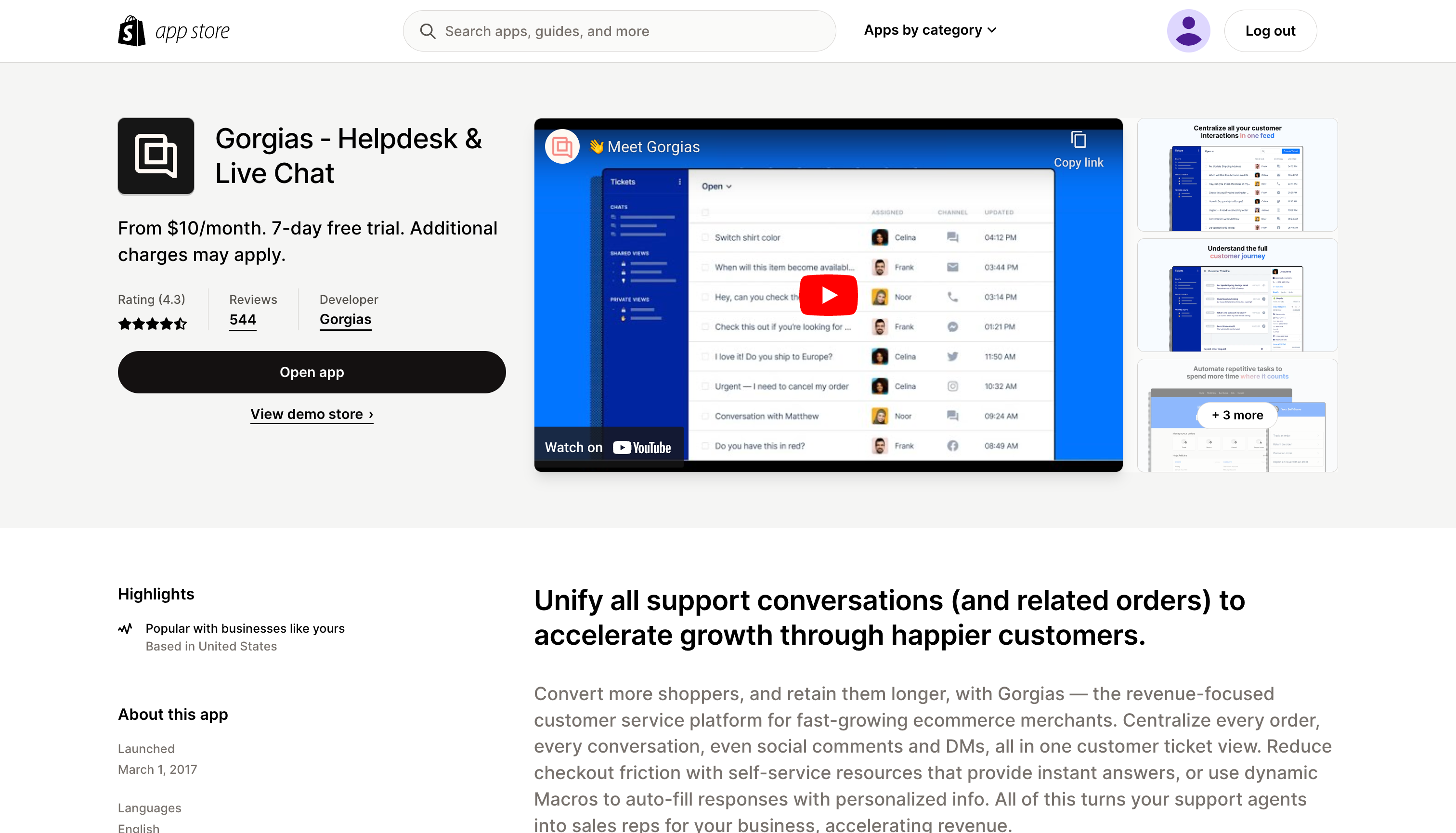 ★★★★☆ (4.3) Shopify App Store
Gorgias claims to be the ultimate e-commerce helpdesk that turns your customer service into a profit center. By utilizing its intuitive chatbot capabilities, you can obtain deeper insights into your customers for better segmentation as well as centralized support ticket tracking – allowing you to optimize efficiency in the process.
Pricing:
From $10/month. 7-day free trial. Additional charges may apply.
Key Features:
Streamline your customer service by monitoring and analyzing team performance data on interactive dashboards.

Enable customers to quickly and independently resolve their queries via self-service menus — no help from an agent is necessary.
Importance of AI chatbots in e-commerce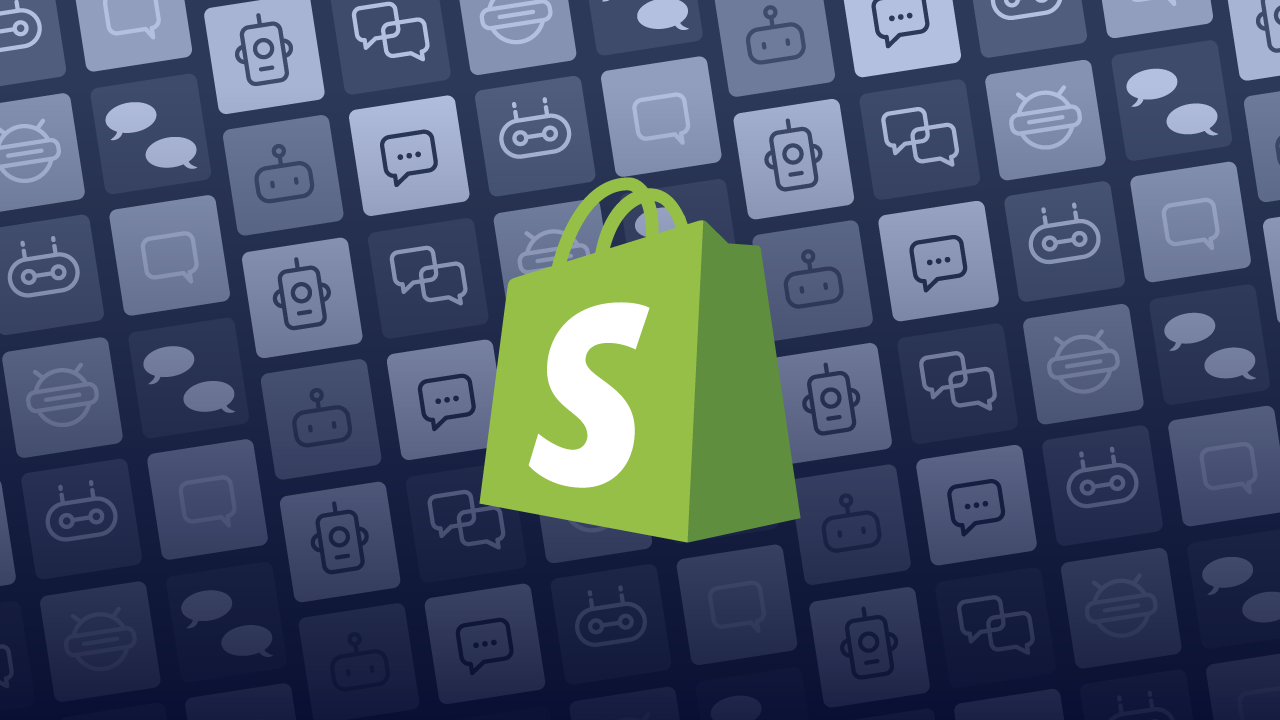 Here's what you need to know.
First, ecommerce business owners understand the value of optimizing the customer experience, and live chat is emerging as a powerful tool to make that happen. As a result, they allow customers to get helpful information quickly, and effortlessly creating an interactive connection with website visitors looking for a unique shopping journey.
As this technology becomes more widely adopted in e-commerce operations around the globe, it's worth exploring what role these digital assistants can play to boost sales for Shopify store owners.
Furthermore, the best chatbot apps have changed customer service. They provide personalized, around-the-clock support and hassle-free answers that enhance a customer's experience. For example, by taking over tedious tasks, human agents are free to dedicate their time to more complex support tickets – resulting in better all-around assistance for existing customers.
Here are a few additional reasons why they are becoming increasingly important for Shopify store owners:
Volume
Multitasking capabilities allow Shopify chatbots to handle a multitude of customer queries simultaneously, creating an expedient and efficient resolution process.
Efficiency
With Shopify chatbots, online business owners no longer need to devote extra resources to managing their live chat and digital communications.
Cost-effective
Shopify chatbot apps provide a cost-effective solution for an online store that needs to scale quickly. Create custom chatbots to use an entry-level option if you are starting out, or a far more intricate solution if you are a larger operation. Thus, you only have to pay for the scale of chatbot functionality that you need.
Increase sales
A versatile chatbot can help your online store increase sales by providing personalized recommendations and product advice. Today, chatbots are heavily customizable, meaning you can one for the customer acquisition process and another for customer support. This is great if you are looking to upsell or cross-sell products, or simply turn website visitors into new leads.
Improve relationships
Chatbots can be used to build better customer relationships, as they are able to remember past conversations and store them in a customer relationship management (CRM) system. When it comes to customer support, having a reliable communication channel for your customers is key. Ultimately, they want to know that they are being heard and that their needs are being met.
Benefits of Using Shopify AI Chatbots
When it comes to Shopify chatbot apps, there are a number of benefits that will help your business improve and grow. The most important are:
Increased Customer Engagement
First, AI chatbots can help you engage with customers quickly and collect customer feedback in an automated fashion. This will make the customer experience more enjoyable and allow businesses to provide more personalized services to their customers.
Improved Sales and Conversion Rates
Next, by understanding customer behavior and personalizations better, businesses can create targeted campaigns that result in higher conversion rates and increased sales across your Shopify website.
Enhanced Customer Support
Chatbot conversations allow you to resolve customer queries more quickly. As a result, this leads to improved customer satisfaction levels as well as higher retention rates.
Streamlined Operations and Increased Productivity
The best Shopify chatbot app can streamline operations by automating mundane tasks like FAQs management or ticket resolutions. This helps businesses save time and resources that can be used for other areas of the business.
How to choose the best Shopify Chatbot App
If you are looking to choose the perfect Shopify chatbot app for your Shopify websites, there are three things that you need to look out for.
1. Determine your business needs and goals
Before considering chatbot implementation, it's important to determine what you need most – whether that be improving customer data, boost sales, or enhance marketing strategies. Assessing these needs and goals is the first step in narrowing down all of your choices.
2. Evaluate features and integrations
Next, it's time to explore the capabilities of each app – from customer segmentation and automated conversations to analytics tools. Assess chatbot tool for their compatibility with your existing platforms & software as you scout for features that fulfill your business needs and goals.
3. Assess user experience and ease of use
Finally, it's essential to consider the user experience and ease of use when evaluating any Shopify chatbot app. The best app for your needs should have a straightforward setup, an intuitive chatbot window, and be accessible from any device—saving time without compromising quality.
By following these steps, you will be able to find the best Shopify chatbot apps for your needs.
Create Shopify AI chatbots to engage customers
To summarize, the best AI chatbots are incredibly powerful tools that can help any online store engage with customers in real-time, improve sales and conversion rates, and streamline operations.
By evaluating your business needs carefully and assessing features and integrations, you will be able to find the best Shopify chatbot for your online store.
Now that you have all the information you need about Shopify chatbots, it's time to start automating them to do more. Be sure to connect your you custom chatbot to MESA to create workflows while you sleep!
New Shopify Apps Weekly Newsletter
We watch for new apps then package them into an email sent every Tuesday.